INSIDE : Learn how to create a gorgeous Spackle DIY Art texture piece with this trendy technique. It is so easy to make this type of artwork and the process is so addictive you won't want to stop!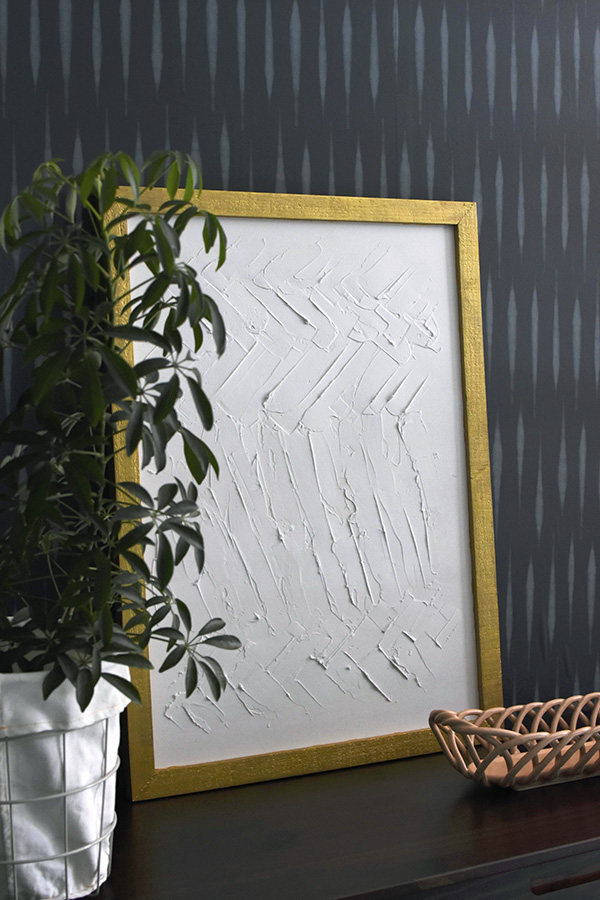 This post may contain affiliate links. See full disclosure here.
Today marks week FOUR of the Spring 2021 One Room Challenge, where I'm participating as a guest. Last week I added removable wallpaper to the room and wow did it add some personality to the room!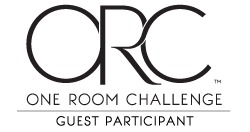 Every Thursday until June 24th, I will be sharing my weekly transformation of my office to a moody creative haven for the entire family!
Week 1 Office Plan
Week 2 Painting Office Moody Blue
Week 3 Adding Removable Wallpaper to a room
Week 4 Spackle DIY Art
Week 5 Slow going week
Week 6 Woven Wooden Cabinet
Week 7 Painted Wood Slat Wall
Week 8 Moody Office Reveal
I have falled deeply in love with creating art from spackling compound. It's such a fun and easy medium to work with and creating a DIY spackle painting piece is so much better than spending almost $1000 on something similar from Anthropologie, for example.
Let's get into the supplies needed to make fun spackle art.
Supplies needed to make Spackle Textured Art:
I upcycled an old framed canvas I had lying around, but any canvas will work.
Light weight Spackle Paste
Putty Knife
Paper Towel
Gold Metallic paint + paint brush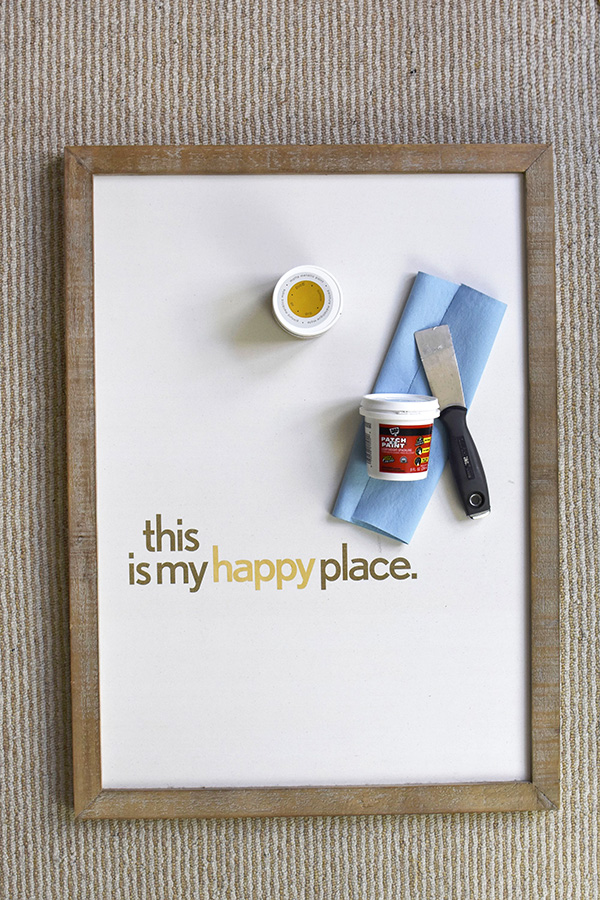 How to make texture on Spackle Canvas Art:
I already had a small container of light weight spackle from when I was patching holes in my office walls, but dry wall mud will work just as well.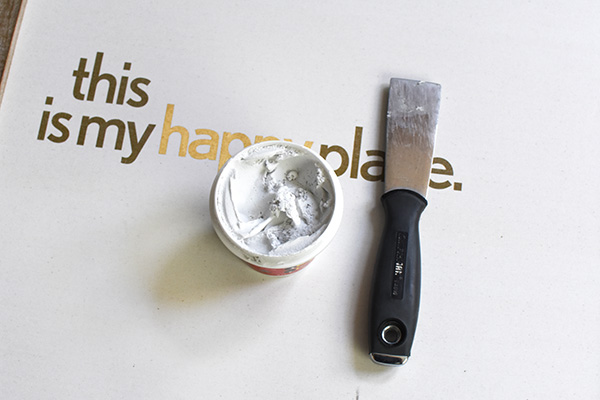 Can you use Spackle on a canvas?
The good news is yes, you can add spackling on canvas! Spackle adds gorgeous texture to any canvas. My framed canvas had writing printed on it, so the first thing I did was add a layer of spackle over the wording. I almost stopped at this step because I loved the layers it created along with all the other white space.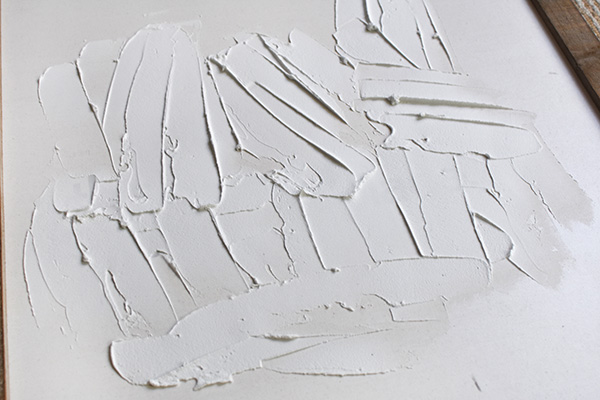 However, I decided to add more pattern to my art piece in the end. I went with a loose zig zag pattern look. I tried to not overthink the pattern too much.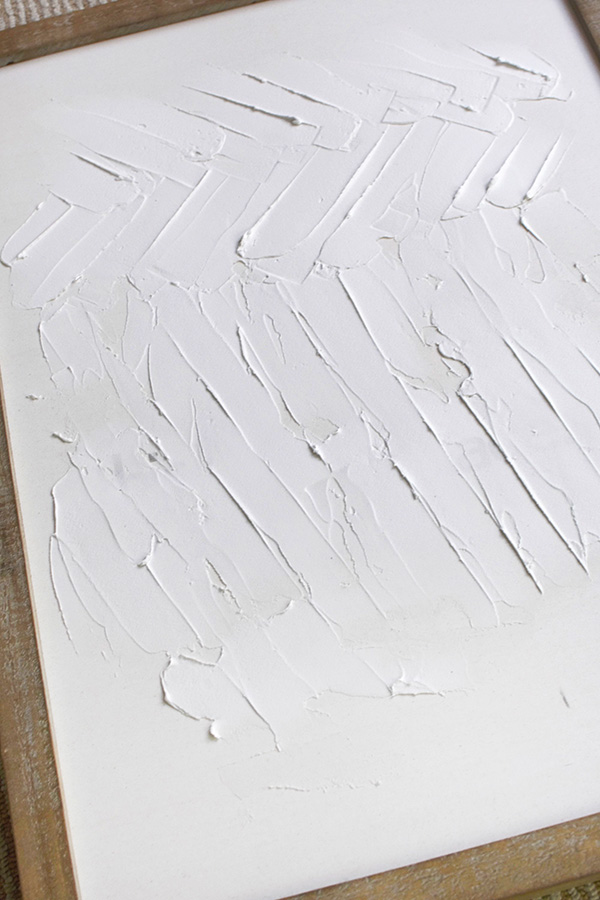 Some lines were shorter and some lines were longer. It's a subtle look, but I could not believe how fun this was to make! It felt reminiscent of playing with… playdough or even finger painting as a child.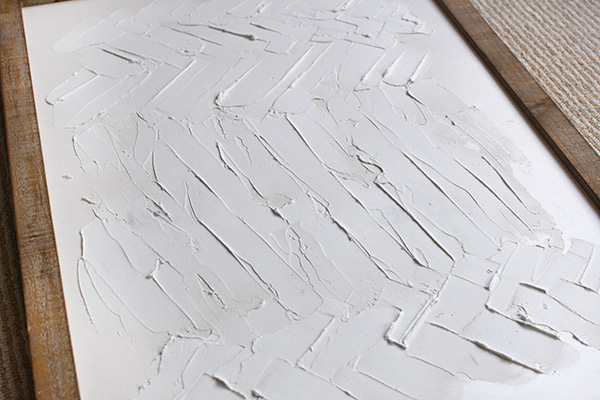 Painted Gold Foil Frame
After my spackle had dried, it was time to give the frame a more modern look. I added Americana Decor Matte Metallic gold with a small paint brush.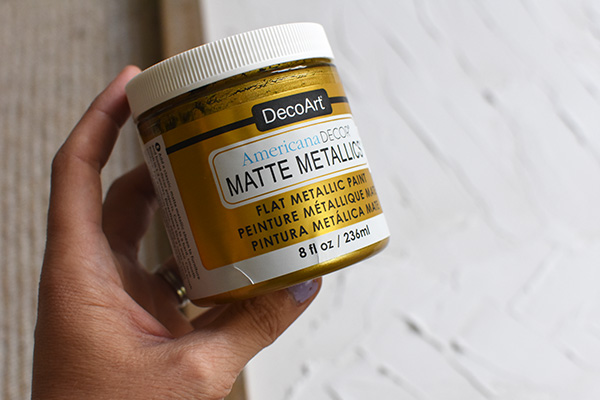 The gold paint took my frame from a farmhouse vibe to modern! One coat of paint was all it took on the frame for a whole new feel.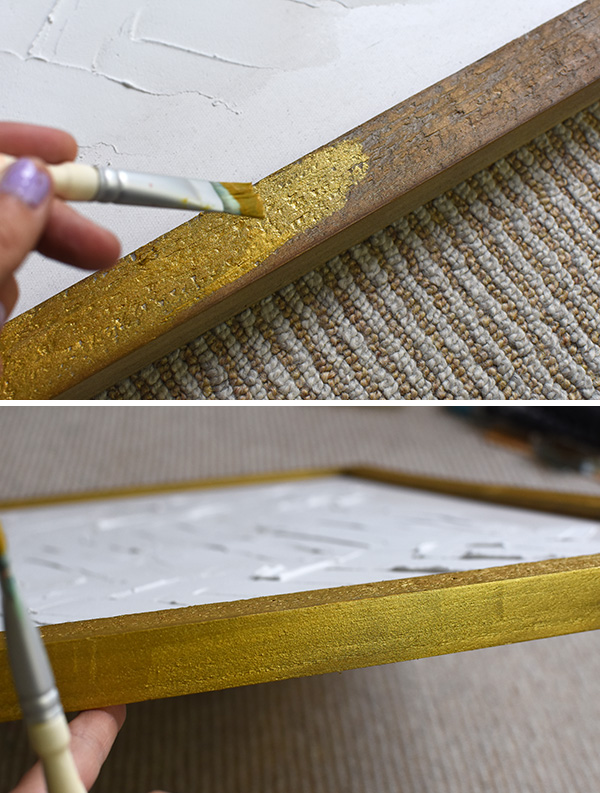 Modern Art with Drywall Mud
I just love how this art piece came together basically using drywall mud and a putty knife. Creating and making art for our home is one of my favorite things! If you want some more DIY art ideas, check these out : Baking Soda + Paint Technique, Clay Ring Art or Ring Yarn Art.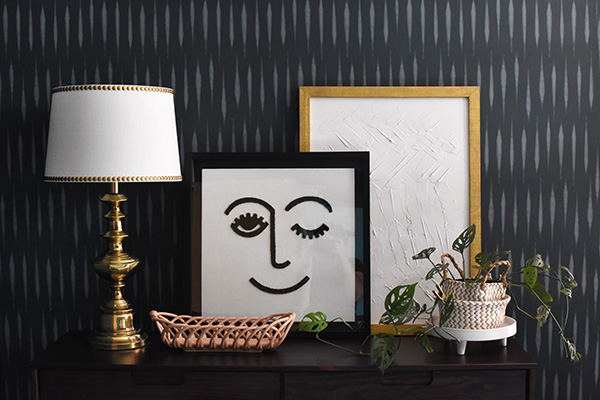 I like pairing this minimalist spackle piece with my whimsical felted winky face art.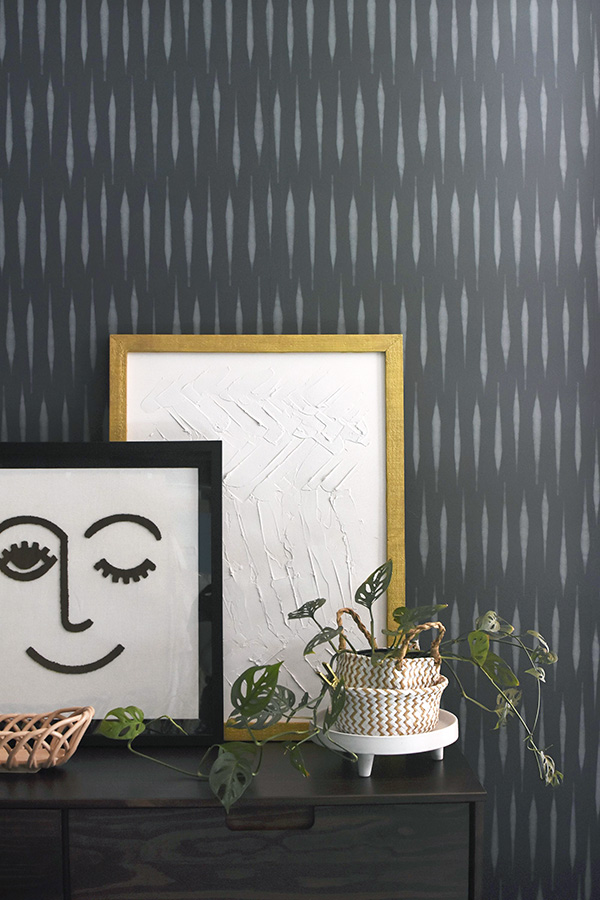 Textured Art with Spackle
I am so excited I finally gave textured art making a try. I wanted to make about 10 more immediately, but I ran out of spackle… I may have to run to the store for a larget supply soon!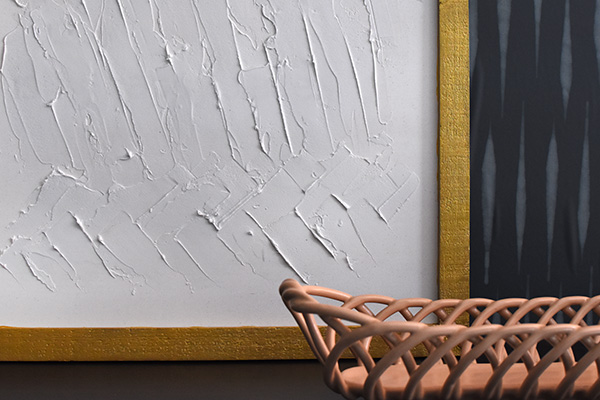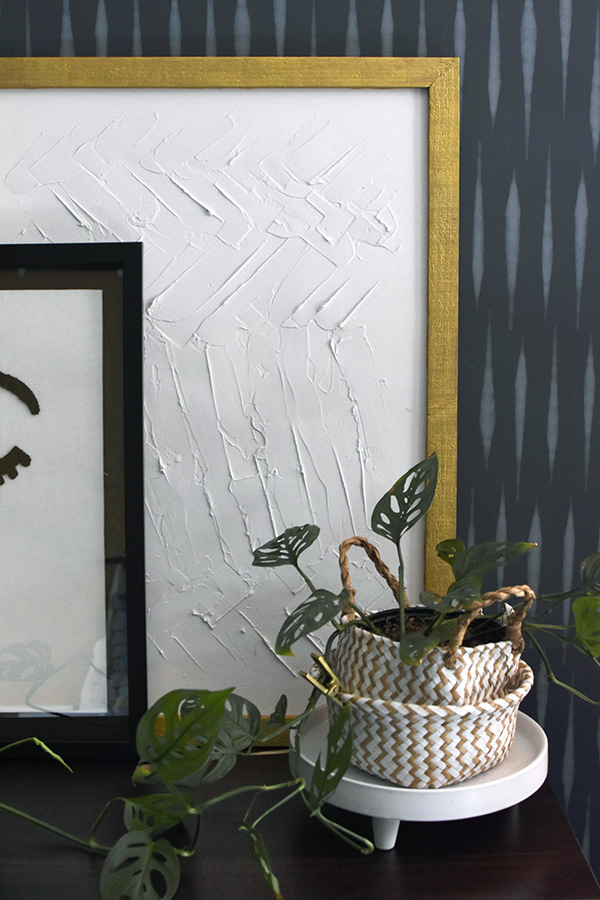 Next up in my One Room Challenge space is a super secret and not entirely sure if I can do it project! I am planning on doing some weaving of sorts but with wood and on a simple white storage cabinet. This is a project you do not want to miss… coming soon!
Large Scale Spackle art with Color
And if you are looking to do this project but with a slight twist, you might like this Large Scale Spackle art I made using a bit of color.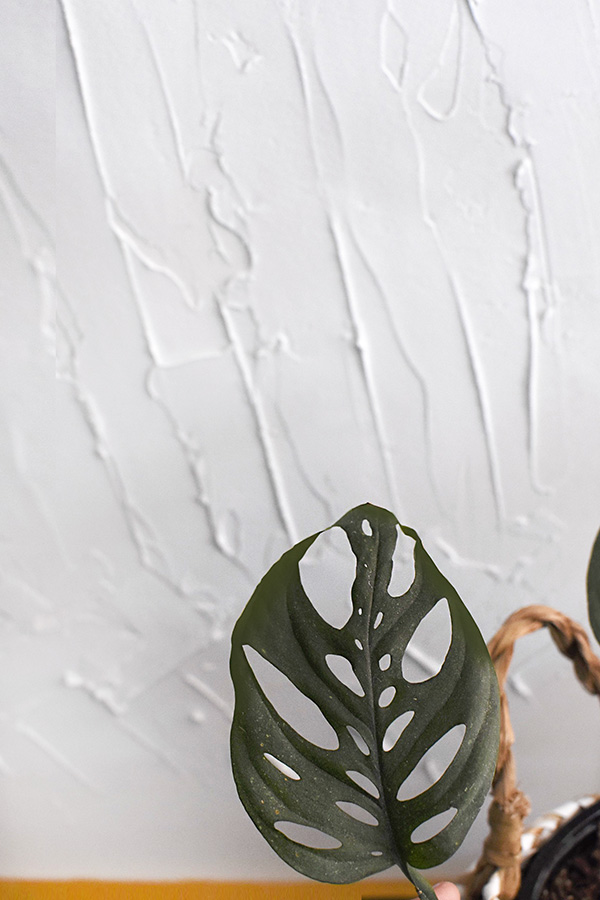 It was nice to take just the smallest break this week and make something easy and pretty. I have two weeks in a row of fairly big projects to tackle… which has me feeling a little nervous. Here is all I still need to accomplish.
TO DO LIST over the 8 weeks –
Paint Walls
Hang Wallpaper
Paint IKEA storage lockers
DIY cabinet hack
Install new ceiling fan (maybe)
DIY art above dresser
Install Wood Slat accent wall
Style room with new rug, floor cushion, bean bag chair, desk + accessories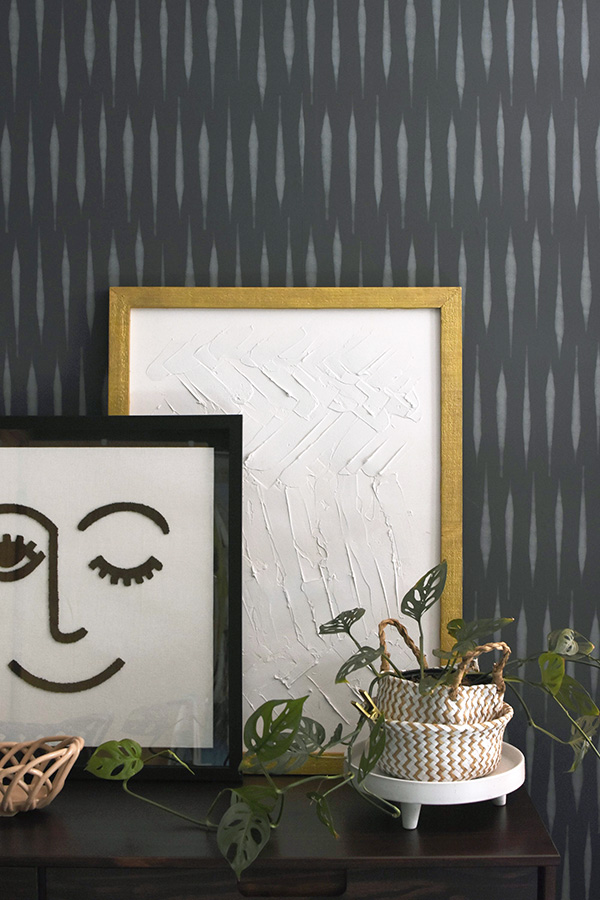 In the meantime, check out all the other rooms being transformed! Everybody will be posting progress each Thursday and linking up on the One Room Challenge blog right here! See you next week!
Here are a few items I have already picked up for my new office :

I have had such a fun time creating all kinds of different and new art work! So far, I have made