Best color combos for your home
INSIDE : Color is a very powerful tool for creating different feelings and moods. Learn the best color combos for your home to inspire your next interior design project.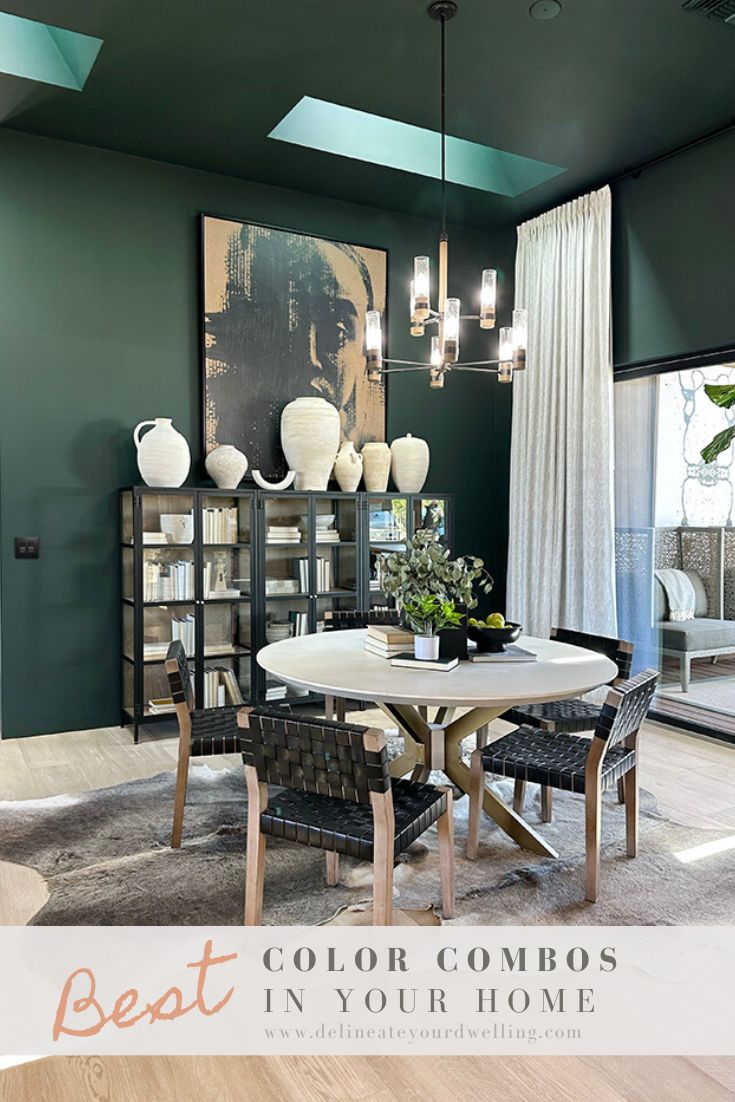 This post may contain affiliate links. See full disclosure here.
I was recently invited by HGTV and HGTV Home by Sherwin Williams to attend an exclusive look at the 2023 HGTV Smart Home located in Santa Fe, New Mexico. Talk about a pinch me moment! You can read more about the entire day's activities in this post, I visited the HGTV Smart Home 2023.
I was in complete awe of their featured interior paint color collection, Earthy Charm. It felt like many of the colors that I already have been using in my home (Interior Paint Colors). Most of the paint choices felt fairly muted, moody and warm (not ALL, but most).
Let's take a closer look at each color in the collection.
Beautiful paint colors
Color can evoke so many emotions. Just by viewing particular colors, you can feel energized, calm, cheerful, cold, relaxed and much more.
Selecting the right paint colors for your home is an important decision, especially when knowing what type of feeling you want to have when spending time in your rooms.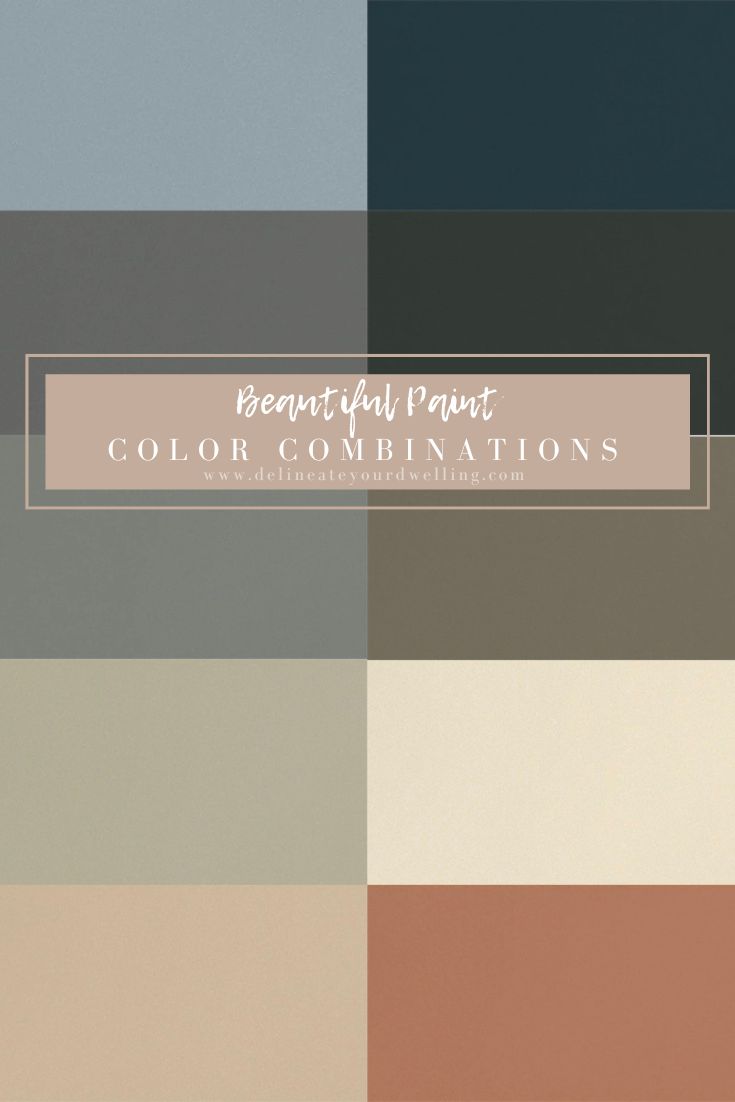 HGTV Home by Sherwin-Williams paint colors
Here is the complete list of the HGTV SW Earthy Charm paint colors.
I already used Cocoon on a project (Mid Century Modern DIY Dog House) and adore how the paint gave it a earthy muted feel.
Check out each of the paint colors below.

Best interior paint combinations
There are endless beautiful color paint combinations, but here are six interior spaces and colors that really go so well together.
Orange and Cream
In all three of the below examples, the combination of the warm spiced cider orange and creaminess of Navajo white are a perfect pairing. They work so well together because orange and yellow are both on the warm side of the color wheel.
Using accents of white countertops and black tile flooring and artwork are the perfect contrast in this office workspace.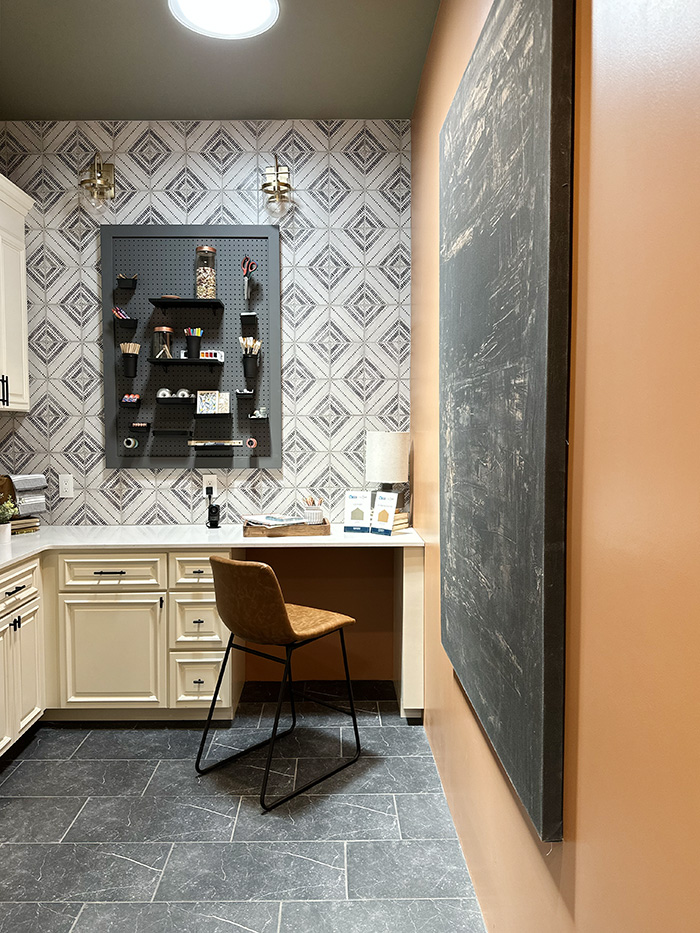 This bold mural accent wall is definitely a statement moment. This fun pattern was throughout the garage because even garages can take center stage here and there!
The warmth of the orange, almost melon color perfectly contrasts the cream paint for a fun but not too bright color statement.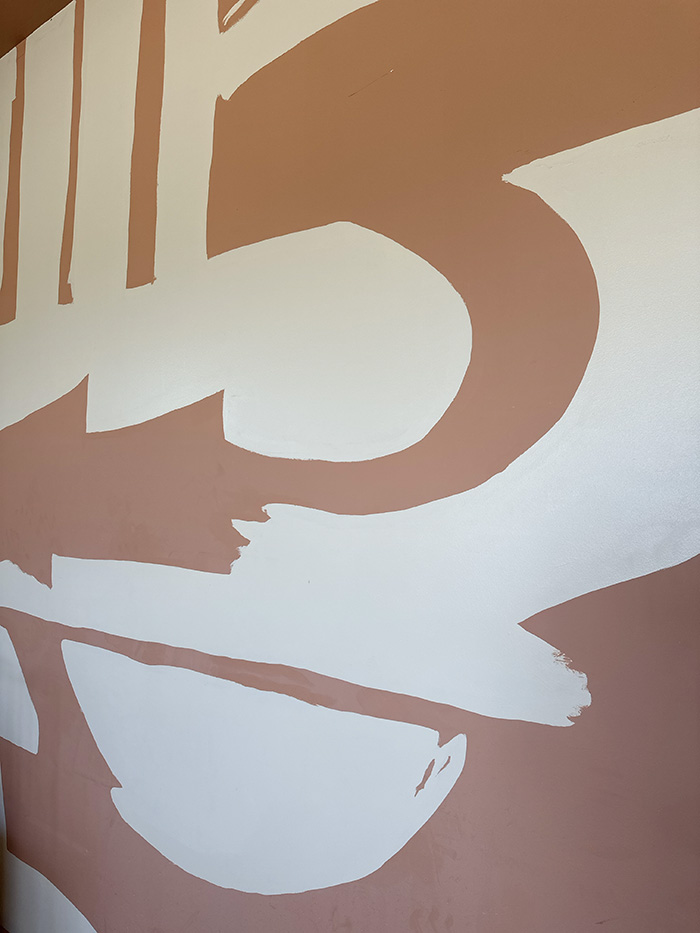 This children's bedroom is a perfect example of using color in sophisticated ways. In this room, adding in black accents in the bunkbed ladder, railing and even window trim are a perfect way to balance the warmth in paint color choices.
Also incorporating earthy tan colors in the rug and window drapes, helps to ground the room.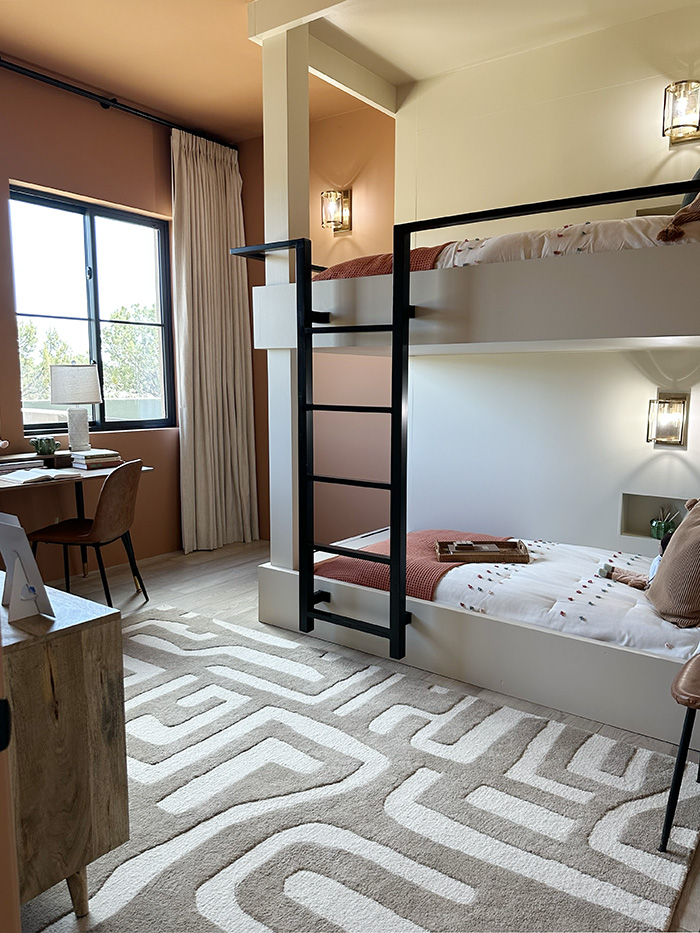 Green and Cream
Green, cream and tan colors are a beautiful combo in your home. These colors are both warm and cool, so when combined they can make a perfect contrasting palette.
This beautiful green, Jasper, paint has been used on the walls, ceiling and skylights. It's a very saturated color, but when combined with neutral creams and tans used in the art, decorative items, curtains and even flooring… the two are a perfect combo.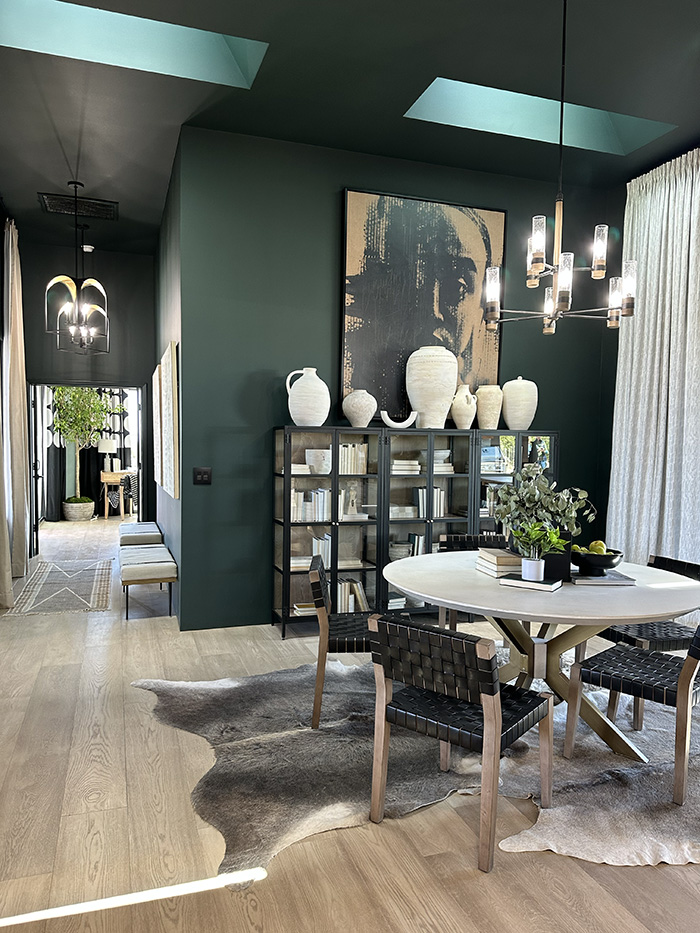 Combining this bold green with a wall of off white tile and cream kitchen cabinetry is a great solution to have big impact, but in a perfectly balanced way.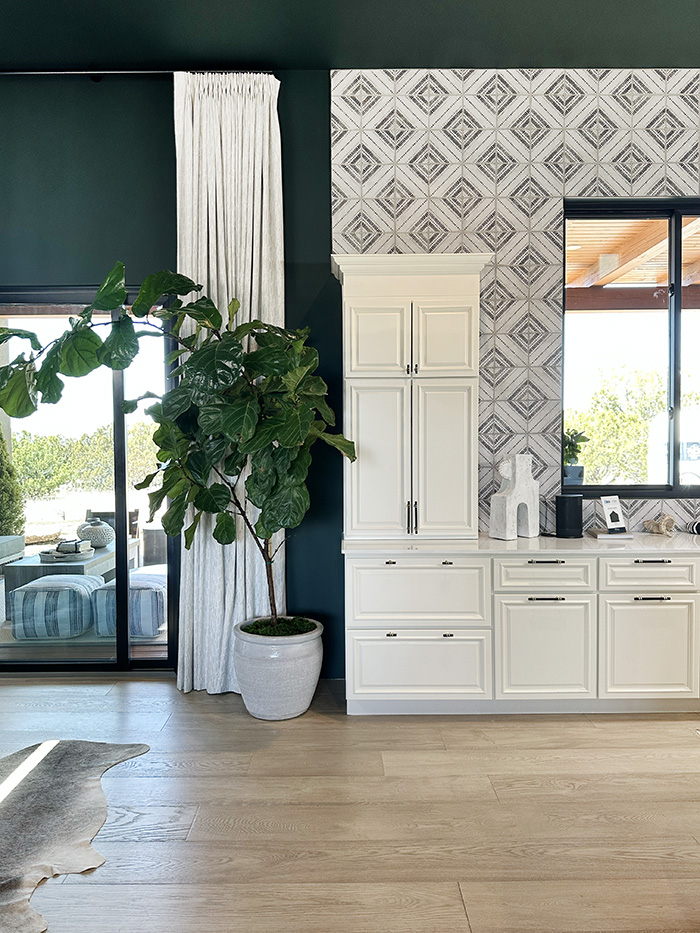 Again using bold Jasper green paint even on the kitchen ceiling is a big statement, but offsetting that with neutral backsplash tiles, cream kitchen cabinets, white marble countertops and a neutral kitchen island it works well.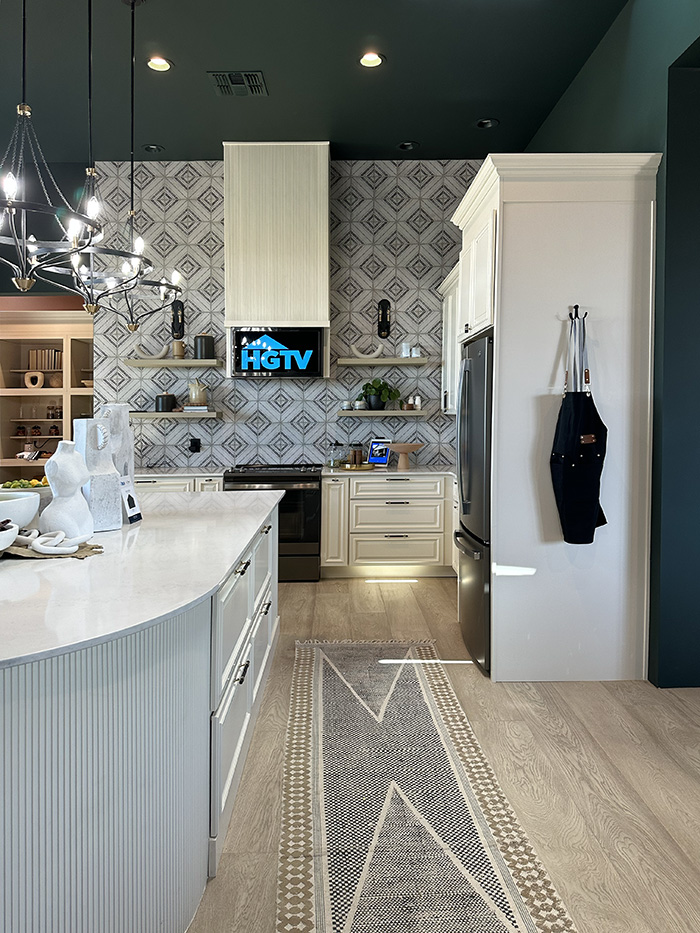 Deep Blue and Tan
Blue can be such a varied color in your home. From soft blue to dusty blues to saturated deep blues… there are so many variations.
In this bedroom, there is a deep saturated blue from top to bottom. The walls, ceilings, sky lights, curtains and even doors and door jams are the same shade of blue. Even though blue is a calming color, using this much of it could be a little overwhelming if it was not combined with a more neutral color like tan.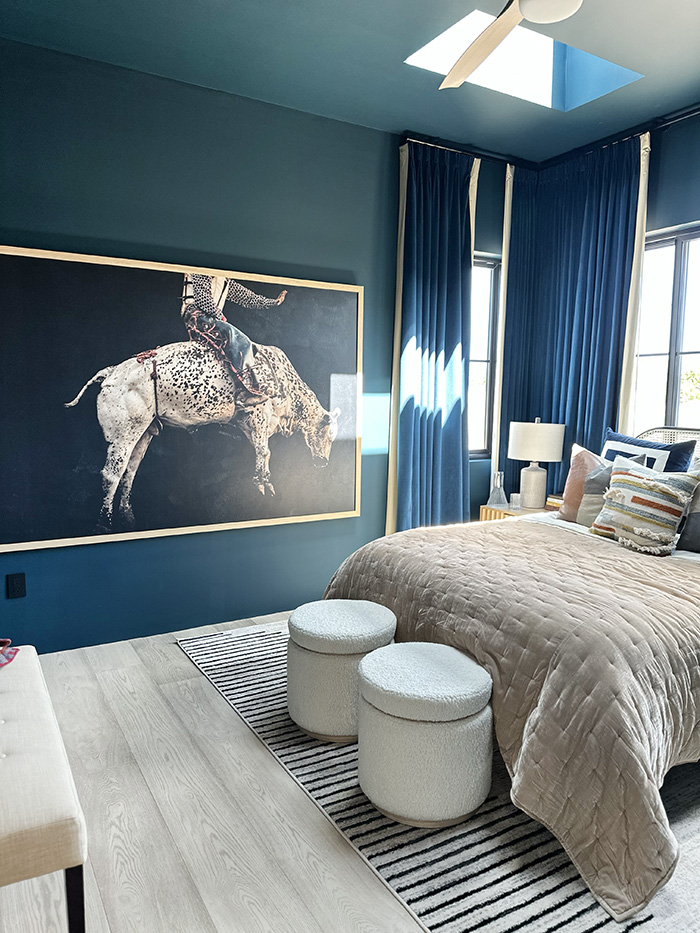 The bedding, home decor accessories, flooring and rugs being such a simple warm color, help to neutralize the amount of deep blue in this space.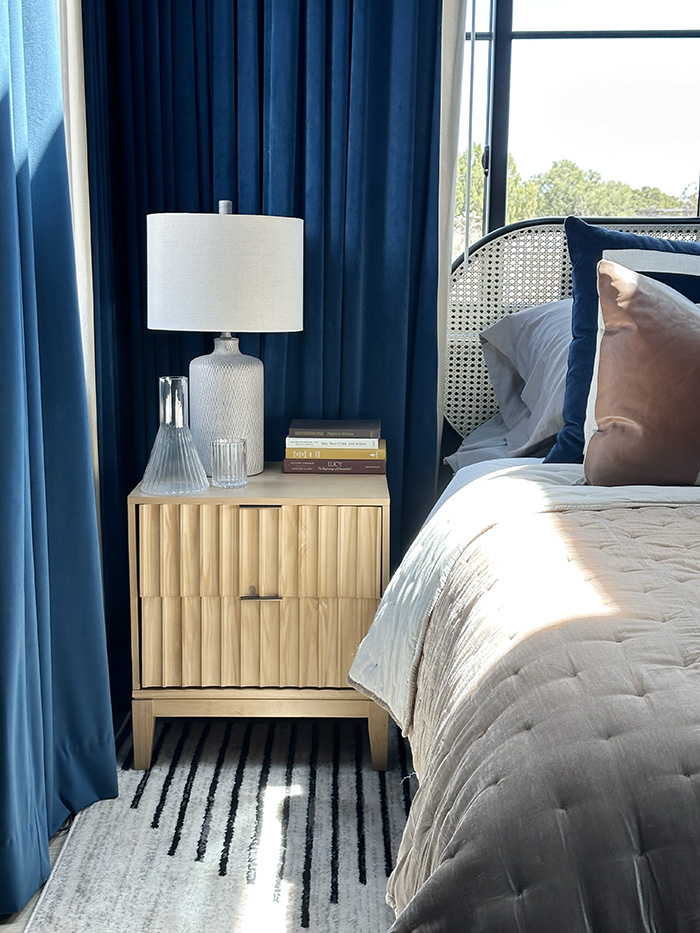 Good color combinations
Mint Green and Black
The coolness of a seafoam green or a mint green combined with a neutral like black are always a fun pairing.
This primary bedroom has beautiful tall ceilings and this floor to ceiling painted Copen Blue definitely reads more green. Having such wonderful natural light on two walls also helps to lighten the color.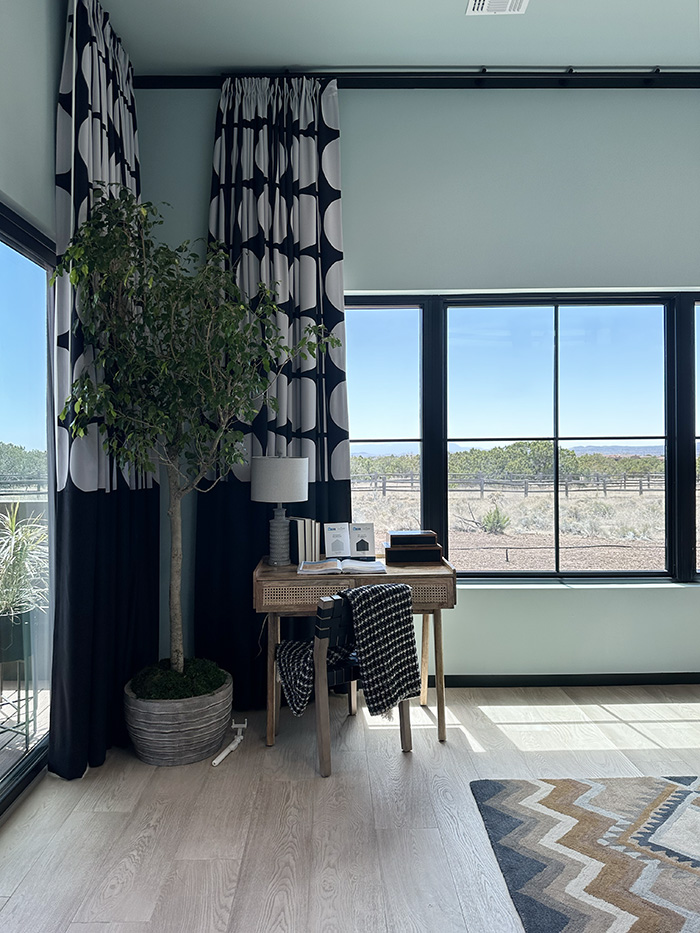 Combining mint green, gray, tan and black is a good color combination for this bedroom. It reads playful with the green, but the black and gray bring it back to a more sophisticated feel which is perfect for a primary bedroom.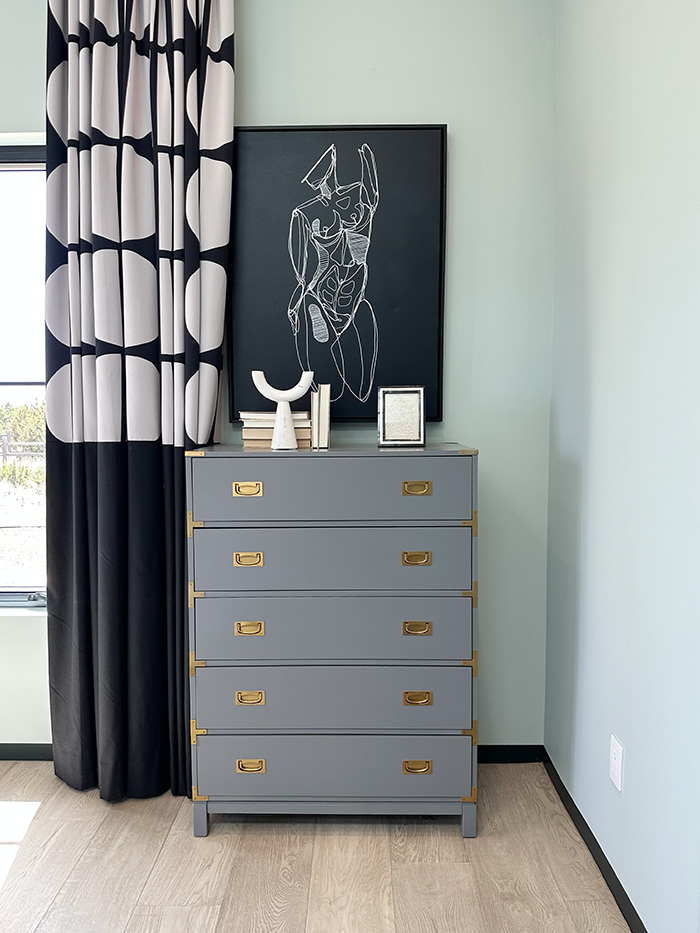 Hunter Green and Gray
Right off the primary bedroom, is another good color combination of hunter green and gray. The ceiling and skylight are hunter green, but the main feature of the bathroom are these incredible gray vertical tiles.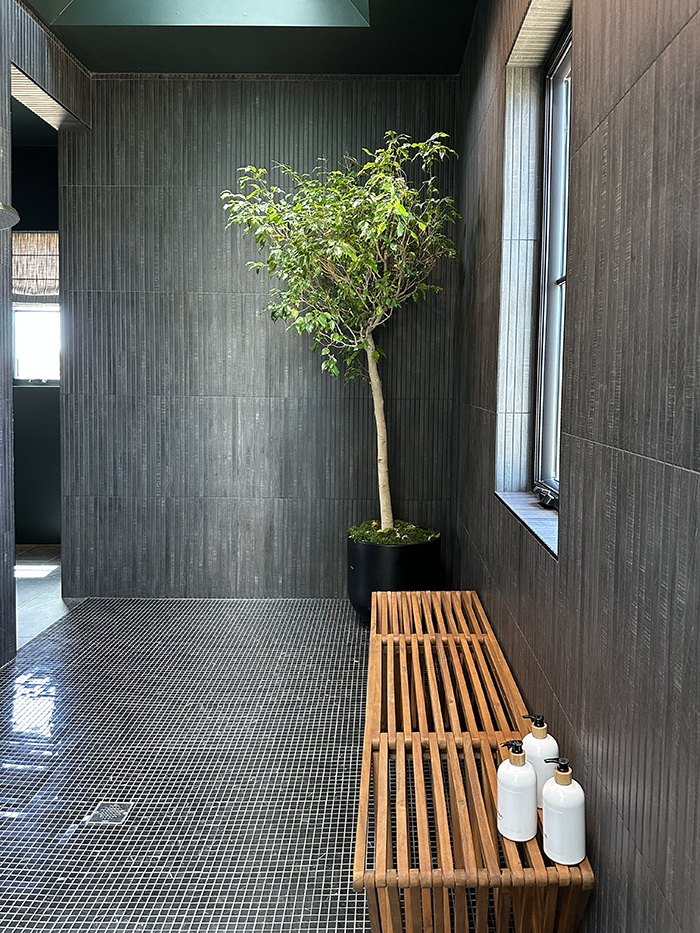 The gray balances out the deep green color and gives the room a very modern spa like feeling.
Plus any bathroom with a full sized tree in the corner, is a winner for me!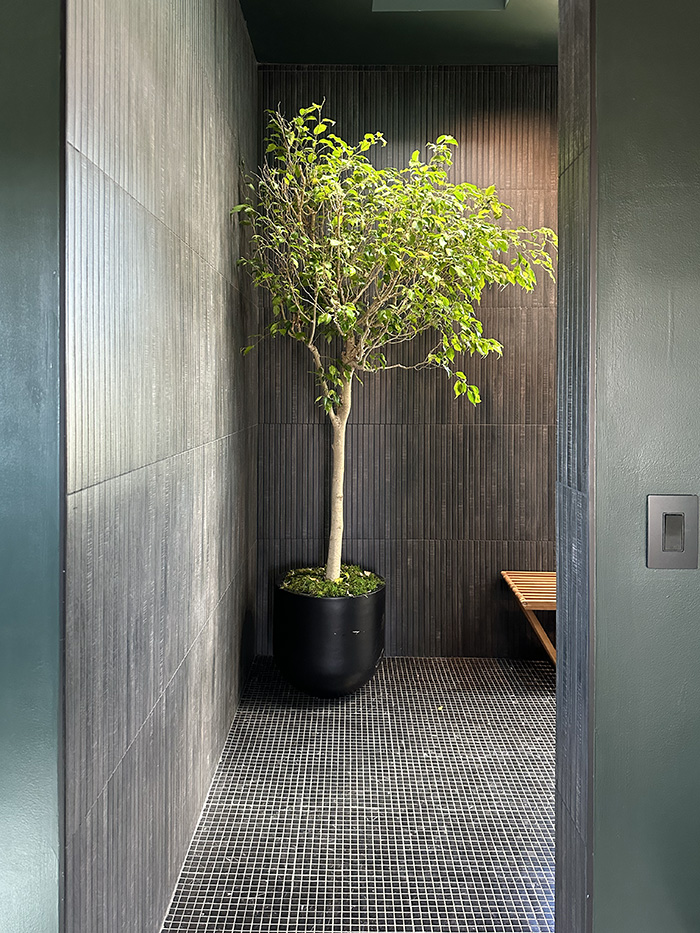 Tan and Orange
Tan, cream, orange and black are great combos for your home. The boldness of the orange (red wood ceilings) outdoors is immediately neutralized by the neutral colors right inside that visual.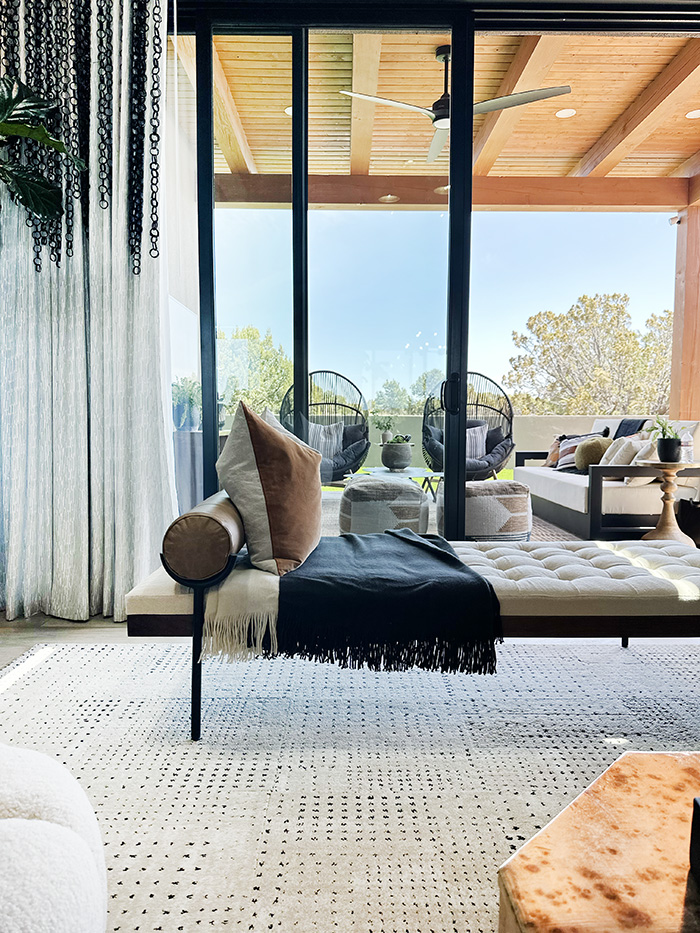 HGTV Smart Home 2023
The HGTV Smart Home in Santa Fe, New Mexico this year was spectacular and it felt like a chance of a lifetime to be invited for a special insider viewing!