INSIDE : Which colors look best in your home? How can I create a cohesive look with my interior paint colors? If you don't want everything the same color, but to all work together then read below for how to best pick paints that work to complement each other in your home!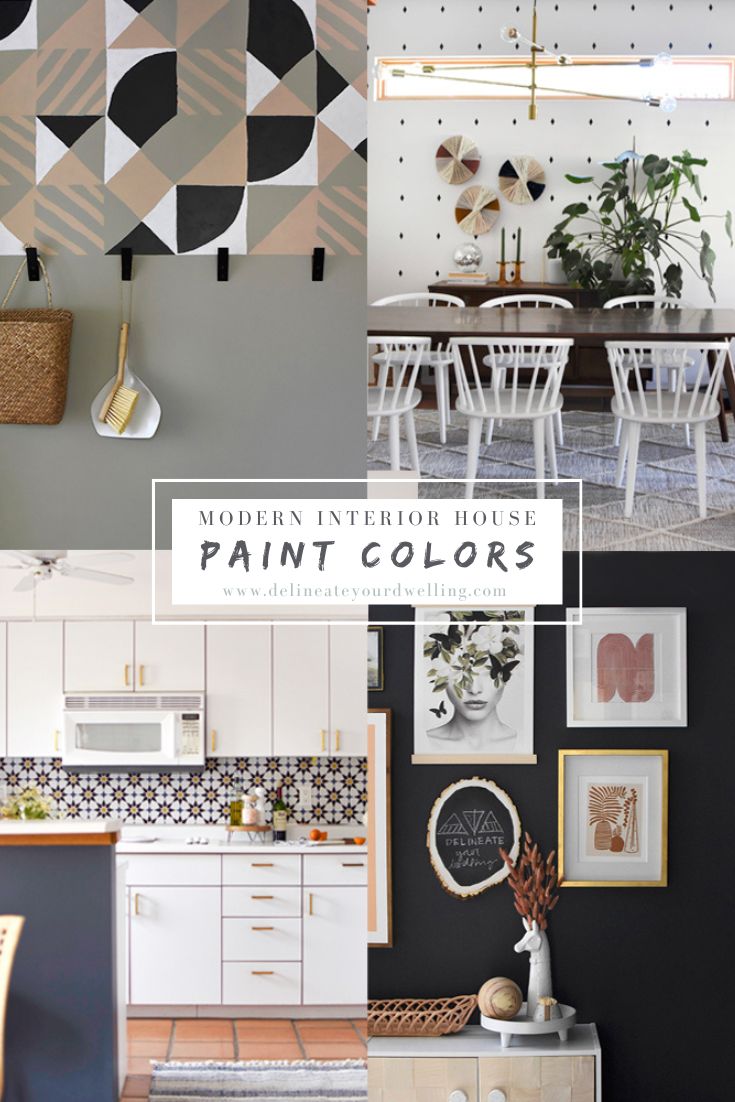 This post may contain affiliate links. See full disclosure here.
Picking paint colors for your home can be a daunting task. You don't want your home to feel like a Crayola Crayon box, but incorporating colors other than white walls only – can be tricky.
Whether you are looking for neutral paint colors or something more bold, I love when a home has a cohesive feel to it. And the best part is, you don't have to use the same color throughout to still have colors that work well together!
How to pick colors for your home interior
When trying to decide which colors work best in your home, there are a few things to take into consideration.
How much natural sunlight your home gets
What color your flooring is
What color your existing furniture is
What colors make you feel (happy, comfortable, relaxed, energized (fill in the blank with the emotion you want your home to give you)
See our paint colors below.

Our home is a VERY Southwest style (we live in New Mexico) and have terra cotta / orange Saltillo tiles throughout. The colors I choose for our paint, needed to be complementary to the flooring since that is something we really can not change.
Cost of Interior Paint
Interior paints can vary quite a bit depending on a few factors. One factor is the brand and another is the quality.
Latex-based paints cost an average of $15 to $20 per gallon at the lower end for economy paints and up to $65 to $80 per gallon for premium paints.
Premium paints usually have extra features like mildew-resistant additives, stain blockers, and scrubbable/washable additives.
Let's get into each of the colors I've used in various rooms in our home a more in detail now.
Modern Desert Interior Paint colors
Our home is in the heart of the desert here in New Mexico, so many of the paint colors I choose for our home reflect a modern desert feel. I also have brought in elements with lots of earth toned colors and even a touch of boho and Joshua Tree styled colors.
Behr Bit of Sugar PR-W14
A question I get a lot is "What is your favorite white paint?"
I used to think that white is white… but now that I've painted three homes in three different locations/lighting/styles – I can say without hesitation that there are endless shades of white paint and it can be quite tricky finding the right one!
The right color of white can make or break a space. Every white paint color gives off a completely different color undertone and can look so different when on the wall.
Our dining room used to be a very creamy color and adding Bit of Sugar to the walls gave it such a more updated clean feel. I then added a wall treatment decal to the walls to create of wallpaper look without using wallpaper.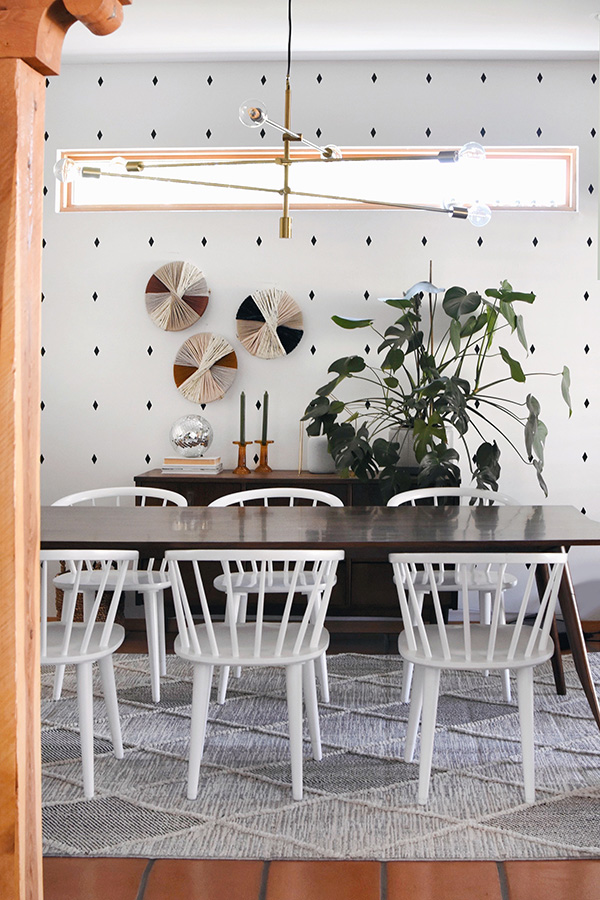 The white we have used throughout all of our home is Behr's Bit of Sugar. It is a white with a cool undertone.
Read more about how we used Behr Bit of Sugar White Interior Paint in our home.
Our living room has such high ceilings that painting this room white was a bit of a chore, but again the brightness of this space now with a crisp color makes it all worth it.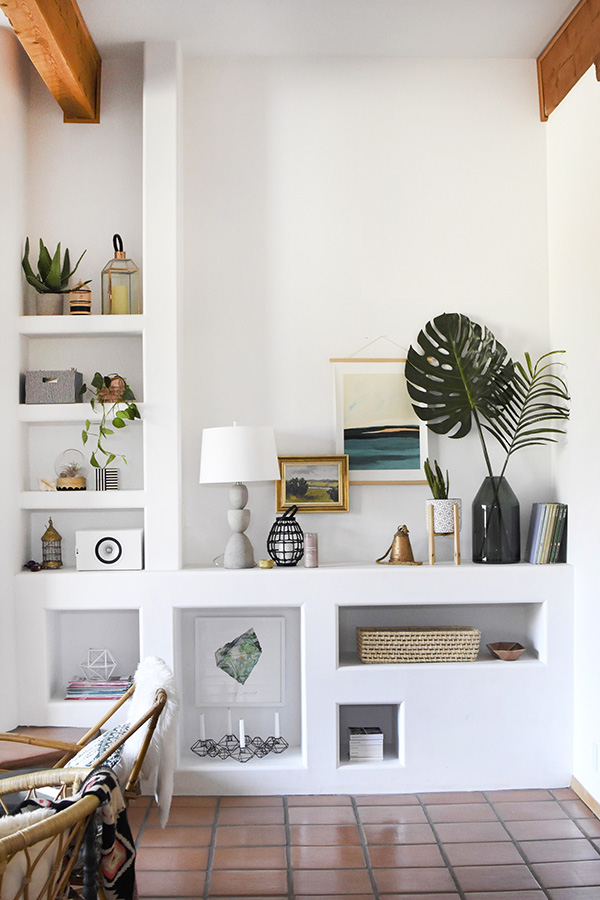 Bit of Sugar has an almost vintage feel. It has some very subtle gray tones that gives it a pretty neutral white color, but it does warm up the space a bit since it's not a pure pure white color.
Our hallway has no natural light, so it can get quite dark. Adding Bit of Sugar here was the smartest idea to add more light without spending tons to install skylights or additional scones and wiring.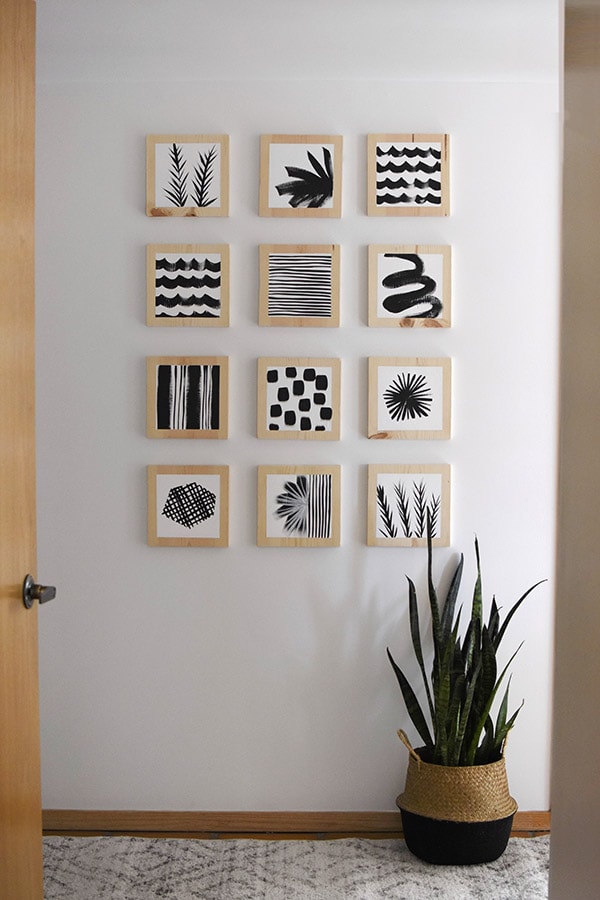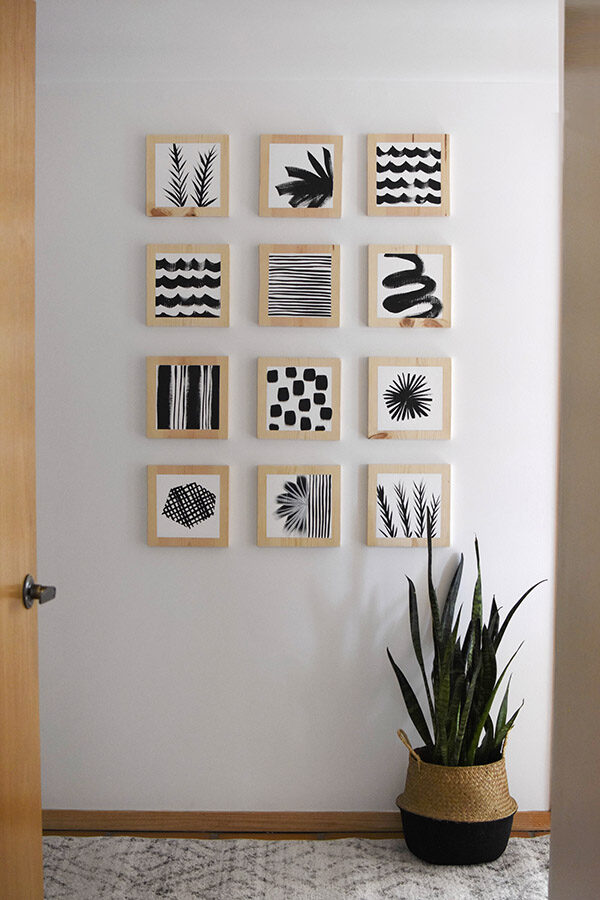 Behr Dragonfly PPU12-03
Our Hallway Bathroom was another room that had been painted a very intense creamy yellow color.
I painted three of the walls in Bit of Sugar and then created this beautiful accent wall. I built a Modern Board and Batten feature and painted it in Behr's Dragonfly color.
I then color matched the paint color and installed this leaf wallpaper in this soft teal / aqua color. I am so smitten with this color, it's the perfect brightness without being too bold and overwhelming the room.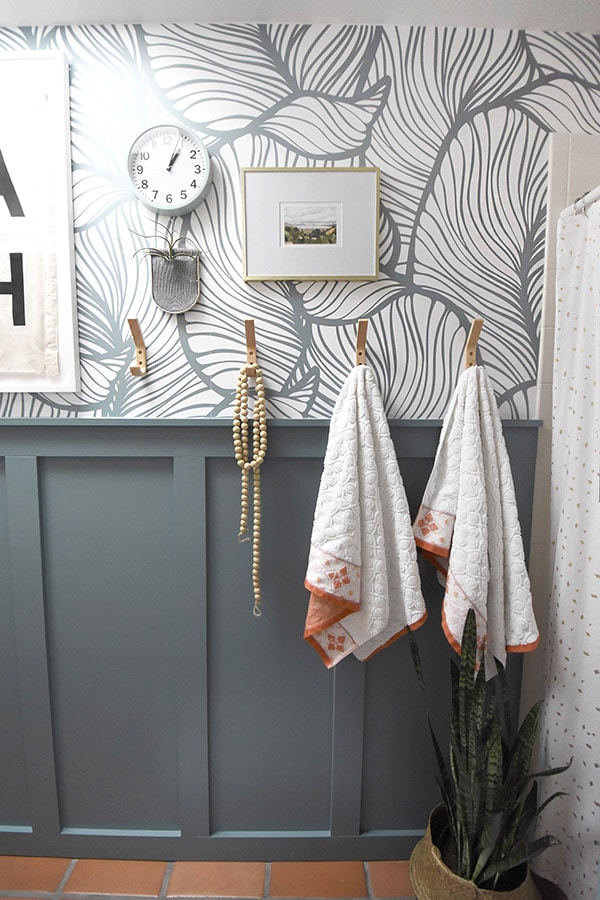 We keep wanting to renovate this entire bathroom, but I love this paint color so much I may use it again with the updated space! Dragonfly PPU12-03 is so subtle and soothing for any room in your home.
Looking for more on this color?  Check out Which colors go best with teal.
Behr English Channel PPU14-19
Our kitchen was "okay" when we moved in. I was thankful for the simple white cabinets, but that was about the only "okay" thing about the room. It was again the same creamy yellow color, so I gave the kitchen got a coat in my favorite white… Bit of Sugar.
I also covered the MIRROR backsplash with removable Moroccan tile wallpaper and painted our Kitchen Island in a gorgeous Behr English Channel.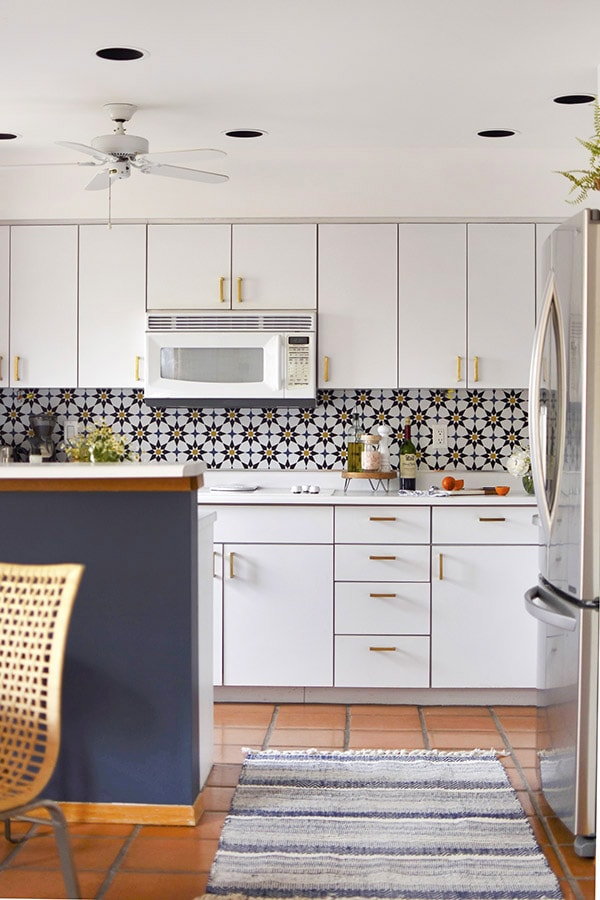 English Channel by Behr is a sophisticated blue with dusky plum undertones. It looks a little more bold in the above photo than in does in real life but, it perfectly contrasts our Saltillo Tile floors and complements the Moroccan backsplash tile pattern.
I couldn't be more happy with the addition to our kitchen, it softness the space and connects all the color elements.
Looking for more on this color? Check out my Behr English Channel Blue Interior Paint post.
Behr Thermal S440-7
I was excited to add a dramatic color to my bedroom and in a unique way. I choose Behr's Thermal paint color. Thermal is in the blue family, but it has quite a bit of green in it. This makes for a beautiful deep almost teal color. Depending on the time of day our room can look black, dark blue or green.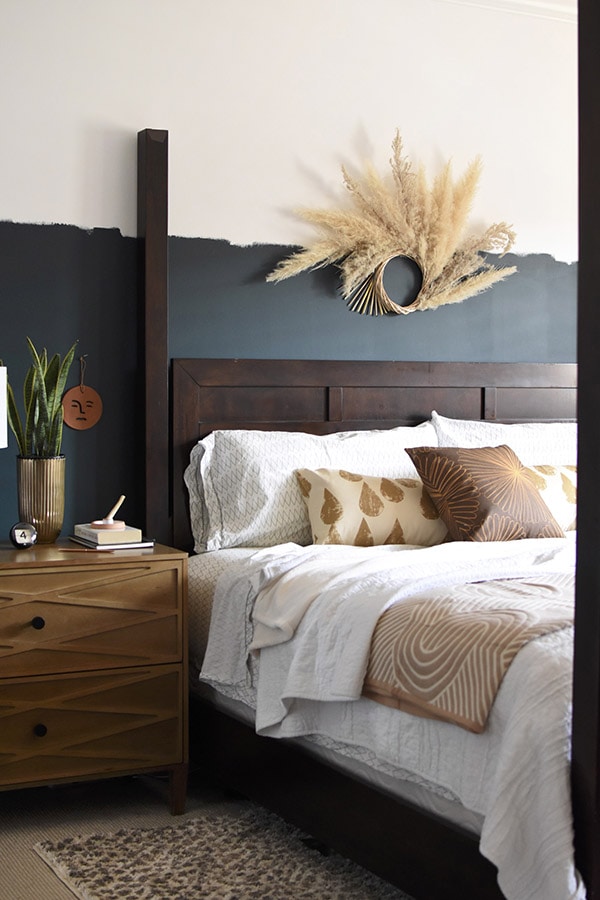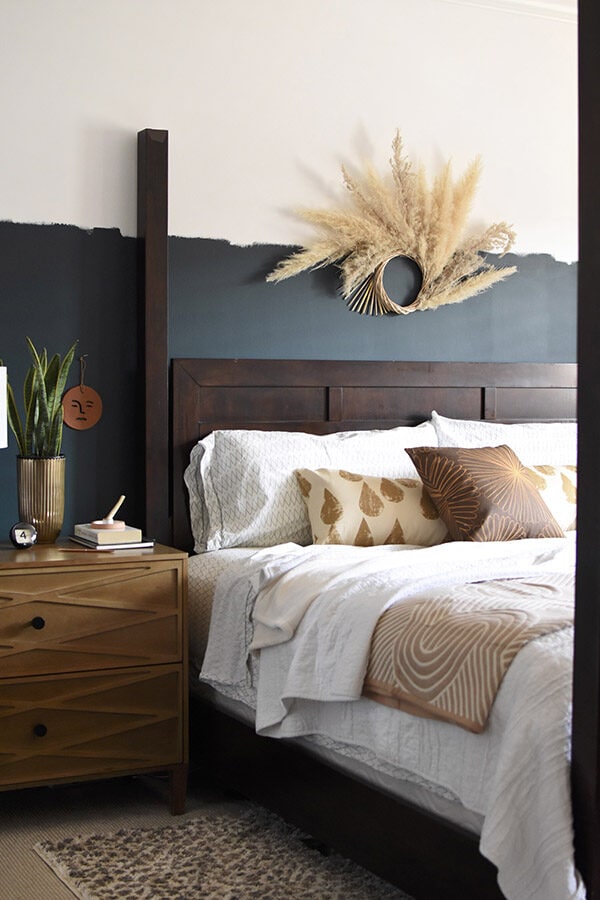 You can see in the below image how Thermal really can change colors based on natural light. I often call these chameleon colors, ha.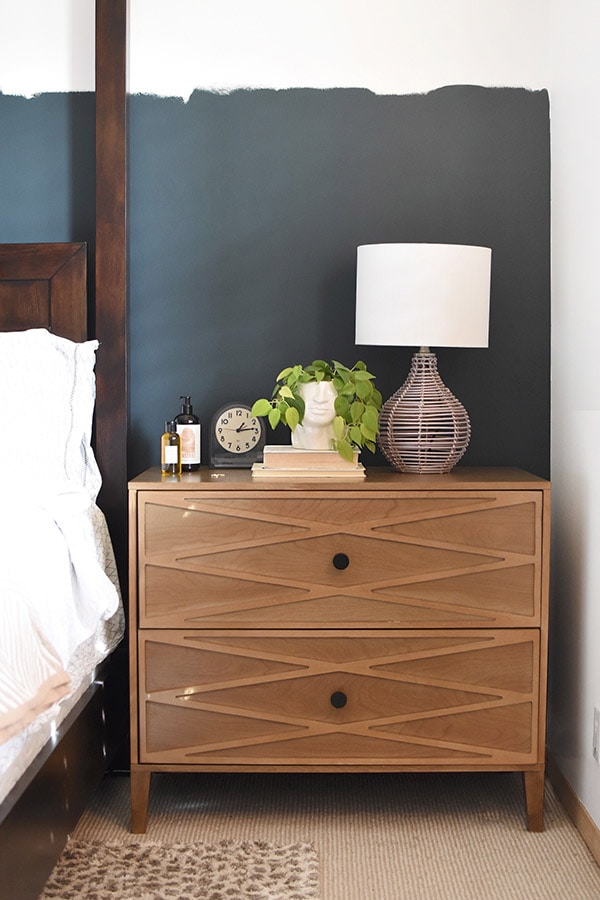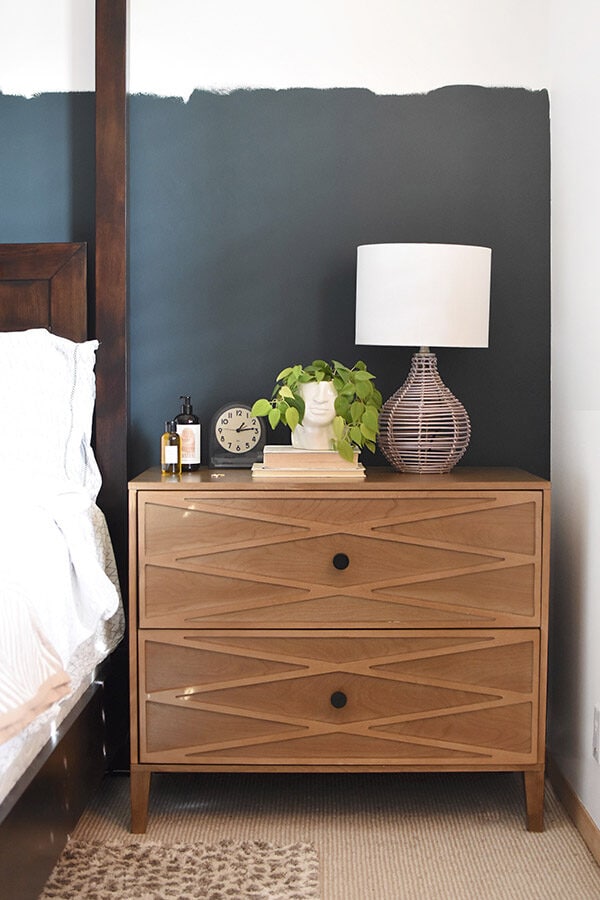 I've been really happy with this moody shade in our bedroom and think it would be a lovely choice for a bathroom, also.
Behr Nocturne Blue HDC-CL-28
After painting my bedroom a beautiful dark color, I was excited to create another moody room in our home. I used Behr's Nocturne Blue in my home office on the walls and love how it turned out.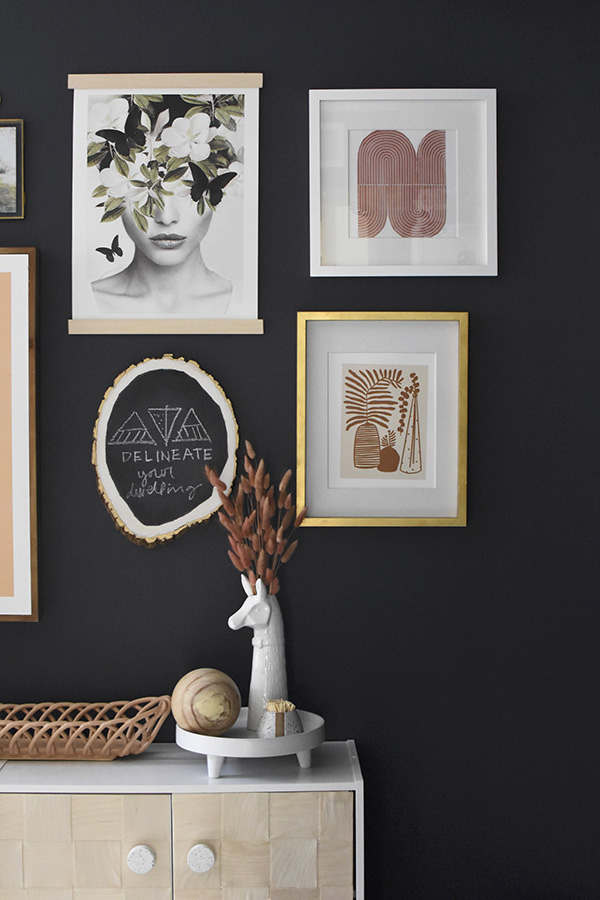 Looking to see more examples of Behr Nocturne Blue Paint in your home?  Be sure to check this post out.
Nocturne Blue is a beautiful dark blue color that invokes a sense of power and authority.
I also painted my Wood Slat Feature Wall in Nocturne Blue and think it added so much beautiful drama. It's another paint color that can change dramatically based on the lighting in the room. Sometimes my walls look dark navy blue, other times they look dark teal or black.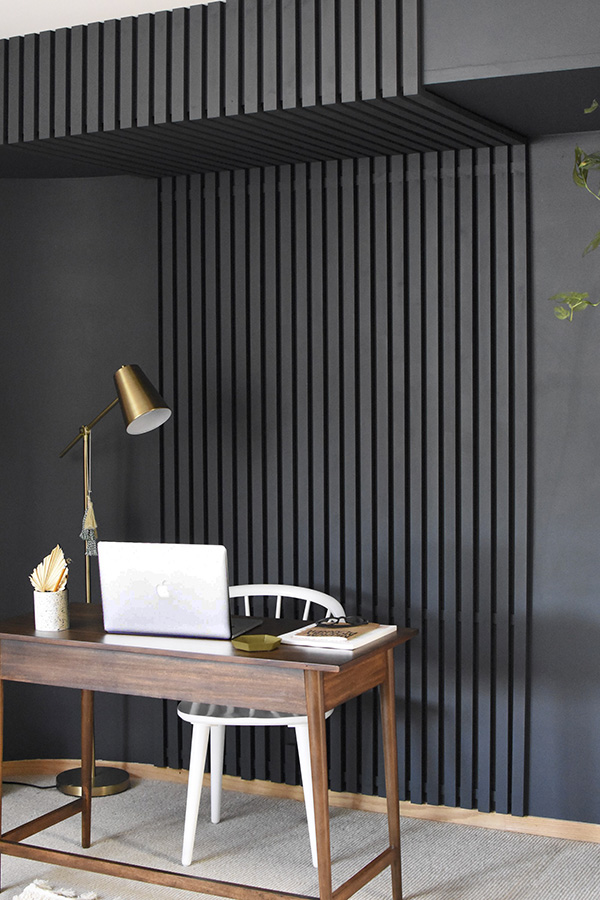 Behr Stone Walls PPU8-19
I was so excited to add some green to my Laundry Room. I worked with a paint brand to create this fun stenciled laundry room accent wall, but my main wall paint color was Behr's Stone Walls.
Stone Walls paint is a lovely soft sage green color. It pairs really well with the tan, white and black paints that I used in my mural. It's in the neutral color family and has quite a bit of gray in it.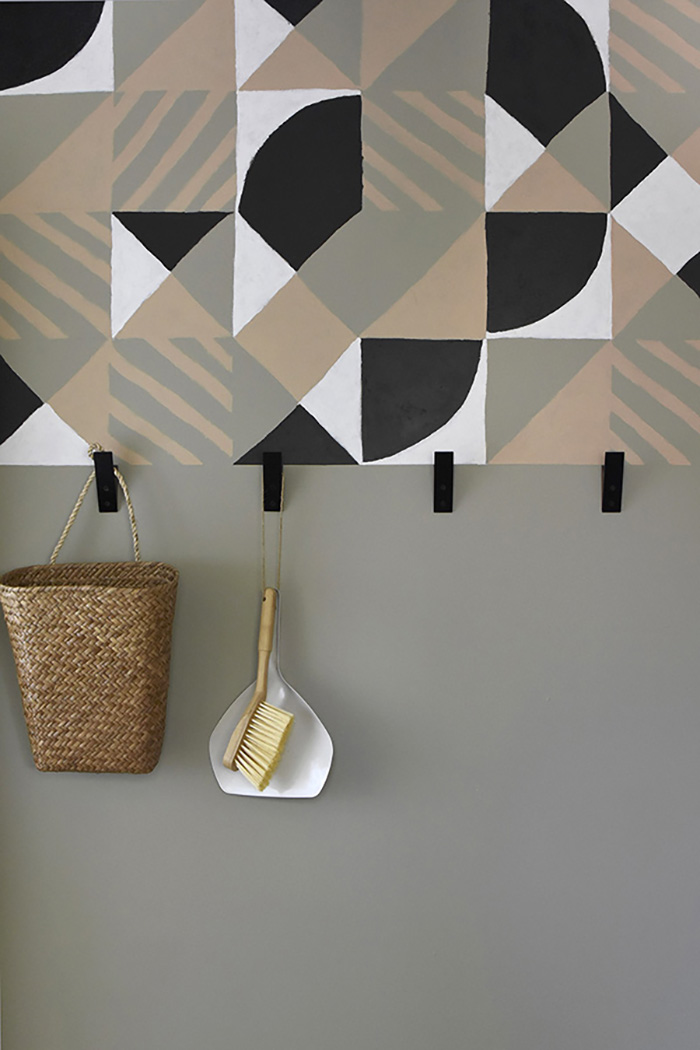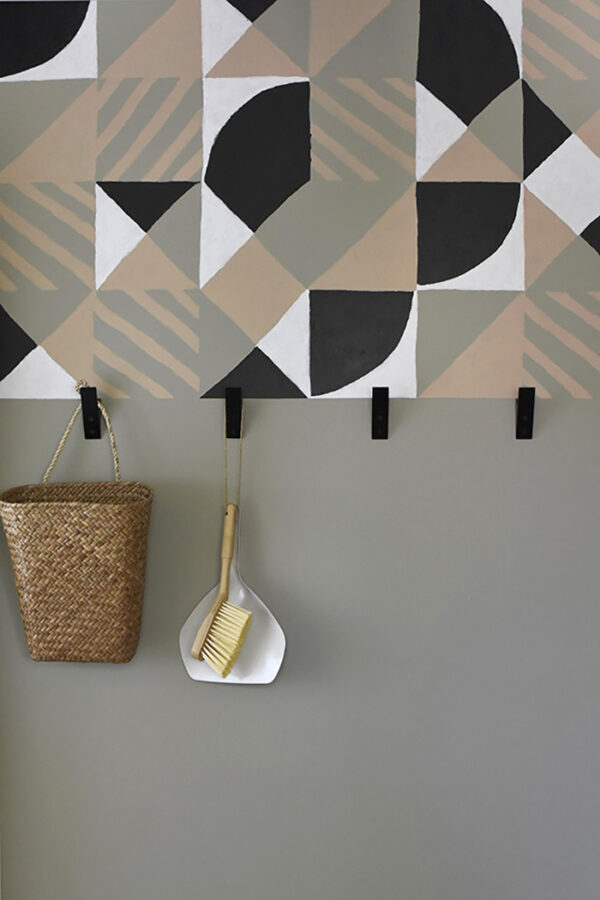 Striped Accent wall in Tween Bedroom
I had so much fun creating this striped accent wall in my daughter's bedroom. You can see more about the Modern Tween Colorful Bedroom reveal here.
I used Bit of Sugar as the main wall color and then used these muted colors for the stripe. They are listed below in order from top to bottom.
Teton Blue N490-4
Ocean Abyss MQ6-01
Honey Tea MQ2-18
Vintage Tea Rose HDC-CT-07A
Heavy Cream PPU5-10
Rainy Afternoon N430-4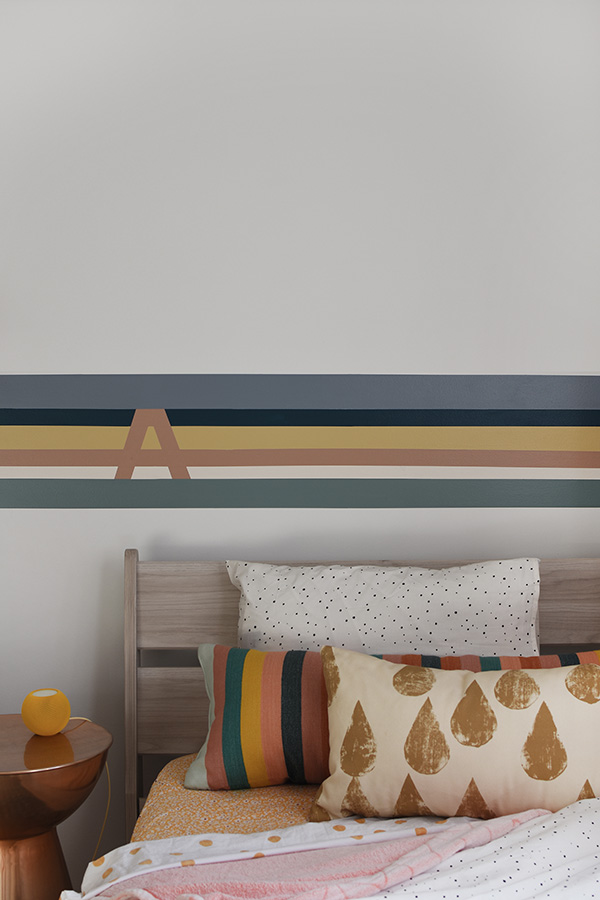 These colors are rich, but since I used it in such a small area they give the perfect pop against the white walls. It was a fun way to use color in my tween's bedroom!
Best Interior Home Paint Colors
There are endless color combinations you can use to paint your home. Here are the main ones I've used in my home.