Which colors go best with Teal
INSIDE : Learn which colors go best with Teal. Teal can be a very dark color, so combining teal with lighter complementary colors can give any interior room a beautiful fresh look and feel.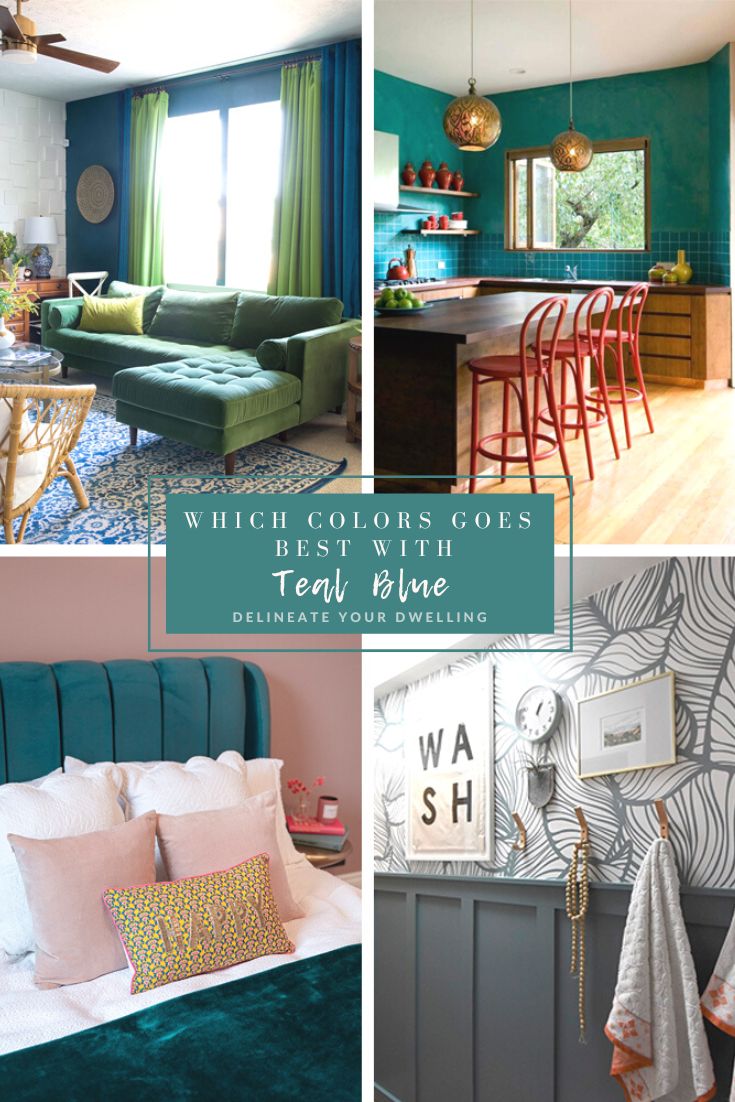 This post may contain affiliate links. See full disclosure here.
Teal is a wonderfully rich color that can bring on feelings of drama. But while it can be a very dark color that adds moodiness to a room, you can also use softer versions that encourage calmness. This beautiful jewel tone color can bring so much to any home.
The look of your space will depend on the shade of teal you use, the amount of you have available light, and the other colors you use with it.
The good news is that teal can range from light to dark and the green/gray undertones can vary the color, as well.
Looking for more blue color inspiration?  
Beautiful Teal Blue Paint colors for your home
Behr Nocturne Blue Paint in Your Home
Painting Office Moody Teal Blue
Behr Dragonfly Modern Board and Batten
Blue's complementary color
Blue's complementary color is orange, so teal (which is a form of blue) works beautifully with shades of orange like earthy terracotta, warming paprika and even golden accents.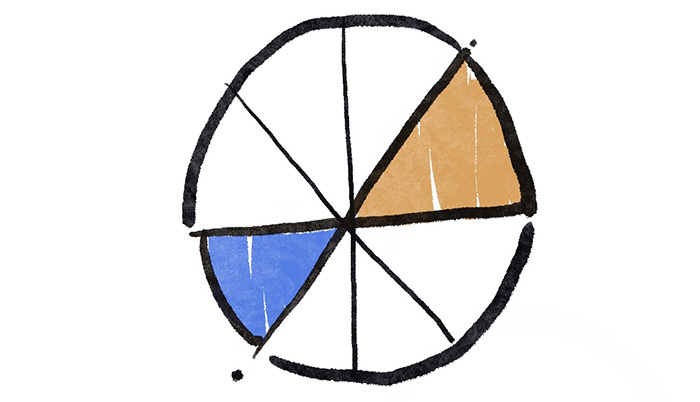 Green's complementary color
Green's complementary color is red, so teal (which is a form of green) pairs well with pinks like soft blush, cheerful corals and even salmon colors.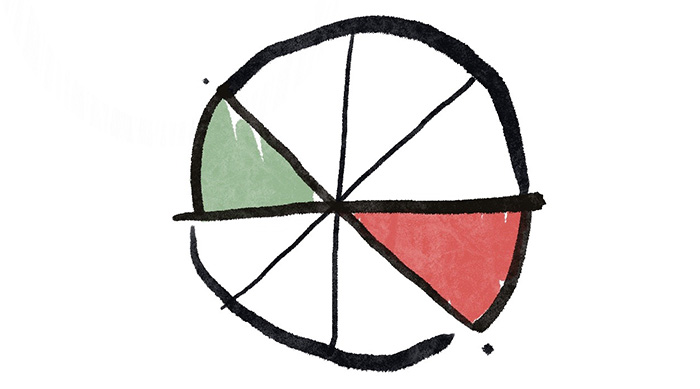 Opposite color of Teal
So knowing the complementary colors of blue and green, we can say with confidence that the opposite color of teal is a light red almost maroon color.
There are endless colors that work wonderfully with teal, you just have to combine it in the right way.
Teal is a fairly versatile color and it works well with both warm and cool color palettes.
There are endless ways to use teal in your home – wall paint, furniture, wallpaper, tile, light fixtures, accent pillows, rugs and small home decor items.
Now let's take a look at some of the color combinations that look good with teal…
Teal and Terra Cotta
Teal and terra cotta (orange) are on opposite sides of the color wheel and thus are complementary colors. These teal painted floor to ceiling cabinets look wonderful against the warm terra cotta colored Saltillo tile.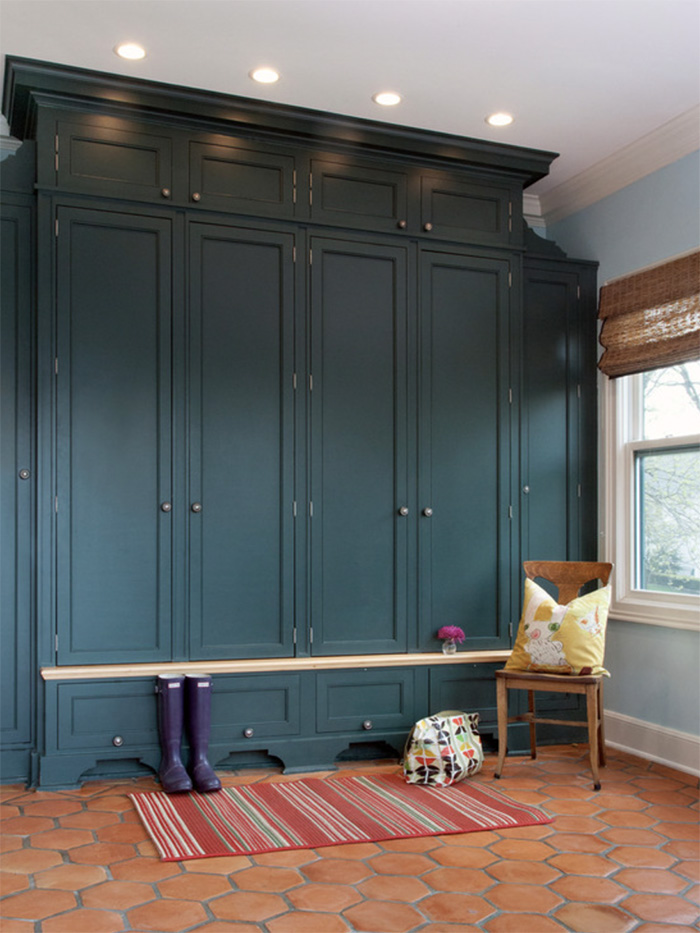 Teal and Yellow
Teal and yellow is a fun bold color combination. Both colors bring vibrancy to any room they are in. This happy yellow bedding looks great against the painted teal wall.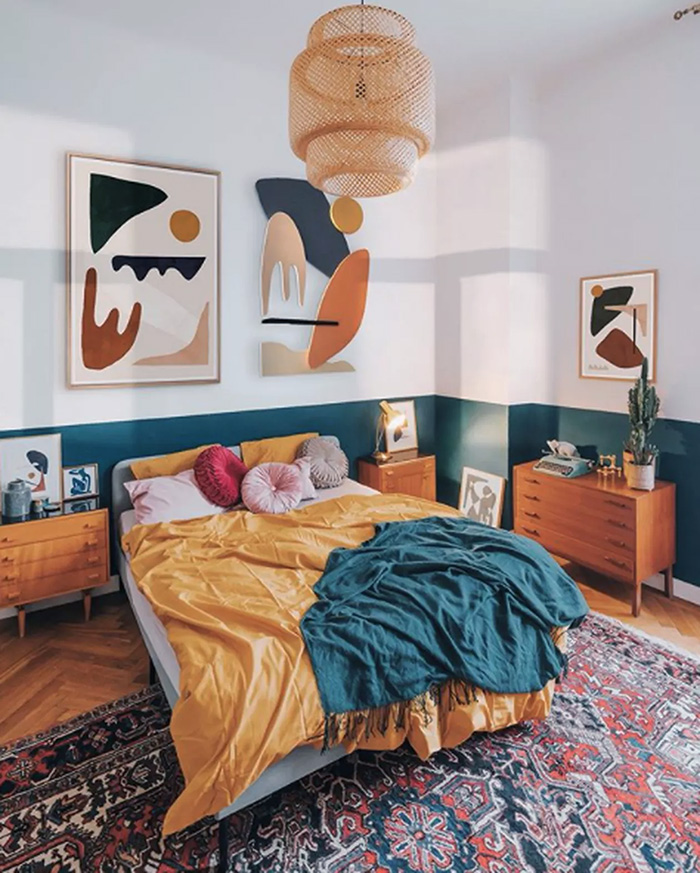 Teal and Pink
Teal and pink are a lovely color combo. This dusty pink is a beautifully warm color against this bold teal velvet headboard.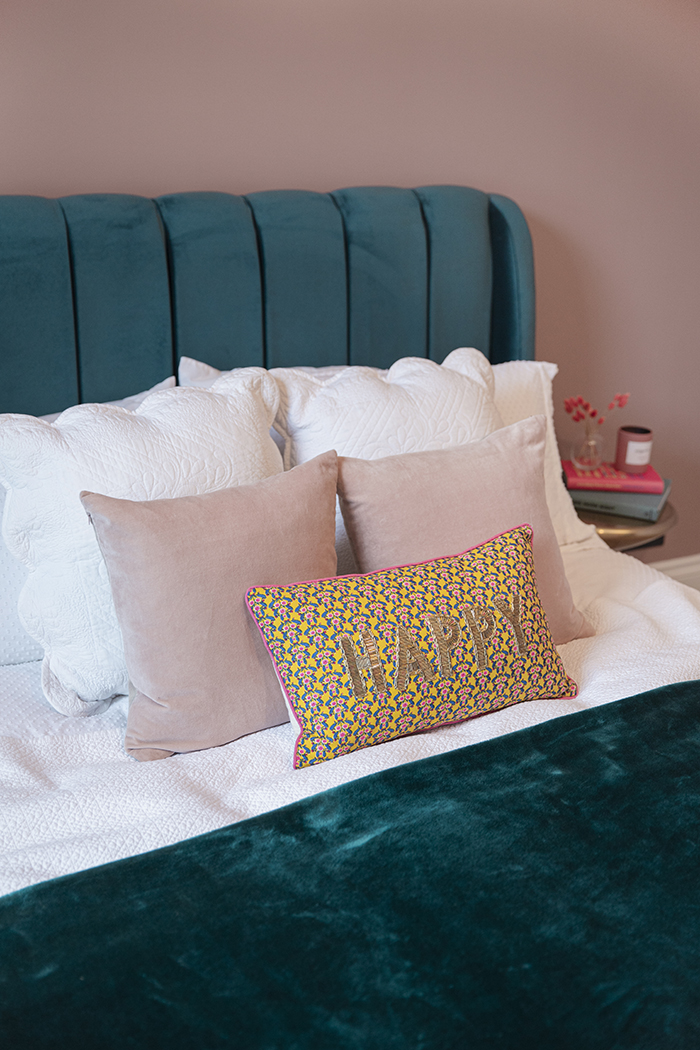 Teal and Black
Teal and black are a very dramatic combination of colors. Both are dark and moody and give this guest bathroom a very romantic feel.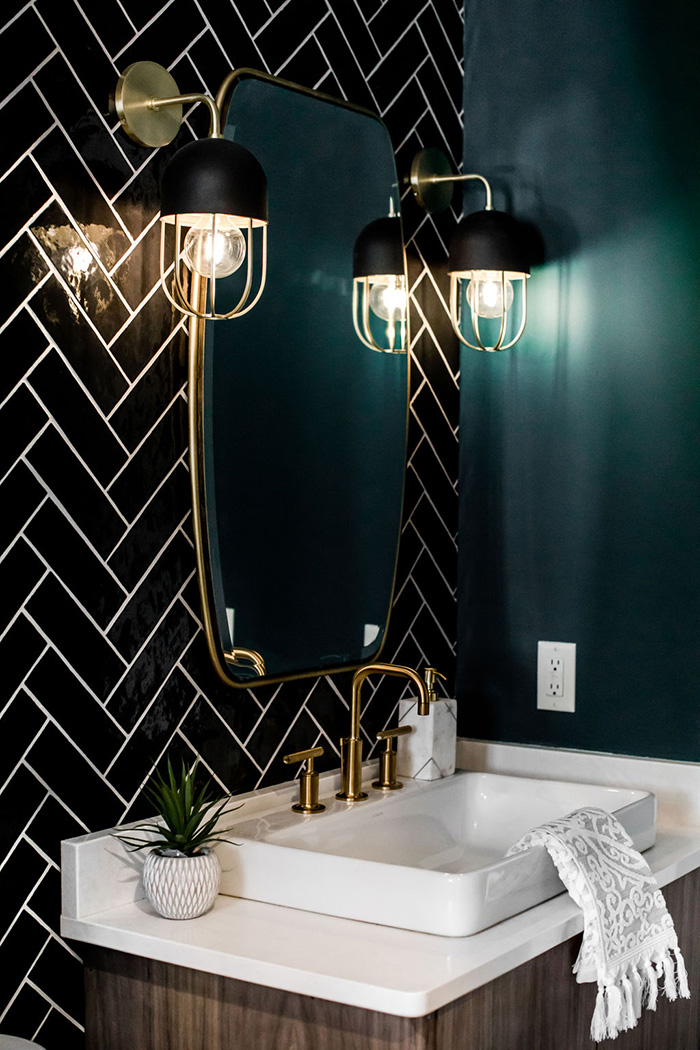 Teal and White
Teal and white give such a beautiful contrast to each other. The crispness of the white against the soft teal in this hallway bathroom are a great pair.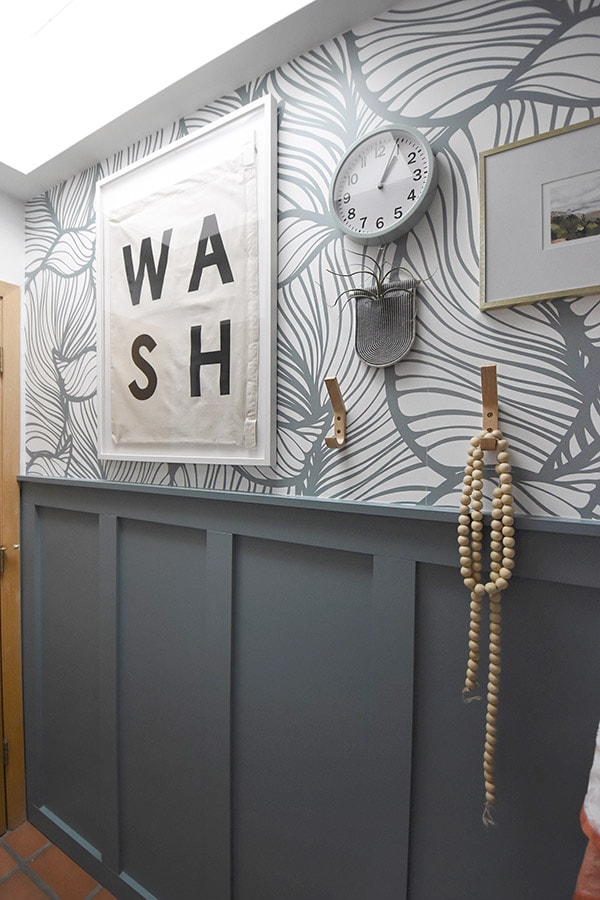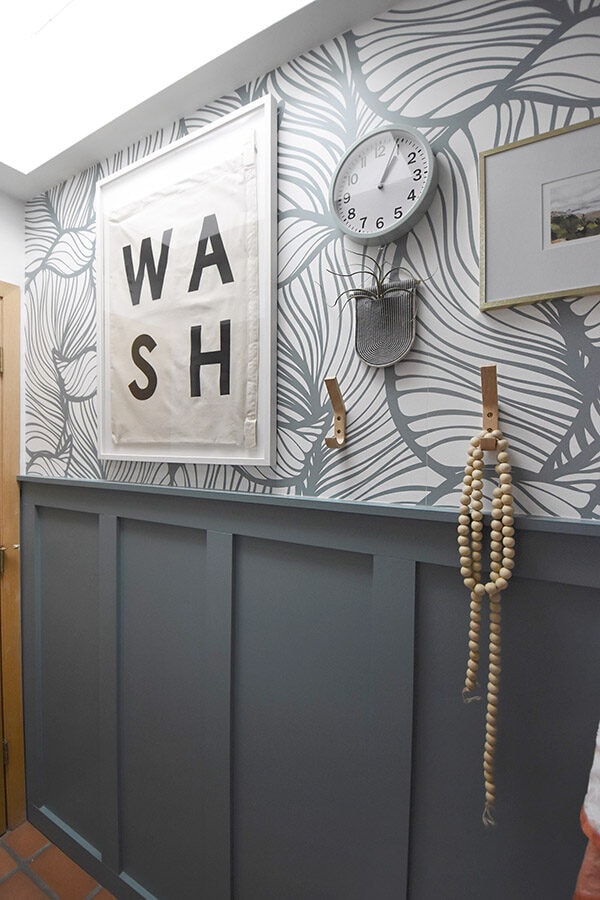 Teal and Peach
Teal and peach are a beautiful combination of colors. Peach is on opposite sides of the color wheel as teal, so the peach of these walls and rug in this study against the teal chairs and accent wall go so well together.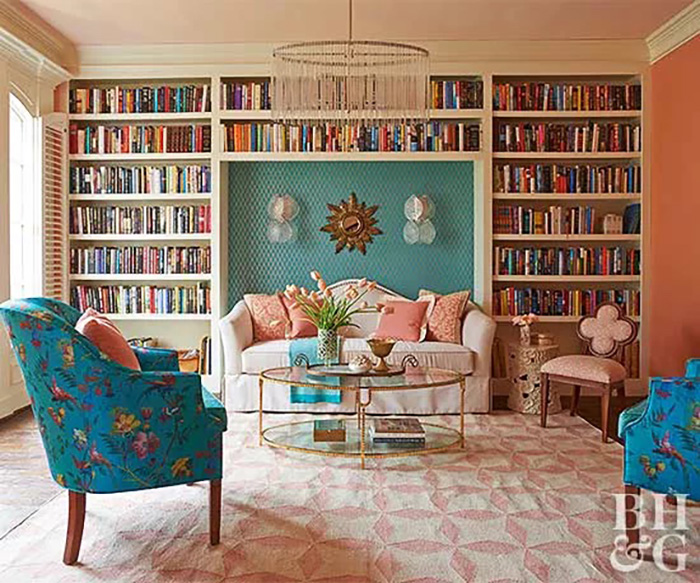 Teal and Red
Teal and red are another wonderful example of complementary colors on the color wheel. Green and red are the base colors on the wheel, so this teal with bold accents of red in the chairs and decor are perfect in this kitchen image.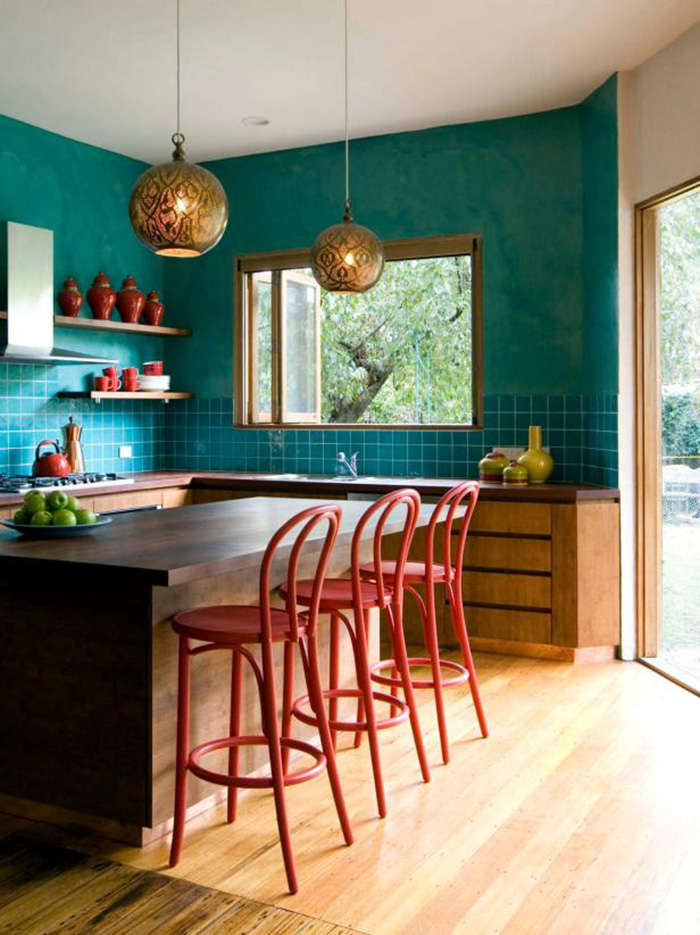 Teal and Green
My friend Stephanie combined this deep teal and vibrant green in her living room and it looks just wonderful! Since blue and green are beside each other on the color wheel it's called analogous colors. Together they look pleasing and produce a calming effect, as opposed to complementary colors.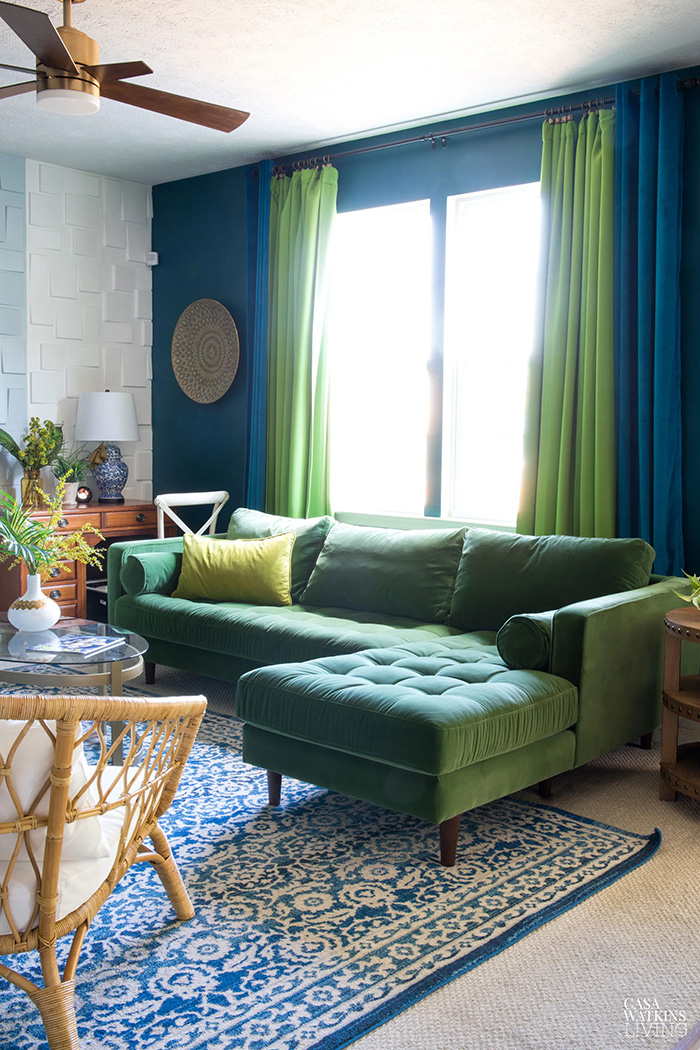 Teal and Mint
Teal and mint are another example of analogous colors on the color wheel. In this example below, the teal has a more blue pull to it and the mint has a more minty green to it. These are a beautiful combination together that bring delight and cheer.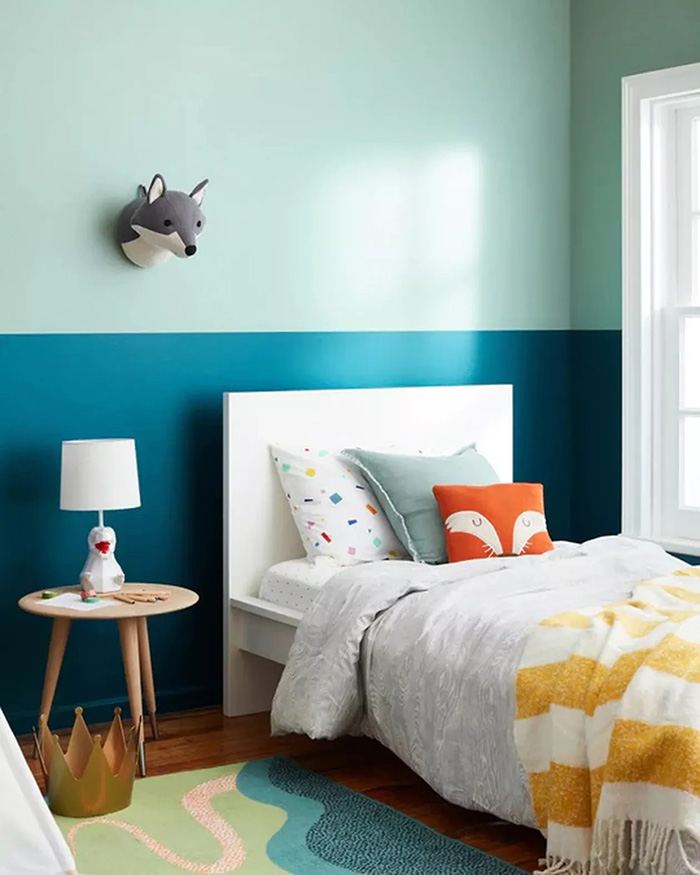 Teal and Tan
Teal and tan colors immediately create a very calming feel and together they almost mimic nature. This dining room uses both colors on the walls, window blinds, and on the dining room chairs.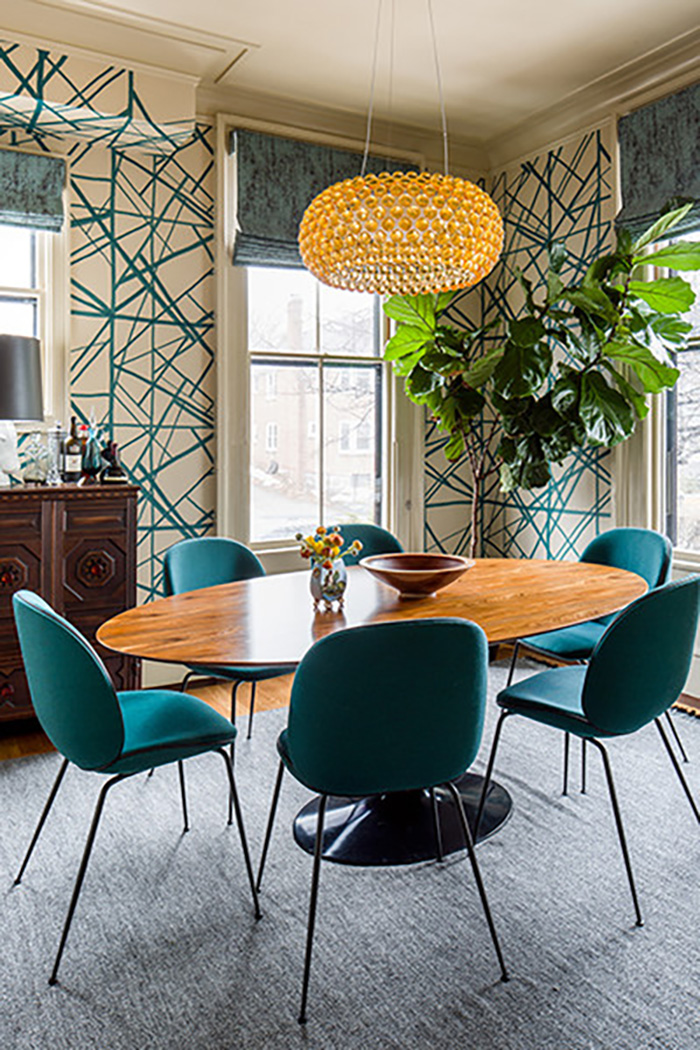 Here is another example where the boldness of the teal walls is neutralized by the softness of the tan bedding and rug.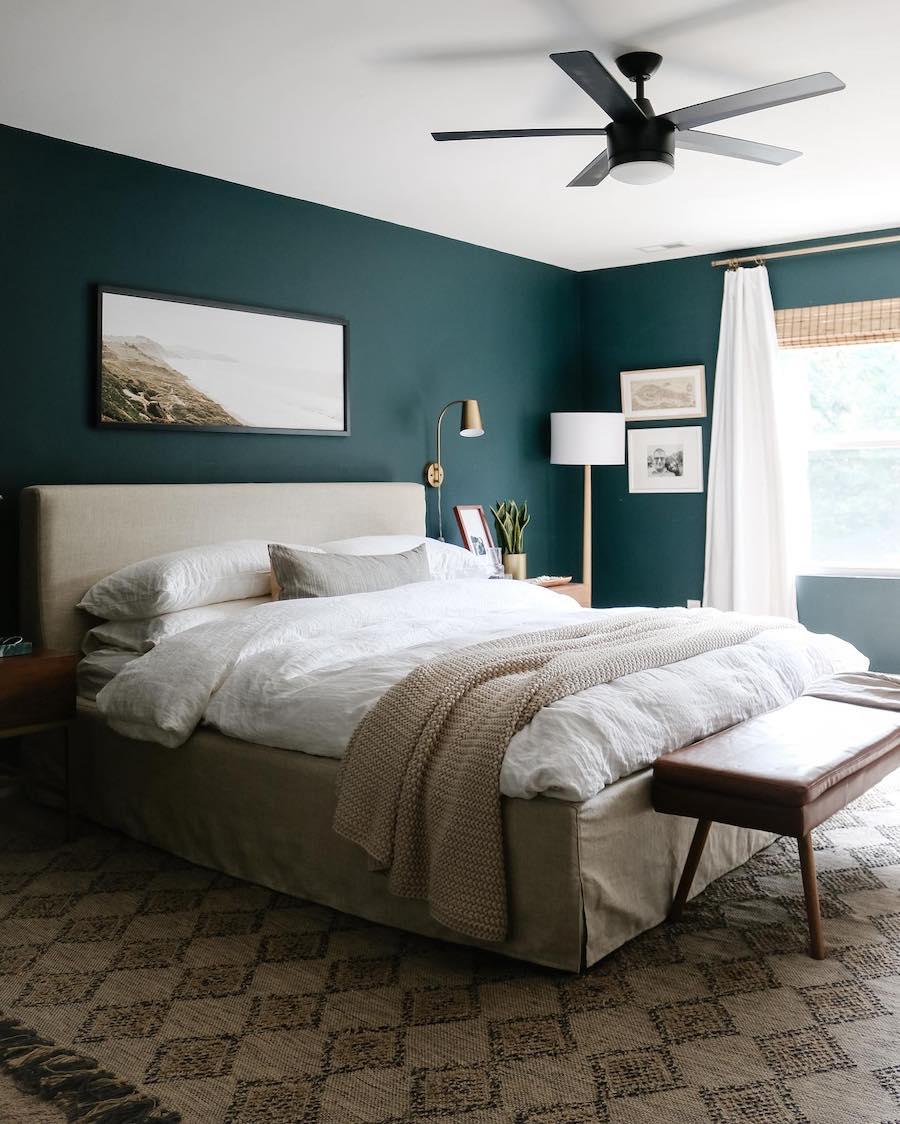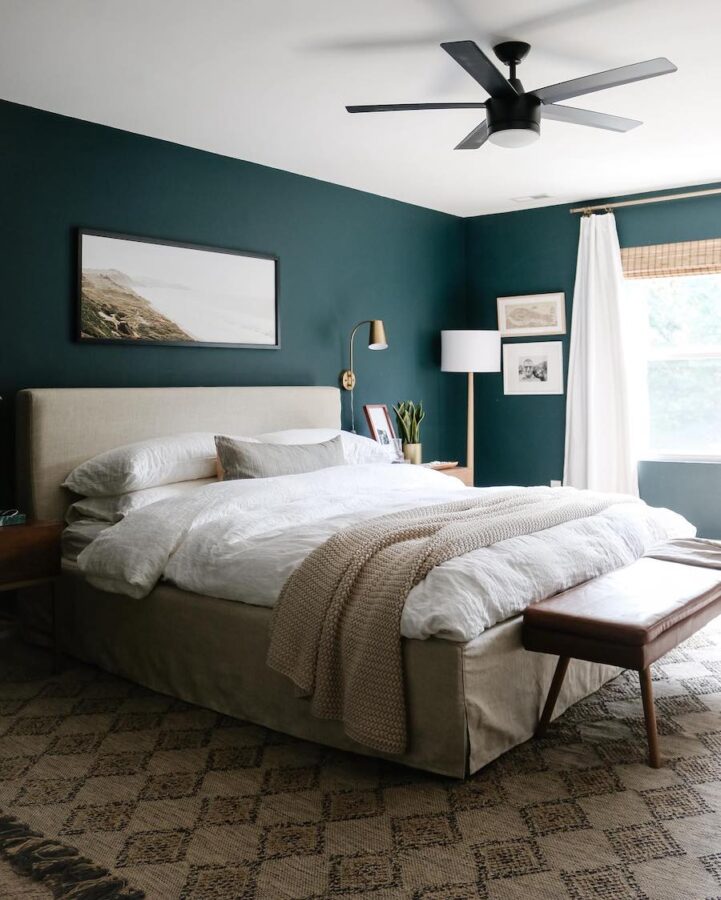 Teal and Aqua
Teal and Aqua are a beautiful mix. The teal paint on the wall is darker, while the aqua is much a lighter blue with some green. These two colors are just different hues of basically the same color, but they look wonderful together regardless.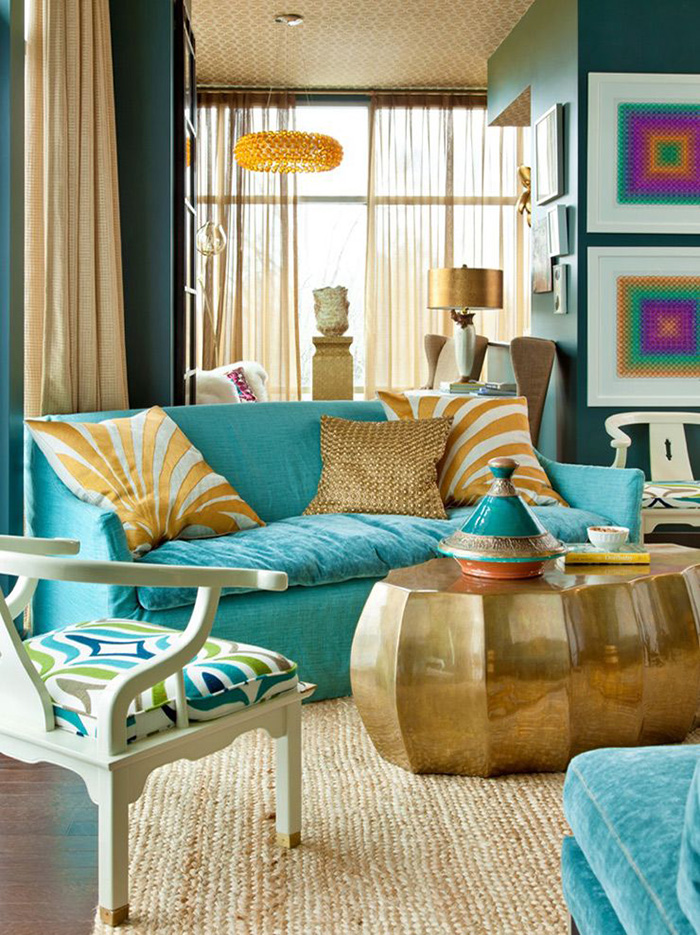 Teal and Orange
These two color combinations are a fun mix! The orange curtain and cushions are a prefect complement to the dark teal wallpaper covering. So beautiful.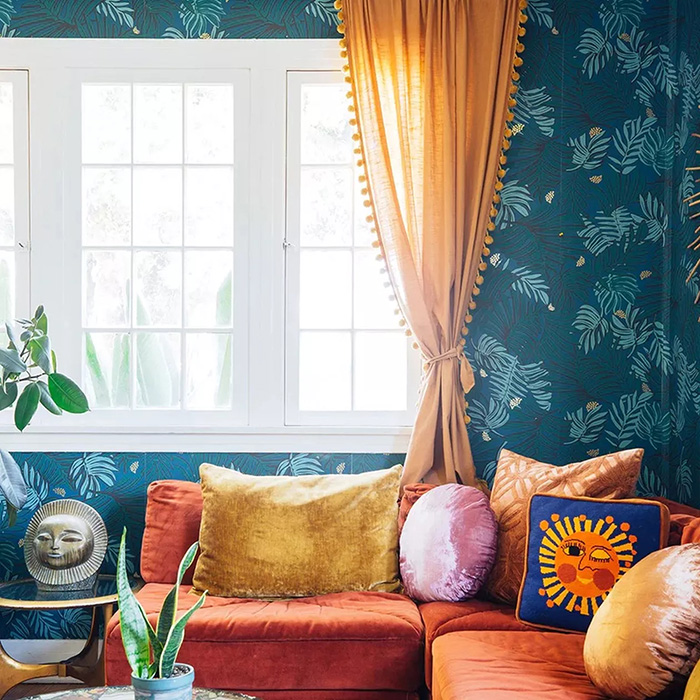 This bedroom is a beautiful example of how combining two bold rich colors together can work so well. The orange accents in the drapes, pillows, blanket and rug contrast the deep teal wall color wonderfully. Such a warm and inviting bedroom design.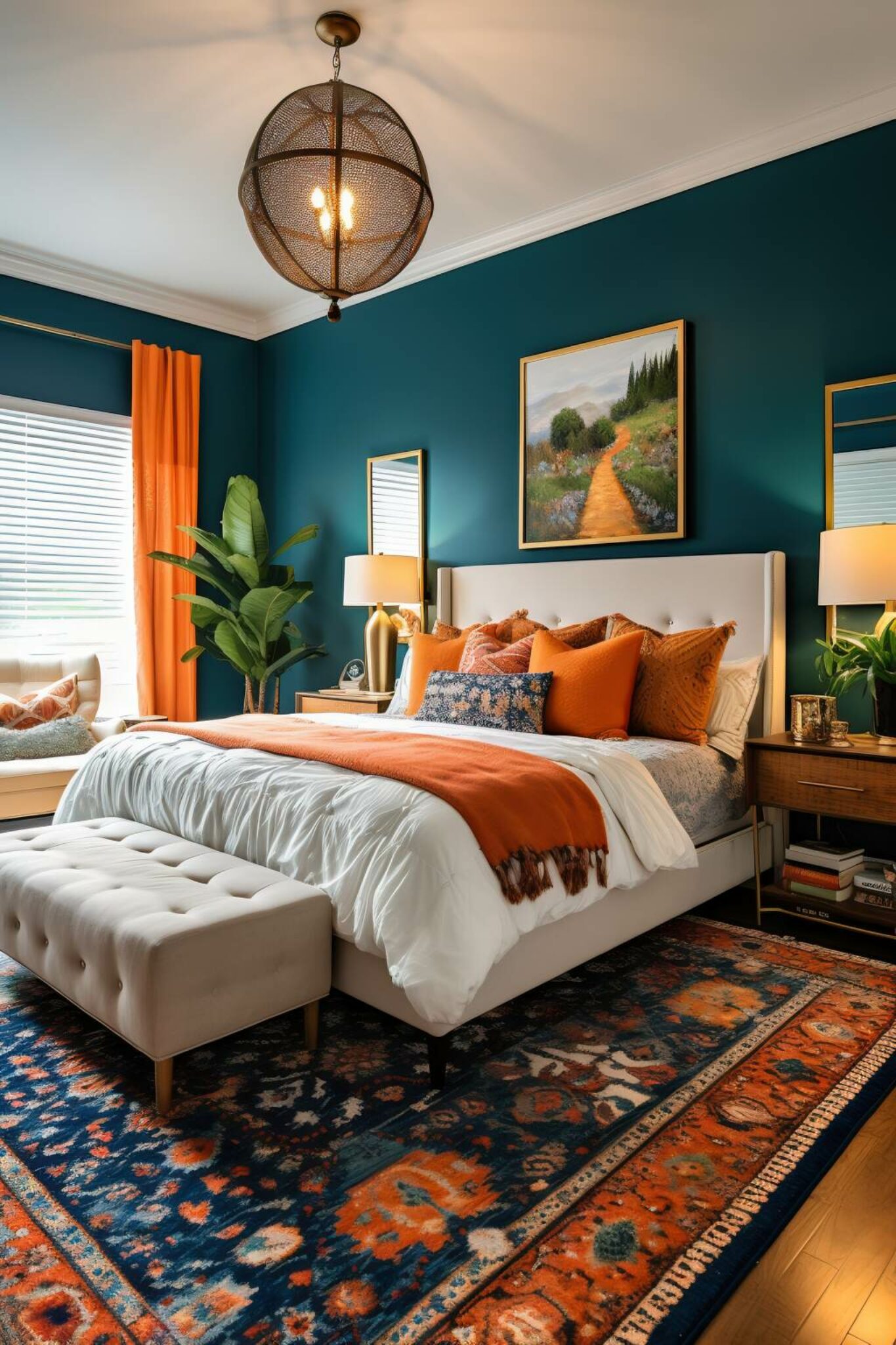 Teal and Orchid Purple
Teal and purple are another very dramatic pairing of colors. They almost remind me of teal and black in both of them being very saturated intense colors. When combined together in a room, they give a very regal elegant feel.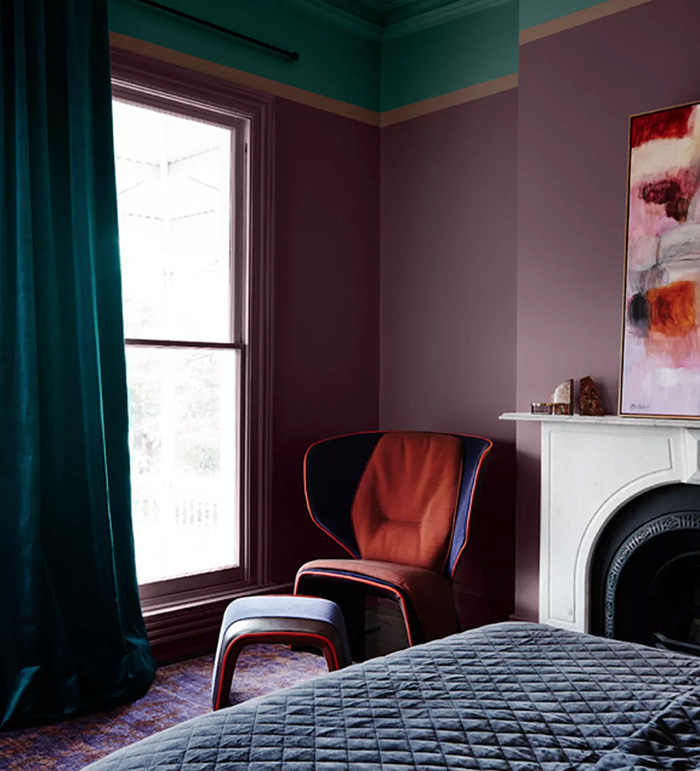 Teal and Gray
Teal and gray are a fun combination. Gray in general helps neutralized any other colors it's combined with. Adding in gold and teal details helps elevate the look of this beautifully luxe room.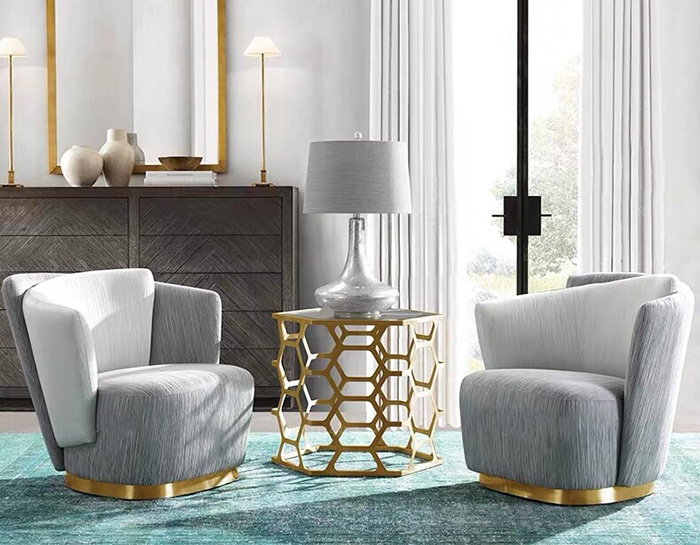 Another example of teal and gray is in this whimsical bedroom design! The teal and gray in this space work so well together as paired neutrals to the yellow striped bedding. Such a fun combination of colors and patterns in this space.