INSIDE : Learn more about the most beautiful Teal Blue Paint Colors for your home. Add blue green paints to your bedroom, study or hallway, there are endless ways to use vibrant and muted versions of teal paint in your house. Check out some of them below.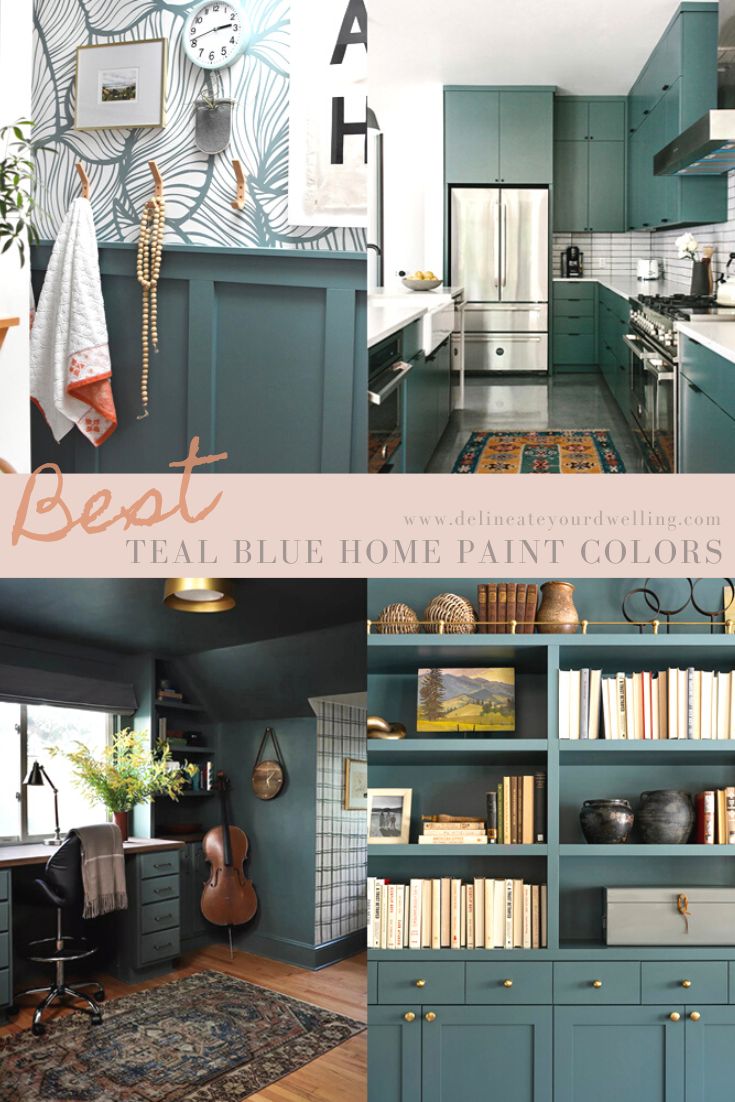 This post may contain affiliate links. See full disclosure here.
Blue and green are two of my favorite colors.
BLUE
Blue represents the sky and the sea. It's associated with open spaces, imagination, inspiration, and sensitivity. Blue also represents meanings of depth, trust, loyalty, sincerity, wisdom, confidence, stability, faith, and intelligence. To me, the color blue brings a calmness to any space it is added to.
Blue is the color of light between violet and cyan on the visible spectrum. Some shades of blue include indigo and ultramarine.
GREEN
Green often has strong representations to nature : vibrant grass, trees, plants and rainforests. Green is often described as a refreshing, hopeful, responsibility, health and tranquility. To me, the color green feels full of promise while still feeling energetic.
Green is the color between cyan and yellow on the visible spectrum. A few shades of green include sage green and emerald green.
Looking for more blue color inspiration?  
- Which colors go best with teal?
- Beautiful Teal Blue Paint Colors for your Home
- Painting Office Moody Teal Blue
- Behr Dragonfly Modern Board and Batten
How to make the teal color
When you mix an equal 50/50 combination of blue and green the resulting color is teal! You can brighten your teal by adding white or yellow and darken it with a touch of black.
These popular hues will help you get started in your search for the perfect shade for your home!
What is teal blue?
Teal is a deep blue-green color, named for the colored area around the eye of the common teal bird. Its hex code is #008080. Teal combines the calming properties of blue with the renewal qualities of green. It is a revitalizing and rejuvenating color that also represents open communication and clarity of thought.

What mood does the color Teal represent?
For many people, teal symbolizes restfulness. It is composed of blues and greens. Teal has a natural dignity that is bold, but not "in your face." It often encourages a calm, reflective mood.
Where can teal blue paint colors be used?
Teal blue paints can be used anywhere! I often use a shade of teal as an accent wall color in my home. It pairs so well with white (I use Bit of Sugar by Behr). It is a beautiful, earthy color with a little bit of a calming punch.
It is perfect to use in your bedrooms, living rooms, kitchens, bathrooms and more.
What are the best teal paint colors?
There are endless beautiful shades of teal. I am partial to Behr Dragonfly because I have used it in my home (hallway bathroom), but let's dig into a few other great variations of teal blue below!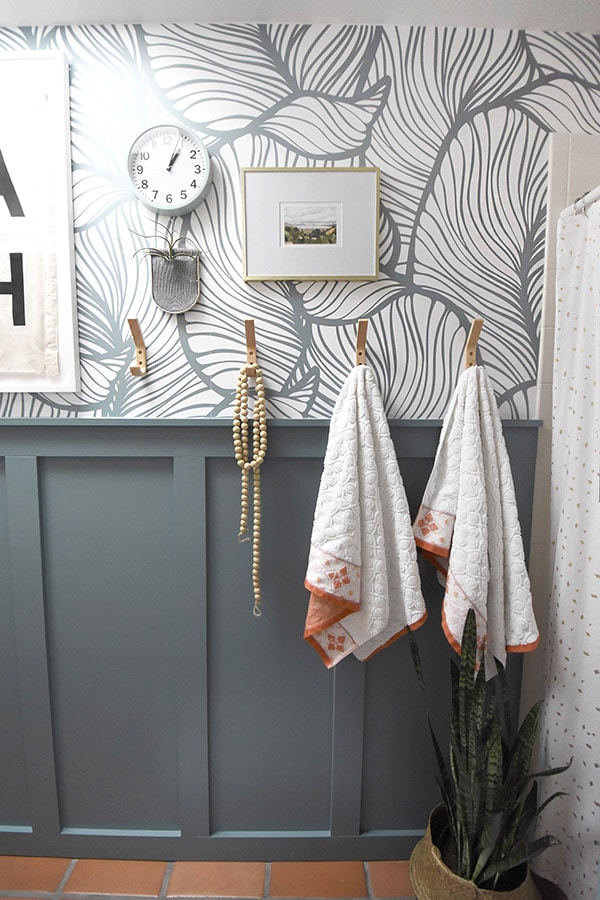 Dunn Edwards Teal Blue Paint colors
Dunn Edwards Nocturnal Sea (DE5783)
Nocturnal Sea color is a stunning deep turquoise blue paint. It was inspired by the ocean water at night. I love how Alex uses this teal bedroom paint with a bohemian wicker bed and artwork, such a striking combination.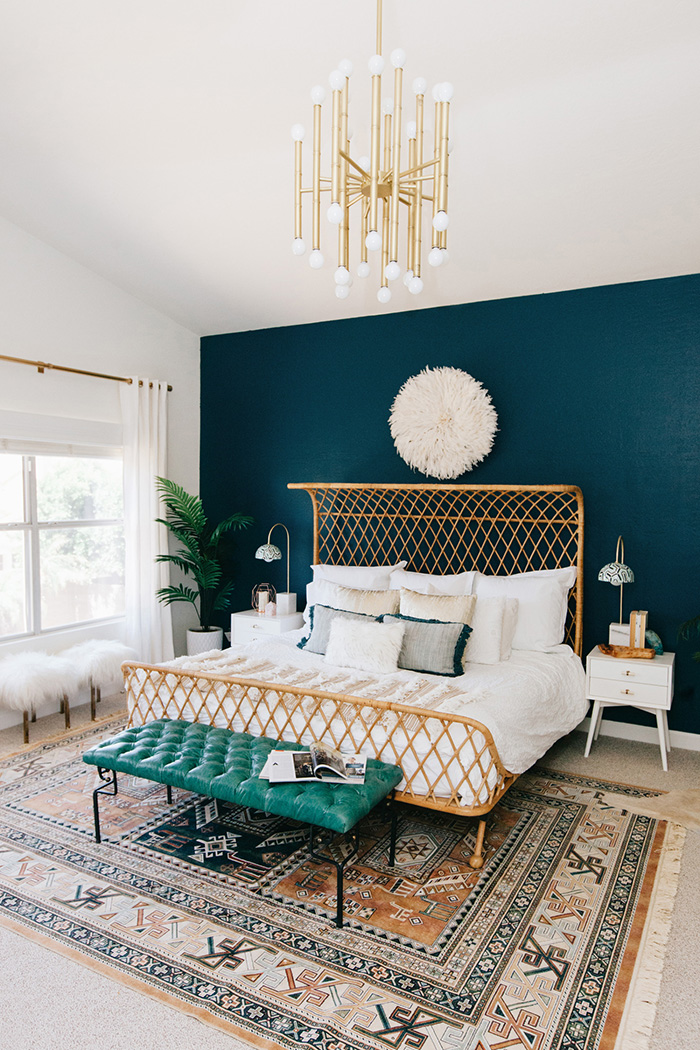 Sherwin Williams Teal Blue Paint colors
Sherwin Williams Still Water (6223 )
Sherwin Williams Still Water is a soft blue paint that has gorgeous green-gray undertones. If you are going for a darker shade, but you don't want your room to look too dark, this is a great teal wall paint option.
I love it paired with crisp white trim and the warmer wood tones of the flooring.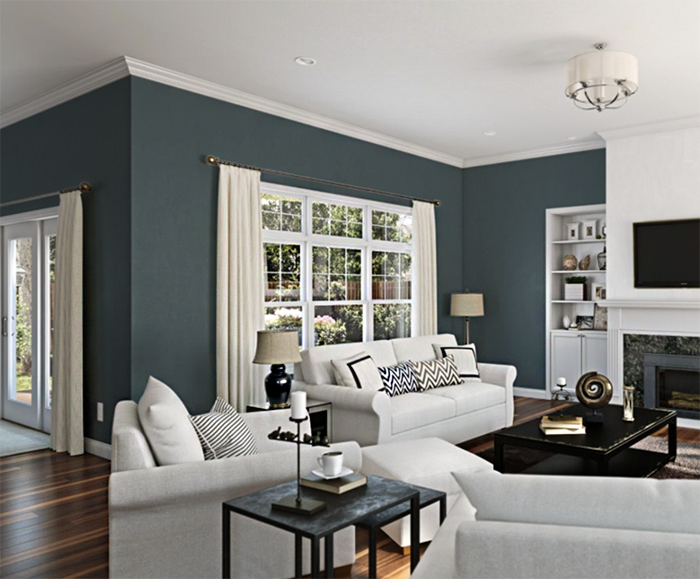 Sherwin Williams Riverway (6222)
Studio McGee used this rich Sherwin Williams Riverway Blue in the entryway of a Charleston, Utah historic remodel. It has a perfect mix of green and gray undertones and I think is such a calming soft teal color. I love it.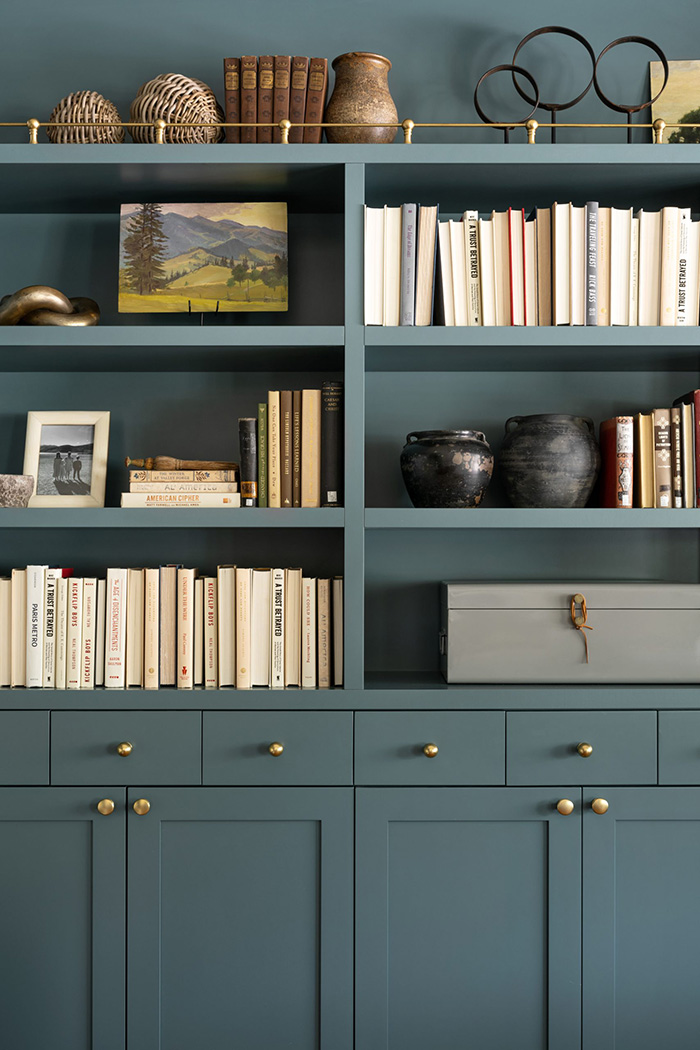 Sherwin Williams Succulent (9650)
Sherwin Williams Succulent is a little more of a dusty green color, but in the right lighting I think it definitely pulls to a more dark teal green color.
Jenni from I Spy DIY used this beautiful color in her Office makeover. The warm wood tones and pops of gold accents are the perfect addition.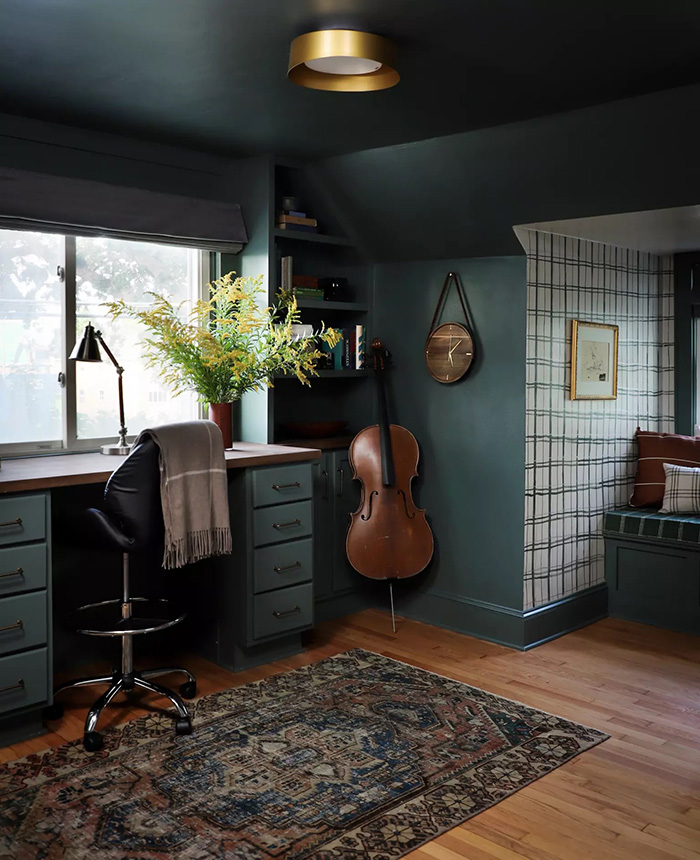 Sherwin Williams Smoky Blue (7604)
This gorgeous blue paint color by Sherwin Williams is a perfect addition to Laura's dining room. It's a perfect medium blue/gray dark smoky color.
One of the reasons that Smoky Blue works so well in this dining room is the big sliding glass doors that allow more natural light to shine in. It is a cooler color, but is perfectly warmed up with the wood tones on the floors and furniture.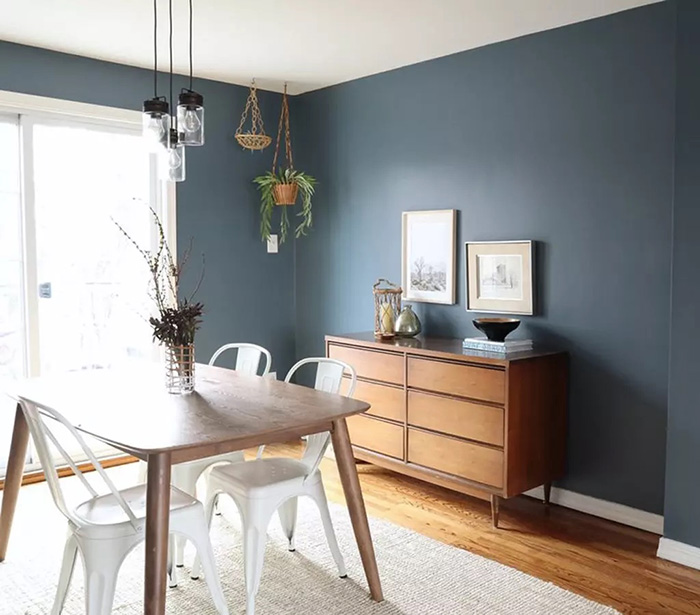 Sherwin Williams Refuge (SW 6228)
Refuge is a cool teal blue with slight gray undertones giving this paint a fun side. Use it in a study, bedroom or even doors and hallway like Tasha does below.
It strikes the perfect balance of blue and green that feels clean and fresh.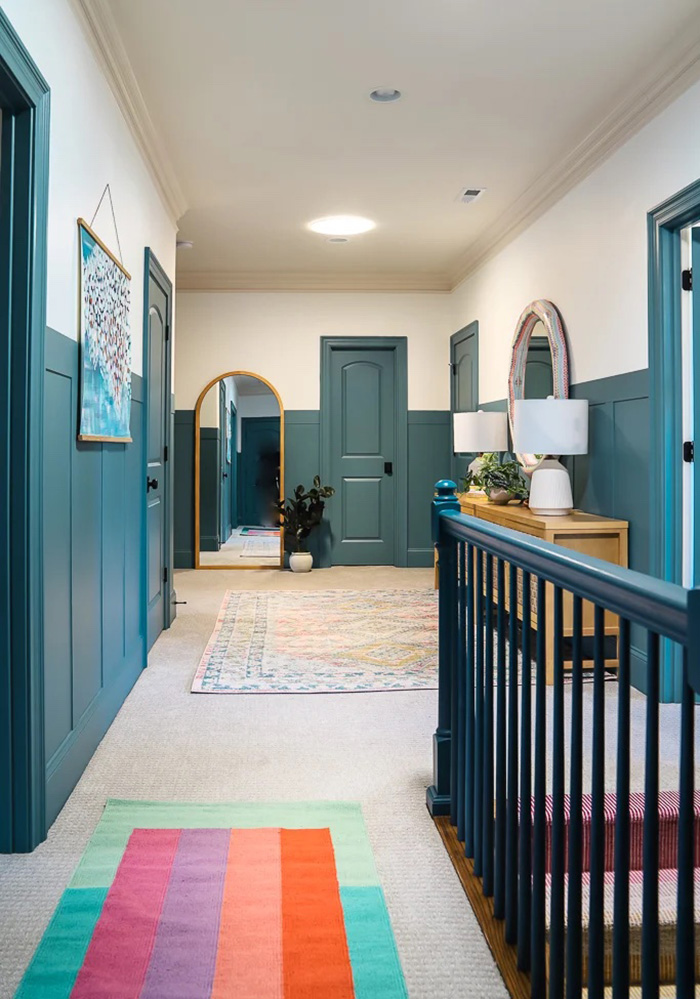 Glidden Teal Blue Paint colors
Glidden Vining Ivy (PPG1148-6)
Vining Ivy is a teal paint color that is a beautiful blend of blue and green. It works equally well as an accent shade or a focal wall color. It pairs wonderfully with lighter tones and darker tones depending on what type of look you are going for.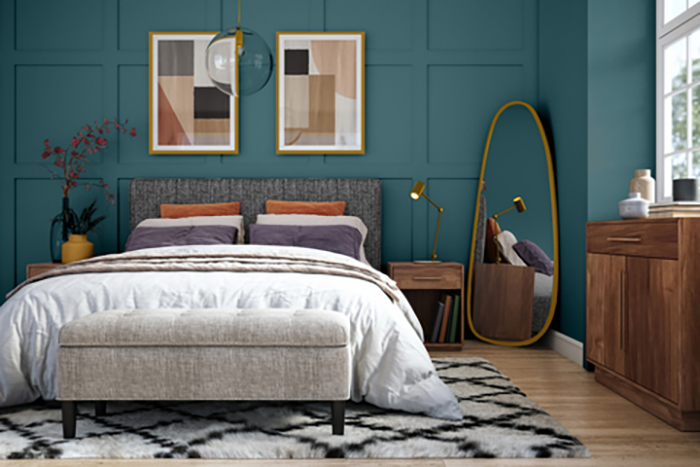 Valspar Teal Blue Paint colors
Valspar Gypsy Teal (5010-8)
Gypsy Teal by Valspar is a vibrant teal blue color with cool undertones. It is such a welcoming color on Christina's front door and plays so well with the cool gray siding of her home.
A happy color to use in accent applications.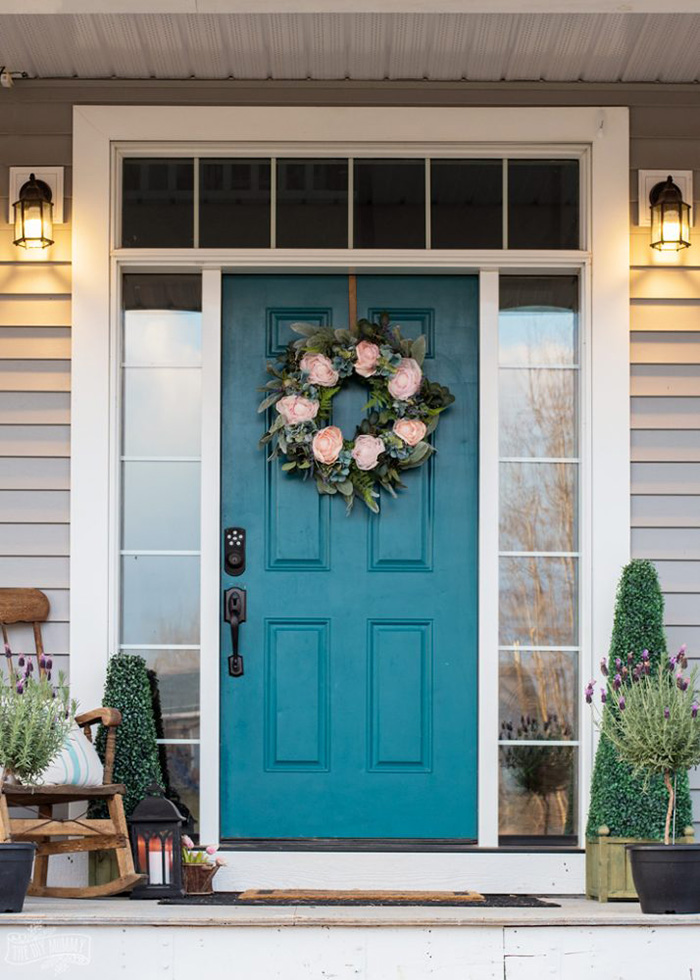 Behr Teal Blue Paint colors
Behr Wanderlust (T17-12)
Behr's Wanderlust is a gorgeous dusky teal blue paint color. It was one of Behr's 2017 trend colors and I can see why! It reminds me of calming waters and is a perfect choice for this teen bedroom.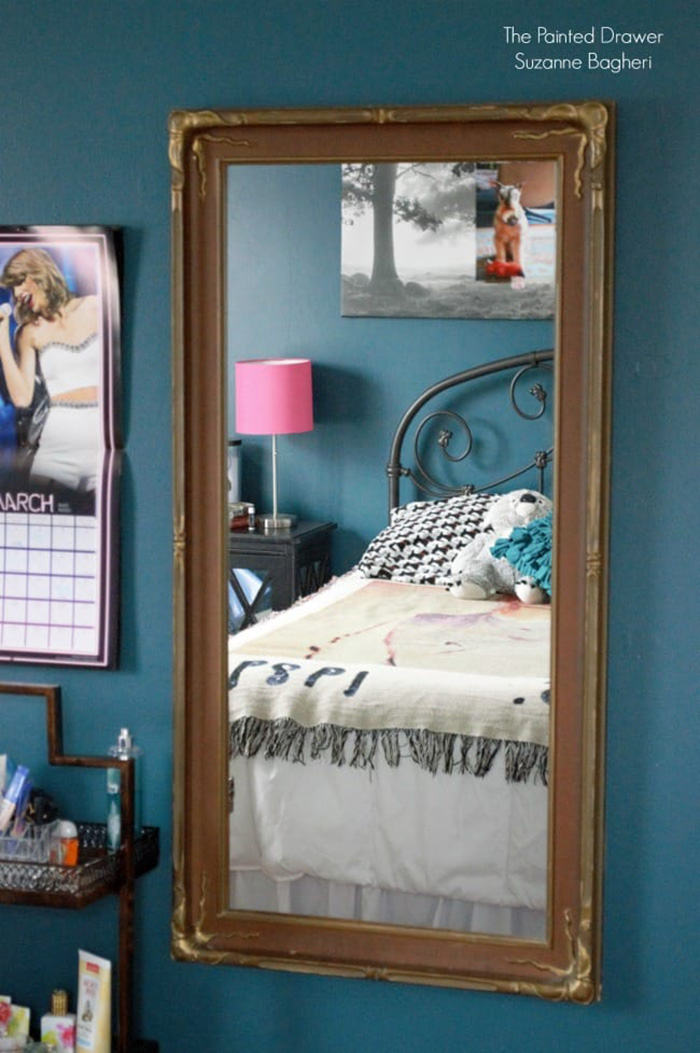 Behr Nocturne Blue (HDC-CL-28)
Nocturne Blue is a very dark teal blue that depending on the light can pull almost a black color. However, when viewed in more natural sunlight, the green really pops in this beautiful color.
I used this paint color in my moody teal blue office.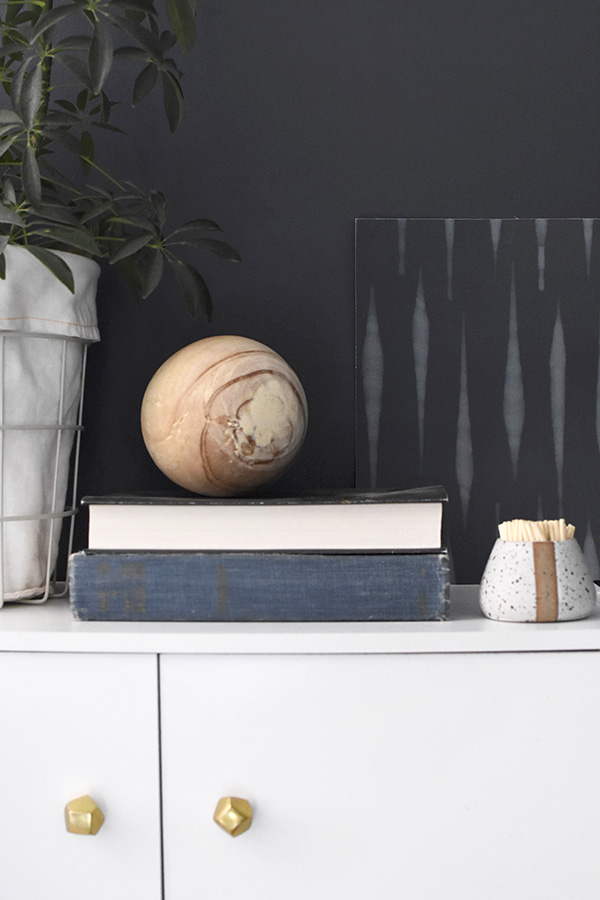 Behr Mountain Pine (PPU12-19)
Mountain Pine is a dark, Caribbean aqua color with turquoise undertones. It is a perfect paint color for a sophisticated home. Pair it with white trim and touches of gold to complete this look. I love that even this is a bold color, it almost feels like a neutral.
Jen Pinkston from The Effortless Chic used it beautifully in her renovated Austin kitchen. I love the white subway tile she paired with it.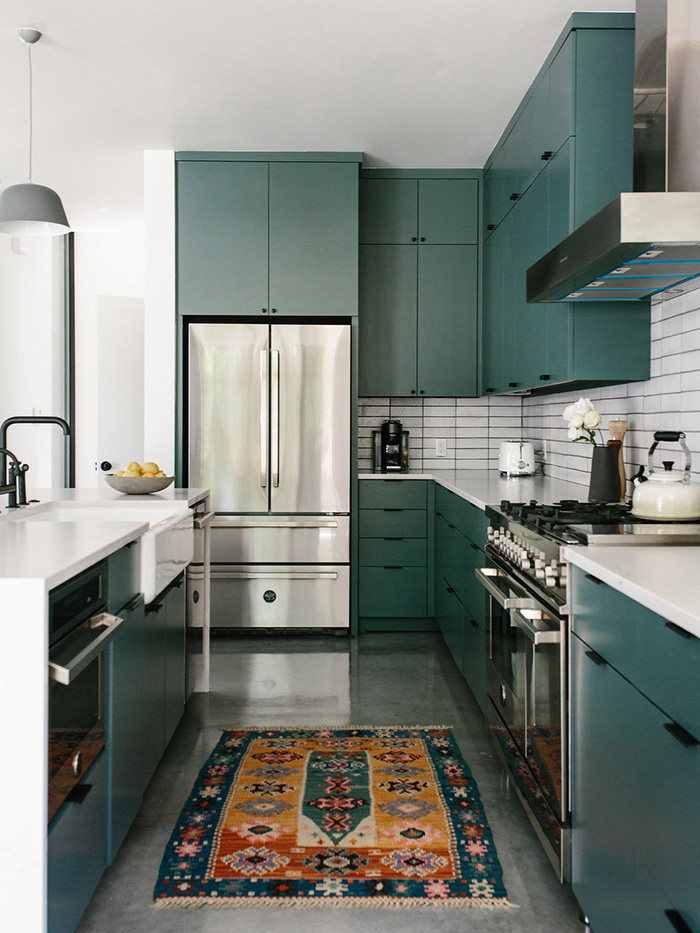 Behr Dragonfly (PPU12-03)
Behr Dragonfly is a beautiful blue-green turquoise paint that feels soft, soothing, and calm. It's Dragonfly name makes me think of soothing summer nights. I used this lovely color in our hallway bathroom on the board and batten wall and then color matched it for the wall paper portion.
Three years later and this color still makes me smile when I walk by!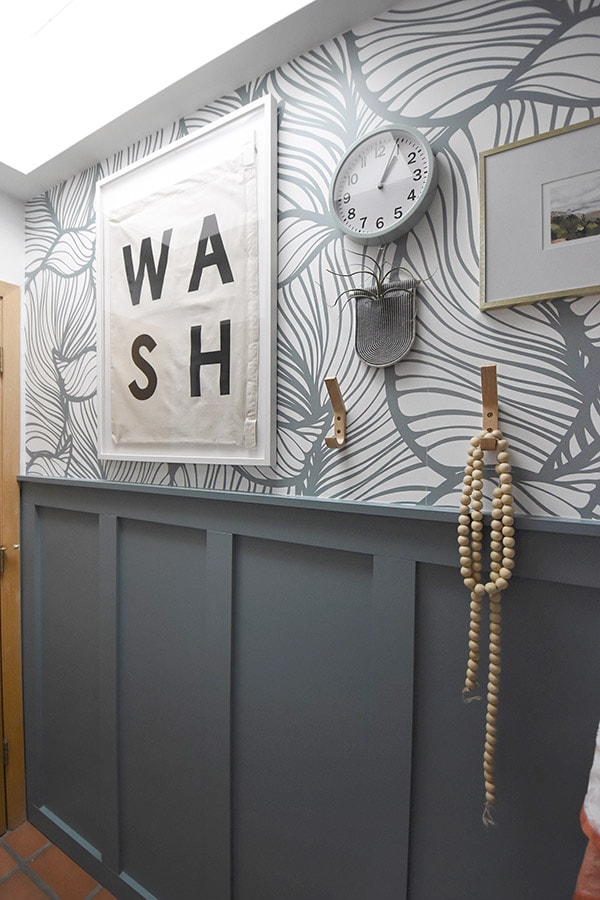 Behr Ocean Abyss (MQ6-01)
This is a deep, nautical teal for relaxed and sophisticated spaces. Because teal sits in both the blue and green family, it has associations with nature and warm tropical waters. Deep Abyss is a cool and calming hue, creating an oasis of relaxation perfect for bedroom walls.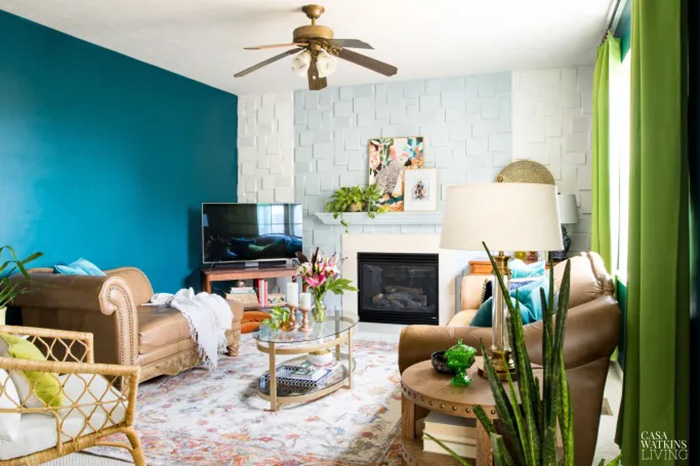 Behr Midnight in NY (N440-7)
Rich and moody greenish blue teal color makes this room pop. Behr's Midnight in NY is a gorgeous deep color that works well with light neutrals and blacks.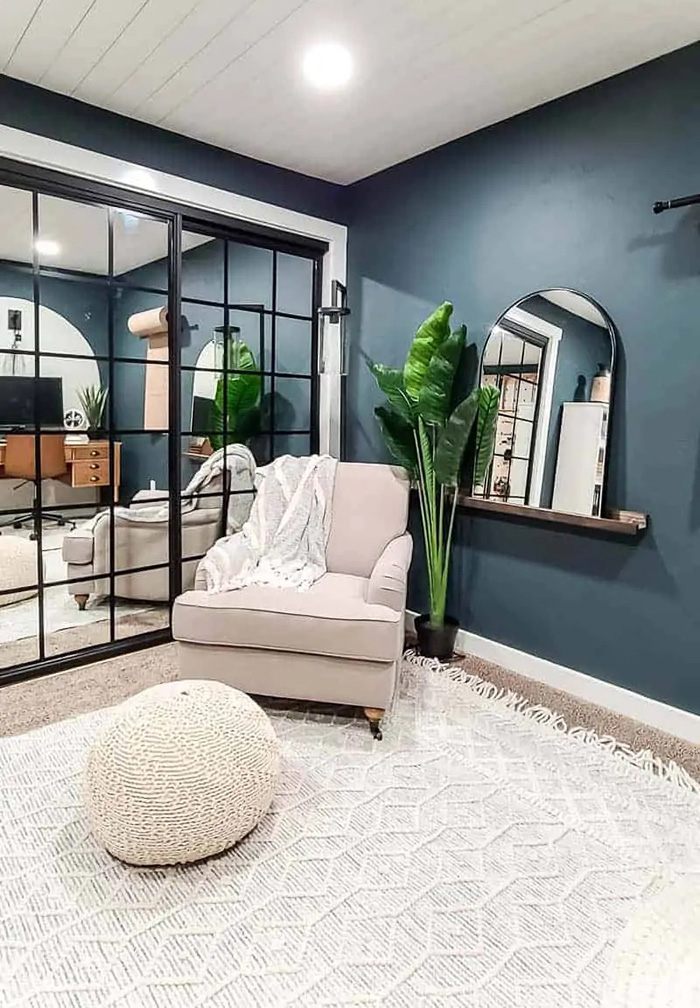 Behr In the Moment (T18-15)
In the Moment was chosen as Behr's Color of the Year in 2017 and is a "restorative blue green hue" meant to soothe and relax. I love that it's almost a sage green and mint blue combination. SO beautiful.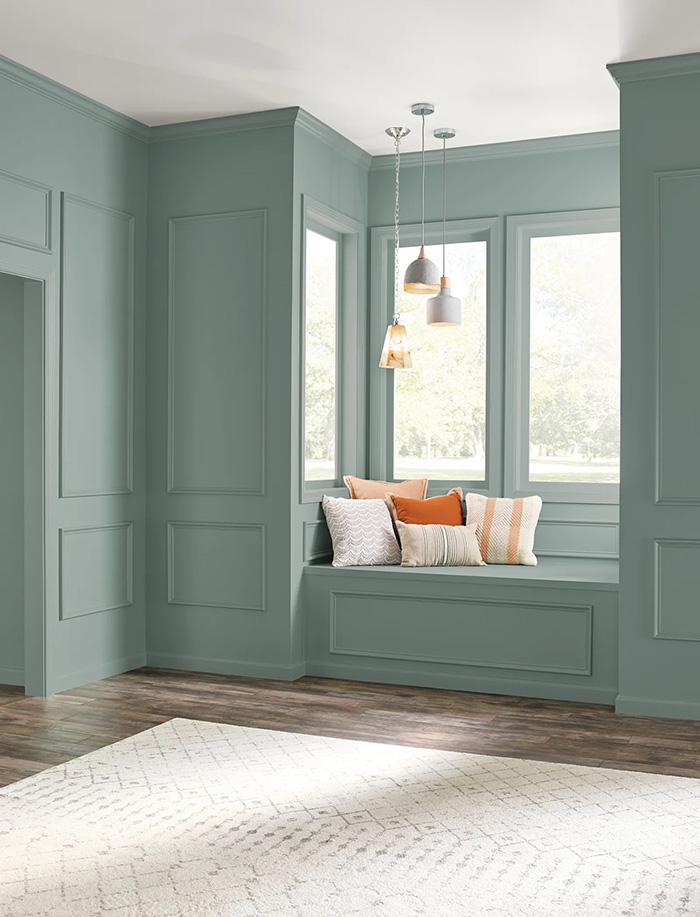 Magnolia Teal Blue Paint colors
Magnolia Weekend
A denim inspired blue that remains vibrant and bold. This fun color from Magnolia is sure to be a hit in any room looking for a fun bold color.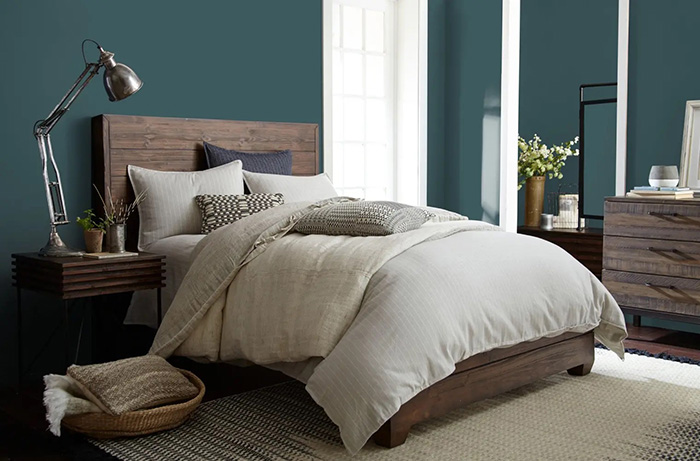 Fusion Mineral Teal Blue Paint colors
Seaside by Fusion Mineral Paint
Tasha from Kaleidoscope Living used this beautiful Seaside color for her kitchen cabinets. Seaside is the perfect deep coastal blue. This shade works beautifully on its own or with neutrals to create the perfect beach side atmosphere.
Seaside is made by Fusion Mineral Paint and I love how when combined with whites and warm wood tones, the blue almost becomes a neutral itself.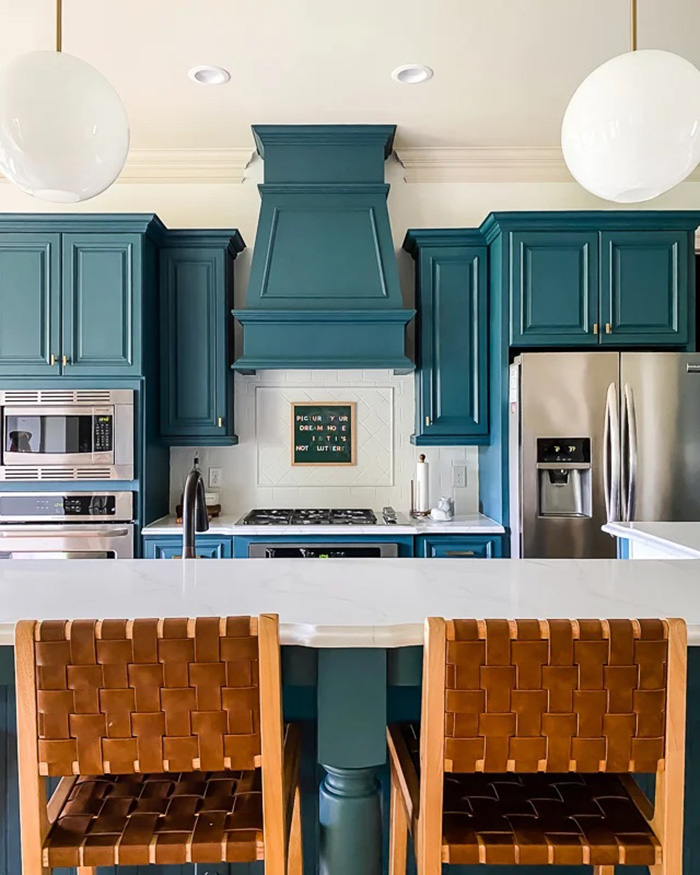 Benjamin Moore Teal Blue Paint colors
Benjamin Moore Jack Pine (CC-660)
Benjamin Moore Jack Pine is a stunning soft teal green color. It has gray undertones that pair well with both gold or silver accents. I love the use of this paint color on this bathroom vanity done by House of Jade Interiors.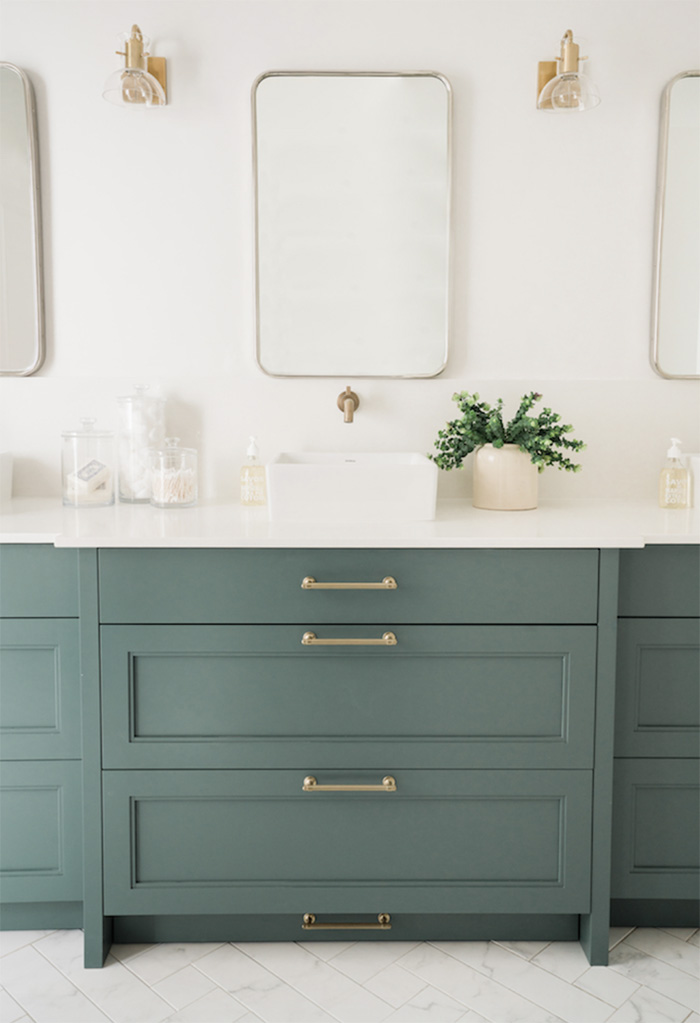 Benjamin Moore Polished Slate (713)
Benjamin Moore Polished Slate is a gorgeous grayish blue paint color with it's undertones bringing a polished elegance to this dark green teal color.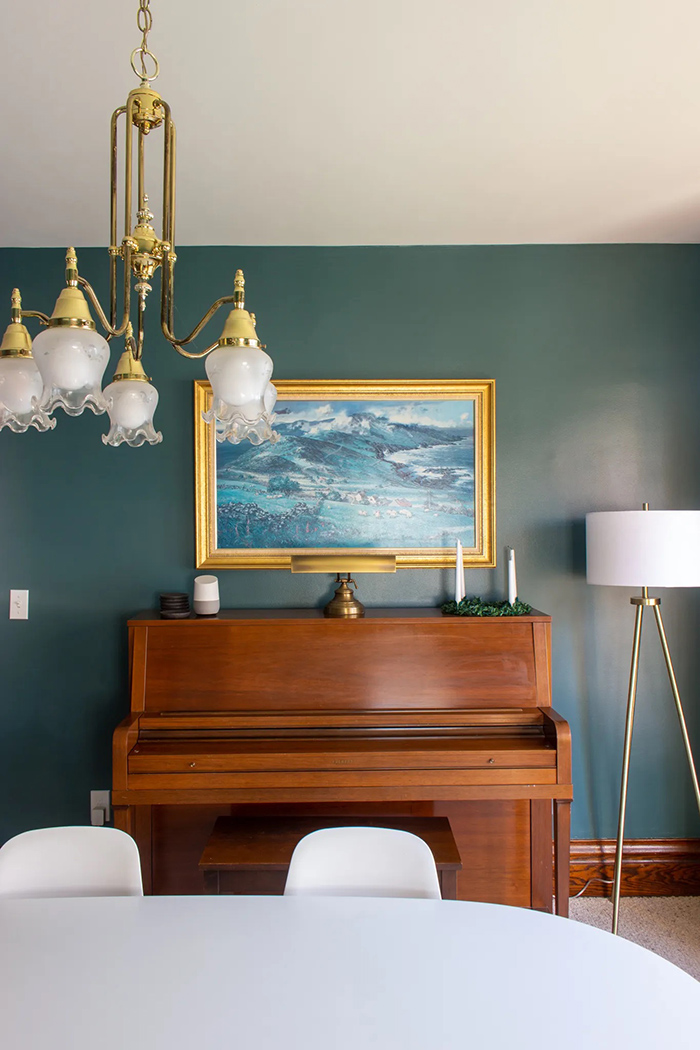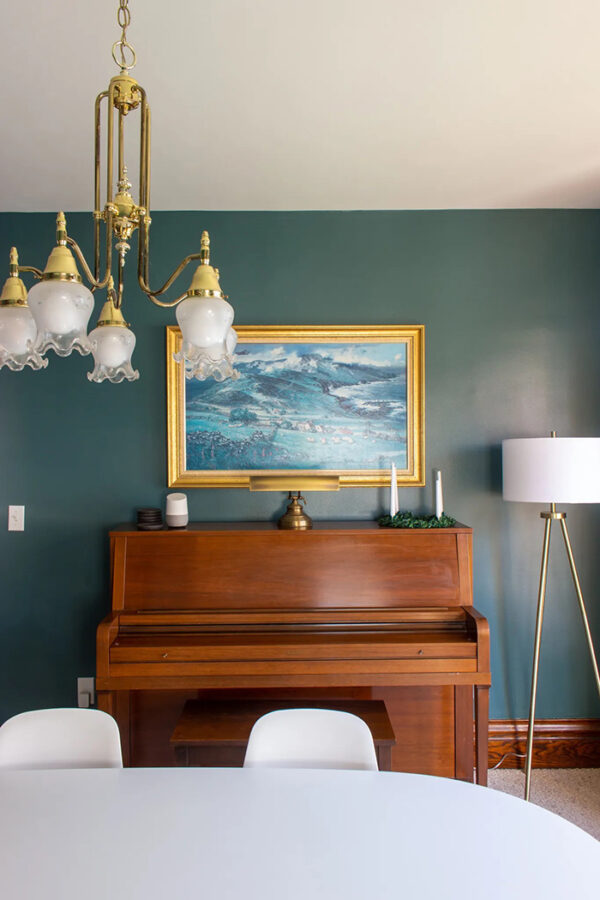 Farrow & Ball Teal Blue Paint colors
Farrow & Ball Oval Room Blue No. 85
This color is a stunning one! Oval Room Blue has a very subtly aged feel. Named after the attractively shaped rooms of the late 18th century, it sits perfectly with popular greys to create depth and balance in either a hall or a darker, cozier family room.
I love this paint color combined with vintage darker tones woods.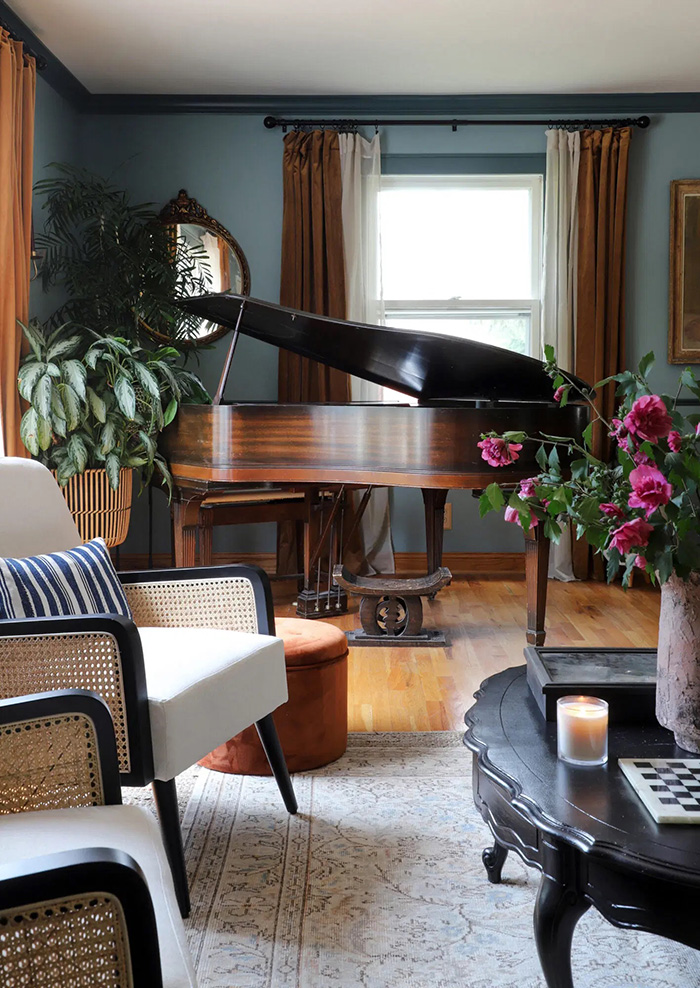 Farrow & Ball Inchyra Blue No. 289
This aged blue grey is inspired by the naturally dramatic Scottish skies that act as a backdrop for the classic Georgian Inchyra House. This moody color can read more grey, blue or even green depending on the light, but I think it's a perfect teal color!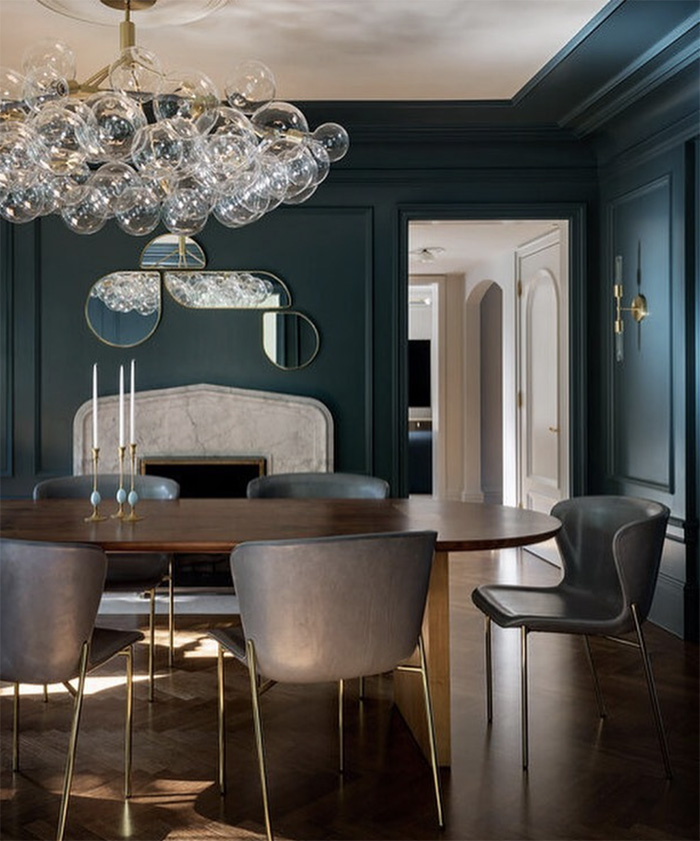 Now that we have chatted more about teal paint colors than you ever thought possible… should we dive into moody blue paint colors next? Let me know!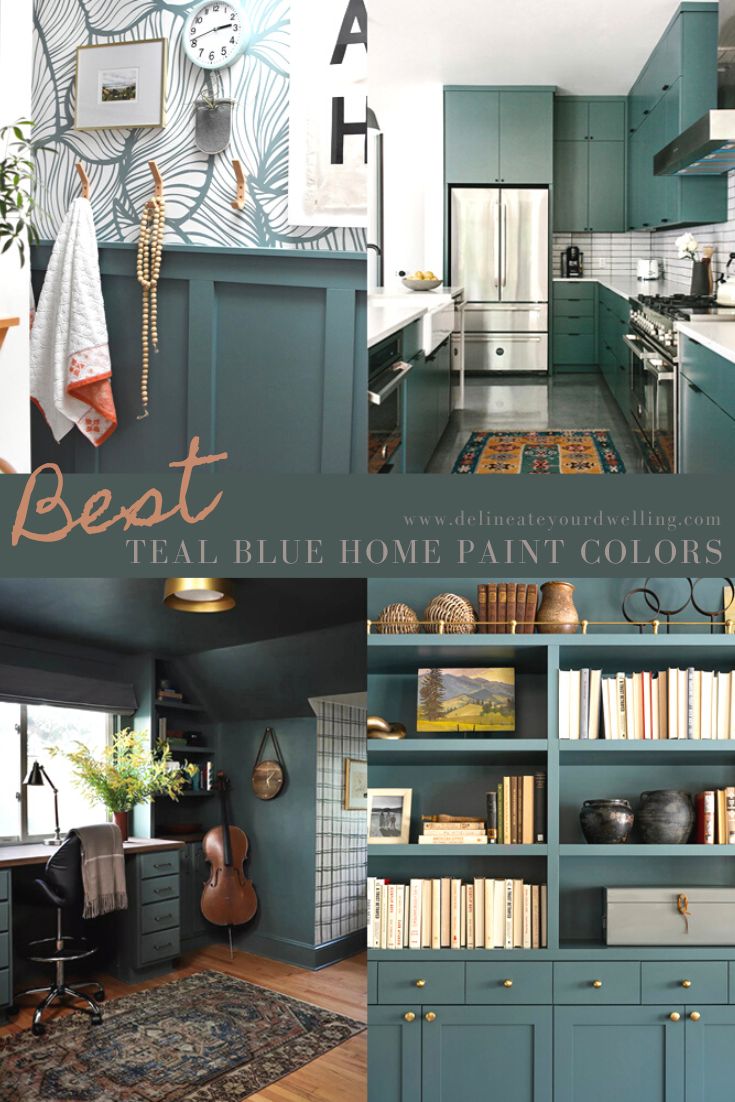 Beautiful Teal Blue Paint Colors For Your Home