Creative and Fun Plant Crafts :
If you have been around Delineate Your Dwelling for very long, then you know my love for all things green and growing runs very deep. I was a practicing Landscape Architect for 8 lovely years before starting an Etsy shop, and then starting a new creative journey, my blog.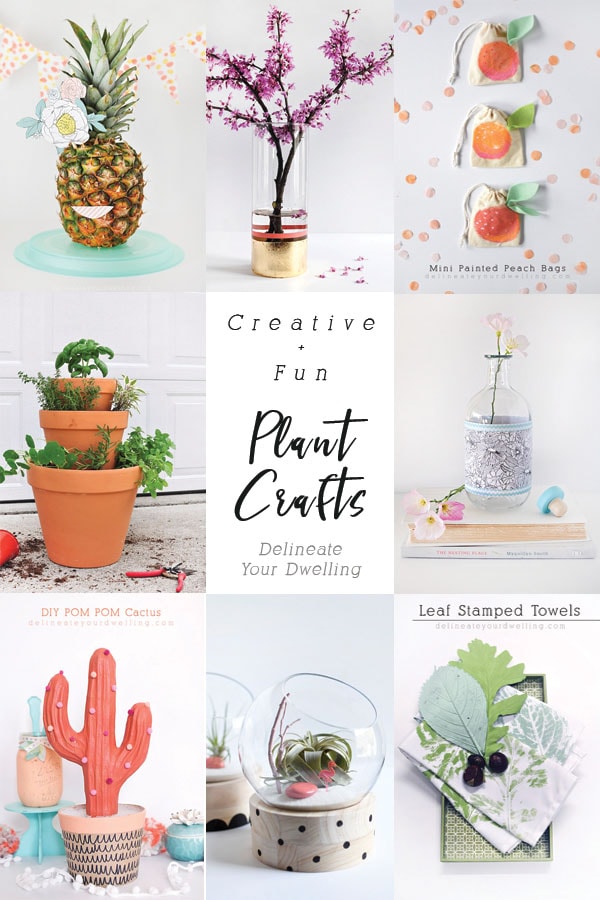 My heart feels so happy when I am surrounded by gardens and all green living things. From flowers to trees to my numerous collections of indoor house plants – I love them all.
Basic Plant Care
If you are looking for plant care, you might be interested in these posts:
Fiddle Leaf Fig Care + Tips
How to grow a Pineapple
Marimo Moss Balls
Pilea Care and Best Tips
Monstera Plant Care
Air Plant Care and Tips
**Are you having troubles keeping your plants alive? If you are looking to gain insights, tips and methods for not only keeping your plants alive, but to have them thrive? Let's grow green enthusiasts, one plant at a time together with my Happy Houseplant eBook.
>Happy Houseplants< talks about how to not kill all the plants, includes a deep dive on numerous trending "it" plants and has 5 fun plant printables to print and hang in your home.**
Plant Craft Ideas
Also, I have heard that you all are VERY interested in a Plant Crafting Book. So, I am working on gathering all my plant projects and a few new exclusive ones and will soon be bundling them all together in one easy to download PDF file. EXPECT TO SEE THAT SOON!
It probably is not much of a surprise to see how often plant crafts and flower pots make it into my daily life, creative ideas and projects.
These are some of my most popular Plant crafting related projects:
His and Her DIY Face Planters
Cactus Printable
Modern Terrariums
Fiddle Leaf Fig Print
Painted Mini Watermelon Bags

Looking for fun 5 minute plant craft ideas? I have some of the best plant crafting idea right here for you.
Looking to really keep those plants alive? You might be interested in my Keep Plants Alive checklist and my Happy Houseplants Plant Care ebook.