Painted Leather Fringe Planter Pot
INSIDE : Learn how to make a DIY Painted Leather Fringe Planter Pot to give movement and texture to your next plant baby! And you can use the same technique to add fringe to anything!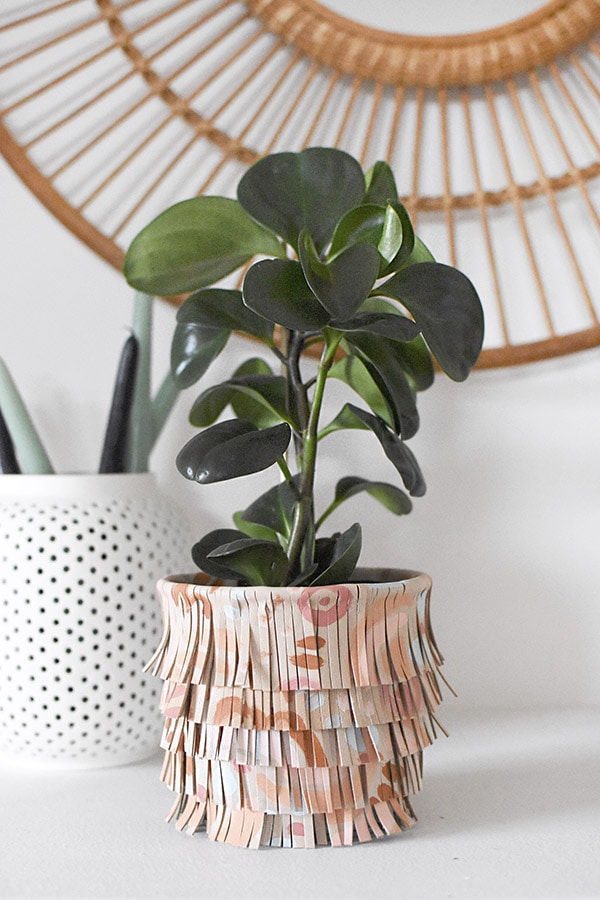 This post may contain affiliate links. See full disclosure here.
I have a large supply of simple tooling leather and the other day I was sitting there curious what to use it for. The idea came to me… I wonder if I could paint the leather and then make a leather tassel with it. I still may do that because I love me some leather tassels, check out the green ones I made for my shoes a few years ago!
After playing around a bit, I decided a tassel was too expected and decided to put it onto an old IKEA metal plant bucket I had! Welcome to my fun Painted Leather Fringe Planter Pot project.
If you like this plant craft project, be sure to check out all my other Plant Crafts!
What supplies do I need to make a Leather Fringe Pot?
Tooling Leather (any leather will do)
Sewing Scissors (this is a must for crisp cut lines)
Acrylic Paint + Paint Brushes
Metal Bucket or Pot
Hot Glue Gun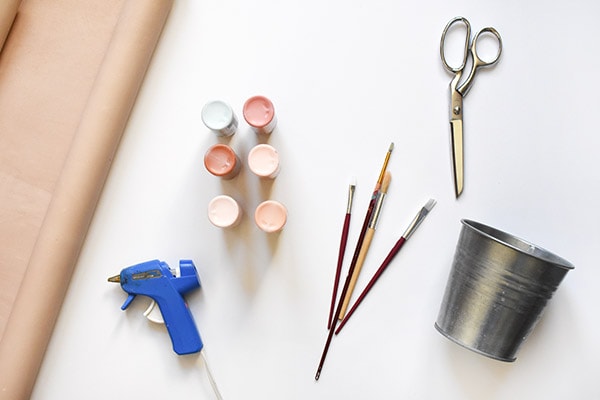 How do I paint leather?
I was not sure how painting leather would go, but I grabbed a handful of acrylic paints and smaller short bristled paint brushes and got started.
The leather I used was tooling leather and although it was a smooth leather and had some bend to it, it was not a very "soft leather". But I don't think this was an issue when painting it.
I painted a lot of patterns and shapes, but nothing was too detailed. However, I think if you used a thin small brush, you could have really had some lovely detailed painting.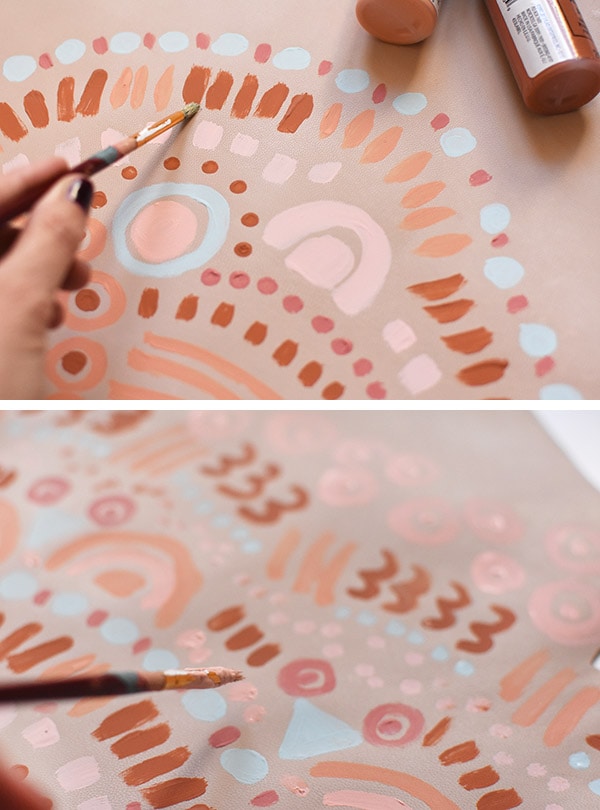 After my paint dried, which was surprisingly quick on the leather, it was time to cut the strips.
I cut a few different heights of paper to see which would fit best on my height of pot. In the end about 3″ strips fit the best and left just a few centimeter overhang on the very top, which I planned to fold over.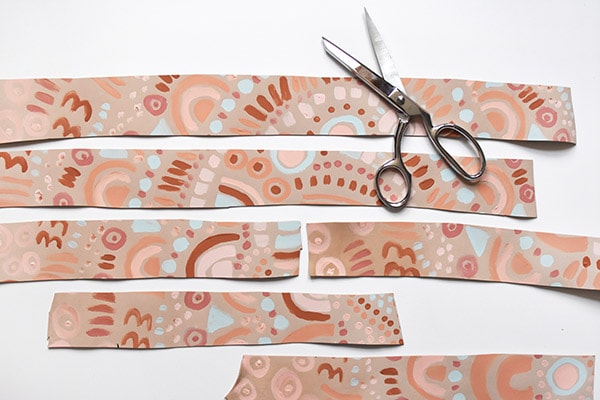 How do I cut leather to make fringe?
I made sure to use my sharp sewing scissors. If you use regular paper scissors, unless they are brand new and really sharp, they will most likely shred and tear the leather. I was going for crisp clean lines.
I measured out roughly a 1/4″ and marked that in pencil on the backside of my leather strip. Then using my sewing scissors began the process of slowly cutting fringe into it. You could also use a rotary blade and cutting board for this, but I found since it was fairly small cuts I was making (about 2 1/4″ cuts) scissors seemed to work the best for this step.
If you were making fringe in leather that was wider, using a rotary blade might be a better choice.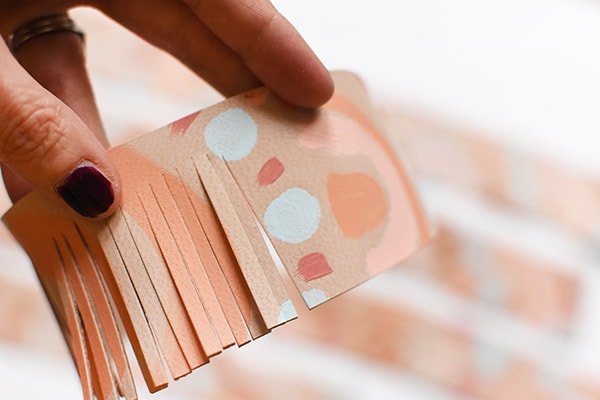 Gluing Leather Fringe to your Pot
Starting at the bottom of my pail and on the back side, I started hot gluing the leather to the pot. Make sure that your first layer sits perfectly along the bottom of your container. You don't want to be able to see the metal or pot when you have completed this project.
After you get one row of fringed leather adhered to your pot, decide where you want your next row of fringe to go and start gluing it. I ended up with five layers of leather fringe when I was all done.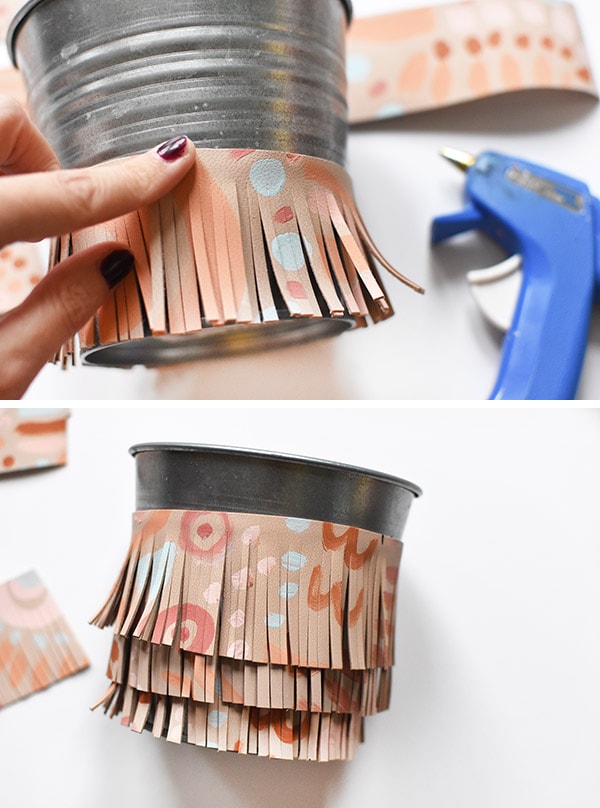 When you get to the very top, I decided it would look best to wrap the leather over and into the inside of the pot for a nice clean look. You could also add some leather cording or rope to finish your top.
I simply folded the leather over the top of the pot and secured it with hot glue. I held it there for a moment to make sure it had dried completely before moving to the next section.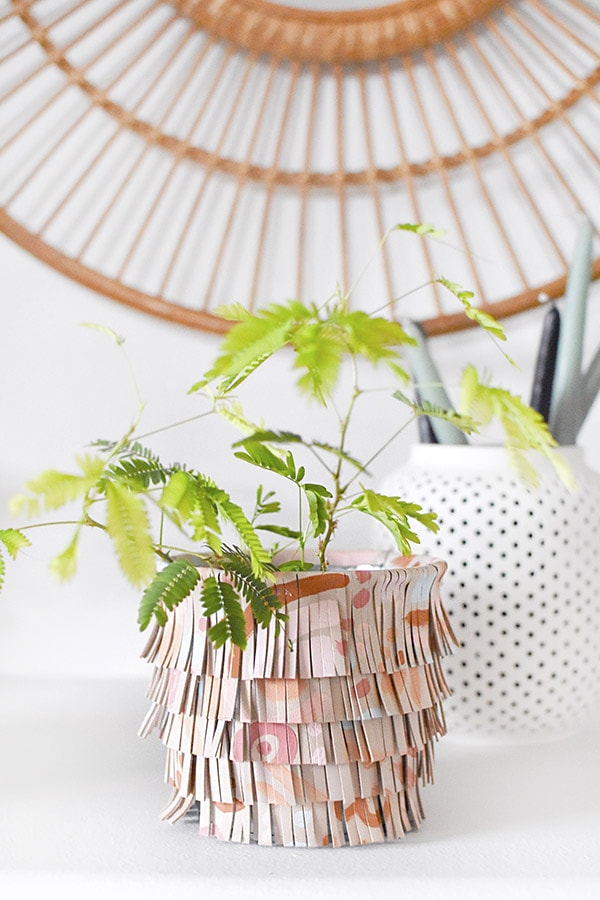 Fringe Leather Planter
I really could not be more pleased with how my fringe leather pot turned out. I bent a few of the fringes out a bit just to give it some movement since my leather was pretty hard. I love the look of moment that it has!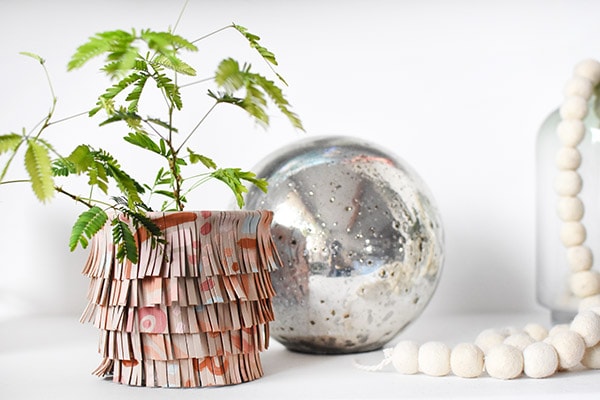 And now I am looking for the perfect purse or clutch because HOW COOL would this technique be on a clutch!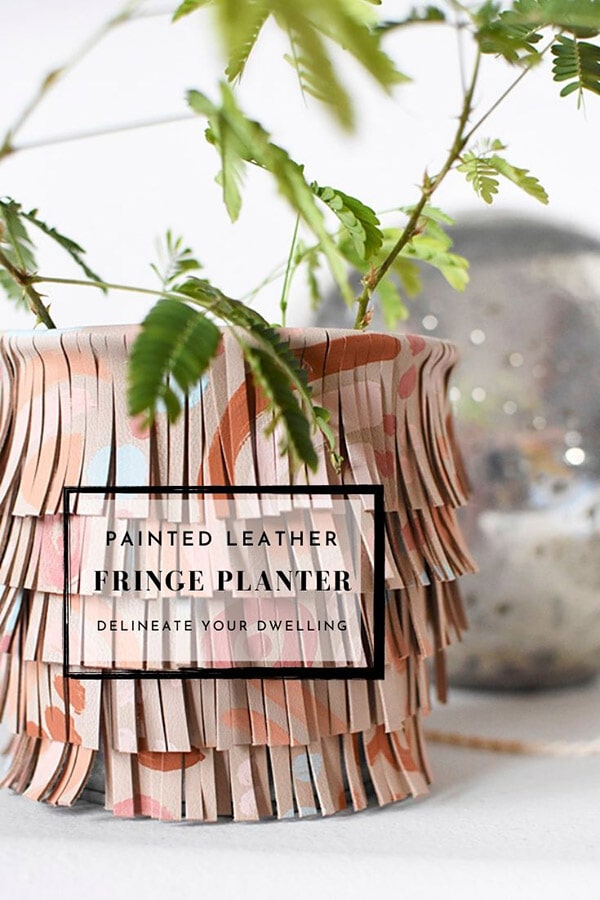 Be sure to pin this fun project for the next time you are ready to get crafty!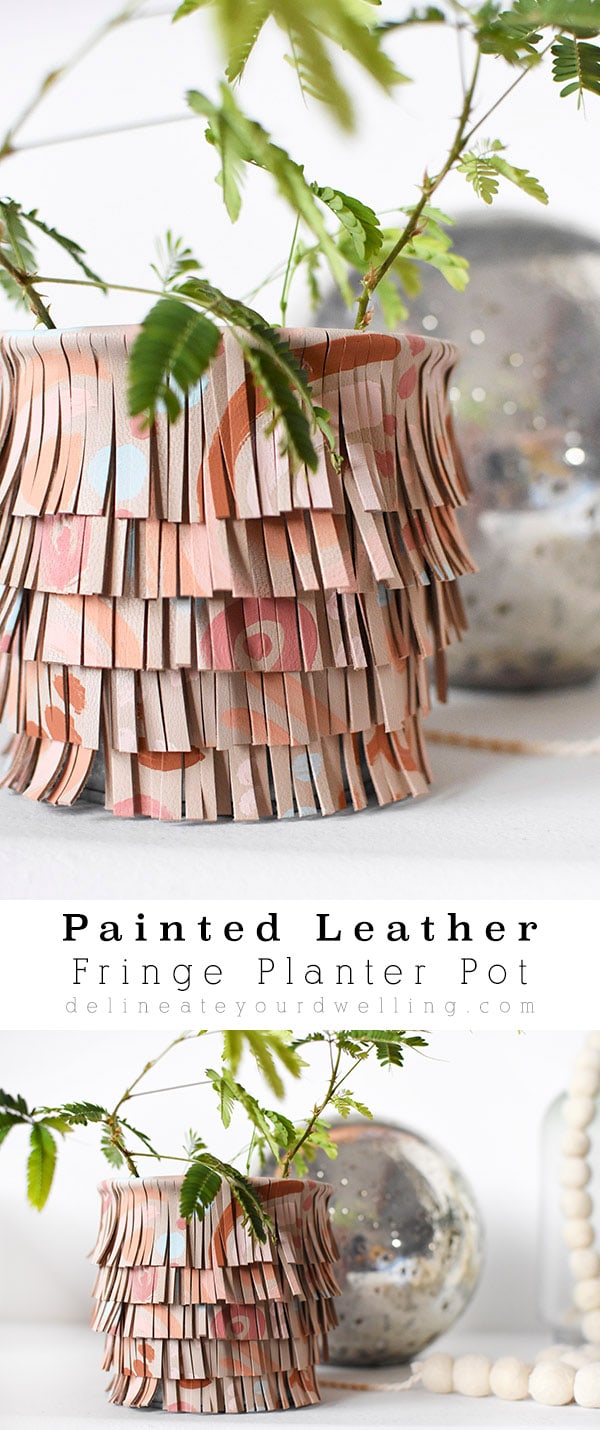 Looking for some other fun leather projects I've made over the years? Check these out!