INSIDE : Learn how to create a simple Faux Aqua Agate Leather Cuff Bracelet for a fun night on the town! And you can even add gems for a little extra pop.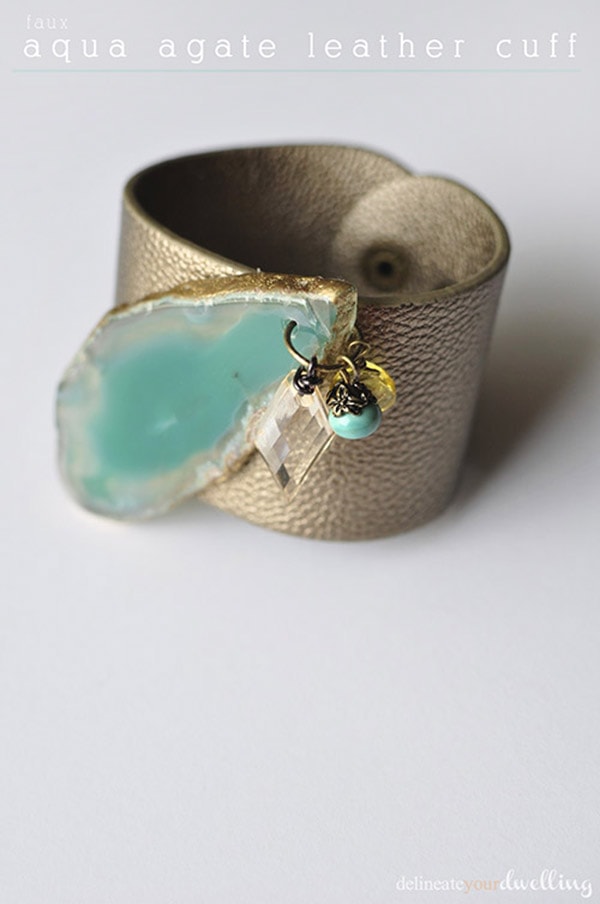 This post may contain affiliate links. See full disclosure here.
I've been trying to organize a girl's night JUST so I can wear this fun new cuff I made! I originally shared this project at Place of My Taste and am so excited to share with you all today. I have been loving the leather cuff trend but I typically don't wear straight leather types of things.
Today I'm sharing my twist on a leather cuff, it still is leather but with a gold and aqua color palette that I think makes it a bit more feminine. Let's check out my Faux Aqua Agate Leather Cuff Bracelet.
What supplies do I need to make a Faux Aqua Agate Leather Cuff Bracelet?
Gold Foil paint pen
E-6000 glue
Scissors
Pre-made Leather Cuff
Faux Aqua Agate stone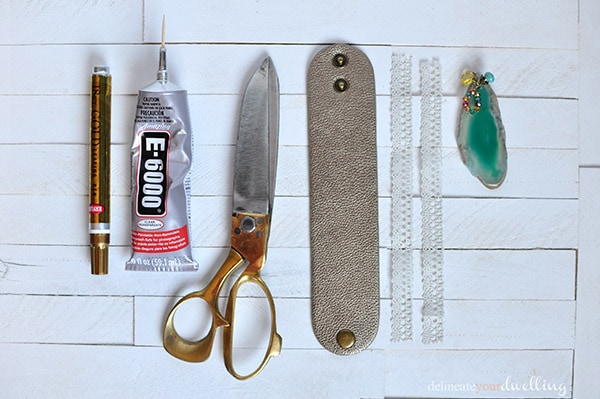 How do I make a Faux Aqua Agate Leather Cuff Bracelet?
The first step for this fun cuff, was removing the bead embellishments that came attached to my stone. Then, I added a little gold love to the edges with a gold foil paint pen.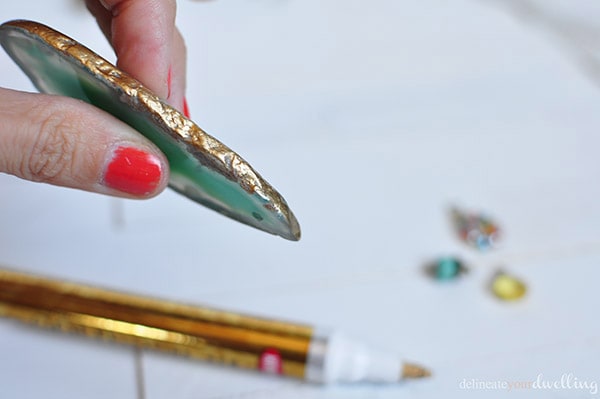 I removed one of the beaded embellishments and found a small peach/clear bead I had from my earlier "beading" days. I wrapped the bead with some wire. I love the soft muted color palette.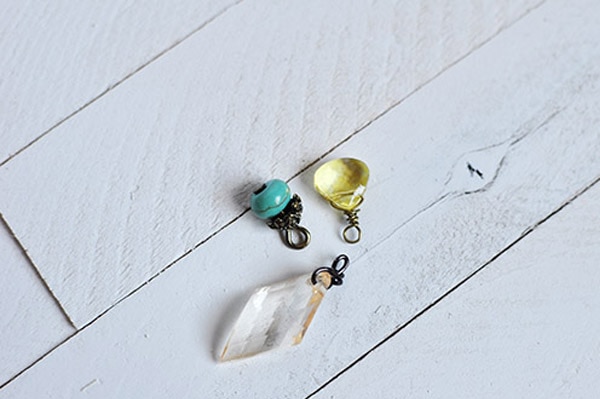 Making a simple wire loop, I added all the bead embellishments to my agate stone.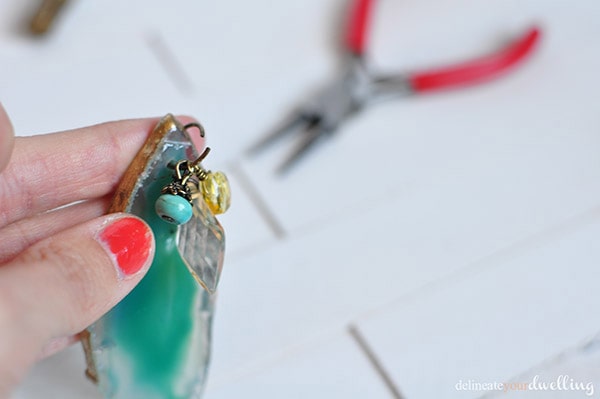 Then simply glue the main stone to your leather cuff.
I love how this simple leather cuff turned out!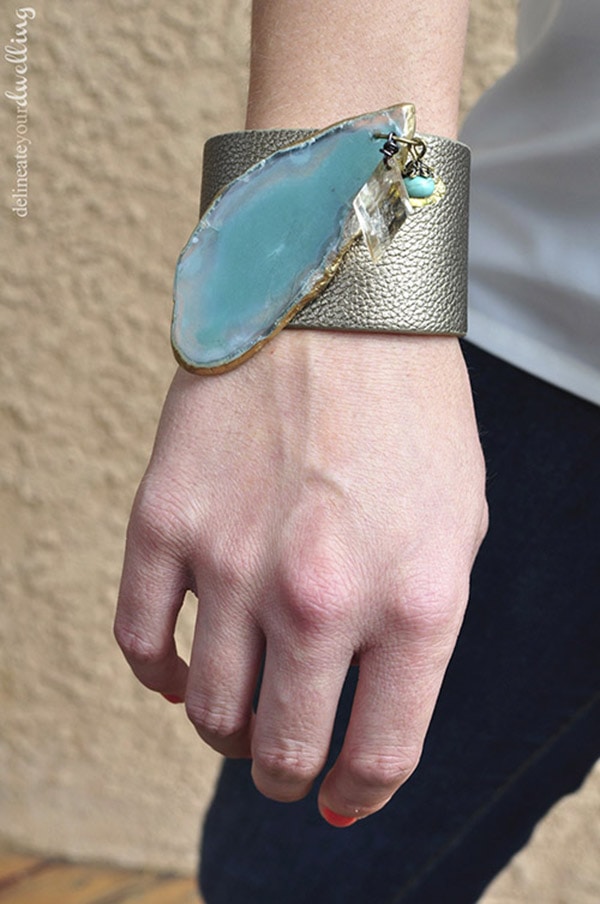 I can't wait to start wearing this fun new accessory all the time!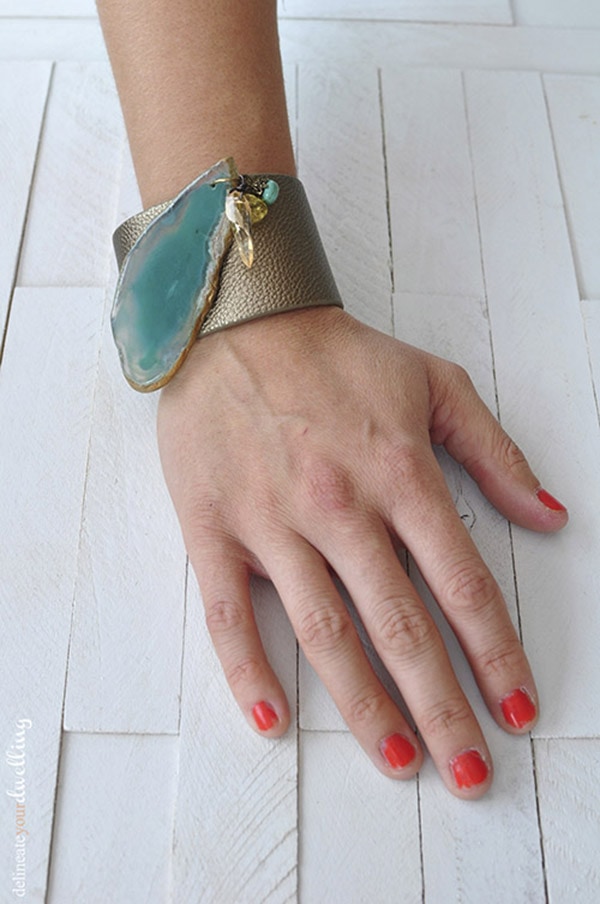 Have you made any fun jewelry? I feel like it's an untapped craft direction for me!
If you liked this project, you might also like these:
SaveSave