PLANT CARE
If you are ready to learn all about various types of trendy "it" indoor houseplants, their specific care, their watering needs and the perfect light requirements for them – then you have come to the right place!
Check out my new Happy Houseplants eBook now and get ALL the scoop!!! It's perfect for first time plant owners and the seasoned planter owner looking to dig in deep with their plants.
My Happy Houseplants ebook talks about how to not kill all the plants and includes:
– A helpful checklist for the 6 steps to keep your plants alive + thriving.
– A deep dive on 7 trending "it" plants (like your finicky Fiddle Leaf Fig!)
-5 plant printables to hang in your home.
Buy it below.
I have loved plants and all things green for all of my life. Just because I am not still a practicing landscape architect, does not mean that I can't still be that crazy plant lady – ha. Check out some of my favorite Indoor plants below.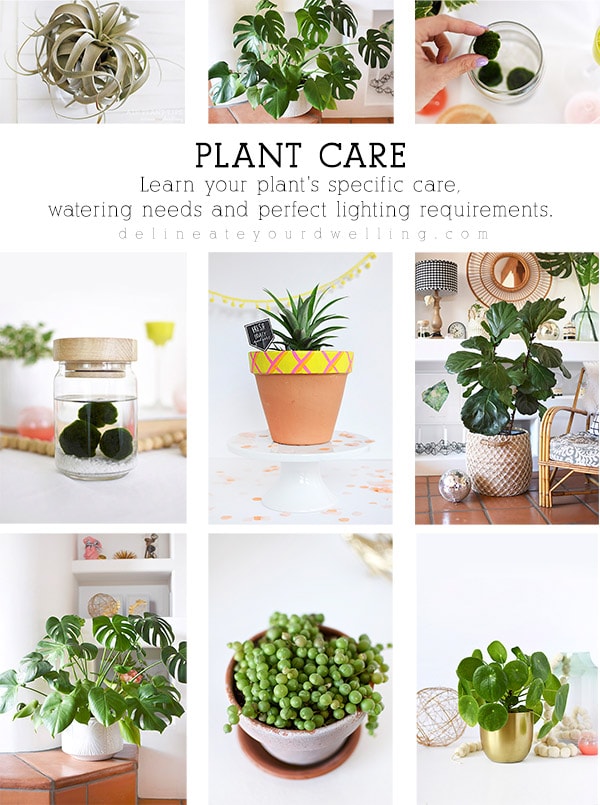 Needing help with your indoor house plant care? You will love these top posts:
Fiddle Leaf Fig Care + Tips
How to grow a Pineapple
Marimo Moss Balls
Pilea Care and Best Tips
Air Plant Care and Tips
Monstera Plant Care
Pothos Plant Care
String of Pearls Plant Care
11 Hard to Kill Houseplants
Want to be a #plantlady, but need a bit of help? You will love my KEEP PLANTS ALIVE checklist with 6 super helpful tips! Signup below to get access to this checklist guide.
101 Care posts:
Happy Houseplants eBOOK
My passion for plants has become next level. Every roommate I've ever had has always commented how they went from a black thumb to a plant lover because I've helped guide them along on their green baby journey!
Guess what, I took that guidance and put it into an eBook. August 7th my Happy Houseplants eBook launches and people are already signing up to get on the list.
My eBook walks the new plant mama through what plants to start with, what types of light your plant needs and where you should place that plant in your home. Then, I provide a watering schedule guide and a houseplant log, so you never have to be wondering when and how you should take care of your plant.
Sign up for my newsletter to get your free Keep Plants Alive checklist and be the first to know about Happy Houseplants!