INSIDE : Air Plant Care + Tips for keeping your Air Plant growing healthy, watering information and general care! Let's grow the best air plants we can!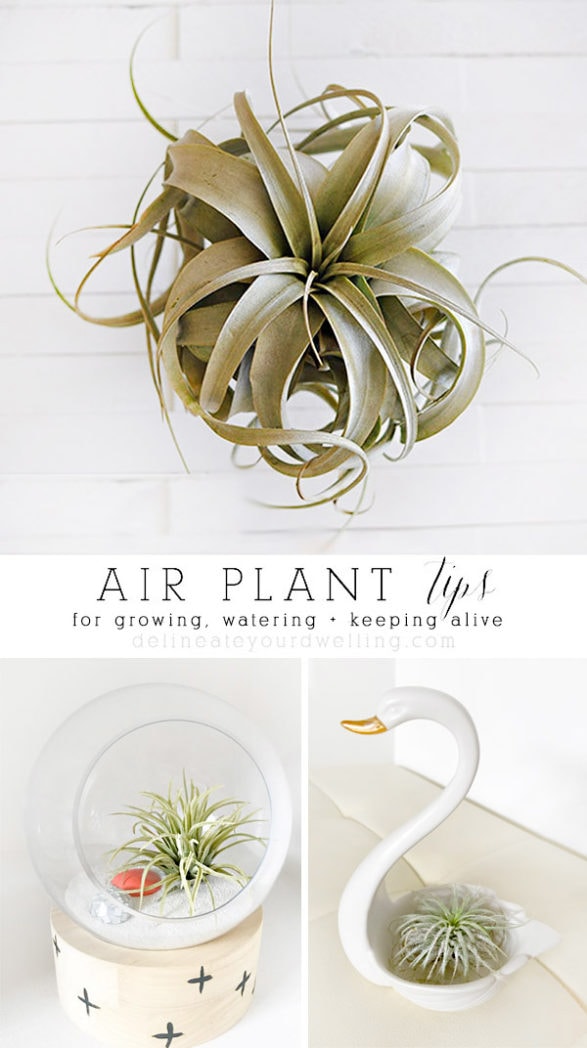 As soon as I saw this beautiful air plant I just knew she was coming home with me… and I had no idea how to keep an Air Plant alive, especially in the dry desert climate of NM. This might be trouble but I did some research and wanted to share some tips today for growing, watering and keeping your Air Plant alive (even if you live in the desert).
Want to get a better green thumb??! You might like some of my other Plant Care + Tip posts.
This post may contain affiliate links. See full disclosure here.
I got this huge gorgeous air plant, a Xerographic, at West Elm a few years ago. I immediately named her 'Curly'. It is about five to six inches in diameter. I just adore all it's curly leaves! Be still my plant loving heart. You can also get this beauty over at The Sill now!!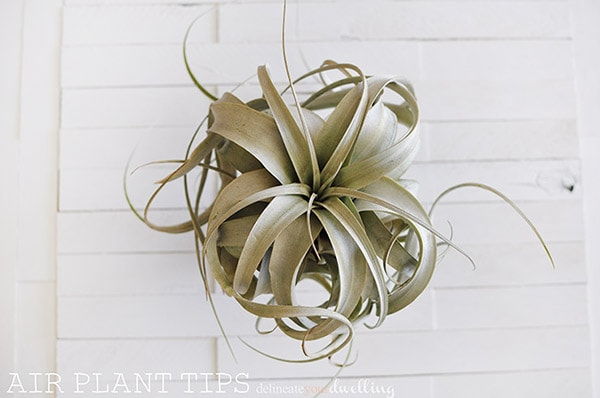 As it grows, the arms curl and wrap around itself which makes it even more amazing. The Xerographic is fairly hardy and from time to time enjoys indirect sun. You can even bring your Xerographic outdoors for short bits, as long as the weather is mild.
Looking for more helpful tips like this for other plants? You would definitely enjoy my easy to read Happy Houseplants ebook !  Check it out today.
How do Air Plants Grow?
Air plants are mostly very easy growers. The entire basis of them is that you don't need any dirt to provide nutrients or moisture. If you are a notorious plant killer, often times starting with an air plant is a great place to go.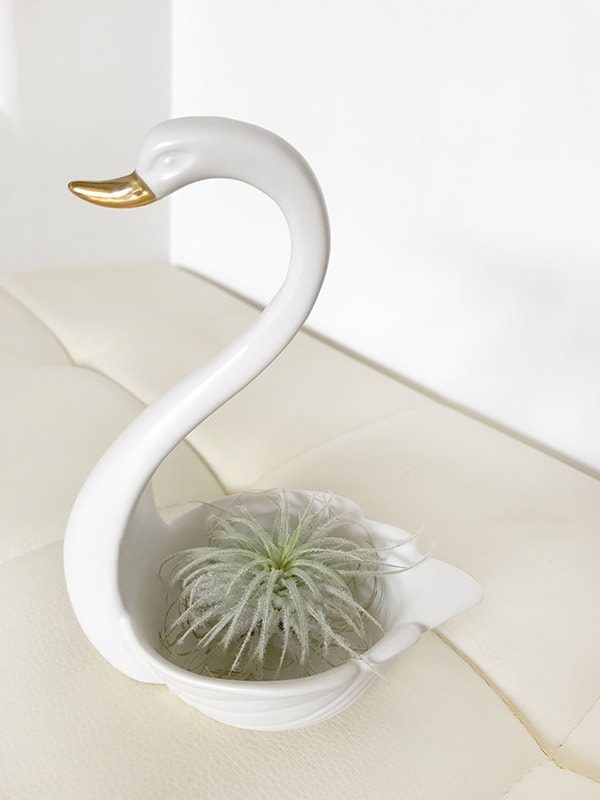 This is my fuzzy air plant, I call him snowball. He sits in my white swan.
Native air plants attach themselves to rocks, trees, shrubs, or the ground with their roots. However since the popularity of air plants in recent years, you can now put an air plant just about anywhere in your home without the worry of roots and soil!
Looking to gain insights, tips and methods for not only keeping your plants alive, but to have them thrive? Let's grow green enthusiasts, one plant at a time together with my Happy Houseplants eBook!
My Happy Houseplants ebook talks about how to not kill all the plants and includes:
– A helpful checklist for the 6 steps to keep your plants alive + thriving.
– A deep dive on 7 trending "it" plants (like your finicky Fiddle Leaf Fig!)
-5 plant printables to hang in your home.
Buy it below.
What are Air Plant Watering Needs?
There are several types of air plants and those with silver foliage tend to be the most drought-tolerant with the lowest water needs. The greener air plants dry out faster, however a general rule of thumb is to water your air plants once a week.
However, if the air in your house is particularly dry (We live in NM and have very low humidity.) water or mist more often, every four to five days. If you live in a humid area, water every ten days. I find it best to just keep an eye on your plants to determine what exactly their water needs.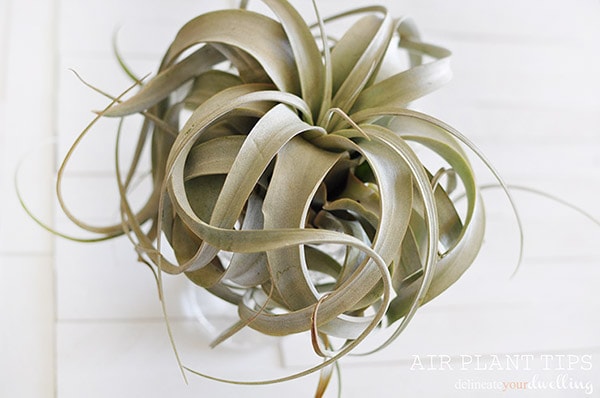 To water your air plant, fill a large bowl or sink with water and dunk your air plants. After about ten minutes, remove the plants from the water and lay them on a towel to dry. (Now, I was told since I live in the desert, I should leave my air plants in water for a few hours. You will see that as they soak up water, they will turn a more vivid color of green.)
If one of your plants looks severely dried out, pull off the very bottom dried parts and place the plant in a bowl of water for several hours. Misting your plants in between waterings every few days, is another way to keep them looking fresh.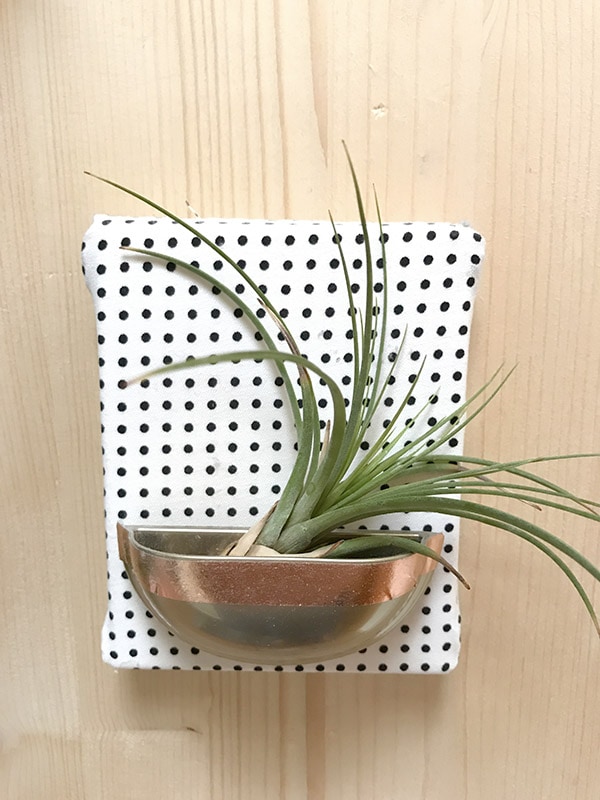 This air plant hangs out by the front door to greet everyone as they walk in!
Can I overwater Air Plants?
Be careful with air plants that have visible bulbs at their bases; if they get too waterlogged, they will rot. Once you are done soaking those, turn them upside down and allow all the water to run out and dry before putting them back in their home.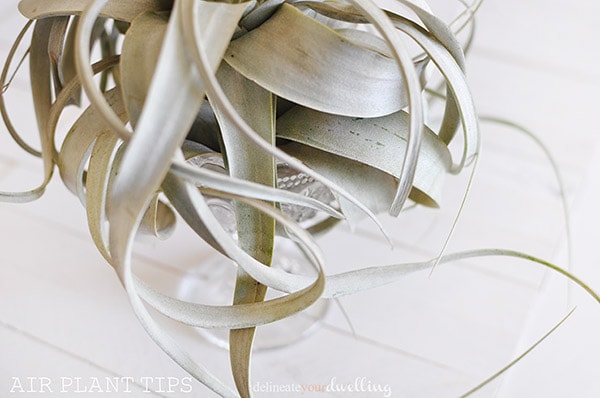 General tips for Keeping your Air Plants Alive:
One of the keys to air plant survival is constant air circulation. Wherever you put your airplant, make sure there is space for the base of the plant to have air.
Don't let your air plant sit somewhere colder than 45 degrees; it will die at those temperatures. If you live in Zone 9 or warmer, you can grow an air plant outdoors all year if you keep it dry during the winter.
You'll know that an air plant is happy when it sends up flowers. Once the flower dries out, all you need to do is snip it off.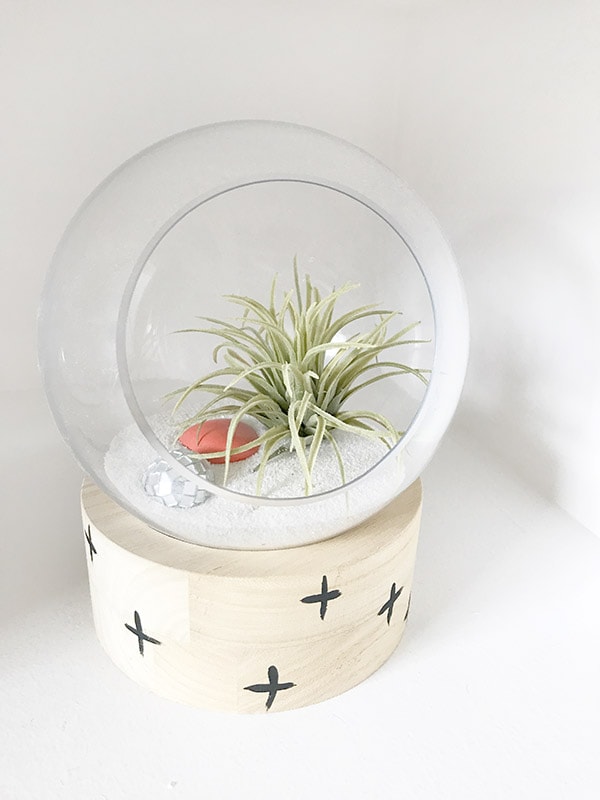 I tend to have about 4 air plants in my home at all times, but I'm always on the lookout for more! My favorite ones include :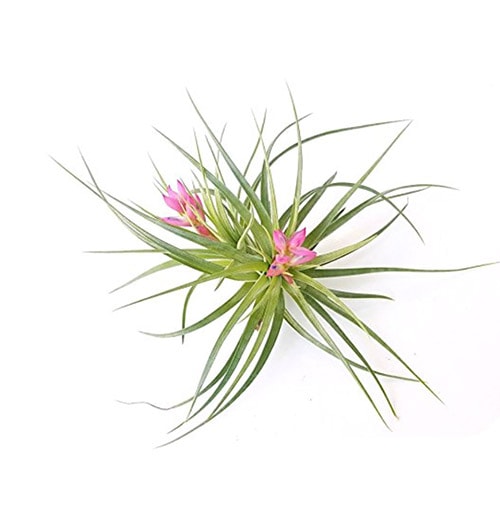 You might be interested in some of my mother Plant Care posts: