INSIDE : It is much easier than you think to grow a pineapple! See my tips for how to grow a pineapple from an existing fruit. Also check out the fun tutorial for painting a DIY Pineapple Pot.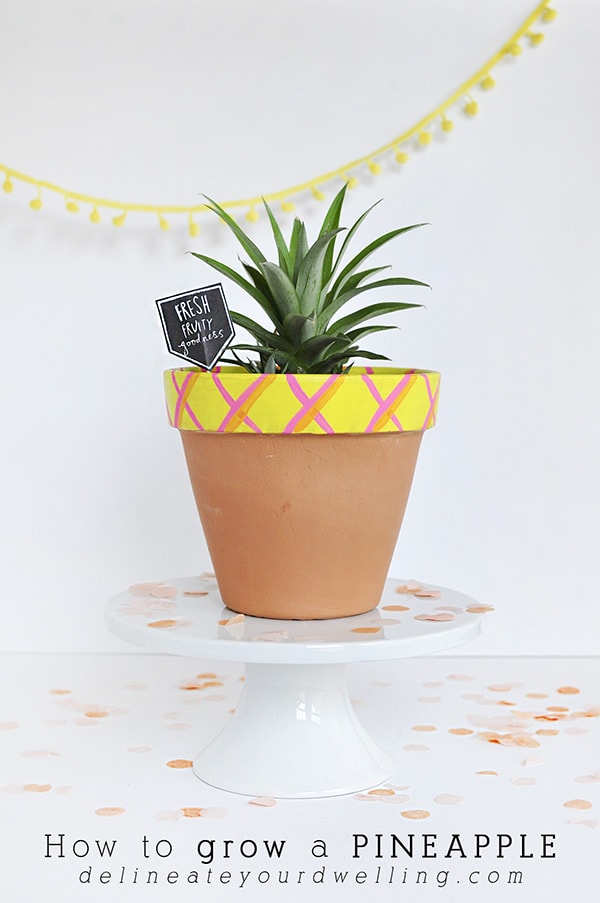 A few weeks ago, I did something awful. I accidentally decapitated my baby pineapple plant. I actually let out a loud gasp and grabbed my chest after it happened.
I put out a Pineapple Emergency call, but no one knew how to keep my baby pineapple going. So, I did some research and today am sharing with you all, How to Grow a Pineapple (after you accidentally decapitate your very very favorite plant ever).
WHAT SUPPLIES DO YOU NEED TO GROW A PINEAPPLE?
Fresh Pineapple
Medium Sized Terra Cotta Pot
Acrylic Paint
Paint Brushes
Fresh Fruity Goodness mini sign (similar)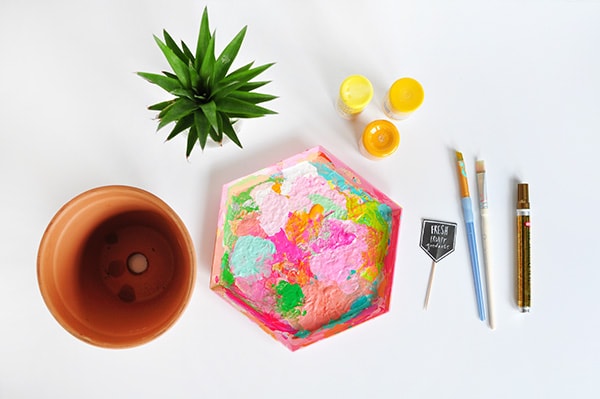 BACK STORY:
I went to Ikea early this summer and bought a pineapple plant. I loved that little guy and took such great care of him. Little by little he started to grow and then I repotted him.
One morning, I was outside doing some yard work and walked by my little pineapple. I noticed there was a spider making a web the top of the leaves, so I took the hand trowel that was in my hand and casually brushed that little spider off. Well, tragedy hit and along with the spider being knocked off, my sweet little pineapple also tumbled to the ground.
WHERE DO PINEAPPLES GROW?
Originally pineapples grew throughout South America. Eventually, they reached the Caribbean, Central America, and Mexico, where it was cultivated by the Mayas and the Aztecs. Christopher Columbus encountered the pineapple in 1493 on the island of Guadeloupe.
DO PINEAPPLES GROW ON TREES?
Surprisingly enough, pineapples do not grow on trees. They grow from a big leafy plant, in the ground. The plant consists of stocky leaves whorled around a central stem. In a healthy pineapple plant, the tapered, swordlike leaves can grow up to about 5 feet long.
HOW TO GROW A PINEAPPLE PLANT TOP:
The first step requires gloves if you have a larger, more mature pineapple. Grab securely onto the base of the leaves and with your other hand, hold tight to the fruit. Give a few tight turns and the leaves should pull right out from the base.
If this step doesn't work for some reason, you can always simply cut the top off from your plant. I prefer twisting and getting a few of those baby roots with it if possible, though.
Turn the leaves upside down and pull the bottom inch or so of leaves off from the base. You will be surprised, but about an inch or so up there are tiny little roots that have already started growing. Once you can see those little nubs of roots, you are at a stopping point for now.
Find a sunny window sill and place your pineapple leaves in a glass of water to start growing those root systems out. Every few days I would empty my glass and get fresh water. It was amazing how quickly the roots grew. My roots were about 3″ long after a week or two.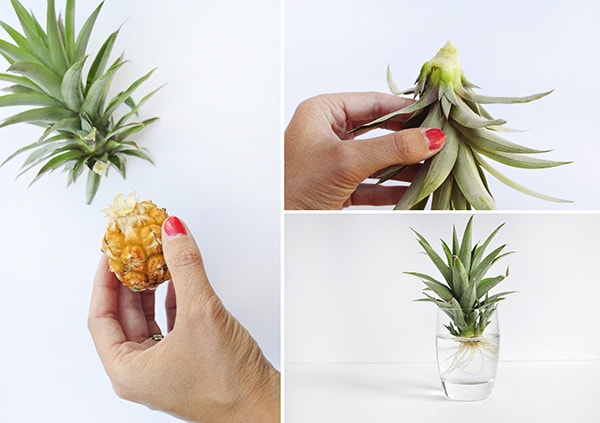 Once my plant was ready to be transferred from the water back into soil, I decided to paint myself a new pot.
Using yellow paint, I painted the rim of the pot, inside and out. Then, I took a hot pink and a citrus orange and created a simple crosshatch pattern to represent pineapples.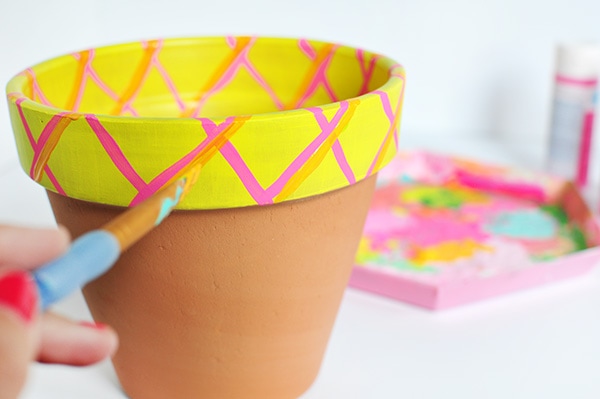 After my painted pot was dry, I added a handful of small rocks to the bottom of my pot to help with drainage. Then I filled the pot about 2/3 of the way full with potting mix.
Next, I added the plant crown into the pot and filled in the empty space with some additional potting soil. Lastly, I could not help adding a cute little sign.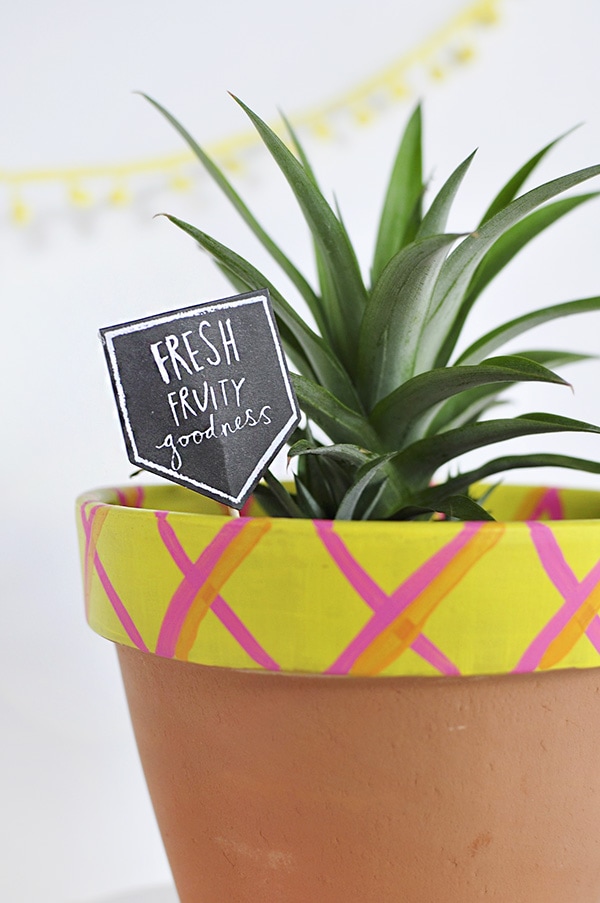 The cool thing about this is, you don't have to start with a pineapple plant. You can literally grow a plant from a pineapple purchased at the grocery store – how fun is that!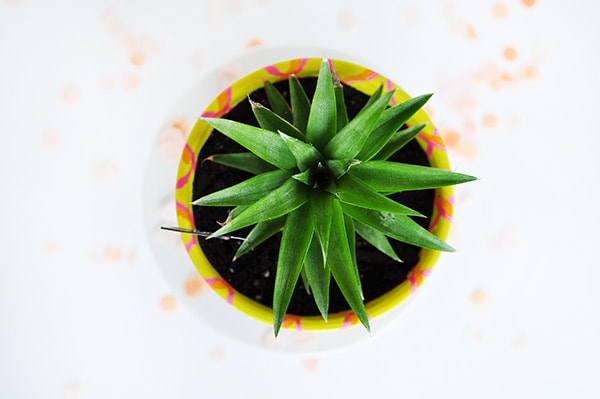 WHAT KIND OF SUN REQUIREMENTS ARE BEST FOR GROWING PINEAPPLES?
I noticed my pineapple did best indoors with plenty of sunshine and warmth. I did bring my plant outdoors eventually but he did not like direct summer sun. When he got too much sun, he started to scorch and turn red in color.
HOW LONG DOES IT TAKE A PINEAPPLE TO GROW?
I ended up keeping him outdoors but in light shade, light sun. These seemed to be the best light conditions for him. Pineapple plants are slow growers, so don't expect to have pineapples the first year.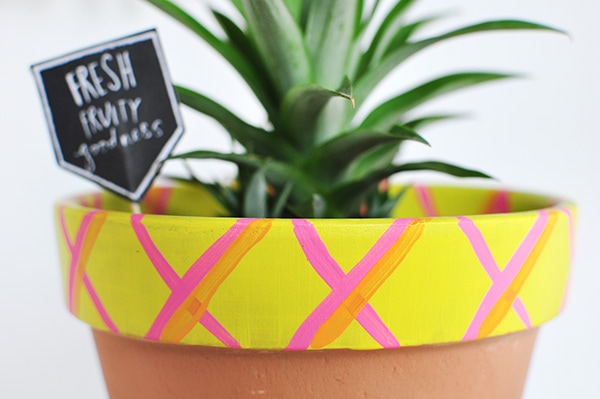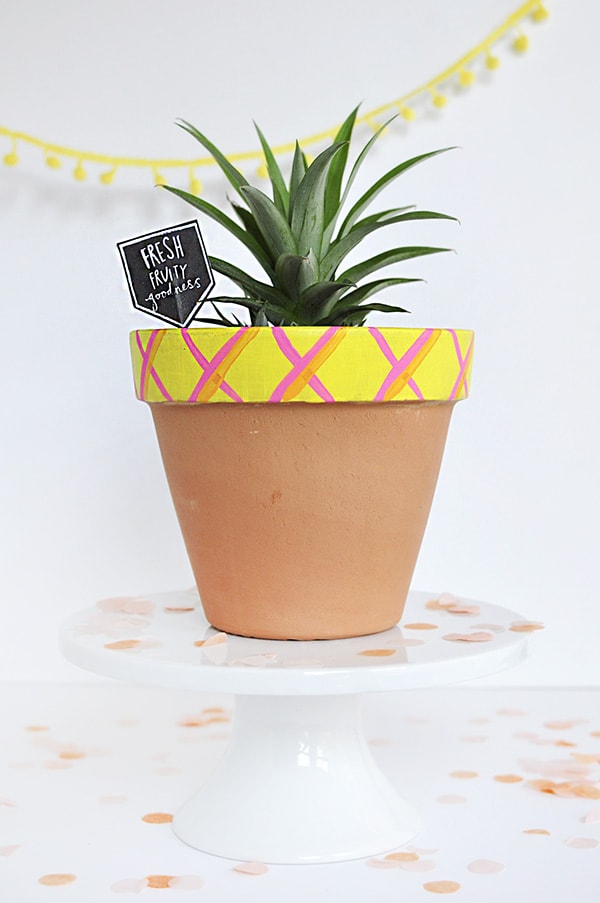 Guys, by this time next year I just might have a pineapple plantation going in my backyard!!
Have you ever attempted to grow one?? Let me know in the comments below.
Looking for other fun Pineapple projects? You might be interested in these :
Fun way to use Pineapple as Party Decor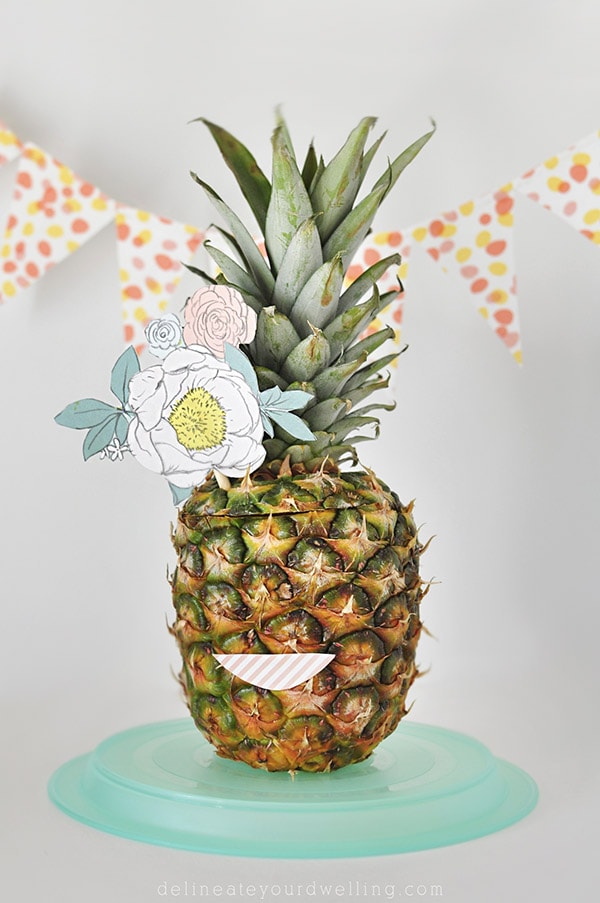 Pineapple Pumpkin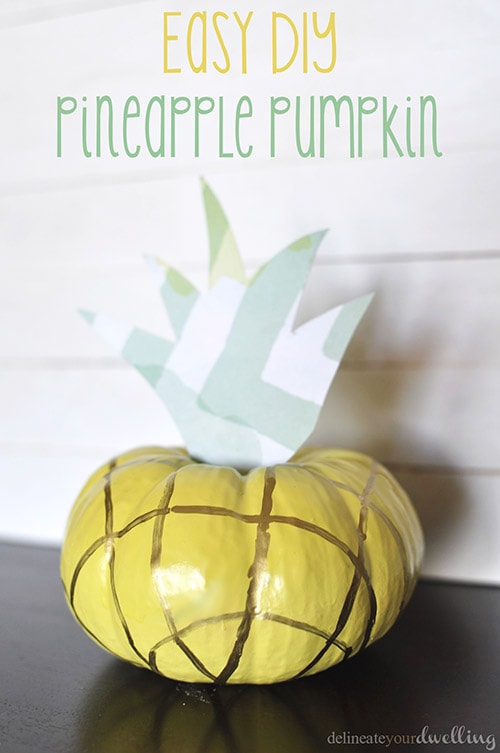 Pineapple Washi Tape Print