INSIDE : Learn how to make cheerful DIY Peppy Pumpkins and add a ton of color to your fall decor this year in pinks, yellows, golds and greens! Because autumn doesn't have to be dull colors.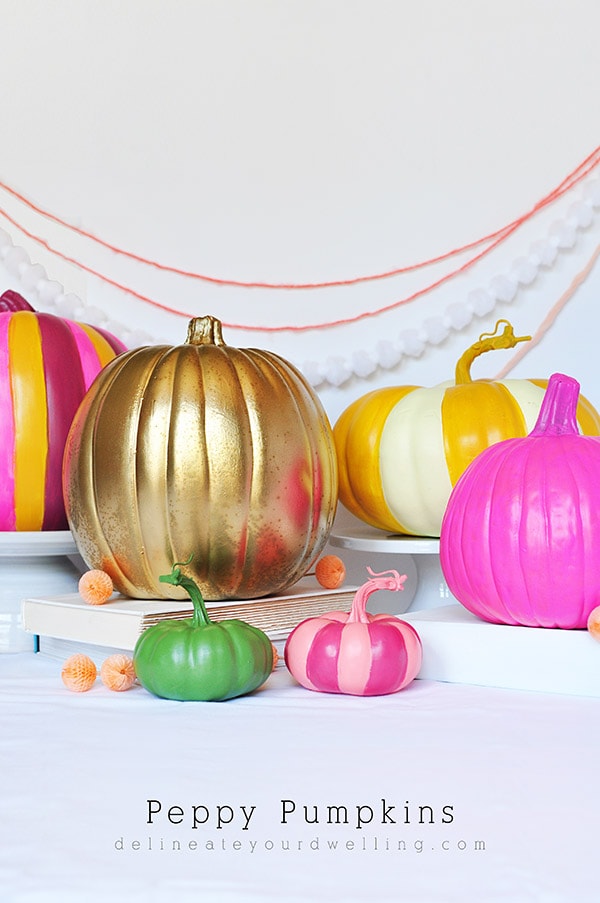 I am a huge believer in embracing YOUR colors, whatever they may be. Some years I more closely conform to the typical seasonal color scheme, but often I use less traditional colors for fall.
Last year I did a lot of soft blue, green and gold. The year before that I used mint green, grass green, peach and copper. And the year before that lots of blues and golds.
So, it should be of little surprise to see that this year my fall color palette will be colorful and it's coming out in my DIY Peppy Pumpkins today!
This post contains affiliate links. See my full disclosure.
What supplies do I need to make Colorful DIY Peppy Pumpkins?
Various sized Faux Pumpkins : 8×10 size | 4″ size
Colorful Acrylic Craft Paints
Paint Brushes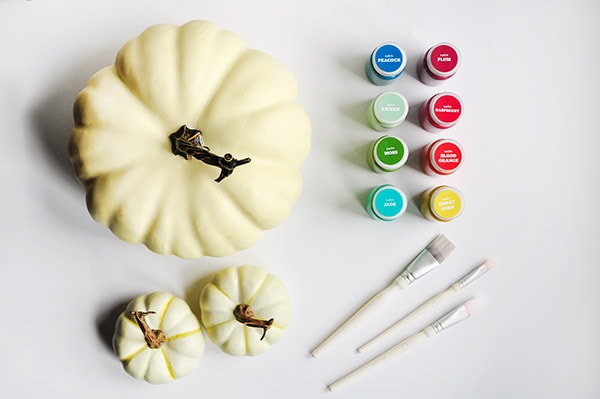 Note: I bought my pumpkins all at Hobby Lobby and they were 40% off, so be sure to head to your local craft store if you are looking for a reasonably priced faux pumpkin. Also I just picked up two packages of paint from Target, in their Hand Made craft section. The colors worked perfectly for my fall theme.
How do I make Colorful DIY Peppy Pumpkins?
The steps on this DIY are pretty easy to figure out. Decide what colors you want to use for your pumpkins and then simply have fun pairing the color combinations together!
I choose to do a solid green, a solid gold and a solid pink pumpkin. Then I did a yellow and white stripe – a yellow, plum and pink stripe – and a raspberry and color stripe.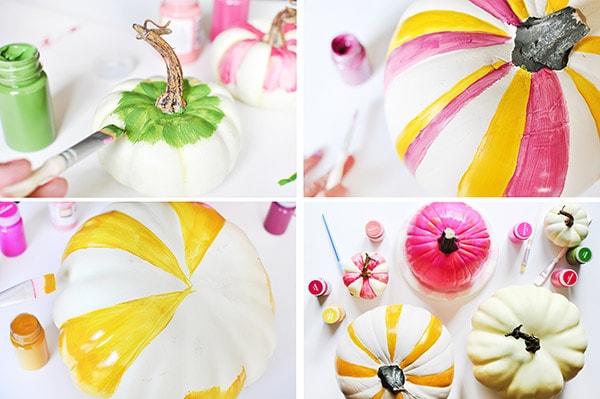 Let me be completely honest, this is a not a fast DIY. Because of the material these faux pumpkins are made of, they take a few coats of paint and when you add in stripes… it took a solid day off and on of painting, drying, painting, drying, etc…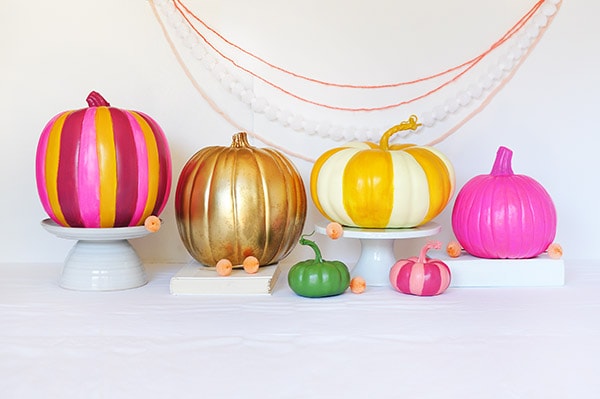 Another tip to keep in mind is what type of paint you use. My bright pink paint was a satin, so it did not give the same coverage as the other paints. I would suggest not using a satin paint type for this project.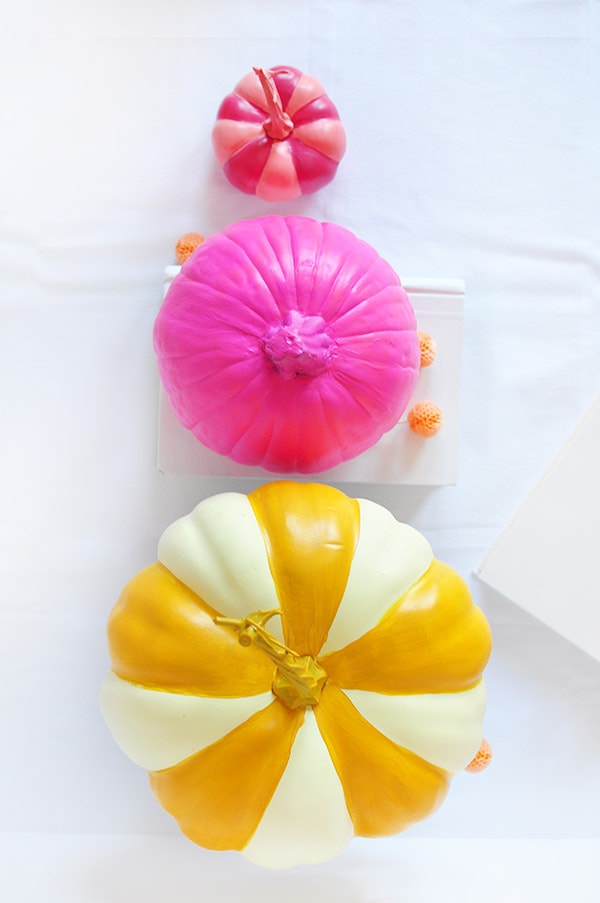 One detail that I just love doing and have done in previous pumpkin projects is painting the stem of your pumpkin in the coordinating paint color. I think it adds just one small pop of unexpected… as if a pink, plum and yellow pumpkin aren't unexpected enough!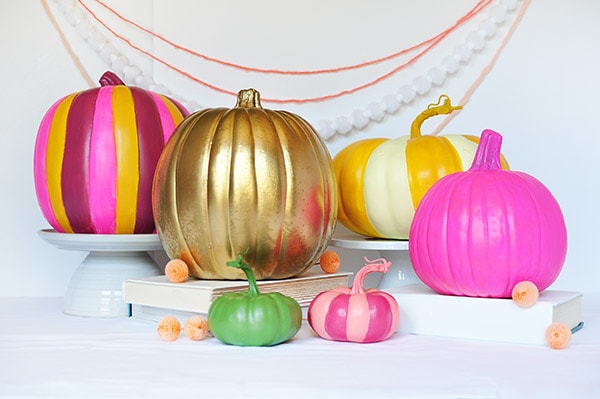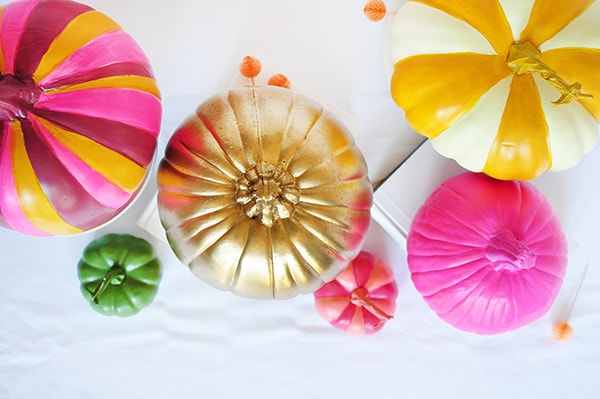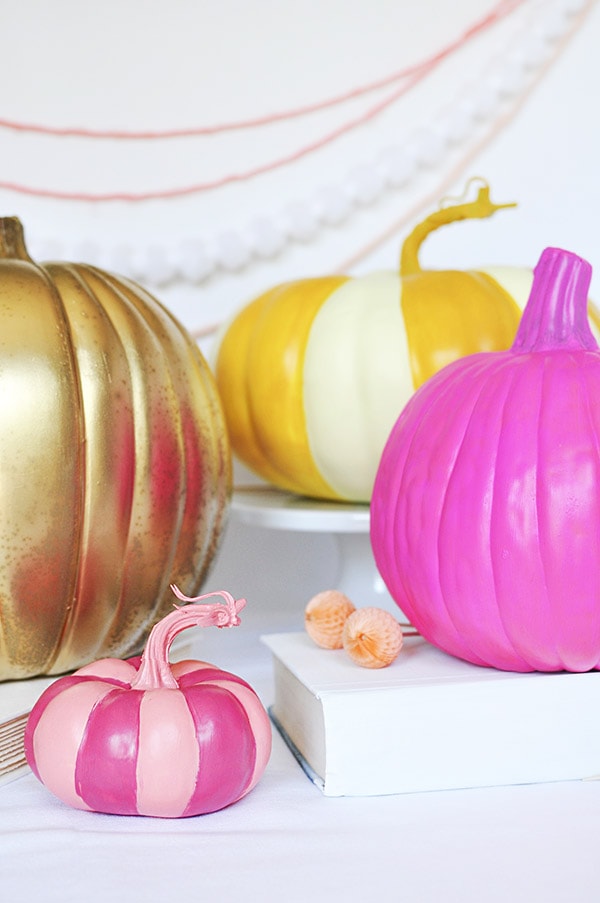 I must say, I was worried at a few points yesterday… would these be gorgeous or slightly gaudy? I think they are borderline both… but I tend to embrace different, so I am really happy with how they turned out.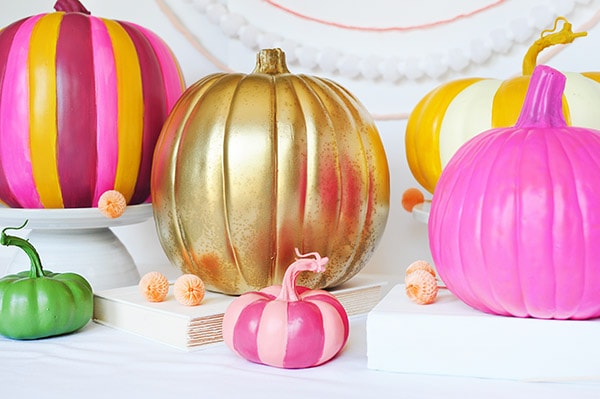 And this concept would be just as lovely in YOUR colors!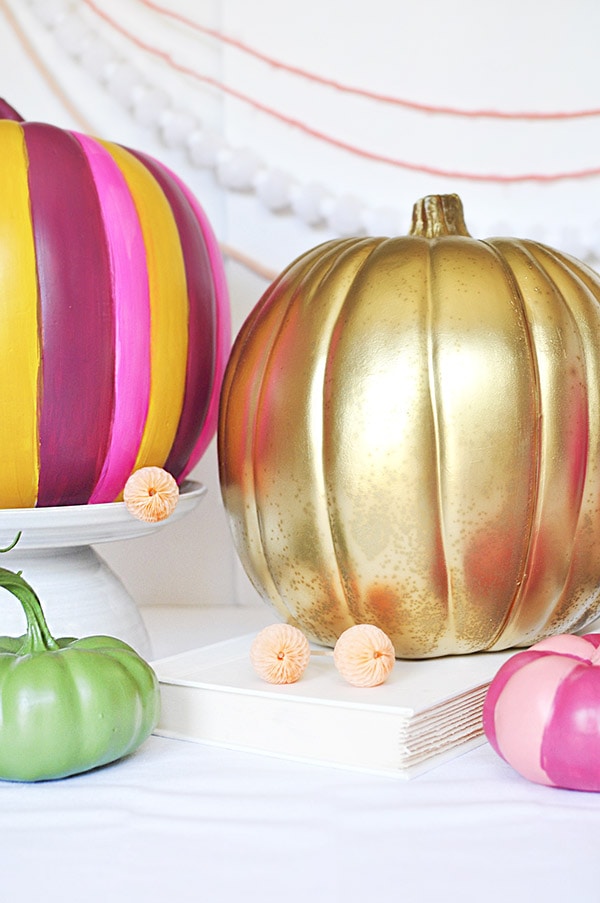 So let me know in the comments below, what colors will you be using this fall season?

Ready to check out some of my other fun pumpkins from over the years?
Looking for fun kid Halloween costumes? See these adorable DIY Scuba Diver Halloween Costumes, Baker + Cupcake Costumes or Little Planet Halloween Costumes!
SaveSave
SaveSave
SaveSave