INSIDE : Learn how to make easy homemade inexpensive and adorable DIY Planet Halloween Costumes for your kids this fall season! These are also great dress-up outfits for later, too.

I've been making my two kiddos coordinating homemade Halloween costumes since they could crawl. They have been owls, Scuba Divers and Baker + Cupcake. Today I am sharing my kiddo's DIY Jupiter Planet Halloween Costumes.
And I am also sharing 88+ more amazingly creative handmade costume ideas from talented bloggers everywhere! Be sure to read to the bottom for the blog hop of a lifetime!
I teamed up with Jamie Dorobek and her handmade Halloween costume site, Really Awesome Costumes to bring tons of easy ideas to craft up DIY Halloween costumes for everyone including your pets, family costumes, and even a trunk or treat idea! This year, I went with Planet Halloween Costumes for my kiddos.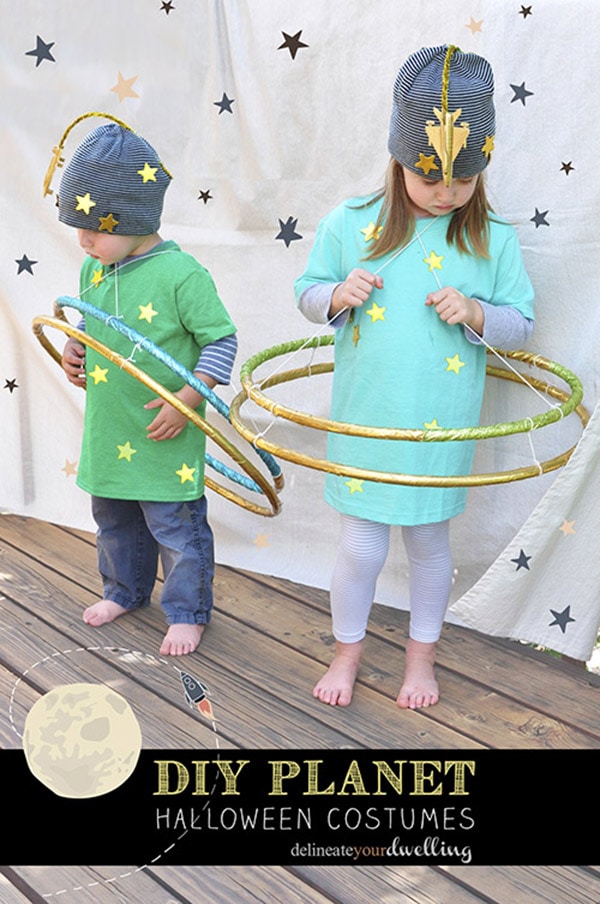 This post contains affiliate links. See my full disclosure.
What supplies do I need for Planet Halloween Costumes: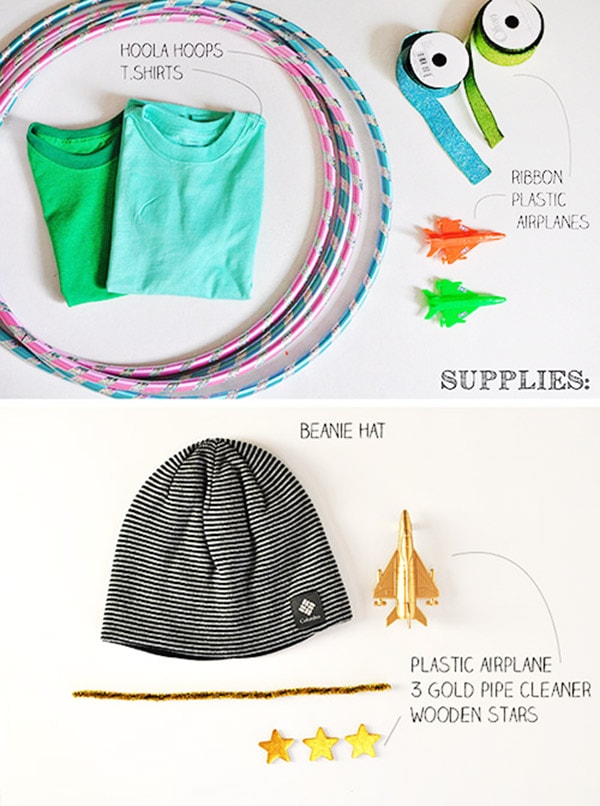 I had such fun creating these planet costumes for my kids. At ages 3 and 2, they are constantly talking about flying rockets to the moon. I love creative halloween costumes that they can dress up in for the rest of the year. We build rocket-ships with boxes all the time, so they are literally "over the moon" with being planets this Halloween!
How to make Outer Space Planet Costume Hats:
I started by spray painting the plastic airplanes "rockets" gold with my favorite brand of spray paint. Then I took three gold pipe cleaners and twisted them together. Once twisted, they created just enough stability to hold up the rockets but allowed for a little bounce like they were flying around their hats.
Then, I decided on the curve I wanted and hot glued the pipe cleaners to their
beanie hats
.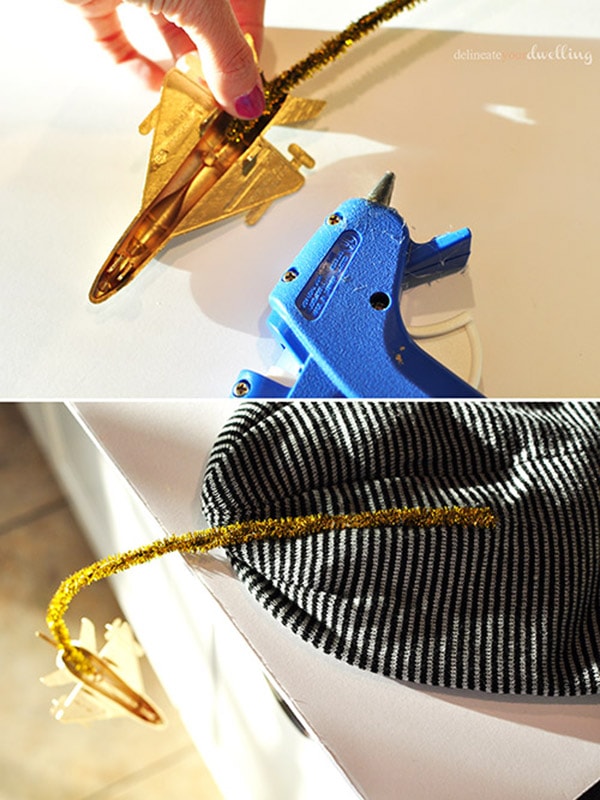 How to make Outer Space Planet Jupiter's Costume Rings:
I bought four hula hoops. Using colorful glitter duct tape, I wrapped the hula hoops for a little extra sparkle. Then, using simple yarn or string connected them together and created very basic shoulder straps.
I then hot glued gold stars to the hats and shirts.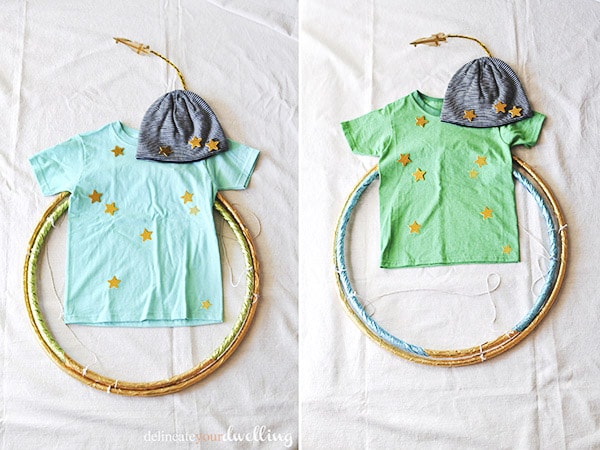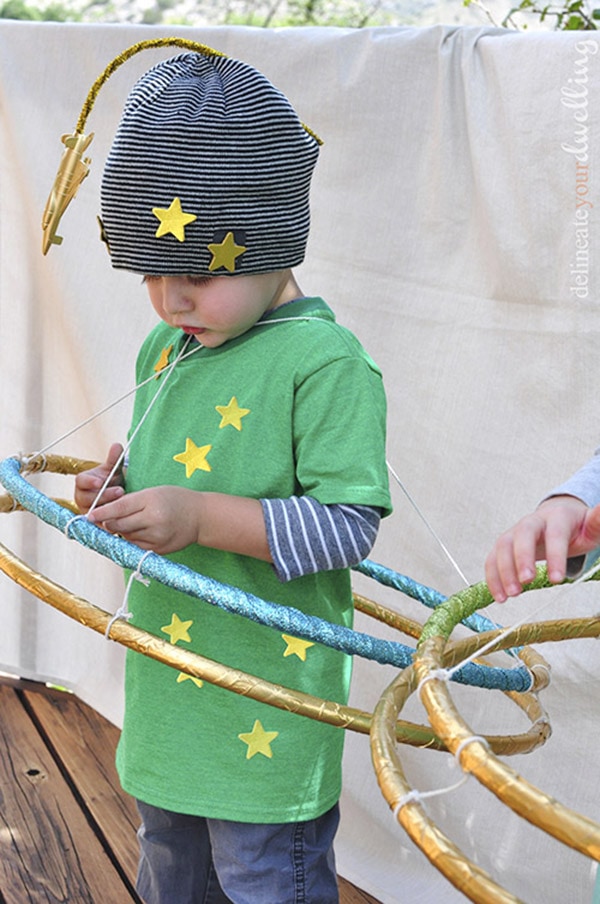 Look at these precious planet costumes!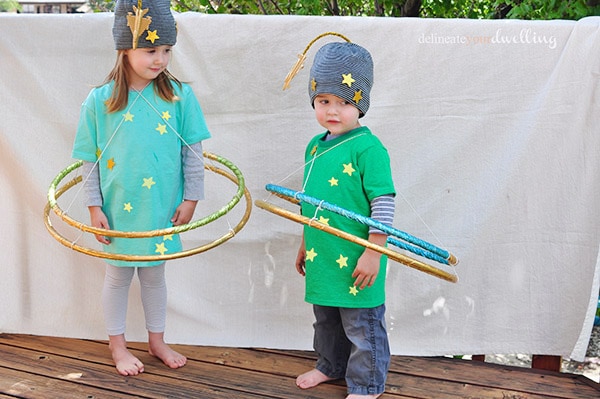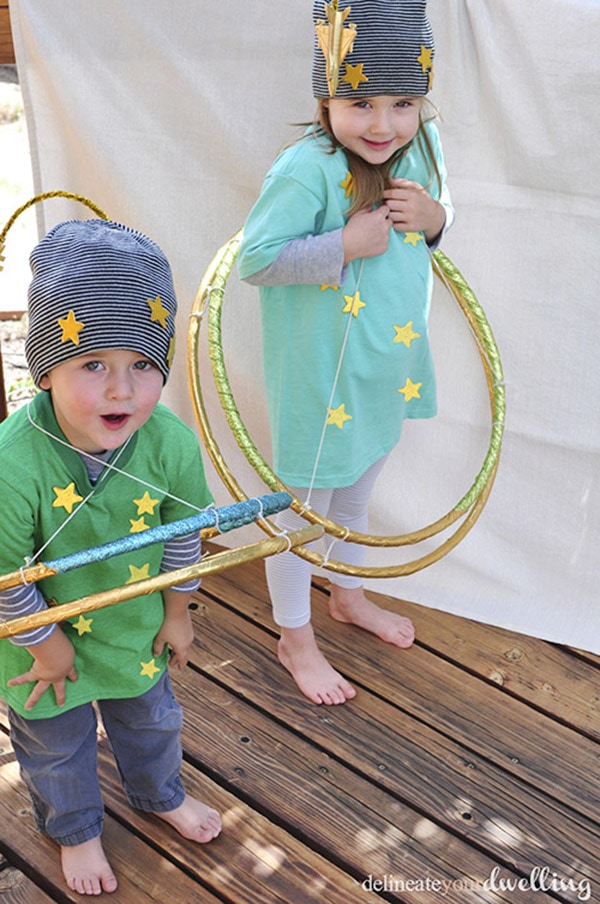 I mean really, I can't even handle it. So cute, right? Not that I'm biased or anything.

And now it's time for tons more DIY Halloween costume inspiration! Join in on the BLOG HOP! Click on the links below each collage to get the detailed instructions about how to make the costume pictured, just like mine above.
Don't forget to follow the Handamde Halloween Costumes Pinterest Board for even more DIY costume greatness!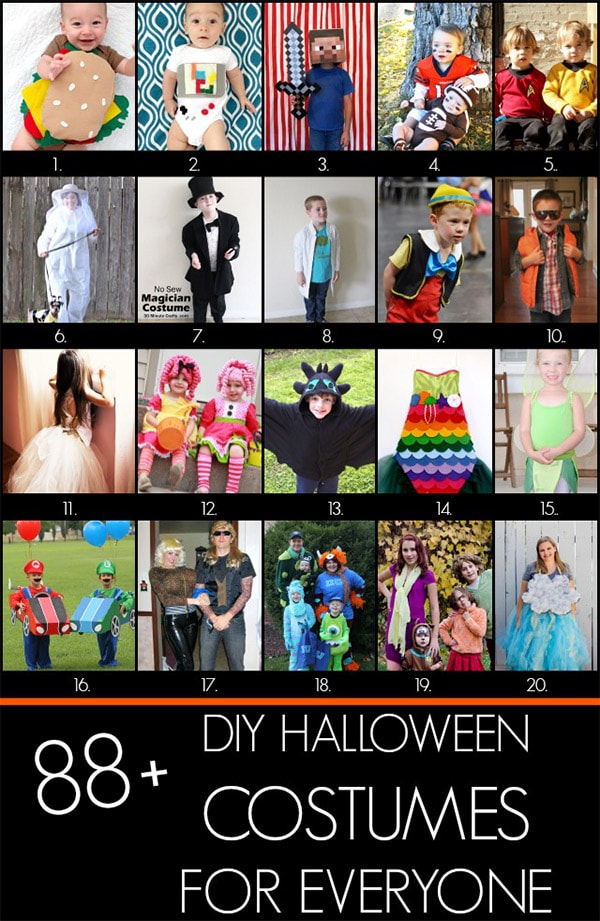 1. Handmade Baby Hamburger Costume 2. DIY Baby Game Boy Costume 3. DIY Minecraft Steve Costume 4. Football Brothers Halloween Costumes with DIY Pads and Onesie 5. Star Trek Halloween Costume for Kids 6. A Bee and Her Keeper 7. No Sew Magician Costume 8. Flint Lockwood Costume 9. Pinocchio 10. Marty McFly 11. Princess Wedding Dress Costume 12. Handmade Lalaloopsy Doll Costume 13. Homemade Toothless Costume 14. DIY Mermaid For Less Than $20 (No-Sew Option) 15. Easy Tinker Bell Costume 16. Mario and Luigi Go Kart Costumes 17. Dog The Bounty Hunter and Beth 18. Family Monsters University Costumes 19. Scooby Doo family costumes 20. DIY Storm Cloud Costume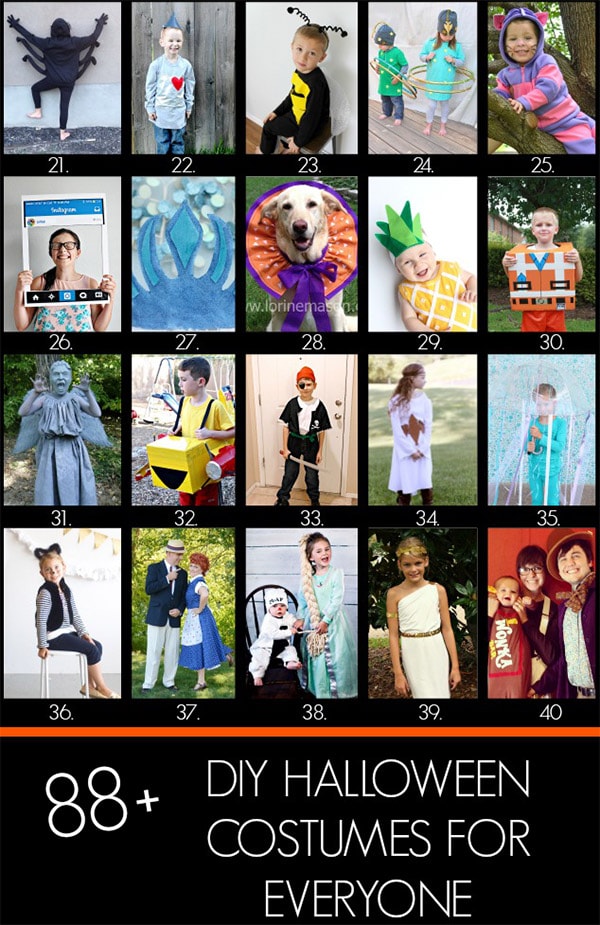 21. Cheap and Easy DIY Spider Costume 22. Easy Tin Man Costume 23. No Sew Bee Costume 24. Planet Halloween Costumes 25. DIY Cheshire Cat Costume 26. DIY Instagram Board 27. Elsa crown 28. Dog Collar Ruffles 29. DIY Pineapple Baby Costume 30. DIY Lego Movie Costume 31. Weeping Angel Costume 32. Disney Planes Costume: Dipper 33. Easy Pirate Costume 34. Easy Costume Idea – Renaissance Girl 35. 10 Minute Homemade Jellyfish Costume 36. DIY Cat Costume 37. Lucy And Ricky Costumes 38. Easy Frozen Costumes (Carrisa!!) 39. Easy Greek Goddess Costume 40. DIY Family Willy Wonka Costumes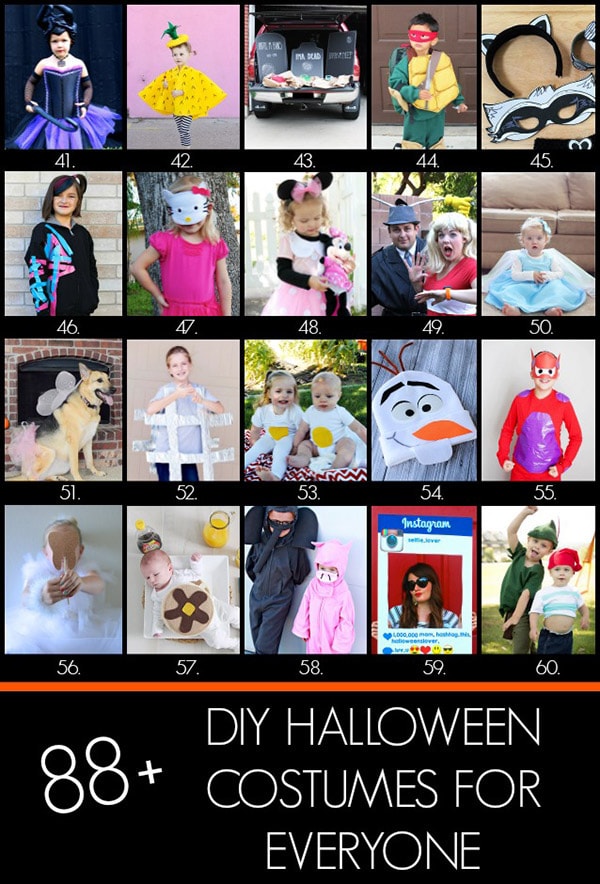 41. DIY No Sew Maleficent Costume 42. No Sew Pineapple Halloween Costume 43. Graveyard Bean Bag Toss: Trunk or Treat Car Costume 44. DIY Teenage Mutant Ninja Turtles Costumes 45. DIY Raccoon Costume with Printable Mask 46. Easy WildStyle Lego Movie Costume 47. Simple Hello Kitty Costume 48. No Sew Minnie Mouse Costume 49. DIY Inspector Gadget and Penny Costumes 50. DIY Frozen Elsa Dress Baby Edition 51. Fairy Princess Dog Costume 52. DIY Hashtag Halloween Costume 53. Toddler or Baby Egg Costume 54. Easy No Sew Olaf Costume 55. DIY Baymax Costume 56. DIY Tooth Fairy Costume 57. Baby Short Stack Pancake Costume 58. Elephant and Piggie Halloween Costumes 59. Instagram Halloween Costume 60. Peter Pan & Mr. Smee Halloween Costume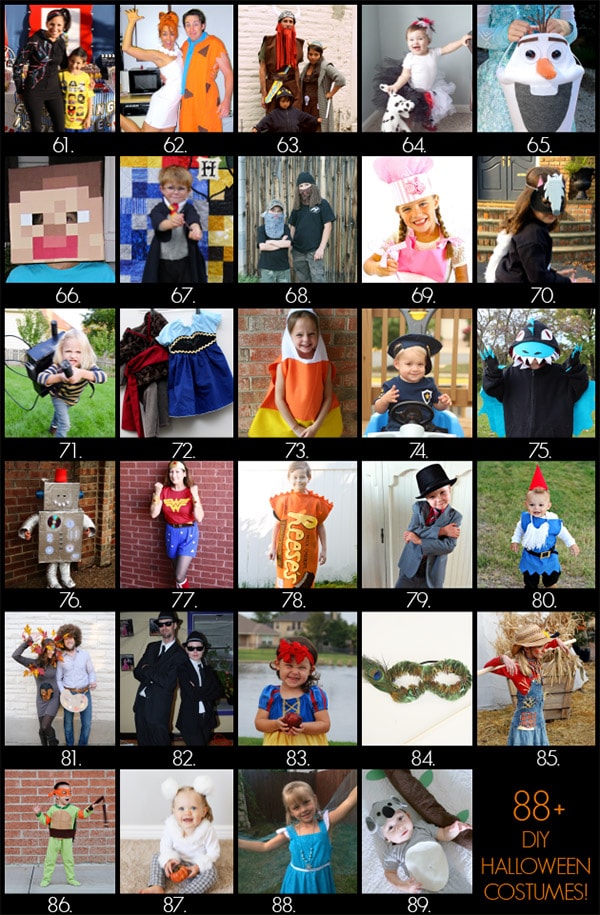 61. Wildstyle Costume from the Lego Movie 62. Fred and Wilma Couples Costume 63. Viking Family Costumes 64. DIY Cruella de Vil Costume for a child 65. Disney Frozen Olaf Halloween Treat Bucket 66. How to Make a Minecraft Steve Head 67. DIY Harry Potter Costume 68. DIY Duck Dynasty Costumes 69. No Sew Cupcake Baker Halloween Costume 70. DIY Skunk Mask 71. Ghostbusters Proton Pack DIY 72. Frozen Anna Costume Tutorial 73. Candy Corn Costume 74. Paw Patrol Halloween Costume 75. No Sew Toothless Dragon Costume 76. DIY Robot Costume 77. Wonder Woman Costume 78. Reese's Peanut Butter Cup Costume 79. Thrifted Gentleman Spy DIY Halloween Costume 80. DIY Boy Garden Gnome Costume 81. Group Costume: Bob Ross, Happy Tree, & Squirrel 82. DIY Blues Brothers Costumes 83. Snow White Costume 84. Peacock Princess Costume 85. Scarecrow Costume 86. Easy Teenage Mutant Ninja Turtle Costume 87. Handmade Teddy Bear Costume 88. Princess Elsa and the Spy Kid 89. DIY Baby Koala costume
Which handmade costume ideas did you love the most?!
SaveSave
SaveSave
SaveSave
SaveSave
SaveSave