INSIDE : Learn how to make an inexpensive DIY Scuba Diver Halloween Costume for your children this Halloween. Plus, it is a great dress-up outfit for years to come.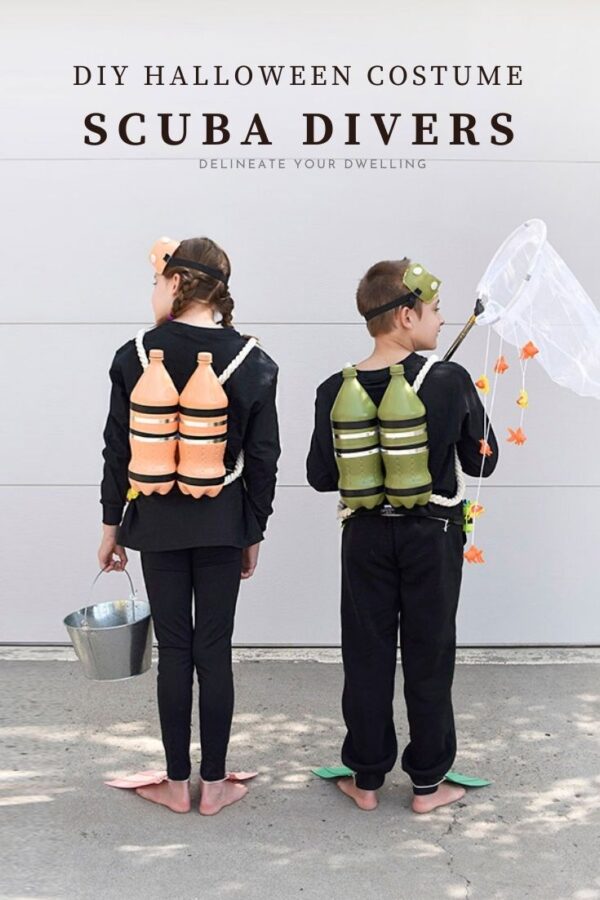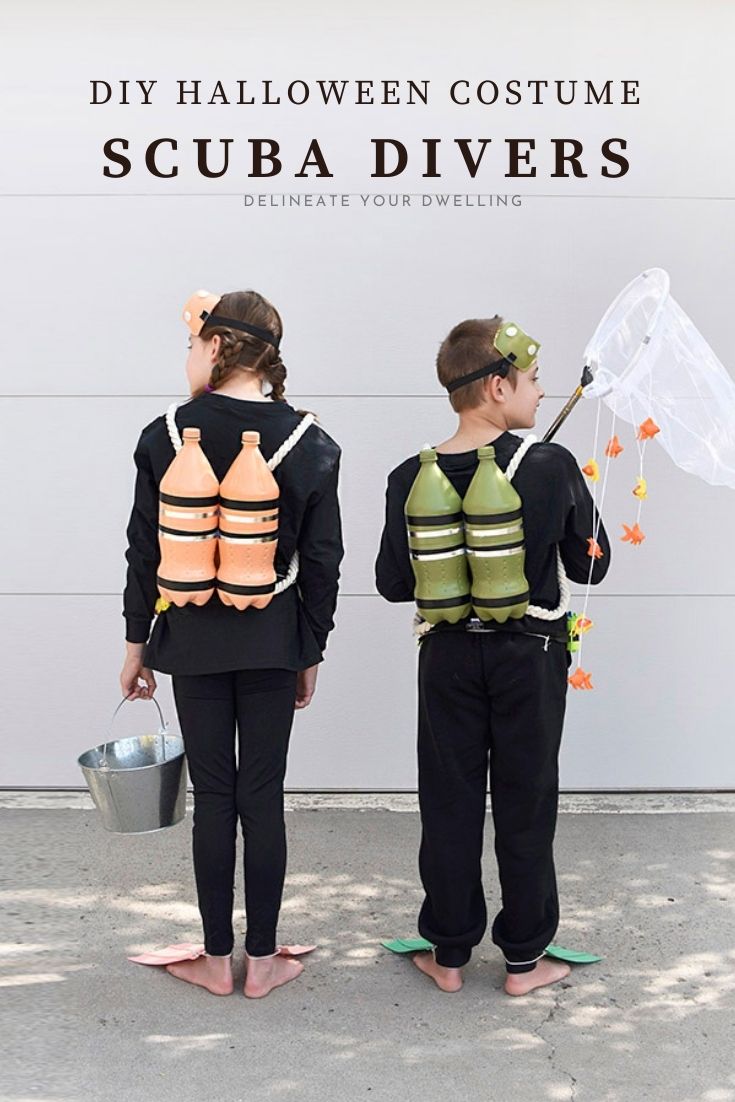 This post may contain affiliate links. See my full disclosure.
This post has been updated from it's original publish date of October 2014. (Scroll to the bottom of the post to see the original photos of my little babies!)
I have been making my children coordinating homemade Halloween costumes ever since they could crawl – way before Pinterest was even a thing. They have been baby owls, a Baker + Cupcake and Two Outer space Planets.
Last year my kids were into all things underwater. So when Halloween was getting nearing, I decided to make them matching DIY Scuba Diver Halloween Costumes.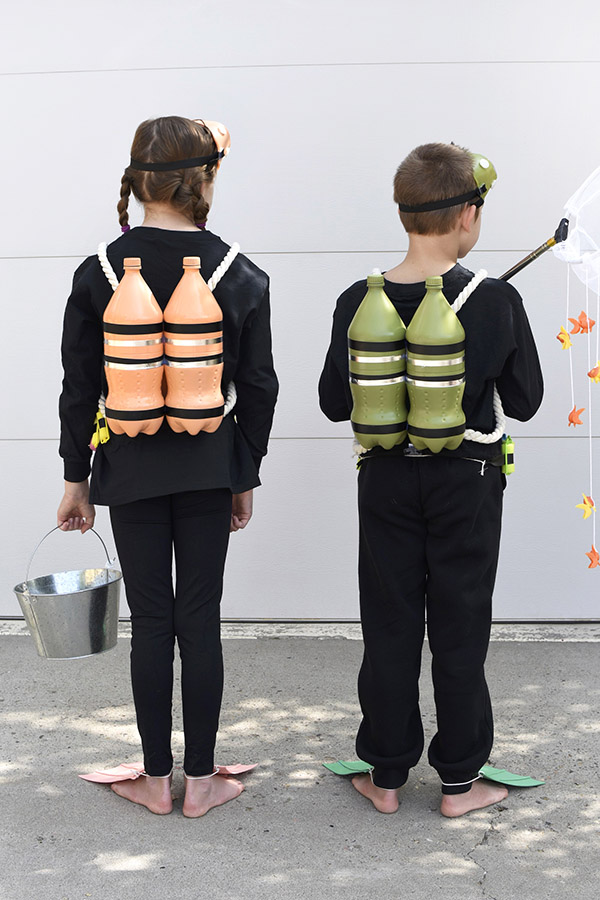 For their new Scuba Diver costumes, I made my son in all olive green accents and my little girl was in a sweet peach color. The original costumes when they were babies were blue and green.
WHAT SUPPLIES DO I NEED TO MAKE HOMEMADE SCUBA HALLOWEEN COSTUMES?
Black Uni-sex Shirt + Girl pants / Boy Pants
Set of 2 Litter Bottles
Cotton Rope or yarn
Spray Paint (peach + green)
Black Electrical Tape OR Black Ribbon
Sponge Hair Curlers
Safety Goggles
Metal Pail
Silver Washi tape
Hot glue
Glitter Letter Stickers
Fishing Net
Plastic Goldfish
Crafting Foam Sheets
2 pieces of Peach Felt
2 pieces of Olive Green Felt
Twine/String
Scissors
Acrylic paint + brush
Hole Punch
LOOKING FOR ALL THE SCUBA DIVER SUPPLIES IN ONE PLACE, GO to my Amazon Shop page.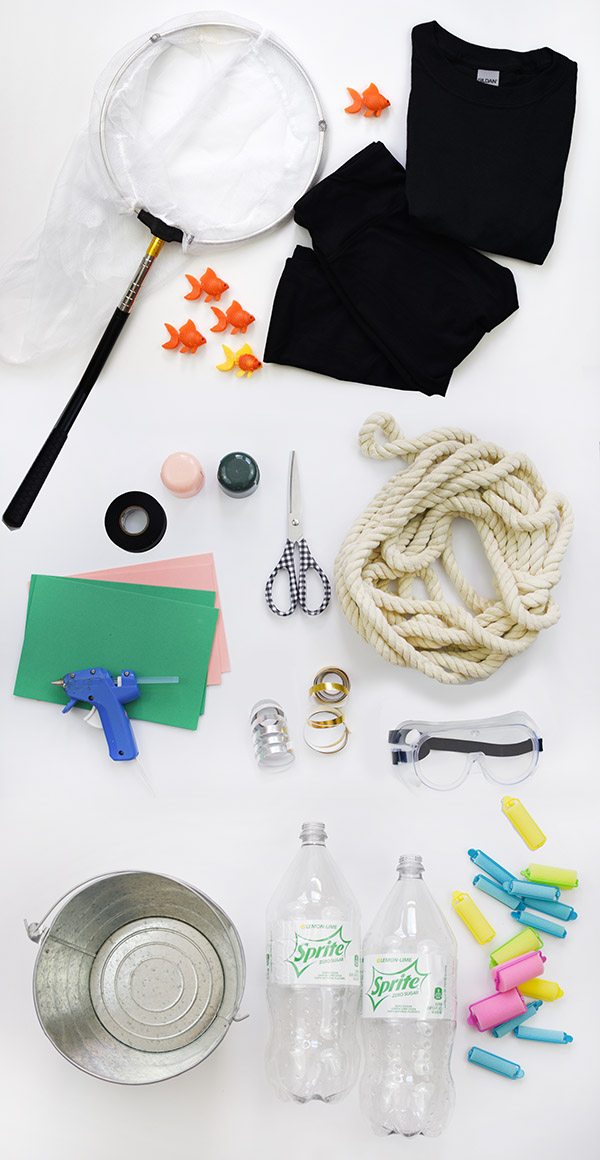 Optional additional Scuba supplies –
Cool Diving Hat
Swim Goggles + Snorkels
Chalkboard paint
Shark Costume
HOW TO MAKE A HOMEMADE SCUBA DIVER COSTUME
SCUBA DIVER COSTUME TOOL BELT:
Since this was a Halloween Diver costume for young to Elementary aged children, I wanted to make simple (affordable) accessories. The tool belt is made from electrical tape, but you could also use black ribbon for the actual belt.
If you are using electrical tape, determine the length you need to go around your child's waist and then double it. I folded my tape on itself so that it wasn't sticky and could wrapped it around their waist. I used one additional piece of tape to keep it all together once it was trick or treating time.
Once you have your tape or ribbon belt cut to length, it's time to add on your little scuba gear related items. I used light weight and inexpensive sponge curlers, but you could add on anything you like.
I wove the electrical tape through the sponge hair curlers in the colors of each of my child's outfit. It takes just moments and there is no worry of weight or scratching with them.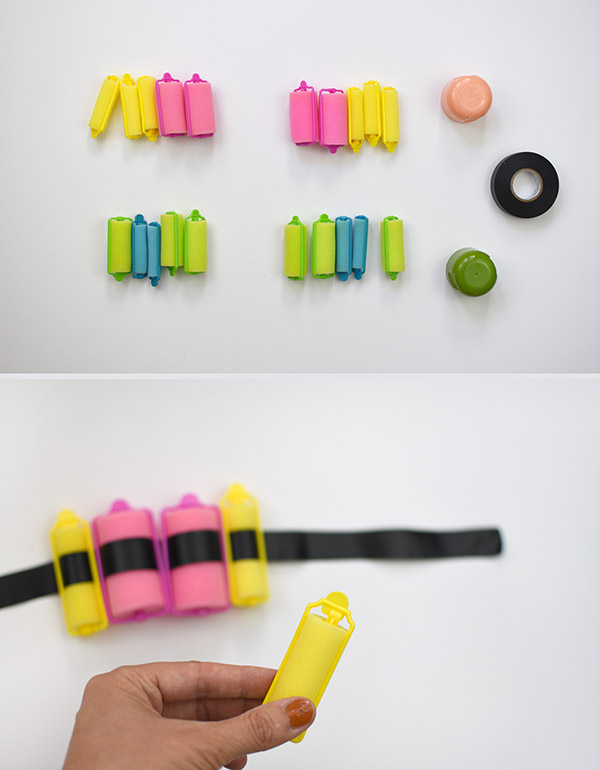 DIY SCUBA DIVER COSTUME AIR TANK
These little Diver Air Tanks might just be my favorite part of this Halloween costume!
I saved four 2-Litter bottles of soda, washed and dried them (since I was making two costumes). If you are making only one costume, then you need two 2-Litter bottles.
Take then outdoors to a well ventilated area and spray paint with their appropriate colors. I did a soft Peach color and a lovely Olive Green color. Once they were dry, I added black electrical tape and silver washi tape for decorative flair.
Next, I placed them side by side and using hot glue I adhered them together.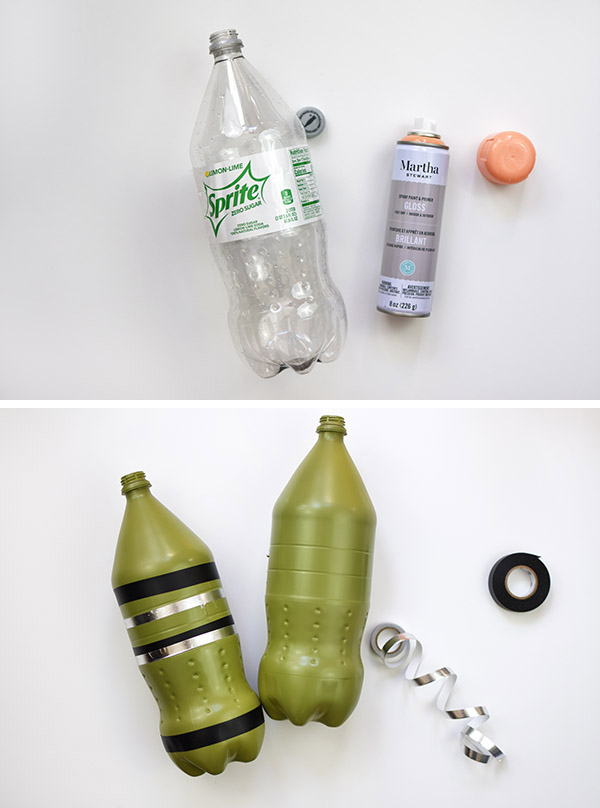 Next up is adding the straps to your oxygen tanks. I cut two pieces of peach felt and two pieces of green felt roughly 6″ x 7″ in size. And then I measured my kiddo's and cut cotton rope to create the straps. I used a piece of scotch tape around each of the cotton rope ends so they wouldn't fray.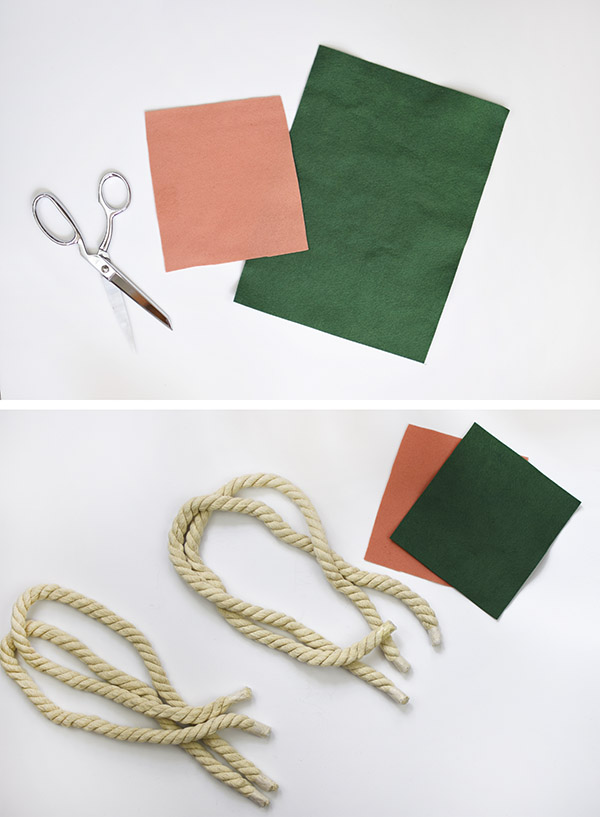 Next, I hot glued the first piece of felt to the main center area of the bottles. Make sure you use enough glue to keep everything in place. Then, glue the top and bottom of your cotton rope to the top and bottom of your felt piece, this is creating the strap for your tanks.
Lastly, hot glue your second piece of felt on top to create a more clean finished look.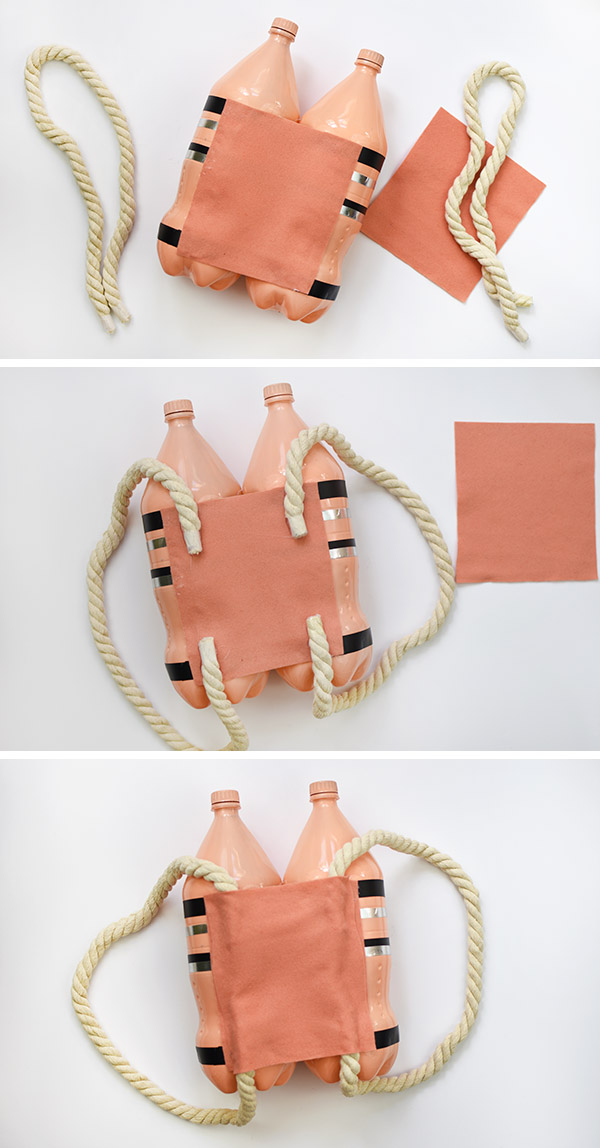 I mean, hoooooow adorable are these oxygen air tanks!!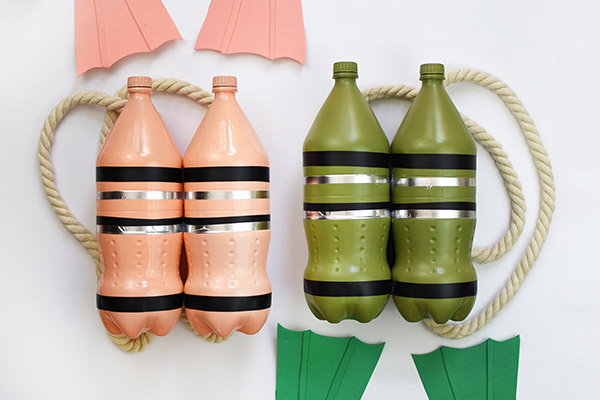 HALLOWEEN SCUBA DIVER FLIPPERS
It's time to make your little scuba flippers! I used two sheets of crafting foam in the peach and green colors.
Start by cutting out a rough "flipper" shape from your foam. You will need two flippers for each costume you are making. Next, cut out a "U" shape the width of your flipper, as well as two skinny detail pieces.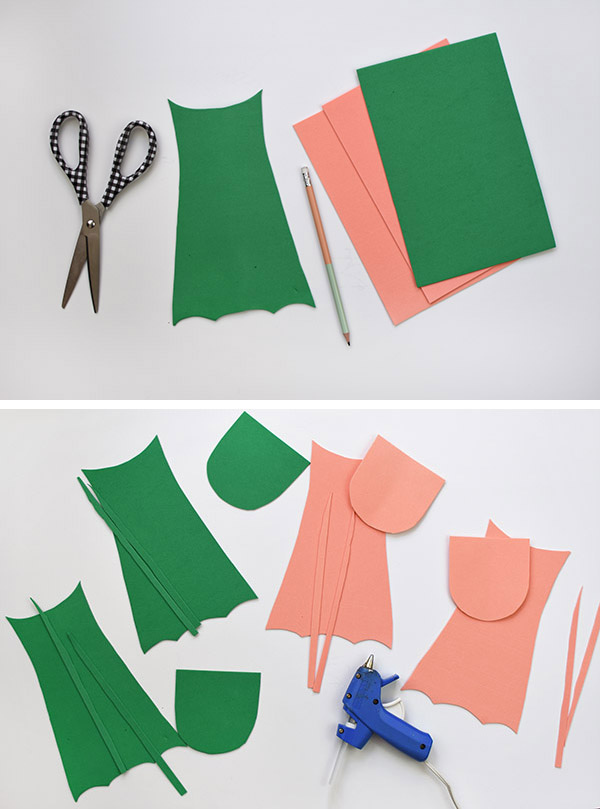 Using hot glue, glue all the pieces onto your foam flipper and put two hole punches on either side of the shoe. Add some simple string to tie around your child's foot for trick or treating!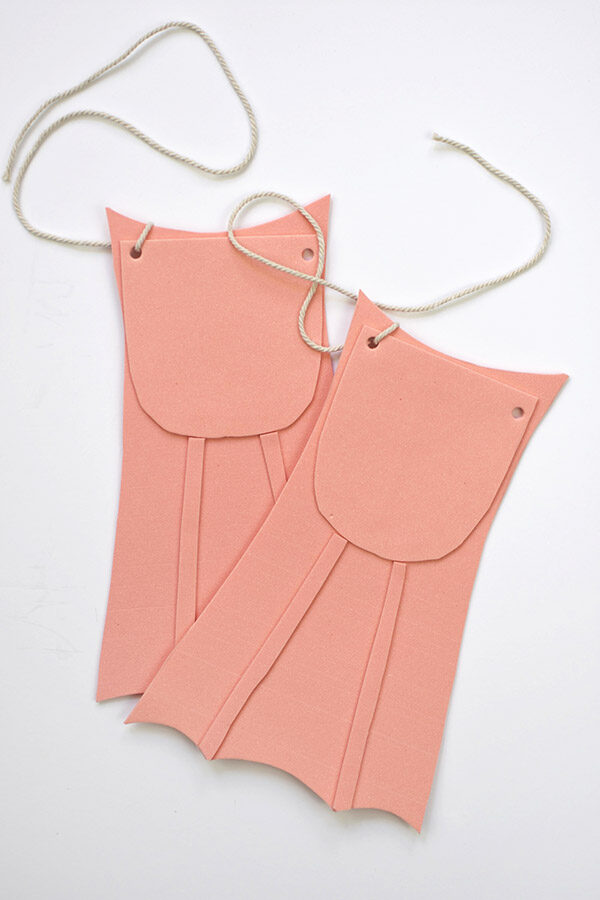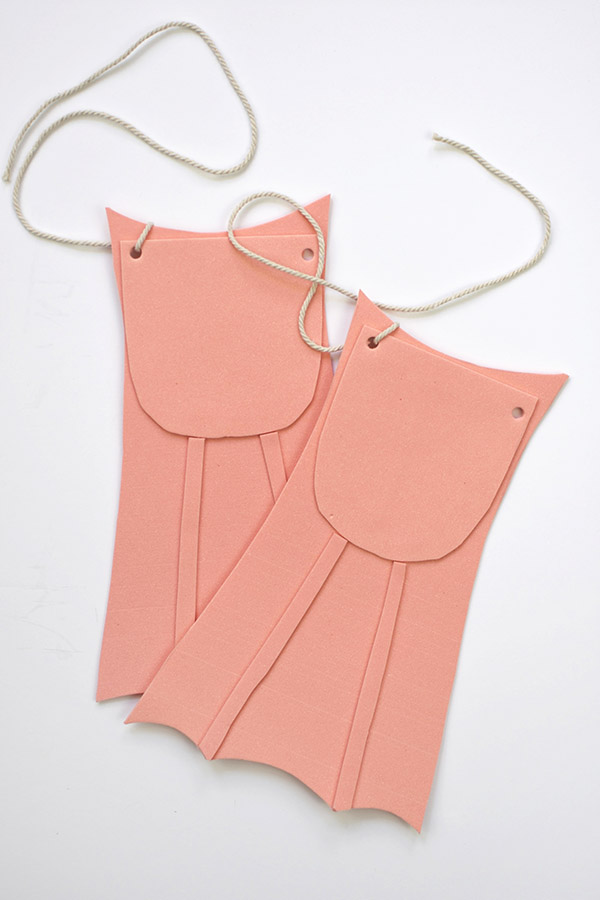 SCUBA DIVER FACE GEAR
If you can get a set of goggles and snorkels on summer sale, go for it! However, I didn't want to spend the money on them, they can get to be pricy. So I used a pair of Safety Goggles for this costume. Using acrylic paint, I just painted the outside portion of the goggles to match each child's outfit.
HALLOWEEN SCUBA DIVER CANDY PAIL
The cute little metal fishing pail holds your Scuba Diver's halloween candy, so you definitely don't want to forget that!
I used a medium sized metal pail and using adhesive glitter letters wrote out, "CANDY CATCH" on the side. Be sure to double check that the size of pail you get, can fit the size of the stickers you use.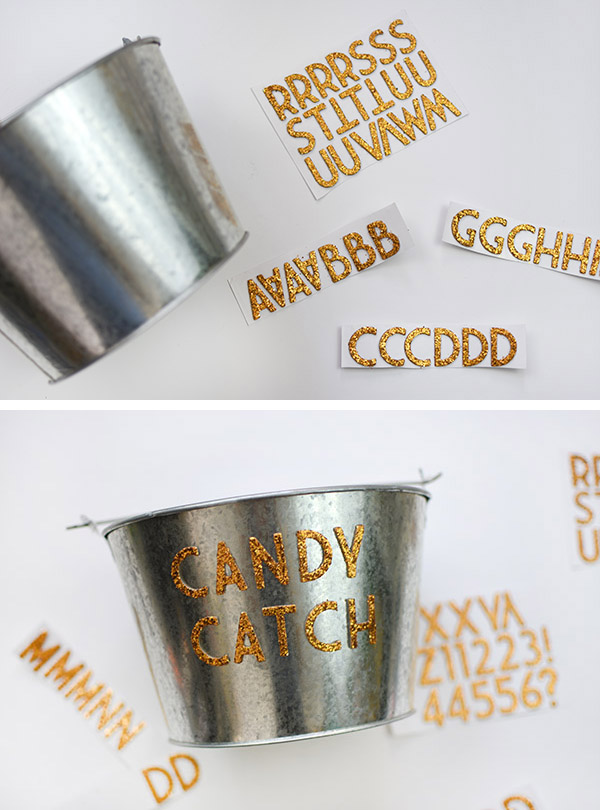 You could also use chalkboard paint and then write your child's name on each pail with chalk.
SCUBA DIVER FISHING NET
Last but not least for these adorable little swimmers was a fun Scuba Diver Fishing Net! I found this fun retractable butterfly net that I thought worked perfectly. Using string and these cute plastic goldfish, I glued them onto the string and then onto the net.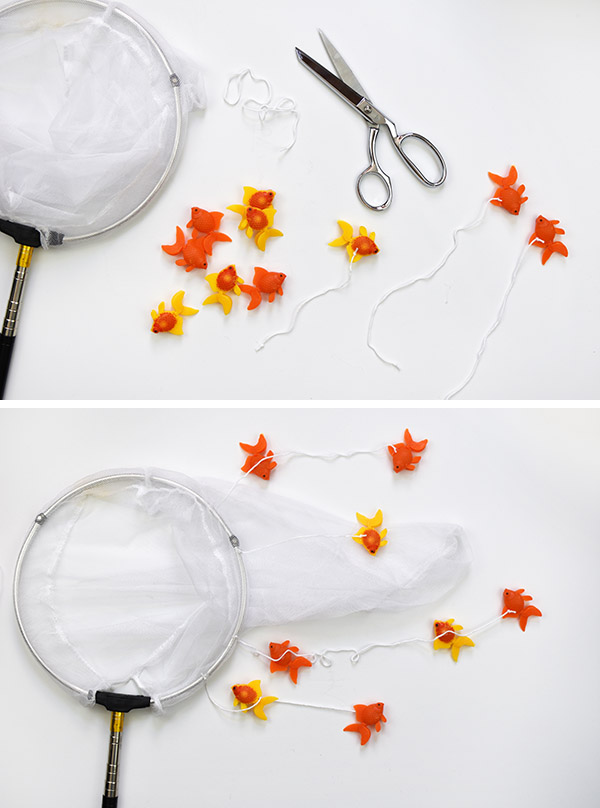 It was such a fun costume detail!
Halloween Underwater Divers
Honestly, my kids have asked for me to recreate these costumes literally since I originally made them in 2014. It's taken me a long time to sit down and do it now that they are older, but they were SO THRILLED that I did!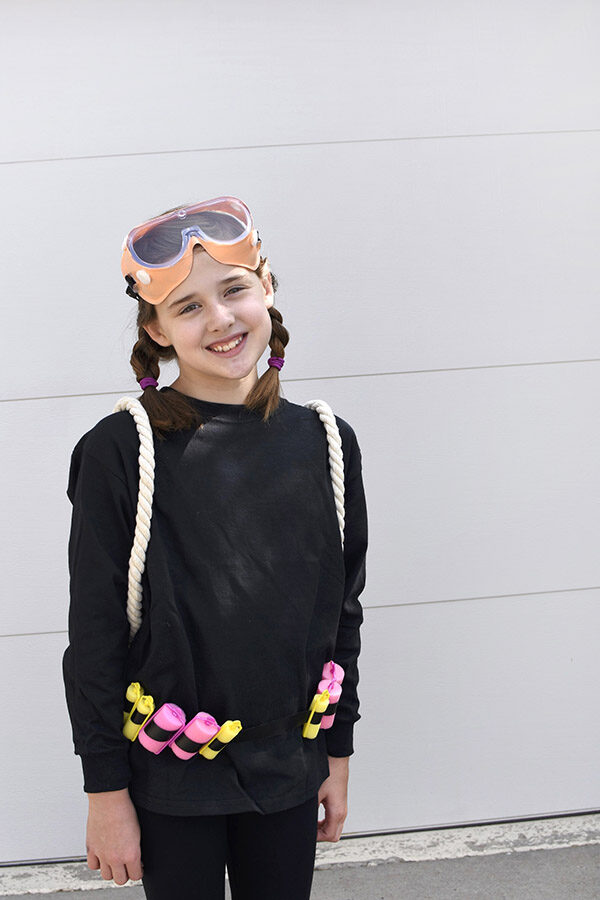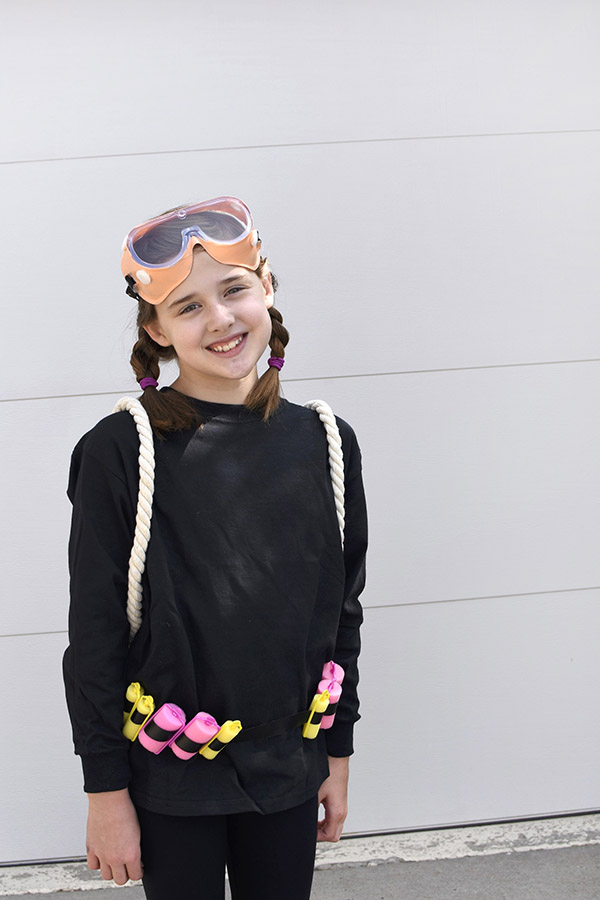 I love homemade Halloween costumes because not only are your kiddos looking so cute on the big candy night, but if gives them endless hours of imaginary play afterwards. Definitely a win win in my book!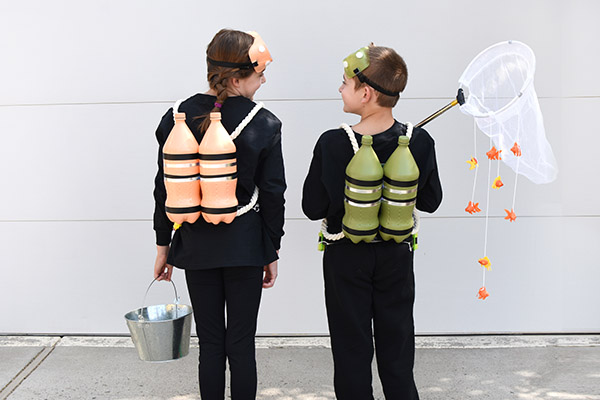 There have been thousands of you all making this halloween costume over the years!! Please tag me on Instagram with your finished products, I love seeing and sharing them!!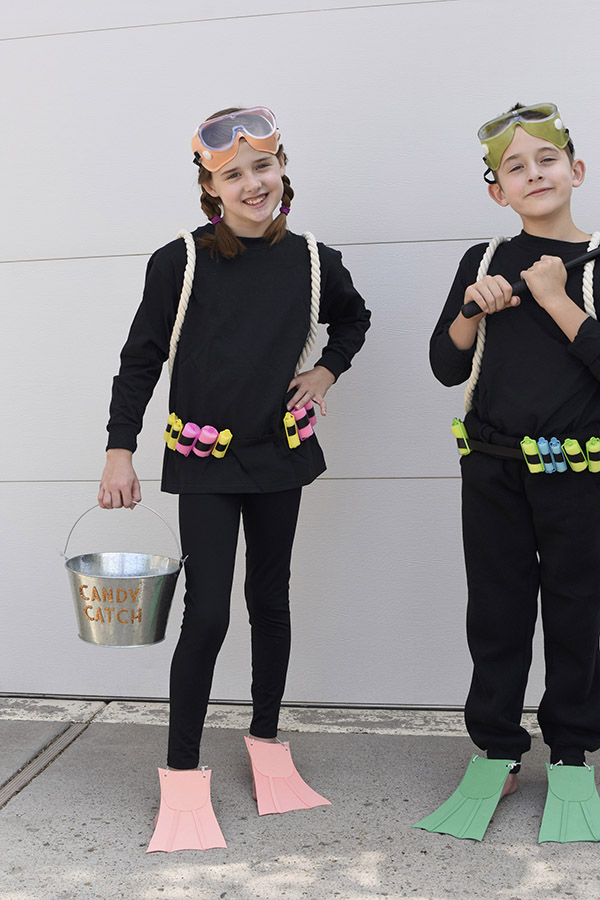 How to make a Scuba Steve Halloween Costume:
I had a ton of people asking how to take my children's scuba diver outfit and make it into a Scuba Steve costume from the movie Big Daddy (got to love a little Adam Sandler family friendly movie).
You can still follow my exact directions but simply use a red pair of pants and a yellow long sleeve top. You could also wear yellow dishwashing gloves for Scuba Steve's famous outfit! I found this pre-made one on Amazon, but I think going DIY would be much more affordable.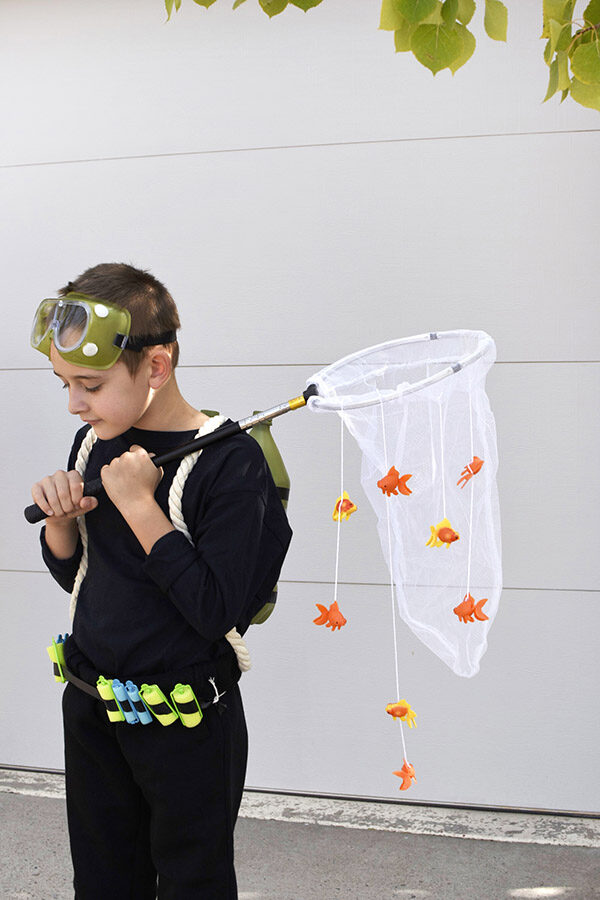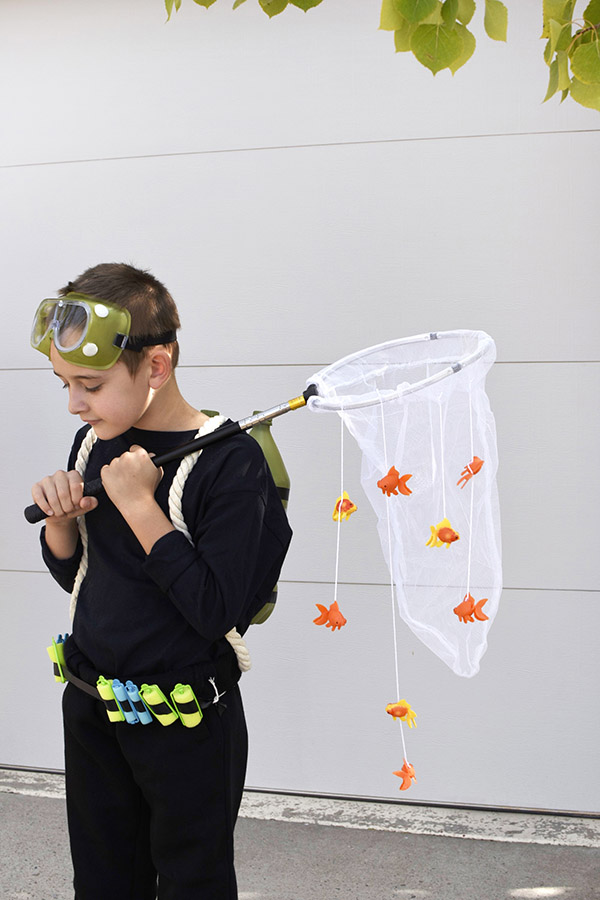 How to Make a DIY Scuba Diver Costume for Your Baby or Toddler:
If you are looking to make a little Scuba Diver Costume for a baby or toddler, then you are in luck! When I first made this costume for my kiddos they were BABIES (see the original photos at the bottom of this post)!! All you will need to change from my original plan above is making sure you have a baby sized black onesie and/or toddler sized pants and shirt.
Since goggles could be difficult to keep on younger children, I found these adorable goggle looking sunglasses that would be perfect for your small one.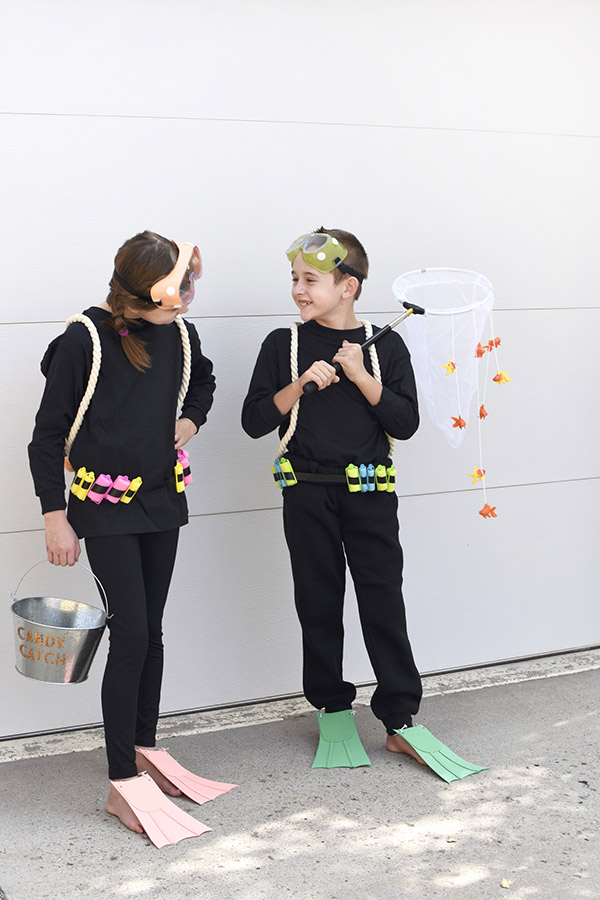 And if you liked my little Scuba Divers, you might like the other costumes I've made for my kids: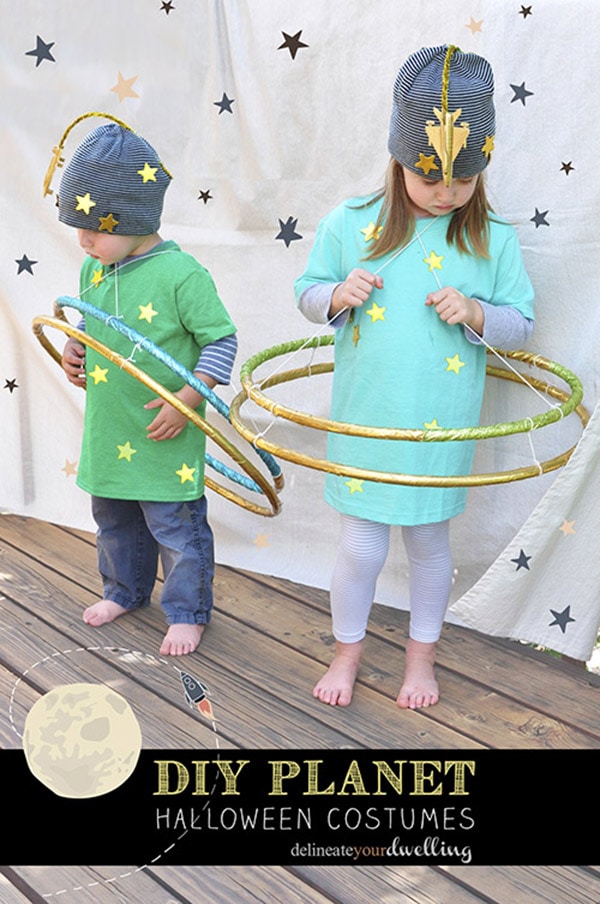 CUPCAKE AND BAKER HALLOWEEN COSTUMES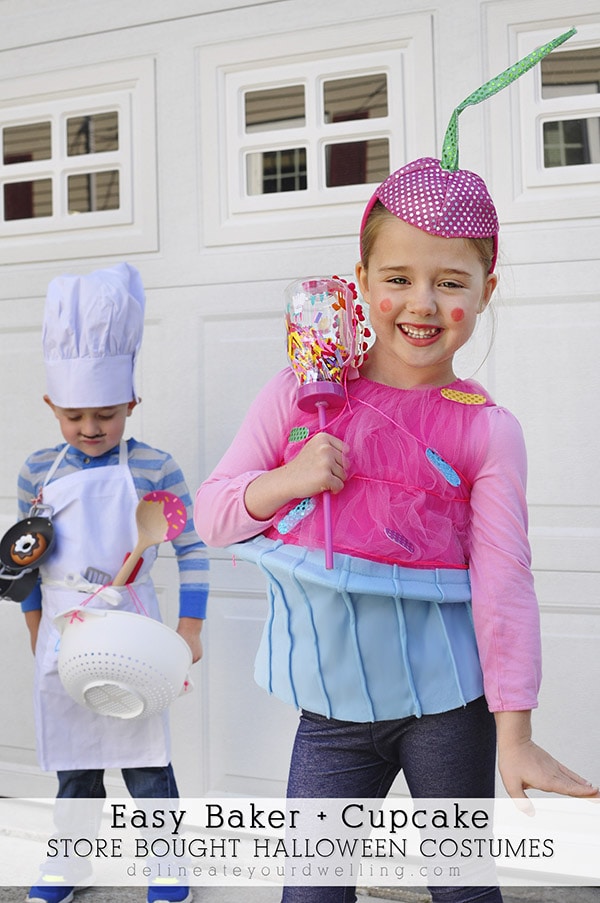 Want to see the images from my original post? Hee hee, my babies were so precious and tiny!!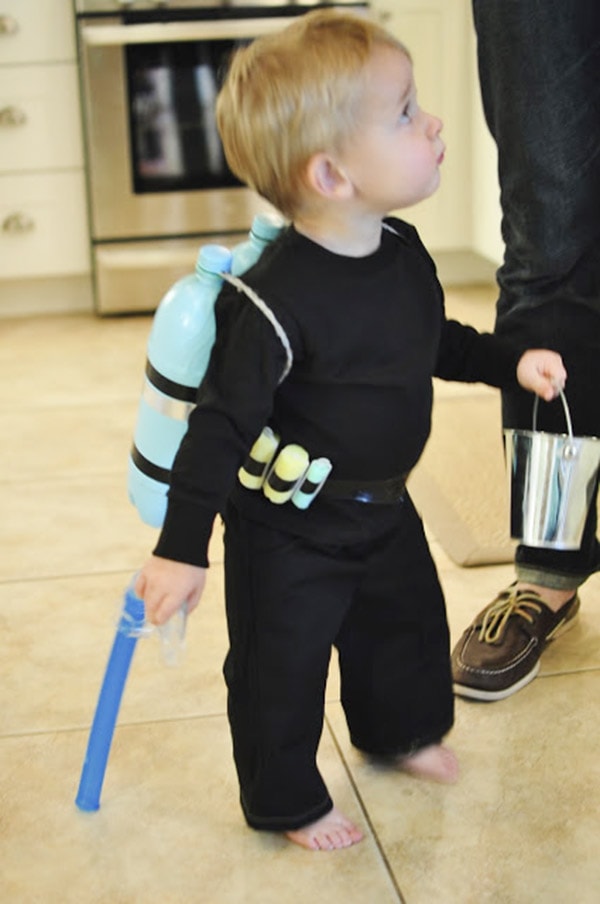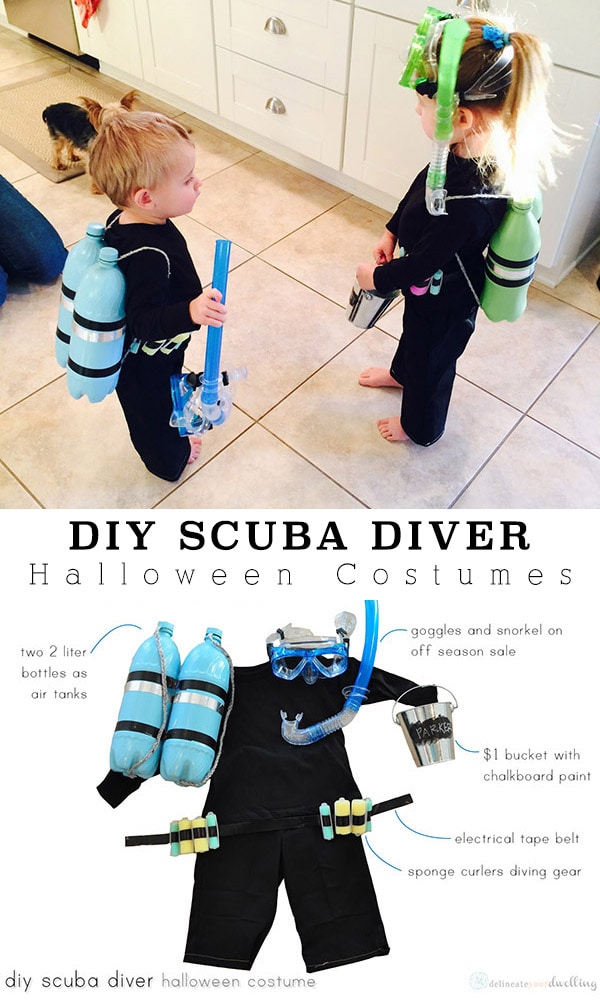 SaveSaveSaveSaveSaveSaveSaveSaveSaveSaveSaveSaveSaveSaveSaveSaveSaveSaveSaveSaveSaveSaveSaveSave