INSIDE : See how to make a fun, EASY, and inexpensive DIY Homemade Scuba Diver Costume for your children this Fall in just a few simple steps!  Plus, it is a great dress-up outfit for years to come.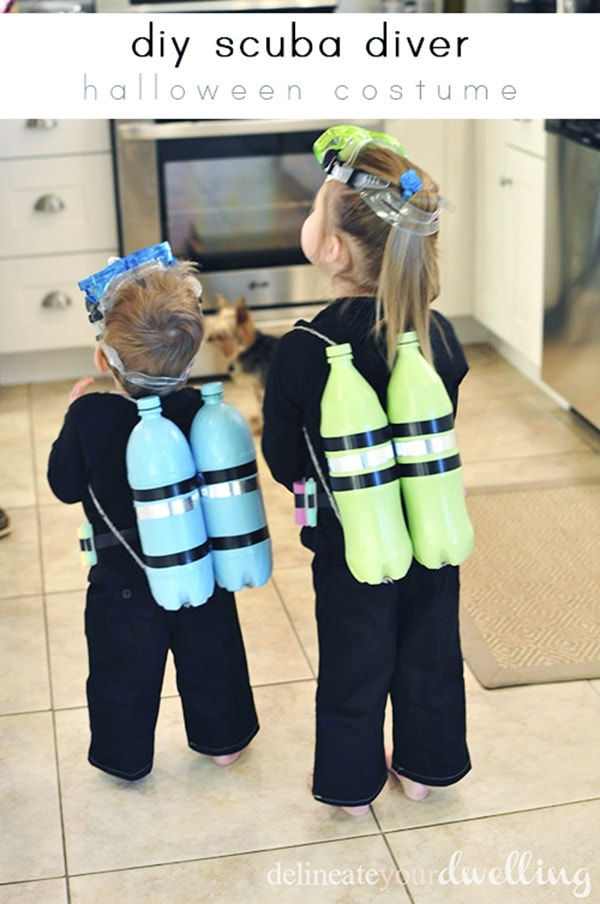 I have been making my children coordinating DIY and homemade Halloween costumes ever since they could crawl.  So far, they have been baby owls, a Baker + Cupcake and Planets.
Last year my kids were into all things underwater.  So when Halloween was nearing, I decided to create them matching DIY Scuba Diver Halloween Costume.
Unfortunately, I did not capture pictures of the creation process for the blog, but decided to share the few personal photos I had taken from last year.
I made my son in all blue accents for his scuba diver costume and my little girl in all green.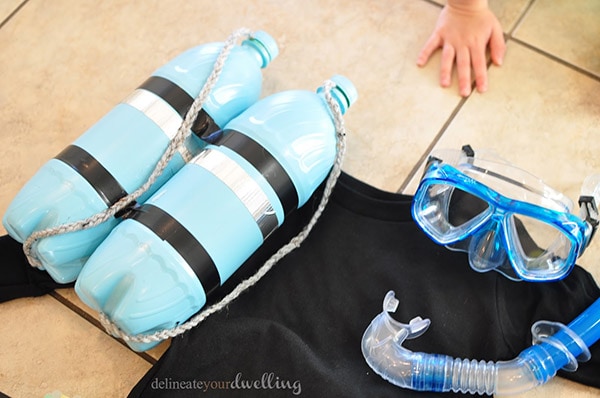 This post may contain affiliate links. See my full disclosure.
HOW TO MAKE A DIY HOMEMADE SCUBA DIVER COSTUME:
SCUBA TOOL BELT:
Their tool belt was electrical tape with  sponge hair curlers woven through.  I doubled the tape onto itself so it wasn't sticky and wrapped around their waist.  I used one additional piece of tape to keep it all together.  You could add all kinds of fun little items on their belt but the sponge curlers are light weight and inexpensive, so I just went with these!
OXYGEN BACKPACKS:
I saved four 2-Litter bottles, washed and dried them.  Then I spray painted them the appropriate colors.  After they were dry, I added black electrical tape and silver washi tape to secure them together.  I used rope to create the straps.  Using hot glue I glued the bottom of the rope to the bottom of the painted bottles.  The top portion of the rope, I tucked into the bottom and added a dab of glue to secure.
FACE GEAR:
Target was having a sale on summer swim gear, so I snagged a blue and green set of goggles and snorkels for $6.99.  However, these are a similar styled snorkel and mask
.
Target's dollar section came into play for their fish buckets, but these are a similar style pail.  And a little chalkboard paint and you can write their names on the pails.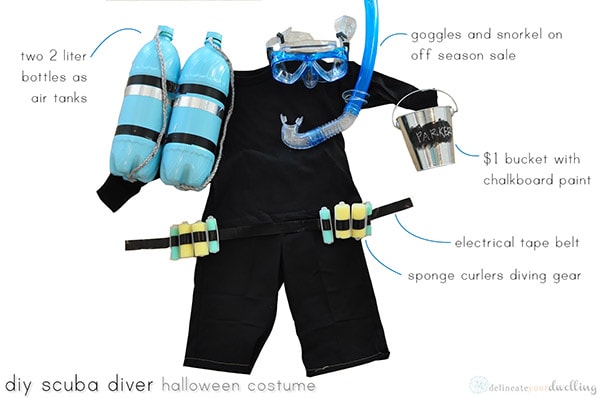 Here is a close up of their tool belt.  You can see the doubled up electrical tape and how I wove the sponge curlers through it.
LOOKING FOR ALL THE SUPPLIES IN JUST ONE PLACE, GO HERE.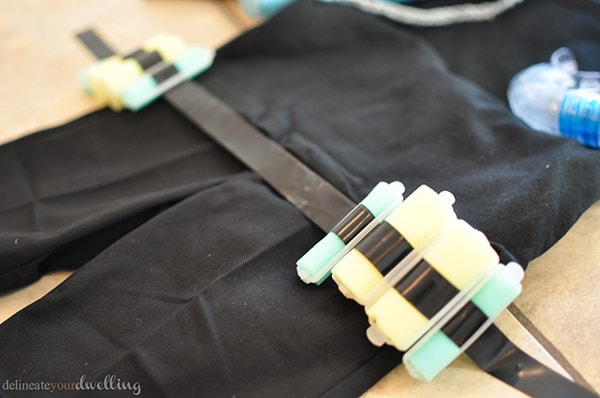 This was such a fun and simple costume!  Also my babies were SO LITTLE!!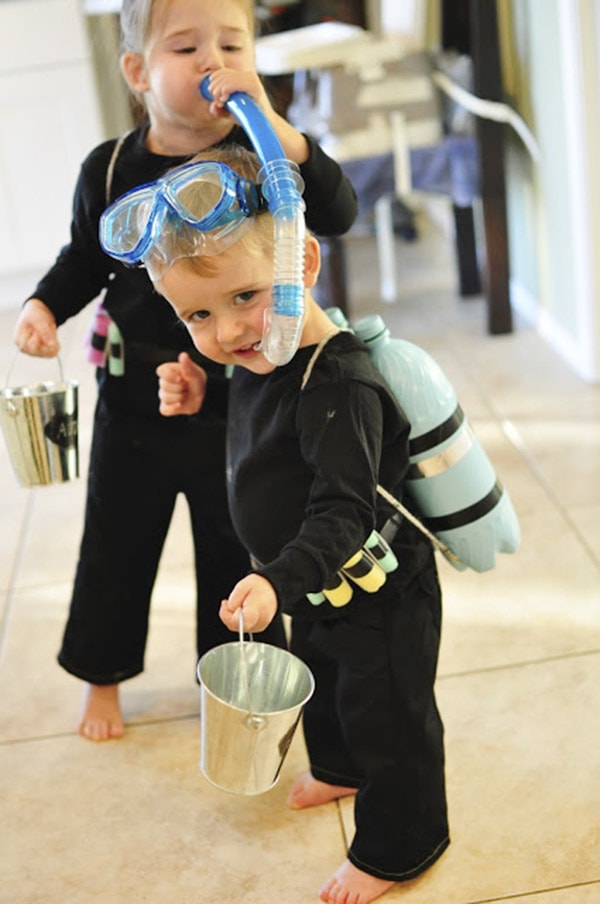 There have been thousands of you all making this halloween costume!!  Please tag me on Instagram with your finished products, I'd love to see and share them!! 
The best part was they dressed up as scuba divers for months and months afterwards.  This was an excellent costume on the cheap that really got some great use out of!   So next year be sure to keep DIY Scuba Diver Halloween Costumes high on your list!
LOOKING FOR ALL THE SUPPLIES IN JUST ONE PLACE, GO HERE.
You might like the other costumes I've made for them:
SaveSave
SaveSave
SaveSaveSaveSaveSaveSave
SaveSave
SaveSave
SaveSave
SaveSave
SaveSave
SaveSave
SaveSave