INSIDE : Learn how to create a stunning Flower Pumpkin this Fall season. Whether you keep your floral pumpkin outdoors or use it inside for a flower pumpkin centerpiece… it's a showstopper! I used Zinnia and Cosmo from my garden to create this beautiful Autumn look.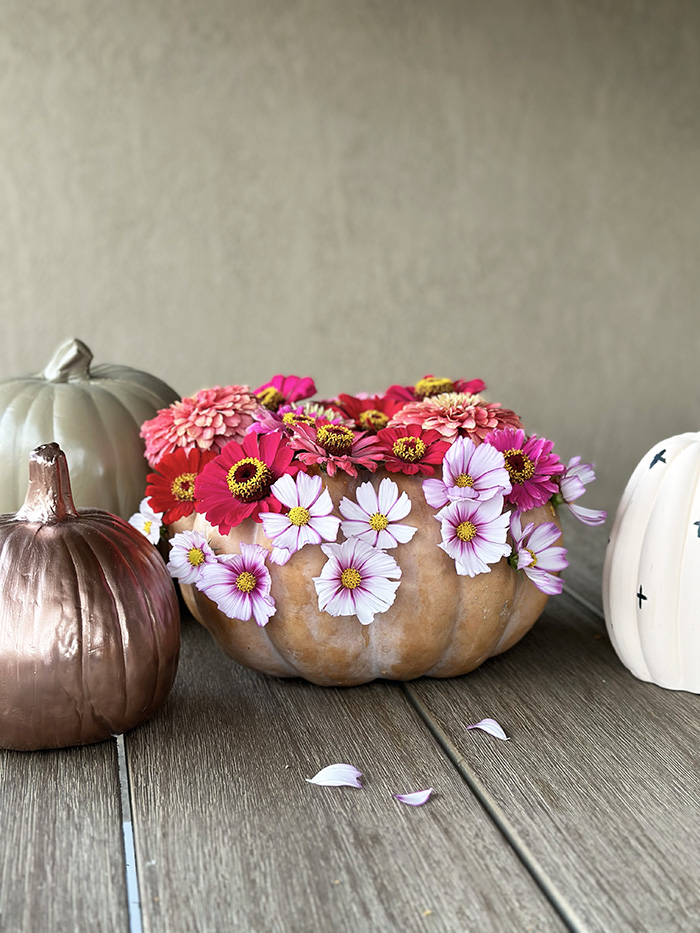 This post may contain affiliate links. See full disclosure here.
I LOVE decorating pumpkins! I have done so many fun faux and real pumpkin designs over the years and each year I think, maybe I will take a break this year… and then I get a fun new idea and another creative pumpkin is born – ha.
Here are a few of my favorite pumpkin ideas :
Pumpkin Floral Arrangement supplies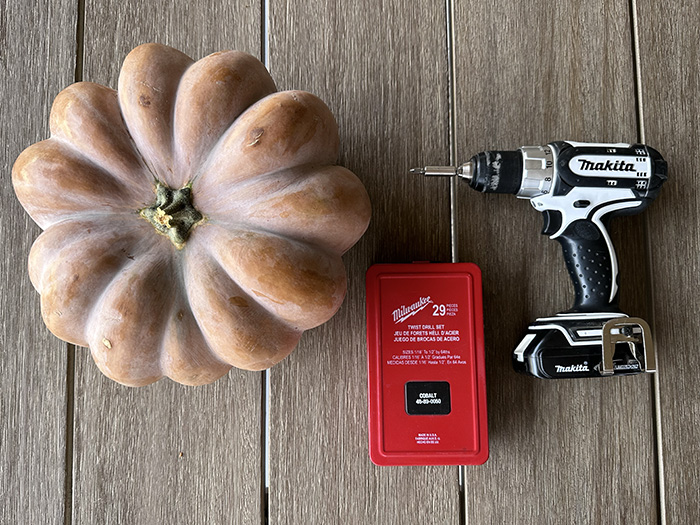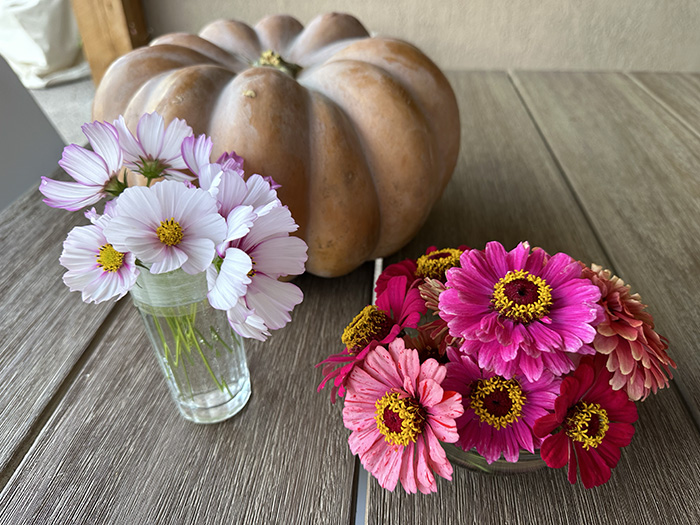 How to make a DIY Floral Pumpkin
To start this DIY Floral Pumpkin project, first pick all your flowers. Once you have the flowers sitting in water, assess their stem sizes.
My Zinnia stems were a medium size, but up near the base of the flower the stem got much much wider. So, for all the zinnia flowers I ended up using quite a large drill bit.
The cosmo flowers had a very narrow stem from top to bottom, so I selected a much smaller bit for those flowers.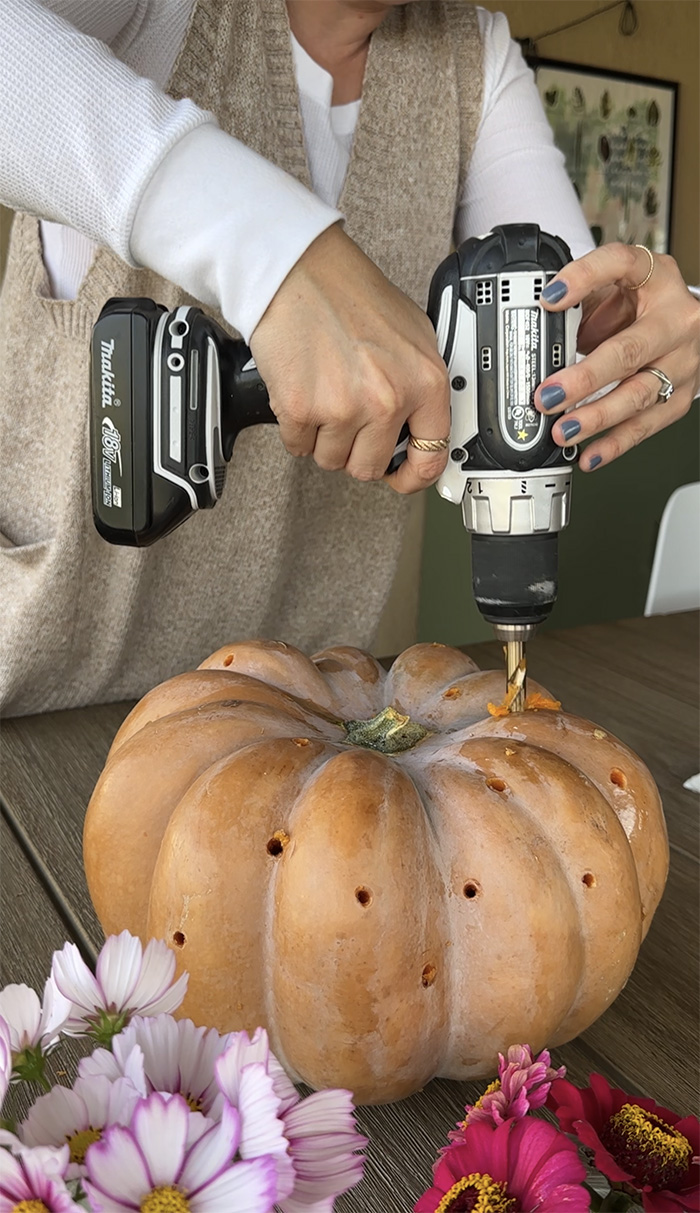 Plan flower locations
I decided to keep all of the larger zinnia blooms up near the stem and top of the pumpkin and then incorporate the smaller cosmo flowers around the middle of the pumpkin.
So, I was sure to use my two different drill sizes in that pattern.
As you can see below, after drilling out the pumpkin holes it looks like pumpkin spaghetti spilled all over the place – ha.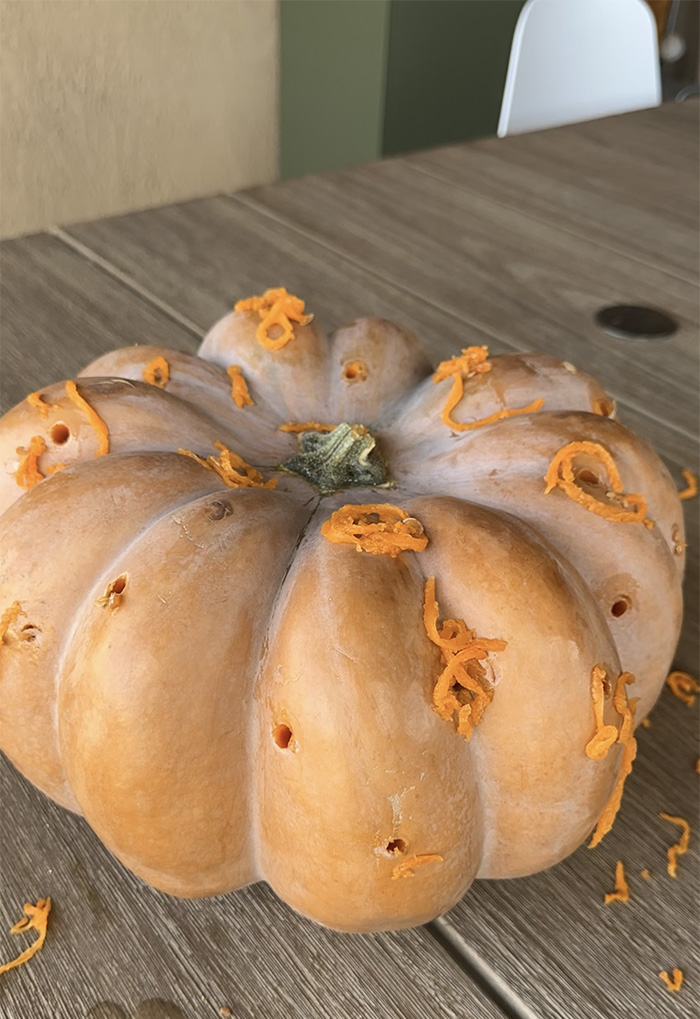 Installing Flowers in the Pumpkin
Next, you can begin to install your flowers in the pumpkin. I kept my flowers sitting in water until the very last moment to give them all the extra freshness I could.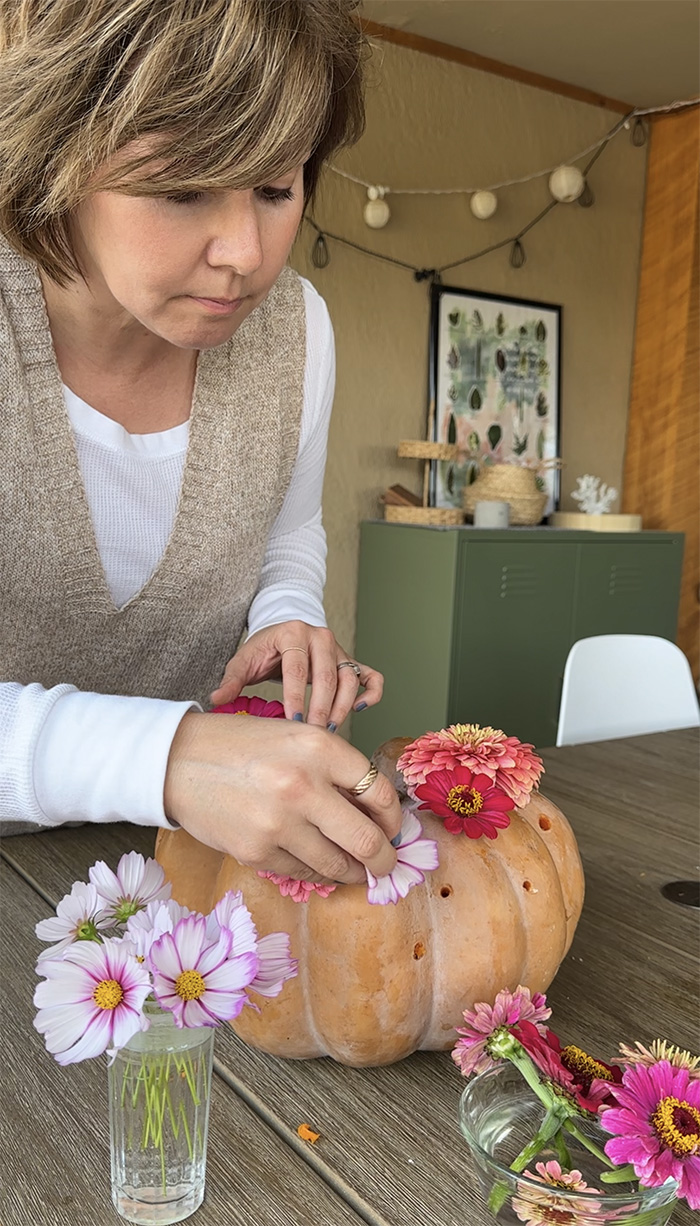 Don't be afraid to play around with where each flower goes. Some flowers will sit better at different angles or look better beside of different colors, feel free to move them around as needed.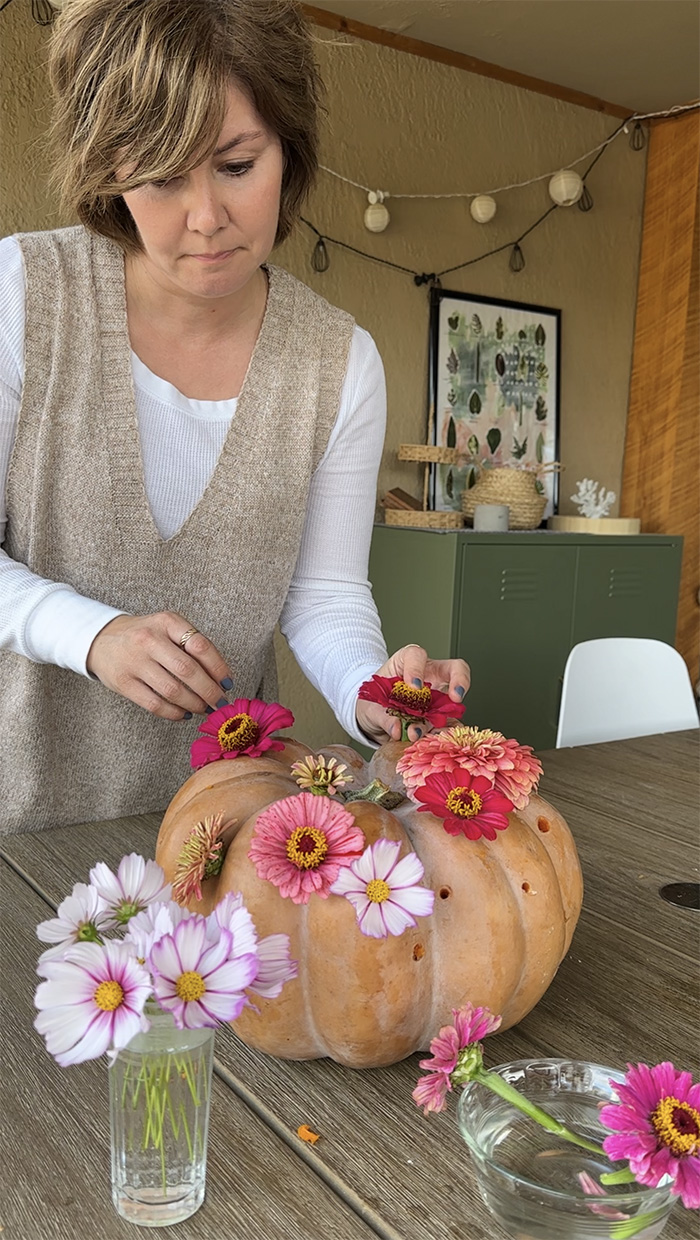 Fresh Flowers Pumpkin
I was in complete shock at the beauty of these fresh flowers in my pumpkin! Who knew all these shades of pink and fuchsia and red would work so well together against the soft pale orange.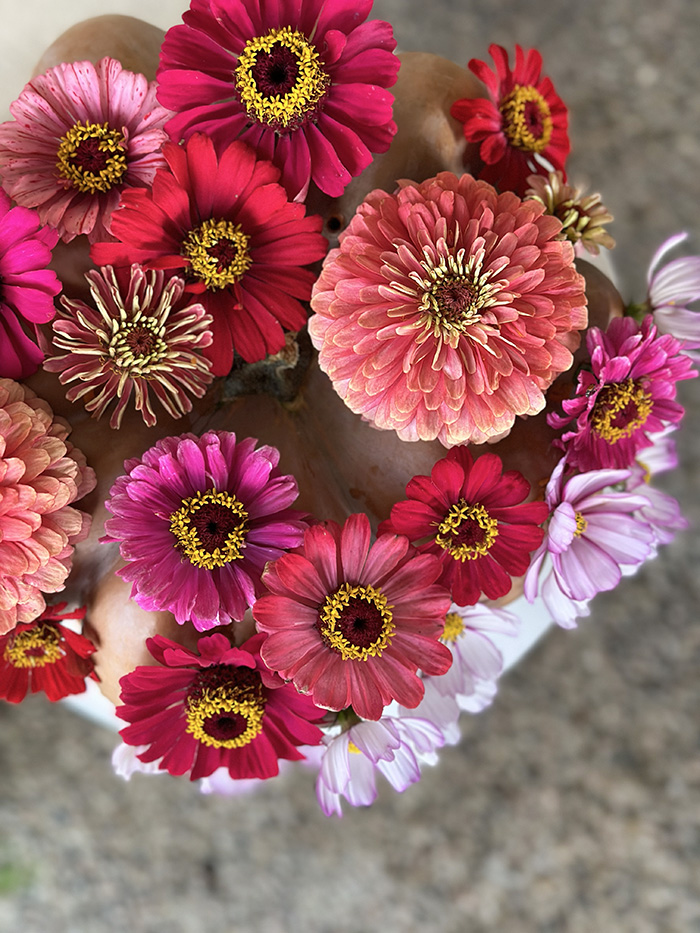 Flower Pumpkin Arrangement
This flower pumpkin arrangement is so perfect for a Fall gathering, a centerpiece at a Pumpkin Carving party or even on display at Thanksgiving!
I love how versatile this idea is to mix and match with your favorite flowers.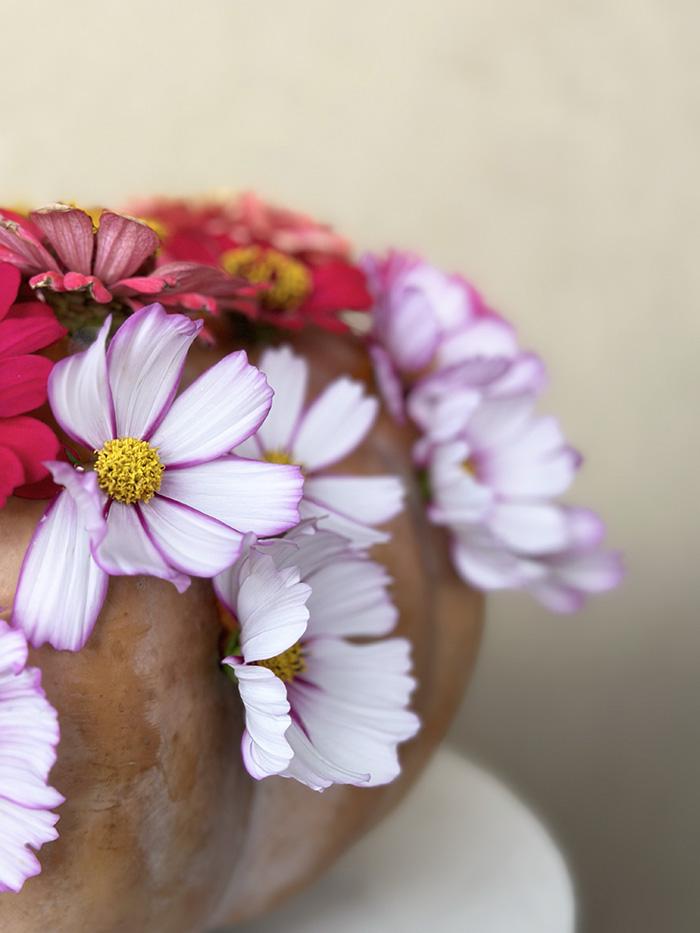 DIY Pumpkin Flower Centerpiece
Obviously using a faux pumpkin along with faux flowers would make this DIY Pumpkin Flower Centerpiece last much much longer. But there is something about fresh flowers straight from your backyard garden that gives this design a beautiful look.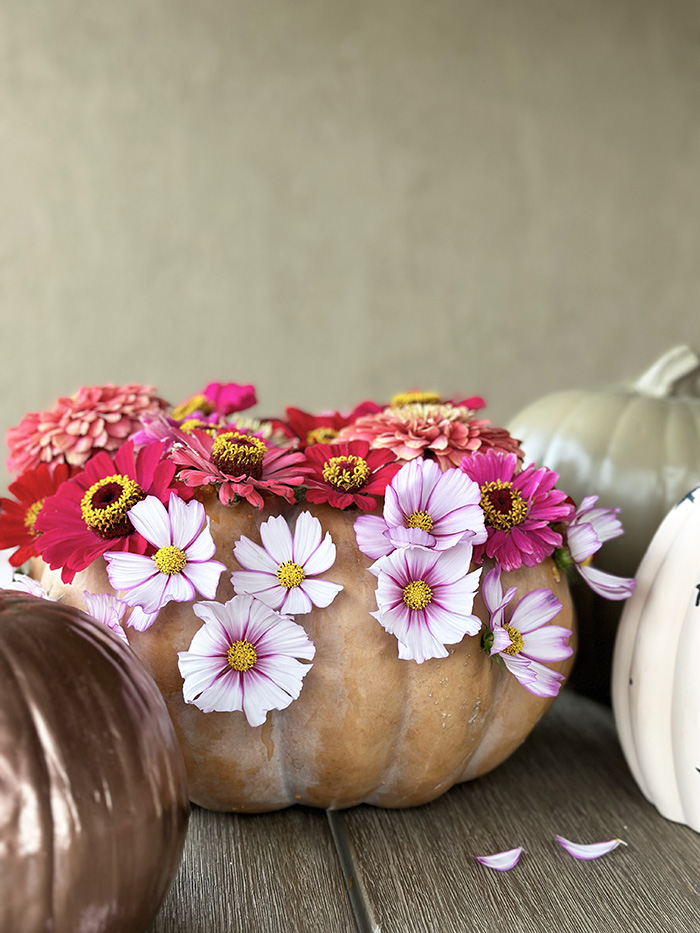 While I was taking the photos for this blog post, TWO lady bugs crawled out of the flowers and were dancing around. So make sure to give your flowers a gentle little shake if you are using backyard florals.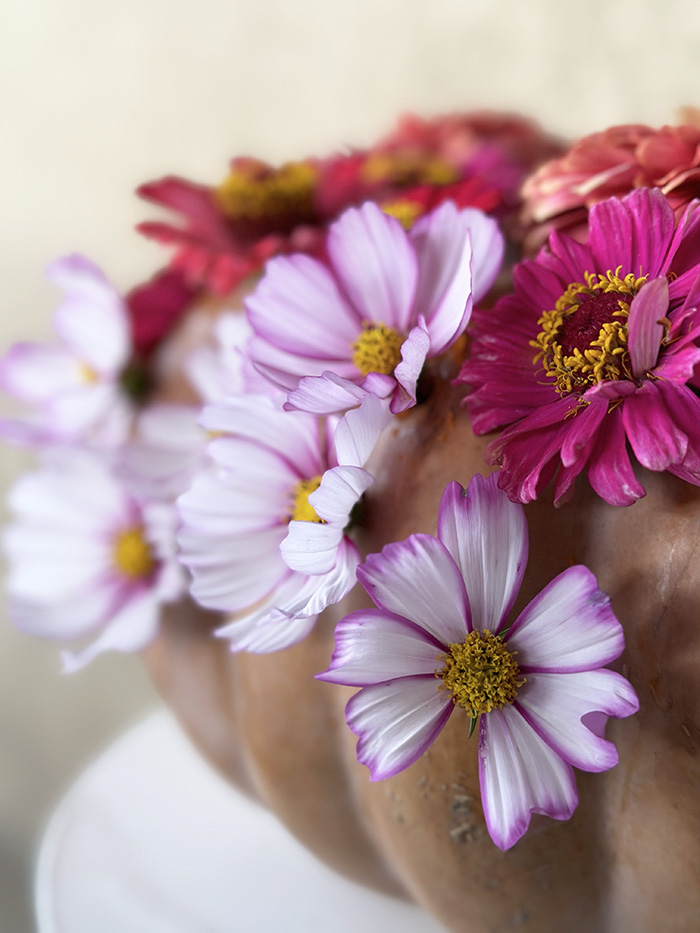 Pumpkin Flowers
I always say the pumpkin I have currently finished is my favorite pumpkin, but after seeing how this project turned out… it might REALLY by my favorite! The Zinnia flowers are really the showstopper here.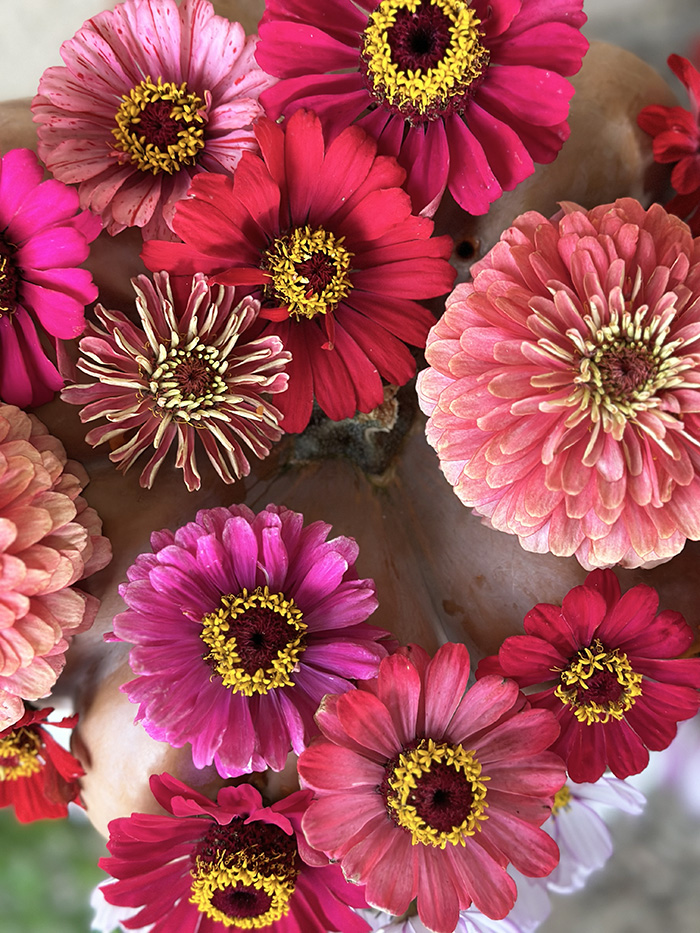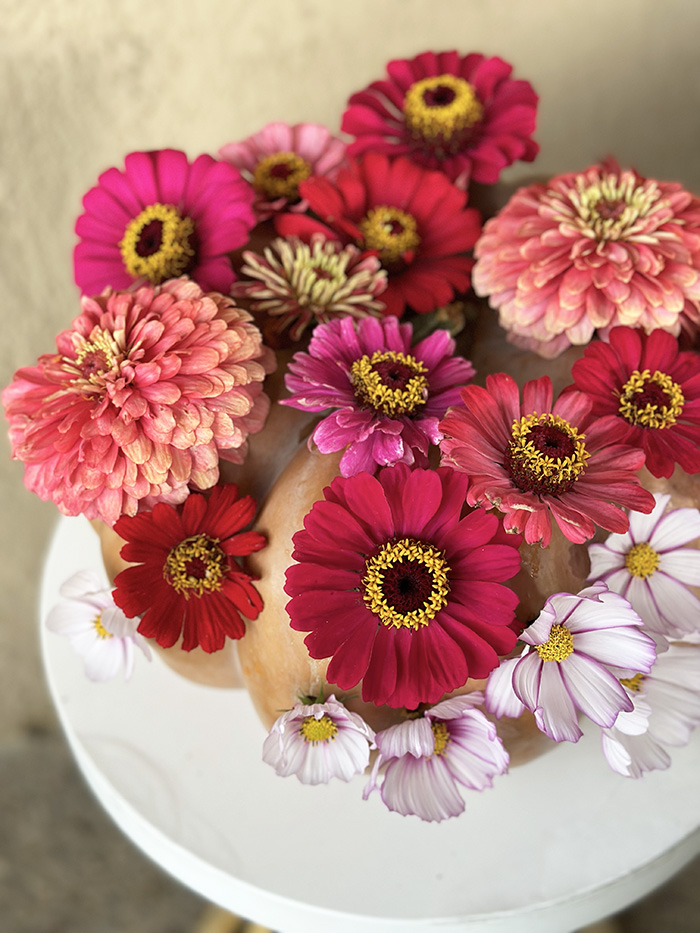 Be sure to pin this beautiful idea to save it for your next Fall crafting session!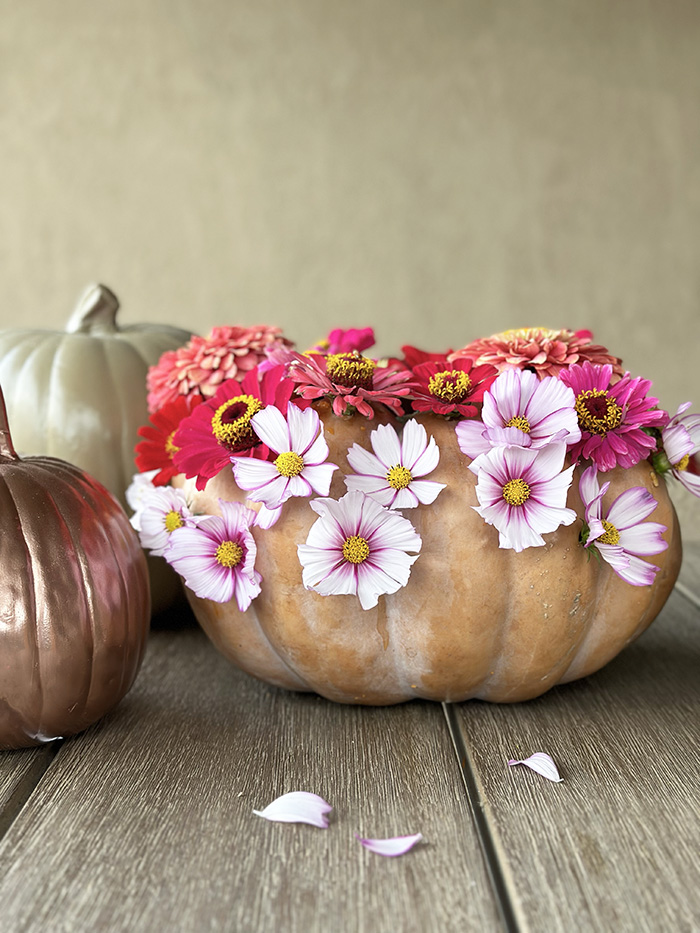 What do to when flowers dies in pumpkin?
Sadly, flowers die and without constant fresh water these flowers will only last for so long. I fully intend on replacing the fresh flowers with lovely faux florals when the time comes.