INSIDE : Learn how to make a gorgeous Audrey Hepburn, My Fair Lady, no-carve Pom Pom Flower Pumpkin to display in your home this Fall Season.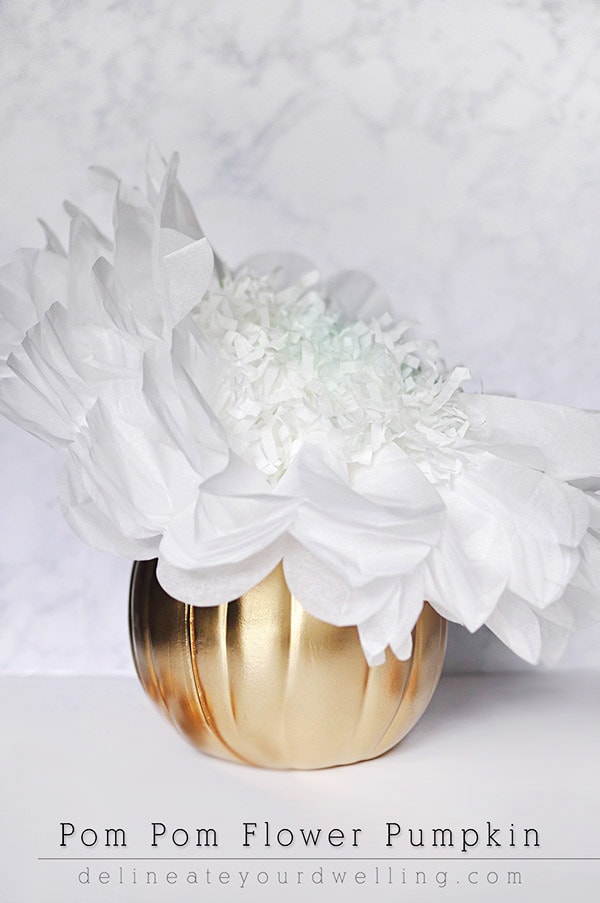 This post may contain affiliate links. See my full disclosure.
This post has been updated since it's original September 2015 publish date.
Looking for fun kid Halloween costumes? See these adorable DIY Scuba Diver Halloween Costumes, Baker + Cupcake Costumes or Little Planet Halloween Costumes!
Nothing excites me for more fall than decorating pumpkins! When the kind folks at Martha Stewart sent me a faux pumpkin, I was thrilled to get my craft on.
Today I am combining three things I love: Crepe Paper Flowers, Pumpkins and Audrey Hepburn! Check out how I made my eighth #12MonthsofMartha DIY Pom Pom Flower Pumpkin project.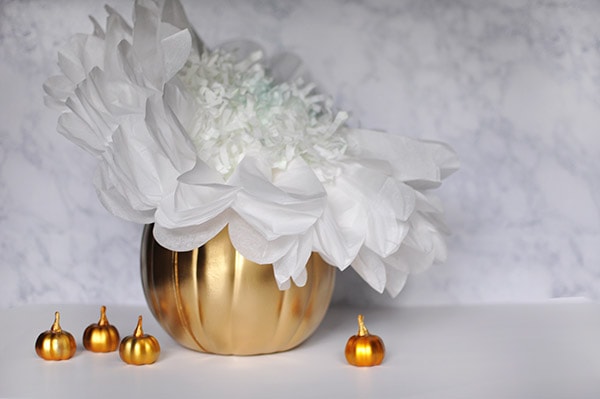 This pumpkin was themed off of Audrey Hepburn in My Fair Lady. I love the simple elegance of it!
Let's get into how to make this fun gold pumpkin.
What supplies do I need to make a Crepe Paper Flower Pumpkin?
Martha Stewart Crafts Flower Pom-Pom Kit (similar)
Hot Glue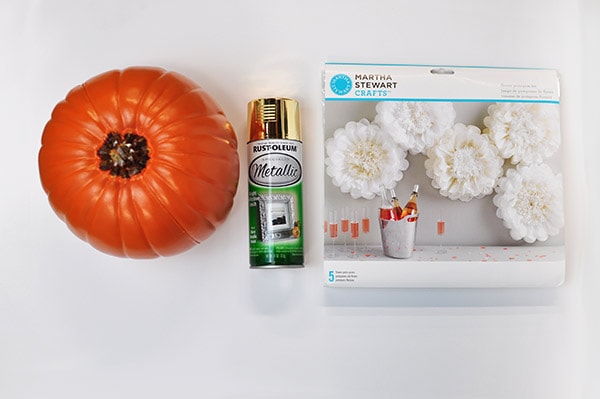 Looking for more creative Martha Stewart projects? Check out the 20+ crafts I've made using her amazing supplies!
How do I make a no-carve "My Fair Lady" themed Pumpkin?
Paint Pumpkin Gold
First, I sprayed my fake pumpkin with my favorite gold spray paint, Rust-Oleum Metallic Gold Spray Paint
. I think Rustoleum's gold is the most perfect gold spray paint out there. I gave the pumpkin two nice even coats and set it aside to dry.
Make Crepe Paper Flower Hat
While my spray painted pumpkin was drying, I worked on adding some very faint, almost watercolor looking teal and mint green paint to my pom pom flower tips.
I mixed a little acrylic paint with some water to create the watercolor look. Then I applied it to the edges of the fringed paper flower. I allowed for those to fully dry before assembling.
Once, all the tissue paper had dried, I followed the directions exactly to put together my crepe paper pom pom flower. I have seen these around before and they always looks so difficult, but this honestly could not be any easier to make!
Layer all the pieces on top of each other and fold in an accordion style manner.
Once the entire tissue paper piece has been folded, use the wire that comes included in your kit and twist.
Now starting at the center, slowly pull each layer out. This creates the dimension in your flower.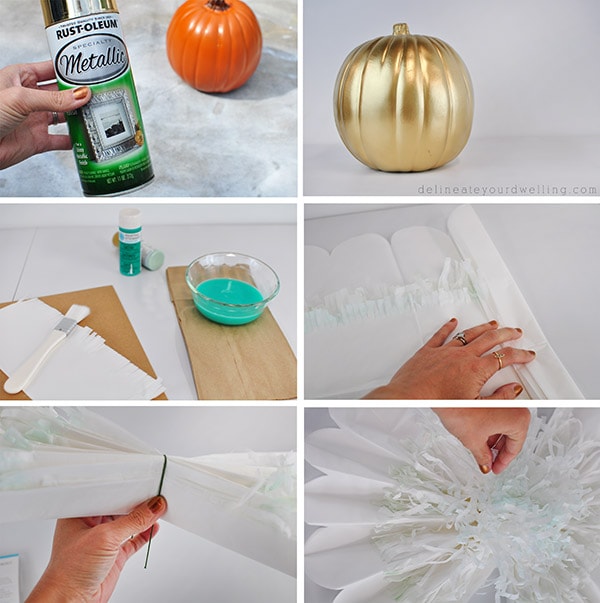 After my pumpkin was dry and my crepe paper flower was assembled, this was what I was left with; a lovely gold pumpkin and a lovely large white pom pom flower.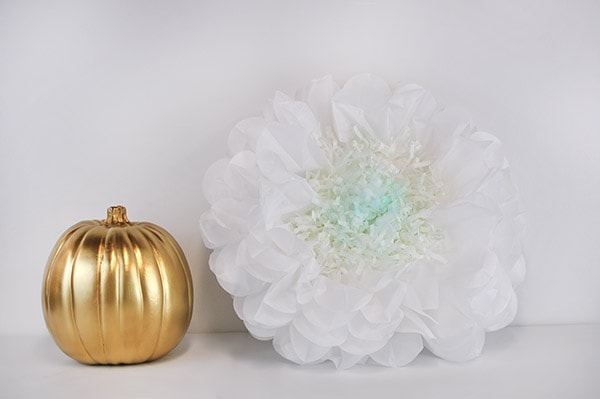 Now, as I mentioned above, for this #12MonthsofMartha post, the creative team asked we decorate our pumpkins as our favorite halloween costume or movie character. Well, I decided to combine two and do Audrey Hepburn in My Fair Lady!
Audrey Hepburn Pumpkin
To secure the crepe paper flower to my gold pumpkin, I simply used hot glue and placed it on a slight angle just like Audrey Hepburn's hat in My Fair Lady.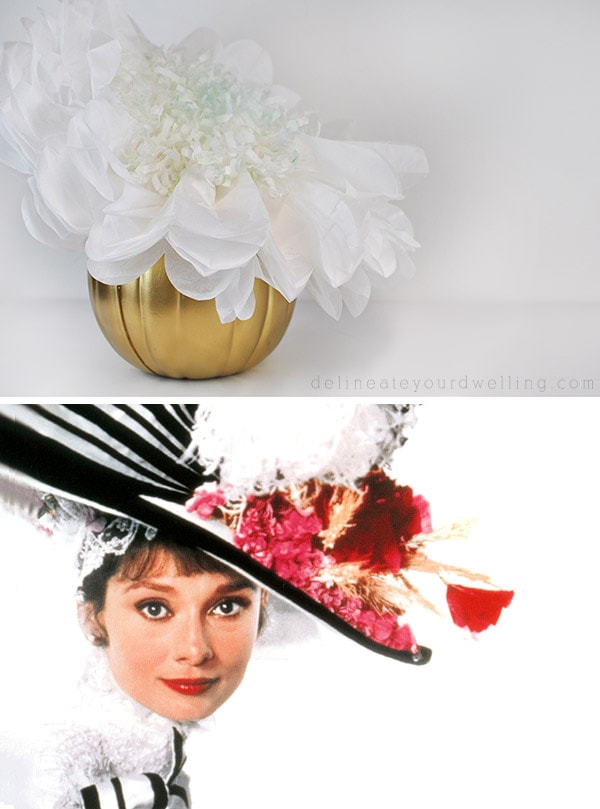 It might be a bit of a stretch, but when I saw those gorgeous huge pom pom flowers, it made me think of her lovely huge hat!
What do you think?!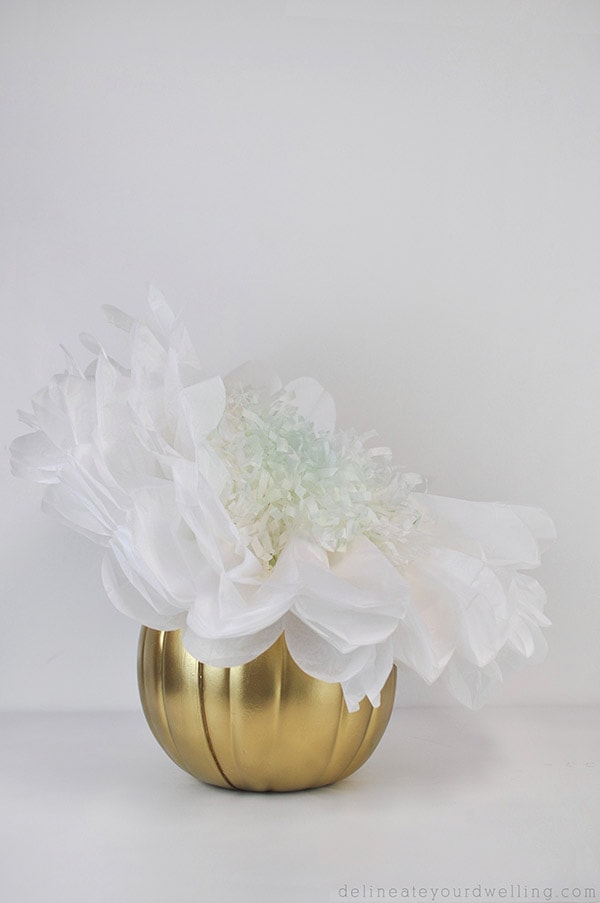 Ready to check out some of my other fun pumpkins from over the years?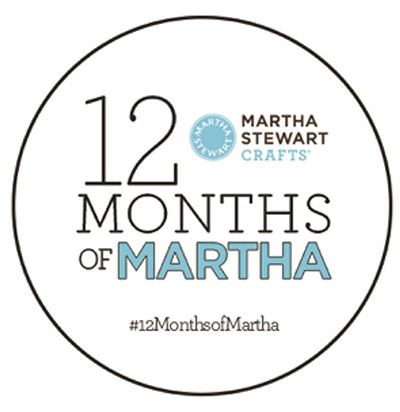 Want more #12MonthsofMartha? Check out what I've created so far.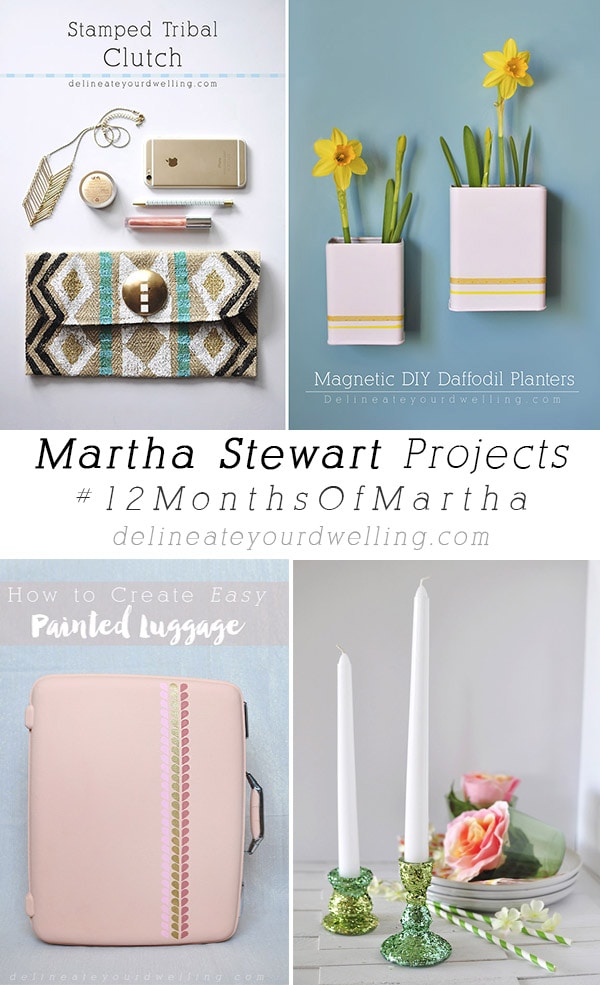 SaveSave