INSIDE : See the easy step by step instructions to create gorgeous artwork for the Fall. Tips on how to draw and paint a colorful Pumpkin for Autumn in just a few simple steps! You can become your very own artist!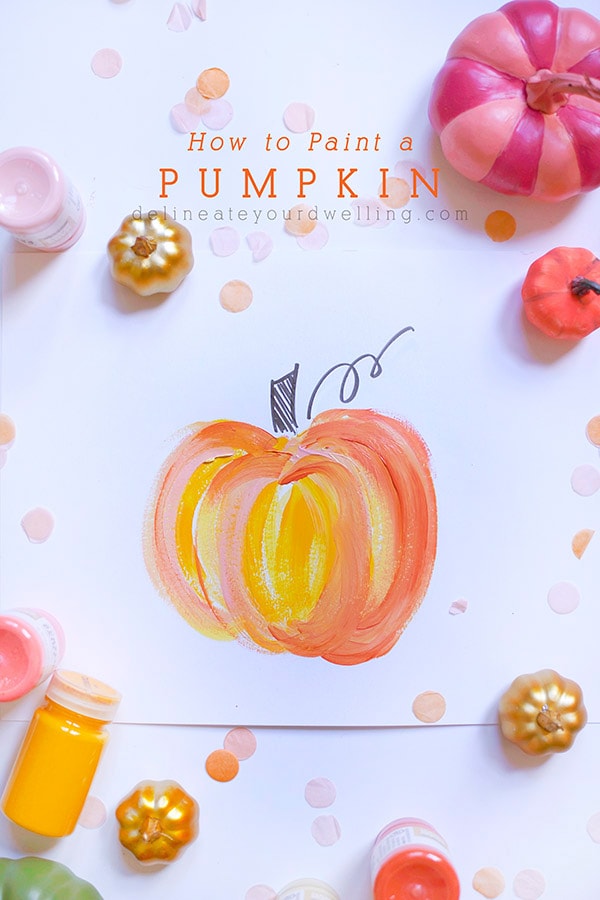 This post contains affiliate links. See my full disclosure here.
This post has been updated from it's original 2018 publish date.
One of the things I love doing is painting and drawing simple objects. A few years ago I did an Easy Art in 1.2.3 mini series of art work. People really resonated with the easy step by step instructions on how to draw and paint all different types of art… especially my Tips to draw a Succulent and Cactus – whoa!!
Today I wanted to share tips on how to draw and paint a simple Fall Pumpkin! And you can also see how to make painted pumpkin bags.
What supplies do I need to paint a pumpkin?
Watercolor Paper
Acrylic Paints in oranges, pinks and yellows
Pencil
Paint Brush
Paint Palette
Black Brush Marker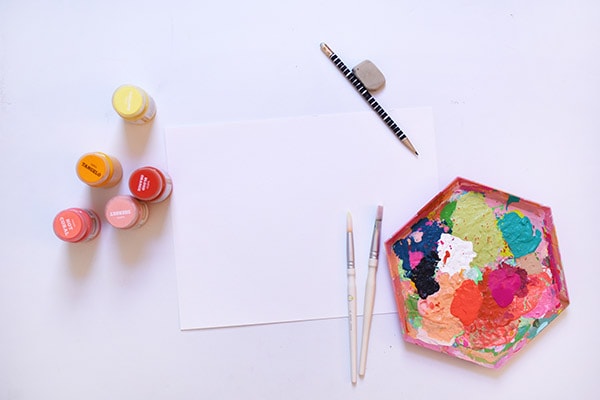 Using my pencil, I began the basic shape of the pumpkin… however it was difficult to see in the picture, so I have highlighted those light pencil lines with orange polka dots for you.
How do I draw a Fall Pumpkin?
To start your PUMPKIN drawing, create two narrow "C" shapes that mirror each other. Remember, just like real pumpkins, you don't want these "C's" to be perfect or your pumpkin will look too perfect. We are going for loose and easy.
Next, create another set of "C's" inside your main pumpkin shape but these should be even more narrow looking. You are creating the ribs of your pumpkin.
The last drawing step of your Fall pumpkin is adding the step and a little swirly vine.
How do I make an easy Acrylic Pumpkin Painting?
Creating easy fall pumpkin paintings is all about breaking the picture up into simple and do-able sections.
Start by adding a soft pink paint base for the pumpkin. Now, if you are painting your pumpkin on paper, any type of paint will do – watercolor, acrylic or even tempura paints. However, after this post went live, I had a ton of people ask what's the best kind of paint to use on a pumpkin and I would say hands down acrylic paint.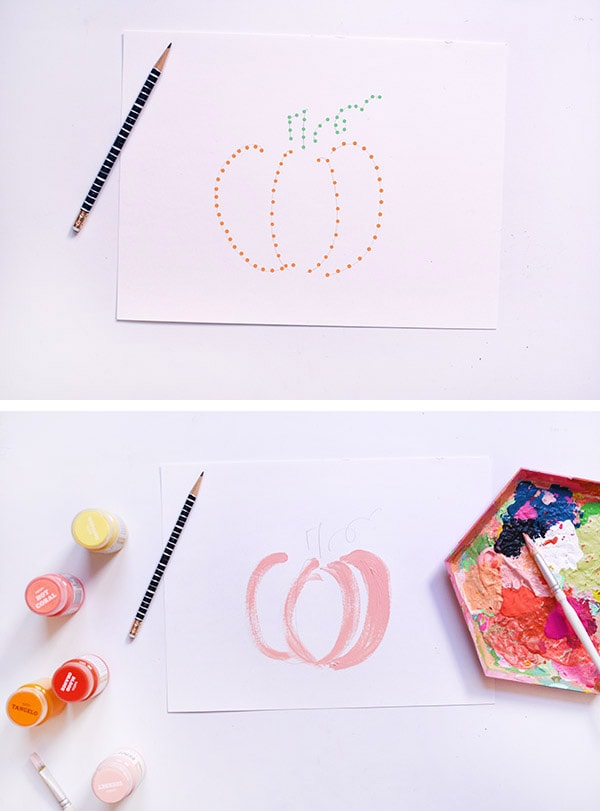 Next, I added a cheerful very vibrant orange-yellow color, it was Tangerine. I added the tangerine right alongside the pink.
And then to start filling in the pumpkin, I painted a very soft yellow color to the main areas of the pumpkin.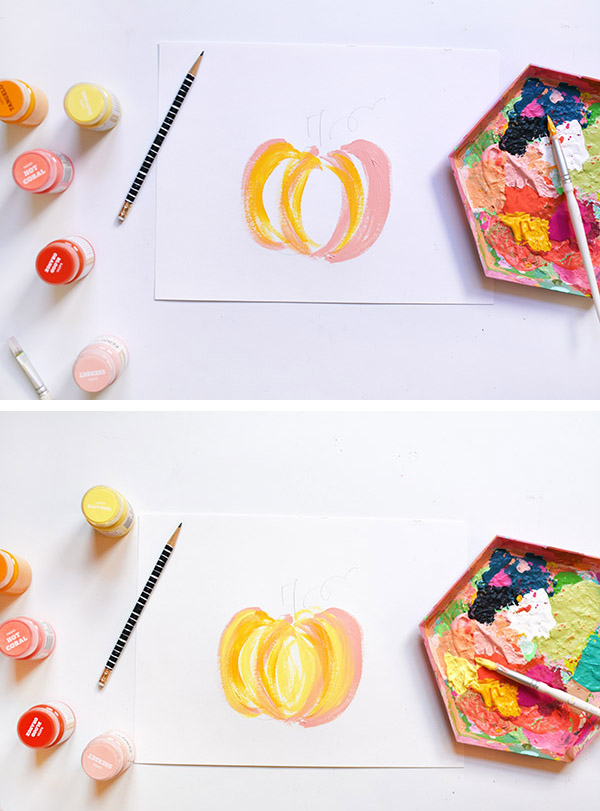 The last steps to painting your pumpkin, are just playing around with more colors. I added a rich deep almost rust orange along my inner "C" lines. And then began layering on the beginning colors again to create more depth.
The very final step was using a brush marker to draw in the pumpkin stem and vine. You could easily paint this portion of the art, but I liked the contrast of the colorful painted pumpkin against the simple black marker.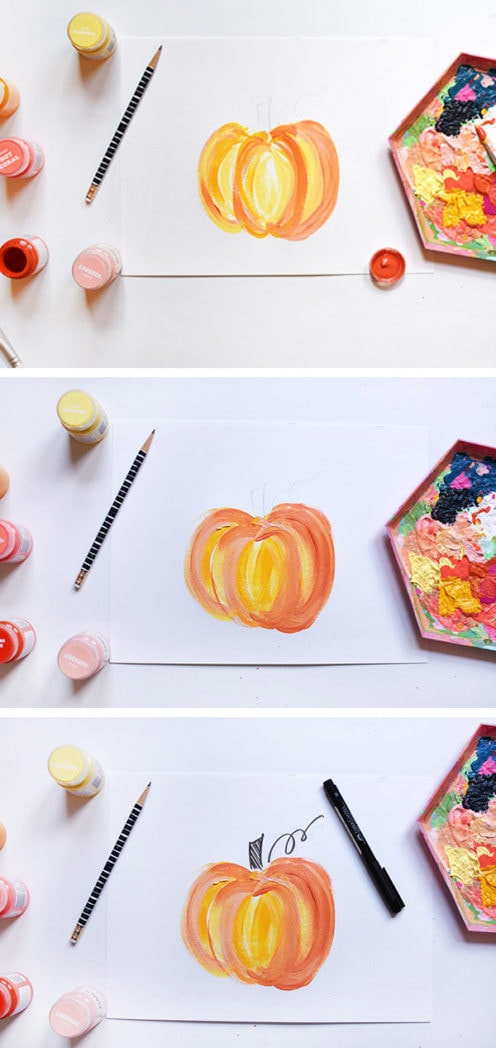 Allow your paint to fully dry and them you can hang in your home!
Easy Pumpkin Acrylic Painting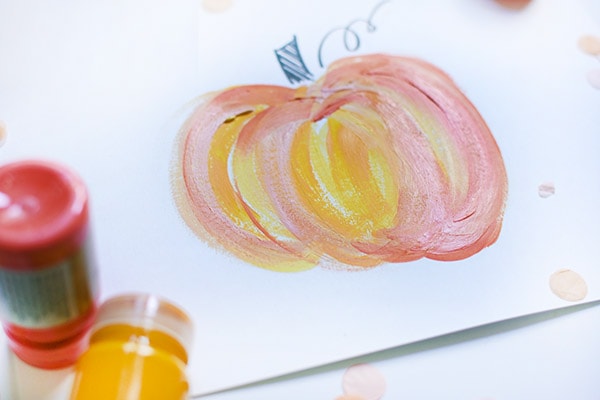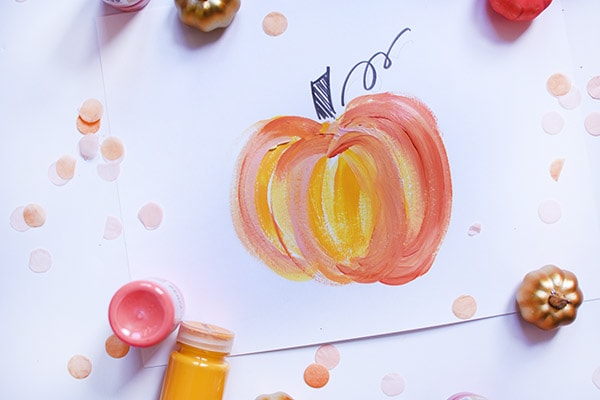 Looking for this exact pumpkin already in print form? Check out my Pumpkin Print and enjoy clicking and printing it out!
You might like these other Easy Art pieces: