INSIDE : Download and print off a gorgeous hand painted pumpkin print set in a modern clean way. Hang this colorful print in your home during the Fall season!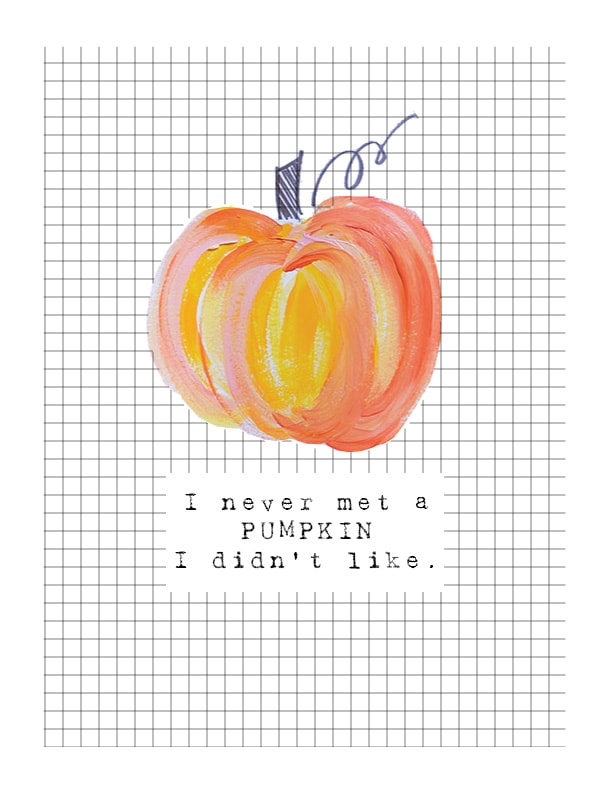 Last Friday I shared a gorgeous step by step tutorial of How to draw and Paint a Pumpkin, which I think you all loved. However, I know there are some of you that probably are a little intimidated about painting, so I decided to also turn it into a fun Pumpkin Printable!
I took the pumpkin I painted and added a simple graphic grid background to it. And then I added in "I never met a PUMPKIN I didn't like" because… well, it is completely true at my house! HA.
How many pumpkins is too many pumpkins?
Every fall I say this is the year to scale back the pumpkin buying and every year it does not happen. I just can't help myself because pumpkins and gourds add such a lovely fall look to your curb appeal.
I let each of my kids pick out just one pumpkin at the patch pumpkin.
And then when at the grocery store, we get a few of the mini gourds.
And then when at Trader Joes, we pick up a few of the mini white pumpkins with the ridiculously long stems because they are just a few dollars!!
And before you know it, we quite literally have our own pumpkin patch going on in the front of our house. But especially living in the desert, you really have to create your own Fall moments sometimes, so I think it's completely justified.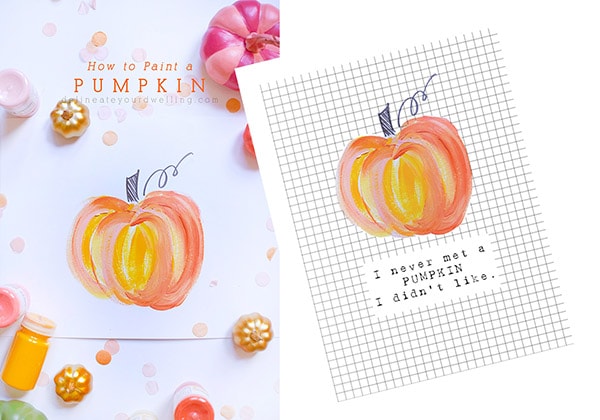 Pumpkin Printable
Okay, back to the pumpkin print out. Adding this colorful Fall Painted Pumpkin Printable to your home will help create a cozy Autumn feel in your house with very minimal effort. This little beauty comes in an 8.5 " x 11″ size, once downloaded. Then you can either print on your home printer or at your local print shop.
I am going to hang this festive print in our kitchen but my son has been dying for more fall decor around the house… so it just might end up being printed and hung in numerous spots, ha!
IT'S DOWNLOAD TIME:
Sign up for the DYD Insider newsletter to receive access to my ENTIRE DYD Printable Library along with this colorful Pumpkin print!!!
Already a DYD Newsletter Insider? Click on over here to access the printables library using the password found at the bottom of any email I've sent you.
Looking for some of my other fun printables? Check these out!!

Are you interested in some creative no-carve pumpkin ideas?
14 Unique No-Carve Pumpkin Ideas