Colors that go with Saltillo Tile
INSIDE : Learn the amazing combination of Colors that go with Saltillo Tile. You can create beautiful spaces in your home and still enjoy the earthiness and warmth of Saltillo tile.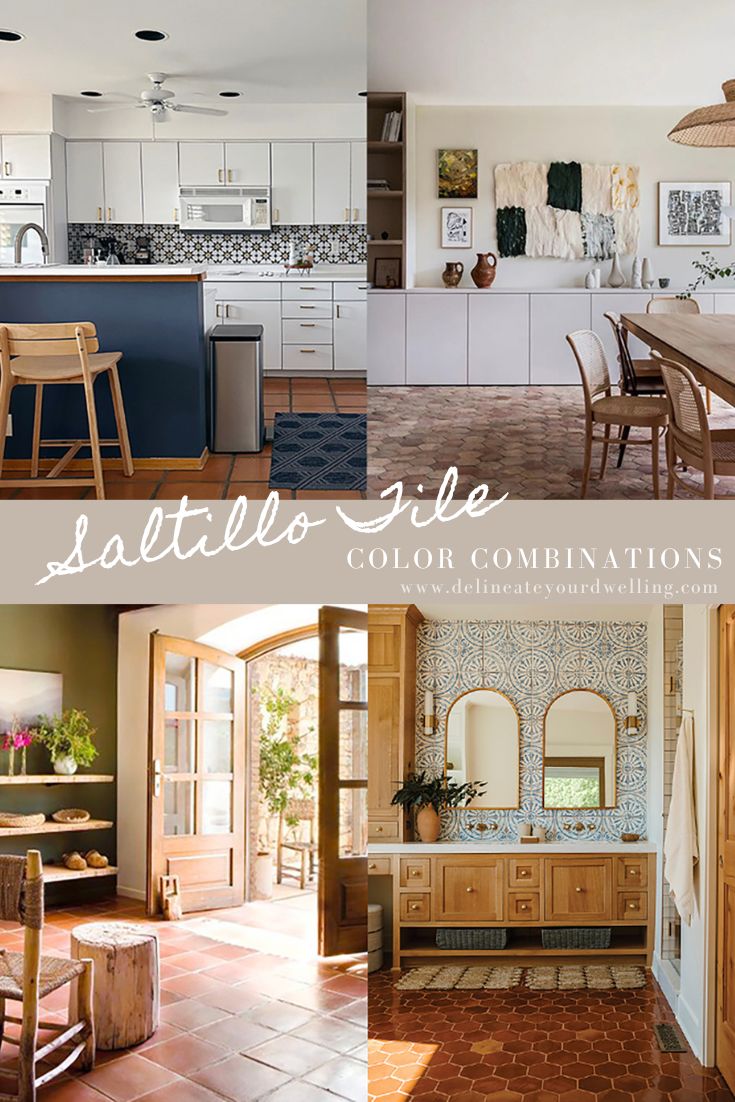 This post may contain affiliate links. See my full disclosure.
Saltillo tile is a type of terracotta tile that is known for its warm, earthy tones. It is a popular choice for flooring, backsplashes, and other surfaces in homes with a Boho, Southwestern, Spanish or even a Rustic Cottage style.
Saltillo tile can also be used in more modern and contemporary homes, but it is important to choose the right colors to complement it.
There are so many beautiful color combinations that go well with the earthy orange of Saltillo tile, but here are 9 of my favorite color pairings with Saltillo tile.
Looking for more Saltillo Tile information?
Best Color Combinations with Saltillo Tile
White
White is a classic color that pairs well with any other color, but it looks especially good with Saltillo tile. White walls and ceilings can help to brighten up a space and make the Saltillo tile stand out.
I like using BEHR Bit of Sugar white throughout our home with Saltillo Tiles.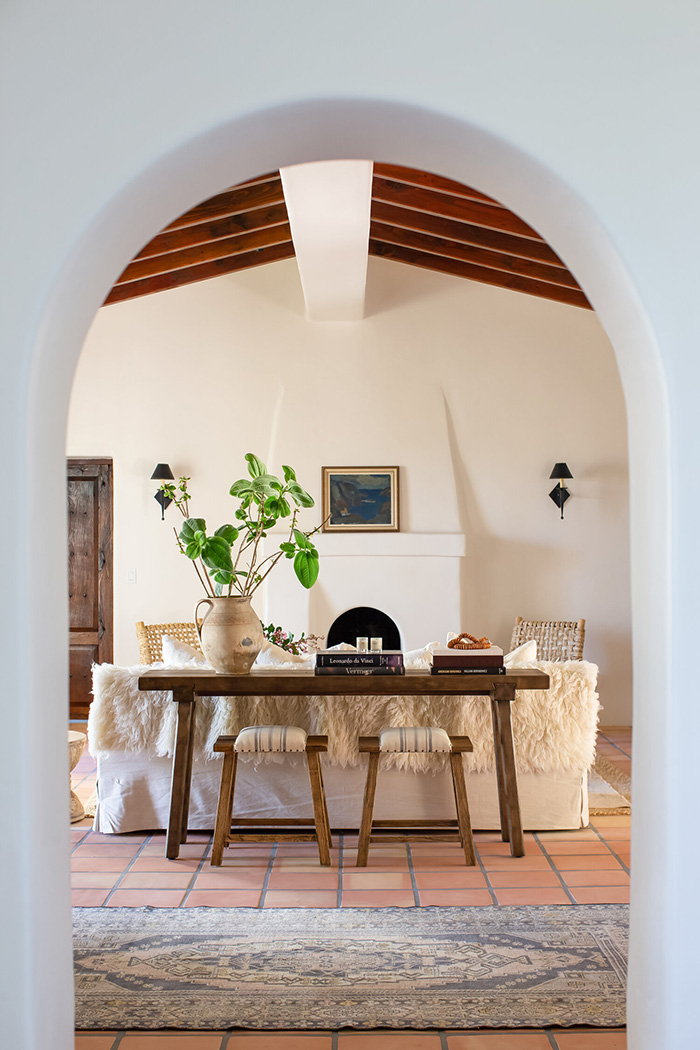 The bright white walls and fireplace get toned down by earthy terra cotta tile in this living room. The flooring, along with a more neutral rug and wood barstools/table, warms up the space.
Cream
Cream is another neutral color that goes really well with the orange / red colors of Saltillo tile. Cream or even beige can often create a softer, more warm feel in your room than a sometimes more stark white paint color.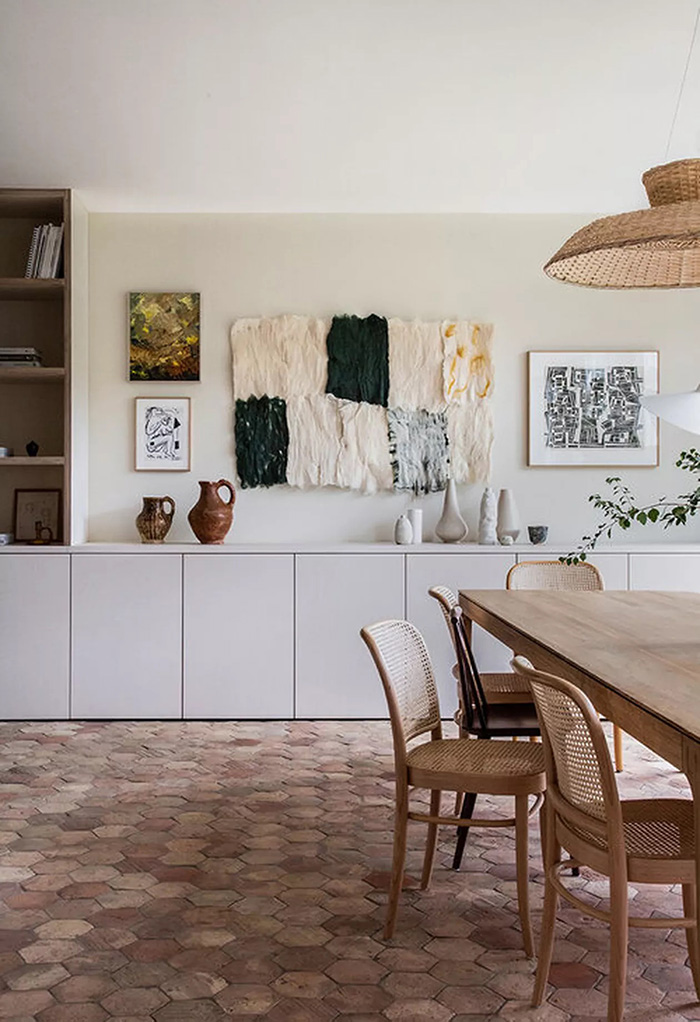 Beige
Beige is a very versatile color that can be used with Saltillo tile. Similar to cream and tan, beige can create a warm, cozy feeling when paired with the earthiness of Saltillo.
Gray
Gray pairs beautifully with orange tones. The neutral feel of gray helps to calm down the more bold color of Saltillo tiles. However, be sure to choose a gray with a warmer undertones because cooler blues can start to clash with the orange tones in the tile.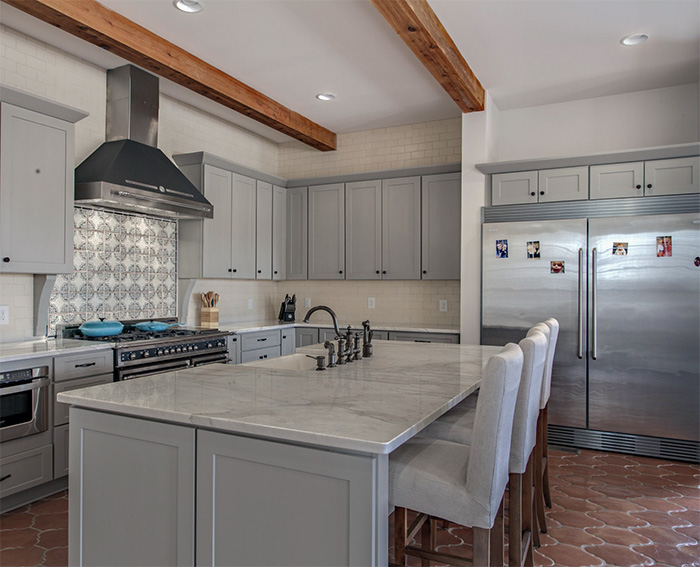 Brown (Tan)
Brown is another neutral color that complements the earthiness of Saltillo tile beautifully. Be sure to select a brown or tan color that has a similar shade to the tile you use. You could also go with a much darker or lighter shade to create more contrast.
The warmth of this bathroom's vanity and cabinets wonderfully complements the saltillo tiles. And since the tiles are a darker, more rich color, the lighter honey color of the wood is a perfect combination.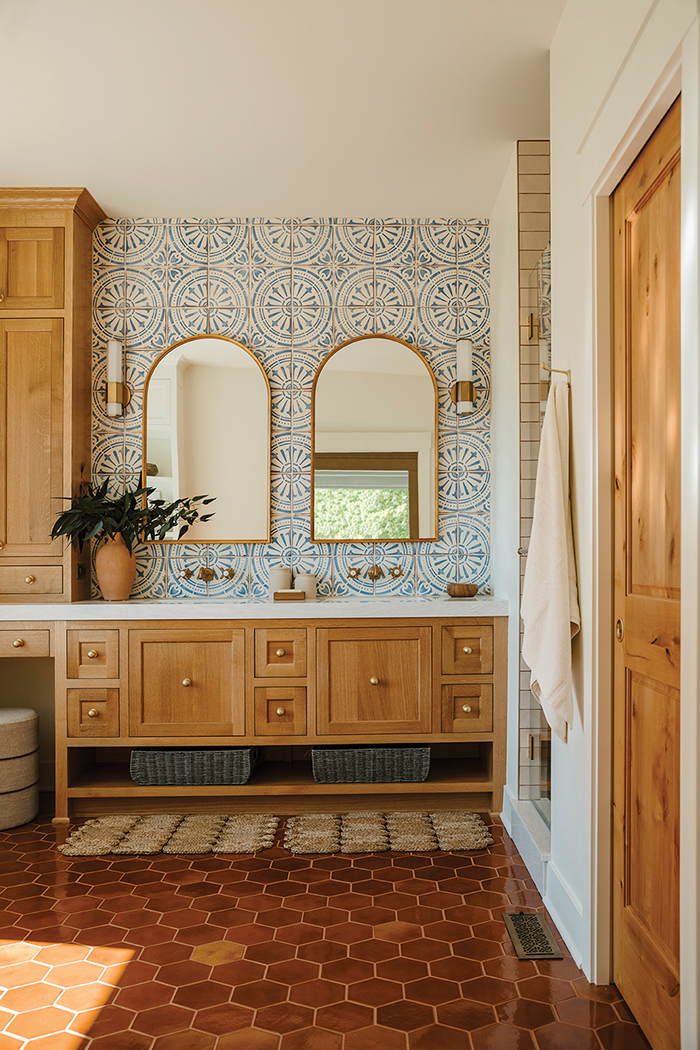 Green
Green is a complementary color to orange (the saltillo tile color). Since they are opposite each other on the color wheel, they combine well visually. Green and orange can create a sense of balance and contrast.
Choosing a deep green, such as emerald or forest green makes more of a dramatic effect than picking a softer olive or even sage green.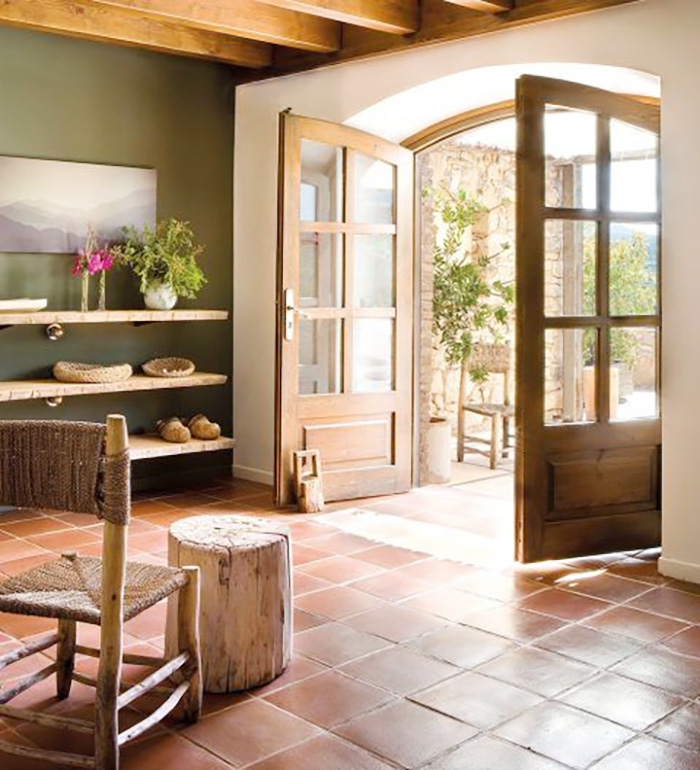 Soft Blue
Soft blue and orange are also complementary colors. The softer the shade of blue, the more it creates a more subtle and sophisticated contrast.
This color combination can be used to create a sense of balance, harmony, and tranquility, while also adding a touch of warmth and energy.
Soft blue and Saltillo tiles can be used to create a cozy and inviting space. You could paint your walls a soft blue color and add orange accents with furniture, accessories, artwork and the lovely tile.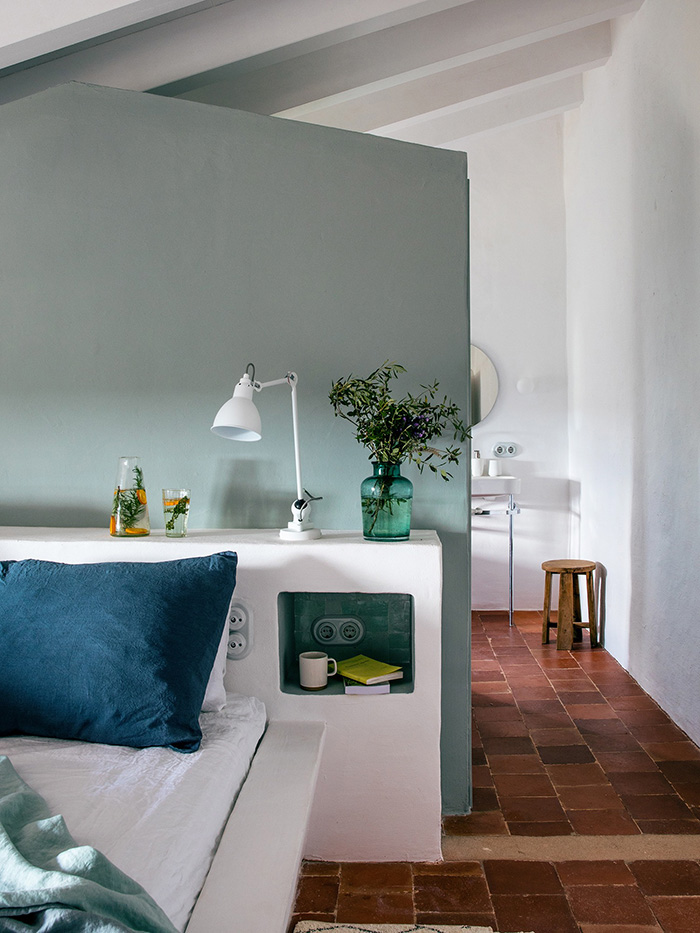 Navy Blue
Navy blue and orange (saltillo tile) are also complementary colors. They make a more bold combination than the softer blues or even green colors. Navy Blue or even Slate blue in combination with Saltillo tile can be used to create a sense of energy, excitement, and sophistication.
You can see these colors play out in my Modern Saltillo Tile Kitchen.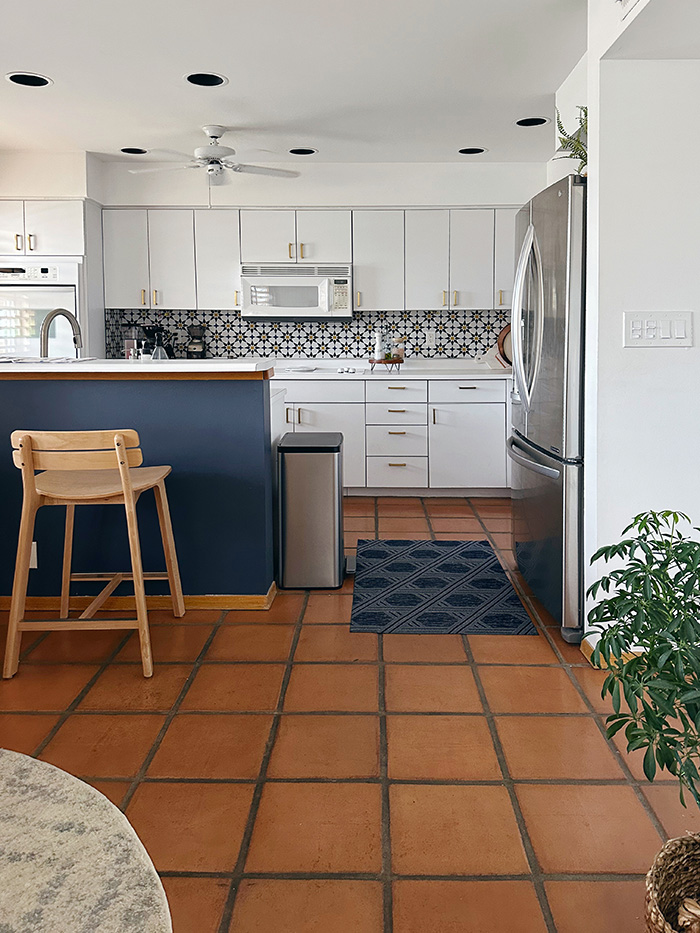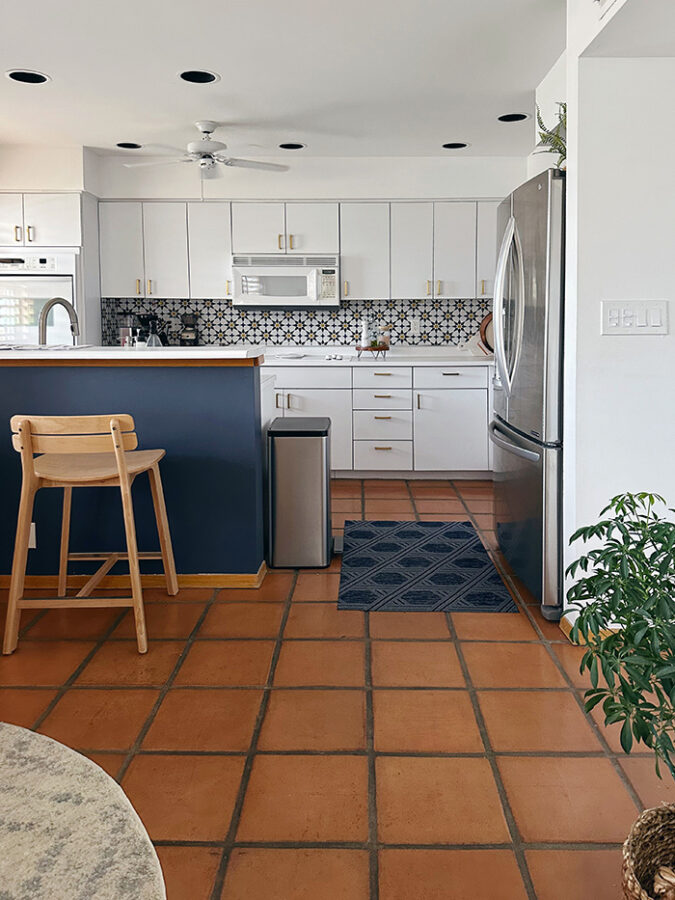 A high contrast color scheme of bold blues with orange can feel inviting. The reddish brown flooring brings a large amount of warmth that works well with the cooling effects of the white cabinetry and island's white and blue colors in this kitchen.
Plus, you can see how the backsplash tile (hint, it's just wallpaper!!) incorporates some of the same saltillo tile color. Learn more on How to Install a Removable Wallpaper Backsplash here.
Gold
I am a big fan of incorporating gold accents whether in furniture details or even hardware pulls to help pull out the golden undertones of your Saltillo tile. I think in small doses using gold and Saltillo tile is a lovely combination.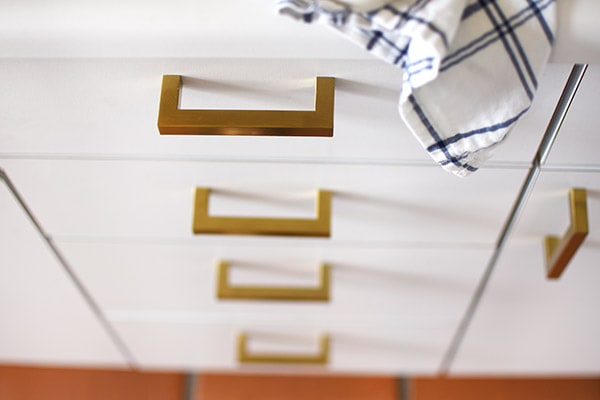 Black
If you really want to create drama, pair black with your Saltillo tile. Black is such a bold color that adds sophistication to anything it's combined with. The black on this kitchen island is a clever way to give this space a more modern look.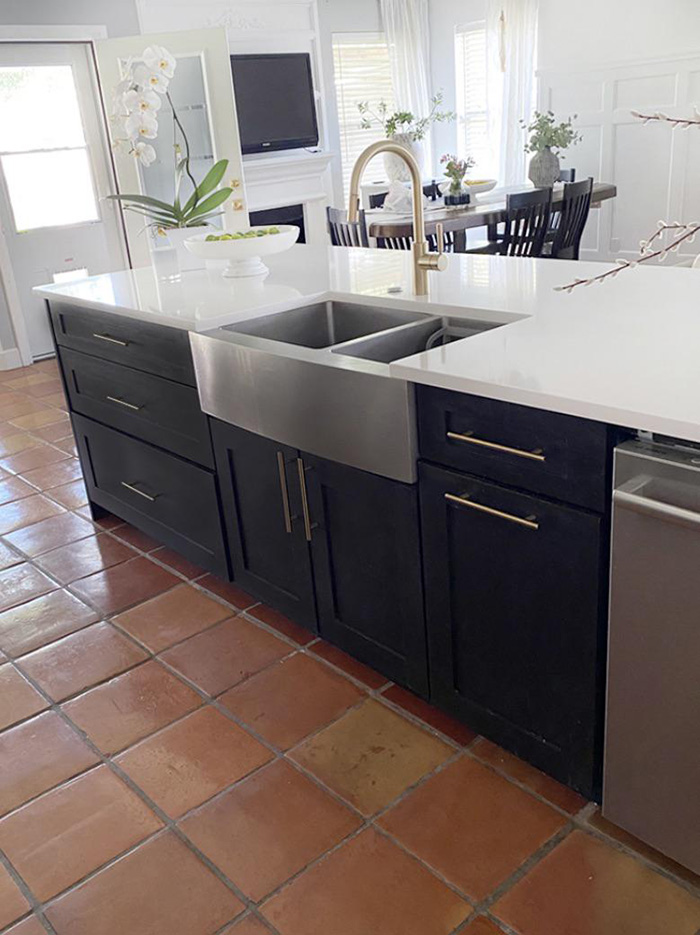 Saltillo tile's orange-red-brown hue can make decorating and adding in other colors to your home a challenge. However, depending on which colors you select, you can create spaces with harmony, drama, contrast or relaxation.
Favorite colors to pair with Saltillo tile
Cream
Pink
Charcoal gray
Turquoise
Gold
Charcoal
Brown
Yellow
Forest green
Navy Blue
Tan
White
Black
Looking for other content about Saltillo Tile? Check these out below.
You might also like some of these projects as well…