5 Ways to Update your Kitchen for under $300
INSIDE : Learn how to do a budget friendly kitchen makeover for under $300 with five design tips! These inexpensive kitchen design ideas will completely transform your space in no time at all.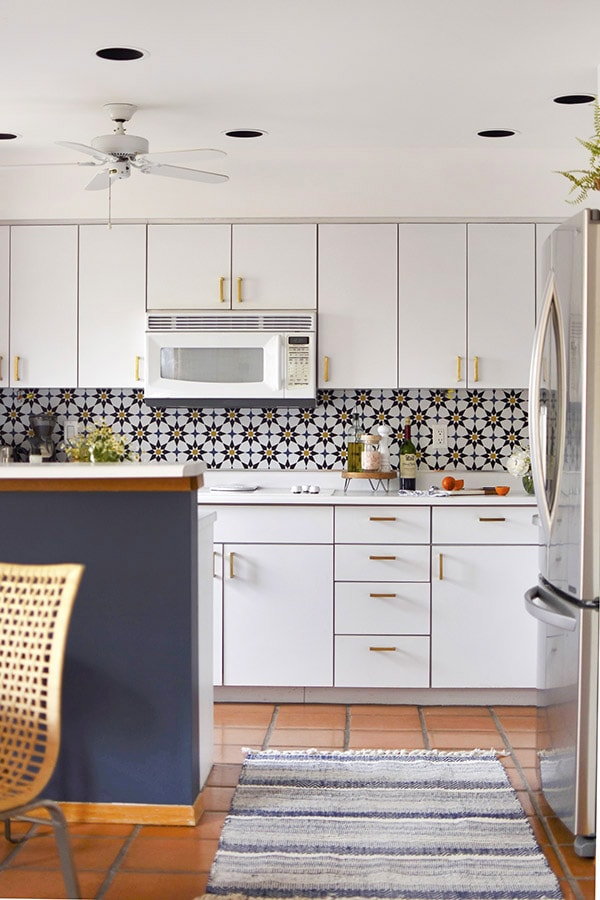 This post may contain affiliate links. See full disclosure here.
Guys! When I was writing this post, I decided to quickly tally up how much total I had spent on this quick kitchen makeover. I knew it wasn't much, but also sometimes little things add up and you don't realize you've spent as much as you have. So, I hoping I would be able to come to you today and say, "kitchen update for under $600″…
GET READY BECAUSE I ONLY SPENT $270! How is this even possible you might be asking? Well, I have an amazing post today to tell you how and I share a breakdown of each item on the bottom of this post.
Before we get into the updates, let's take a quick walk through memory lane at the before picture of our kitchen. Although the cabinets are white and clean looking, they aren't the best quality. We also have old solidly white laminate countertops… which let me tell you what – that is NOT fun to keep clean. But the thing I liked the very least is the mirrored backsplash. Let me tell you what, no one needs to see their lower midsection every time they are in the kitchen.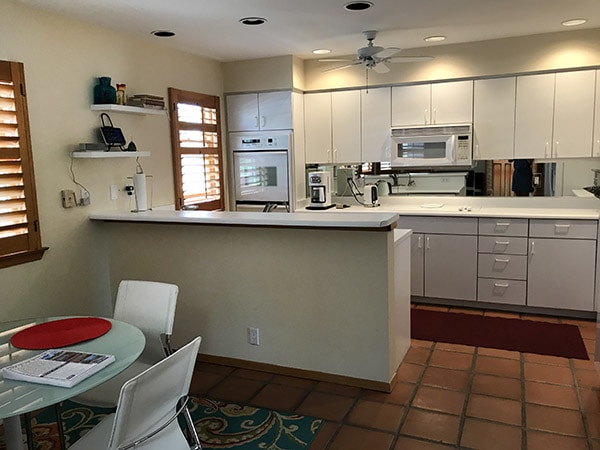 How can I make my old kitchen look better?
This is such a universal issue because often doing a complete kitchen renovation can be so expensive and upwards of $30,000 – which was completely out of our current budget! So, I decided to take matters into my own hands with some great DIY ideas to really update the room.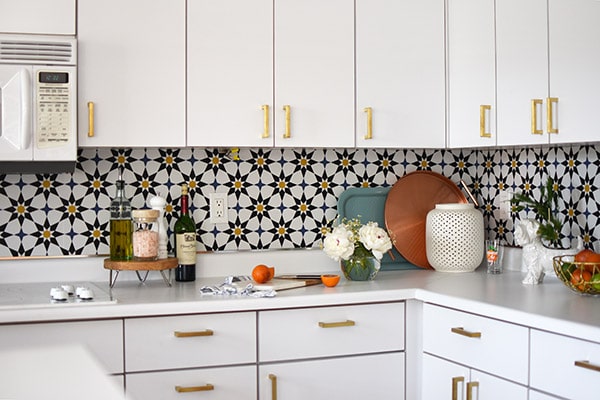 Here are my 5 tips for updating your kitchen on a budget:
PAINT:
The first thing I did to really change the room was paint the entire kitchen white. I always use Home Depot's BEHR paint and my favorite white for our home is Bit of Sugar white. The change from cream to white made such a huge change in making the room feel more bright, fresh and modern.
Check out the paint sprayer I use to paint all our rooms now!
After the room was white, I decided to paint our sink + dishwasher island a moody slate blue color. I used BEHR Interior Paint in English Channel PPU14-19. Although I'm not typically a big fan of blue, I really loved the addition of that color to the space. I think it pairs well with our terra cotta colored tile floors.
You can read more in depth about my Interior Paint colors here.
Shop this post :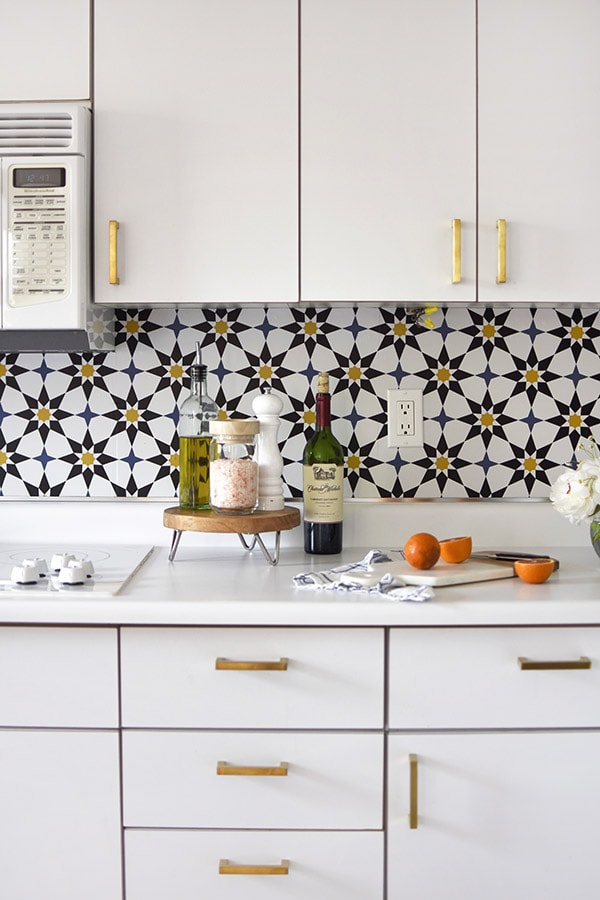 WALLPAPER BACKSPLASH:
The second thing I did to really remodel our kitchen on a budget was to deal with the outdated mirrored backsplash. I was so excited to partner with Tempaper Designs and later this week will be sharing my exact process for installing removable wallpaper on a backsplash. I am SO EXCITED to share that post about my kitchen backsplash ideas on a budget! I used Soleil Moroccan Spice Peel and Stick Wallpaper.
How to install a Removable Wallpaper Backsplash.
I also shared all of my favorite tile removable wallpapers!
I absolutely could not believe what an amazing change to our kitchen adding that wallpaper was. Here is the best thing, the wallpaper is removable, so I simply peeled the back and applied it RIGHT on top of the mirrors! (Now, there were a few more steps so be sure to come back for the post on how to install it.)
Another huge perk of this removable wallpaper backsplash was that it gave us an opportunity to use a more graphic tile pattern than my husband would have typically been okay with using.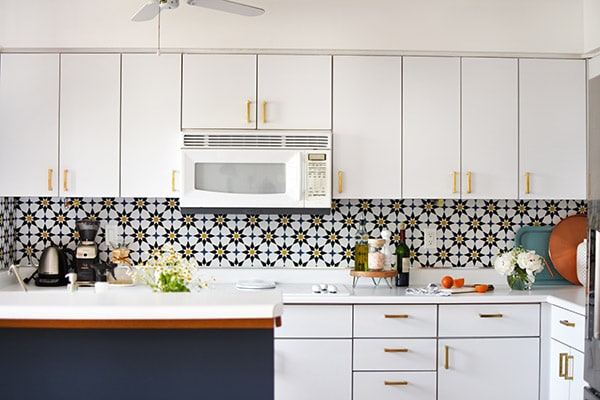 He often is concerned with resale value and if I had tried to push for a real moroccan tile backsplash, he would have probably felt a bit more resistant. But using a removable wallpaper was the perfect compromise for both of us! I got to use this gorgeous pattern and he had no worries about the permanence or getting tired of this design.
FYI, after I installed this wallpaper he 100% was so in love with it. It's amazing what seeing it in person can do to change a man's mind!
ADD PERSONALITY WITH DETAILS:
Adding sweet little details to your kitchen is another way to update your space and really make it yours. I got this white ceramic Scottie dog planter from Home Goods and goodness does he bring me joy. I couldn't find this exact dog online, but Easy, Tiger is one of my favorite white ceramic planter companies. I have their llama and it's the CUTEST.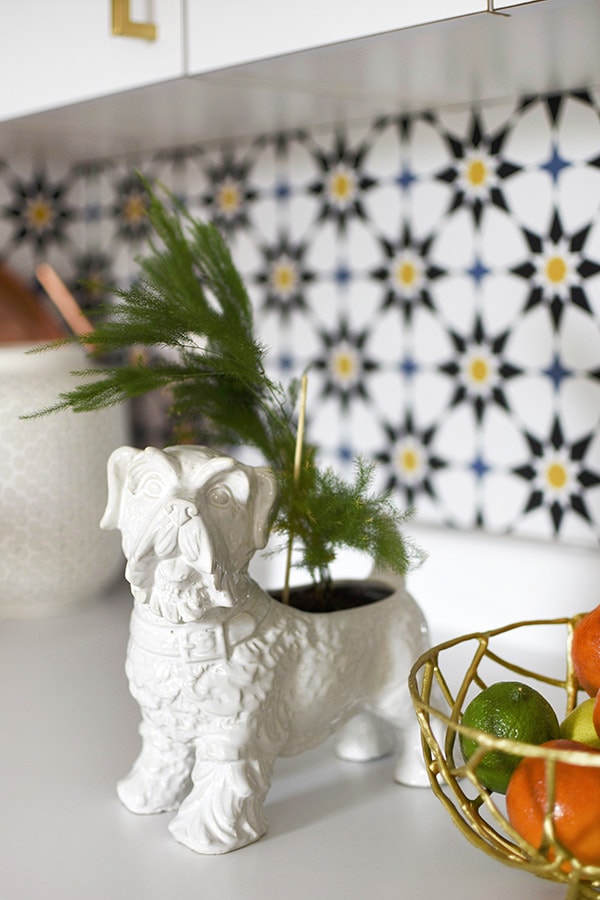 Another gorgeous Home Goods detail was this wooden pedestal to hold my Olive Oil, Himalayan salt and our fancy Pepper Grinder. I loved bringing some natural wood into our sea of white white white countertops. I couldn't find the exact same pedestal but there are a few similar ones : Crate + Barrel | Target.
Shop this post :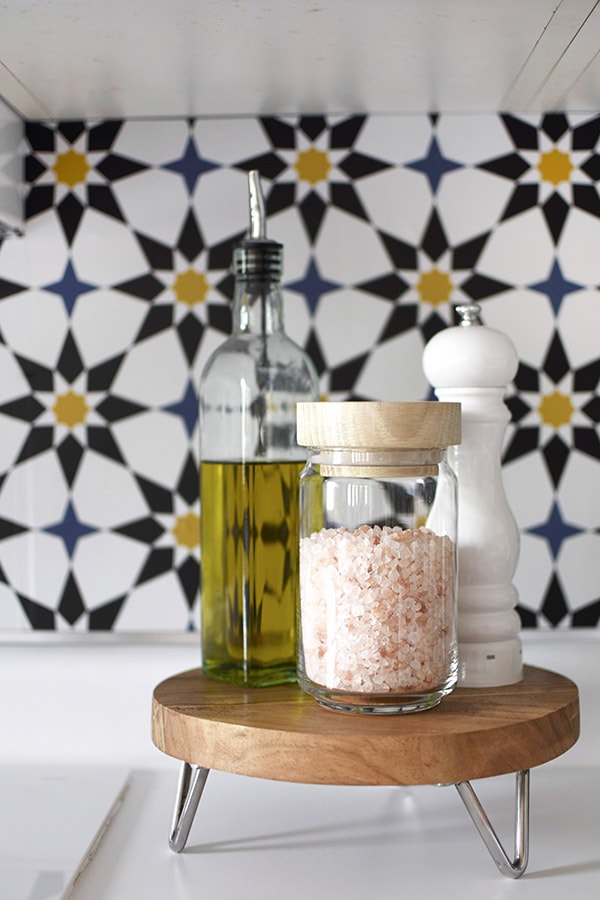 HARDWARE:
Another inexpensive kitchen design idea I had was to update the hardware. Originally I was going to take off the original plastic handles and spray paint them. But once I started looking more closely, I realized they had already been painted once and some of the paint was chipping because they were just made of plastic.
So, I looked and looked online to find new hardware that would fit the existing holes on our cabinets. They were a very uncommon spacing at 96mm (3 3/4″ center to center) and although I spent a few hours on more than one occasion, I was having a hard time finding something that was just right.
In the end, I found these modern Brushed Brass handles from Amazon and couldn't be more pleased! I had wanted to get cup pulls for the drawers and then have bar pulls for the cabinets but sometimes you just have to let things go. Maybe if we get new cabinetry someday, I can upgrade. For now, this hardware is SUCH an improvement and I loved the reasonable price tag!!
SOFTEN THE KITCHEN WITH RUGS:
Now, I know what you may be thinking… rugs in a kitchen? Yes, I completely hear you – there is spaghetti spilled and wine dribbled here and there. But we aren't talking wall to wall rugs. I searched high and low (you may have been heard it all in real time on IG stories) as I looked for those perfect rugs.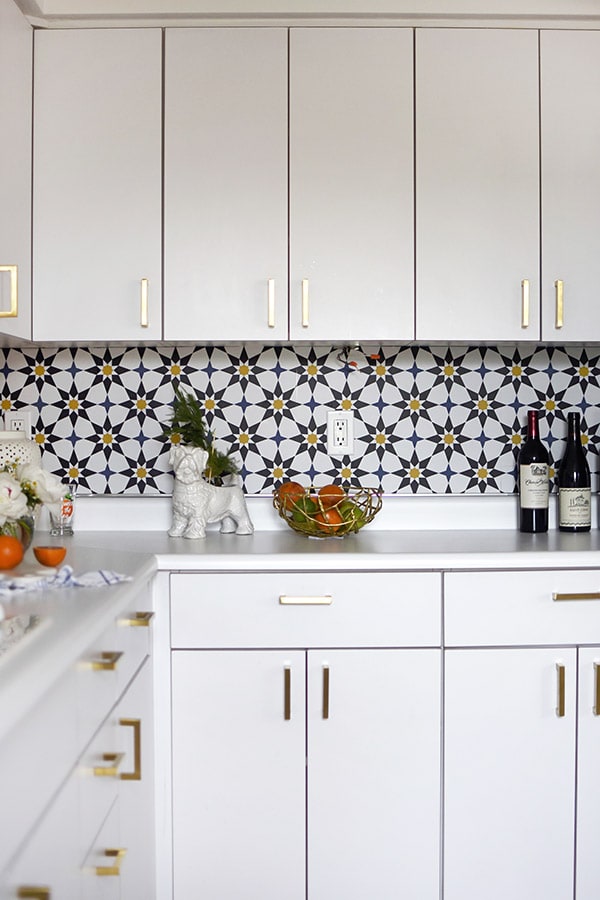 I have a bigger 4′ x 6′ blue jute geometric rug at our fridge area and then a slightly smaller 3'x4′ rug at the sink area. They both were Home Good finds. Here are similar rugs I found : Woven Geometric Diamond | Off-white Chevron Jute | Flatweave Blue + Natural | Flatware with Tassels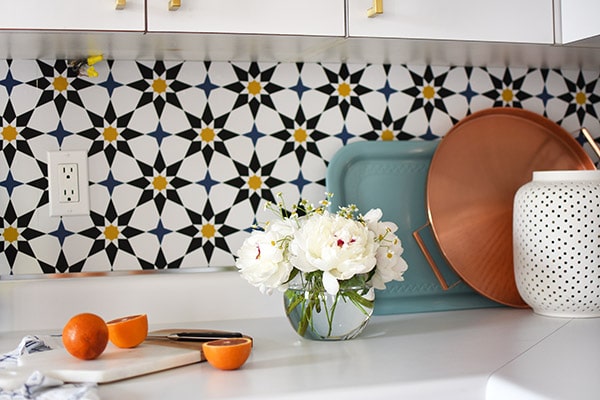 Overall, I have been slowly redoing this kitchen for about 7 months. I painted the room white first and it stayed that way for about 4 months. Then I added the navy paint on our island.
After that, I mostly didn't do a thing to the space until last month. Once I got the wallpaper up, it started to get really exciting and I have been holding my breath waiting to share the room with you all ever since.
A few new electrical covers, some fresh flowers, pulling out my cutting boards and serving trays to style the kitchen pretty like… and the room was done.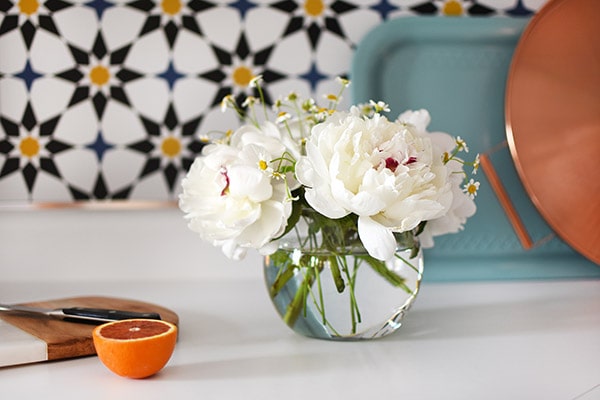 What are your favorite ways to update a kitchen while on a budget?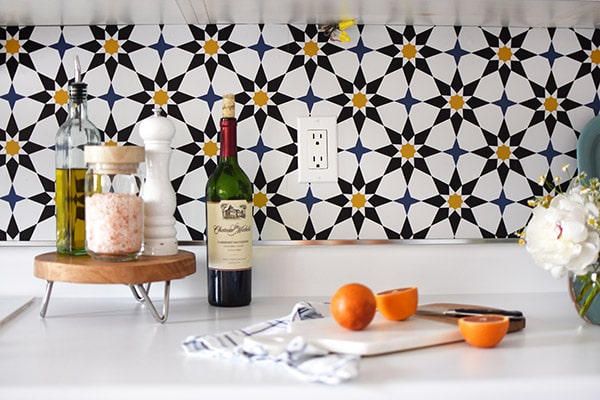 While we are talking about kitchens… looking for how to organize your kitchen, too?
How to Organize your kitchen cabinets in 15 minutes
11 Tips to laying out your kitchen cabinet contents
How to Organize your Silverware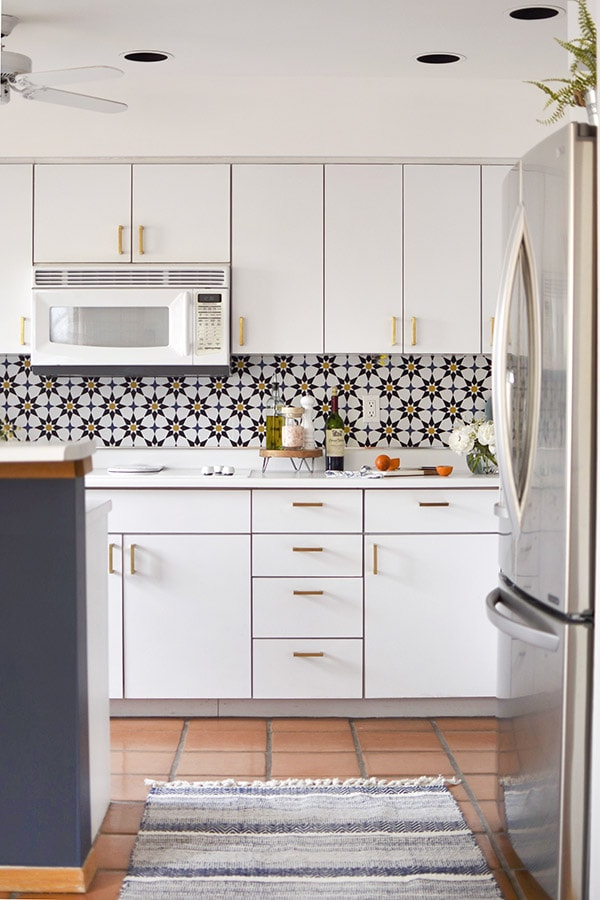 What is the breakdown of Kitchen Updates on a budget:
Wallpaper– $40
Two rugs- $50 (Home Goods price)
Ceramic Dog– $12 (Home Goods price)
Wood Slice stand– $12 (Home Goods price)
New Light Switch covers- $5
White Paint– $60
Blue Paint– $12
Brass Hardware– $78
TOTAL : $270
Shop this post :


MY Home –> Want to check out my each room in my home?
I have shared inspiration, tips and inexpensive ways to make your home YOU.
Check out how to Pick the Right Kitchen Barstools!