INSIDE : Learn tips for how to best organize your Kitchen Cabinets based on their contents. Help on knowing what items go where and in the most ideal location as possible. This post is the perfect how-to for your kitchen cupboard layout!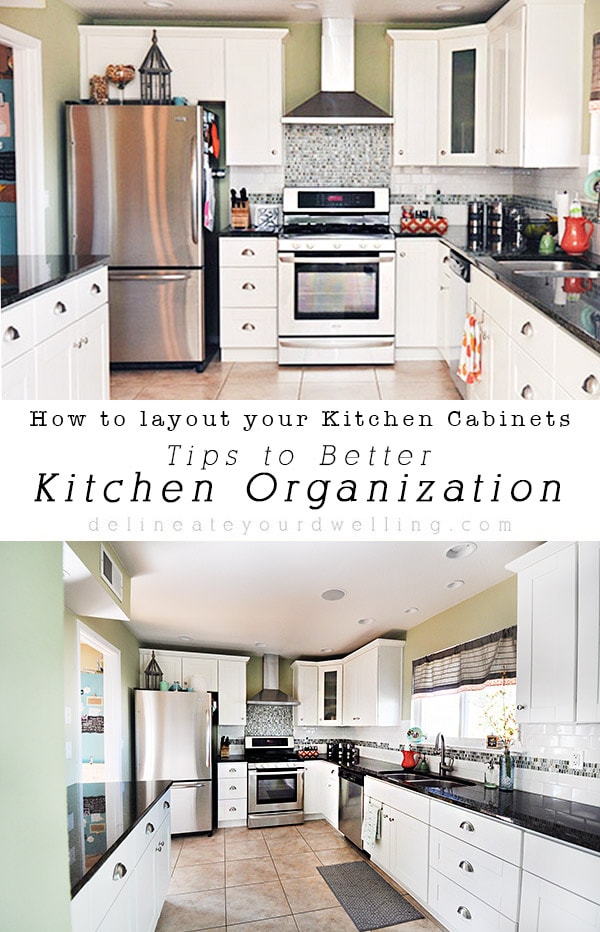 About a month ago, I posted about how I cleaned up a few of my kitchen cabinets in 15 minutes! There were so many questions about where things go in your cabinets and cupboards, so I decided to share how I organize my kitchen and the best place for everything to live.
This is by no means the only way and sometimes you just have to work with the kitchen space you have available (Believe me, we had the WORST kitchen for six years before tackling a renovation. You can read about it at Kitchen Renovations for less, Kitchen Renovations for less part 2, Kitchen Renovations for less part 3 and Kitchen Renovations for less part 4.)
So, today I am sharing Tips for Organizing your Kitchen Cabinets and Cupboards, as well as setting them up in the most ideal locations as possible.
This post may contain affiliate links. See full disclosure here.
Are you ready for some serious Organizing Kitchen Cabinets? You can scroll to the bottom of this post to see a diagram for each of these zones. Okay now let's get to it!
MY FAVORITE KITCHEN CABINET ORGANIZING SUPPLIES:


How-to Tips for Organizing your Kitchen Cabinets and Cupboards:
1. Rarely used "fancy" items.
If you have fine china, fragile glassware and that one punch bowl from your wedding registry (We all have at least one of those.), those items should not be taking up prime cabinet real estate in your kitchen cupboards. Start by carefully arranging your rarely used items as they can best fit on the less accessible upper cabinets.
2. Pots and pans that receive daily use.
Typically, there are decently sized larger kitchen cabinets nearby to the stove which are ideal for heavy and bulky pots and pans. In our kitchen, we have our pots and pans as close to the stove as possible. They all live under our center island. It is an easy reach to turn around and grab a pot and put it on the stove top. Try to put the pots you use most often closest to the front of the cabinet and your random asparagus steamer (Yes, we have one of those too.) can be stacked farther back.
We bought a two packages of these red Cookware Protectors
a few years ago and I swear by them! We recieved decently nice cookware for wedding gifts and even after our ten year anniversary, our pots and pans still look just as good as the day we got them! These cookware protectors have really made a huge difference in avoiding daily bumps and scuffs while in your cabinets.
Update : We celebrated our 12th wedding anniversary and ALL of our cookware looks fabulous because of these red protectors we daily use.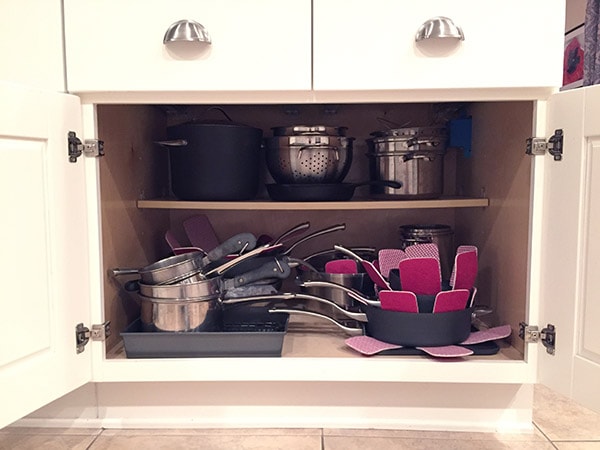 Another inexpensive item that I bought and has HUGELY helped organize is this pot and pan lid organizer
. It takes up very little space and I never have to search high and low for the appropriately sized lid any more. Game changer. We've also had this little gem for over 10 years and I wouldn't organize my lids any other way.
Also, you know how somehow you end up with 18 extra pot lids that don't fit a single pot or pan in your kitchen? Using an organizer like this, really makes me take note if it's a spare (get rid of) or a lid we actually use (put it in this organizer).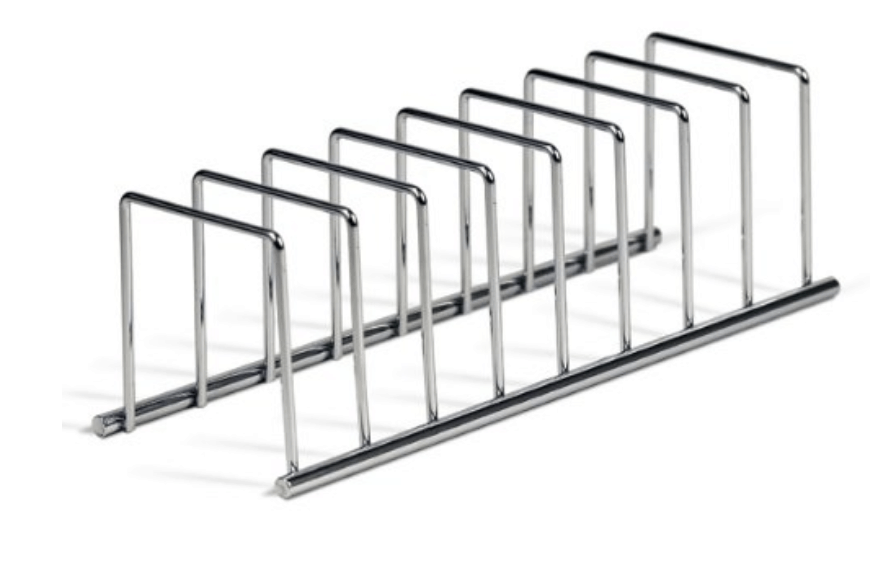 If you are fancy and have room for a hanging pot rack, all the better! We do not have space to accommodate that but it would be lovely.
3. Eating and Serving Utensils.
Ideally if the space is available, all of the eating and serving utensils should be located nearby to the dishwasher. We, however, do not have a drawer that fits silverware near the dishwasher. All of our utensils are above the pots and pans in a flat drawer on our island. The idea behind silverware being near the dishwasher is that you can open the drawer and easily place clean utensils right in. A lot of kitchen cabinet organizing is about ease of access when needing to use, clean up or put away.
We bought one of these Bamboo Expandable Organizer
to hold everything and it works so well. It's expandable so it fits any sized drawer and it has held up perfectly after all the years of use. We loved it so much, we actually bought another one for our "junk drawer" that holds batteries, birthday candles, etc.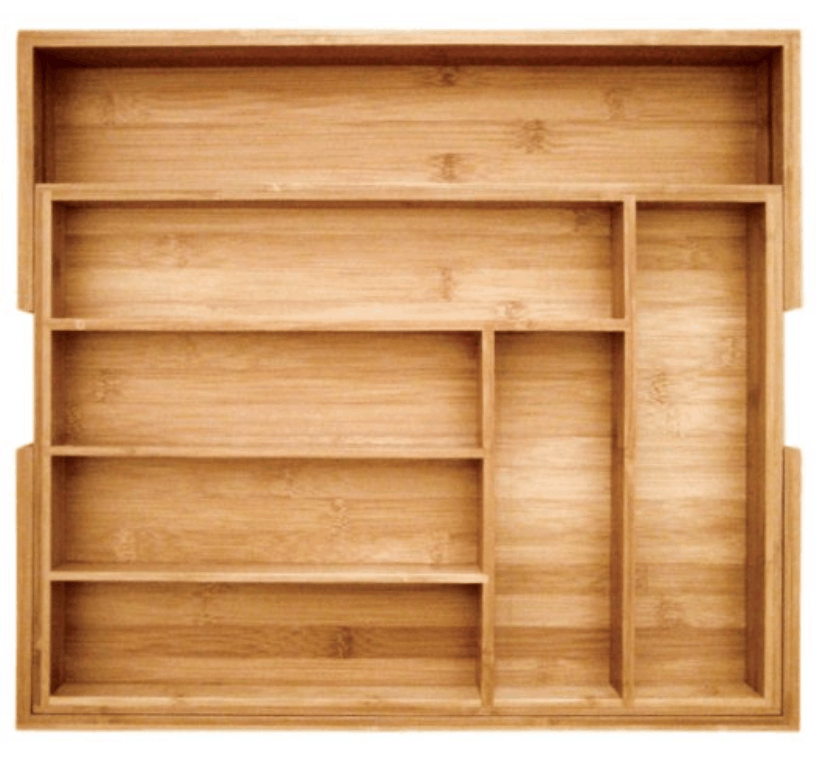 I have seen a bunch of people use bamboo dividers very successfully, also. They are a great way to organize a drawer if you either can't commit to an exact organizer or if your drawer's dimension won't fit a standard organizer.
Looking for more information about how we organize our silverware? Check out my Silverware Holder Organization post.
4. Everyday dishes and bowls.
Everyday dishes and bowls are located on the upper cabinets near the dishwasher, this is another ease of unloading the dishwasher location. It's nice to open the dishwasher and be able to place all the main dishes without having to move around much. They should also be easily accessible for getting out and setting your table for meals.
5. Cleaning supplies.
The area under the sink is a great place to store everything you need to keep your kitchen clean. Trash bags, cleaning solutions, rubber gloves, extra dish soap and detergent, extra sponges, can be placed here. And if you have small children, it is wise to purchase a lock for these doors.
Often, people also store their trashcan under the sink as well. If you have the luxury of space, you can store your trash can in it's own pull out cabinet. We have ours sitting out at the end of our cabinets. It's not ideal, but it's the only space we had available.
6. Cookie Sheets, muffin tins and pizza stones can be stored under the stove.

Some like to store their baking sheets and tins standing up with dividers. If you have room, that is a great option. In all the homes I've lived in, I've just stored them under our stove in the shallow drawer at the floor.
7. Glasses and Cups
It's nice to have cups and glasses near to the refrigerator. I also have a small bottom pull-out drawer that I store all my kids cups and silverware. I like teaching them to set the table and these are down low for them to easily get at.
8. Placemats, runners, tablescape items

If a wide shallow drawer is available, this is an ideal space to contain placemats. I use quite a bit of fabric napkins and have more table runners than a person would need. All these types of tablescape items are best kept together for quick use.
9. Oils, vinegars, and taller spices.
While cooking away at the stove, it is nice to not need to leave that spot to run and grab your oils, vinegars, and salt, pepper, etc. I found a fun container at Home Goods and it sits on the counter top to the right of my stove.
10. Cooking utensils, knives, and everyday spices.
As I shared in my 15 Minute Kitchen Cabinet Organizing post, I store all my baking, cookie ingredients and spices/sauces on upper cabinets on either side of my range. This 3-Tier Cabinet Organizer
has been huge in keeping all of our spices visible and organized.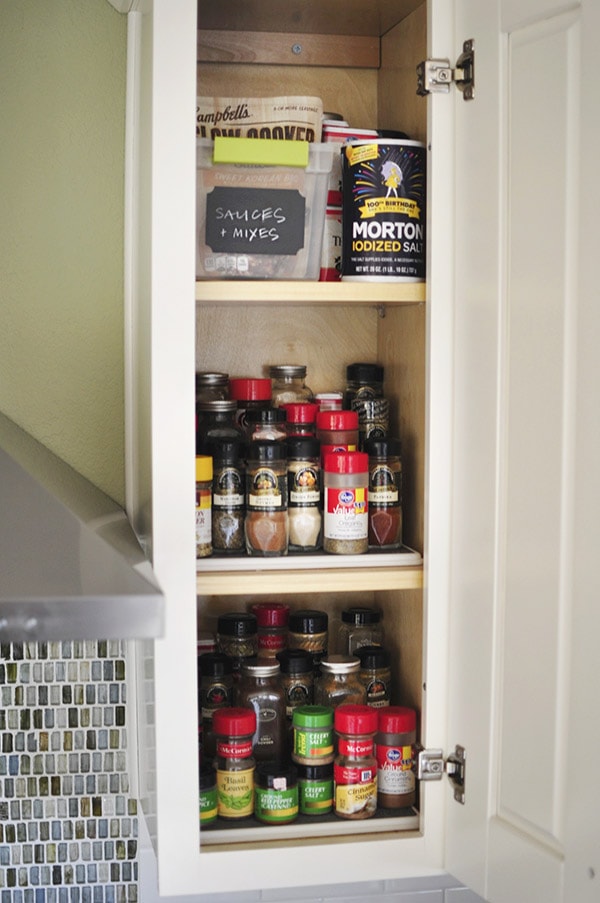 All of our cooking utensils and spatulas live in a lower cabinet drawer to the left of the stove. This was they are easy to grab while stirring a delicious soup!
11.Dry goods and the food pantry.
If you have a pantry space, other than small spices or baking items, keep ALL your food together in that area. Prior to updating our kitchen, we had to store all our canned goods, chips, noodle packages, etc in upper cabinets. Sometimes that is all you have the room for, so if that's the case, do your best to organize it and make it work for you! We have these larger tiered organizers for our dry goods and soups.
Here is a diagram of the basic layout of our kitchen cabinets in relation to each other.
1. Rarely used fancy items
2. Pots + Pans that receive daily use
3. Eating + Serving Utensils
4. Everyday dishes + bowls
5. Cleaning Supplies
6. Cookie Sheets, muffin tins and pizza stones
7. Glasses + Cups
8. Placemats, runners + tablescape items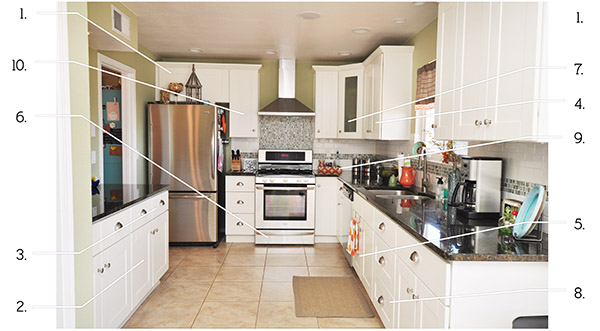 Now that you know more than you ever wanted to know about the insides of my kitchen cabinets, hopefully you'll feel a little more confident opening drawers and switching things around in your kitchen!
Do you have any other fun Organizing Kitchen Cabinet secrets? Be sure to share below!

SaveSave
SaveSave
SaveSave
SaveSave
SaveSave
SaveSaveSaveSave
SaveSave
SaveSave
SaveSave
SaveSave
SaveSave
SaveSave
SaveSave