Welcome to a new Monday mini series called:
How to get a high end (looking)
kitchen
look for a low end price!
Before I started blogging and sharing our crazy home DIY's with the internet world… we took our kitchen from 1970 scary to, well… better. I thought I'd share a bit of our kitchen journey with you all.
I posted here about the first three steps in transforming your kitchen to have a high end look at a low end price.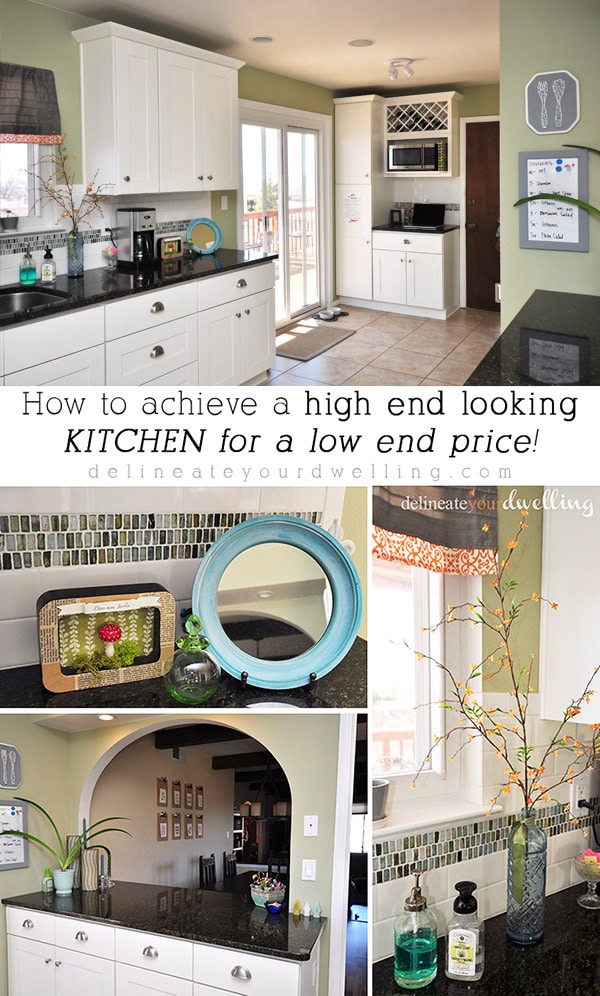 This post may contain affiliate links. See full disclosure here.
A little back story:
The hubs and I were expecting our first baby and as any normal couple who are preparing to take on that huge responsibility of parenthood and make major life changes would do… we decided it would be an ideal time to completely gut and renovate our kitchen.
This was our kitchen for many years (5+ years). This picture was taken shortly after we moved in. Sometimes I wonder why we bought this house when I look back at the early pictures. Lots of dark original to the house cabinetry, fake butcher block counter tops, odd textured stripe wall paper, and a single large florescent light overhead. Oy.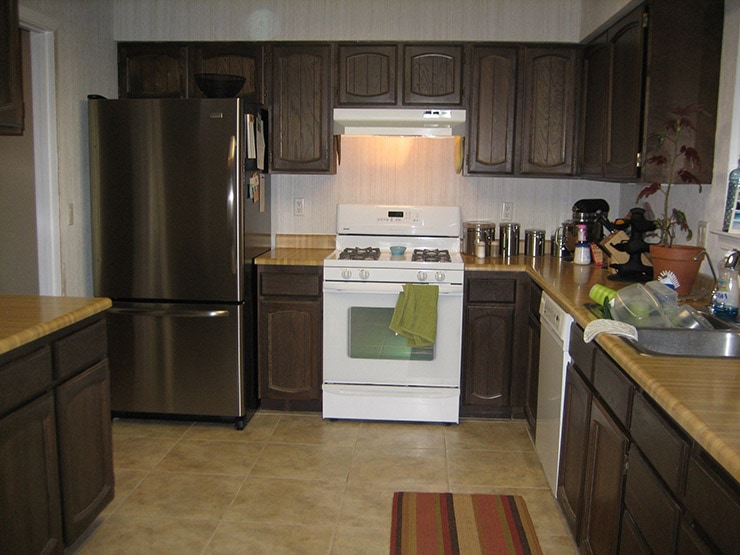 After completing steps 1 through 3 (do it yourself, paint the walls and patience) and putting that patience to the test… a few years later, we were ready to move to our next step.
Step Four, DO IT YOURSELF. Hm, does that sound familiar to an earlier step? Well, if you are honestly looking for getting a high end look for a low end price, this will be your best go-to step.
You might notice I have quite a baby bump at this point. So my contribution from here on out was basically make decisions from the sideline while wearing my PJs. I did help to empty the cabinets and the hubs slowly removed them one at a time.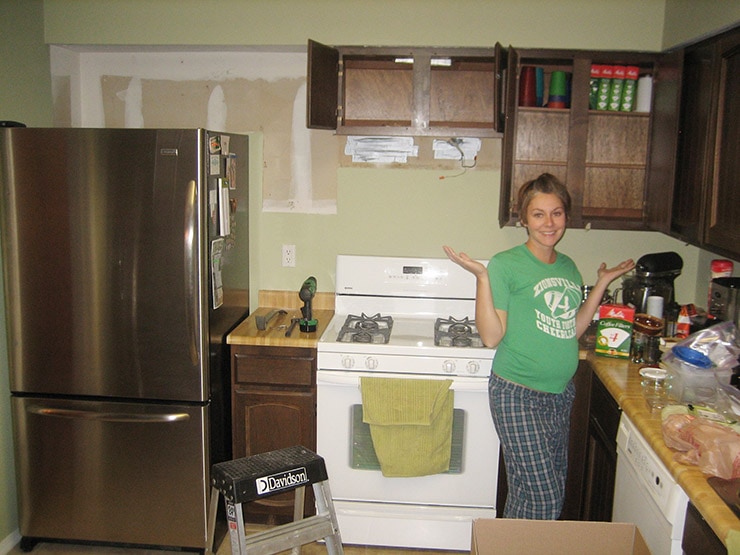 We first removed all the upper cabinets.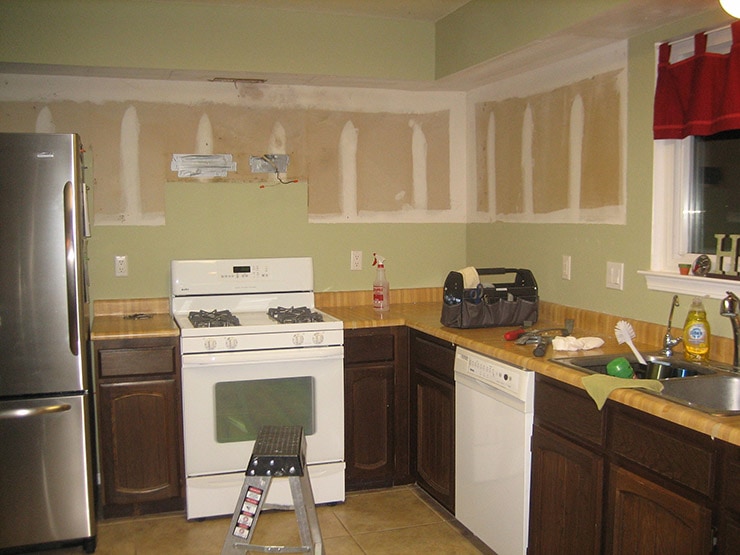 All this watching from the sidelines (in my PJs again) was tiring, so clearly I needed to take another rest here.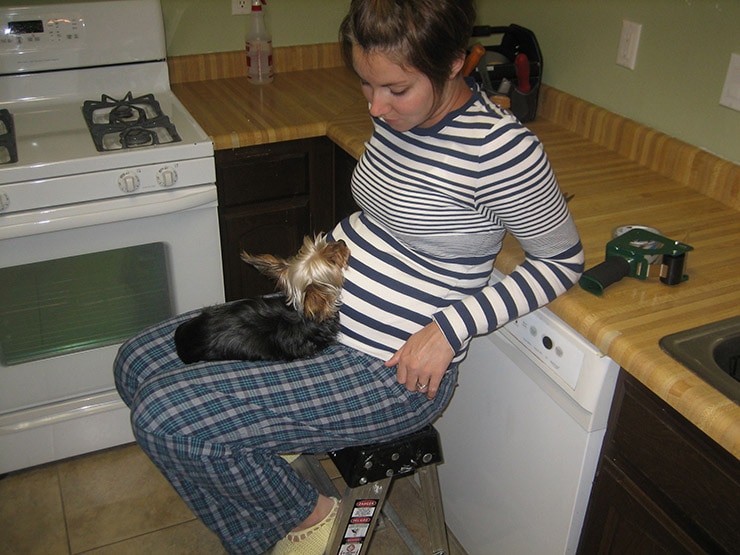 This is a view from our dining room into the kitchen. We always hated how we had to duck down to chat with anyone in the rest of our house from that tiny little breakfast bar hole. The idea was to open it up by matching an entry arch in another part of our home.
Step Five, know when it's worth a small amount of money to make a big impact. Opening up this small area has made maybe one of the biggest changes to our kitchen. It adds light into the room and it makes the kitchen feel larger by giving you views in and out of the room.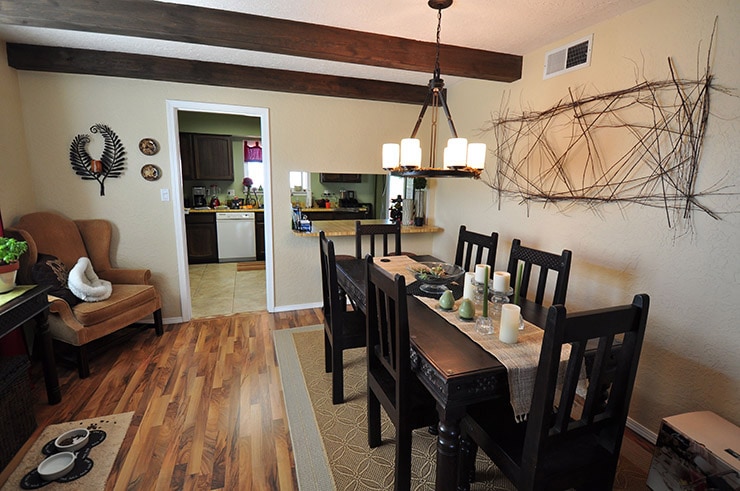 We had our amazing dry wall guy make this cut. It was a very small fee for a huge impact on the space. (Note how our kitchen was now being stored in the dining room. We were holding a weekly bible study at our house during this time, super classy.)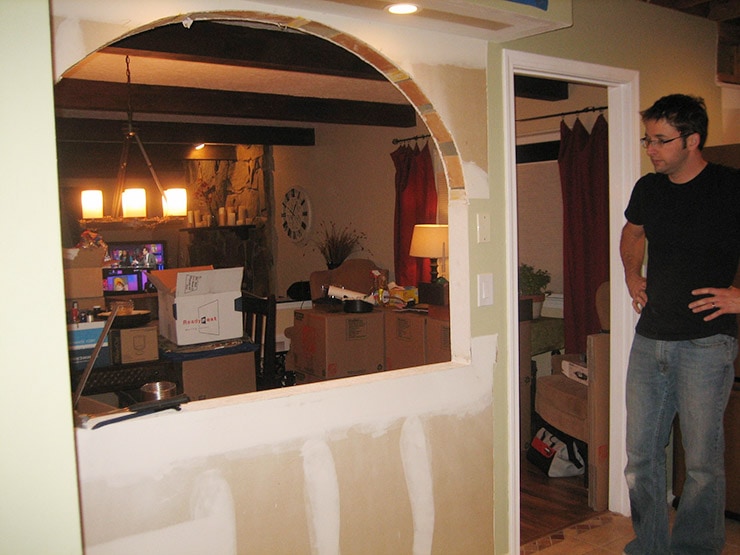 While all this cabinet removal was taking place and walls were being opened up, we were making final decisions on our cabinets.
We had contemplated just painting our existing cabinets but they were original to the home and made of low quality materials. It seemed like a band-aide fix, not a solution. We had also gone to all our local big box stores (Home Depot and Lowes) and worked with their cabinet design professionals. Even after telling them OVER AND OVER AND OVER that we wanted to go a minimal cost route, it was impossible to not spend at least $20,000 just on the cabinets. No way was this going to fly.
One evening while watching HGTV (I knew it would pay off some day!) I saw an advertisement for Cabinets To Go.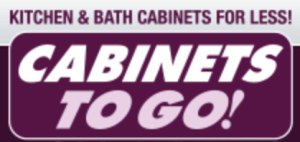 Check them out! During a visit to Orlando, we stopped by their showroom. The people at Cabinets To Go were so helpful and we came with every measurement we would possibly need. They sat with us for over an hour and together we built our kitchen. Using them, we were able to get so many of the cabinets we had hoped for. A corner cabinet with glass front, done. A lazy susan below, done. An entire pantry cabinet unit… oh my, oh my, DONE!
And the BEST part, all these fun extras fell within our budget! The awesome thing about Cabinet to go is they use real wood fronts, which sadly is a hard thing to find these days for a reasonable price. They also come with the soft close feature. They ship all orders directly to your door in flat boxes. They are really able to cut down on the costs by doing this. We had a few that arrived slightly damaged and they happily sent replacements. My hubs is very cautious particular engineer mind smart when it comes these types of purchases, so if he gave his approval, I stand behind it 100%.


Next I will be sharing the process of building and installing the cabinets and gutting the ceiling to install new lighting + speakers. Get excited, it's about to get all "Polar Icecaps" in our kitchen!
Update: I've posted here and here and here about the first seven steps in transforming your kitchen to have a high end look at a low end price.