Welcome to a new mini series called:
How to get a high end (looking)
kitchen
look for a low end price!
Before I started blogging and sharing our crazy home DIY's with the internet world… we took our kitchen from 1970 scary to, well… better. I thought I'd share a bit of our kitchen journey with you all.
I posted here and here about the first five steps in transforming your kitchen to have a high end look at a low end price.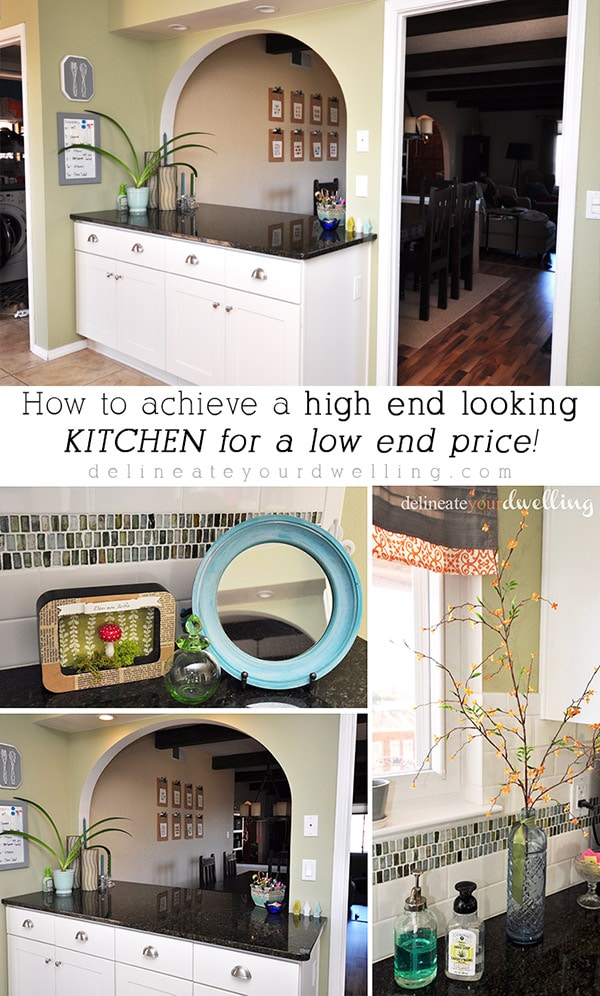 This post may contain affiliate links. See full disclosure here.
A little back story:
The hubs and I were expecting our first baby and as any normal couple who are preparing to take on that huge responsibility of parenthood and make major life changes would do… we decided it would be an ideal time to completely gut and renovate our kitchen.
This was our kitchen for many years (5+ years). This picture was taken shortly after we moved in. Sometimes I wonder why we bought this house when I look back at the early pictures. Lots of dark original to the house cabinetry, fake butcher block counter tops, odd textured stripe wall paper, and a single large florescent light overhead. Oy.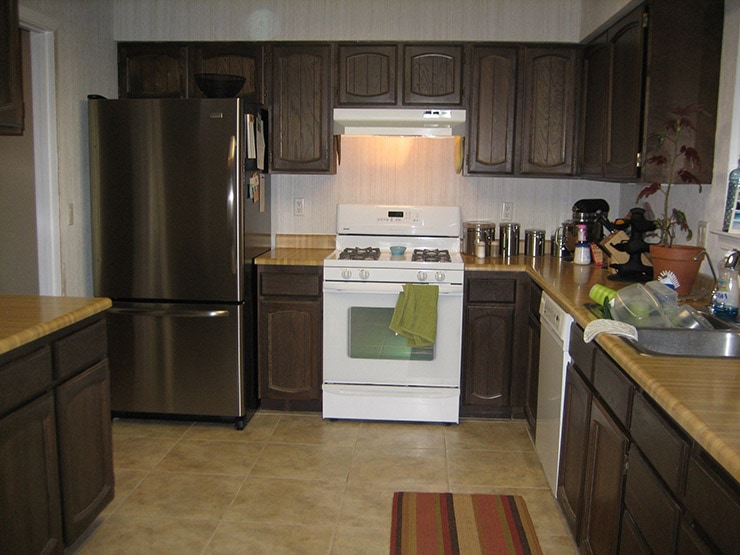 Steps 1 – 3
(do it yourself, paint the walls and patience).
Steps 4-5
(DO IT YOURSELF and knowing when it's worth a small amount of money to make a big impact).
It's time for some hired help to jump in briefly with our next step on kitchen renovation for less.
Step Six
, know when to bring in help and what your limitations are. Our next step was removing 96% of the old soffet that ate up so much of our kitchen cabinet space and demolishing our ceiling. While this was a task that technically the hubs probably could have done, in the end we decided to pay for it to be done. Our amazing dry wall guy came over for a few hours and presto the soffet and ceiling were gone.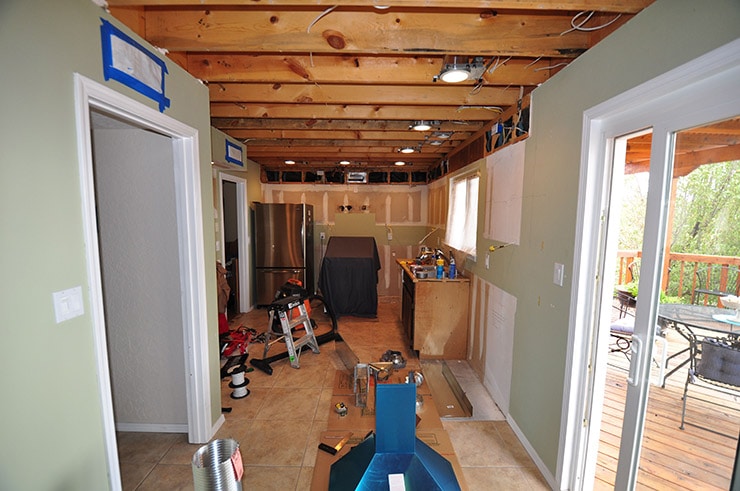 I can not stress Step Six enough. As this mini series continues, the hubs does a lot of pondering, looking at the floor and thinking. This is all wrapped up into his excellent work and engineer mind. Nothing is done wrong and nothing is decided rashly. BUT, it makes for very slow progress. And when both the hubs and the wife have full time jobs and a baby just months away… slow progress is the enemy. I totally was that stereotype and one night was pregnant barefoot and washing dishes in our bathtub, so progress was essential.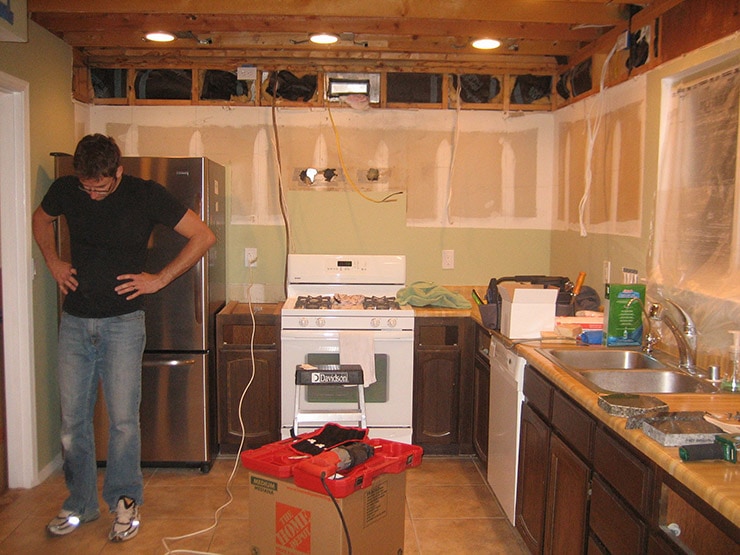 We also hired an electrician to add a few light sockets, rewire for recessed can lighting (GOODBYE HUGE HALLOGEN BOX LIGHT!) and a total icing on the cake item, 2-Way In-Ceiling Speakers
. My hubs is extremely talented and while he does a mean chandelier switch out, he knows when it's time to call in the real deal electrician.
After the electrician left, our dry wall guy (I may start calling him dry wall master. He was so skillful.) came back and installed the drywall. So nice to have ceilings again.
Meanwhile, we our ceiling was getting re-drywalled… the hubs started the tedious but easy (his words, not mine) task of putting the cabinets together (people are asking, cabinets are from
Cabinets To Go
). Baby bump was quite large at this point, so I went out to say hello, snap a few pictures and then would head back in.
Do I need to throw in a Step Seven here, do it yourself? You're probably getting that concept by now. If you want a nice kitchen without the "nice" price… you just must be willing to put in the time to do it yourself.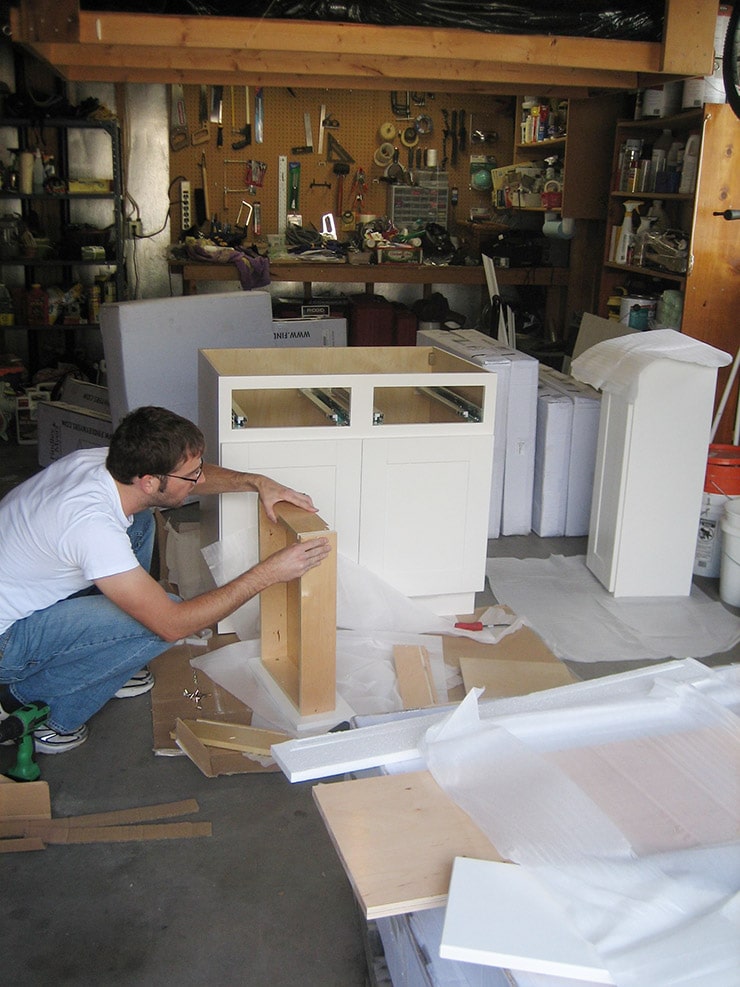 Our Dry Wall master returned once more for the final touch to the kitchen. Our entire home, top to bottom is texturized. I think it's a SW style thing. So, as much as I really prefer a flat wall, it seemed it would be out of place to not put some texture on the walls. We taped and covered every spot possible and afterward… it was looked like the polar icecaps exploded in our kitchen.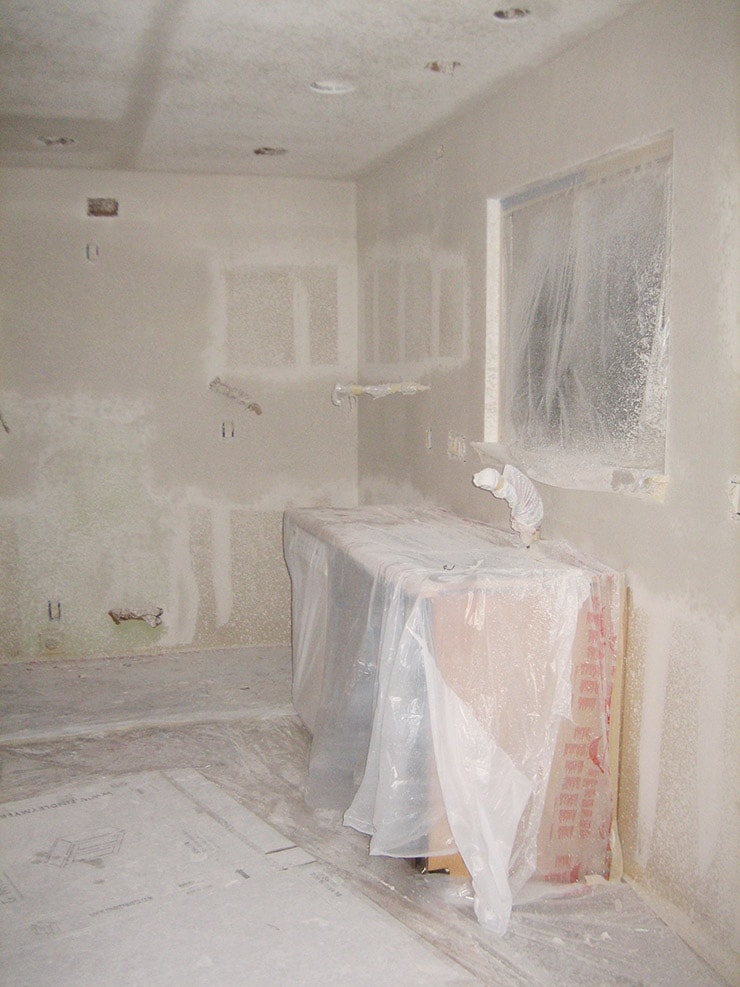 Sadly, the hubs forgot to plug our refrigerator back in after they had moved it to texturized. So, this is after I finally was able to help and do the task of throwing all our food away. 24+ hours with no power and you would be shocked how much food you actually own until everything must be thrown away. Thankfully, we were able to salvage a bottle of wine and two onions… the essentials. #nottheessentials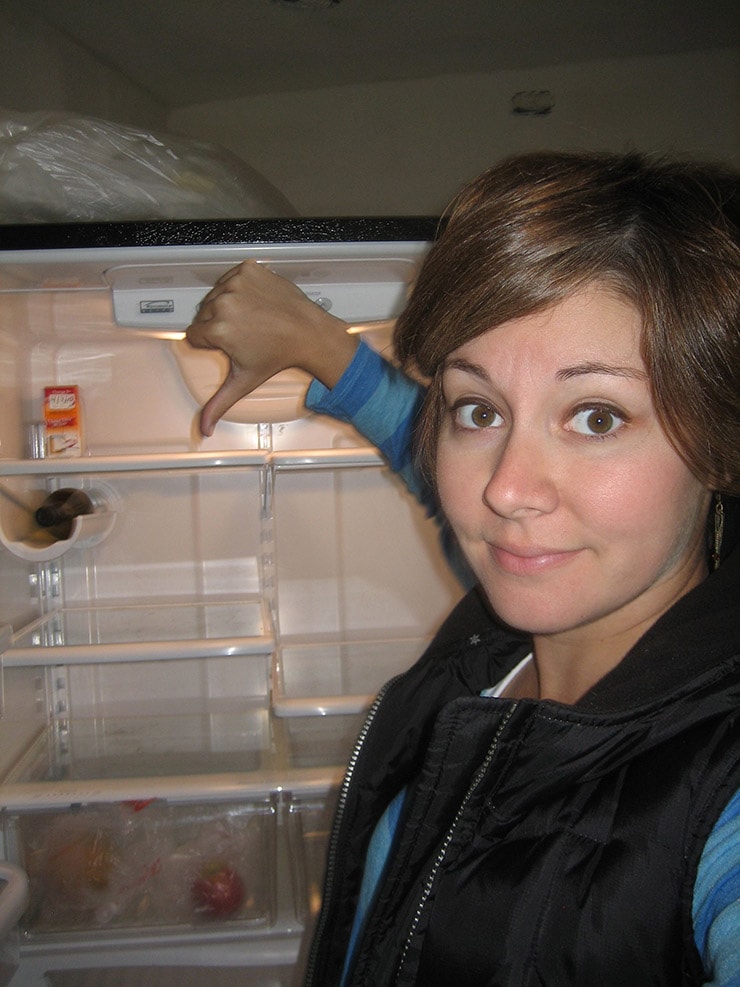 Finally I will be sharing the process of installing the cabinets, counter top and appliances. We took a year break before doing the backsplash… but I may try and squeeze that into next week's post, too.
Update: I've posted here and here and here about the first seven steps in transforming your kitchen to have a high end look at a low end price.