Kitchen Renovations for less
INSIDE : Get an inside look into renovating a kitchen for less. Find tips and tricks to save money while getting a high end look.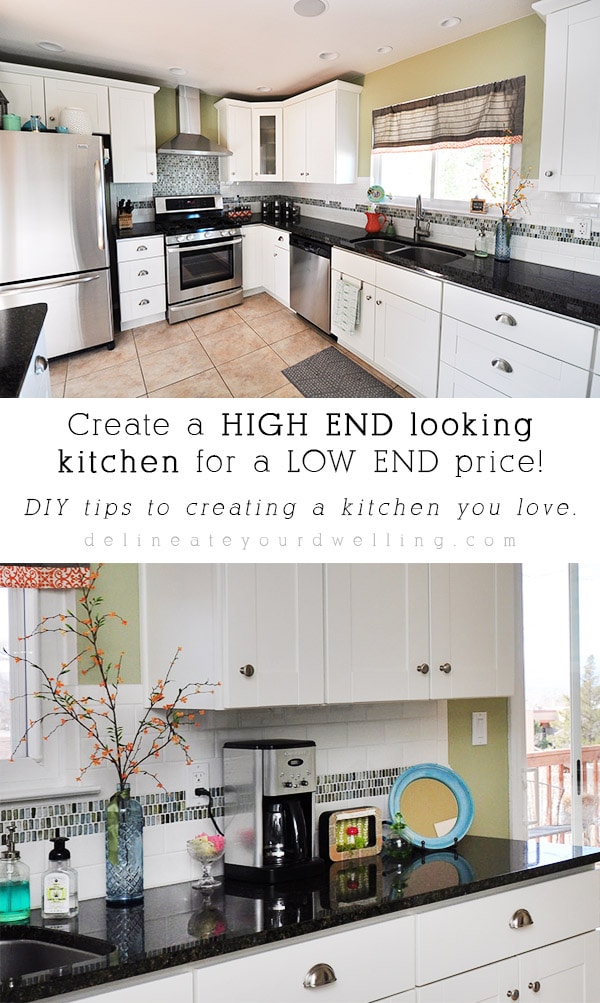 Before I started blogging and sharing our crazy home DIY's with the internet world… we took our kitchen from 1970's scary to, well… better. I've been debating painting the walls a new color as we've been done with our kitchen for about three years (so clearly I'm ready for some updating).
Painting a room is such a great and inexpensive way to give a little facelift without breaking the bank. As I start mulling over new color ideas, I thought I'd share a bit of our kitchen journey with you all.
Welcome to a new mini series I'm calling:
How to get a high end looking kitchen for a low end price!
A little back story:
Let's rewind three years ago. The husband and I were expecting our first baby and as any normal couple who are preparing to take on that huge responsibility of parenthood and make major life changes would do… we decided it would be an ideal time to completely gut and renovate our kitchen.
This was previously our kitchen for many years (5+ years). This picture below was taken shortly after we moved in. Sometimes I wonder why we bought this house when I look back at the early pictures – ha.
We saw the potential but now all I see is a lot of dark, original to the house, cabinetry. Ridiculous fake butcher block counter tops, odd textured stripe wall paper and a single large florescent light overhead. Wow.
Not a lot of sunshine going on in this room.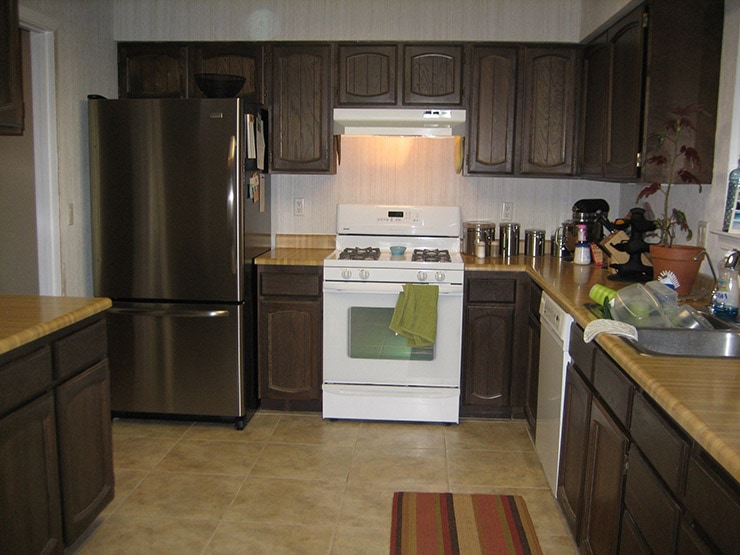 Steps for creating a high end looking kitchen:
The very first step to get that high end look is to do most of the work yourself. Let me repeat, DO A LOT OF THE WORK YOURSELF.
One night when the husband was gone for a few days on travel and I grabbed a paint scrapper and decided to go to take down our awful wallpaper. Once I removed the wall paper, there was quite a bit of glue, bare drywall and a few spots of mold. Obviously, we took care of the mold areas, but the bare drywall look was left like this for quite some time. We even hosted my family for Thanksgiving while the entire kitchen was scraped down and definitely not looking nice.
Part of getting a high end look for less, is being okay with getting your end product in time and not all at once. (I was clearly not pregnant when we started this lovely update.)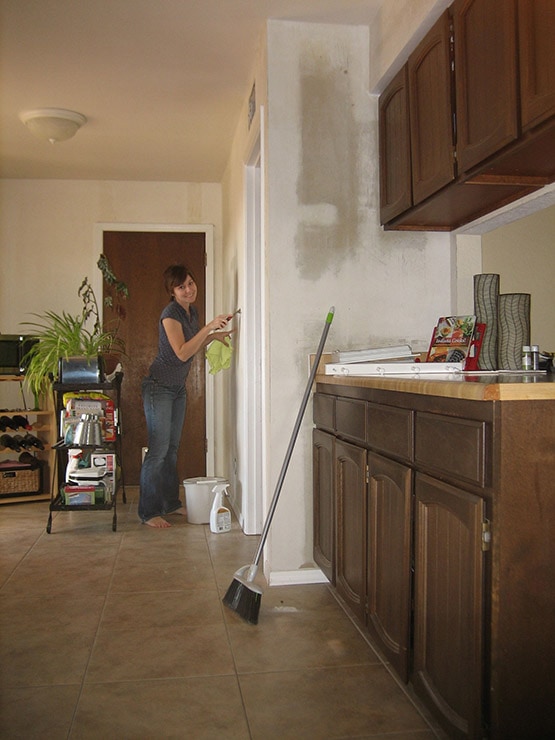 Our
second step
and a step that lasted for some time (
years really
) was once I removed the wallpaper, we painted the walls. I painted them in a soft green color. The "lovely" florescent light gave the walls a much more intense green look than they really were.
I love adding a bit of color to the room, but with the lighting and the dark cabinetry, it still felt like a dungeon. A happier place, but a dungeon none the less.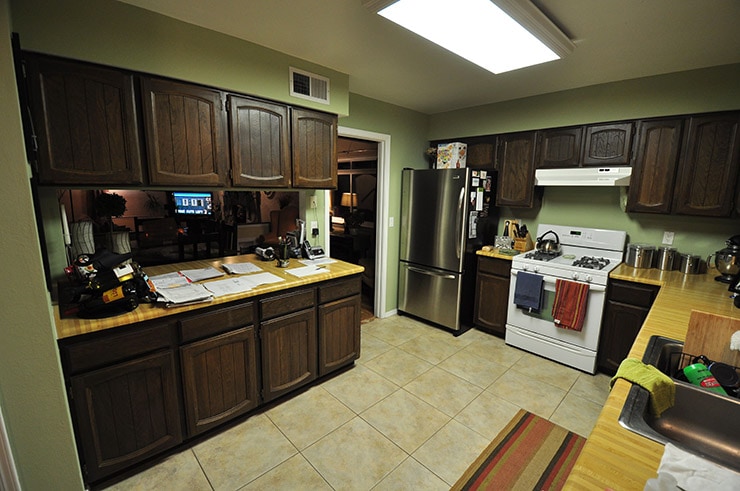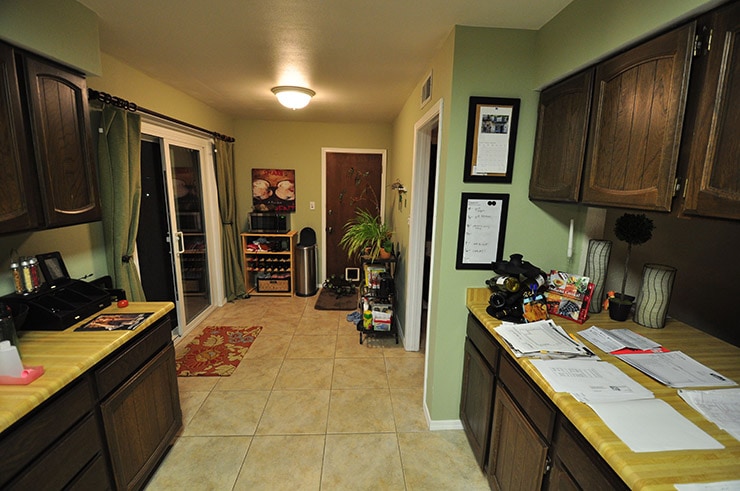 Step three
for getting that high end look is patience. It always is so great to start a project and two simple weekends later, presto a completed product. In DIY and especially in kitchen remodeling, that is rarely the case!
Next week I will be sharing the process of
redesigning our kitchen
, removing our cabinets and opening the space up into our dining room. All quite do-able and amazingly inexpensively.
Have you done a kitchen remodel yourself? Was it a multi-year process like ours? I'd love to hear your kitchen stories.
SaveSave