Color Your Own Party Hats
Such a fun blog post today!! I'm back with another Pom Pom party DIY and I was so excited to share this one with you guys. Last weekend, we celebrated my daughter's fifth birthday and this was the first year she was allowed to invite friends over. We had so. much. fun! Today I am sharing these fun Color Your Own Party Hats.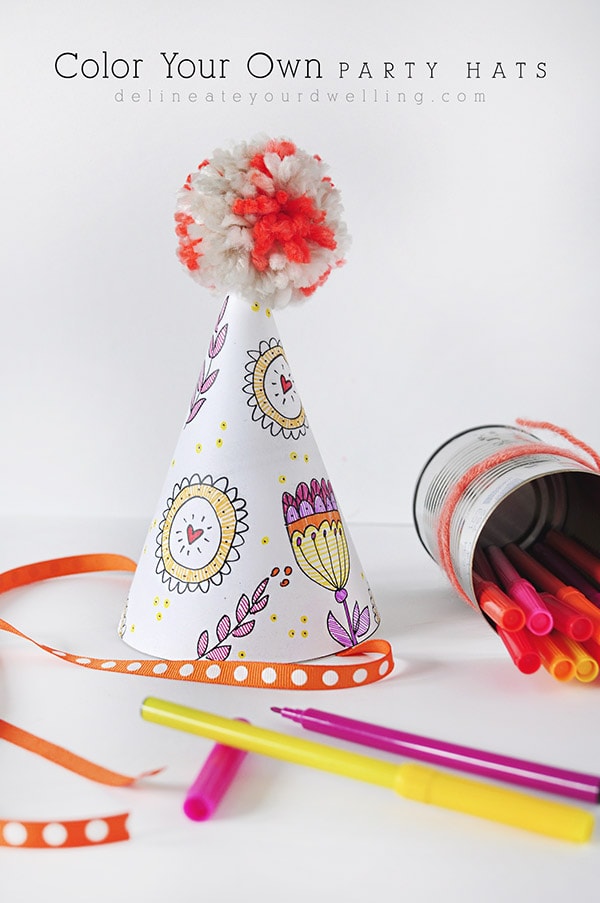 This post may contain affiliate links. See full disclosure here.


Two party hat printables (LINKS TO DOWNLOAD BELOW)
Gold Scissors
Tape
Markers/crayons
Large Pom Pom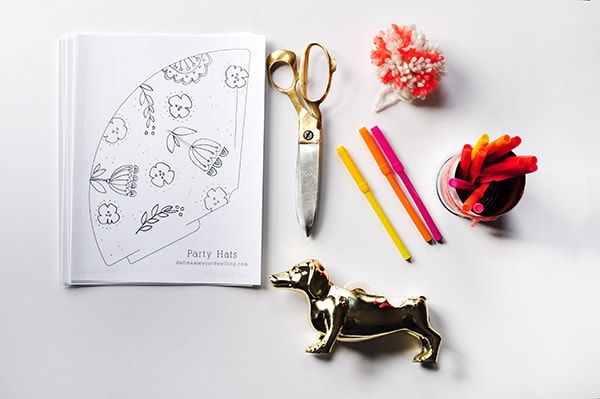 I loved this fun craft for my daughter's party because it was a perfect calming ice breaker for all the little girls. As they arrived we greeted them and had them pick out from the two choices, which hat design they wanted. Then, they busily chatted and colored.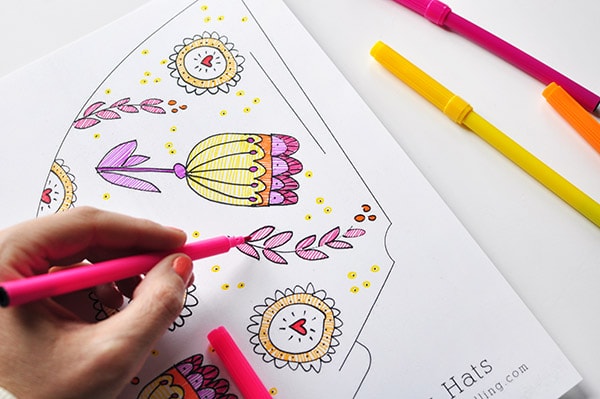 Next, cut out your hat and use an x-acto knife to slice the side tabs for assembling your hat. You can either tape or hot.glue the pom poms to your hat at this point. For my hat, I taped it at this point. But for the party, I ended up hot gluing them at the end due to quickening up the process of six little girls eagerly awaiting their hats.
Then, you fold the tabs into one another to form a party hat cone. I found regular scotch tape worked best to keeping it all together.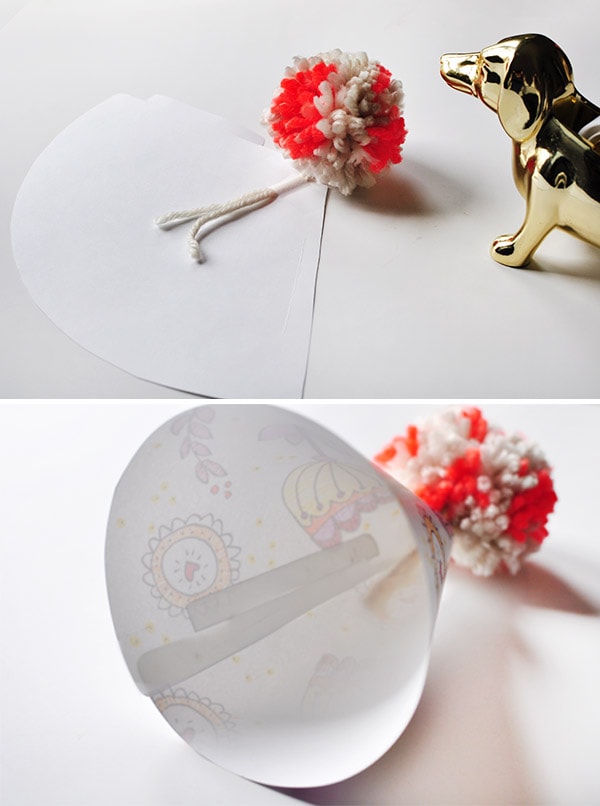 I then measured, cut and added colorful ribbon to either side of the hat to secure.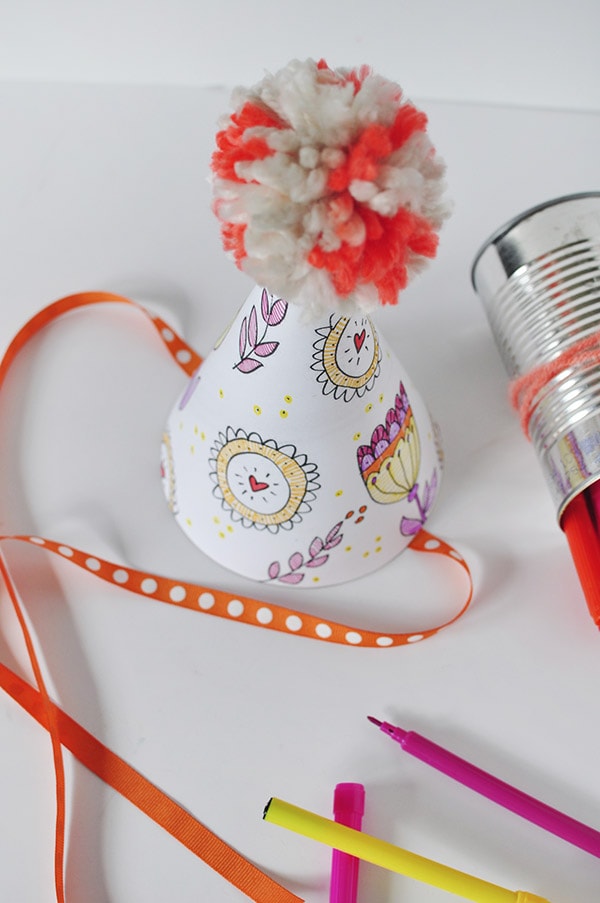 It was so neat to see everyone coloring and crafting and having such fun! (I'm totally inspired to do a little kid's craft party now.)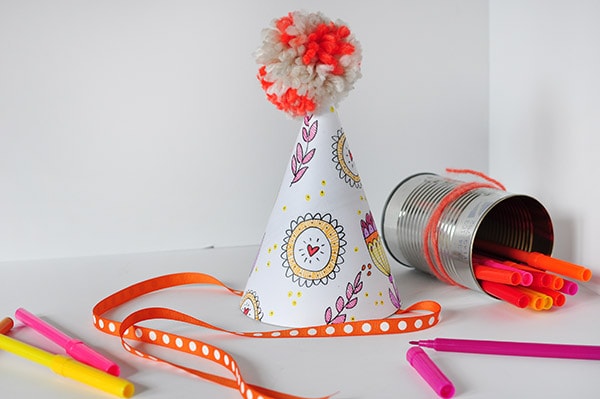 My daughter thinks a party isn't a party without a party hat, so she loved how they turned out.
I have two party hat designs available for download. Both are girly and flowery but it's fun to have options.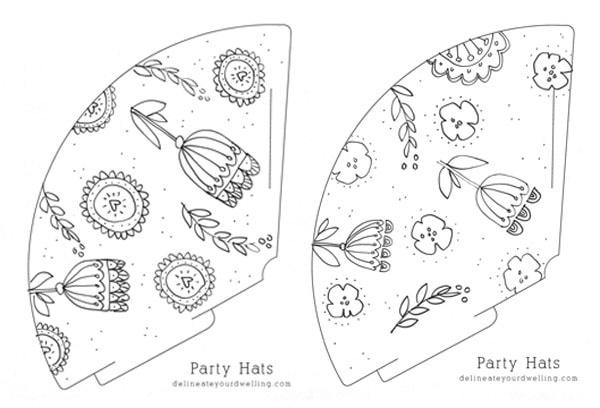 IT'S DOWNLOAD TIME:
Sign up for the DYD Insider newsletter to receive access to my ENTIRE DYD Printable Library along with these 'Party Hats' printable!!!
Already a DYD Newsletter Insider? Click on over here to access the printables library using the password found at the bottom of any email I've sent you.

If you like this print, you might want to join in with my DYD Graphic Club…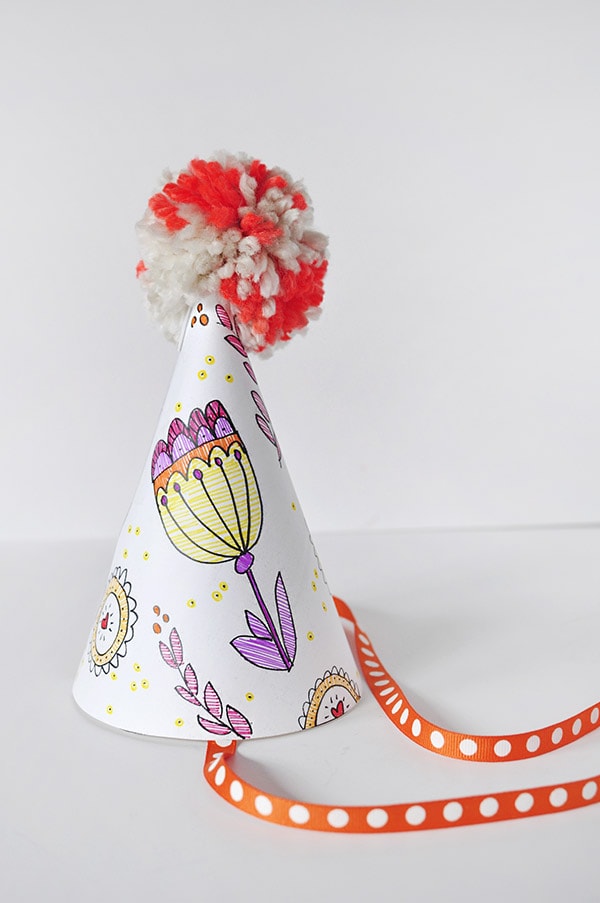 For other fun Pom Pom party DIYs….
SaveSave
SaveSave