INSIDE : Create an adorable and colorful Pom Pom Birthday Party celebration for your child! From fun party decor and balloons, to Pom Pom Cake toppers and fun color your own hat party activity – there is something for everyone.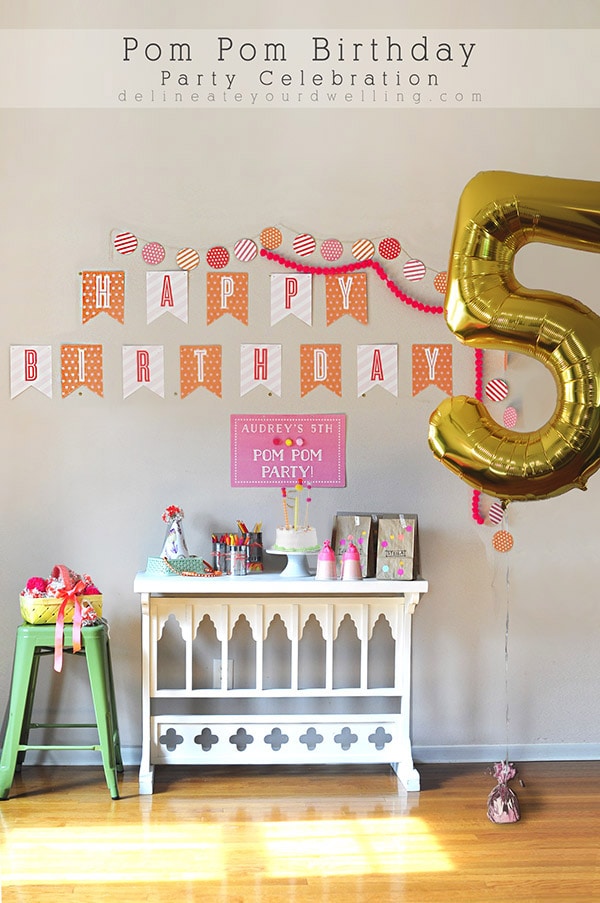 Party time! My little girl just turned FIVE and if you've been following along, then you know that our family rule is parties with friends are allowed at 5, 10 and 15 years old. So… this was our first ever friend party and we agreed upon a Colorful Pom Pom Birthday Party and we had such fun!
This post may contain affiliate links. See full disclosure here.
Pom Pom Birthday Party :
This party of five little girls (and my son) was such a blast. I loved planning for it, crafting for it and then finally hosting it. Many of the gorgeous paper items were from Minted, a company that makes the most lovely products. I've been so impressed with the notebooks I've bought from them in the past and this was my first time using their party products!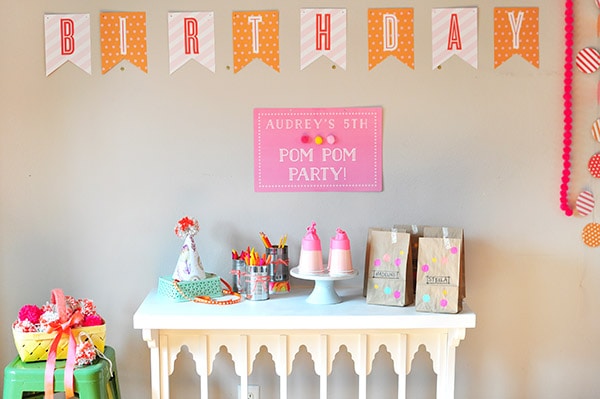 Color Your Own Party Hats :
We started the party with Coloring Party Hats. The girls absolutely loved this and it was a great way to welcome them into our home and have them start the party off with a calm ice breaker type activity. I saved a few old soup cans and tied them with yarn to hold all our coloring supplies.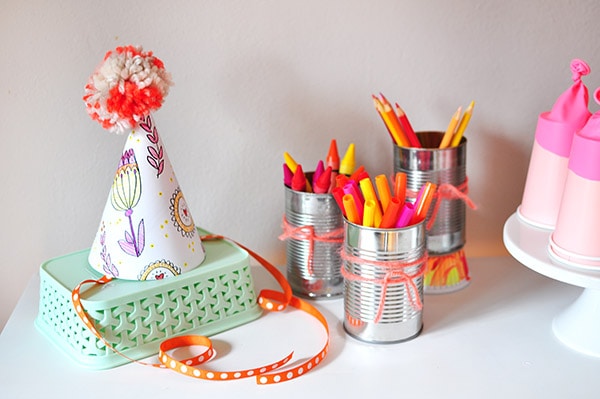 Everyone was so engrossed with coloring that we all worked up an appetite, so next we moved to CAKE TIME! Notice the adorable polka dot napkins? You guessed it, Minted fabric (this fabric is such high quality)! I love fabric napkins and we use them all the time so I knew we'd get more use out of them. Plus, even I can sew simple napkins.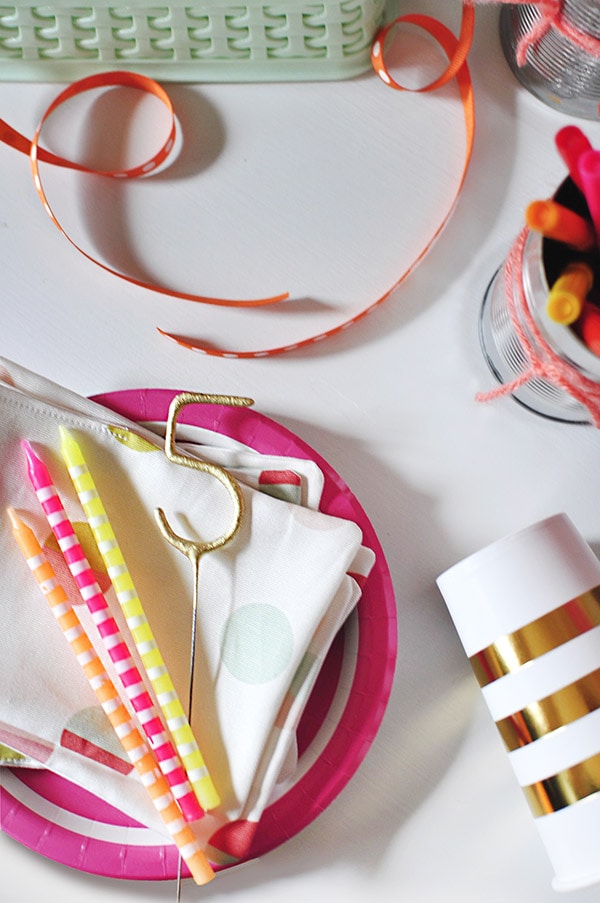 Pom Pom Cake Topper :
I bought two mini cakes from the grocery (which ended up being the perfect amount of cake for us all) and added my own DIY Pom Pom cake topper. That paired along with this gorgeously modern Minted cake stand made for quite the party statement!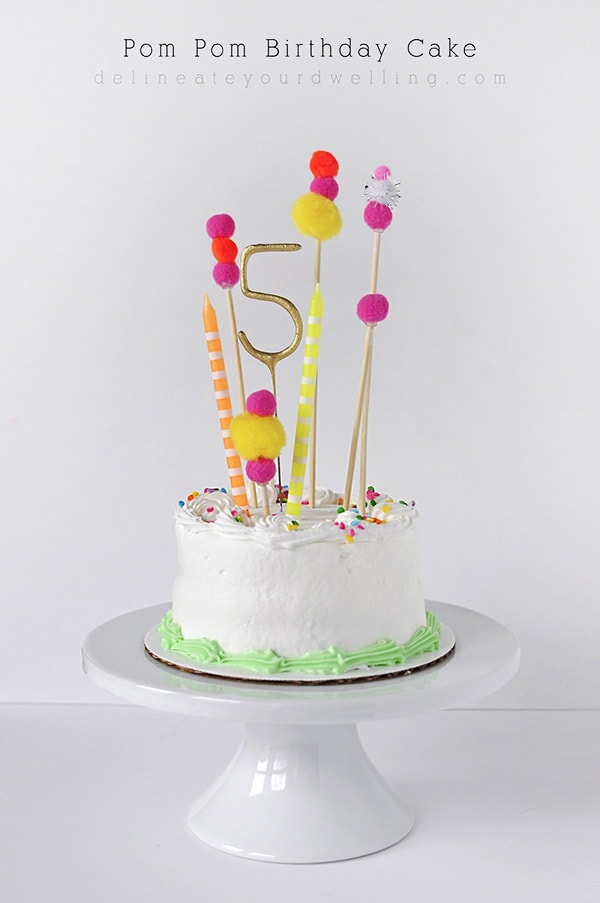 Pom Pom Popper Activity :
After we finished cake, we moved on to a more active game… and it wasn't really even a game but the girls had so much fun, we ended up spending some time on it. I had made simple pom pom poppers. I got the idea from my friend, Alexis, at Persia Lou. They are so simple and we just popped pom poms for a good while, laughing and laughing.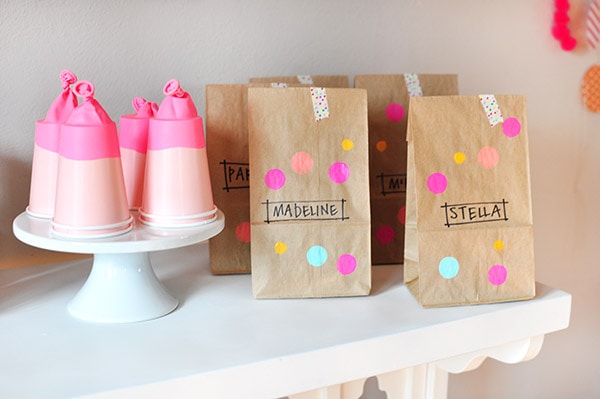 Pom Pom Balloons + Number Balloons :
I found this gold "5" mylar balloon and at such a reasonable price, I couldn't pass it up. It was 34″ tall… and such a fun addition to the party. I got this inexpensive helium kit and we added tons of balloons to the room (they have them at Target, too)!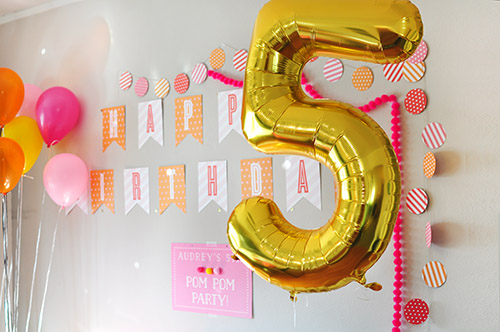 Pin the Pom Pom on the Flower Game :
Then we moved onto Pin the Pom Pom on the Poppy pom pom game! Big hit, big hit. And you better believe my daughter spent most of the game twirling around in her Pom Pom party skirt.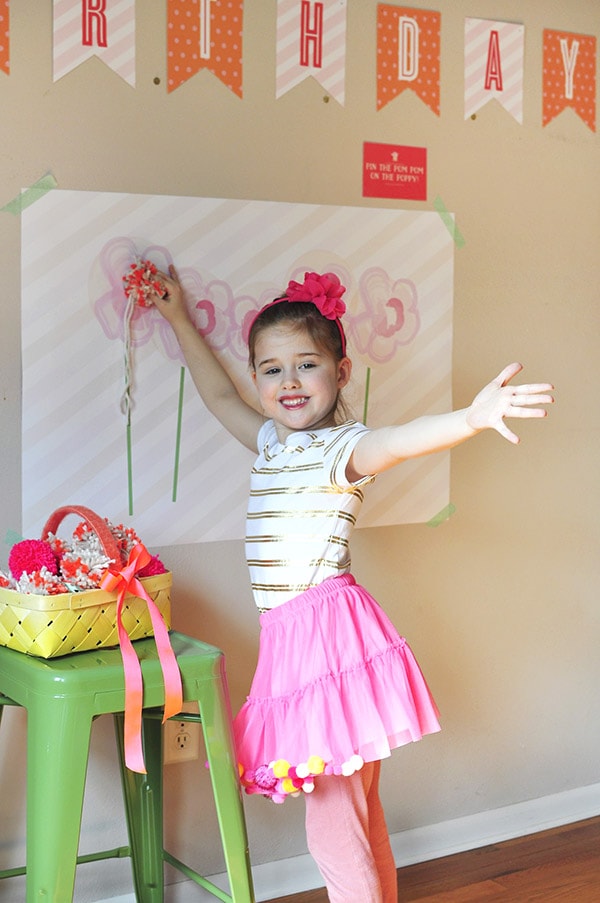 Pom Pom Goodie Bags :
I sent everyone home with a small goodie bag. I simply stamped brown paper bags with bright bold paint and added their name and washi tape!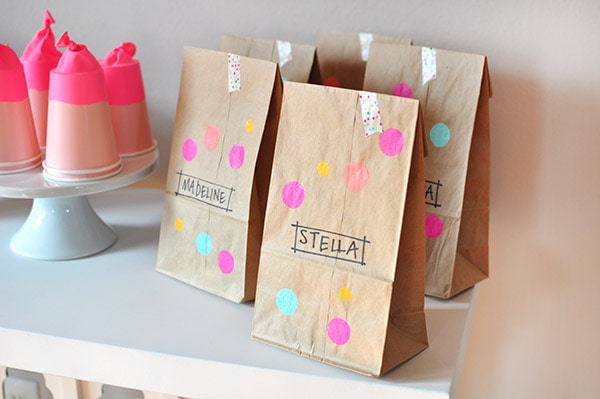 I can not over look the gorgeous paper decor on the walls! Minted's products really set the tone for the entire party. I used numerous items from their Pink Big Top Circus party supplies.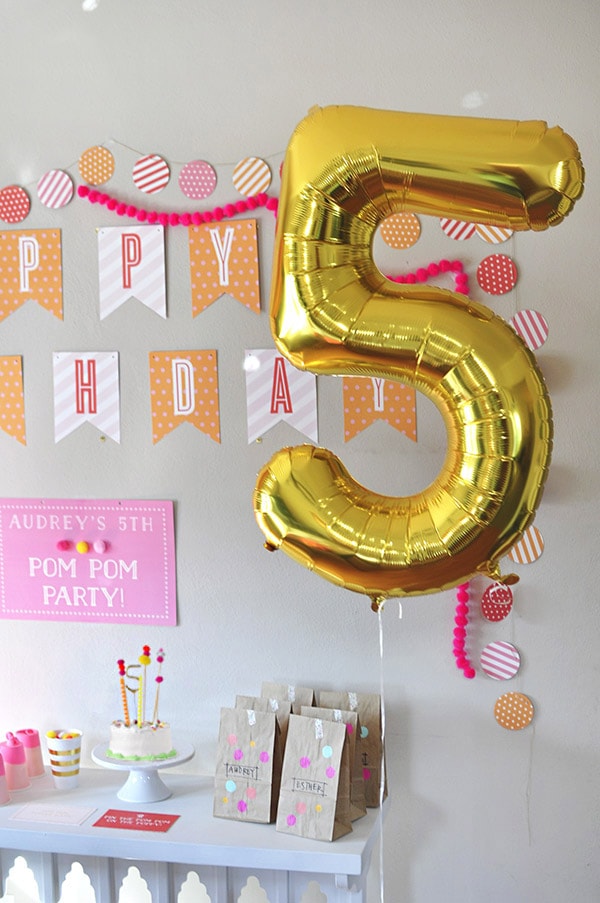 Pom Pom Party Decor :
The part I loved the very most about Minted was that every single thing was customizable, from the party banner wording to the actual patterns used on the background! I ended up using the Bunting Banner, Circle Garlands, Table + Party Signs and Table Confetti. I could get lost on their site, there are many wonderful items there.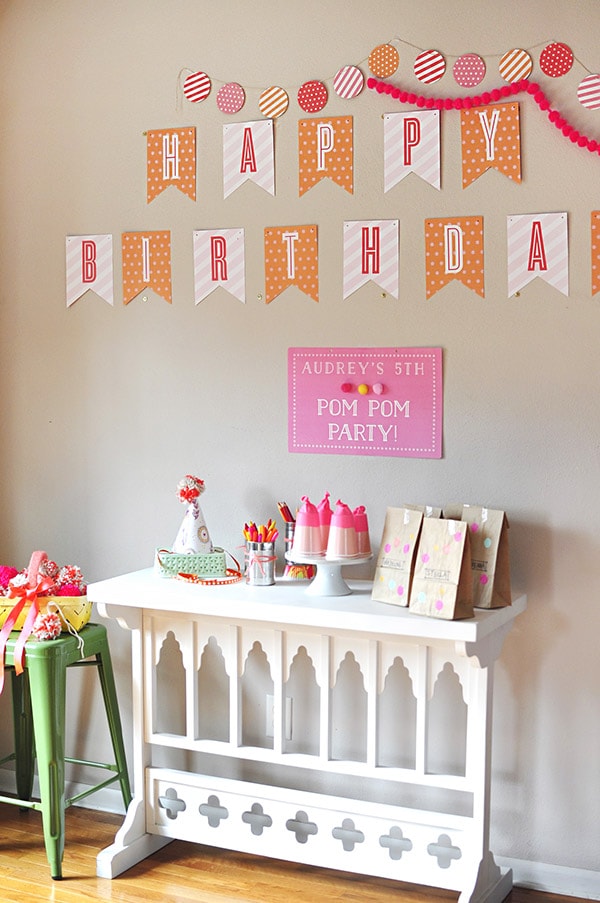 Thank you to Minted for suppling so many of the gorgeous party supplies! You can see the full list below.
And for more detail on the DIYS that went into the party, you can see those posts here!