INSIDE : Learn how to craft Inexpensive Air Dry Clay KNOBS that look and feel like the real deal, except are a fraction of the cost.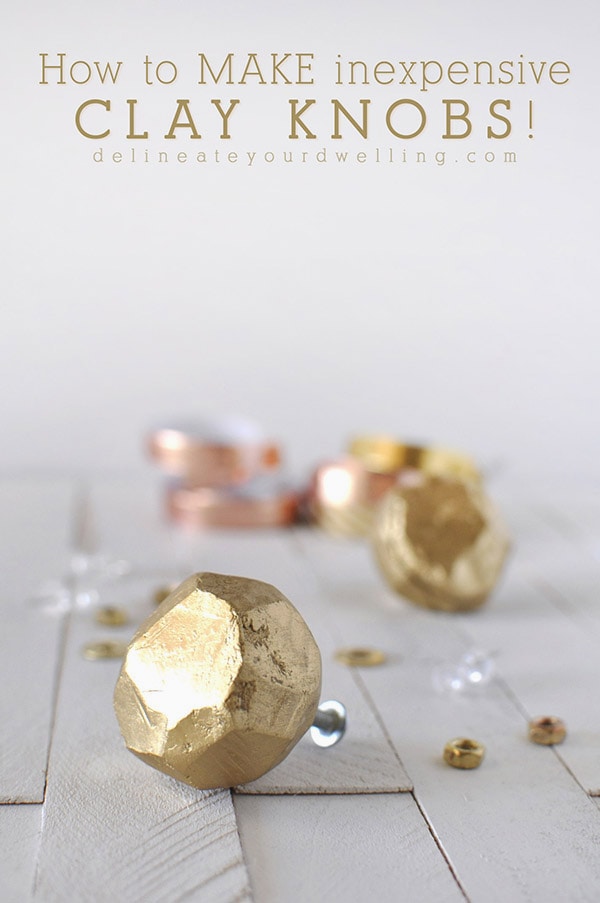 Does anyone remember that I'm currently updating our Master Bedroom? I started the update…. a while ago and I've been making progress. However, real life and young kiddos and colds and JURY DUTY dictate that things like entire room updates happen slowly. I have no idea how all my blog friends can do these 6 week complete room transformations because mine always seem to take 6 months! Anyhow, today I am really excited to be sharing another a DIY for the room, How to Make Inexpensive CLAY KNOBS!
As you may or may not remember, I have challenged myself to update the look of our master bedroom with as little cost as possible. I have been swooning for these Anthropologie knobs forever… however, with two night stands, a tall dresser and a long horizontal dresser there was no way I could afford $10 a piece knobs.

This post may contain affiliate links. See full disclosure here.
Rust-Oleum Gold Spray Paint

A butter knife
Existing Knob Hardware
Air Dry Clay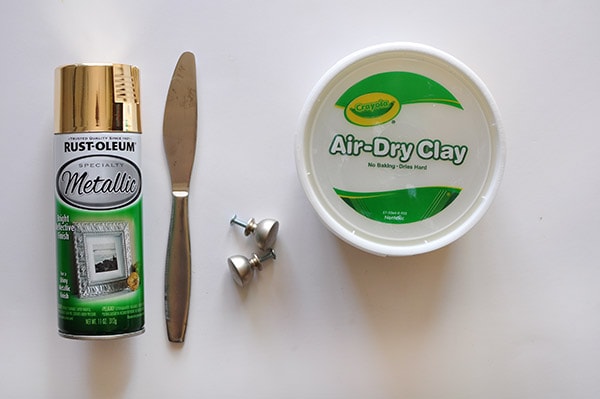 The first step is covering your existing knobs with the air dry clay. I made a ball and then pushed the knob into the ball. Then, I slowly added small amounts to the sides until I had a nice even clay ball.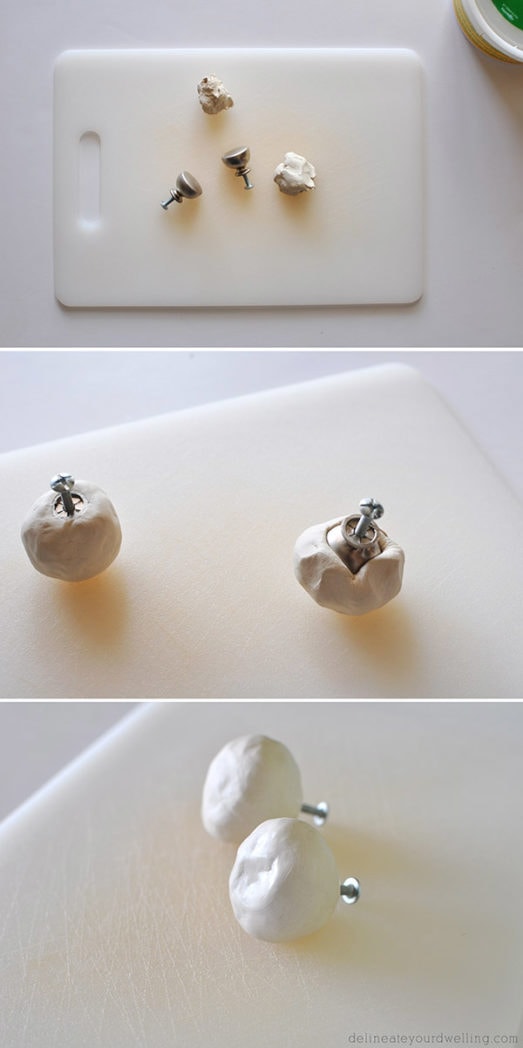 Then, you let the beauty of air dry clay start… it just sits there and dries out. I waited one day and it was dry enough to start carving. There is no rhyme or reason to the shapes. I simply went around and cut off all the rounded edges. This gives you a nice geometric cut look (inspired by Anthro's knobs but tweaked to my own taste).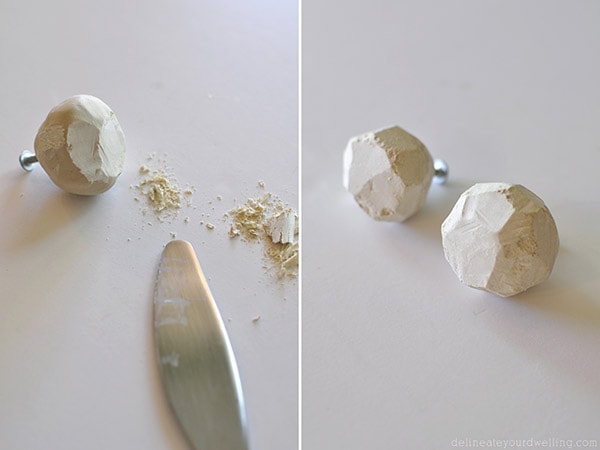 After, I cut down the clay knobs I let them completely dry out. This typically is another day. I gave each knob two coats of my all time favorite spray paint, Rust-oleum's Metallic Gold and was ready to install.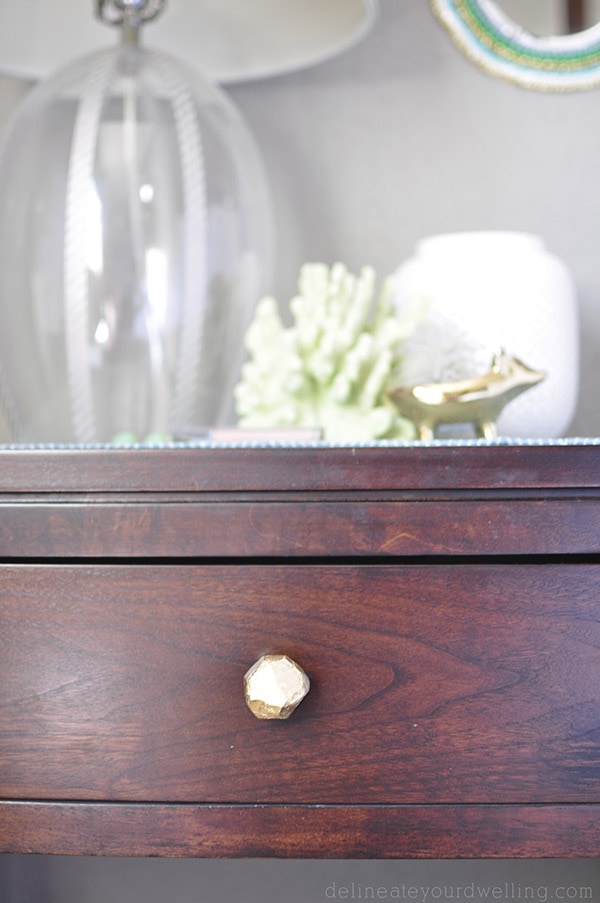 I ended up just making two, one for each of our night stands. They are the perfect amount of gold loveliness against the dark wood.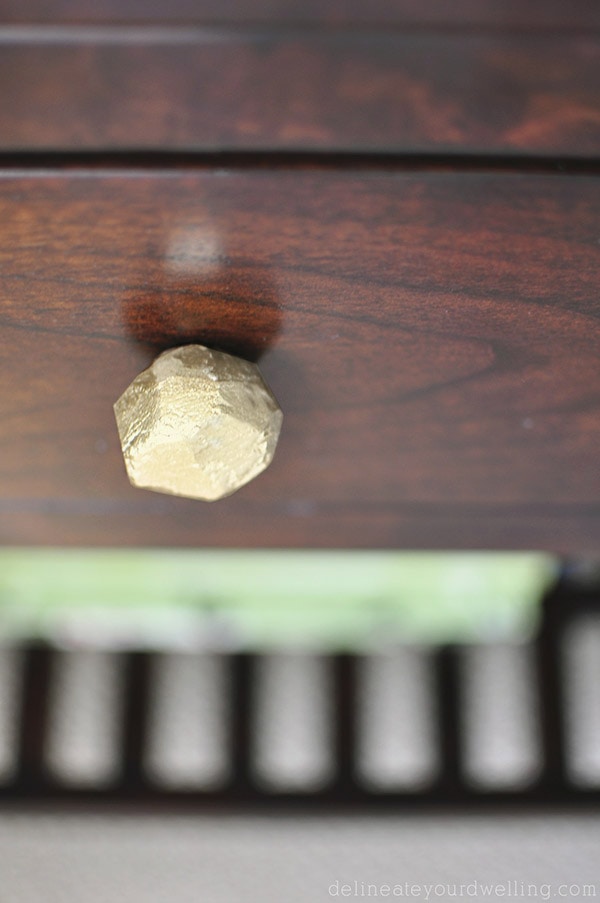 All in all, I would have been out $20 +tax had I gone the Anthropologie route. My inexpensive DIY route was practically free. I already owned the knobs, I used about $0.15 worth of clay (estimating – a 2.5 lbs tub is only $4.50) and already owned the spray paint!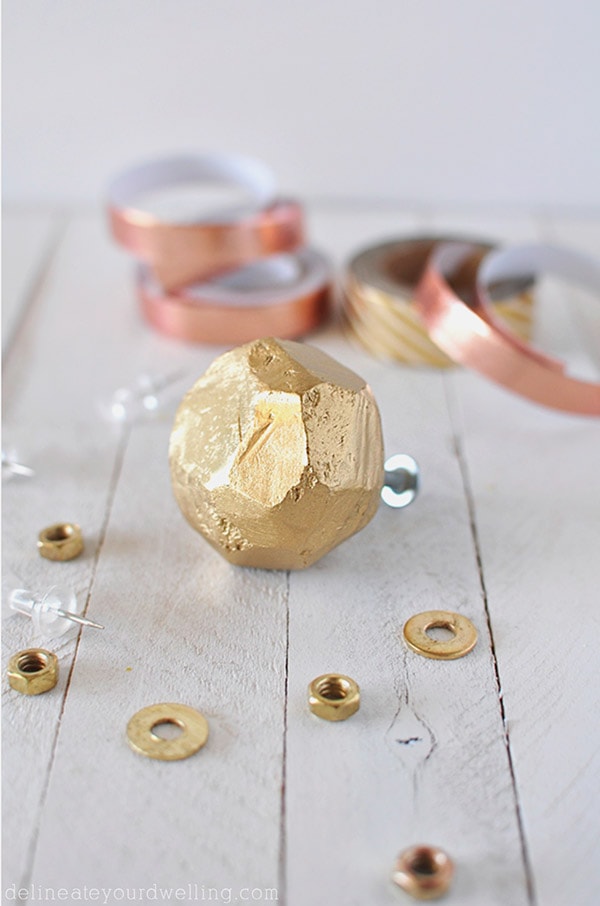 Note: It was brought to my attention that these knobs may not withstand heavy use. Mine however, are used fairly infrequently and are still intact.
Looking for some of my Air Dry Clay projects? Hope you are inspired by them!
TIPS, TECHNIQUES + TRICKS FOR USING AIR DRY CLAY.
Colorful Clay Animal Heads | DIY Clay Garland | Geometric Place card Holders | Clay Rings | Clay TDAY Banner | Colorful Clay Animal Heads | Geometric Clay Jar | Fourth of July Tea Light Holder
SaveSave
SaveSave
SaveSave
SaveSave