Silverware Holder Organization
INSIDE : Learn the best tips and tricks for your kitchen Silverware Holder Organization! No more digging around – find the best silverware holder for drawer organization solutions today.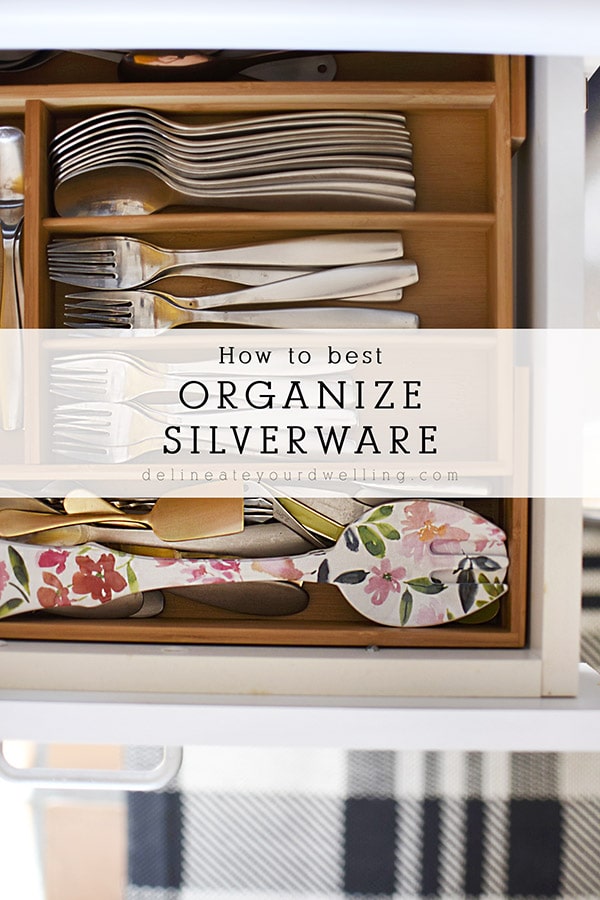 This post may contain affiliate links. See full disclosure here.

I am back today with a little kitchen organizing for you today! I have done quite a few kitchen related organizing posts over the years. My most two popular posts are 11 tips for Organizing your Kitchen Cabinets and Organize + Arrange your Kitchen Cabinets in 15 minutes.
What is the best flatware holder for drawer organization?
We have been big fans for years and years of using bamboo silverware drawer organizers. Back in our very early years of marriage we used simple plastic organizers, but after moving from our apartment (13+ years ago), to our first home, we quickly upgraded to bamboo silverware holder. Bamboo resists retaining water and as a result, will not warp or crack as easily as normal wood does.
For our main silverware area we use this bamboo expandable drawer organizer. We bought it in our first home in the Southwest desert. We brought it with us when we moved to a small rental home in the Midwest while my husband pursued a pHD. And then we transferred it back to the desert when we moved back.
The reason we have been able to move this particular drawer organizer with us from home to home is because of it's expandable feature. No matter if it is a spacious home cabinet or a sweet and small rental home, this bamboo organizer has fit all our drawers perfectly!
And surprisingly, we are still using the bamboo organizer we got 13 years ago! It still looks just as great as since the day we bought it.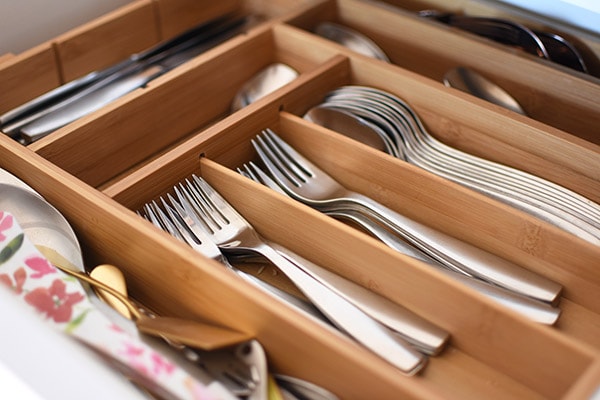 What is the best silverware organizer?
A s I mentioned, we use a silverware bamboo drawer organizer for our everyday flatware and silverware. I like that this particular silverware holder and organizer has a dedicated space for knives, big and little forks, big and little spoons and then it has 3 additional spaces for more silverware beyond that! I love that it contains my every day needs, as well as holds all my extra non-essential needs.
-The very front space I use for my serving spoons. We often do salads for dinner and this is where I keep my nice salad serving spoons. I also keep my fun gold cheese knives in this front spot.
-The second to back silverware drawer organizer is for my "fancy" measuring spoons. To be completely candid, I never use these.
-The very back organizer is for my "fancy" rose gold/copper silverware. I typically use this set of flatware only for Thanksgiving or if I am doing a fun food related blog post.
Shop this post: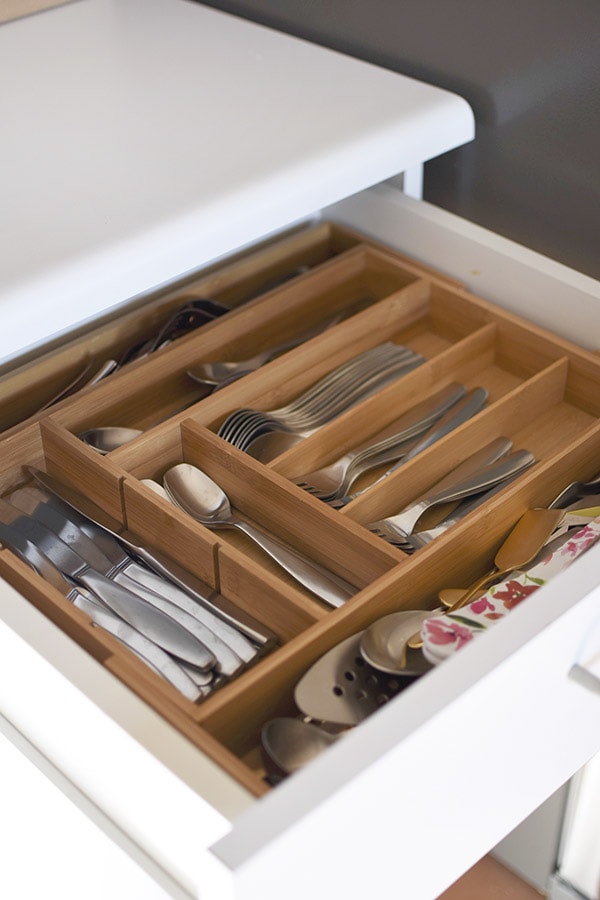 What is in a complete flatware set?
A modern silverware set has four place settings, each with just five cutlery pieces. The set can typically include a table knife and a fork for the main course. It also accounts for a salad and dessert fork, a dessert spoon and a tea spoon. Most modern cutlery is made of stainless steel and can go in the dishwasher.
However, the everyday flatware commonly used only includes a table knife and fork for the main course and then sometimes a spoon.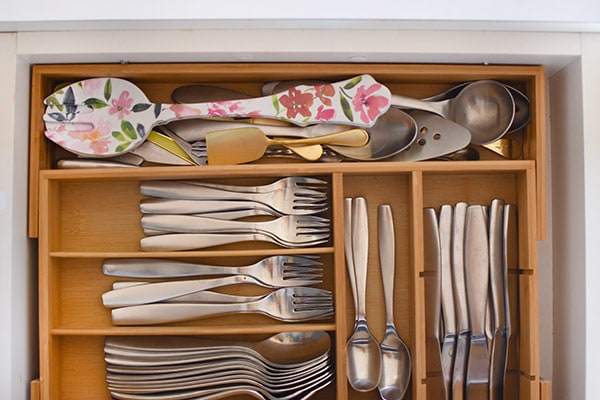 We have a separate drawer for containing our knives, steak knives, corn on the cob holders, kitchen scissors, etc.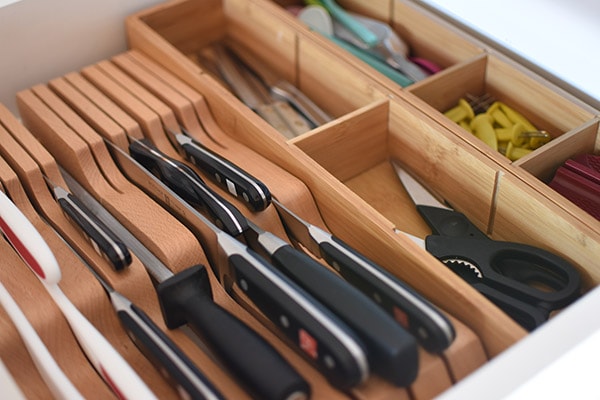 How do I store knives?
There are numerous ways to store your kitchen knives. If you are short on space, you can mount your kitchen knives on a wall with a magnetic strip. Ikea sells many great magnetic strip options. You could also store them on the counter in a wooden block. We did this for many years. However, this option can take up quite a bit of counter space and if you are short on spare room this may not be the best choice for you.
In my opinion, a bamboo knife caddy for your drawer is the best recommendation I can give. Not always do you have room to take up this much space in your kitchen drawer, but if you do have the space I couldn't recommend this enough.
I love that our knives take up no space on our countertop. I also love that each knife has it's own separate slot. Each knife stays adequately sharp and is ready to use as a moments notice.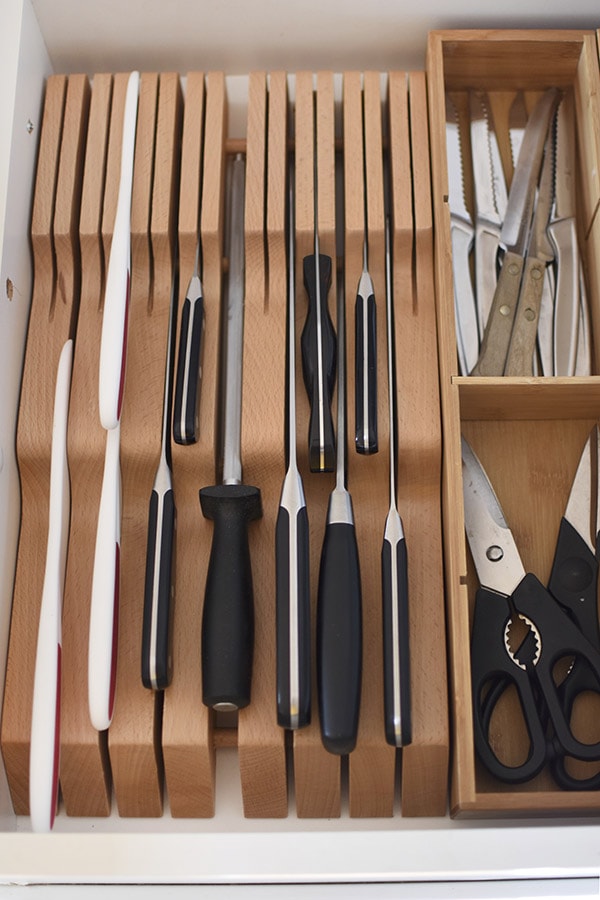 If you are looking for more organization posts, you might like :
What are my Favorite Silverware holders:
If you are not a fan of bamboo silverware and knife holders yet, then you should be – ha!
These are my favorite ones and we use some of these for our "junk drawer" in the kitchen, too.
Shop this post:


Don't forget to pin this post and save it for later!