INSIDE : Learn how to take 15 minutes and get your Kitchen Cabinet Organizing under control! Purge all your old unneeded items and with a few important kitchen cabinet and drawer organizing ideas and tips, get ready for all that extra space!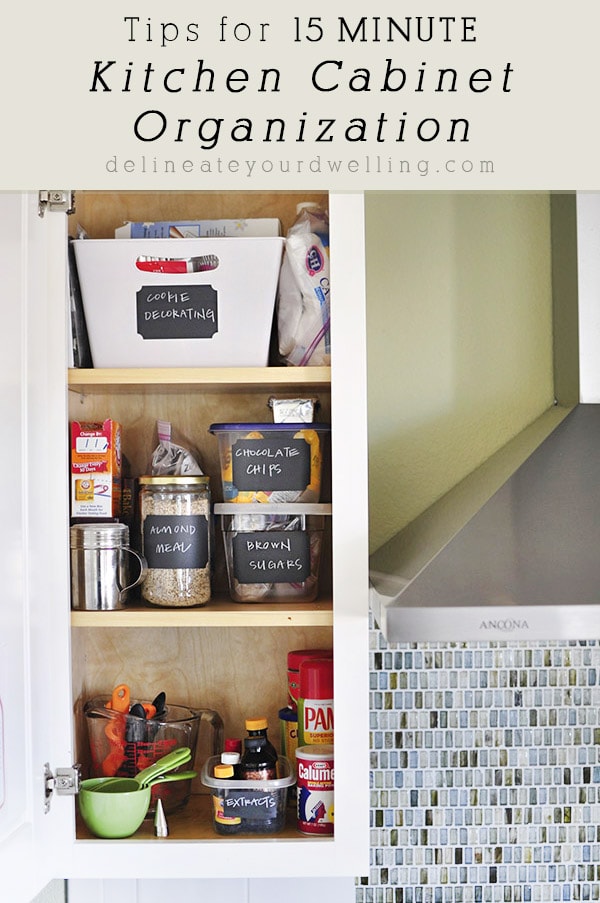 Last year I shared four posts on how we were able to create a high end looking kitchen for a low end price (Post 1, Post 2, Post 3, Post 4). The thing I didn't share was what sat behind those lovely white cabinets… let me fill you in, it was a LOT of craziness.
Our kitchen remodel has been done for five years now and I am FINALLY getting around to making sense of the cabinet contents. Today, I am proud to share How to organize and arrange your Kitchen Cabinets and drawers in 15 minutes!
This post may contain affiliate links. See full disclosure here.
I took a quick cell phone picture before I started my cabinet organizing so you could see what I was working with. This top kitchen cabinet holds baking items of all sorts. Nothing except what was directly in the front was easy for me to get to or see.
THE BEFORE CABINET:
The top shelf had larger packaged extras (sugars, flour, etc) and when I was done using one of them, no joke at all – I would just package it back in it's ziplock and throw it up there. I'm only 5'3″ so there is no way I can reach up there easily. My husband would laugh / shake his head each time I started throwing the flour and missing a few times.
The middle shelf held lots of cookie decorating items, sprinkles, cupcake liners, sugar cookie cutters, etc.
The bottom shelf held more baking ingredients, measuring spoons, my salad dressing mixer, etc.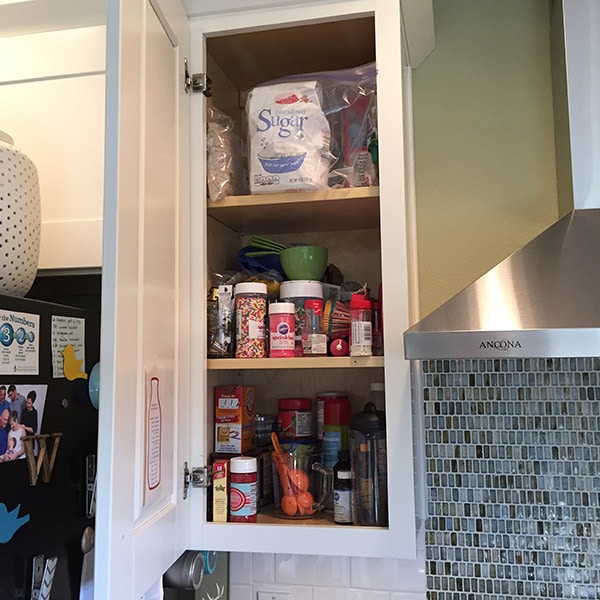 Here is what my cabinet looks like after spending just a few minutes really thinking about my needs, being intentional and putting them away by priority.
Hello, why did I live with kitchen cabinet chaos for FIVE YEARS when I could have had this? Also, notice how much room there actually is in this kitchen cabinet when things are just organized as they should be!

Ready for my 15 minute kitchen cabinet organizing ideas and tips?
1. Take 5 minutes to remove ALL the items from a single kitchen cabinet.
2. Take 3 minutes to purge all the expired items!
Did you know butterscotch chips expire? Well mine did in 2012 YIKES – so out they went. It was shocking how many items I threw out, simply due to being old.
3. Take 1 minute to evaluate what you have left and what you use the most. This is your new plan of action.
4. Take 6 minutes to put your remaining items in CONTAINERS and back onto the appropriate shelf per your step #3 decisions.
If you have 5 extra minutes, label your Kitchen Cabinets containers for extra ease. I already had a set of these lovely Chalkboard Labels
on hand.
Little pro tip, for a "chalkboard look" but no worry of your labels wiping off, I always use a white colored pencil!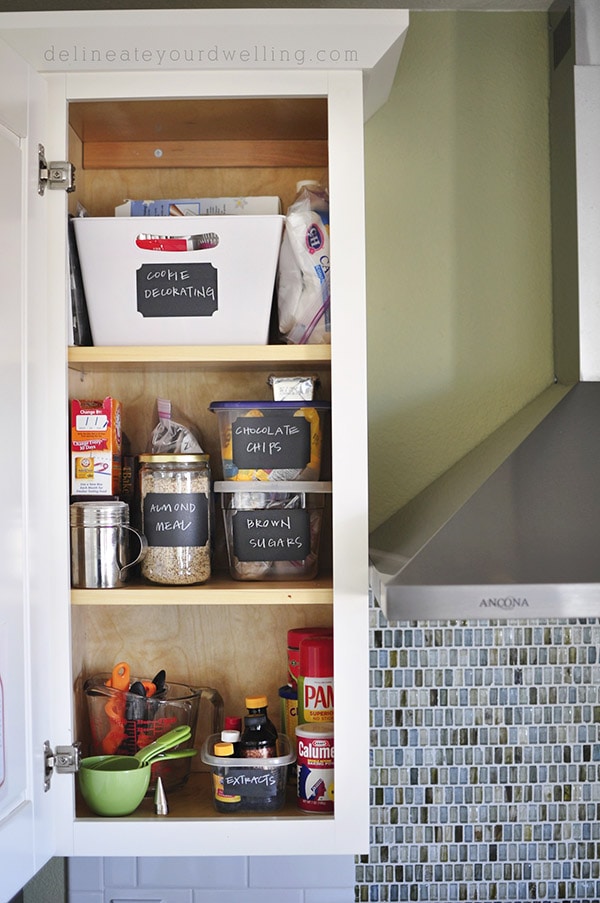 During step #3 of my 15 minute organizing, I realized I had items all on the wrong shelves!
I had items I RARELY used taking up valuable middle shelf space. So the first thing I did was contain all the cookie decorating items and place them on the top shelf. Although I do a lot of baking, I rarely need sprinkles or fancy frosting tips on a regular basis. I just used a simple plastic bin to contain all of those items, similar to these.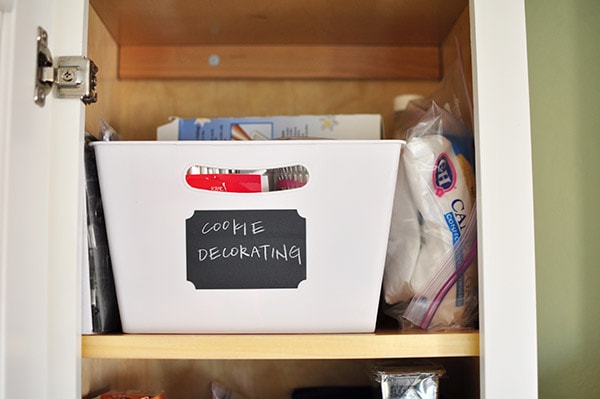 My middle shelf now contains items that we use on a mild to fairly common basis. It's surprising how much we go through chocolate chips (Our Saturday mornings often start with the husband making chocolate chip pancakes.).
For many of these items, I simply used plastic containers or glass jars and added labels to them.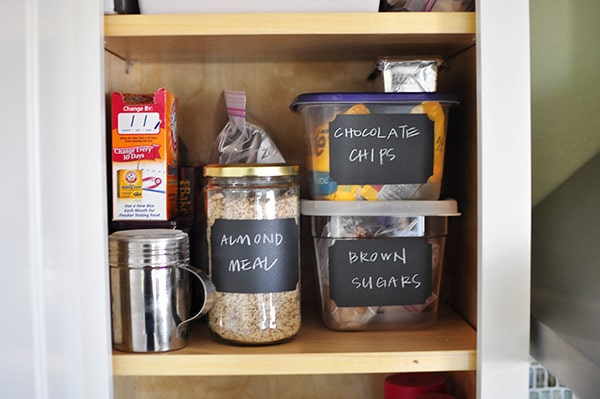 And the bottom shelf now contains items I use every single day, measuring cups and spoons, non-stick spray, etc.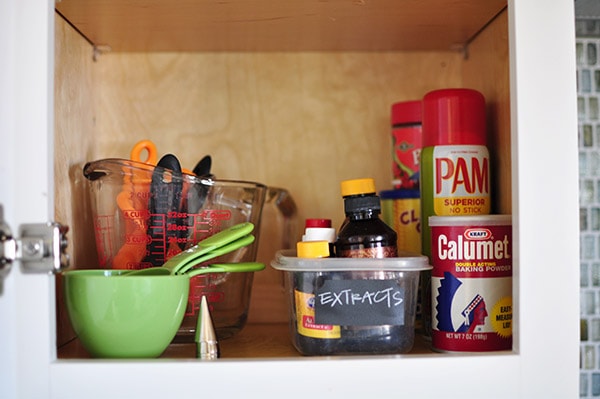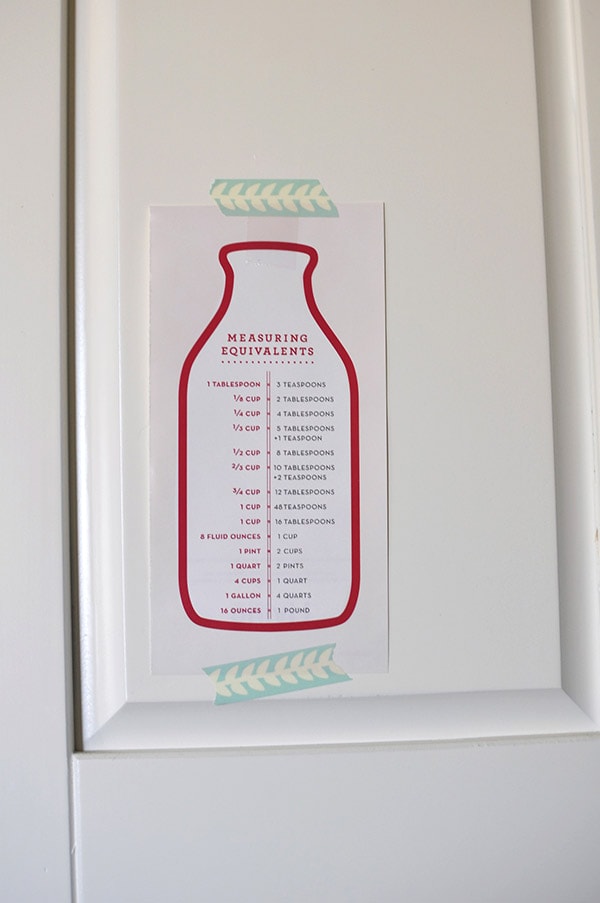 The other side of the stove has an exactly mirrored cabinet and he was equally as chaotic. I contained all my sauces + mixes and our plethora of herbs and spices on that side.
I bought a set of two of these Kitchen Cabinet Organizers from Amazon, Copco 3-Tier Cabinet Organizers. It's amazing how many spices these guys actually can hold. They come in 10″ and 15″ widths. We have the 10″ size.
Much to my husband's annoyance, I have my herbs alphabetically organized. I find it most helpful for me to always know where the herbs are by being able to go to the correct spot every single time for the curry or oregano.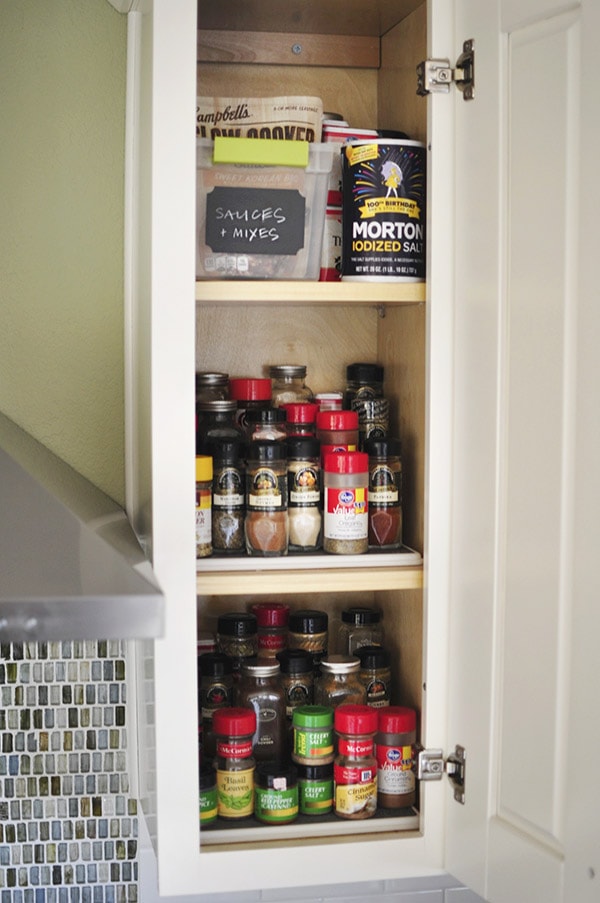 Now that these two cabinets are organized, it's amazing how often I find myself just opening them, taking a peek and sighing with happiness. Now, it's time to tackle the two or three other "catch all" cabinets!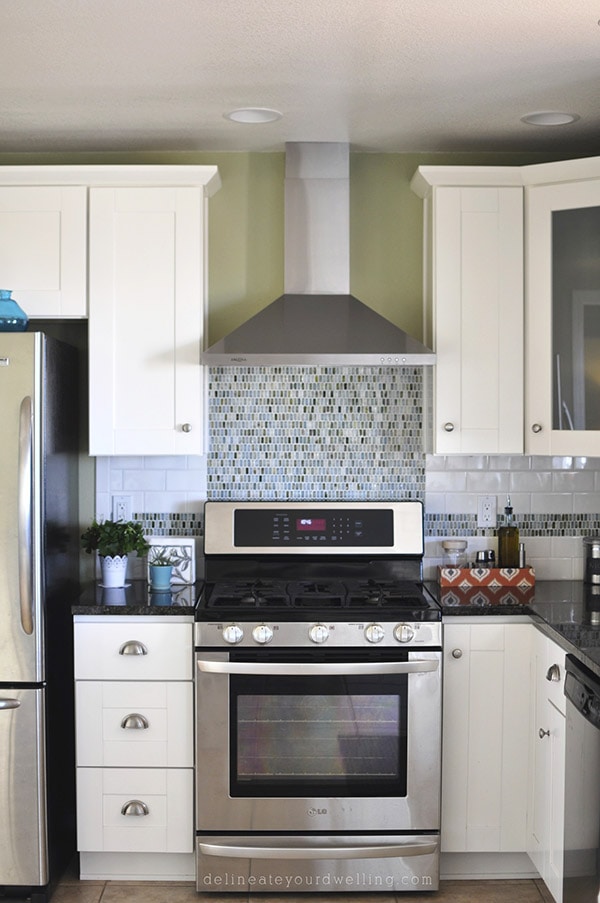 Have you tackled tidying up your kitchen cabinets? Any tips or organizing secrets you've found to help keep things tidy? I'd love to hear if you try my 15 Minute Kitchen Cabinet Organizing System — be sure to share in the comments below!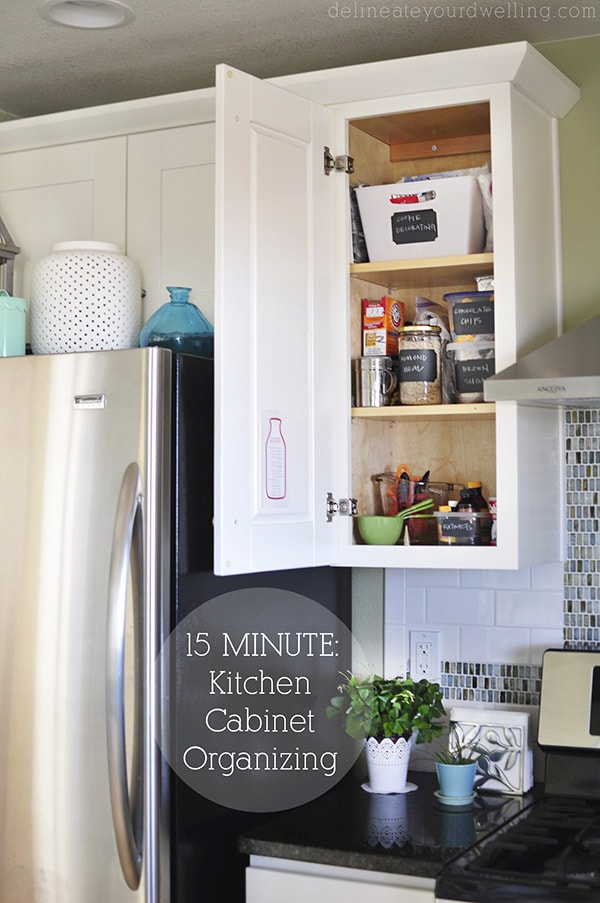 SaveSaveSaveSaveSaveSave
SaveSave
SaveSave
SaveSave
SaveSave
SaveSave
SaveSave