INSIDE : Learn how to create a Minimalist Living Room with plants and Mid-Century Modern furniture lines. Enjoy easy minimalist living with maximum enjoyment!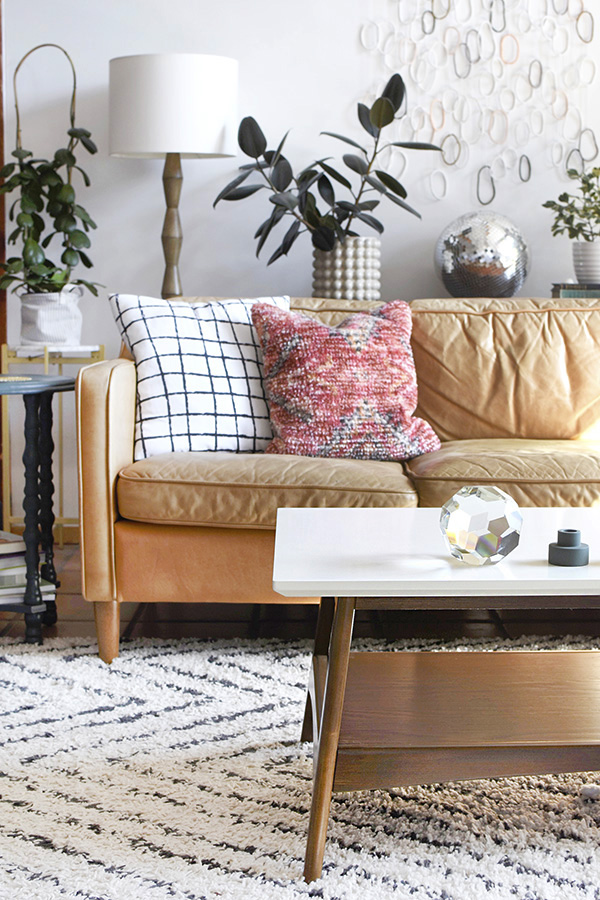 This post may contain affiliate links. See my full disclosure.
I am a huge fan of mixing organic shapes and materials with modern styles. And I believe one of the easiest ways to accomplish this is through bringing in simple minimalist styles with loads and loads of plants!
Once a landscape architect, always a landscape architect. I come by my love of plants in a true way.
Minimalist Bohemian Living Room
Bringing together minimalism and bohemian styles is my perfect combination. I love pairing simple styles with organic materials like lighter wood tones, camel colored leather and softer textiles.
And adding in all the plants definitely gives my spaces a more boho feel.
Keeping the furniture clean and simple nods to the minimalist style.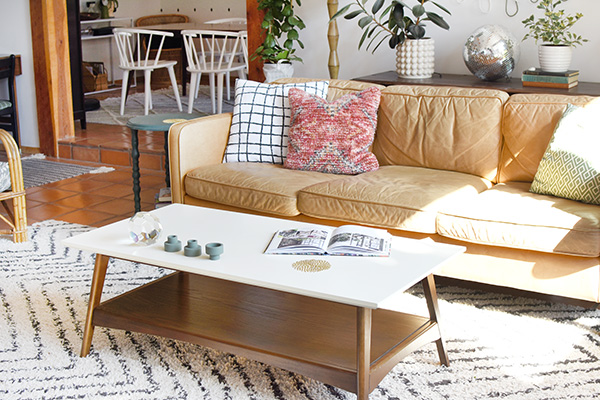 What is Minimalist Bohemian style?
The Minimalist Bohemian style is a relaxed style for everyday living. The palette of the room is more often neutral colors against a white background to help minimize visual noise and to allow the subtle touches of greenery to stand out.
For a minimalist boho room, you will rarely see dark colors. Light shades like white or cream help to make your home decor items stand out. Lighter wood furniture and fabrics help to tie in the more relaxed feel.
Combining elements of both minimalism and bohemian design, the minimalist bohemian interiors are a fun merging of two very different styles.
Shop this post :

Behr Bit of Sugar Living Room Paint
Creating a simple backdrop for my home really helped in giving my living room a minimalist feel. I used Bit of Sugar in our room to give it a fresh clean look.
You can read more in depth about my Interior Paint colors here.
Minimalist Coffee Table
I was so thrilled to setup this new coffee table. After using a hand-me-down round Farmhouse chic coffee table for years and years, it feels so lovely to have something a bit more clean looking now in our main living space.
And because the Burnes Storage Coffee Table is so minimalist in shape, it doesn't feel overly busy with a backdrop of beautiful greenery! Behind our main sofa I have a hoya 'kerri', a black rubber plant, a ficus triangularis and then three different sized Fiddle Leaf Fig trees.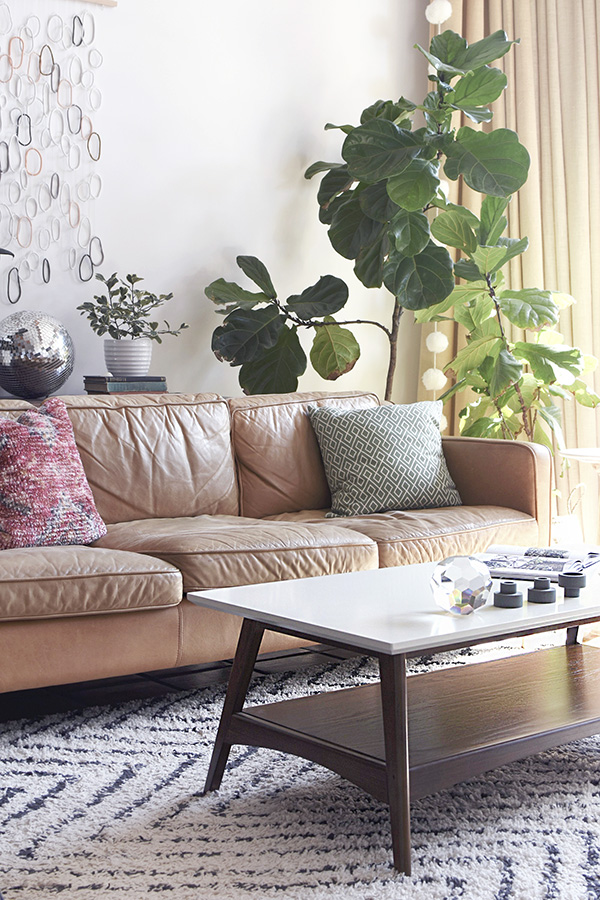 Look at how these beautiful ficus triangularis leaf pattern is against the simple white pot. Just breath-takingly simple and modern!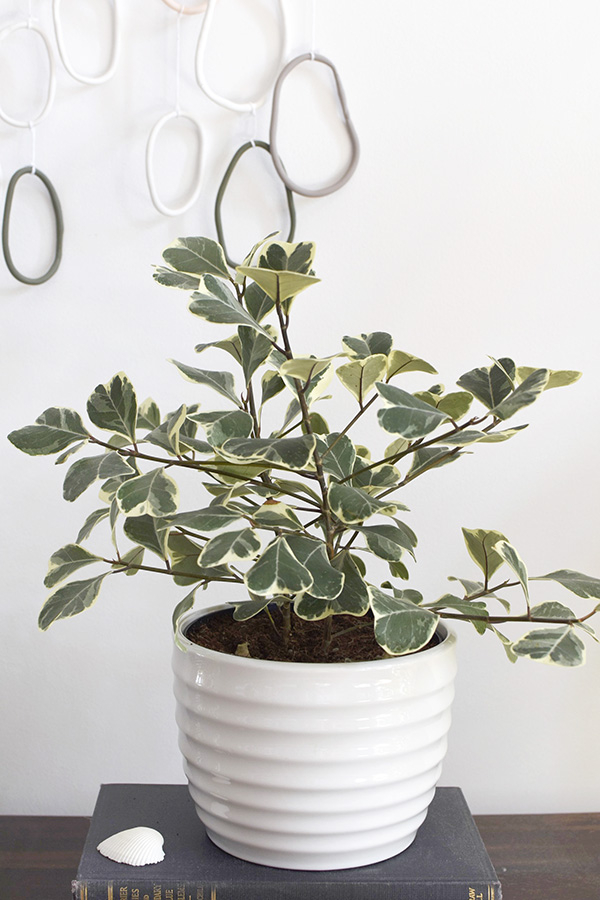 Minimalist Side Table
Maybe my favorite piece in this modern minimalist living room is the Jessa Tray Table. With the architectural metal tripod base and a tray-style tabletop, this side table is perfect. It's crafted from aluminum, making it sturdy, lightweight and easy to move around.
I don't want to forget the new pillow I also got… because can you have too many throw pillows? I think not. This Jada Throw pillow has gorgeous texture and you can never go wrong with a black and white pattern.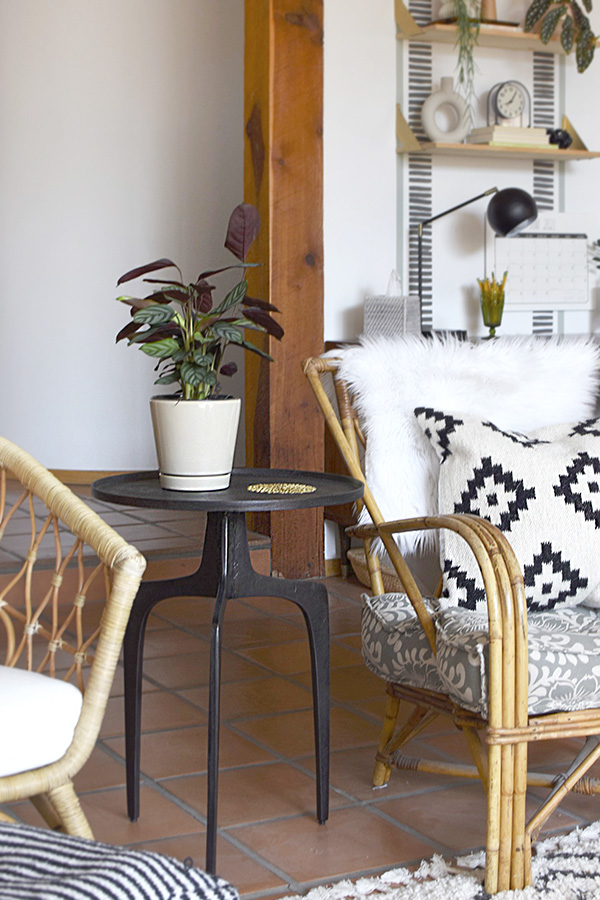 I love it nestled in between our two rattan accent chairs. It's just a lovely contrast in mixing the organic with the minimalist feel.
Ready to shop this room? Check out below.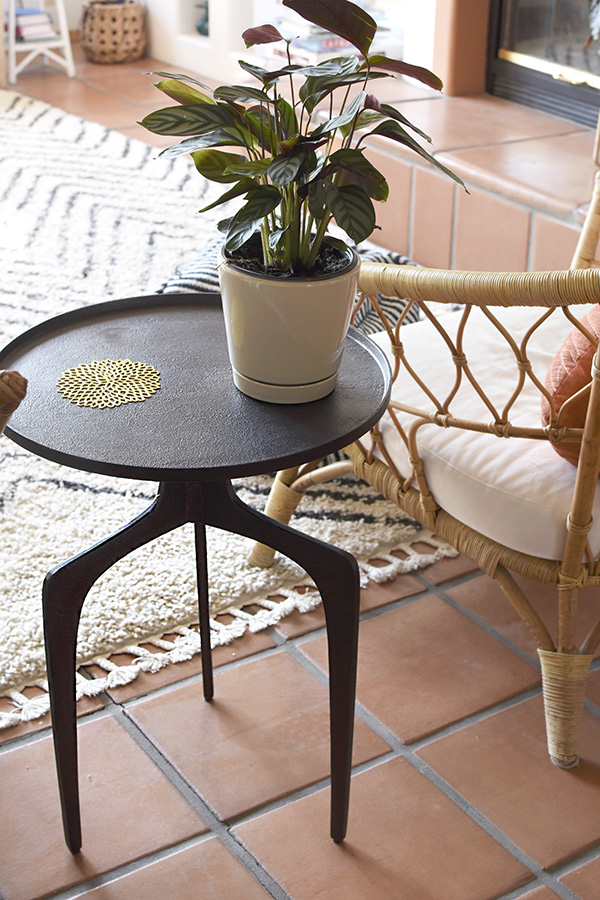 Sometimes modern homes can have a bit of a sterile feel, but look how bringing in plants immediately warms up the space.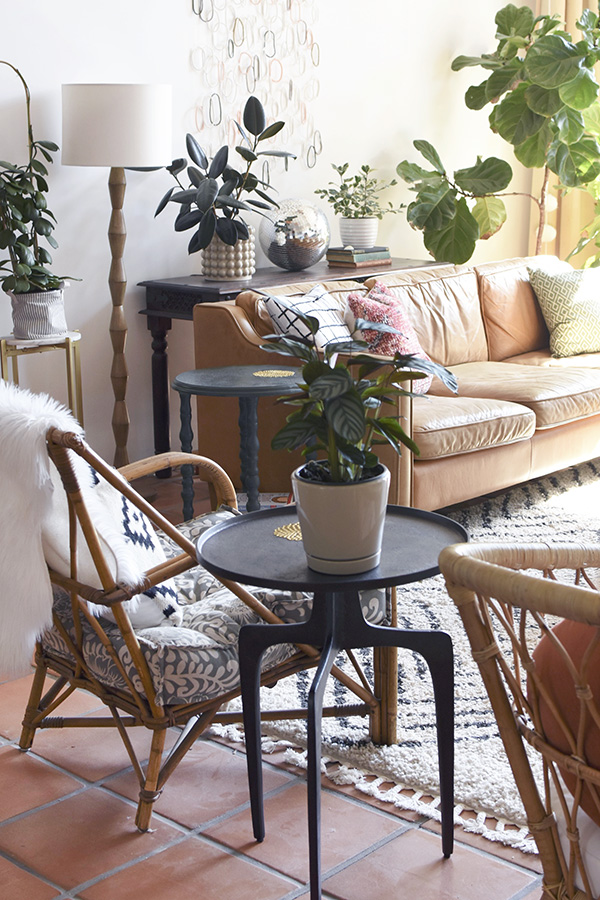 Minimalist Decorative Accessories
And bringing in a few other minimalist decorative accessories like this set of three silicone tea light candle holders (I'm obsessed with their sage green color) and a small concrete coffee table tray really help to elevate the look and keep things looking cohesive.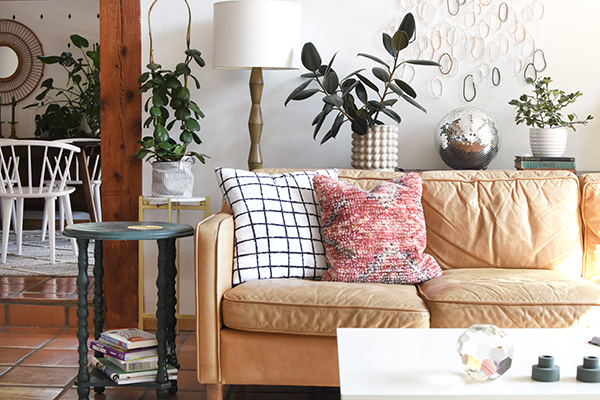 Be sure to check out all of my other All Modern room update posts here on How to Plan out a Room Refresh.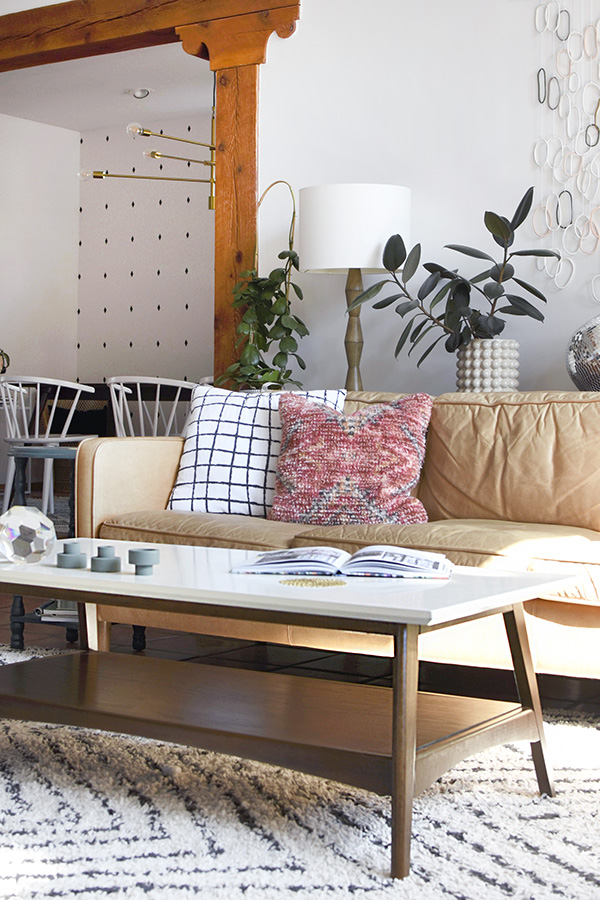 Thank you to All Modern for providing product for this post. And thank for supporting brands that help my business run.