INSIDE : Learn the steps to a gorgeous Color Blocked Vase Table Setting this Autumn season using Martha Stewart spray paint. A great way to add personality to your dining table during parties or when hosting Thanksgiving.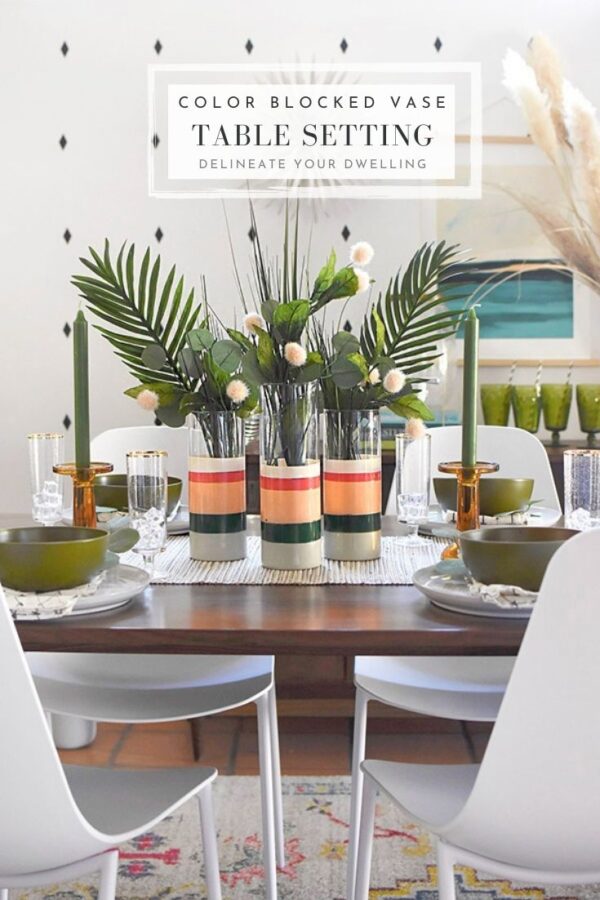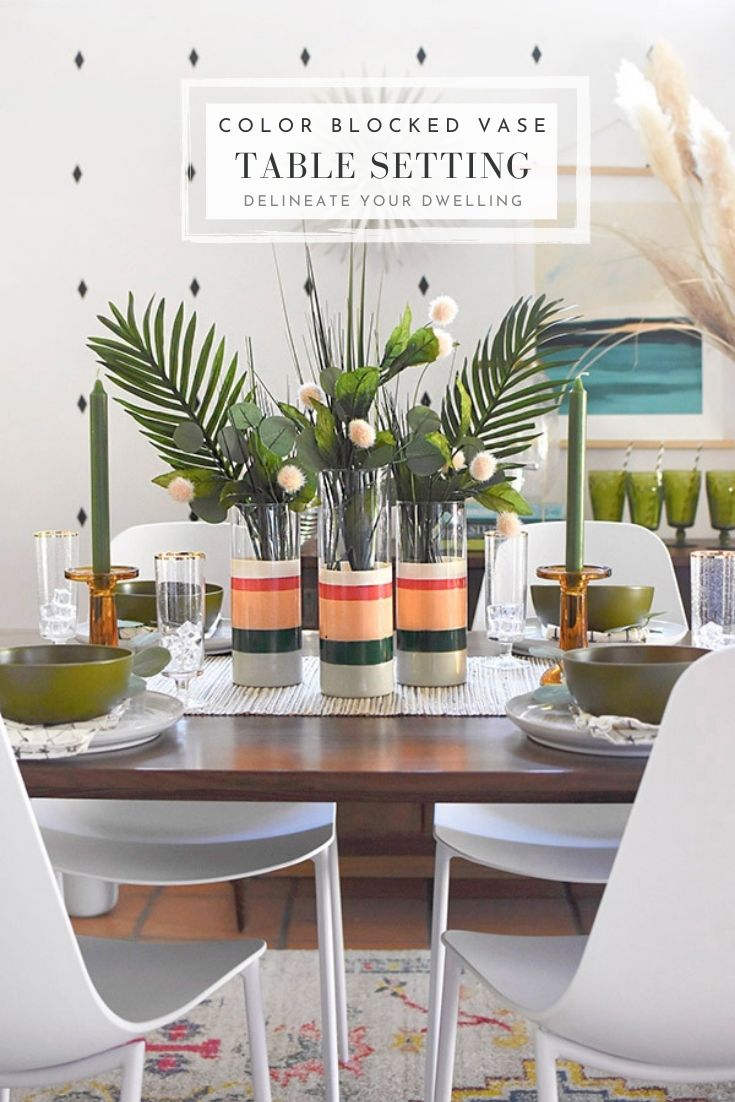 This post may contain affiliate links. See full disclosure here.
As the weather begins to cool, I can't help but start to think about fall and hosting friends + family for pumpkin carving parties and even Thanksgiving. That all might look a little differently this year, but one thing for sure is I plan to set a lovely table even if just for my family.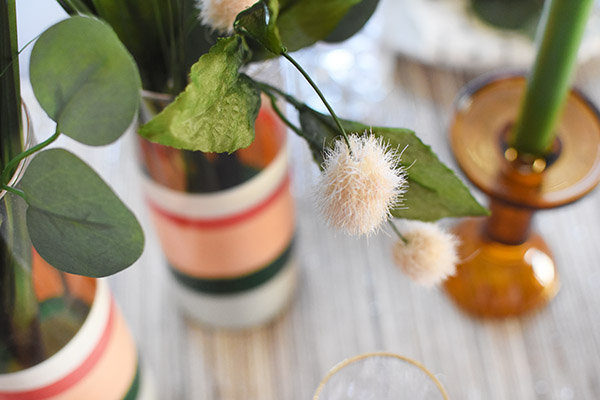 What supplies do I need to make a color blocked vase?
Three Glass Vases
Thin Painter's Tape
Martha Stewart Spray Paints
White paper
Silk Flowers + Greenery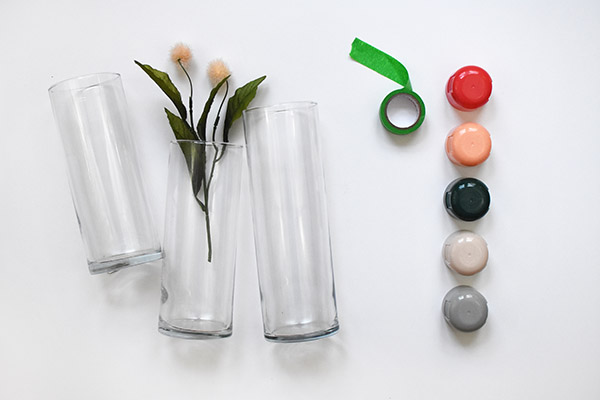 The Martha Stewart spray paints I used on this project were :
Love Bird
Wild Salmon
Classroom Green
Porcelain Doll
Wet Cement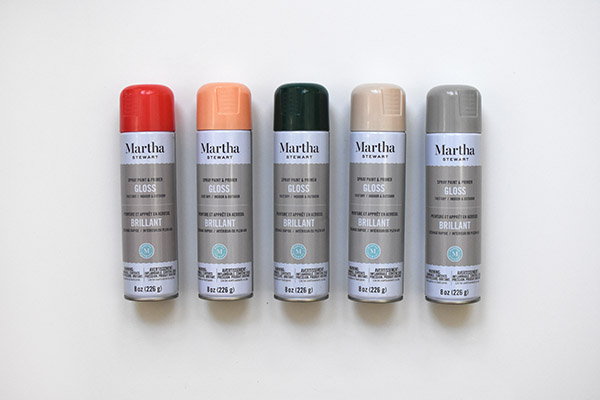 How do I make a colorful table centerpiece ?
Begin by cleaning the glass of your three vases using glass cleaner or rubbing alcohol. Then, starting from the bottom, measure and wrap painter's tape around all three vases.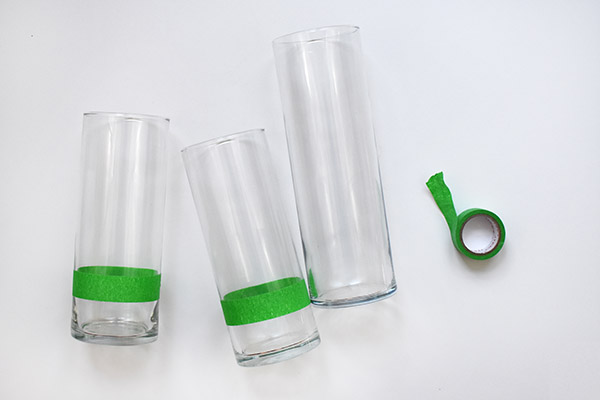 I decided to start with my Wet Cement gray spray paint color first.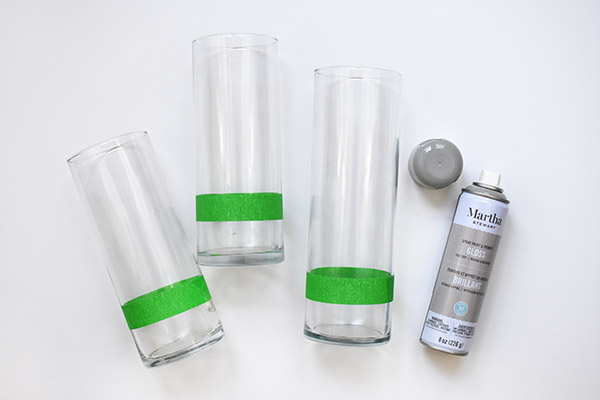 Wrap a piece of regular white paper on the remaining portion of your vase to keep from getting any over spray.
In a well ventilated area, give your three vases a nice light even coat of spray paint. I found it best to immediately remove the white paper guard and the painter's tape. This helped with any bleeding and smearing of paint.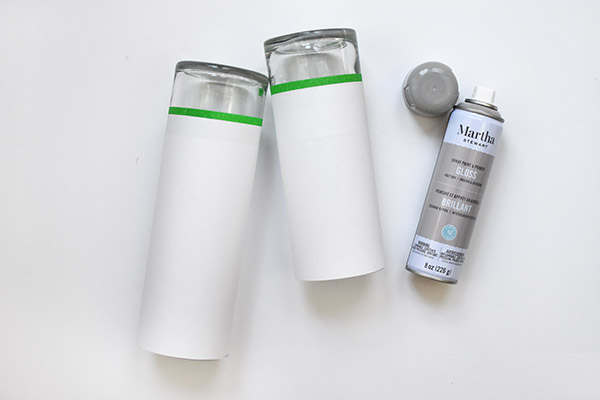 Allow your painted stripe of color to fully dry. Then start at step 1 all over again… add the painter's tape and your paper guard. As you continue to paint, you will need paper covering both the top empty portions of the vase and the lower already painted striped areas.
Note : This is a very simple project to execute, but you need patience as there is time needed for the paint to dry between each step.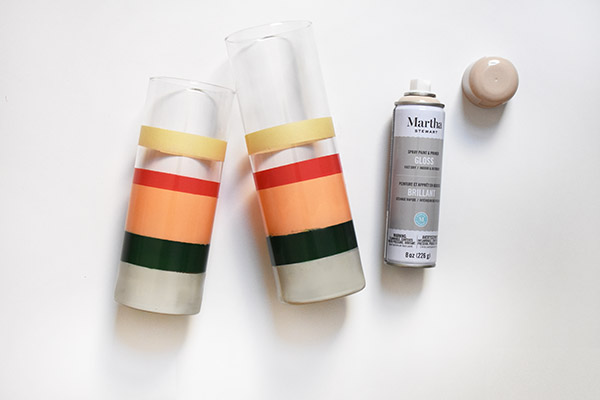 Colorful Glass Vase
Once all your paint has dried, it's time to step back and admire your work!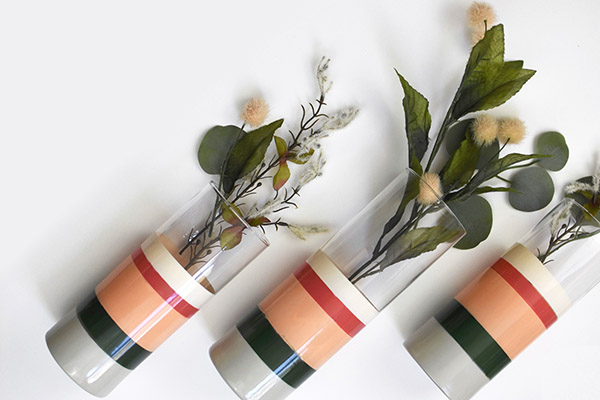 Shop this post :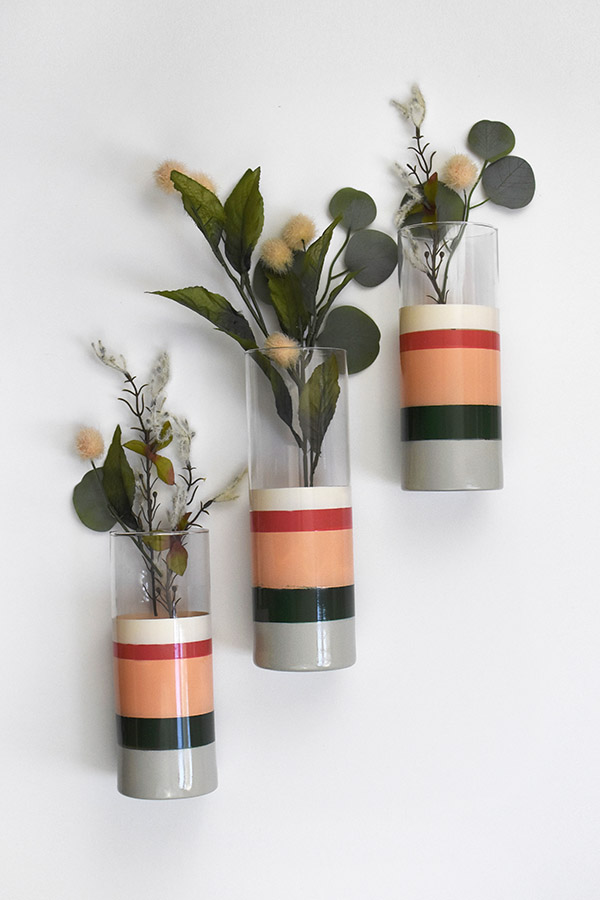 I love the shiny look that the spray paint gives. If you used acrylic paint, it would have more of a dull feel.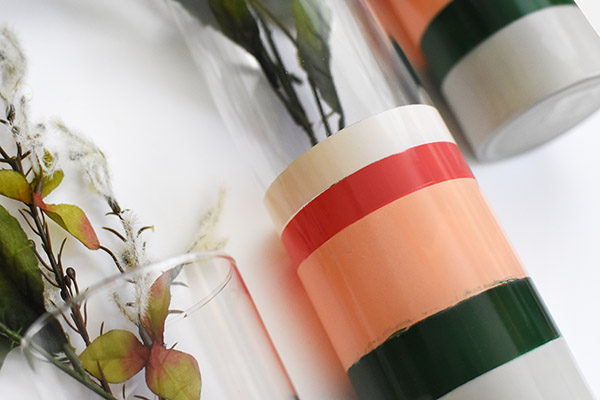 Color Blocked Vase Table Setting
Now it is time to set our lovely table with these color blocked vases! I opted to use more greenery with just a few pops of color.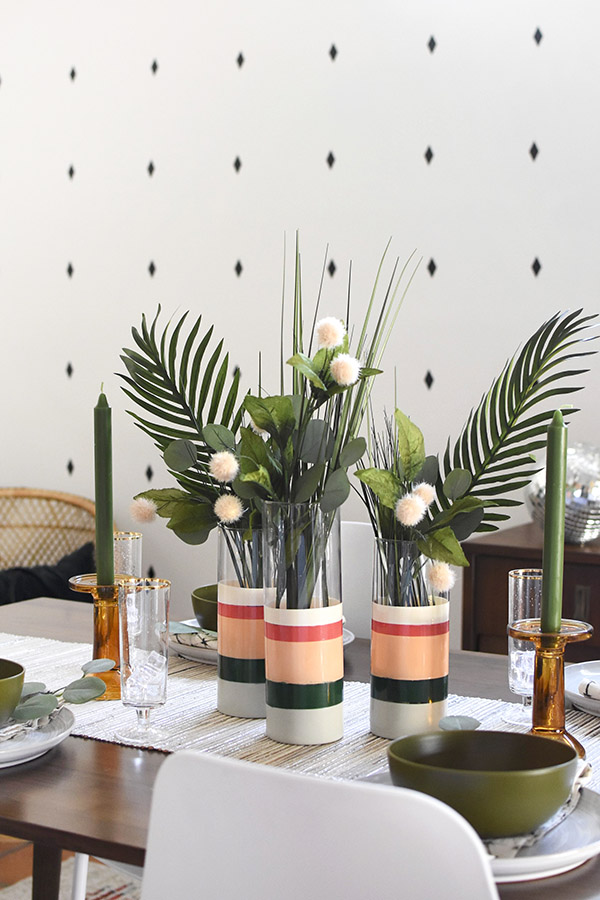 And incorporating some of the same colors from the vases in your table is a great way to have a cohesive look.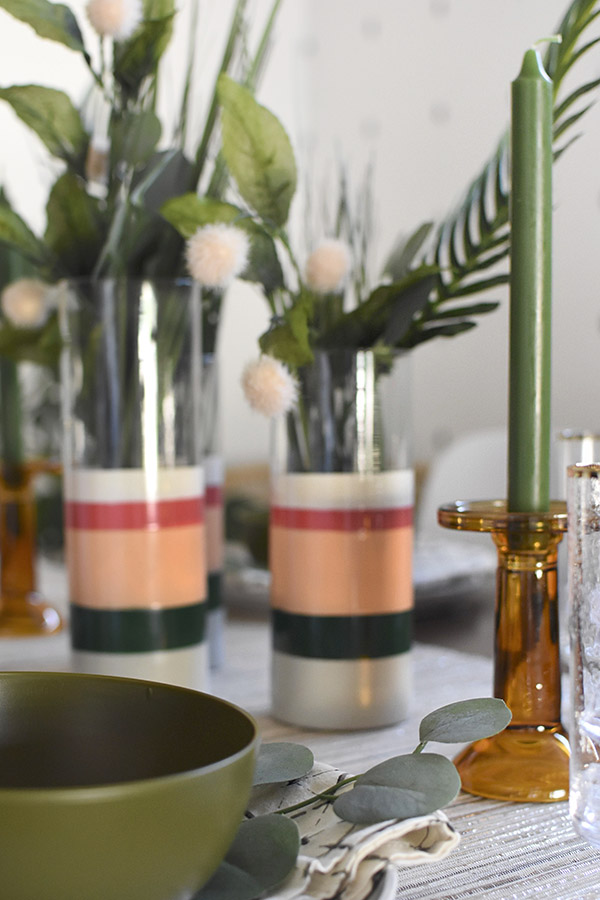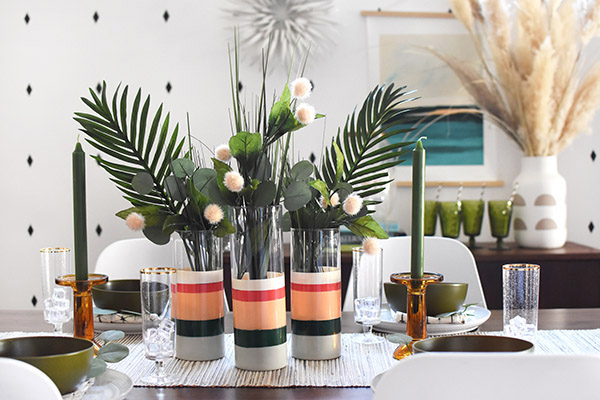 I love how versatile this project is by using colors that you love and highlighting your favorites by using wider or smaller bands of color – you can really create the perfect table setting for any occasion!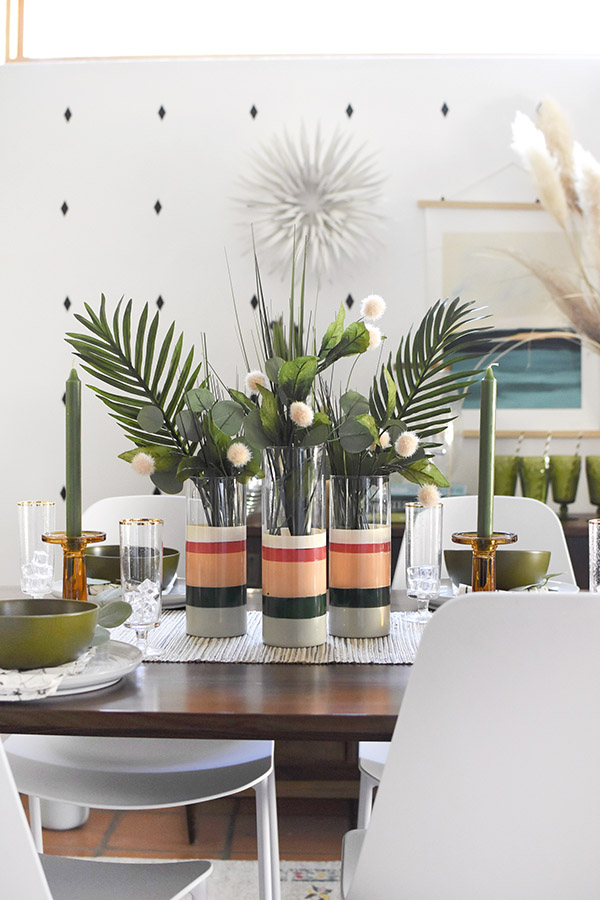 Be sure to check out some of my other gorgeous Martha Stewart projects I've done over the years!
This is a sponsored post by Martha Stewart and Duncan Paint. All opinions are 100% mine.