INSIDE : See how to make Minimal Thanksgiving Table Decorations this year that create ease and joy while setting. Let your family, friends and food be the show stoppers!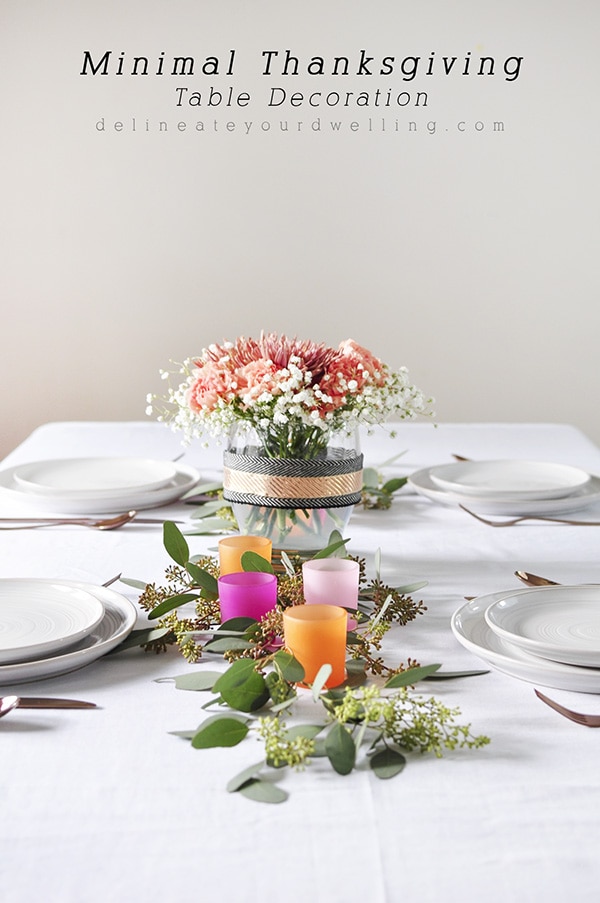 The holiday season is upon us. As soon as November 1st hits, it always feels like a bit of a mad dash. The past few years I have really strived to intentionally do the opposite of most people. Instead of creating turkey shaped butter for the table, shopping for gifts like a crazy person and attending 99 Christmas parties, I try to do less.
This year, when I started thinking about Thanksgiving and the soon to be Christmas season, minimal was the word that came to my mind. I still will do lovely. I still will do festive. I still will eat all the turkey. I still will decorate. But this year I want to aim for a more minimal view on it all. So, with all that in mind I'm sharing my Minimal Thanksgiving Table Decorations today
This post may contain affiliate links. See my full disclosure.
This year we will be spending Thanksgiving with my mom and most likely we will be traveling to her home for the big meal. What I like about this minimal table decor is there isn't much really to it, so it will be easy to transport.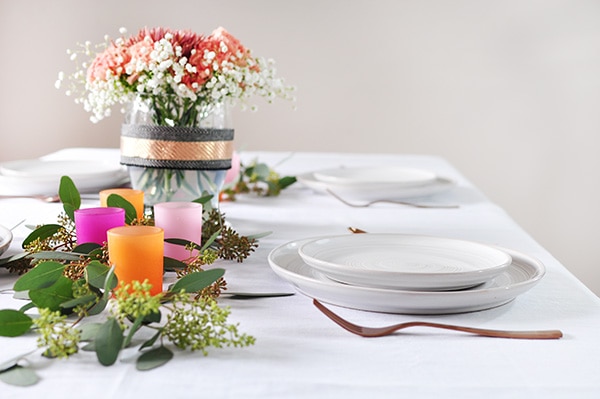 How to make Minimal Thanksgiving Table Decorations:
It's not me without a bit of color so I knew I wanted to bring in color through a few sparsely placed tea light holders in orange, soft pink and fuchsia.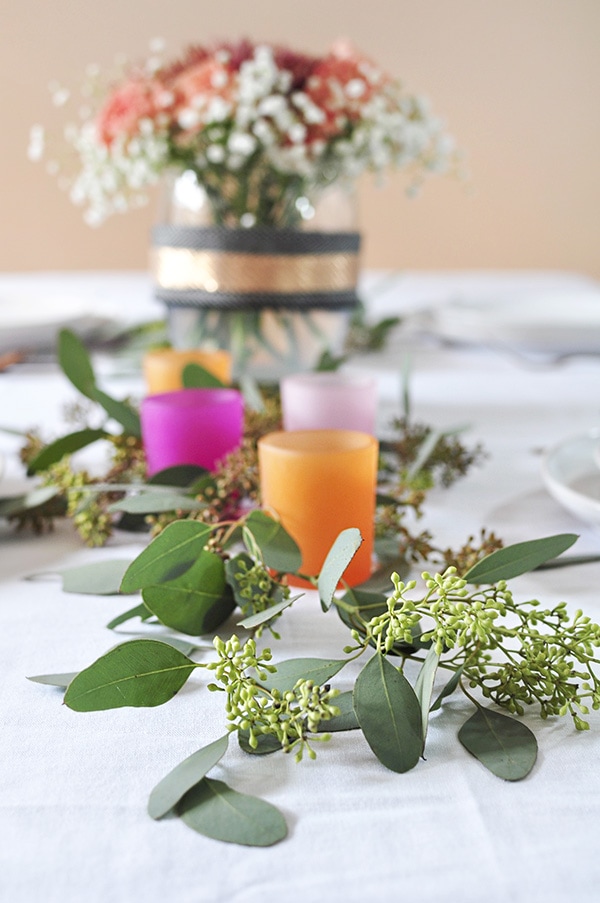 I found a bouquet of seeded eucalyptus at my local grocery and I knew it would become the main greenery on my table.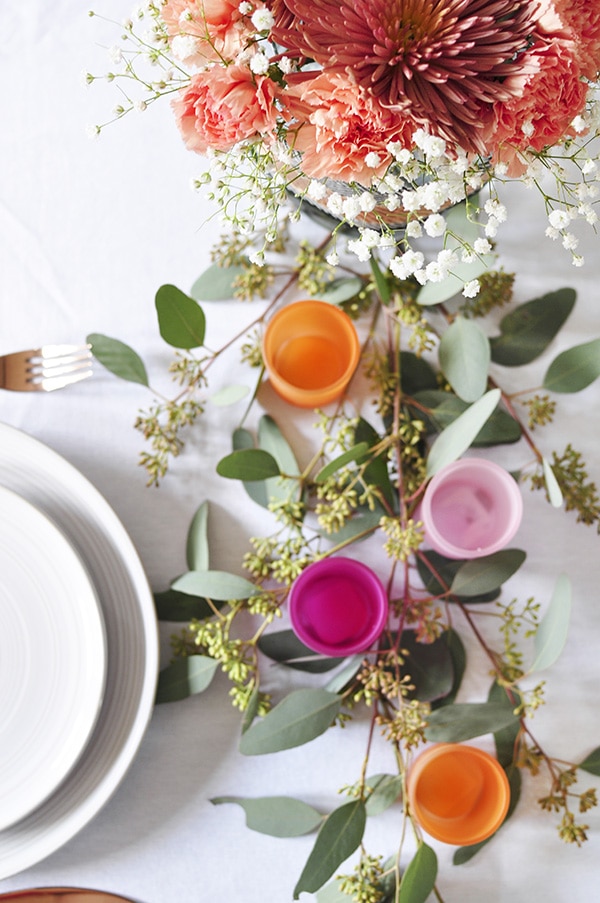 How to make a Thanksgiving Table Floral Bouquet:
The only other decoration is the center bouquet. I started in the middle with three rusty coral Spider Chrysanthemums. Then, I placed peach carnations encircling the mums. Carnations are typically not my favorite flower but they come in such a wide variety of color and they are so inexpensive that I've found them to be ideal when used correctly. Lastly, I snuck some baby's breath at the very bottom to finish off the vase.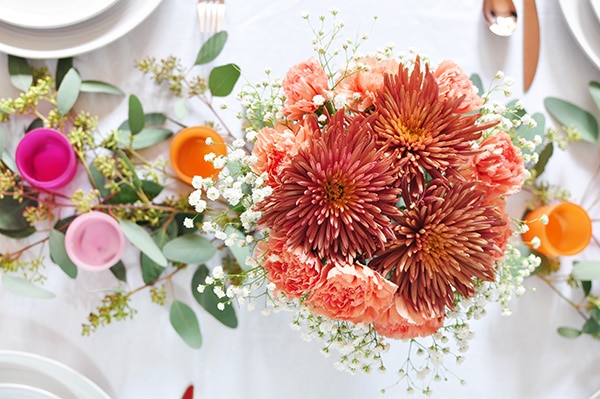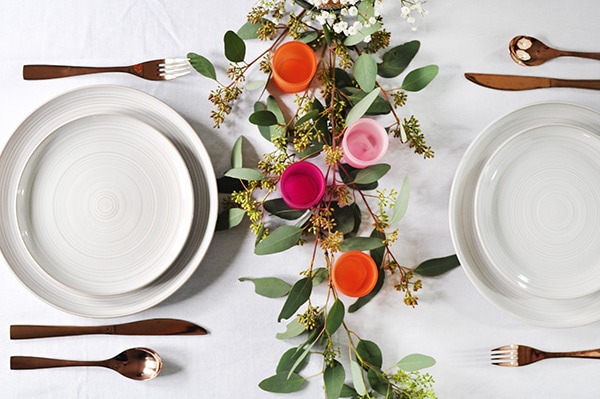 To finish off the minimal look, I set out my simple white dishware from West Elm. My husband got me a new set for Christmas a few years ago and although they no longer carry our set, I've always been thrilled with their simple and elegant designs.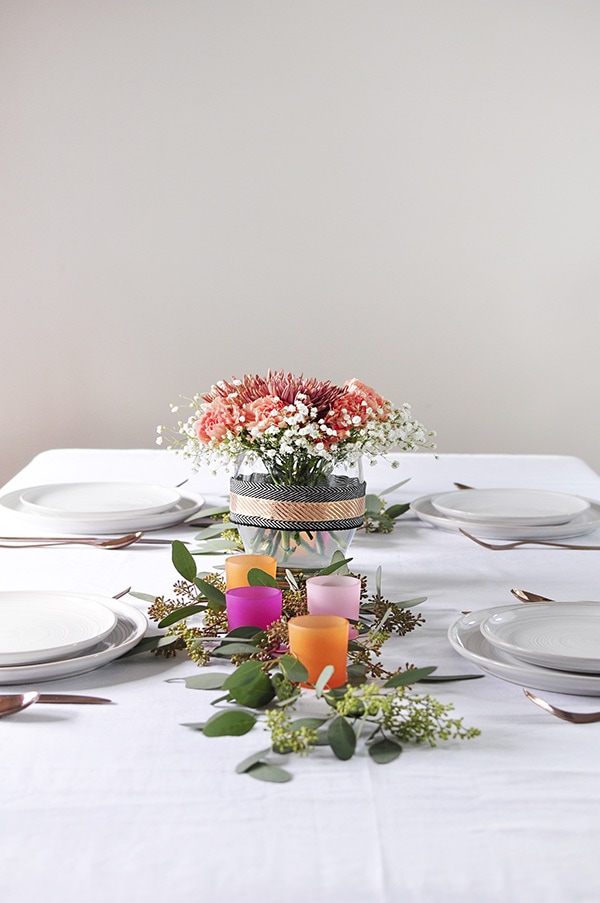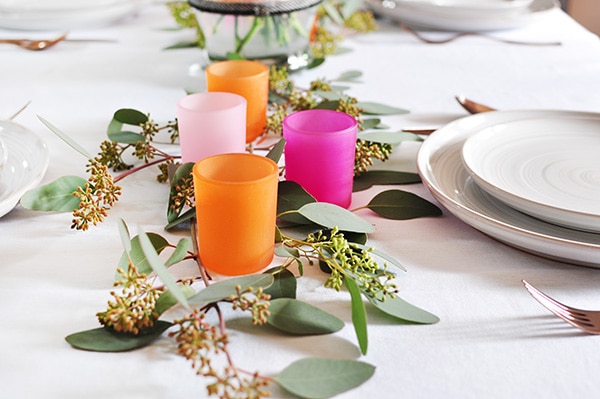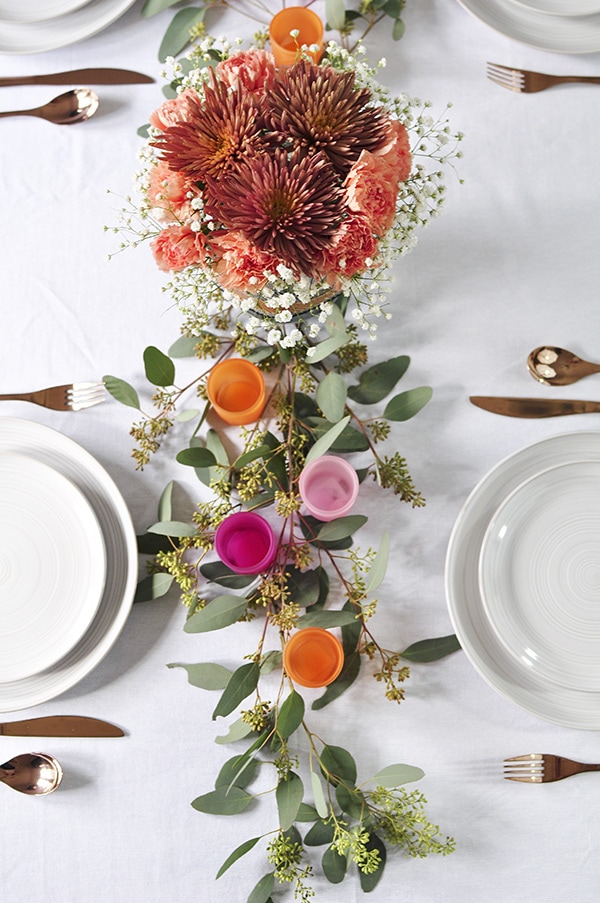 And I forever love pulling out our "fancy" Rose gold Target silverware. I also recently saw they have a Stainless Steel gold set now and I'm loving that one, too.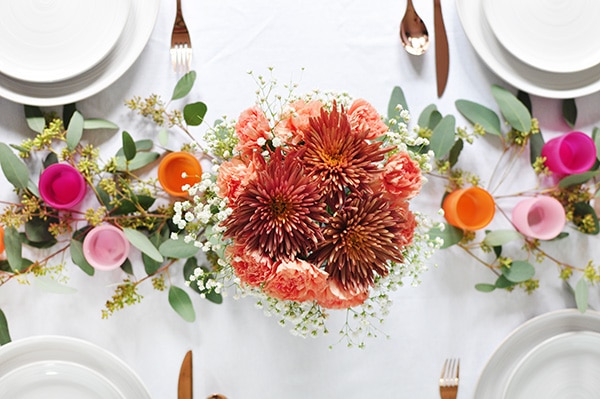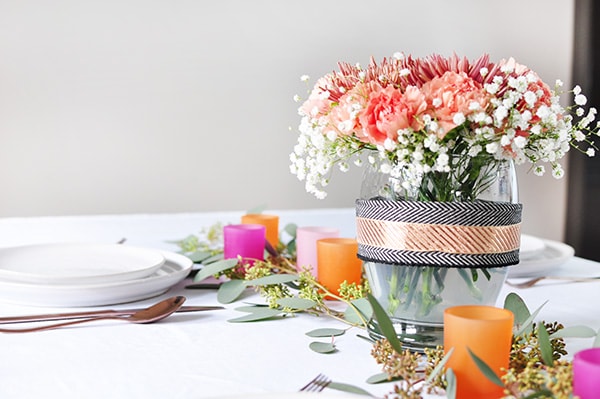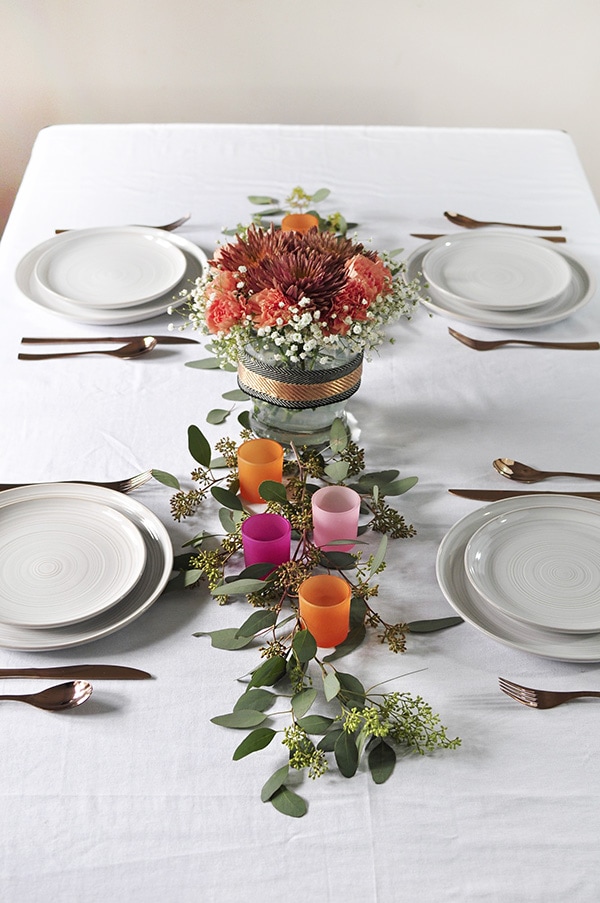 All in all, setting this Thanksgiving table took me maybe 30 minutes and that included creating the floral arrangements. If you are looking for easy, elegant, minimal and all the while pretty this Thanksgiving… I would encourage you to invest in a few bouquets of flowers and letting the rest be simple!
If you would like to see a few of my other previous Thanksgiving tables, see below!
5 Tips to set a Cozy Thanksgiving Table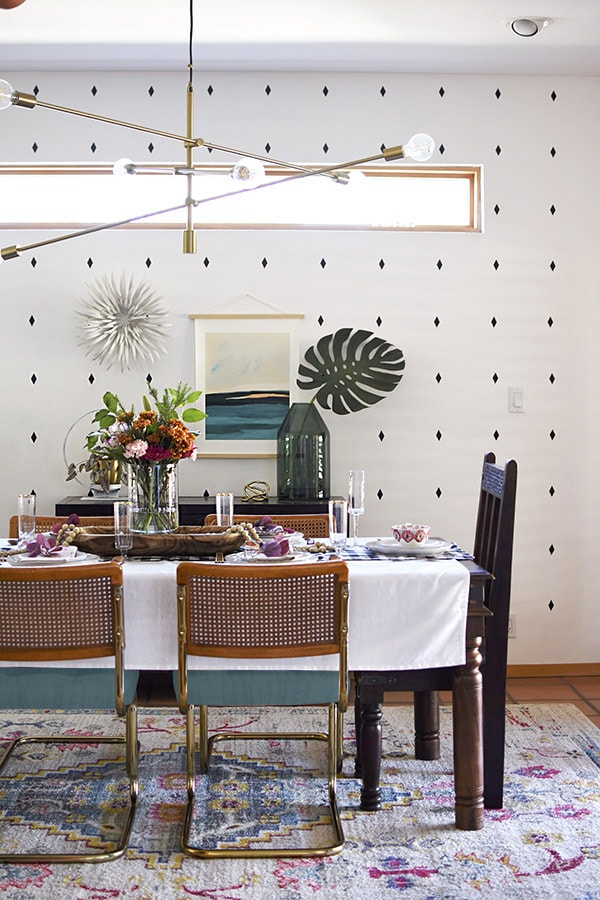 Thanksgiving in green, pink and black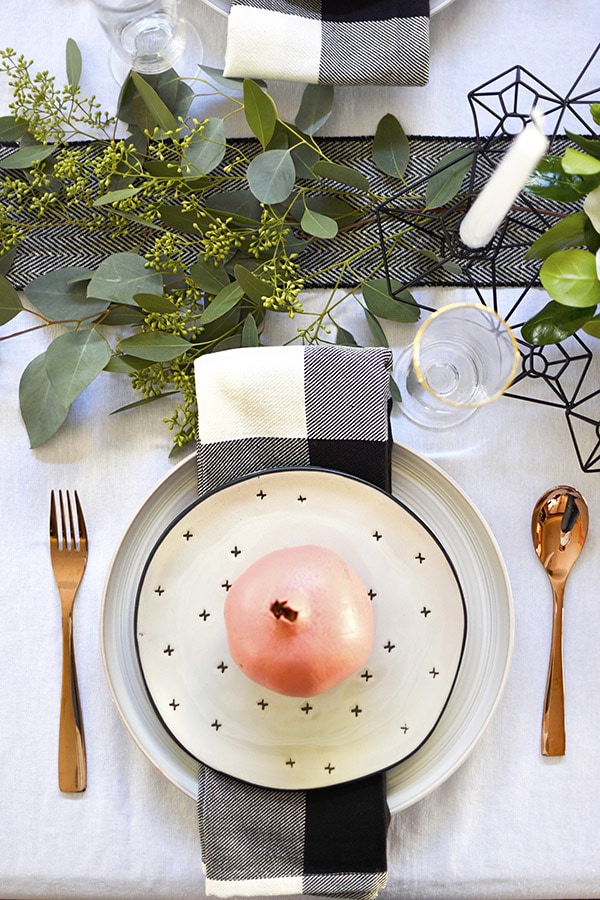 Thanksgiving Food Centerpiece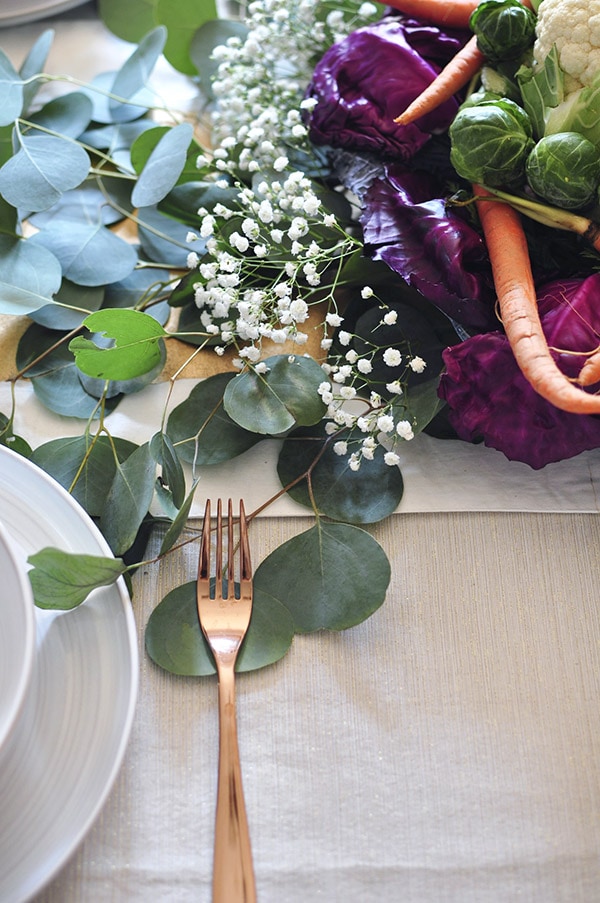 Thanksgiving Tablescape : Green, Copper + Gold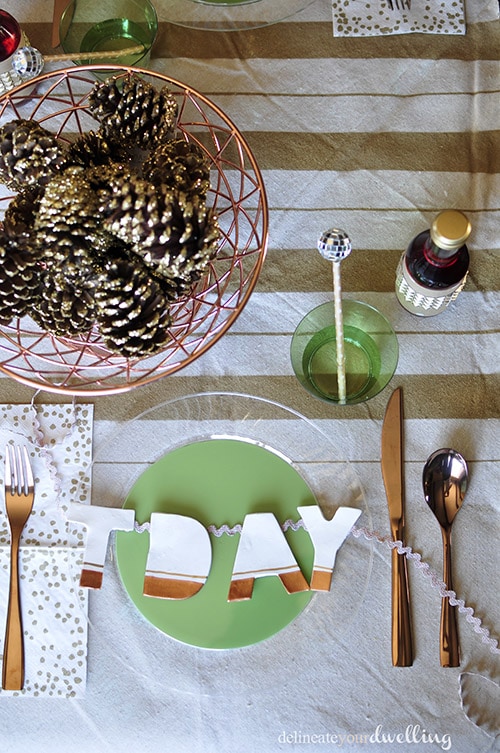 Thanksgiving Table Setting : Blues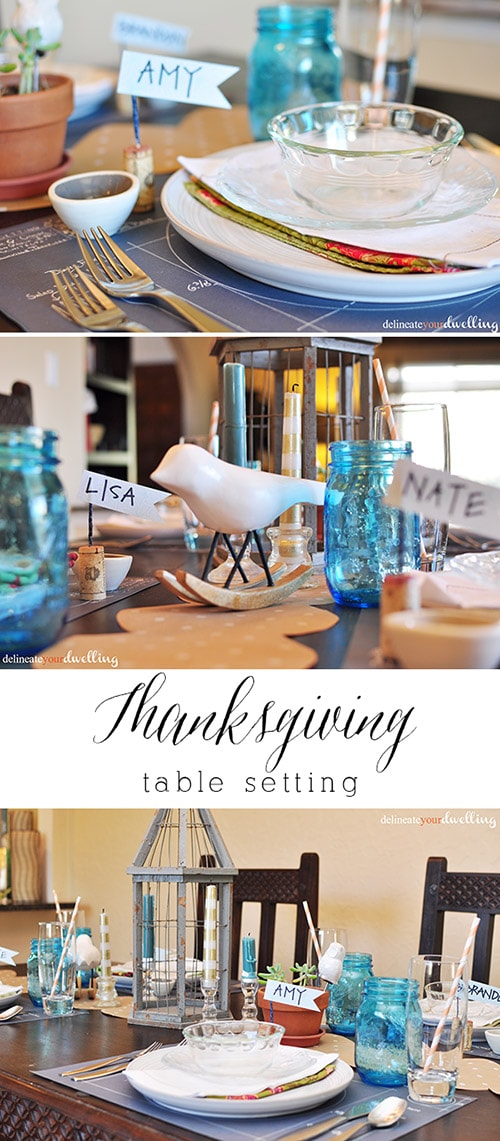 SaveSave