INSIDE : 5 Tips for How to set a cozy Thanksgiving Table this Autumn season. Take the guesswork out of it and enjoy making a warm and inviting table!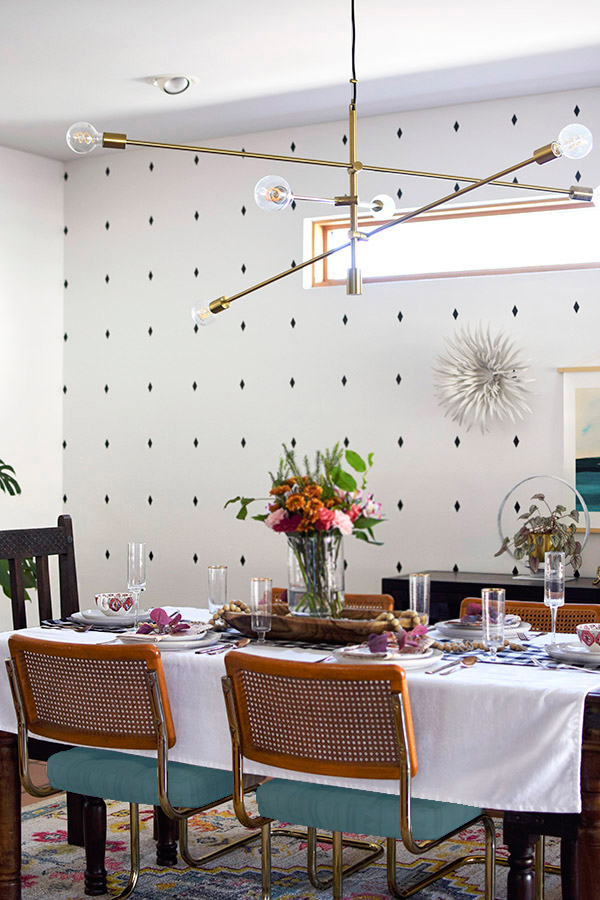 I have started to realize with time (and age) that Thanksgiving is quite possibly my favorite holiday. Not only do I love having specific time set aside during the year to really think on being thankful and count all my incredible blessings… but I really loving preparing and eating a delicious home cooked meal with my friends and family.
Another part that I really love about Thanksgiving is setting a pretty table. Today I will be sharing 5 Tips on How to set a cozy Thanksgiving Table.
This post may contain affiliate links. See full disclosure here.
5 Tips on How to set a cozy Thanksgiving Table :
1. How to set a cozy Thanksgiving Table by deciding on your color palette.
One thing that I love doing when I am preparing for setting a fancier Thanksgiving table is to decide ahead of time what basic colors I will be using for my table decor.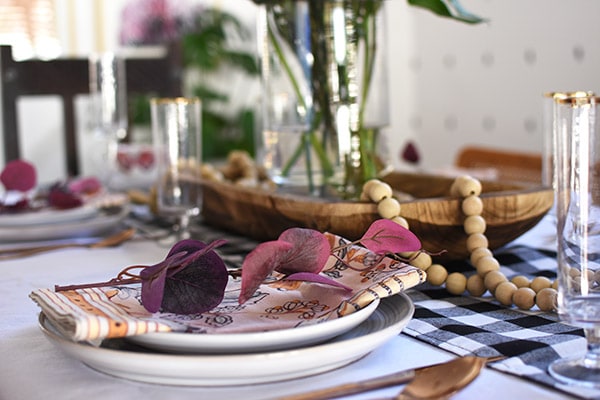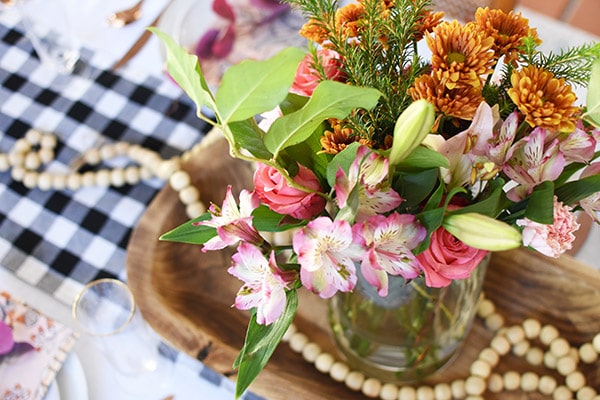 Seeing as how I just completed my Modern Southwest Dining room update recently, this will be the first Thanksgiving I host in the upgraded space… so I decided to pull some of the colors from the room. My rug and artwork have a lot of muted jewel tones in them, so I decided that I would try to create a cozy table with those colors.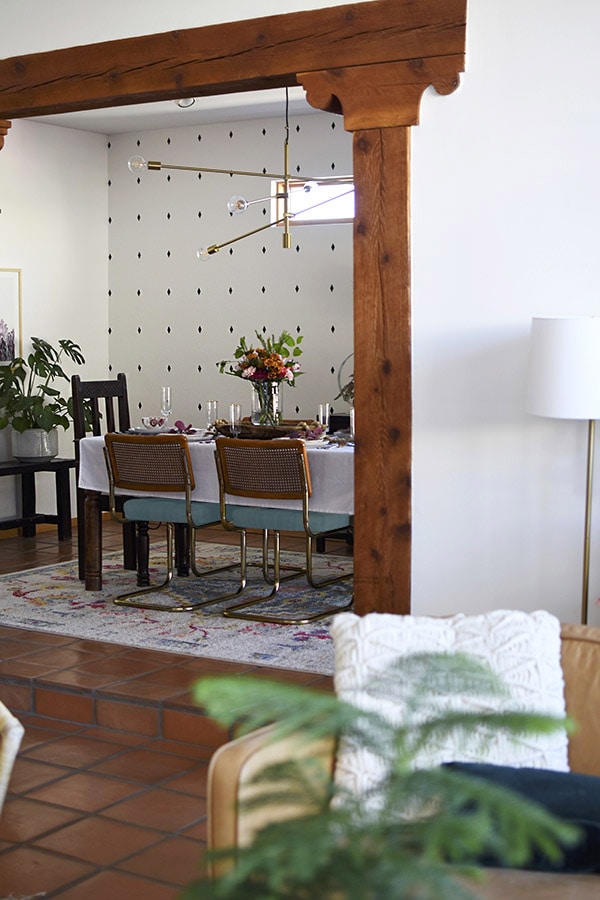 2. How to set a cozy Thanksgiving Table by adding layers, layers, layers.
My next tip for creating a cozy Thanksgiving table is to layer items. I started with a simple rectangular white tablecloth. We never use a tablecloth during regular meal time, but there is something about setting a nicer table always makes me want to start with a table cloth.
And this wooden low centerpiece bowl along with the pink and orange floral napkins are so so good together!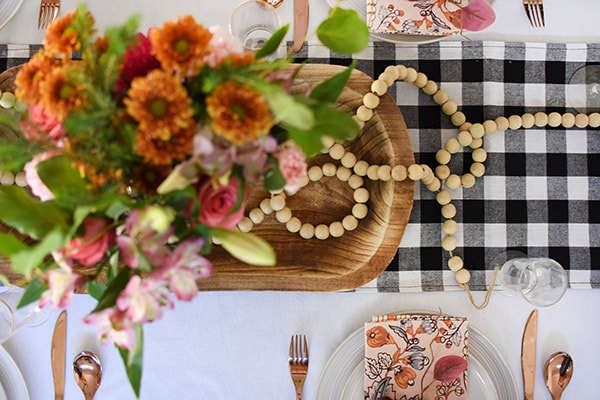 Next, I found this simple black and white buffalo check table runner a few weeks ago and I knew it would be the perfect neutral for Thanksgiving, as well as many many dinners to come.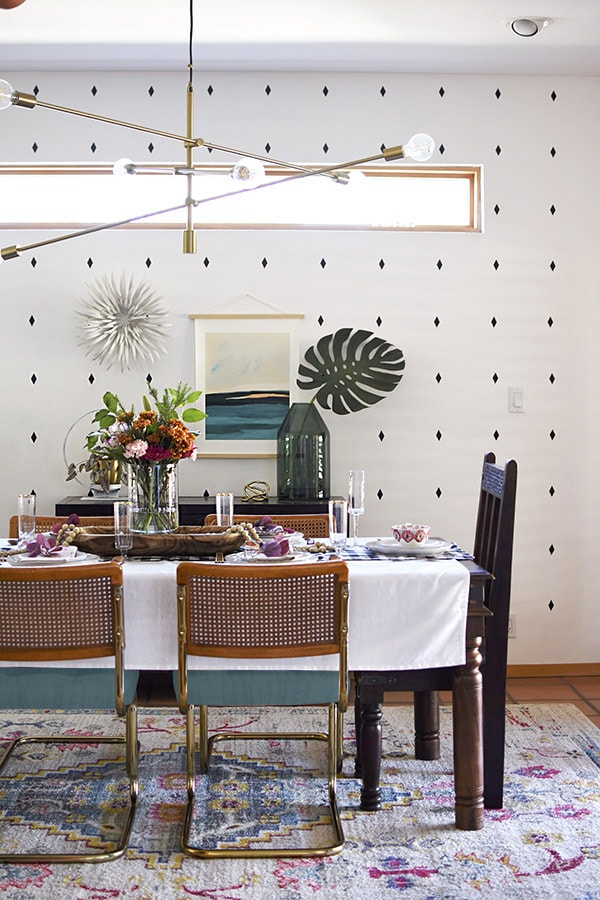 And then I discovered my love for wooden beads. As in two strands of wooden beads! I love how neutral they are, but that they can quickly dress up any table! I also plan to put these in a vase in our living room when I am not using them as table decor.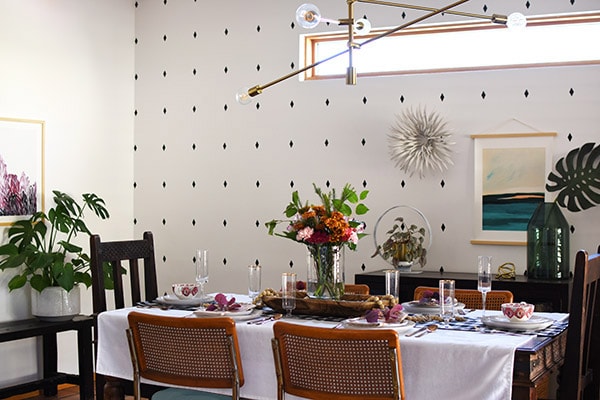 3. How to set a cozy Thanksgiving Table by using fresh flowers!
If you have a go to florist, using them at Thanksgiving is a great idea. I however, think finding a lovely bouquet from your local grocery store or Trader Joes also works perfectly!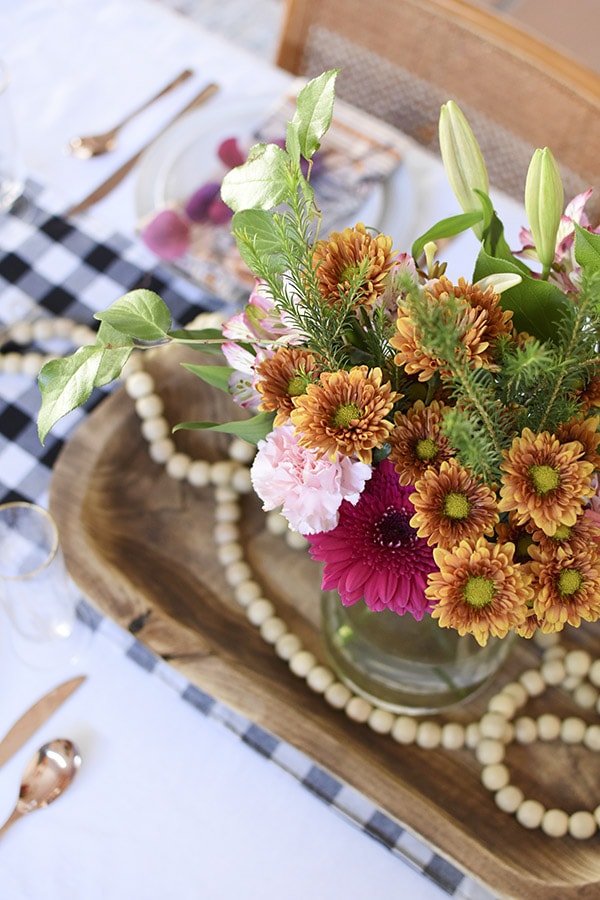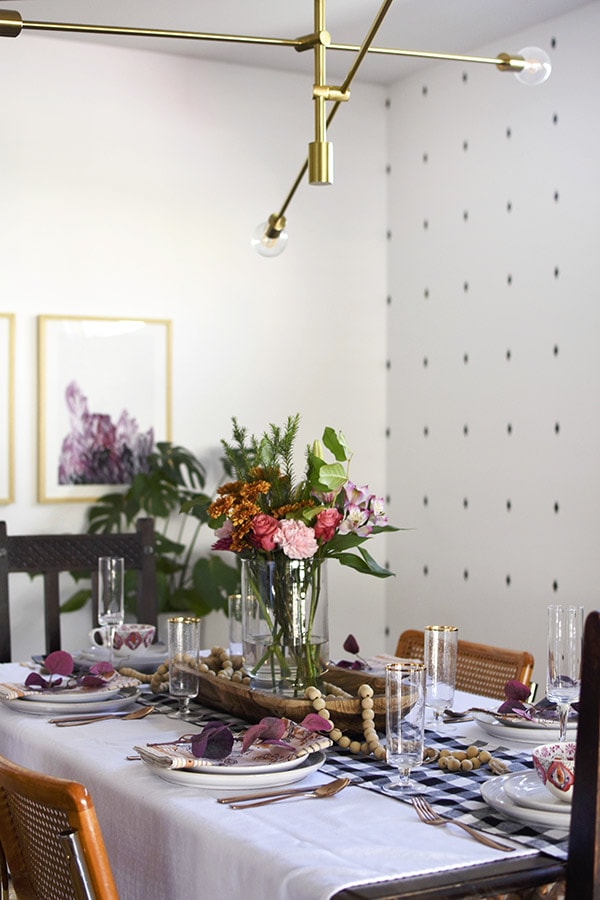 I typically try to find flowers that are either monochromatic or ones that have lots of greenery. My flowers for this particular table, fit into neither of those categories – ha. However, sometimes you just have to break your own rules when you find the right flowers.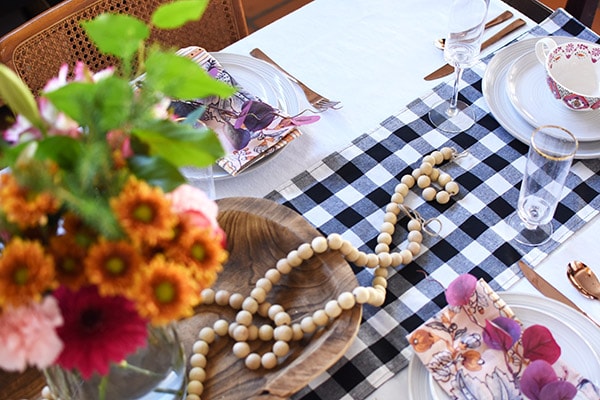 4. How to set a cozy Thanksgiving Table by using vertical elements.
Whether you are using a taller vertical vase for your flower display, adding taper candles or simply introducing simple tall cocktail glasses… adding in different heights is always good for breaking up a big flat table space.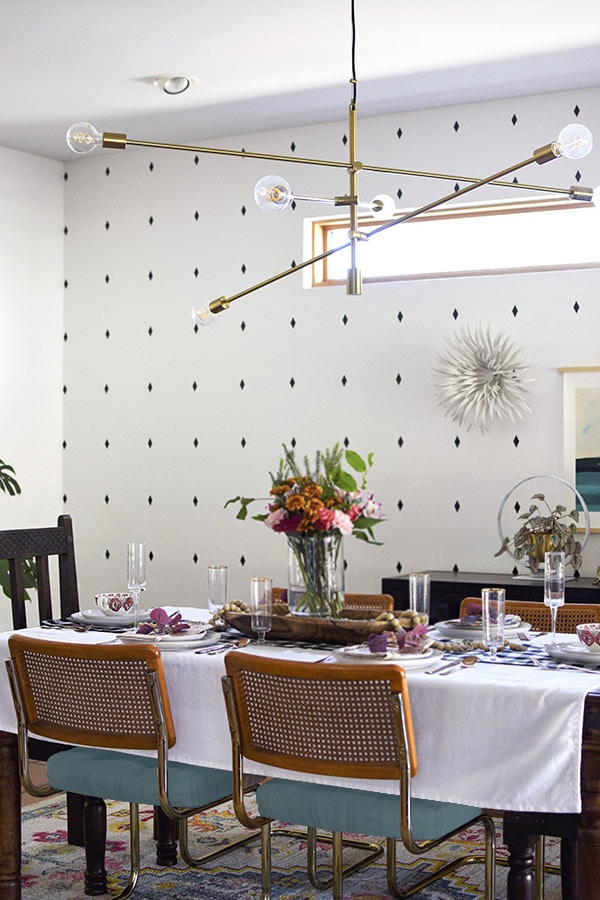 My sister got me a set of these PRECIOUS mugs from Anthropolgie for my birthday this past summer. Their colors were absolutely perfect with this Thanksgiving table.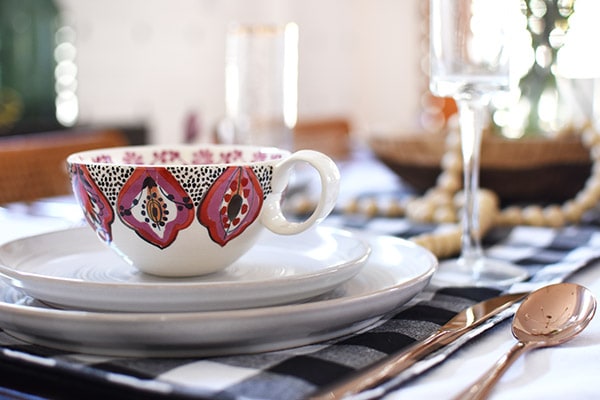 These gold rimmed glasses from World Market a few years ago are some of my favorites we own.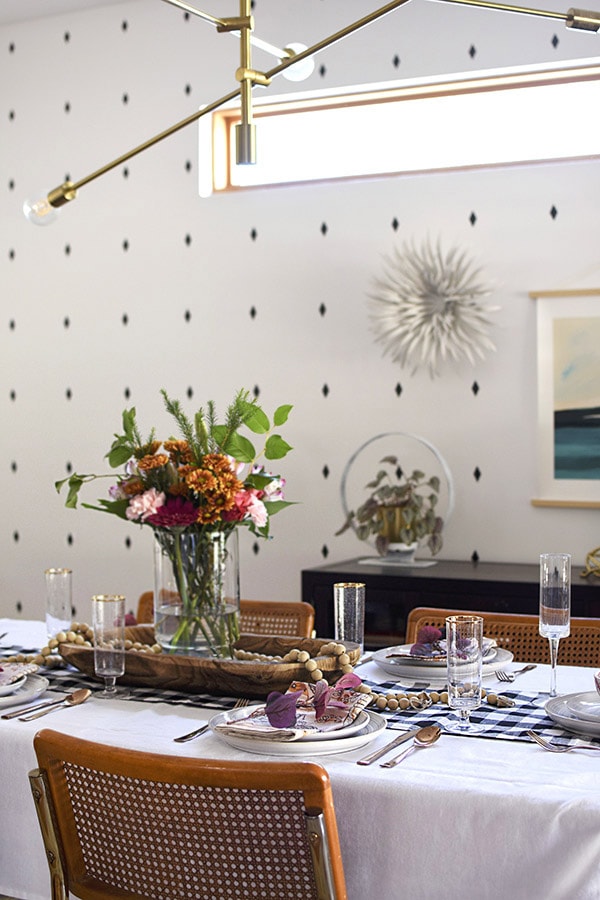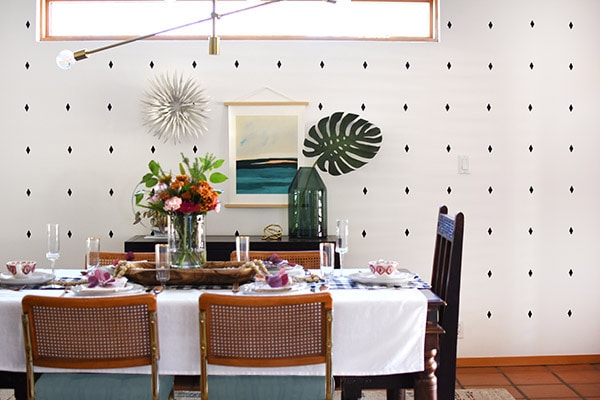 5. How to set a cozy Thanksgiving Table by not stressing about it!
As I mentioned above… as much as I love setting a pretty table for Thanksgiving… REALLY it's all about the people around the table.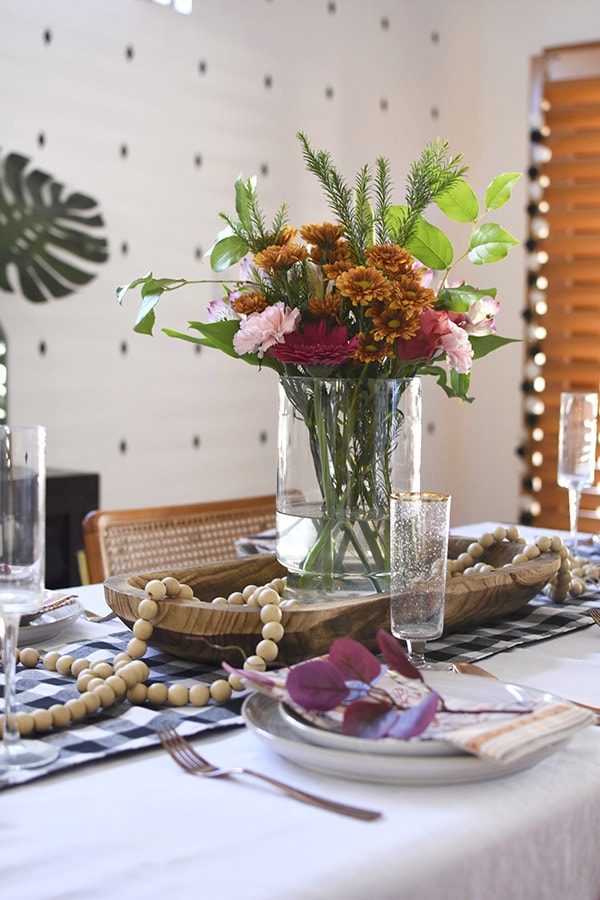 Making the Thanksgiving meal is such an undertaking and if all you have time for is grabbing some fresh flowers and setting out your wine glasses, YOU BE YOU.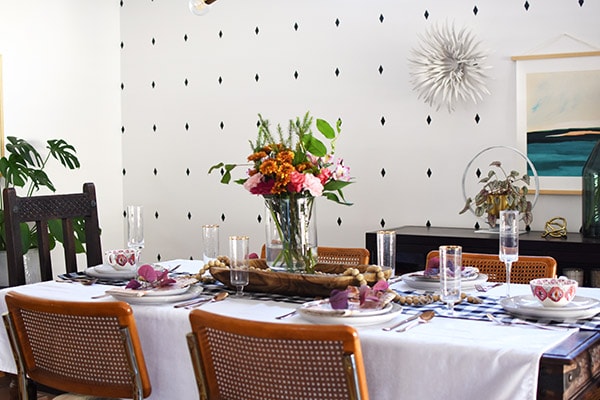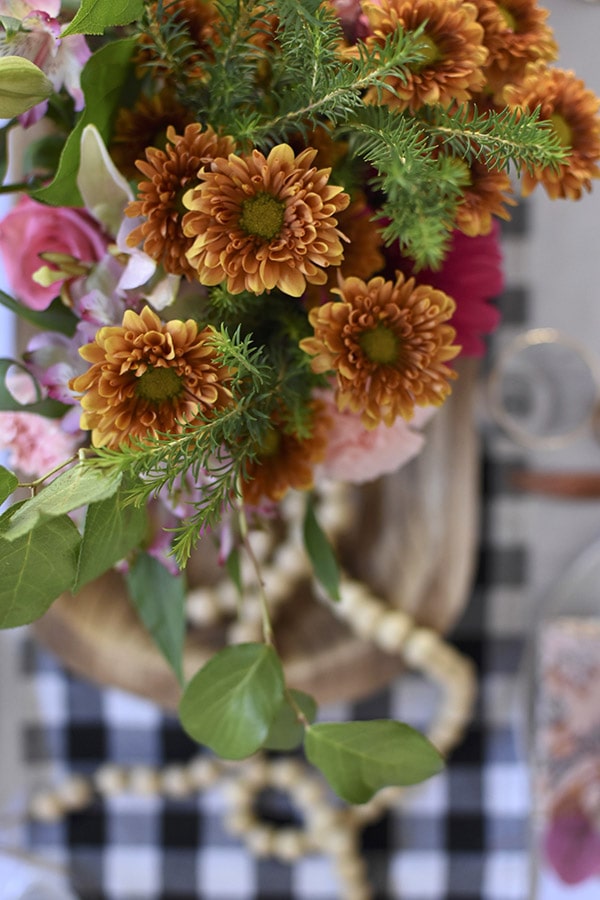 Personally, I love deciding on my table decor well before I decide on my food menu… but that is me. If the decor is not your thing, then embrace that. Find what makes your heart sing and make the best dang mashed potatoes that your guests have ever had!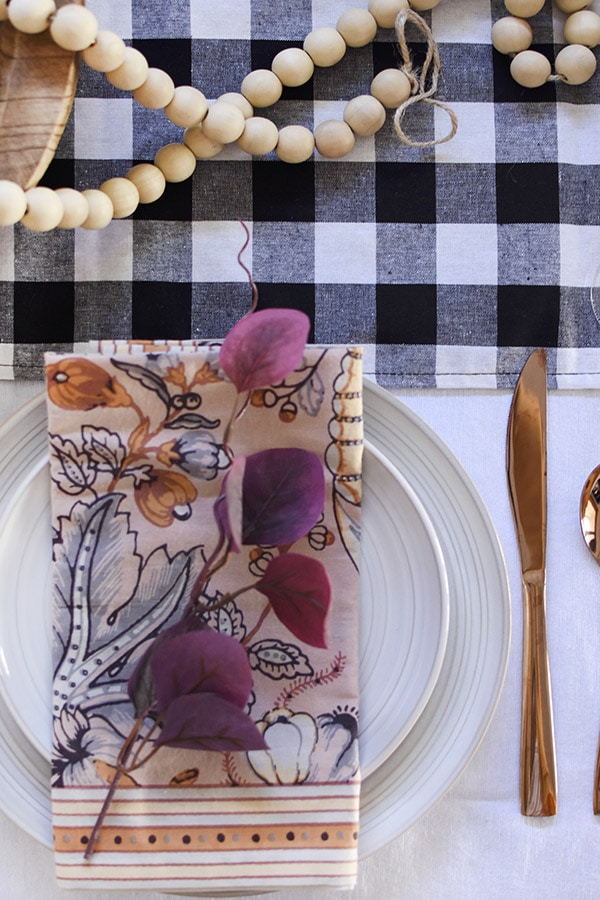 Ready to shop this post?


Looking for some more Thanksgiving Inspiration? I'm on that, too.
Thanksgiving Table in Black, White, Green and Coral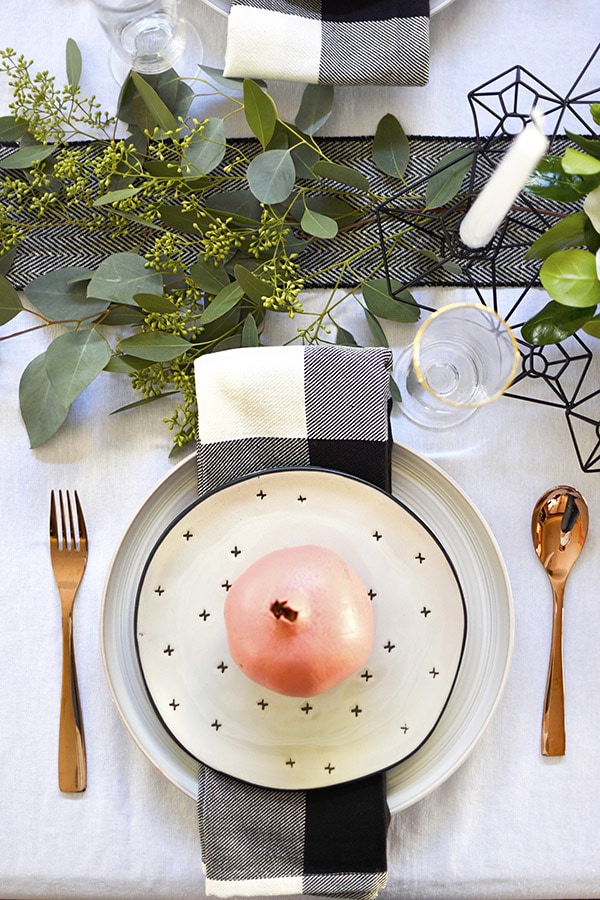 Minimal Thanksgiving Table Decor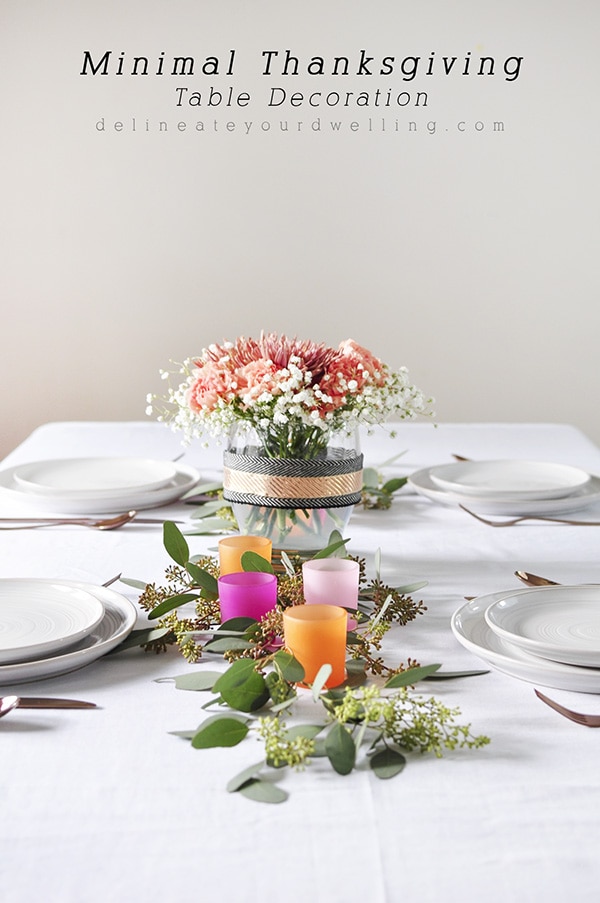 Thanksgiving Food Centerpiece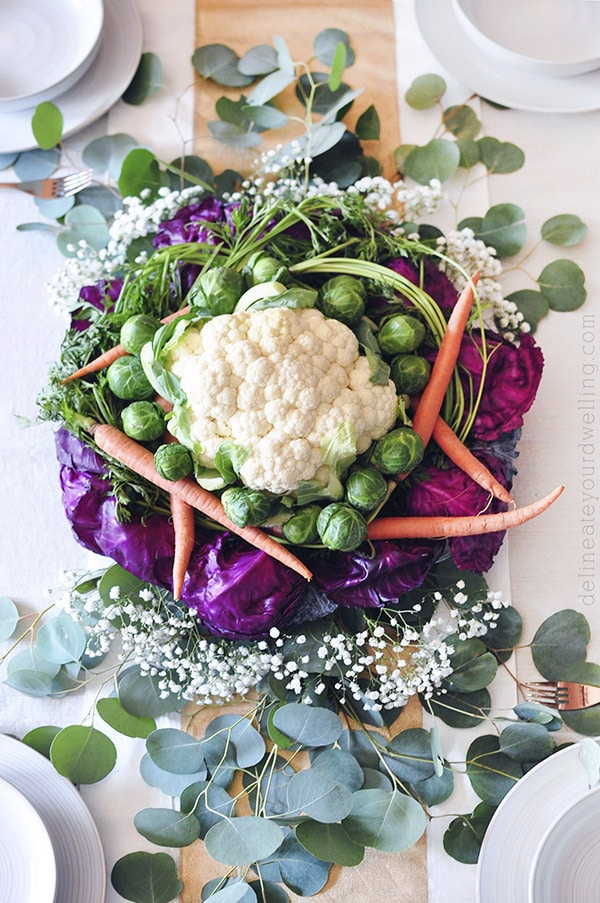 Thanksgiving Tablescape