INSIDE : Are you looking to find a way to be at home with your little ones and yet still carve out some time for yourself? Nothing changes until you begin, so take on the mindset of "Just Starting" and begin to see results.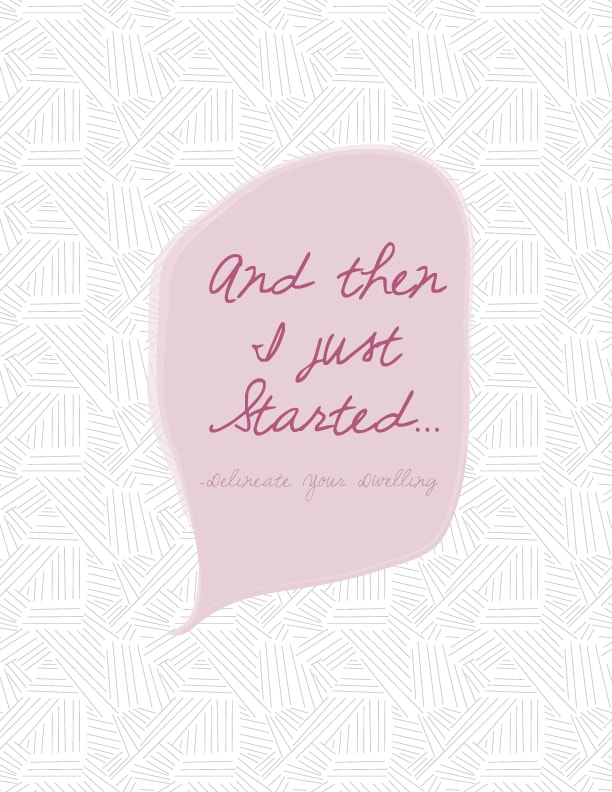 Five years ago I had two very small babies running circles around me, ages 2 and 3 to be exact. To say that I was tired, exhausted and looking for just a little something I could call my own would be an understatement.
And then I just Started
I had gone from a full time creative design job as a landscape architect to quickly having two babies under the age of two. I was looking for a way to be at home with my little ones and yet still carve out some time for me so… I just started.
Fast forward to last spring when I wrote a craft book about Marbling. As in, I had an actual publisher and I feverishly wrote, did 8 marbling projects, took all the pictures, edited the pictures, rewrote, made edits, did some of the marbling projects again… and then again. And finally I finished the book.
Do Hard Things
During the entire book writing process, I shared on IG stories about doing hard things. I shared about pushing yourself to try new things even when they are scary. I shared about wanting to give up because it was the hardest thing I've done, but remembering that scary doesn't mean bad. Often times scary means new dreams are being conquered.
And guess what. You all gave a huge resounding yes to all of it. I was taken back at how many of you resonated with wanting to try something new but feeling stuck. And something in my mind clicked. I have been writing on this topic for the last 5 years of my blog. I have written on making small attainable goals, on finding your fire, on the goodness of working hard on something, on embracing that you were not made to be ordinary, etc…
Here is what you told me:
–You all shared that you needed a little push to break out your old watercolor paint set again.
–You needed a nudge to remember that scary things are often times good things.
–You needed someone to give you permission to try and possibly fail, but to then try again.
My brain started whizzing as I started to realize, I had just written a book. And had I not just decided to "just start", I may have let my self-doubt creep in and convinced myself that I couldn't do it because it seemed hard.
You'll never know the outcome, if you don't just start.
I got to work compiling all the posts I have been writing over the last five years. Because for five years, I have slowly been preaching this message to myself while I had a little 2 and 3 year old and decided to start a blog for myself. For five years, I have been LIVING out the message of creating small attainable goals to slowly move you closer to your dreams. Friends, you will never know the outcome, if you don't just start!
I'm so passionate about this topic because I 100% believe we all can do whatever we set our minds to. Sometimes life gets in the way and you need someone to help you make a plan WHILE living and doing life.
I believe whether you are looking to start a small business, run a marathon, finally take charge of eating more healthy meals, looking to carve out time to learn a new hobby or any other dream or goal you might have – you need a plan and Just Start can help you get there!
Want to hear me talking all about Just Starting?? Check out my video below.
My new ebook, Just Start, walks you through the ups and downs of making those dreams a reality. From helping to hone in on what exactly your dreams are, to putting a plan in place even while having little babies at home.
I have 11 chapters full of practical real life tips and methods that I use daily and have used for the last five years while on my creative blogging journey.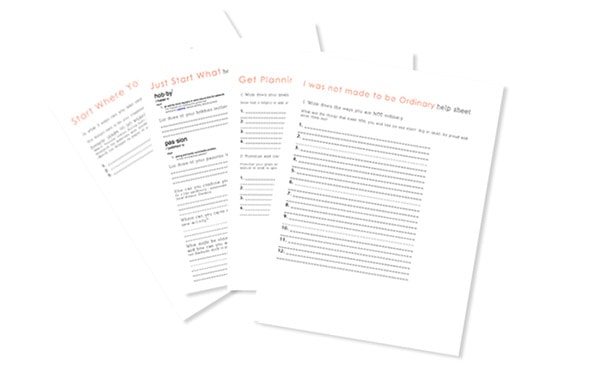 Also included are 4 worksheets that you can print and fill out. They are thought provoking questions to help guide you along on writing down your dreams, getting an actionable plan in place and helping you navigate the potential pitfalls along the way.
Feeling discouraged that you slipped up or fell off the bandwagon? Well, I also have 9 gorgeous printables that go along with many of the chapters. Because if you are like me, I sometimes need to see those words of encouragement right in front of me.
You can print them off right at home or take them to your nearest print shop… wherever you print them, be sure to hang those prints in visible easy to see places around your home because being tenacious and remembering you can do GREAT things is something we all need help with!


I think at this point you are hopefully as excited as I am about this ebook!
Remember – Nothing changes until you begin.
Ready to dive a little deeper into this exciting topic? I'm SO THRILLED to share my Just Start ebook with you!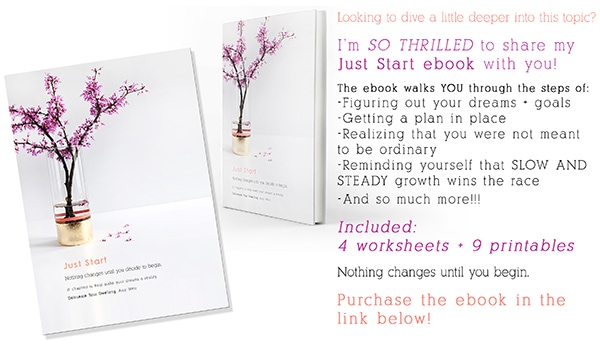 IT'S DOWNLOAD TIME:
Sign up for the DYD Insider newsletter to receive access to my ENTIRE DYD Printable Library along with this inspiring 'And then I just started' printable!!!
Already a DYD Newsletter Insider? Click on over here to access the printables library using the password found at the bottom of any email I've sent you.