Have you ever had something pressing on your mind? Something that no matter what you try – the idea or excitement just won't go away?
Whatever it might be, it could be something big or small – but with busy lives, it's probably just sat there on your back burner for a while.
However, sometimes that nagging idea in your head or that hobby you've always wanted to enjoy… is only realized when you actually JUST START doing it.
Instead of continuing to wait for a more ideal time… you have the power to take hold of that dream and go for it!
Are you ready to start finding real ways to incorporate time to get your dreams accomplished?
Imagine looking back over the last six months and realizing you have taken actual ATTAINABLE steps towards your dreams without having to put your entire life on hold!
Imagine the confidence you will gain from doing things that may FEEL scary, but you know in your heart, they are good for your soul.
You don't need to settle for just going through the motions of life because sometimes reaching your dreams and goals in life can be as simple as Just Starting!
And if you never start, you will never know what the outcome COULD have been.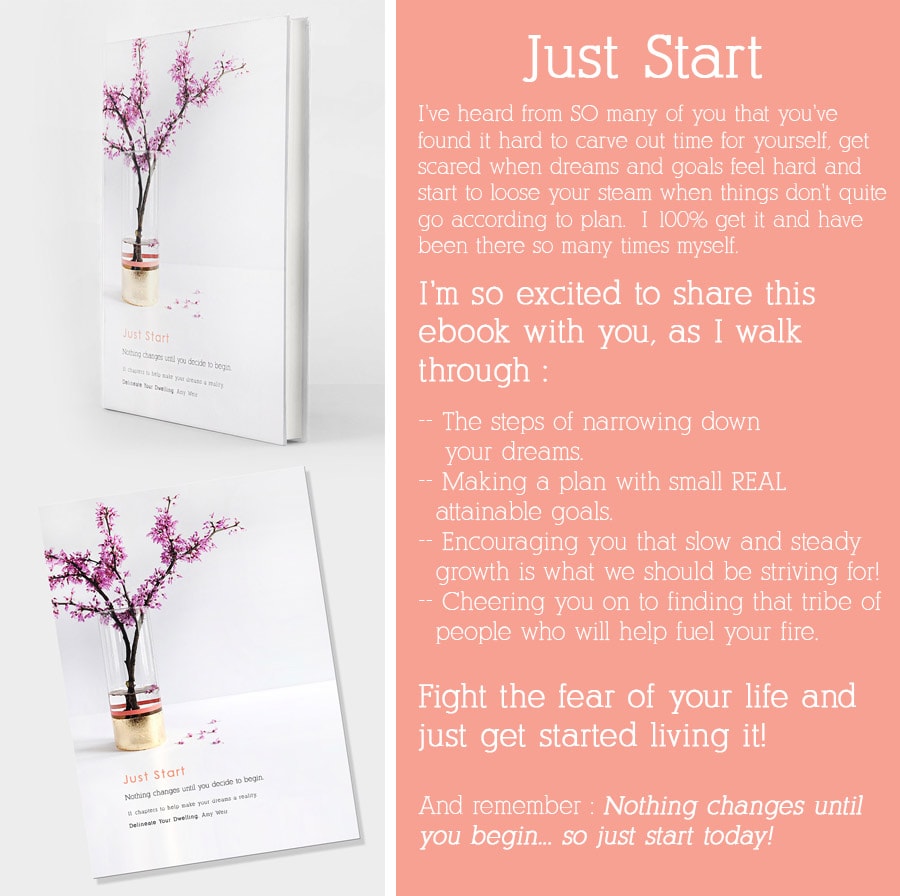 Can you relate to some of these whispers we tell ourselves?
I can't seem to find spare time with everything else going on to make my plans a priority. – I GET THAT ONE!
I have young children, what can I really accomplish beyond surviving this stage of life?? – I HAVE BEEN THERE!
I keep trying to follow my dreams, but then I mess up and it's hard to want to start again. – ME, ALL THE TIME!
I've heard and lived ALL those fears myself at some point.
But five years ago I decided while my babies were 2 and 3 years old (yes, they are close in age!), that I would never KNOW if I could run a blog as a creative business… if I didn't just try.

So, I took a big breath, made a plan and set my first goal of just starting because really what did I have to lose? I could try and maybe fail or I could never know.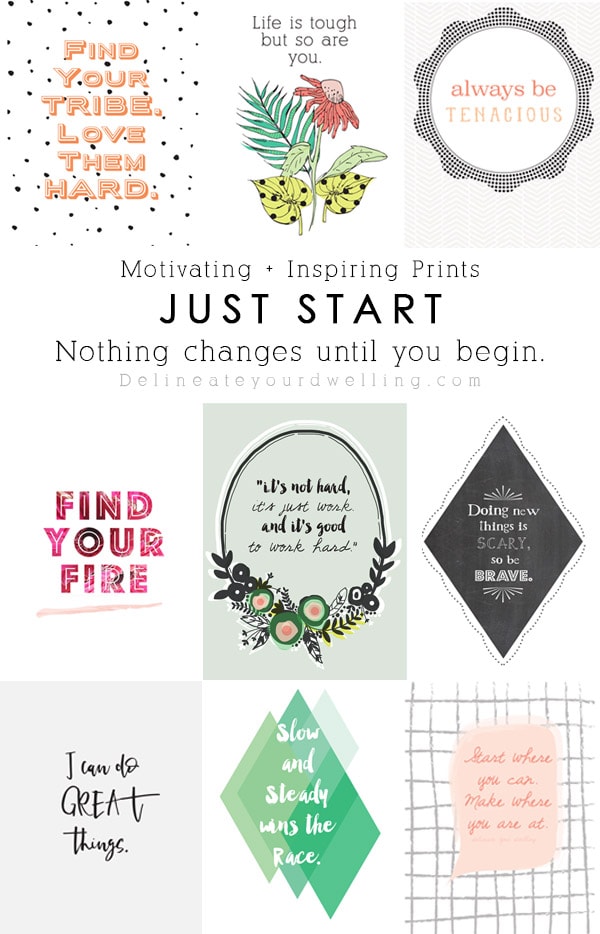 What readers are saying about this ebook…

Amy's ebook is a lighthouse in the choppy creative seas. And my little boat, battered by frustrations in my creative journey, was overjoyed to find it. Her voice is steadying and reassuring. She is a cheerleader, but better, because chapter after chapter she serves up practical nuts and bolts advice on how to make progress towards any goal, big or small.
The printables remind me of the simple but hard fought truths she teaches. I love that they're so beautiful and fun, but after reading the book, carry deep significance. I can't say enough about how this changed the direction of my current dream-chasing-endeavor. After finishing this ebook in two sittings, I finally found what I needed to get up and keep going.

Through words of encouragement, Amy's personal story, and tangible worksheets "Just Start" is a refreshing guide that helps you navigate the practice of getting unstuck. It empowers you to take time for yourself, do some soul searching, and go after what you've been neglecting – no what matter what it is and no matter where you're at! It's encouraging, uplifting, and the perfect little push we all need to JUST START already!


Thank you for sharing 'Just Start". This book is simply perfect! Little did I know the impact your e-book made on me until a week after reading it. Being a full time mom to 2 very active boys (6 &9), having a full-time job (thankfully allowing me to work from home), and owning a small business with my husband, life, needless to say can get overwhelmingly crazy.
I expect a lot out of myself, not only with personal growth, but also in mindfully raising my boys with purpose and being a good example to them. I try to do the best for my employer, work countless hours learning how to grow my small business, all while trying to find time to separate being a wife, business partner and manage a household. Some days, quite frankly, I don't feel like showing up.
On the days I don't feel like showing up, I have found myself quoting many of the phrases Amy has shared. "Just Start" and "It's not too hard, it's work" have been the top two. The gorgeous printouts created are super helpful and encouraging. I'm excited to just start everyday with these little reminders, show up, work hard, and love life! Sometimes a small simple read one day can be your lifesaver the next! I am truly grateful that you took on the scary task of writing this book. It has helped me in so many ways to "just start" and show up to all I have worked for and have been blessed with.
Are you ready to stop putting your dreams and goals to the sideline and start finding real ways to incorporate time to get them accomplished? JUST START! Start where you can, make where you are at today.

Introducing… my new ebook!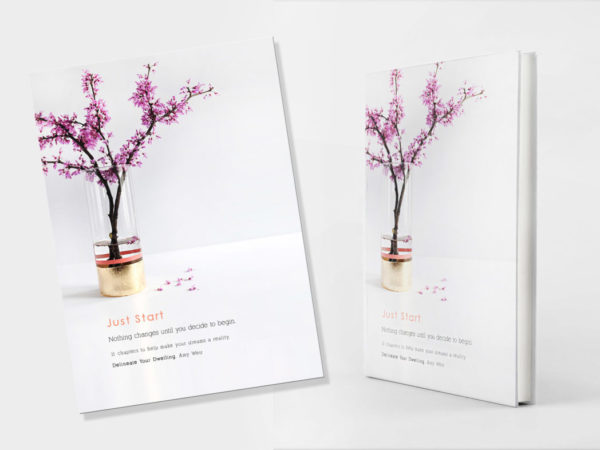 This ebook will help you…
pin point what your dreams and types of goals are
craft a realistic plan for achieving and reaching those dreams
remember that you were not made to be ordinary and to spur you on when it starts feeling tough.
know that SLOW and STEADY growth is the kind of growth we should all be trying to achieve (that's the real secret sauce to following your dreams AND being a mama/friend/wife, etc)
face new things even if they feel scary
search out people, your tribe, who will help encourage when you're low
much more!
Also included are 4 worksheets that you can print and fill out. They are thought provoking questions to help guide you along on writing down your dreams, getting an actionable plan in place and helping you navigate the potential pitfalls along the way.
More of a visual person like me? I designed 9 gorgeous printables that go along with many of the chapters. Because if you are like me, I sometimes need to see those words of encouragement right in front of me.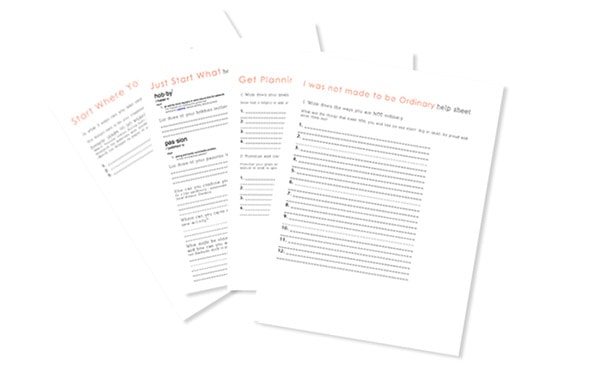 You can either read the ebook on your computer or print it off!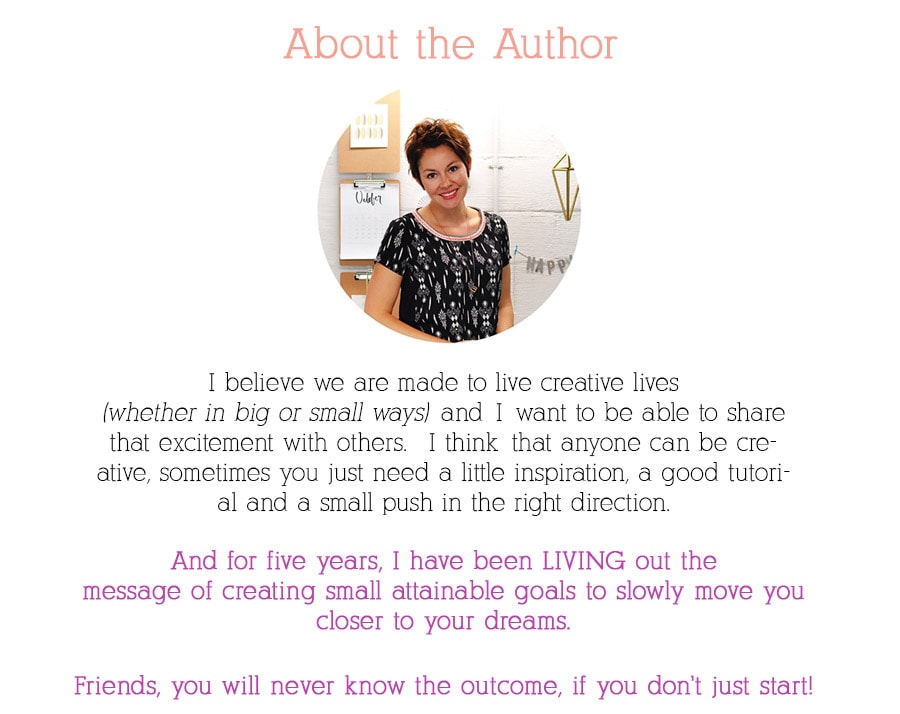 Interested in more on this topic of being brave and just starting something new? You might like some of these posts: