INSIDE : When is the best time to set goals? What are resolutions versus goals? What are the best type of New Year's resolutions to make? How do I know the right resolutions to improve my life? I have asked myself all these questions and now I am here to share how to make 2023 your best year yet.
This post has been updated since it's original publish date of 2019.
With the new year here, my thoughts automatically move to plans for the upcoming year… is that you too?
I have written so many blog posts about –
and How to just start when you are ready to take some time for yourself.
Today I am going to talk about when to set goals, what are resolutions vs. goals and what are the best New Year's resolutions!
When should I set a Goal?
I am a huge believer in goal setting in general. Although, I don't think it's critical that those goals are decided and set at the New Year.
\Whenever you are ready to make and start your goals, even if it is mid-year, it is okay to start fresh and decide to go after your goals then. I've often set new goals for our family at the start of the school year (mid August) or at the start of new seasons (Winter, Spring, Summer or Fall).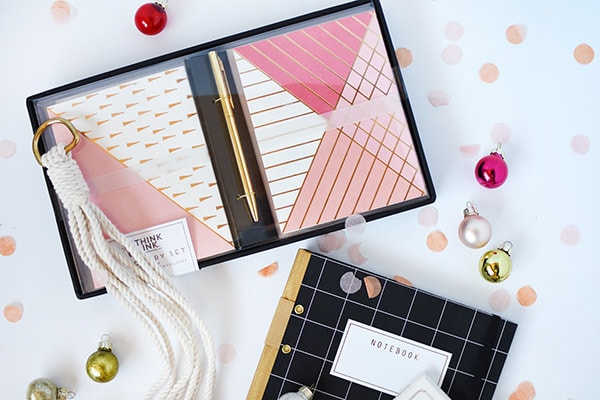 However, after the hustle bustle of the holidays, many people do have more down time and find that it is a good time to reflect on the past year and gear up for the new year coming.
This is the time most people starting making a list or putting together their New Year's resolutions.
However, it is important to not put too much pressure on yourself to think you MUST come up with goals right now on the magical date of January 1st.
Less pressure and more small attainable goals is the key!
WHAT ARE RESOLUTIONS VERSUS GOALS?
I have never loved the phrase "resolution" because it sounds so definite and resolute to me.
I much prefer using the term "goals" because a goal is something you can continue striving for and working towards. The definition of a goal is the object of a person's ambition or effort; an aim or desired result.
I think the word goal also has a more positive feel to it.
WHAT ARE THE BEST NEW YEAR'S RESOLUTIONS (OR GOALS) TO MAKE?
Ready for the big secret – the best New Year's Resolutions are the ones that you can keep.
The BEST goals to make, are the ones you can keep!
Many resolutions or life goals fail early in the year because people are not setting the right types of goals. Did you hear that? Stop and read it again. Many goals fail because people aren't setting the right type of goal.
And sadly, once you fail at a goal…. it makes everything a slippery slope downward.
It becomes so much easier to start letting everything slide once you feel like you have failed. The way you can give yourself the best chance at following through, is if you set something that is actually doable and realistic.
I believe in setting small ATTAINABLE GOALS.
Attainable goals are do-able and bite size things that you can fit into your daily, weekly or monthly routine until they become PART of your routine.
HOW DO I KNOW THE RIGHT RESOLUTIONS TO IMPROVE MY LIFE?
1. Create a list of realistic goals you would like to work towards.
2. Think through and make an attainable plan on how to reach them.
3. Become part of the small group of people that successfully achieve their goal.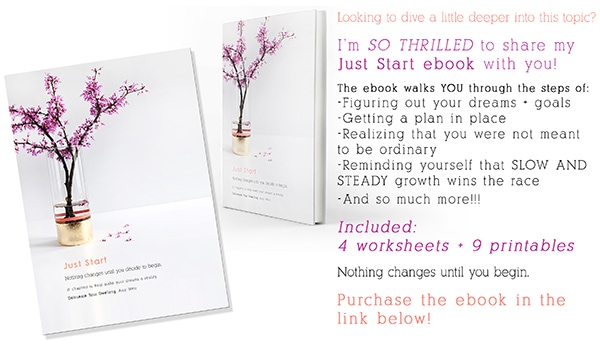 I talk about this a lot in my ebook, Just Start. Nothing changes until you begin and the same goes for goal making. Are you ready to dive a little deeper into this inspiring resolution and goal topic? I'm SO THRILLED to share my Just Start ebook with you!

The link to purchase is HERE!!
WHAT ARE THE WRONG TYPE OF NEW YEAR'S RESOLUTIONS?
The wrong type of goal or resolution to set is a big picture vague goal. For example saying, I want to lose weight is not an idea goal. You need to create goals that give you a realistic plan for achieving them.
You should be absolutely clear in your resolution making. Instead ask yourself, HOW much weight do I want to lose and what are the ways in which I can go about losing X amount of weight.
Being able to say, I want to lose five pounds in the next two months is getting you closer on track. Being able to say, I want to drink 2 glasses more of water each day and attend Zumba once a week, in order to lose five pounds in the next two months is even better!
Creating goals that give you small wins is helpful, as well. Give yourself enough time to meet goals with lots of smaller intermediate goals set up along the way. You are trying to build a habit, so you should be planning for the next decade, not the next couple of months.
Make sure you can figure out the HOW of your resolution, not just the what. You won't just wake up and change your life, you not only need a plan for what to do, but also for what roadblocks you'll come across along the way.
Now, what will your goals be for 2023? Let me know in the comments!
Looking for more on this topic? You might find these interesting!
Just Start
Looking to Start some Goals
9 Ways to Organize your Life and Home
Gorgeous Hand Lettered To-do List
25 things to throw away and feel Awesome about
How to Stick with a Goal
What are the best New Year's Resolutions?