INSIDE : Get yourself a fun free kid's "Love You Oodles of Noodles" Valentine's Day printable and see how to craft a colorful marbled noodle necklace to go with it!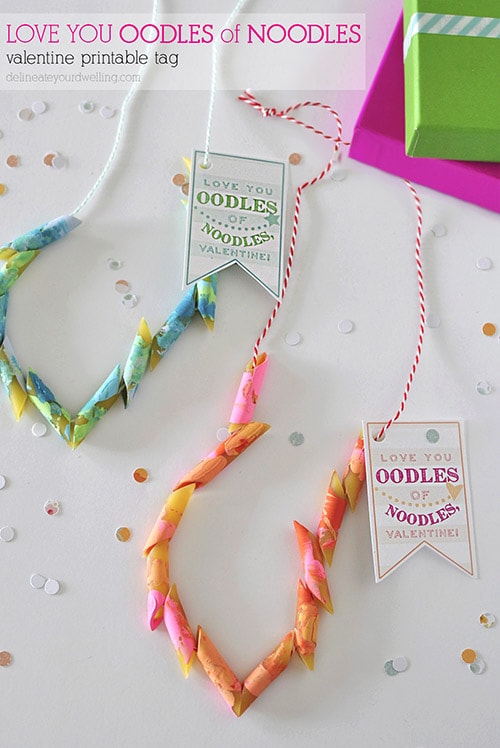 My kiddo #1 has her first Valentine's Day party at preschool and we both are really excited! She keeps asking if she will get lots and lots of candy and I just kept dreaming about the fun crafting I am going to do with her to prepare for the party. (I'll be honest, I might be more excited than she is!)
Today I am sharing this simple DIY craft you can do with your kiddos, along with a free Love You Oodles of Noodles, Valentine's Day printable to go with it!
Looking for more amazing Valentine's Day projects? You'll love these fun ideas.

A box of noodles
Acrylic Paints in assorted colors
Paint Brushes
Baker's Twine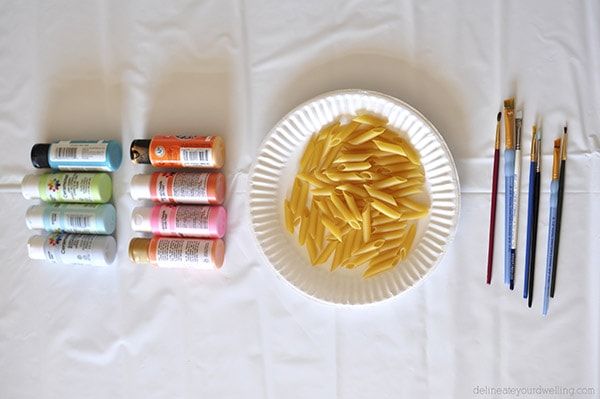 First of all, be sure to cover your table with paper or a cloth, as this can be a messy activity… especially with littles helping out.
Set out the noodles and let your kids paint away! I wanted two different color schemes, so I set out a plate of paints in pinks, reds and oranges and paints in shades of blue and green.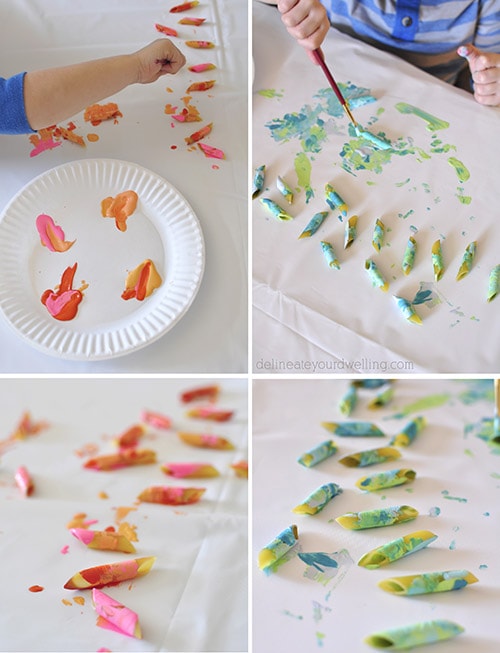 I am clearly in a big 'painted marble kick' and love the unintentional marbled texture of the painted noodles!
I just shared this handpainted Marble Wall box and guest posted for Craft Hunter these Easy Handpainted Marbled Cocktail Napkins. I need to stop but I can't… I want to marbleize everything in sight!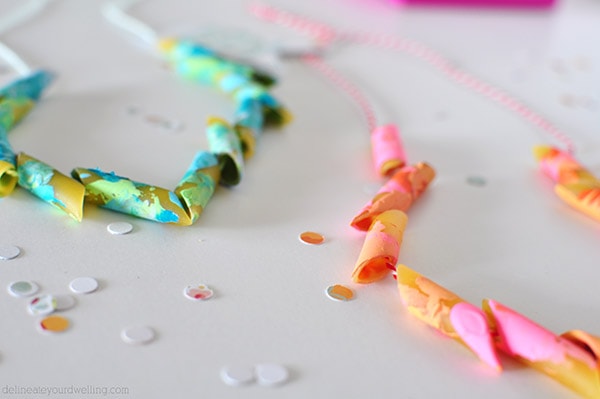 Next, simply measure out the length of the necklace and cut the baker's twine to size.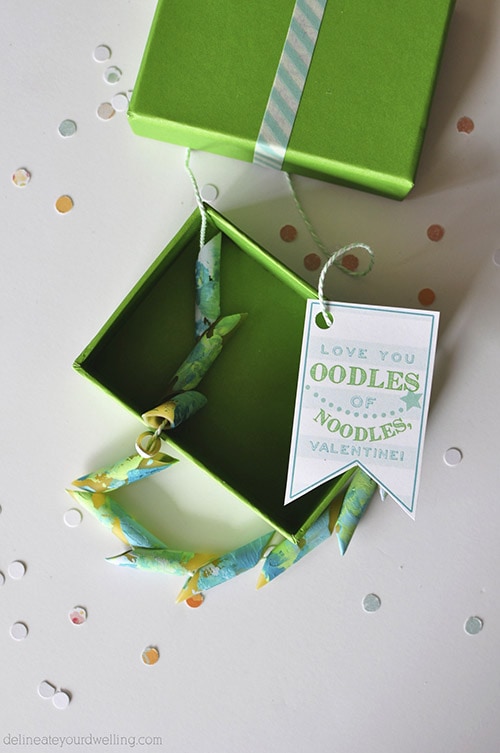 Lastly, cut out and add the Valentine's Day printable to the necklace! A huge thanks to my dear friend, MRW, my word guru. I kept going towards macaroni and cheese phrases in my mind. She helped me with this cute Oodles of Noodles line. Everyone needs a word guru friend.
IT'S DOWNLOAD TIME:
Sign up for the DYD Insider newsletter to receive access to my ENTIRE DYD Printable Library along with these cute Valentine's Day printables!!!
Already a DYD Newsletter Insider? Click on over here to access the printables library using the password found at the bottom of any email I've sent you.

If you like this print, you might want to join in with my DYD Graphic Club…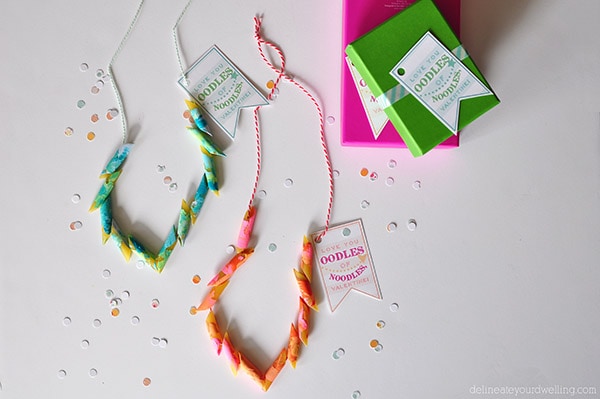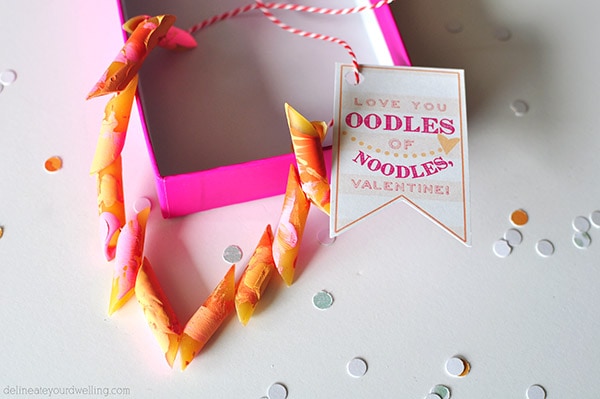 These are a simple Valentine's Day craft that you can have your children's help with and they can be worn long after Valentine's Day, too! My kids have been wearing them every single day since we made them.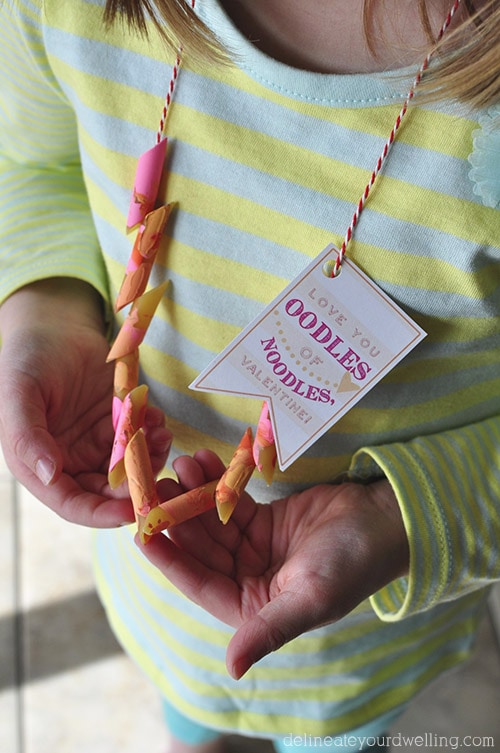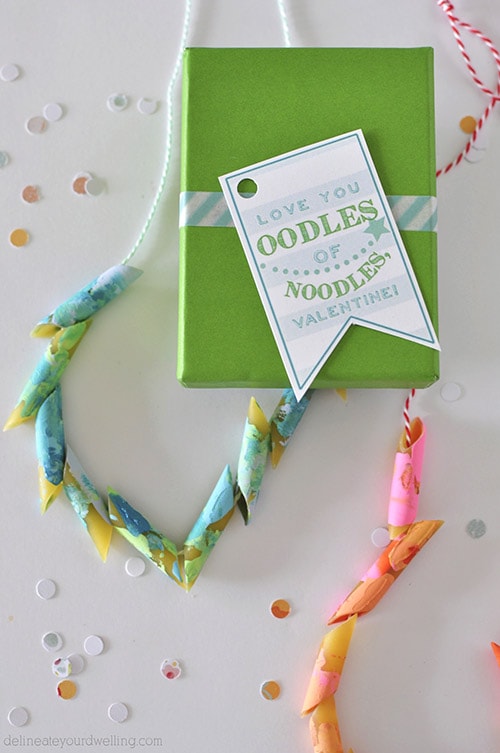 SaveSave
SaveSave
SaveSave
SaveSave
SaveSaveSaveSave