INSIDE : Just start! Start where you can and make where you are at! Be ready to get inspired to be more than you currently are with this encouraging printable because we all are busy with life but goals and dreams are life giving. Don't give up on yourself.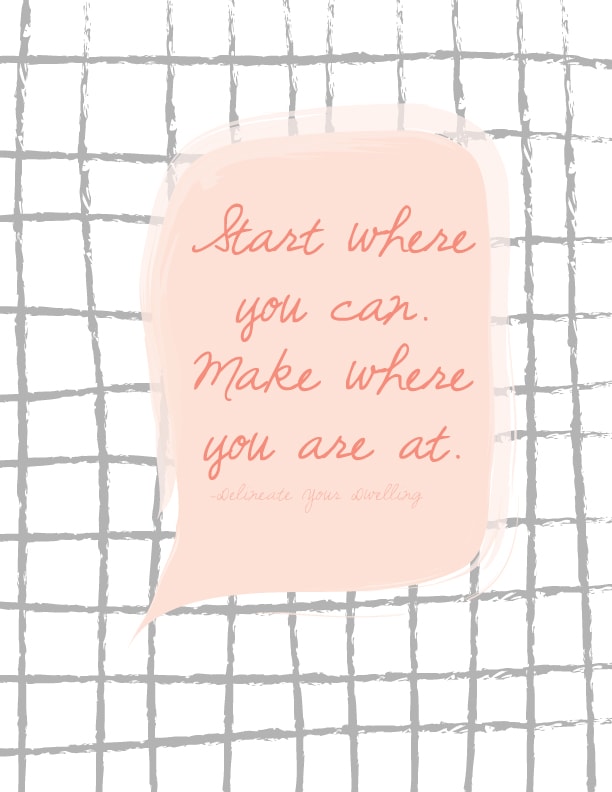 Last month I posted a few times about my new "just starting" theme. It all began with my newest printable, Life if tough but so are you. Shortly after that I shared a recent contributor post, I was not made to be ORDINARY. And then it all came together in a final post, where I shared my thoughts about Starting where you can.
Between blog comments, comments and likes on Facebook and then finally comments and DMs on Instagram… I felt like I was in the middle of a mini movement – a "Just Start" movement and I was so encouraged.
I have never received so many encouraging and moving responses to a handful of posts and ideas, as I have about the concept of "just starting".
What is the theme Just Starting all about?
Just Starting is the idea that you have had something pressing on your heart. Something that no matter what you have done, it hasn't gone away. It could be something small or something big – but it has just been on your back burner for a while.
Just Starting is realizing that sometimes that nagging idea in your head or that passion you've always wanted to enjoy… is only realized when you actually JUST START. Instead of continuing to have it on your life back burner and instead of waiting for a better time… you decide you'll never know the outcome unless you begin.
What are ways you want to just start?
Some of you messaged saying you resonated with having small children at home and wanting to find a way to carve out just a little bit of something for yourself.
Some of you said you have recently started a small blog yourself just looking for a way to share your thoughts and organization ideas and meals with the world.
Some of you said the phrase I coined, "Start where you can, make where you are at" was just the thing you needed to hear at just the right time. I even had a reader create a graphic of the phrase and tag me on Instagram.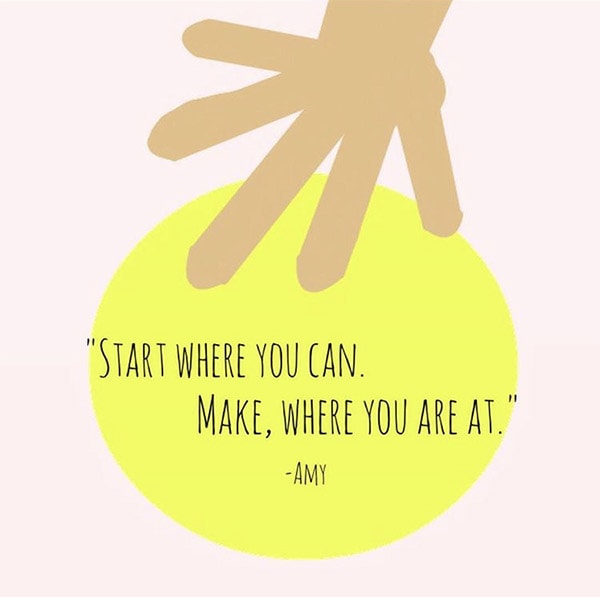 Guys. My heart literally felt like it was going to burst with joy after hearing how many of you are ready to "just start" in your own ways. I was talking to friends about it and almost brought to tears because although my heart adores inspiring creativity, my soul LOVES encouraging others along on their path!
I have decided to do a little mini series where I am hopefully am to encourage you on in different ways that we can all "just start".
Whether it is:
-Finally getting around to making time for exercise
-Learning a new skill
-Starting a new blog/business that you've always wanted to start
-Making one amazingly delicious meal for your family a week or month
-Hosting friends at your home for a party
-Or whatever it may be… let's decided to start today!
The answer is so simple, friends. I started where I could and I made for where I was at… and little by little I have grown. And if I could shout anything from the rooftops, I would say – start. Start today if you have a little tiny fire for something in your heart. Don't be intimated by thinking you'll never get where you want to be.
I also wrote a short ebook on this topic because you all inspired me to JUST START!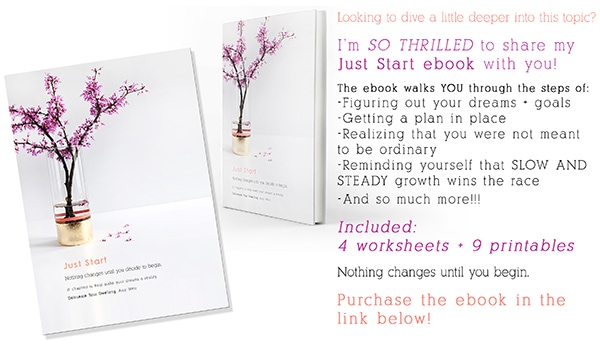 Just start and start small and before you know it, you'll be ready to take on just a little more. Slow and steady wins the race, that's my life motto and I'd love for it to be yours, too!
IT'S DOWNLOAD TIME:
Sign up for the DYD Insider newsletter to receive access to my ENTIRE DYD Printable Library along with this inspiring Start Where You Can print!!!
Already a DYD Newsletter Insider? Click on over here to access the printables library using the password found at the bottom of ANY email I've sent you.
—> WHAT WILL YOU BE STARTING?!!! Share below in the comments, I would love to hear.
Ready for TONS of inspiration like this?
Does Slow and Steady really win the race?
5 Tips to create a Sustainable Business
I've picked my word of the year, now what?
Looking to set some Goals?
Start the year by knowing WHO you are with a Personality Quiz
Start where you can
3 Reasons to Start something New
Life is Tough, but so are YOU printable
Just Start
And then I just Started
Just Start ebookSaveSaveSaveSaveSaveSaveSaveSave