44 things to throw out and feel awesome about
INSIDE : Ready for the New Year or looking to just clean house? Check out these 44 things to throw out when decluttering your home and see how awesome you will feel about it afterward! Plus your home will thank you.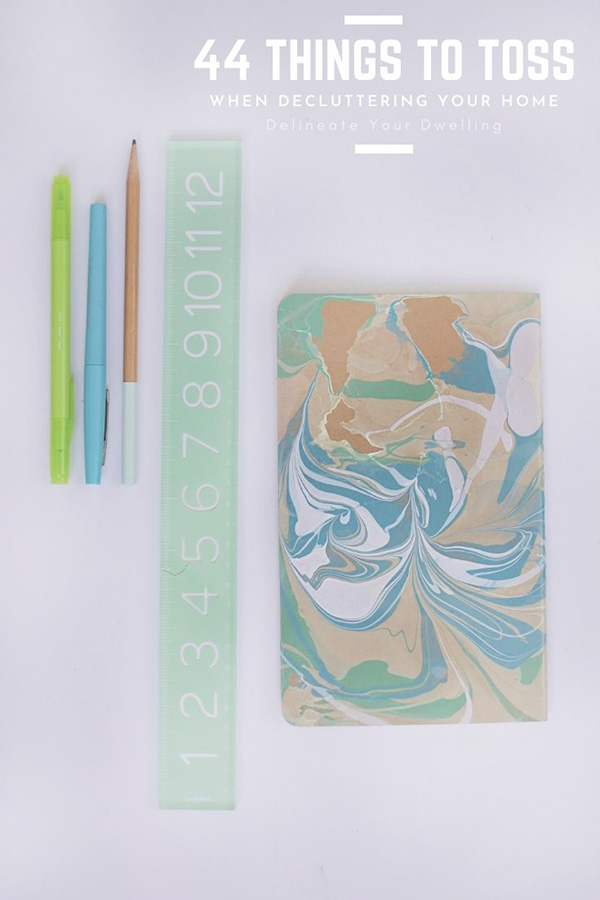 This post has been updated since it's original April 2016 publish date.
Having extra space is a glorious luxury that many of us do not have. (Someone please tell me why New Mexico homes don't have basements OR attics, argh.) One of my favorite things is to go through closets, drawers, games areas, etc… and purge (I know, I live an exciting life)! Then I create piles that I donate to various local organizations.
Today, I'm going to share 44 things to throw out and feel awesome about when decluttering (and you probably won't even miss). I have a feeling whether you have the extra space or not, we all could do with a little less!
And because so many of us, organizing types love a good checklist… I've also made this into a printable checklist that you can download at the bottom of this post.
If you are looking for more organization posts, you might like :
Okay, are you ready? Grab some empty boxes and let's get at it!
BATHROOM ITEMS to throw out:
1. Makeup that is long past it's 'best use by' date.
2. Toiletries that you will never use (creams, lotions, hair color kits).
3. Hair products that you used when your style was different (gels, creams, waxes, mousses).
4. Old nail polish in a color you don't wear any more or the paint has started separating.
5. Old washcloths that have seen better days.
6. Worn out bath towels that have seen better days.
LINEN CLOSET ITEMS to throw out:
7. Old pillow cases that you never use.
8. Old bedding or \sheets that you never use.
9. Out of date medicines, creams/lotions or ointments.
10. Bathmats that are old and worn.
11. Cloth shower curtains that you have not used for 5 years or more.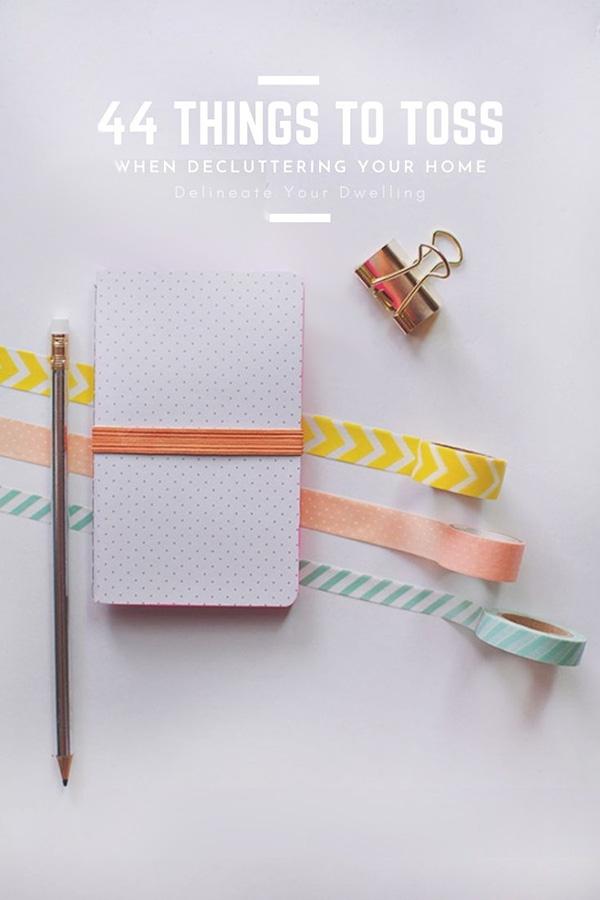 BEDROOM ITEMS to throw out:
12. Clothes that don't fit. Would you buy that item right now in a store? No, then it's time to toss.
13. Earrings that don't have their matching partner. It's so hard to say goodbye.
14. Any under garments that have simply seen better days.
15. Shoes that hurt when you wear them.
16. Bed side knicknacks that just aren't used. This could include candles, old lotions.
17. Books you keep meaning to read, but don't.
18. Baseball caps that you have collected over the year, but never wear.
LIVING ROOM ITEMS to throw out:
19. Old magazines or newspapers that you are saving for a "rainy day".
20. Games or puzzles where some of the pieces are missing.
21. Throw pillows that have lost their shape.
22. Used candles that the wick has worn down and it can't be lit again.
23. Miscellaneous knick knacks that you once loved, but now are just taking up shelf space, fireplace mantel space or coffee table space.
24. Throw blankets that are just sitting in a basket not being used. Having about 3 or 4 to grab when chilly is the most you need.
25. Old television, VCR, DVD, Roku, Apple TV and any other electronic remote that you don't use any longer.
26. An overabundance of charging cables for miscellaneous electronics. Having just the ones you need and tossing the rest is extremely freeing.
OFFICE + STUDY ITEMS:
27. Pens that have run out of ink and don't work any longer.
28. Pencils that no longer have erasers.
29. Small quantities of wrapping paper or gift ribbon that won't wrap or hold anything.
30. Old notepads, notebooks or calendars that you've already used, but are just holding onto.
31. Paperwork or bills that you could scan or store digitally instead of keeping the paper copies.
KITCHEN ITEMS to throw out:
32. Kitchen gadgets you never have used (bread machine, the bullet chopper, salad spinner, egg cooker, instapot, ice cream machine, toaster oven, etc…).
33. Any mugs over the total number of people you would ever have drinking in your home at once. Maybe hold onto 4 additional and the rest toss.
34. Recipe books you never reference or use.
35. Tupperware or plastic storage containers with missing lids.
36. Plastic silverware, plates or cups from when your older children were once young.
37. "Cute paper napkins", we all love to buy them and we use them for one party and then we have a stash of 18 additional "cute paper napkins". Toss them or use them up.
38. Glass jars. We all keep an extra pickle or jam jar here and there, but it's so easy to suddenly realize you have endless glass jars waiting to have a use for them. Keep maybe 3 or 4 and toss the rest!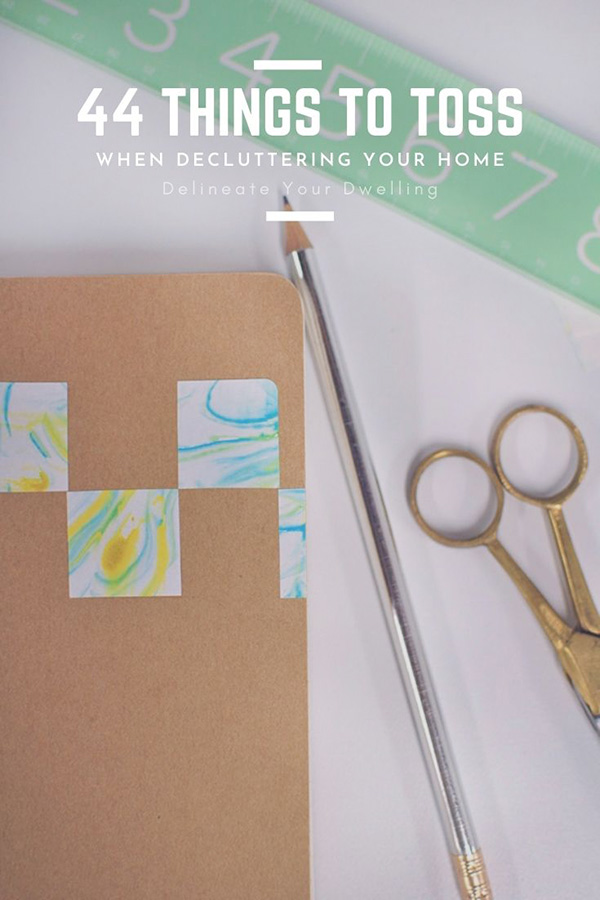 MISC ITEMS to throw out :
39. Spare buttons from clothes that you are keeping "just in case".
40. Things in your home that you look at and really don't really like, artwork, small knick knacks, vases, pots, candles, etc.
41. Chargers and cords for phones/cameras/electronics that you no longer own.
42. Greetings cards from past events (only keep those that are truly sentimental).
43. Old receipts that you have sitting around with no purpose.
44. Old glass vases, mason jars, jelly jars, glass containers that aren't serving a job but you hold onto because you might use them for flowers some day. Keep the best 3 or 4 and toss the rest.
And while we are talking about throwing things out to feel better, you might also want to do the same thing with your life! If you are ready to start afresh and take back your life, you might be interested in my ebook, Just Start. Because nothing changes until you begin!
Are you ready for a good checklist version of this decluttering?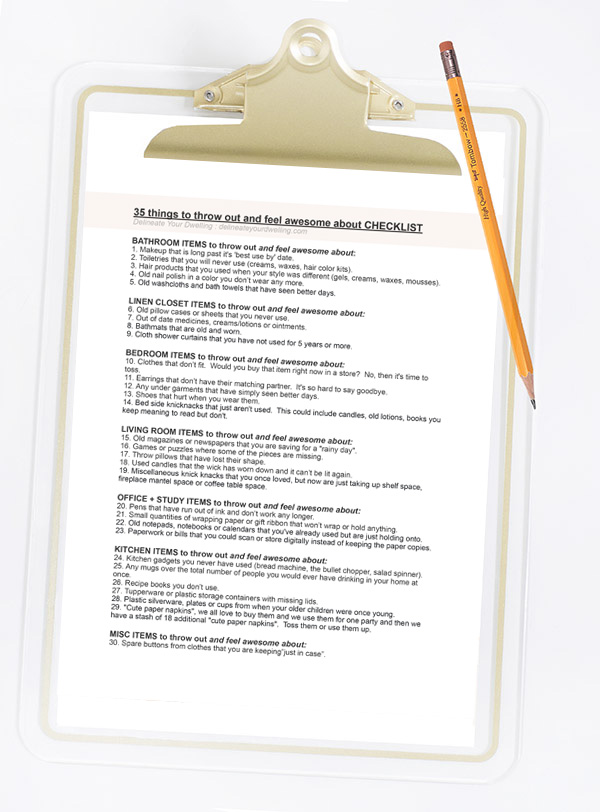 IT'S DOWNLOAD TIME:
Sign up for the DYD Insider newsletter to receive access to my ENTIRE DYD Printable Library along with this 'Toss and Feel Awesome Checklist' printable!!!
Already a DYD Newsletter Insider? Click on over here to access the printables library using the password found at the bottom of any email I've ever sent you.
PHEW! Did you make it through the list? Even if you could purge or toss just two items from each category, I would say it would be a huge win for your home and probably your sanity. Keep only objects that bring you happiness. Life is too short to surround yourself with clutter.
Looking for more on this topic? You might find these interesting!
Just Start
Looking to Start some Goals
9 Ways to Organize your Life and Home
Gorgeous Hand Lettered To-do List
How to Stick with a Goal
What are the best New Year's Resolutions?