INSIDE : Find great pre-teen art for a gallery wall or just a few selected frames. These whimsical and fun prints are a great place to start. Learn the best tips for selecting Tween Artwork!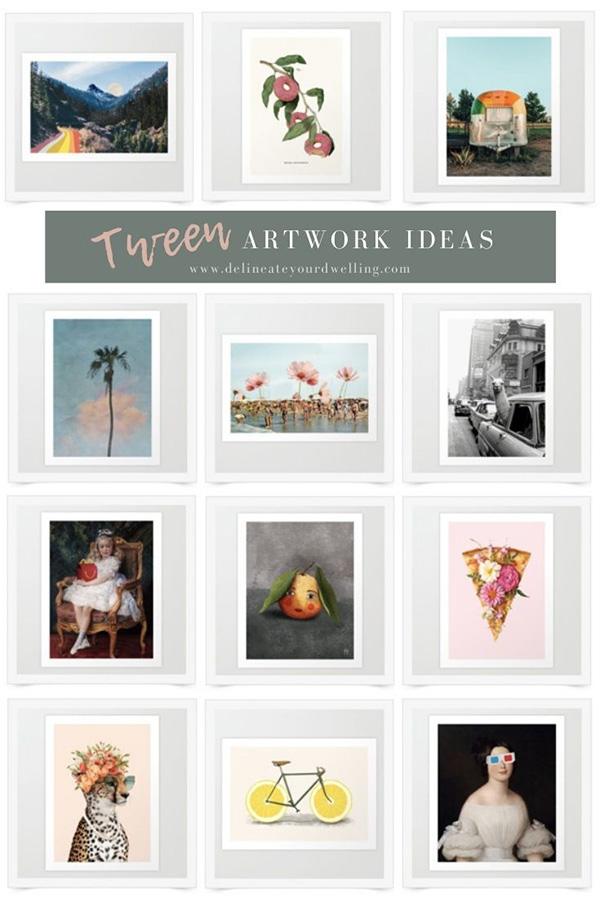 This post may contain affiliate links. See full disclosure here.
Today marks the fifth Tuesday of our New Year, New Room Refresh Challenge! Thank you to our leader Stephanie of Casa Watkins Living for coordinating this challenge. Today was supposed to be the REVEAL week… but due to shipping delays for about half of us participating, some will be revealing today and some will be revealing next week. I'm waiting on a few final items, so it's next week for me.
Read to the bottom of the post to see some of the amazing reveals!

As you recall, I am updating my 11 year old daughter's "tween" bedroom. She's not a little kiddo anymore and it's been fun to give her an updated bedroom look. I've taken her requests and thoughts and together we are crafting an amazing space for her.
Want to check out all the projects?
Last week, I shared the INCREDIBLE transformation on How to Modernize Bifold Doors. I'm truly shocked at how great they turned out.
Whimsical Art Gallery Wall
This week I'm talking all things Tween Art. I have had SUCH FUN finding artwork for my pre-teen daughter's bedroom. She's not quite old enough for sophisticated art, but also too old for little kid graphics and colors. She's at that perfect combination of silly, whimsical but with a nod to teenager vibes. Clearly, I'm right there with her because I couldn't stop finding great prints.
Let's check out some of the goodies I found! You can click on the images below to be taken to their source.

How to pick pre-teen art
I think picking art for your home should be a fun experience. Let's start with the three most important things to think about when picking your art.
Color Palette
The first step to selecting art for any space is deciding on the color palette.
Are the walls in the space crisp and white so the artwork is really shown off? Or do you have dark moody walls where the art needs to contrast that color?
Selecting art that complements the colors in the room is also a key element to help tie everything together.
Busy or Neutral
Another criteria for picking artwork is recognizing if the room is already feeling busy or not. If you have small floral wallpaper on the walls, then you may not want to select art that is also small and busy. It will get lost on the wall because of so much going on visually.
If your space has a very calm feel and the rug and other items are more simple, then picking art that is either more colorful or has bold patterns can help to give a perfect contrast.
Personality and Style
The last element to think about when selecting art, especially for your tween is their personality. Are they are huge sports buff? Do they love nature? Are they silly and quirky? Are they into certain styles, colors, fashion, etc?
Bringing those elements into the art in their space is a fun way to incorporate THEM into their room!
Here are the exact prints I got for her room. I am off to get some frames and hang these fun finds in her room now!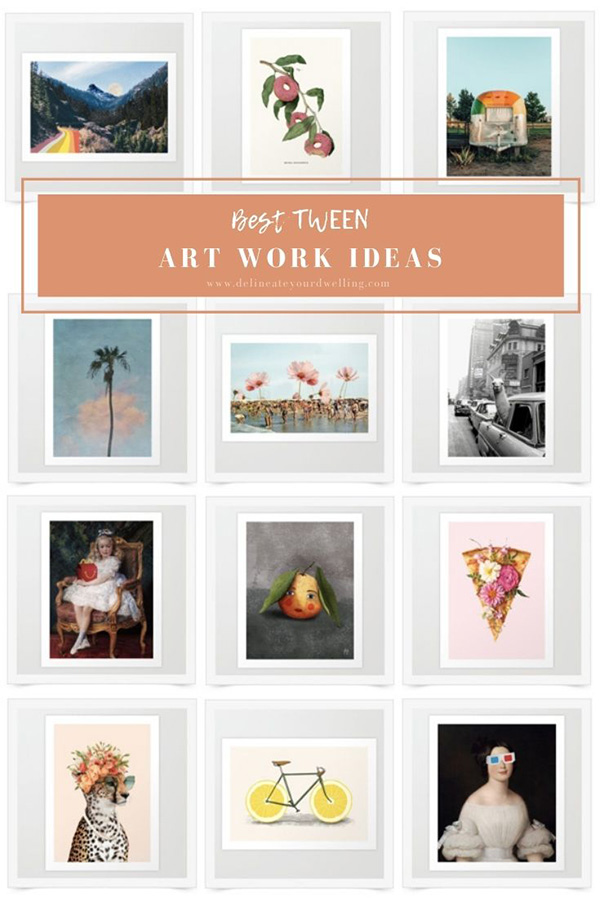 TWEEN GIRL BEDROOM TO-DO LIST :
With only ONE WEEK left, I need to wrap up a few last minute tasks!
Paint the cream walls a crisp clean white.
Add Accent Paint Wall.
Remove Wooden Shutters and hang curtains.
Remove and Install new Closet Doors.
Hang Gallery Wall
Add new rug.
Assemble new furniture.
Be sure to check out the other amazing Room Refresh plans from the other participating bloggers! I can't wait to see what they all will be working on.
Casa Watkins Living
Delineate Your Dwelling
Domicile 37
House by Hoff
Iris Nacole
JZ Holmes
Live Pretty on a Penny
Love Your Abode
My Eclectic Nest
Our Fifth House
This is Our Bliss
Uptodate Interiors
Check here for the full resource list:

And be sure to check out more of my home tour projects!