INSIDE : Check out some of the Best High End Bean Bag Chairs out on the market right now. Being comfortable and lounging never looked this good!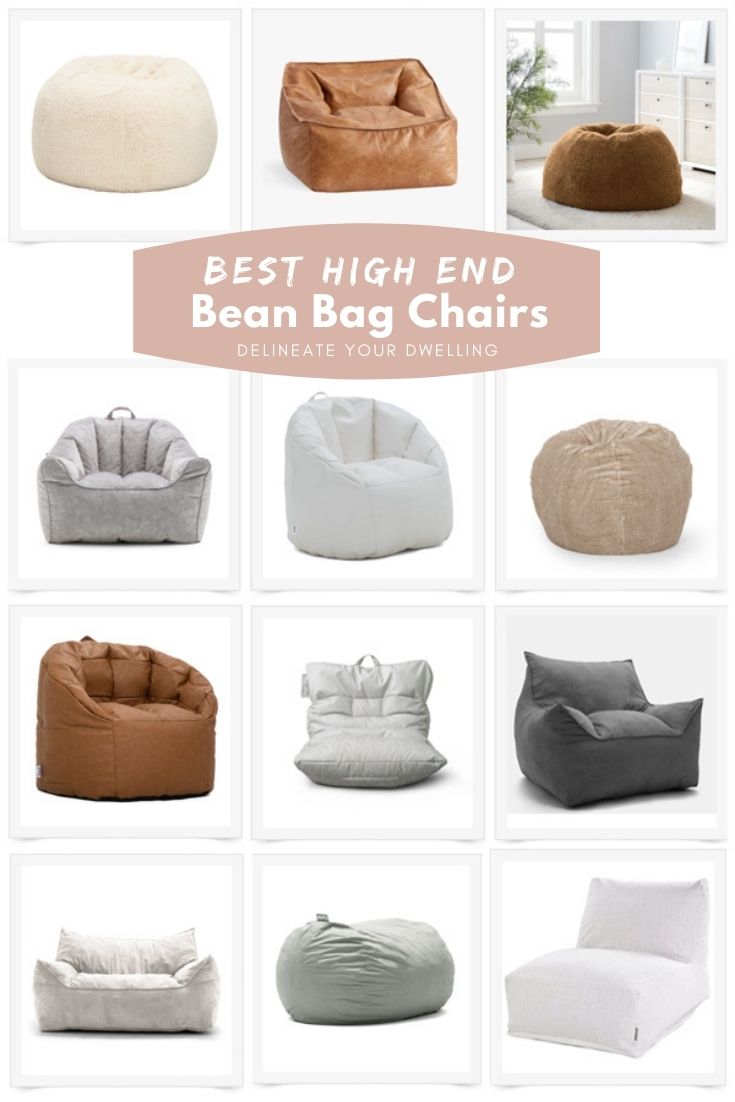 This post may contain affiliate links. See full disclosure here.
Maybe it's just me, but something about four people living inside our home for the last YEAR in a pandemic and I can not stop thinking about bean bag chairs. HA.
I've been working on clearing out the clutter in my office to make space for more family hangout space and honestly over and over again bean bag chairs kept being what I was drawn to! You might also enjoy my upcoming Most Comfortable Floor Pillows roundup post, too.
There are many unattractive bean bags, but did you know how many amazing bean bags are out there? I decided to do a roundup of some of the VERY BEST. Get ready because you might just fall in love with them, too.
And… I must admit, I TOTALLY BOUGHT ONE!! I got this camel colored Big Joe Milan chair and we have loved it! Also this stripe bean bag is tempting me for a few fun outdoor seating options.
I also rounded up the Best Pillows under $50 so be sure to check that out.
Who invented the bean bag chair?
The Italian company Zanotta was the first company to design a bean bag type piece of furniture. Their original one was called the Sacco and it was pear shaped. The Sacco is still in production to this day.
Shop my favorite High End Bean Bags:

How to best clean bean bag chairs?
Just like most furniture, a few spills or stains are to be expected here and there. There a few best cleaning methods to clean your bean bag chairs.
First, vacuum away any crumbs using either your upright vacuum or a handheld. Next, try spot cleaning your stain. Use a dry towel to lift up any excess spill and then with a damp clean wash rag, scrub the area with a small amount of stain remover.
If your bean bag has a removable cover, you may also be able to machine wash the cover. If your filler is loose inside, pour it into a large trash bag and store until the cover is fully clean and dried.
How to fill a bean bag chair?
Most bean bags that you purchase will come already filled. However, overtime it's very common for your chair to slowly lose it's "fluffy" feeling and need a quick refill. I found various places you could purchase extra fill.
Memory Foam | Shredded Foam Fill | Big Joe Mighty Bag Refill | Foam Fill Bag | Shredded Memory Foam
Why use a Bean Bag chair?
Bean Bag chairs are a great idea when the space you are creating has a relaxed feel. If your space is classic and sophisticated then using a bean bag may not be the best design solution.
Spaces like teen bedrooms, basements, casual dens or even play rooms can be great places to use a bean bag chair.
Which Bean Bag Chair is the best?
Personally, I like my bean bag chair to be nice and firm. With time and usage all bean bag chairs will naturally get misshaped, so being able to start with a fuller bean bag is important to look for.
Favorite Bean Bag Brands
Where to buy Bean Bag chairs?
Click on the images below to check out each chair more closely.