Best Places to Buy Pampas Grass Online
INSIDE : Looking to hear what the Dried Pampas Grass trend is all about? And even more importantly, learn where are the best places to buy pampas grass online – because this is a trend that is here to stay.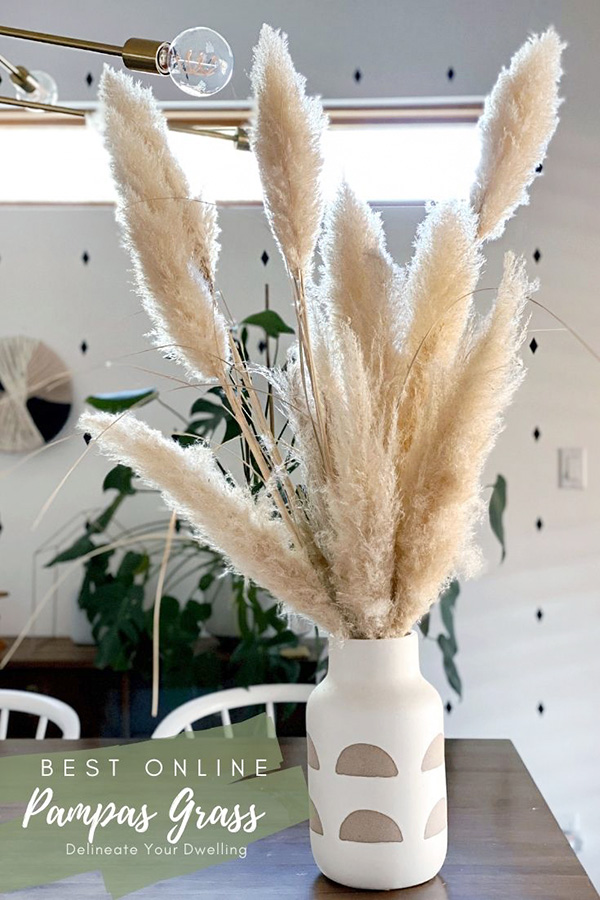 This post may contain affiliate links. See full disclosure here.
This post has been updated from it's original 2019 publish date.
I am a pampas grass lover and it seems like everyone is now jumping on the trend! I even planted some pink pampas grass in my yard and can not wait to see how they grow into the space.
Check out these other creative Pampas Grass projects...
- Modern Dried Pampas Grass wreath 
- 13 Creative ways to Decorate with Pampas Grass
Dried Plants and Ornamental Grasses
It seems everywhere I look on Instagram someone is making a stunning dried flower arrangement. I started pinning Dried Flower Arrangements on Pinterest because they are so many gorgeous ones!
The other similar trend I have been seeing, is using dried ornamental grasses and even dried out palm fronds. It seems like the ornamental grasses with "big flower" or "seed heads" are the most popular.
Best Dried Grasses
Miscanthus Grass
Dried Wheat
Golden Grass
Bunny Tail Grass
SHOP DRIED GRASSES BELOW :

I used a dyed Bunny Tail Grass below in my little Llama vase in my office.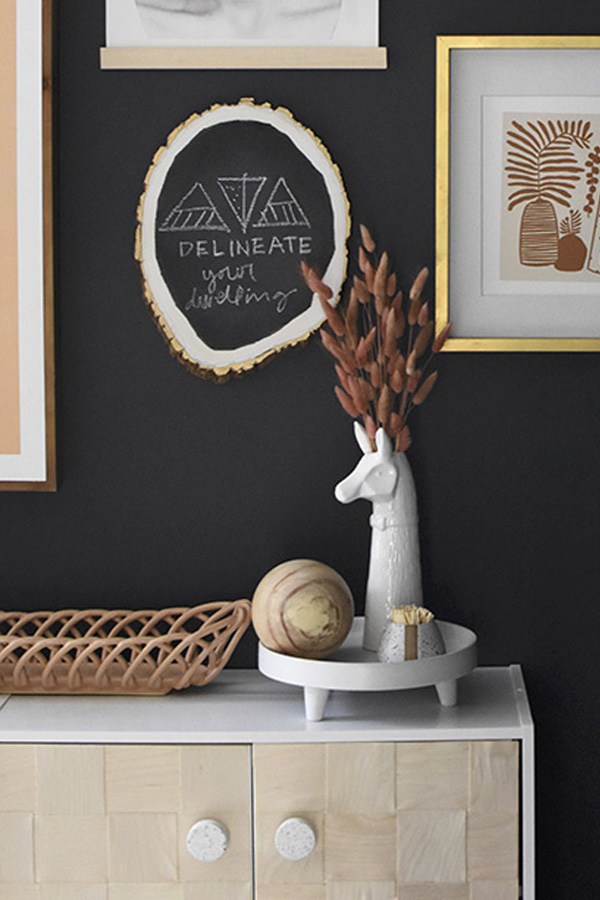 However, by far the use of the lovely tall Pampas grass is picking up the most traction. I love it's showy grass plume look.
What is Pampas Grass?
Cortaderia selloana commonly known as Pampas grass (POM-pass grass), is a tall, perennial grass native to southern South America – including the Pampas region after which it is named.
It is known for its large, silvery plumes that bloom in late summer. Pampas grass is a popular ornamental plant, but it is also considered an invasive species in some areas. It is one of the loveliest ornamental grasses and is often used as a large accent plant.
The tall, showy plumes have gorgeous autumn coloring that continue into winter and are great in fresh or dried floral arrangements.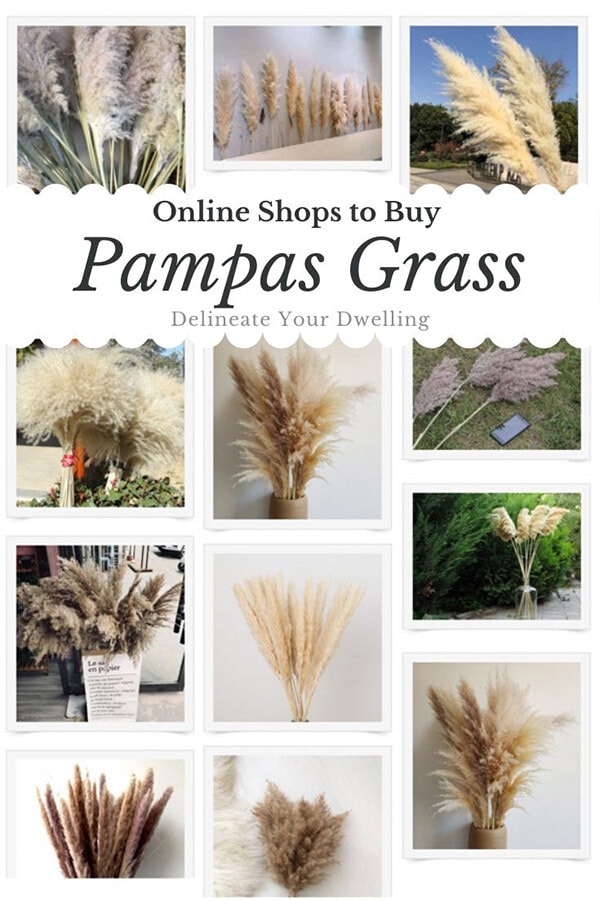 When I was a practicing landscape architect, I often designed with it in my projects. It's a lovely feature plant in any garden.
Best kind of Pampas Grass to decorate with
Most Pampas grasses typically have large plumes that grow at the top of their slender grass stems. They can be quite tall, but there are also smaller Dwarf varieties that are only about 2-3 feet tall.
Some of the best Pampas Grass varieties for drying and using in floral arrangements are the Pink Feather Pampas Grass, the White Feather Pampas Grass and the Pumila Dwarf Pampas Grass.
But really you can't go wrong with using any of them!
SHOP PAMPAS GRASSES BELOW :

Pink Feather Pampas Grass –
Cortaderia selloana 'pink feather' or 'Pink Feather' Pampas Grass grows their feathery pink plumes form in mid-summer. They are a deer resistant plant but provides habitat to attract birds. 'Pink Feather' Pampas Grass is easy to grow and can reach heights of eight feet or taller.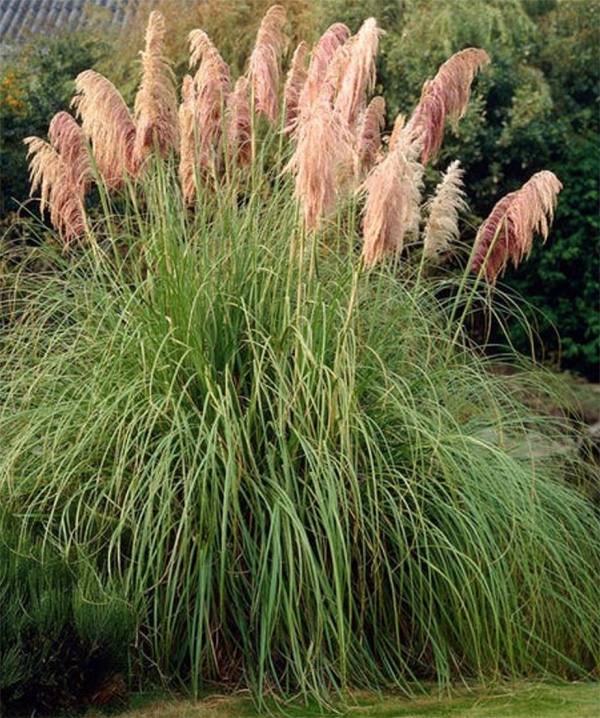 White Feather Pampas Grass –
Cortaderia selloana 'white feather' or 'White Feather' Pampas Grass is a beautiful plant. It's enormous golden feathery plumes can grow up to eight feet tall. This grass is also very easy to grow.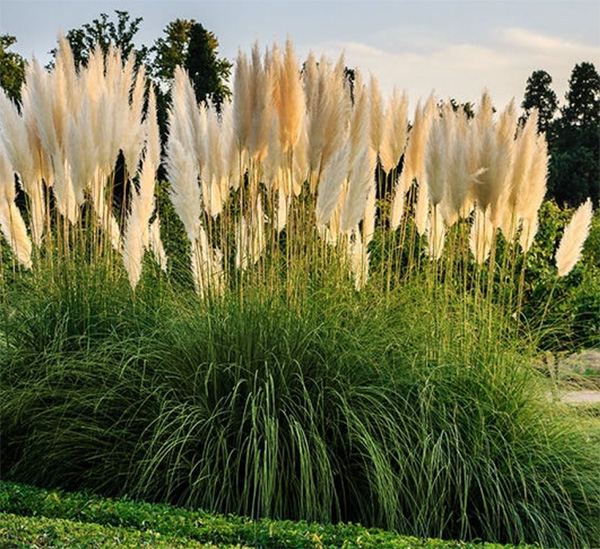 Pumila Dwarf Pampas Grass –
Cortaderia selloana 'pumila' or 'Pumila' Dwarf Pampas Grass has ivory colored feathery flowers that arrive in the late-summer and last for months. A tough, fast-growing and drought-tolerant plant, this variety is sterile and will not reseed.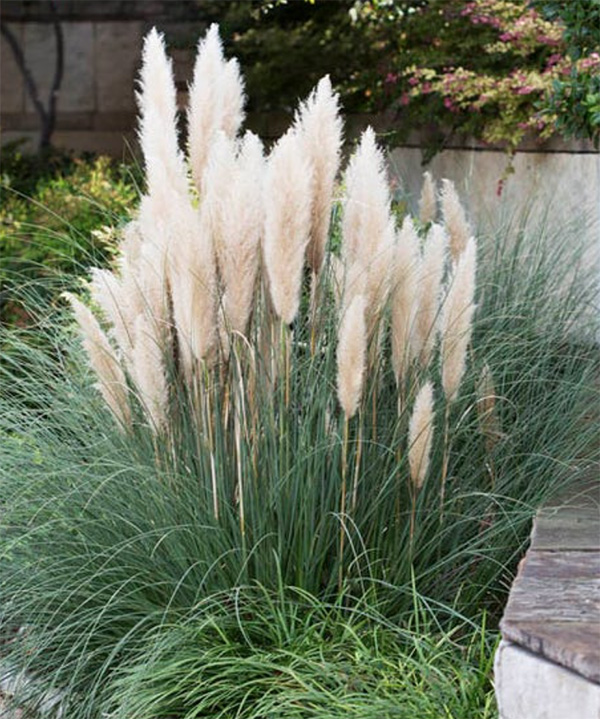 Can I grow Pampas Grass at my house?
Pampas grass likes full sun for at least six hours a day and it grows best in well-drained soil. It is fairly drought tolerant, so water the plant light to moderate amounts and otherwise the does not need much care.
However, please note – Pampas grass spreads VERY easily. Their gorgeous seed heads can bear up to a million seeds over its lifetime. The self-sowing seeds can sprout in almost any kind of soil, too. And pampas grass will come back year after year.
Because it is such a hardy plant and is quite difficult to get rid of, pampas grass is on the list of invasive weeds in California and Texas. It has also been banned in Hawaii and New Zealand.
I have been looking into a Dwarf pampas grass variety, which only grow to about 5 feet tall. And make sure to look for a sterile variety, which means that they don't produce seeds and cannot self-sow.
Here are some great online Pampas Grass options :

Where is Pampas Grass Decor for Sale?
I have been searching all my local plant nurseries for a Pampas Grass to buy and it seems like no one has them.
While driving around town, I see the plant everywhere. However, I feel very uncomfortable pulling up to a store front, a neighborhood entrance or in the parking lot of an apartment complex and just snipping away.
So, I started doing some online digging and guess what! You can get Pampas Grass (along with tons of other dried flowers and grasses) online – see below for where you can buy them.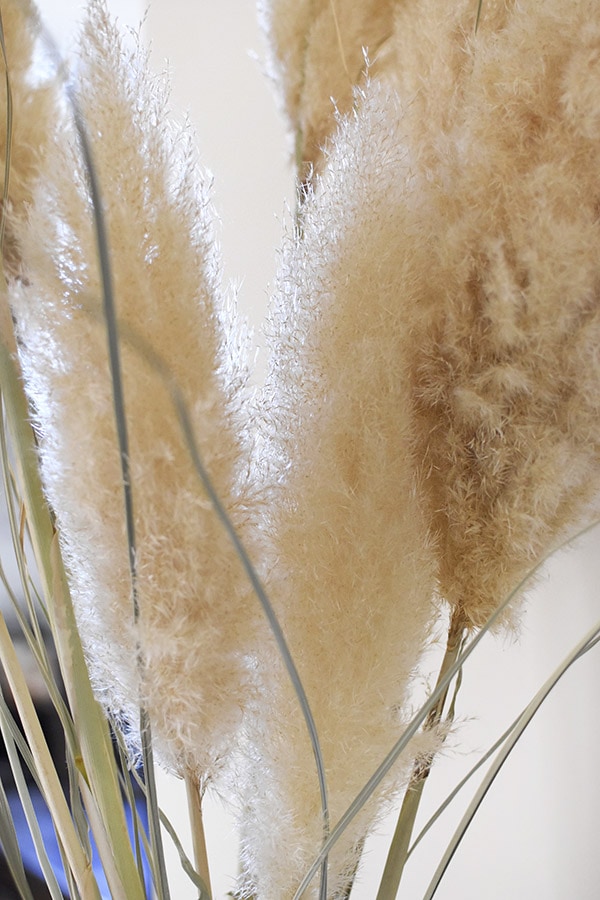 Best Online Pampas Grass to buy
SHOP the grasses below by clicking on the image.

Be sure to pin this great resource for the next time you need to get some Pampas Grasses to place in your home, decorate with or create a wreath like I did!