INSIDE : Learn how to create a Dried Pampas Grass Wreath DIY to hang in your home. Follow my simple steps to make this trendy floral arrangement!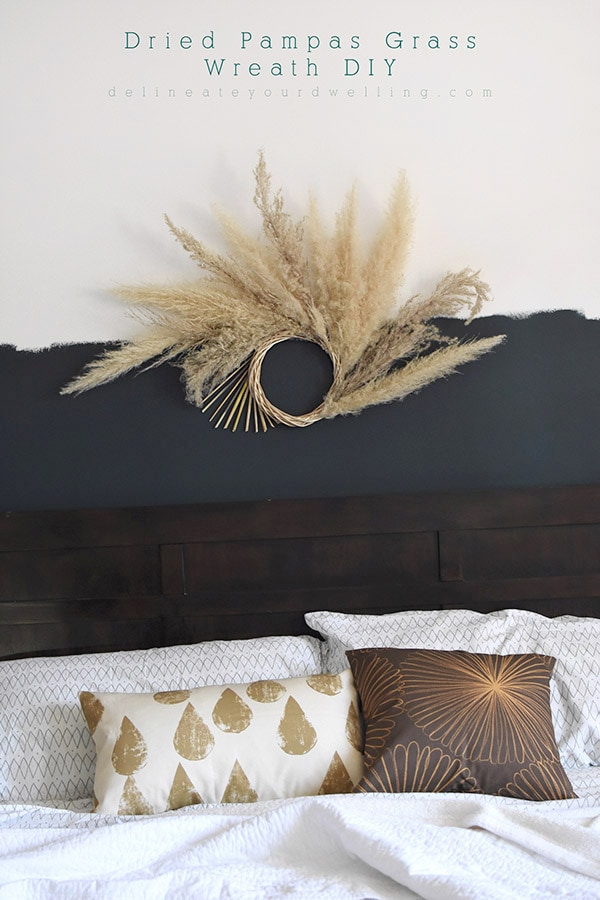 This post may contain affiliate links. See full disclosure here.
Week THREE New Year New Room refresh Challenge update!
If you didn't know, I have been participating in 2020's New Year, New Room Refresh Challenge hosted by Stephanie from Casa Watkins Living.
We have seriously amazing sponsors for this challenge (see the bottom of the post) and over the course of 5 weeks we will all are "refreshing" a room in our home. Each Tuesday, 17 of us bloggers will be sharing progress update posts. The final reveal is on February 4th, so keep checking back!
So far, I have shared my Master Bedroom Refresh Plan, Painting + Colors and How to create an Organic Paint Accent Line. Today I am sharing how to make a gorgeous abstract Pampas Grass Wreath!
What supplies do I need to make a Dried Pampas Grass Wreath DIY?
9″ Willow Wreath form
10-14 Pampas Grass Strands (online resources)
Inexpensive Hairspray
Scissors
Hot Glue Gun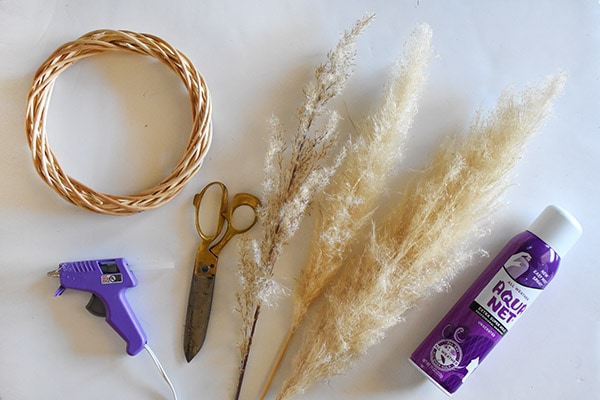 How do I make an Abstract Pampas Grass Wreath?
I have been crazy for Pampas Grass for a while and even wrote a post all about the best locations online to buy pampas grass. However, for this project I was gifted a huge bucket of Pampas Grass from a local floral shop, Floriography.
The first step for this project was to cut down the long Pampas Grass stems. I only needed to have a few inches of stem to tuck into my willow wreath form.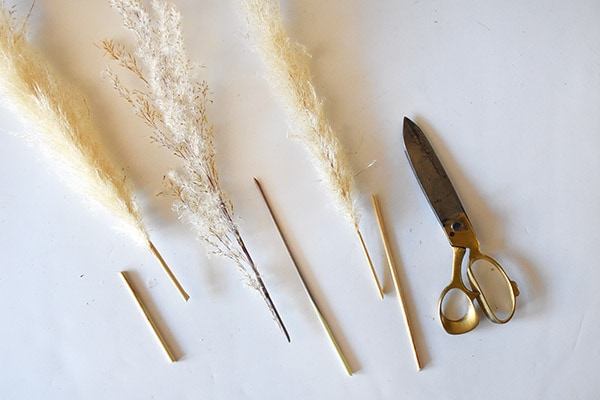 Next, I started tucking the ends of a few grass strands into my wreath form. I added hot glue to provide extra holding power to each stem.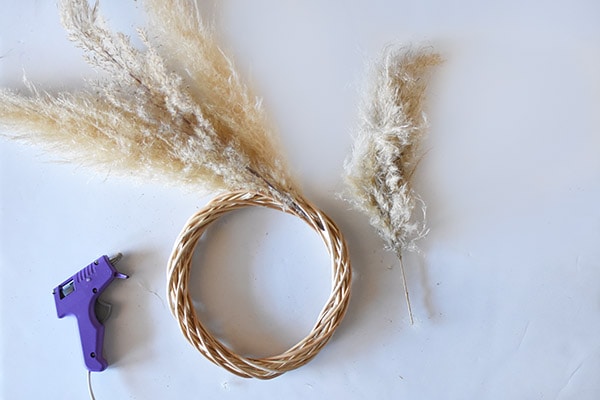 As you glue in a piece of dried grass, you continue around the wreath – creating a gorgeous fan like pattern. I stopped adding the grasses a little bit before I got to the halfway point.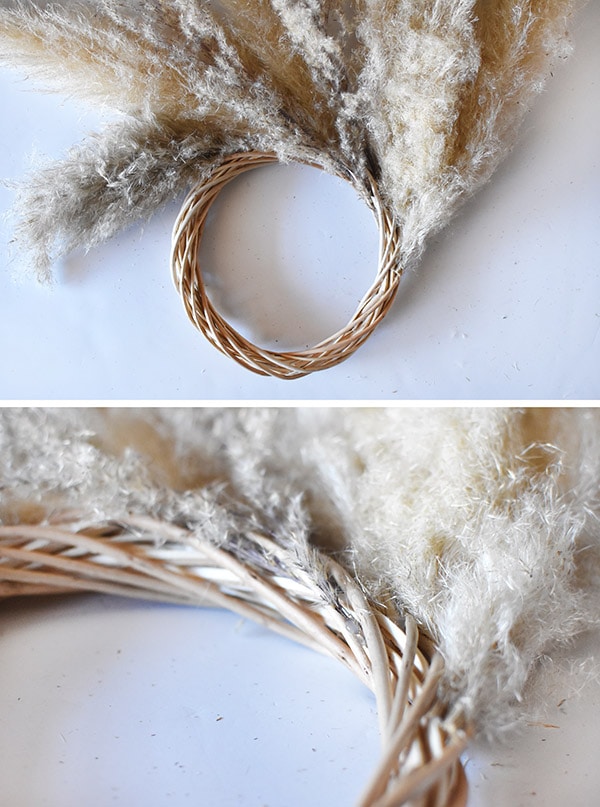 The next step, really added a subtle drama to my wreath and quite possibly was my favorite part!
I took all the Pampas Grass stems that I had originally cut and gathered them together in descending order of length.
I then began to slowly hot glue each stem together at a slight angle. After each stem was secured, I would hold it up to my wreath form to make sure I was following a similar circular pattern as the wreath.
After the wreath is mostly done, it's time to head outside and give the Pampas grasses a heavy duty coat of hairspray. This will help to keep the grass intact and not blowing apart every time someone walks past it!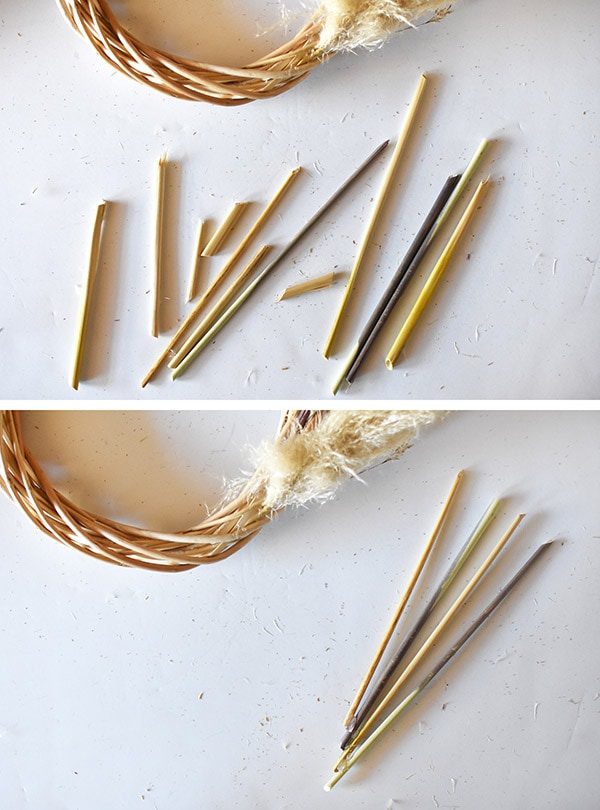 Once all of the grass stems were glued together, I added a line of hot glue all along the top portion and secured them to the back of my wreath.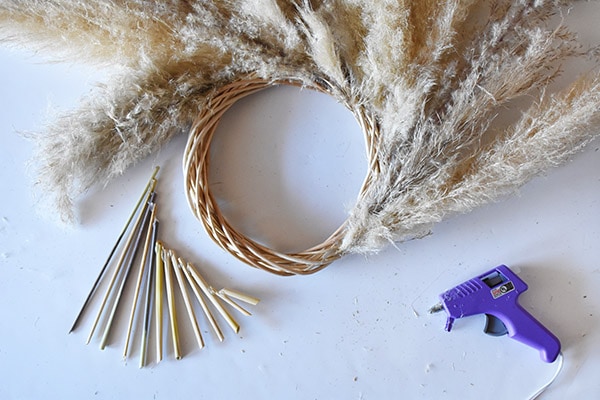 The final product was this GORGEOUS abstract dried grass arrangement.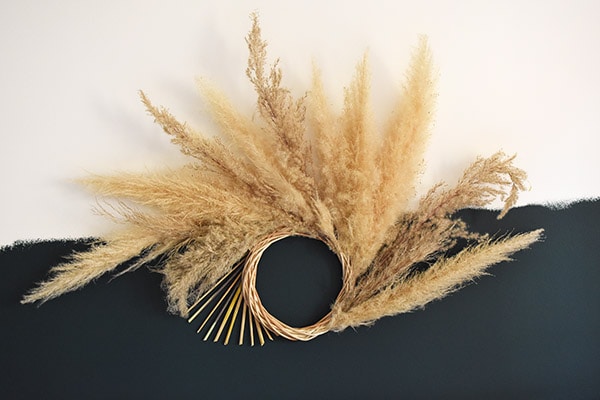 I decided to hang it just below the perfectly imperfect Behr Thermal paint line and I love the way it so nicely frames the space.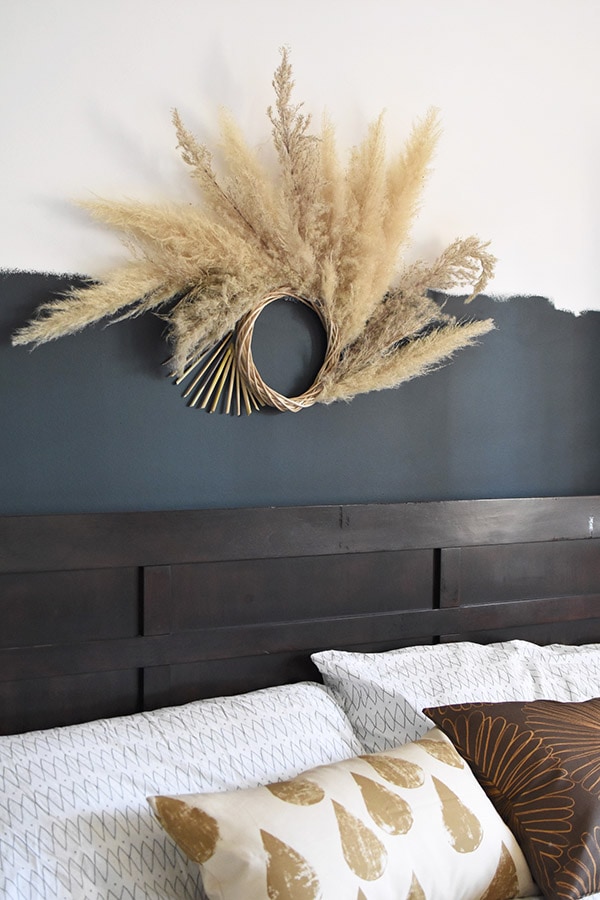 It perfectly pulls in the straw colors from my Spoonflower pillows and our existing window shutter colors.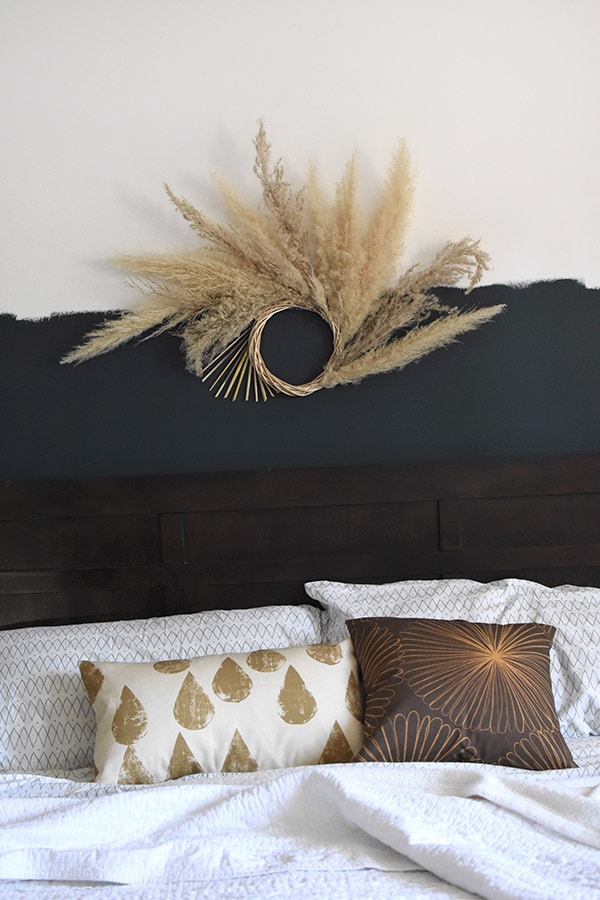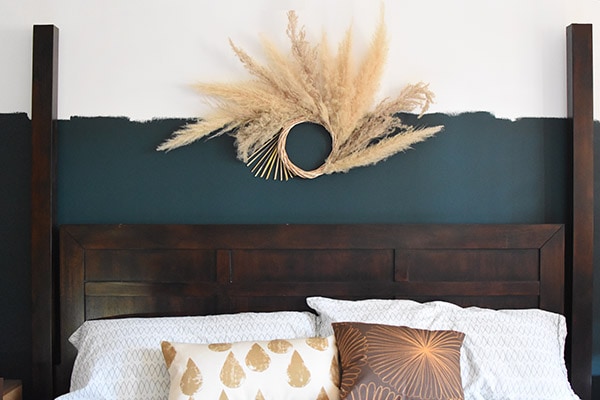 I asked my husband what he saw when he looked at my Pampas Grass wreath and he said a woman with big hair. I see almost an abstract eye… which is a little creepy but I love this wreath so so much, that I'm okay with it – ha!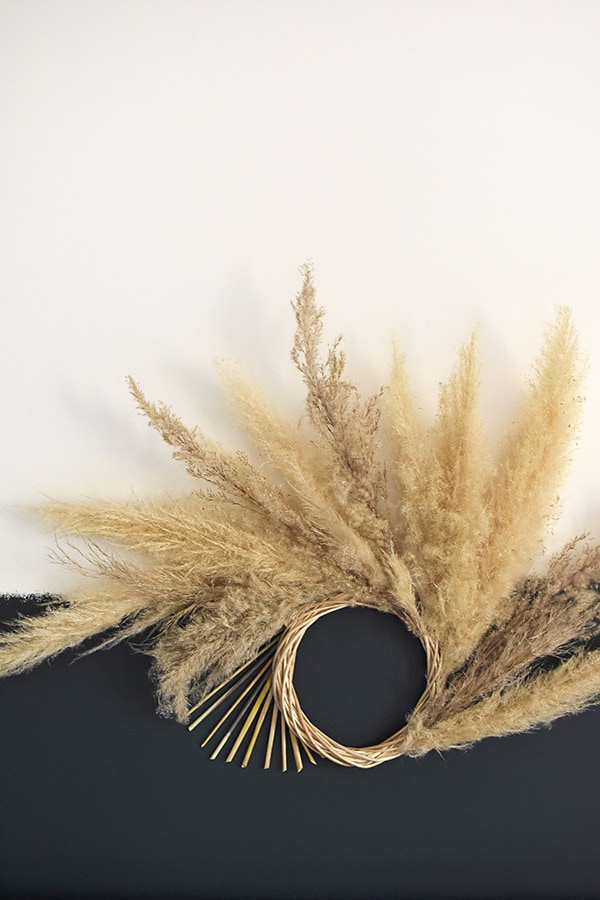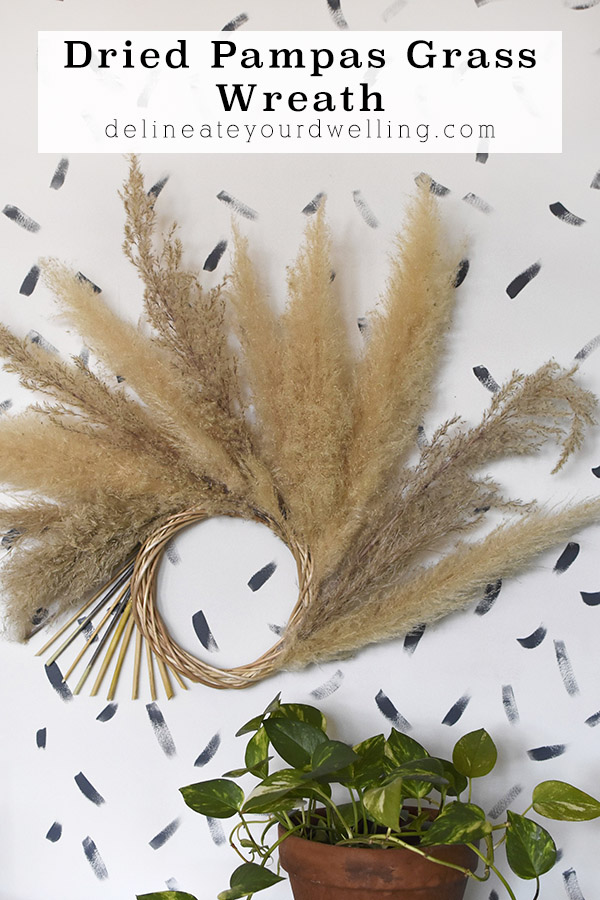 OTHER BRAND SPONSORED PRODUCTS that arrived this week :
I now officially have ALL my sponsored bedroom items! This past week, I received the Home Depot leather chair, side table and floor pouf ottoman. And I finally put together the Home Depot nightstands, how dreamy are they?!!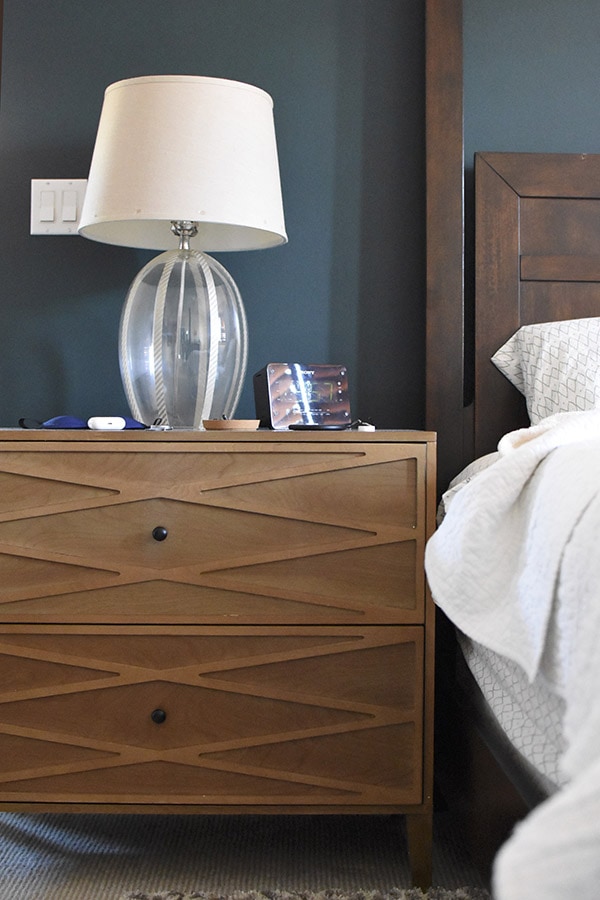 PLAN OF ACTION THIS UPCOMING WEEK:
– Take out our old nightstands and replace with the new Home Depot ones.
– Add the new Home Depot table lamps and decor items to the nightstands.
– Install Midcentury Modern swinging light to chair corner.
– Hang miscellaneous artwork in room.
– Style both dressers and find a new home for all the odds and ends currently STILL on them!
ROOM REFRESH TO-DO LIST:
-Remove the clutter + "catch-all vibe" of the room
-Paint the cream walls a fresh white
-Paint a dramatic accent wall
-Create a focal point on main bedroom wall
-Bring in a few new pieces of furniture/lighting to get away from the matchy/matchy feel
-Add texture, pattern and color to the room
-Create our personality in the space
Do you think I can finish it all up by next week's reveal – I feel really good about my progress and mostly just have the fun styling part left now!!! I'm sharing daily updates on Instagram Stories and I'd love to you to follow along.
Completed Room updates :
Week 1 Master Bedroom Refresh Plan
Week 2 Painting + Colors
Week 3 How to create an Organic Paint Accent Line
Week 4 Dried Pampas Grass Wreath DIY
Week 5 Master Bedroom Refresh Reveal
And be sure to check out the 16 other amazing Room Refresh plans from the other participating bloggers! I am loving seeing their weekly progress.
Casa Watkins Living // The Boho Adobe // Delineate Your Dwelling
Haneen's Haven // The Happy Housie // Homemade by Carmona
House by Hoff // Jewel Marlowe // Kaleidoscope Living
Our Sixth House // PMQ for Two // Rain on a Tin Roof
Southern State of Mind // Taryn Whiteaker // This is Our Bliss
Thou Swell // Up to Date Interiors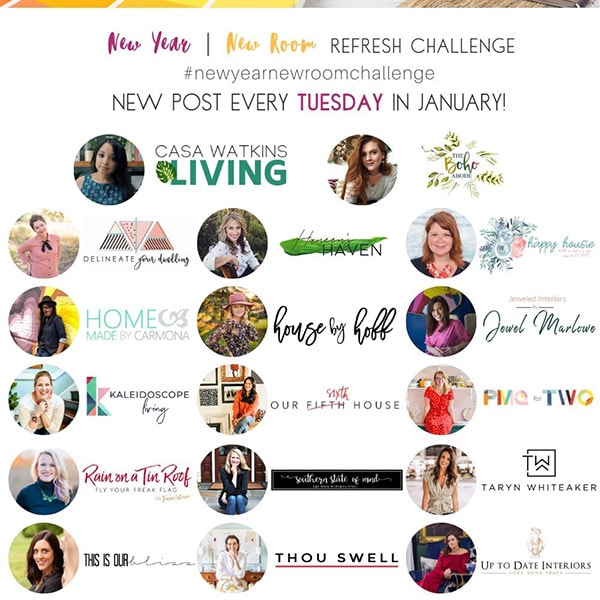 And I can't end this post without sharing our generous sponsors! In the coming weeks you will see me sharing more about many of them.
I am specifically using : Home Depot, Spoonflower, Mohawk, Liberty Hardware and Smith Honig.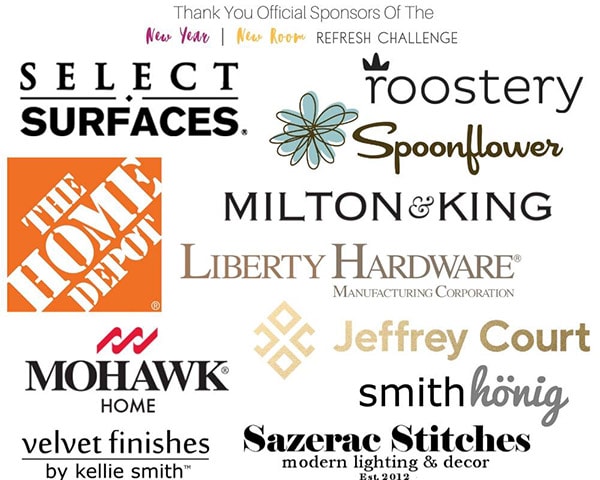 Looking for more Pampas Grass? Check out some of these great ones!
Best Places to buy Pampas Grass Online