Master Bedroom Refresh Reveal
INSIDE : Check out my Master Bedroom Refresh Reveal today! Learn how to transform your bedroom from dull creamy tan to moody, modern and artistic Create drama in your room with a bold teal accent wall, dried pampas grass wreath and new accessories.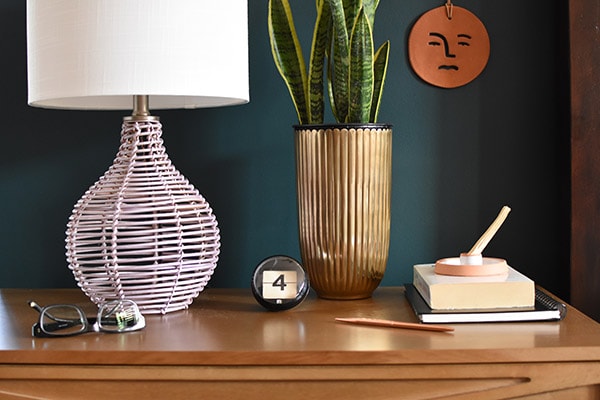 This post may contain affiliate links. See full disclosure here.
Today is the day, week FIVE New Year New Room refresh Challenge final reveal day! If you have been following along, 17 of us bloggers have teamed up with some incredible brands to refresh a room in our home in 5 weeks. Stephanie from Casa Watkins Living has been our incredible leader through the entire challenge. Be sure to read to the end of my post to see all of the other finished room reveals, as well as our brand sponsors.
So far, I have shared :
Week 1 Master Bedroom Refresh Plan
Week 2 Painting + Colors
Week 3 How to create an Organic Paint Accent Line
Week 4 Dried Pampas Grass Wreath DIY
Week 5 Today's post!
And today is the final look at our Master Bedroom Space, I'm so thrilled to share how I transformed our dull creamy tan bedroom into a gorgeous moody, modern, eclectic space!
How to create drama in your Master Bedroom
Thermal by Behr
Before our old bedroom space was boring to spend time in and was rather depressing. After the #newyearnewroomchallenge it is safe to say that our bedroom is anything but boring! One of the ways I created a more dramatic feel in our room was through the use of Home Depot's gorgeous Behr Thermal paint color.
I love Thermal by Behr because it's a deep rich blue green, but in certain times of the day it takes on almost black.
Using two Rattan Table Lamps from Home Depot and spray painting them a light lavender color really created a lovely contrast against the back teal wall and the Patina Finish Nightstands with Diamond Trim.
Dark Evergreen Color
I created an organic paint line accent wall as the feature in the room with the dark evergreen color, Thermal and it certainly draws in your eye.
The rest of the room was painted with Bit of Sugar, Behr paint.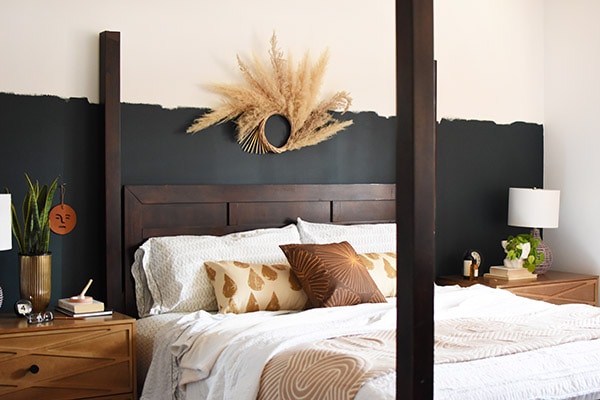 You can read more in depth about my Interior Paint colors here.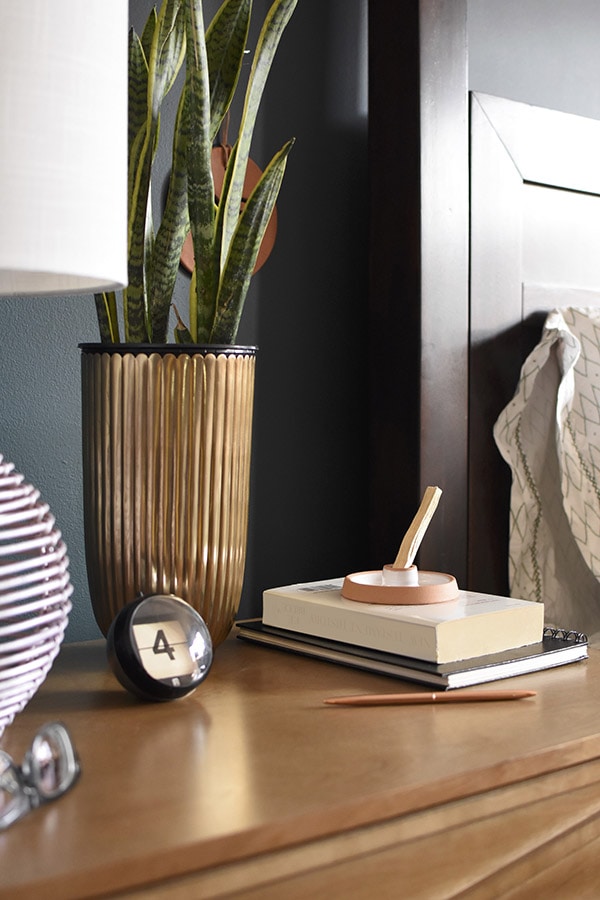 How to add cozy texture in your bedroom :
I was able to soften up the starkness of our bedroom's look by bringing in a gorgeous, Gaffie, area rug from Mohawk. The pattern is inspired from a scene of pebbles at a waters edge and using it in our bedroom immediately brought a wonderful calmness to the room.
I was so impressed with Mohawk's rug selections and loved how this rug was fairly neutral in color but the pattern really tied together so many colors used in our space. And don't get me started on how soft and cushy this rug is!
It's made from up to 100% recycled post-consumer content from plastic bottles, but machine woven for a dependable durability. Since we make sure to walk on this whenever possible because how soft it is, I was thrilled to learn that it is highly resistant to crushing, matting and every day wear-and-tear, so it stays newer looking longer. I'm not sure we could be more in love with a rug.
Another way to cozy up our master bedroom was through the use of throw pillows and blankets. When I saw the patterns and colors of the three different pillows I used from Spoonflower, my jaw literally hit the ground.
The lumbar throw pillow in Spoonflower's Golden drops fabric pattern pulls in the color of my pampas grass wreath so perfectly! And I adore the contrasting colors of the square throw pillow in the Jumbo flower Wheel Russet pattern. All the pillows I used from Spoonflower are in a Cypress Cotton Canvas fabric, so they are 100% natural cotton canvas with a basketweave look.
And after a long day of dealing with work, kiddos and dinner time, snuggling up in these cushy pillows is just about the best thing ever!
How to add personality to your nightstands :
Adding personality to our room was so important to me during this refresh because previously as the dull creamy tan room, it was pretty much a tired blank space. Through the use of plants and stunning details like this beaded tassel from Smith + Honig, I really was able to make our space uniquely us!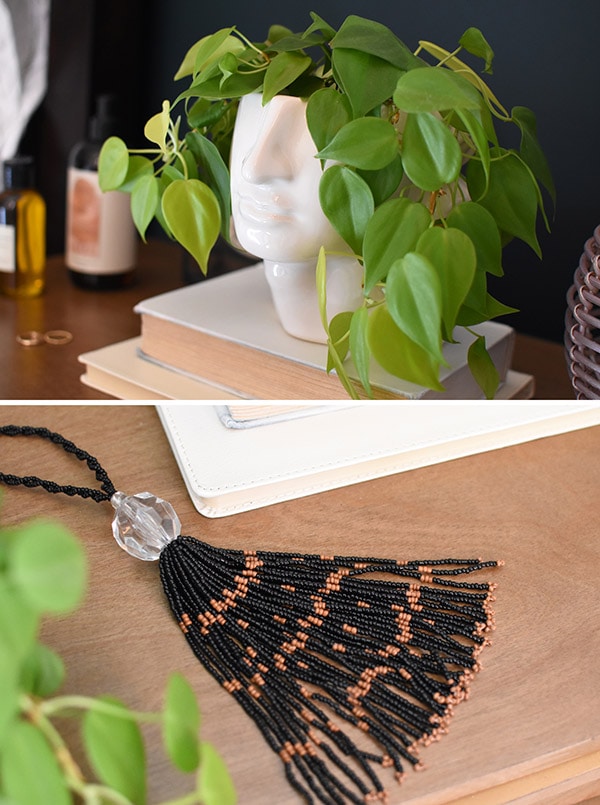 Switching out hardware on both our new furniture pieces and the existing ones we kept, was a simple way to bring new life to the pieces! I used a soft modern round knob in flat black from Liberty Hardware to add a little more presence to our nightstands.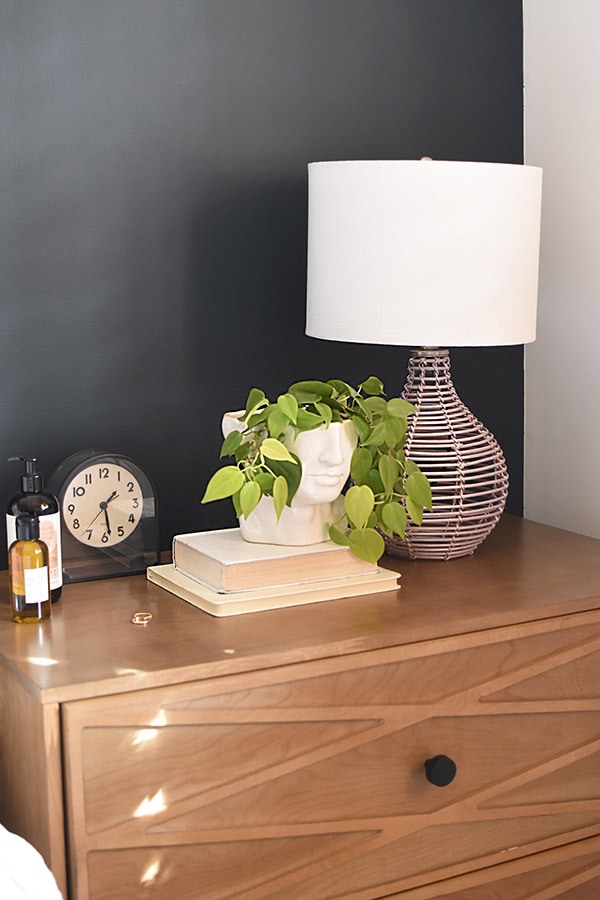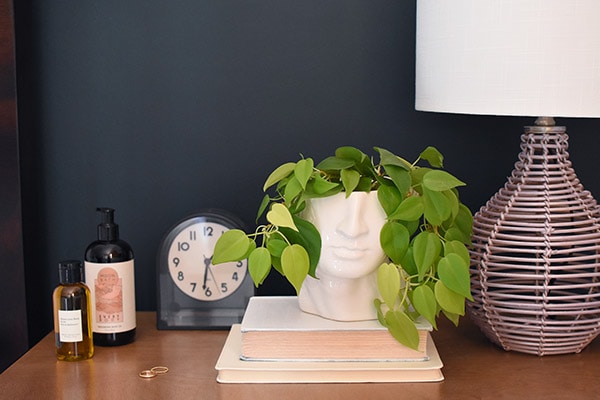 How to create extra storage in your bedroom :
Using these gorgeous oversized nightstands was huge in adding tons of storage to our room. I have been keeping all our spare bedding in the bottom nightstand drawer. And then putting my evening reading books, cell phone chargers, my journal, etc… in the top drawer.
They are quite spacious and it's an added bonus how lovely they look. My favorite part is the neat diamond detailing along the front drawer.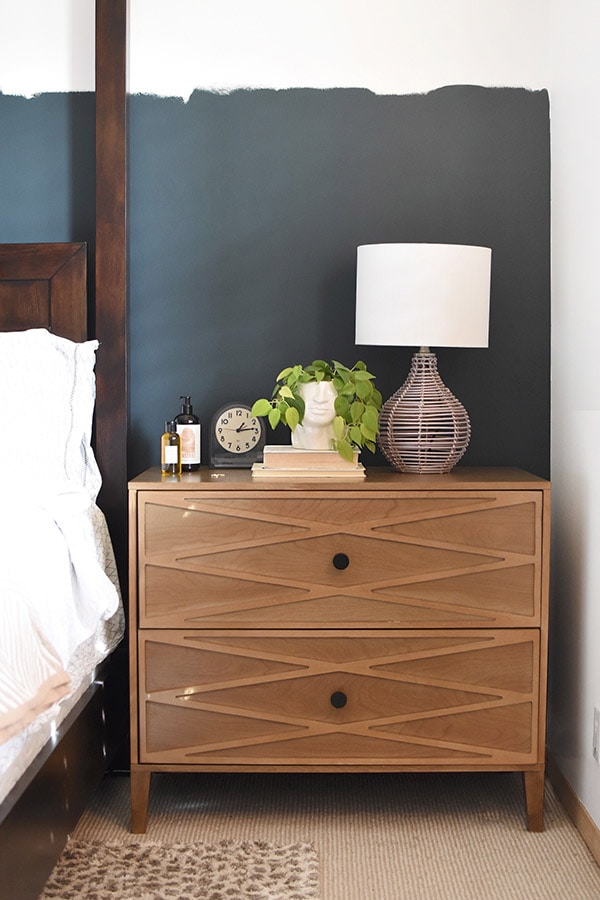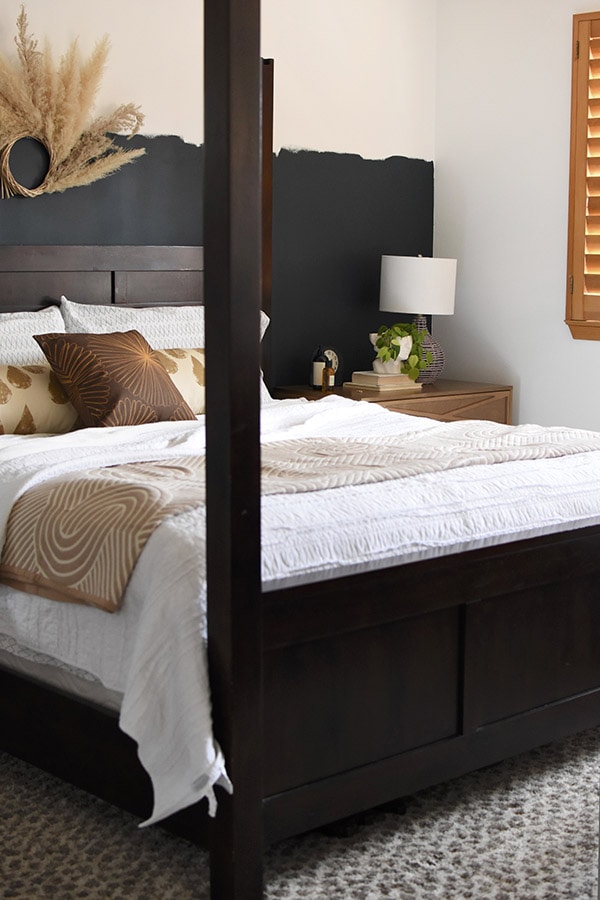 How to create a small seating area in your bedroom:
Although we have a decently sized bedroom, I would have never thought we had enough space to have a seating area. I was just thrilled to pieces however, when I realized with ease we could fit Home Depot's Boulevard Cafe Camel Leather-Like Metal Chair and their Arwen Black and White Cube Pouf!
You can find me most evenings snuggled into this modern chair while propping my feet up on the striped pouf. I brought some of the dark teal of our accent wall over to this space using Spoonflower's square throw Boho sunshine palm leaves on midnight pillow. I think it goes so well against the camel color of the chair.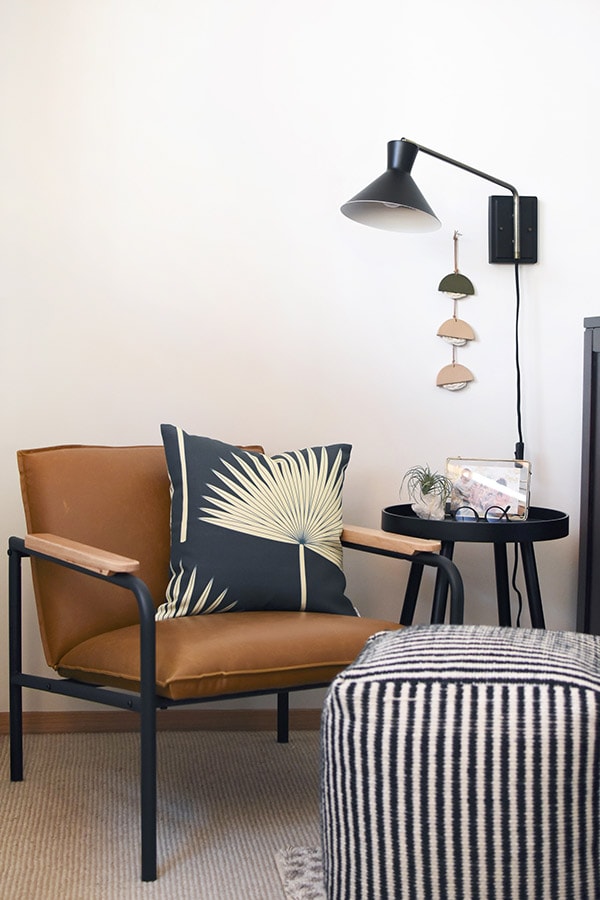 And Home Depot's Wooden Round Tray Top Color-Block Black Side Table is the perfect addition to hold my glasses, a picture of my sweet family and my evening beverage! The final touch is this modern Rivet Mid-Century Swiveling Long Arm light fixture.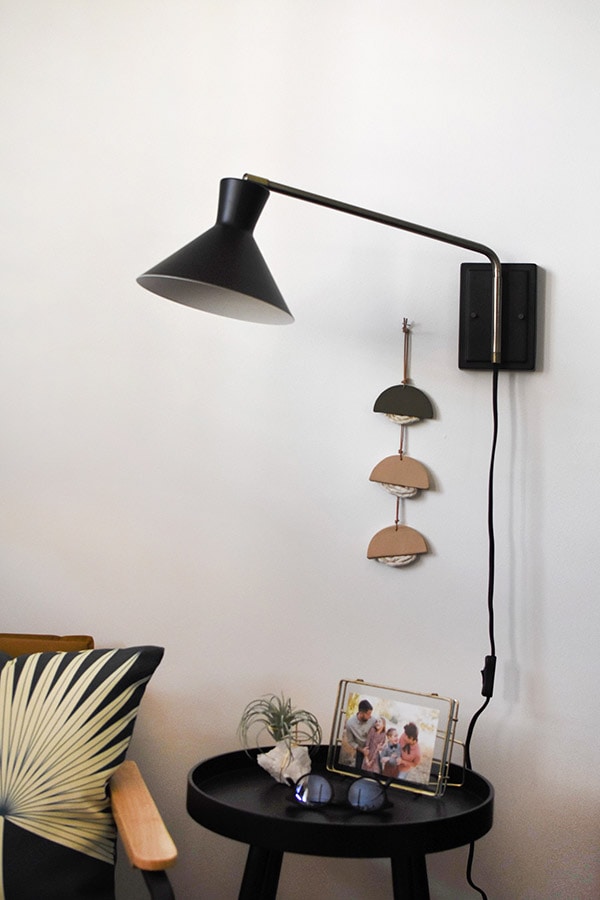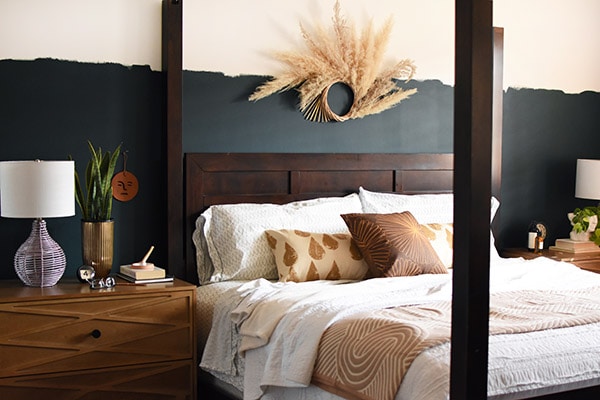 How to use bold patterns and colors to create a modern feel in your room :
I love creating simple backdrops for graphic bold artwork. I kept most of the walls fairly simple other than the accent wall. Using this large sized gold and black flower abstract art piece and a black woven basket as the main focus on the opposing wall.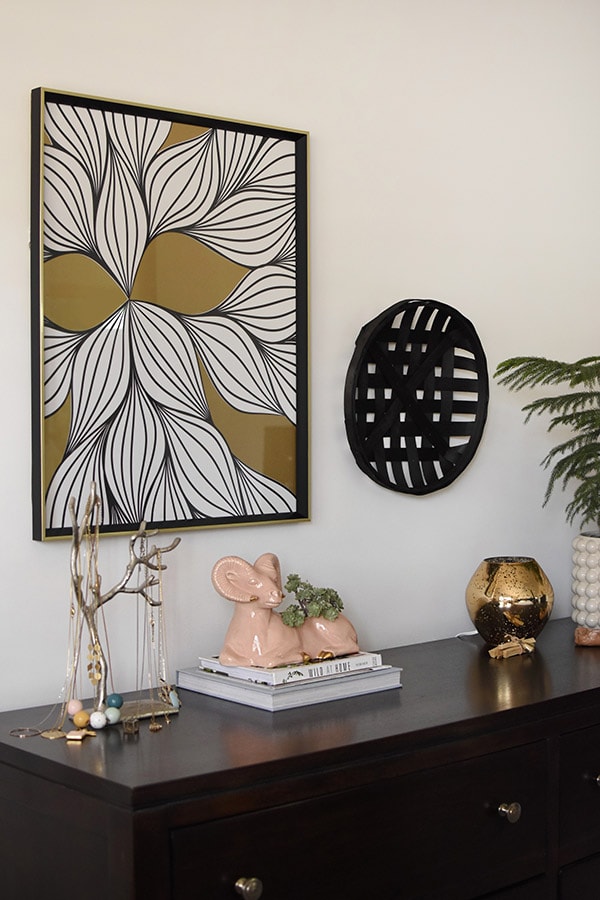 The new Geary knob in champagne bronze added such a fresh look to our two existing dressers.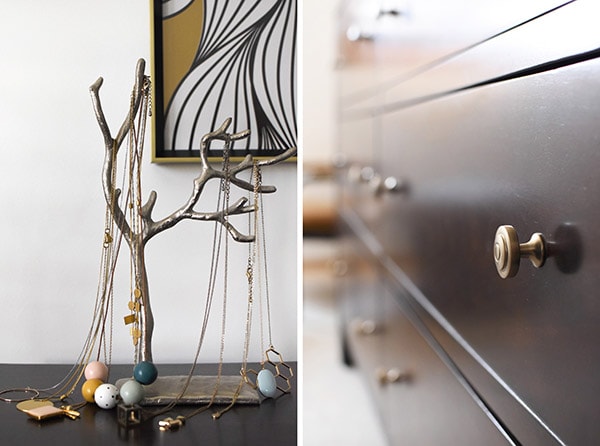 Keeping the items simple on the long lower dresser, created all the more dramatic feel. A simple potted plant, mercury glass lamp and our extra palo santo burning sticks are all that is needed.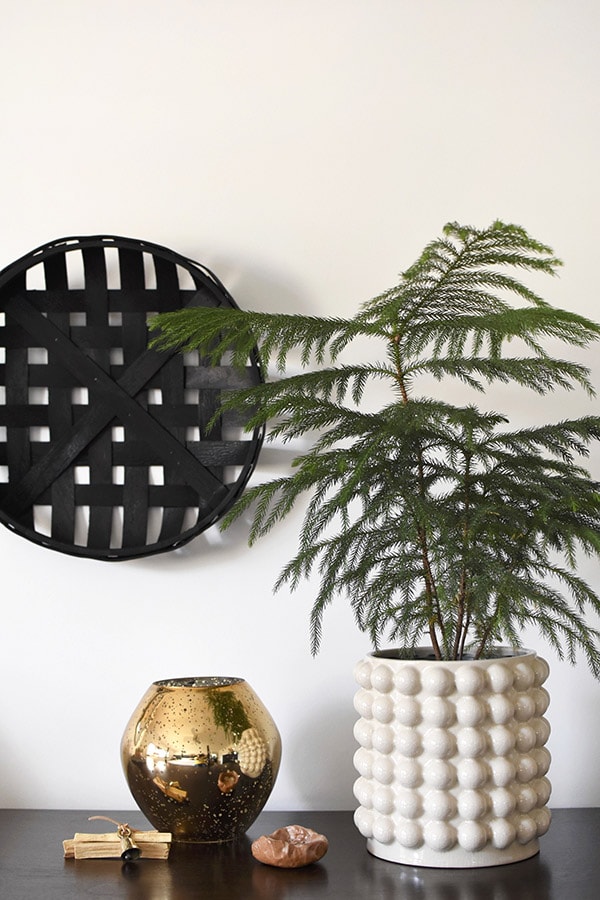 If I had done more color or pattern on the walls, the artwork would have gotten completely lost. Also, hello ram planter… smitten.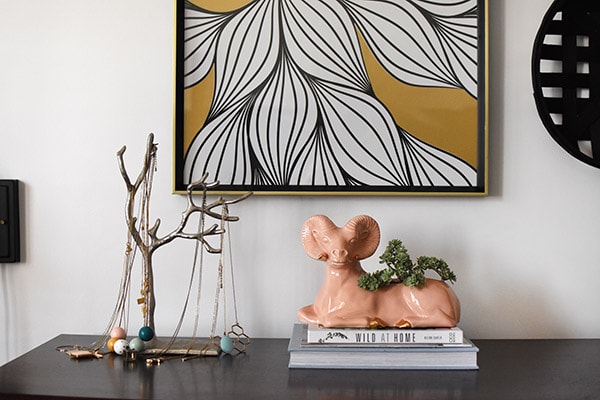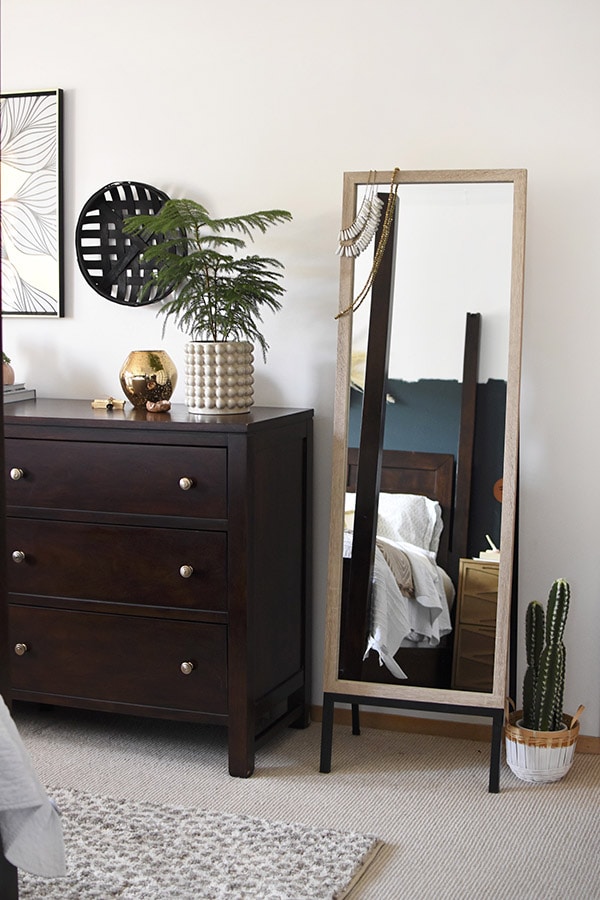 I also love showing off more dramatic jewelry as almost pieces of art themselves. Hanging a few longer necklaces on the corner of our full length mirror is a fun way to display them, too.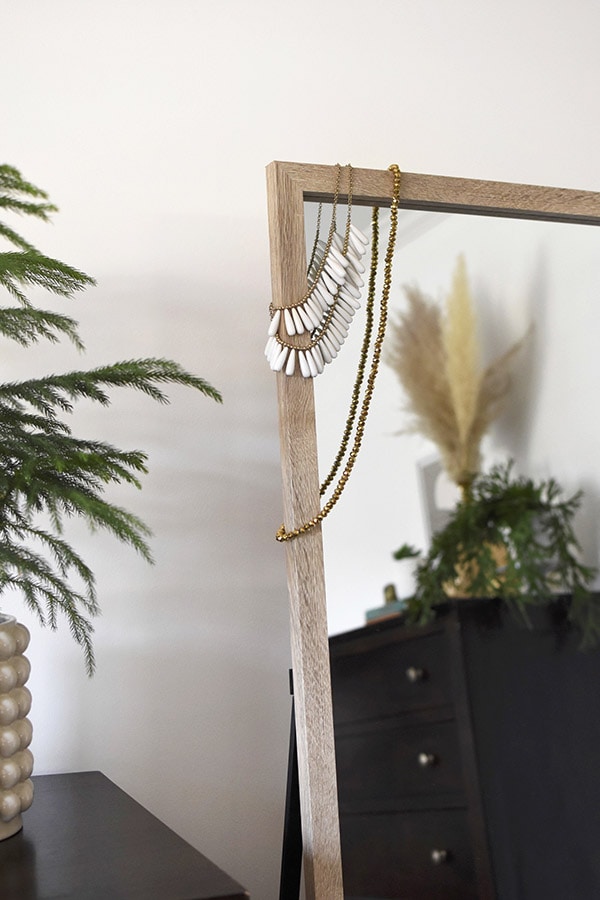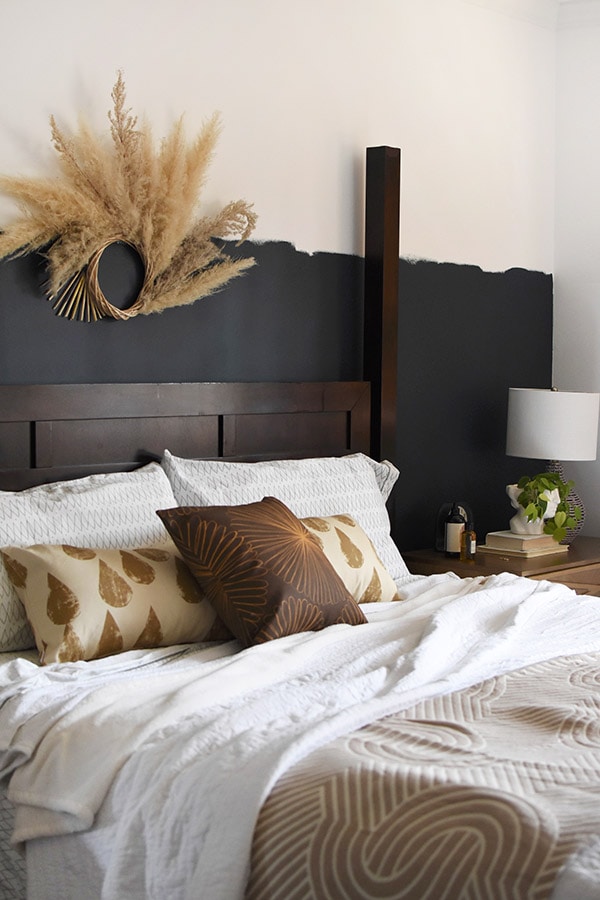 How to create an eclectic feel on your dresser :
Our tall dresser needed some excitement, so I paired a faux plant and a few tall pampas grass fronds to create both height and mass.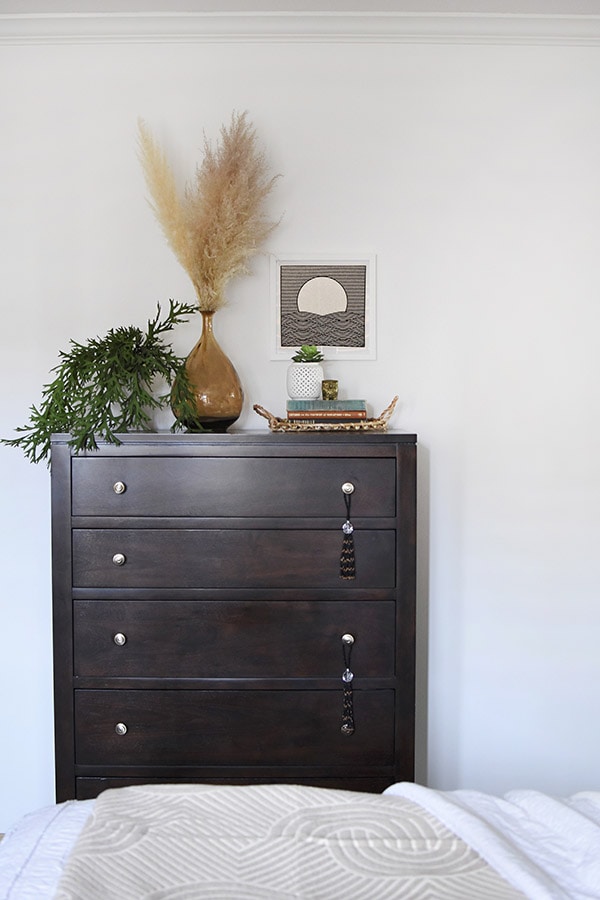 Adding another beaded tassel to the vase gives a fun look.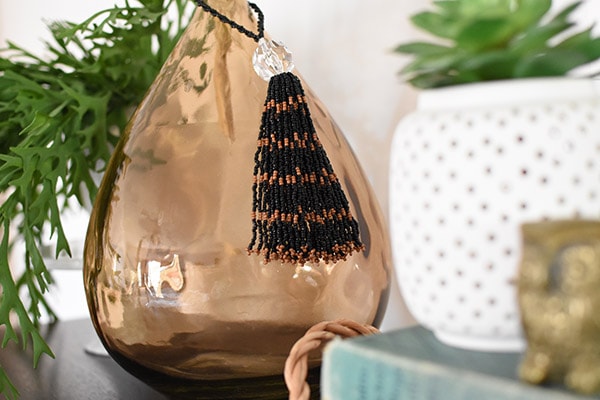 And stacking a few thrifted vintage books adds the perfect spot to hold a few sentimental items that are special to us.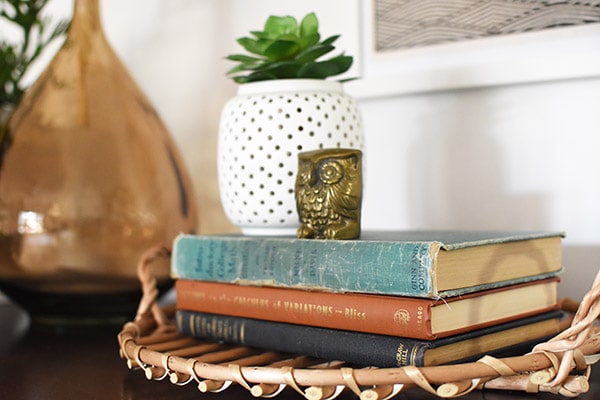 Using a mixture of faux plants, real (dried) plants, vintage items, modern artwork and a brass owl from my grandmother creates a unique and eclectic look that can't be matched!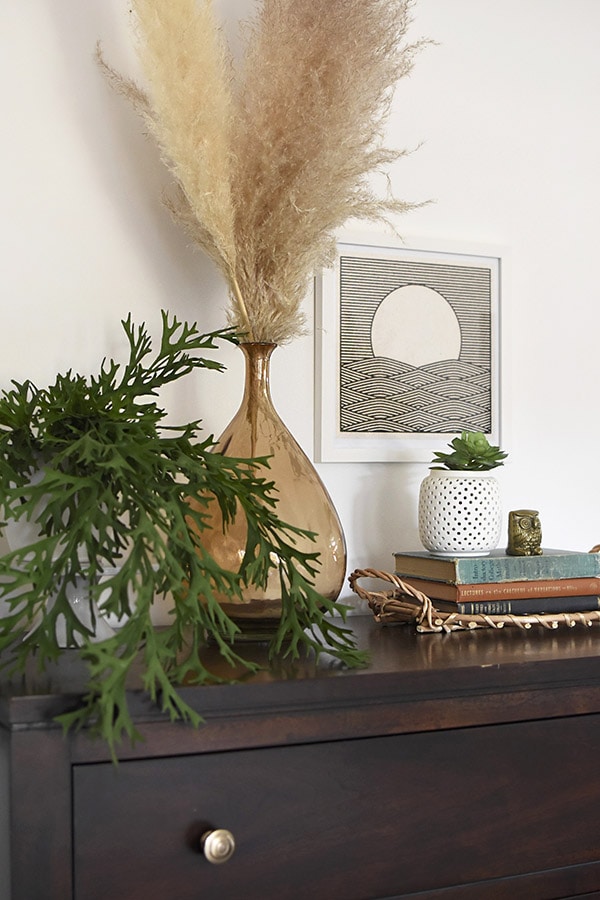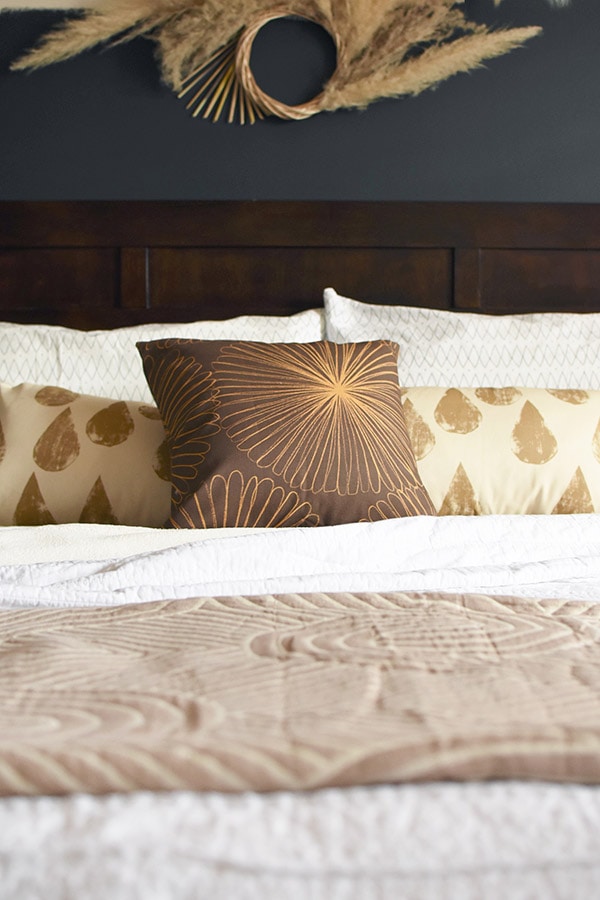 I can hardly believe all the work that took place over the last five weeks to refresh this room!
ROOM REFRESH TO-DO LIST:
-Remove the clutter + "catch-all vibe" of the room
-Paint the cream walls a fresh white
-Paint a dramatic accent wall
-Create a focal point on main bedroom wall
-Bring in a few new pieces of furniture/lighting to get away from the matchy/matchy feel
-Add texture, pattern and color to the room
-Create our personality in the space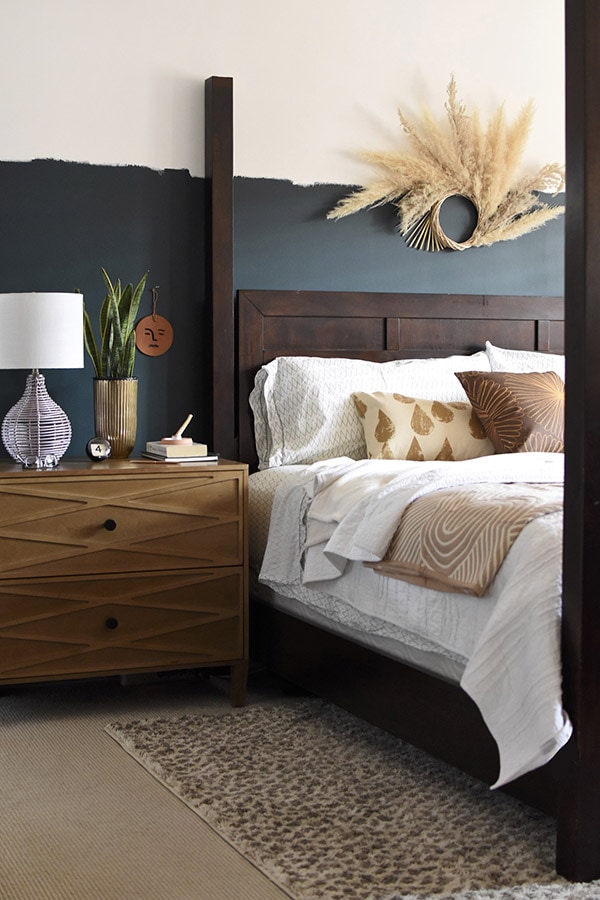 To see the entire process, be sure to start here :
Week 1 Master Bedroom Refresh Plan
Week 2 Painting + Colors
Week 3 How to create an Organic Paint Accent Line
Week 4 Dried Pampas Grass Wreath DIY
Week 5 Today's post!
Check here for the full resource list:

And be sure to check out the 16 other amazing Room Refresh plans from the other participating bloggers! I can not WAIT to see all their final rooms.
Casa Watkins Living // The Boho Adobe // Delineate Your Dwelling
Haneen's Haven // The Happy Housie // Homemade by Carmona
House by Hoff // Jewel Marlowe // Kaleidoscope Living
Our Sixth House // PMQ for Two // Rain on a Tin Roof
Southern State of Mind // Taryn Whiteaker // This is Our Bliss
Thou Swell // Up to Date Interiors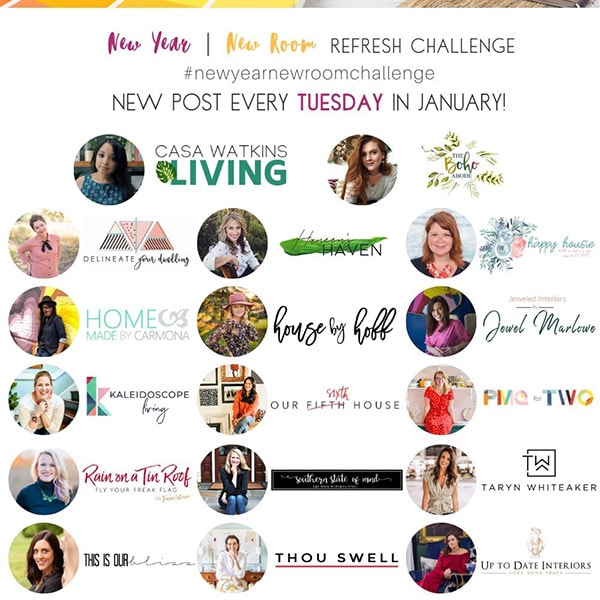 And again I can't end this amazing Room Refresh Challenge without a huge thank you to our generous sponsors!
I specifically used : Home Depot, Spoonflower, Mohawk, Liberty Hardware and Smith Honig.