INSIDE : Check out my Master Bedroom Refresh Plan, inspiration and before photos. See how I am going to bring new life to our dull cream room in only five weeks during this New Year, New Room Refresh challenge!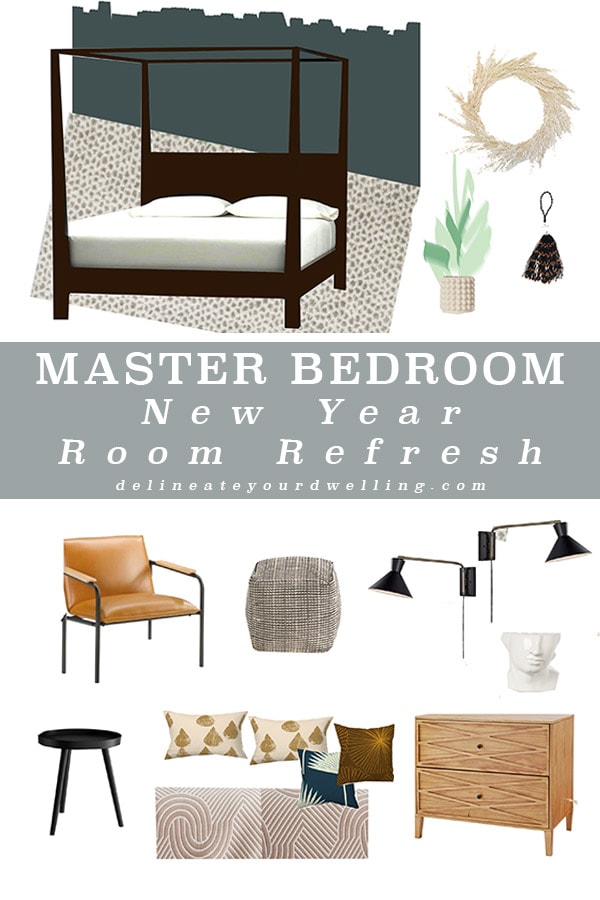 I am so excited to have been invited to participate in this year's refresh challenge hosted by Stephanie from Casa Watkins Living. We have some amazing sponsors for this challenge (see the bottom of the post) and over the course of 5 weeks we will all be "refreshing" a room in our home. Each Tuesday this month, 17 of us bloggers will be sharing progress update posts. The final reveal is on February 4th, so keep checking back.
Completed Room updates :
Week 1 Master Bedroom Refresh Plan
Week 2 Painting + Colors
Week 3 How to create an Organic Paint Accent Line
Week 4 Dried Pampas Grass Wreath DIY
Week 5 Master Bedroom Refresh Reveal
The Master Bedroom Before:
These "before images" both equally excite the heck out of me (because wow, this space needs some help) and also, they are a complete embarrassment. We have now lived in our home for 2 and a half years and our Master Bedroom looks exactly the same since when we moved in. Yikes.
The thing that drives me the most crazy about our room is how it makes me feel so BLAH every time I enter.

The walls are cream. The carpet is a light tan. Our bedding is white. Our bedroom furniture set is from when we first got married (13+ years ago) and the entire thing matches perfectly (the bed frame, both nightstands, the wide dresser and the tall dresser) , quadruple blah.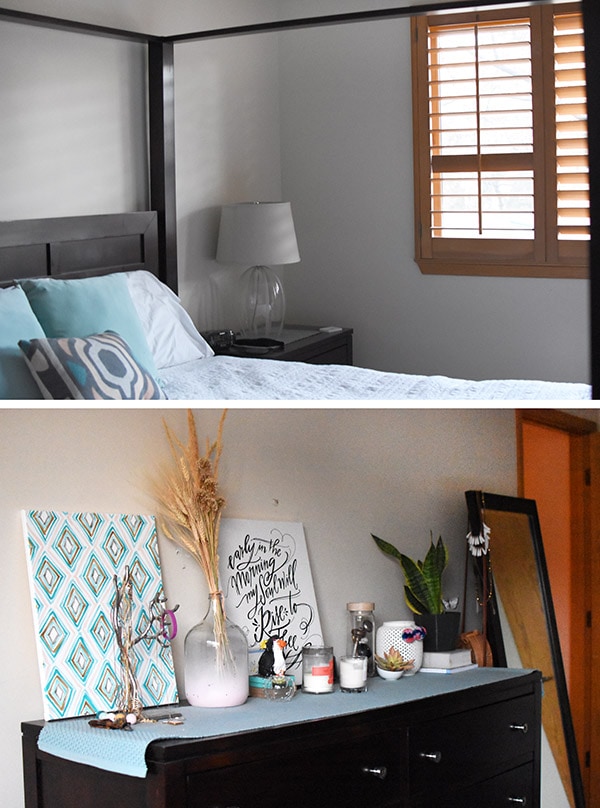 Also our room somehow becomes the catch all for so many random items. Miscellaneous art, my collection of dried grasses, live plants, penguin homemade kid gifts, jewelry, pom poms, papers, boxes, etc… And in complete transparency, I 100% picked up most of the weirdness that our dresser was holding. It was bad, guys.

I really wanted to get a new bed, but for now all the bigger pieces are staying (maybe new nightstands) and I'm going to see if I can improve the space in other ways.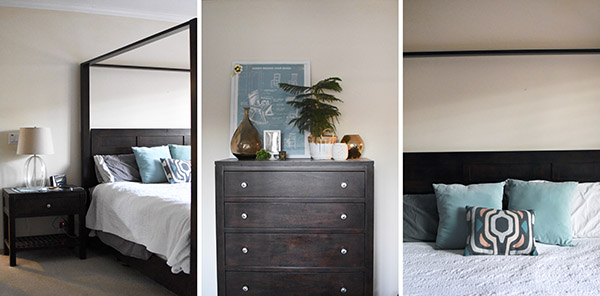 The Master Bedroom Inspiration Images:
The feel I want in our room is calm and relaxing. I want it to be thoughtfully designed, but still have a little quirk, because I like the rooms in our home to be uniquely us. I want our bedroom to be a place that we enjoy and don't dread having to spend time in.

I had such a difficult time narrowing down colors (you know if you follow me on Instagram Stories – yeesh), so I started just gathering every color that spoke to me and the below is what I landed on. This really helped me start seeing that I was drawn to earthy colors but in a more rich and saturated way.




This bedroom color palette really spoke to me. I loved the balance of darker wood tones with a saturated duvet and a lighter wall color. The room felt warm, inviting and just a little moody.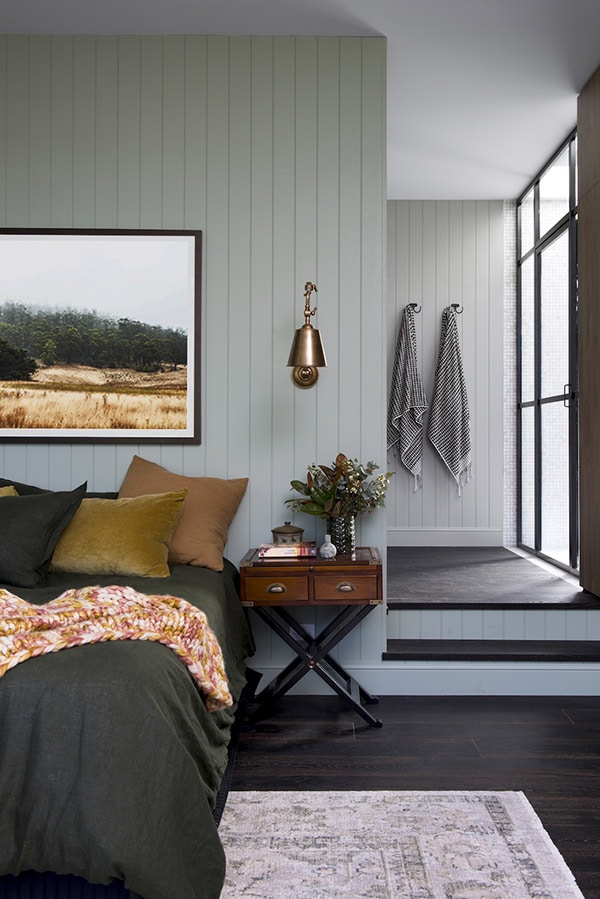 via Style Curator

I am crazy for the simple look of this room. The white walls and bedding makes it feel fresh and clean, while the dusty blue nightstand makes my heart swoon. I loved the colors and use of natural materials in this space, too.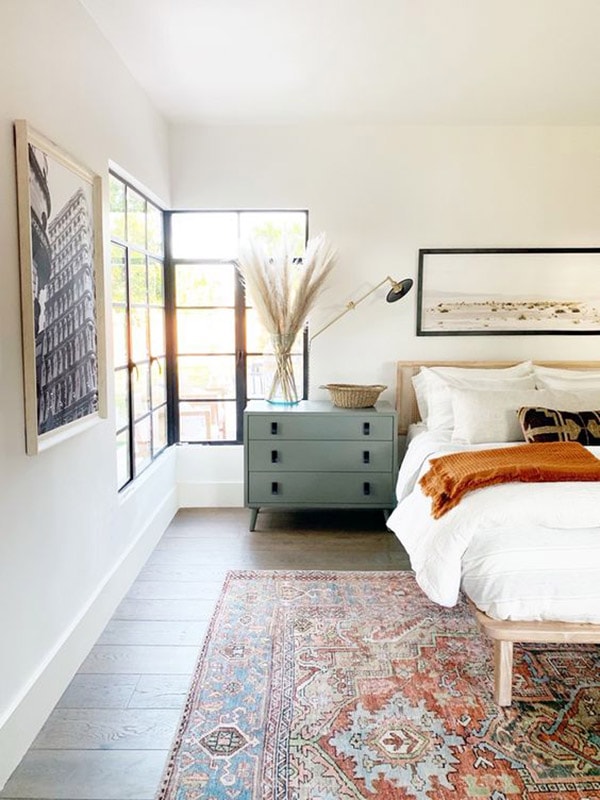 via Juniper Home

This wall color made me stop in my tracks. Also, I have just enough "weirdness/desire to be unique" that I completely love the half painted piece of art with the monochromatic remaining items. I think all good design should have one statement moment and I'm going to try and bring some of that into my room.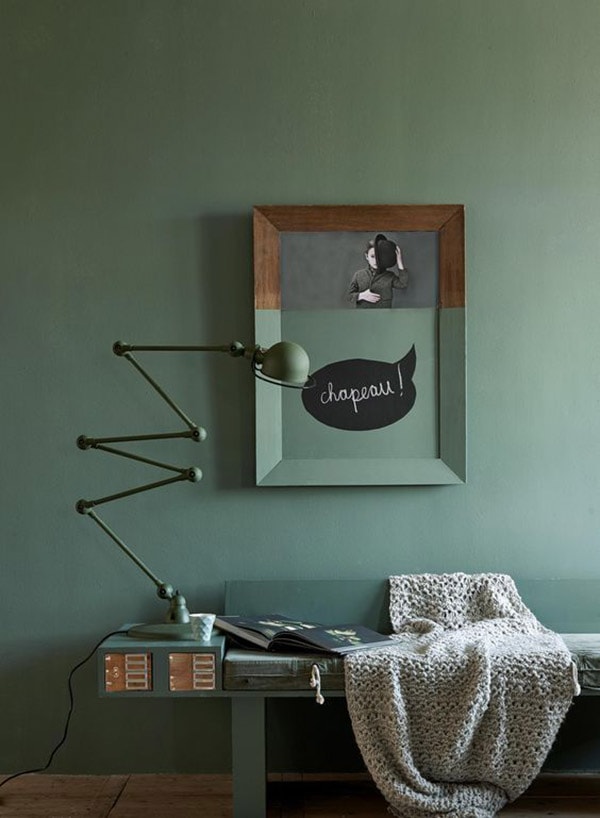 via vtwonen
Master Bedroom Plan:


Room Refresh to-do list:
-Remove the clutter + "catch-all vibe" of the room
-Paint the cream walls a fresh white
-Paint a dramatic accent wall
-Create a focal point on main bedroom wall
-Bring in a few new pieces of furniture/lighting to get away from the matchy/matchy feel
-Add texture, pattern and color to the room
-Create our personality in the space

Do you think I can get it all done in 5 weeks???? I sure hope so!

Be sure to check out the 16 other amazing Room Refresh plans from the other participating bloggers! I can't wait to see what they all will be working on.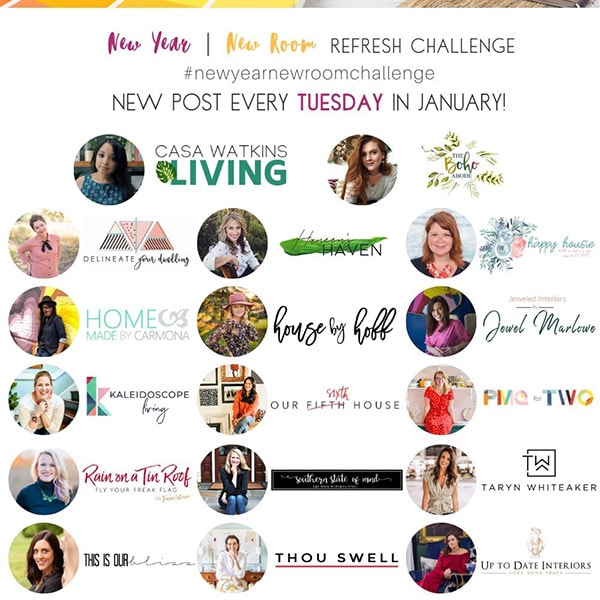 Casa Watkins Living // The Boho Abode // Delineate Your Dwelling // Haneen's Haven // The Happy Housie // Homemade by Carmona // House by Hoff // Jeweled Interiors // Kaleidoscope Living // Our Fifth House // PMQ for Two // Rain on a Tin Roof // Southern State of Mind // Taryn Whiteaker // This is Our Bliss // Thou Swell // Up To Date Interiors
And I can't end the post without sharing our generous sponsors! In the coming weeks you will see me sharing more about many of them. Specifically : Spoonflower, Mohawk, Liberty Hardware and Smith Honig.