DIY Organic Paint Line Accent Wall
INSIDE : Learn how to create an Organic Paint Line Accent Wall for a completely unique and artistic look! See the simple steps I followed to paint this imperfectly perfect paint line in my Master Bedroom.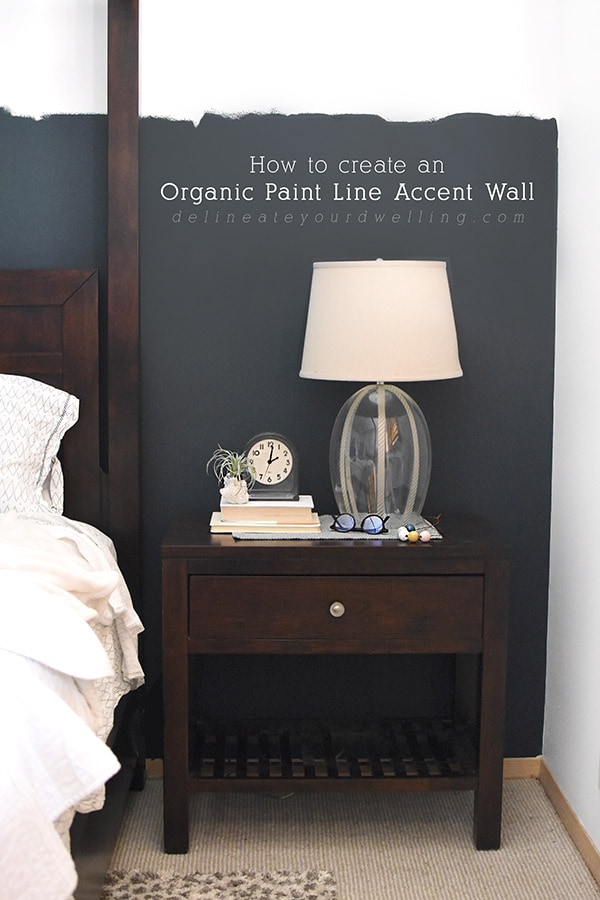 This post may contain affiliate links. See full disclosure here.
Week TWO New Year New Room refresh Challenge update!
I have been participating in this year's refresh challenge hosted by Stephanie from Casa Watkins Living. We have some amazing sponsors for this challenge (see the bottom of the post) and over the course of 5 weeks we will all be "refreshing" a room in our home.
Each Tuesday, 17 of us bloggers will be sharing progress update posts. The final reveal is on February 4th, so keep checking back!
ACCENT WALL COLOR CHOICE:
Last week on Master Bedroom Refresh painting + colors, I shared that I had selected Home Depot's Behr Thermal paint color for my accent wall project. I worked really hard this past week and had a few ups and downs as I tried to bring my accent wall vision to life.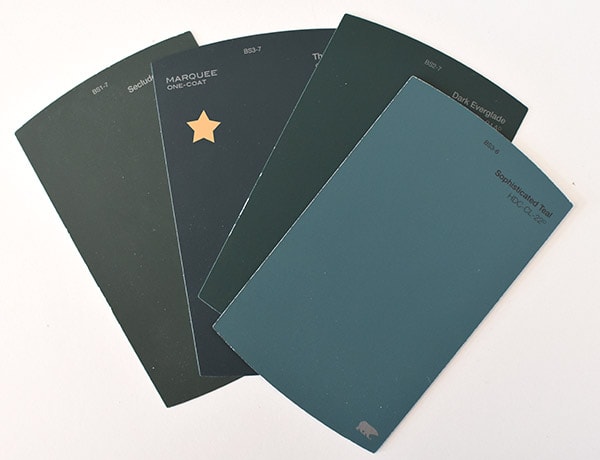 HOW TO CREATE AN ORGANIC PAINT LINE ACCENT WALL :
I've not seen many wall treatments like this before and although, I'm sure I'm not inventing the wheel with this organic paint line idea – it's not super common that I could just look up how somehow else easily did it.
So, I started by roughly deciding where I wanted the Thermal paint color to meet up with my Bit of Sugar white paint. I then painted the white a little bit lower than where I was wanting it to end.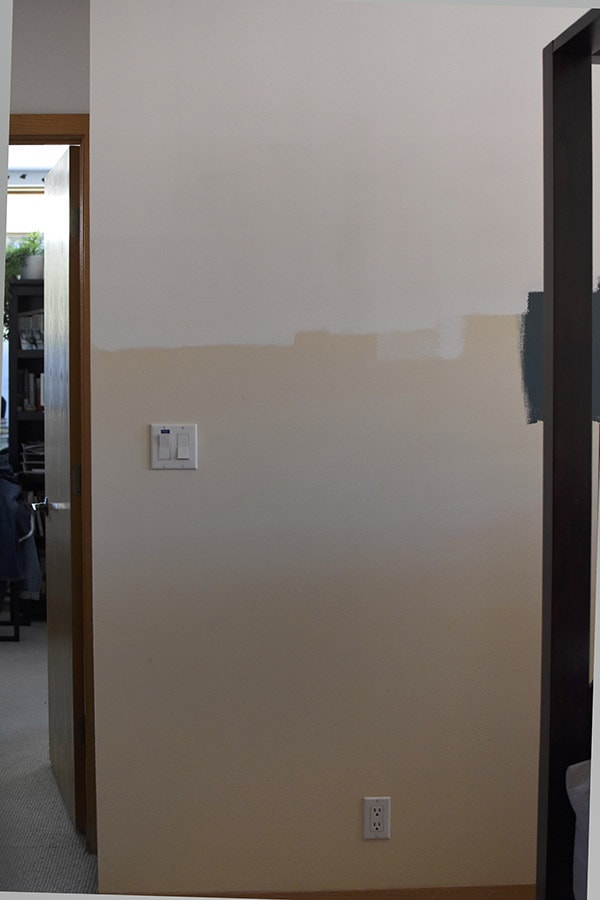 Next, I grabbed my Home Depot Behr Thermal paint color and painted out the trim on my main wall.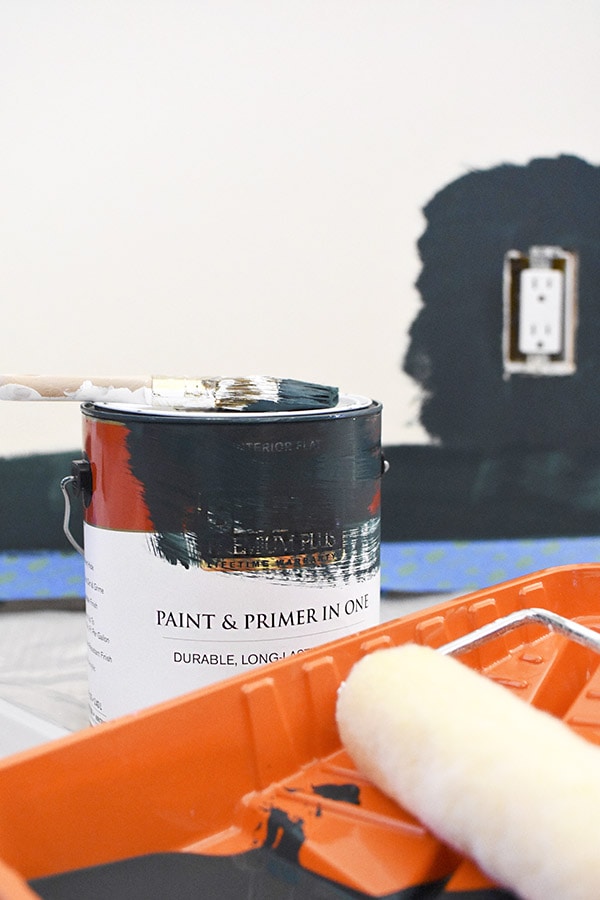 I started painting the wall with my Thermal color and got nervous, so I left this 24″ gap for a few days while I really figured out what kind of line I wanted.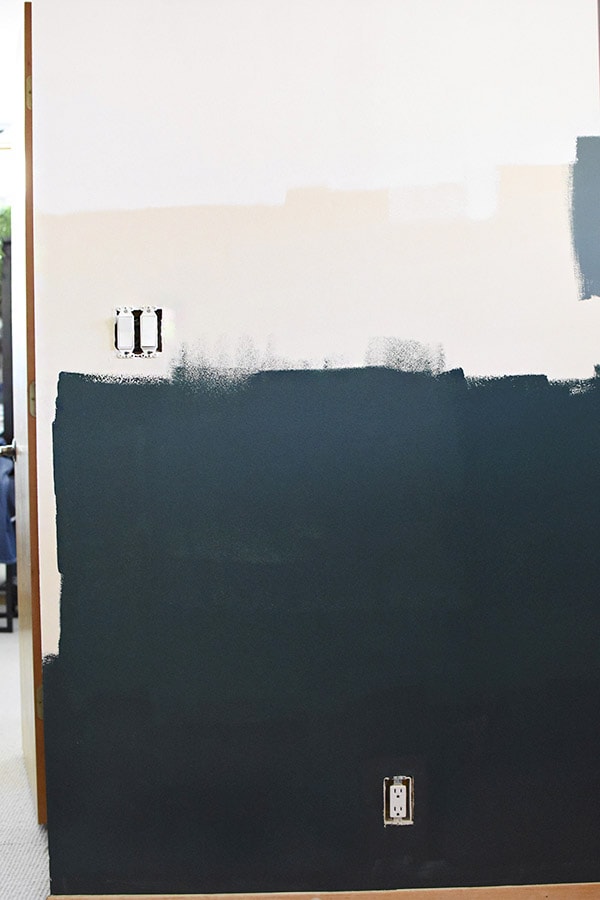 Eventually I filled in that 24″ gap with more Thermal and tried creating a VERY organic line, as you can see below. I stopped and started the line with each stroke at a different height and then also added some diagonal lines in there.
I HATED IT.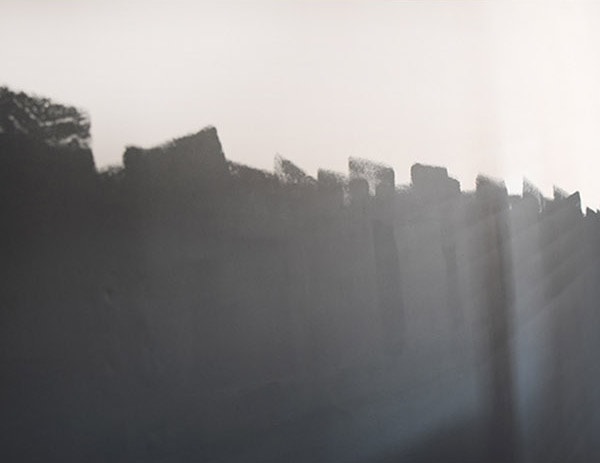 So, I let that sit for a few more days and then decided what I really wanted was a much more clear straight line and only a few small irregular strokes. With my second coat of paint, I visualized the height of the line I wanted and very thoughtfully added in my organic paint line work.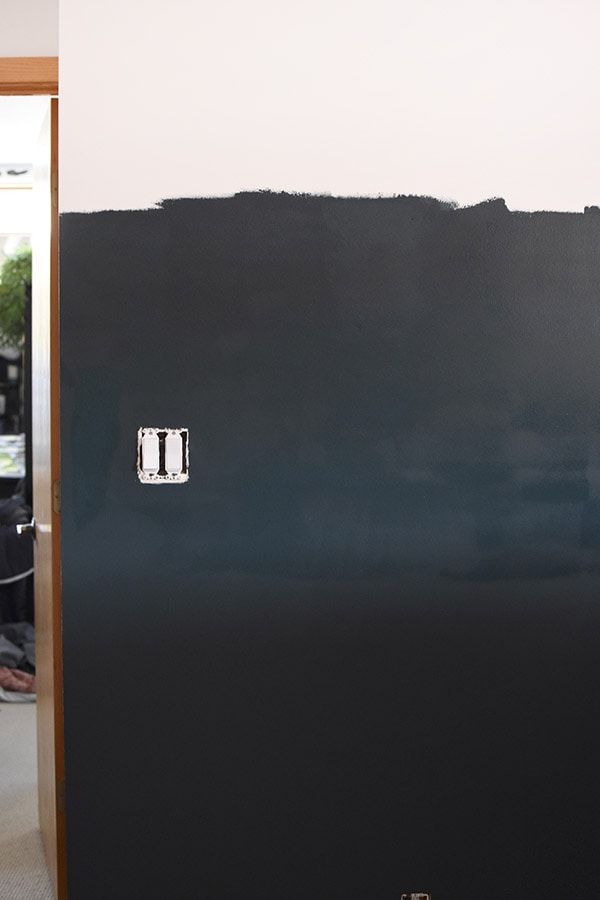 Immediately, I knew this was so much better!!
The line where the white meets the thermal is about 2/3rd the way up the wall. I may have gone even a little higher with that line but we are keeping our four poster bed and so I needed to work with the lines of our bed.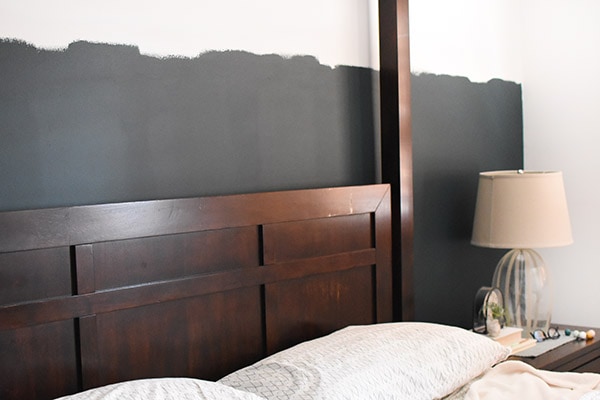 Can I just say again, how much I am loving this deep deep teal color! It changes so much throughout the day that I am having a hard time nailing down what color to call it. Sometimes it appears quite green, other times it has so much blue in it and other times it looks almost jet black – but I love the drama is has already brought to our bedroom.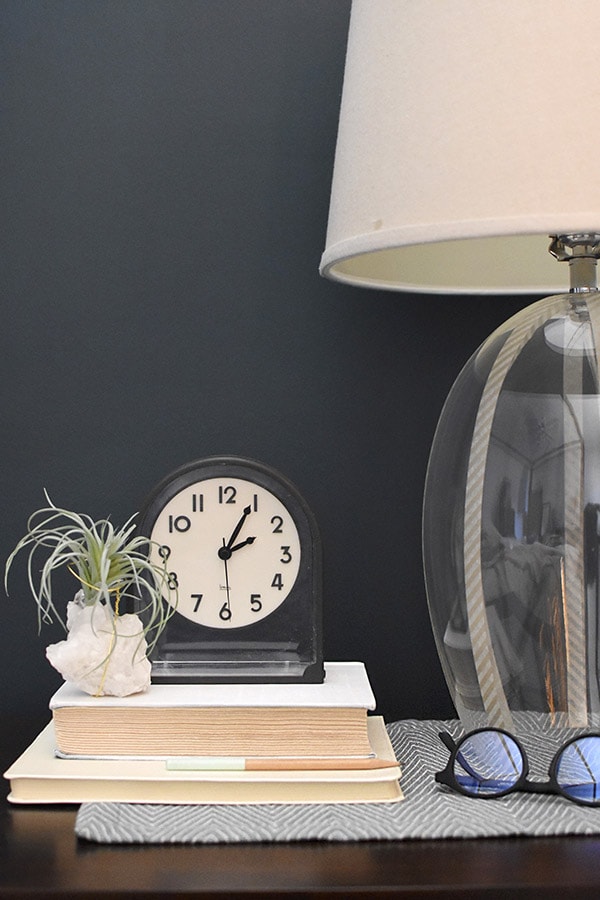 My perfectly imperfect organic, but VERY planned and thought out painted line, ha.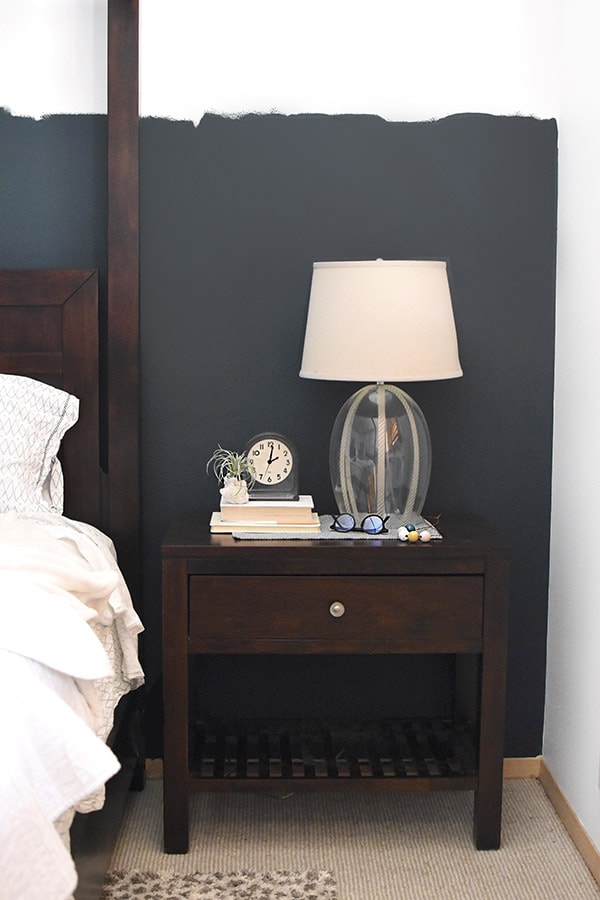 I can't wait to get my new nightstands and table lamps from Home Depot soon! Also I am putting new hardware on everything that we are keeping, to just give it all a little new feel.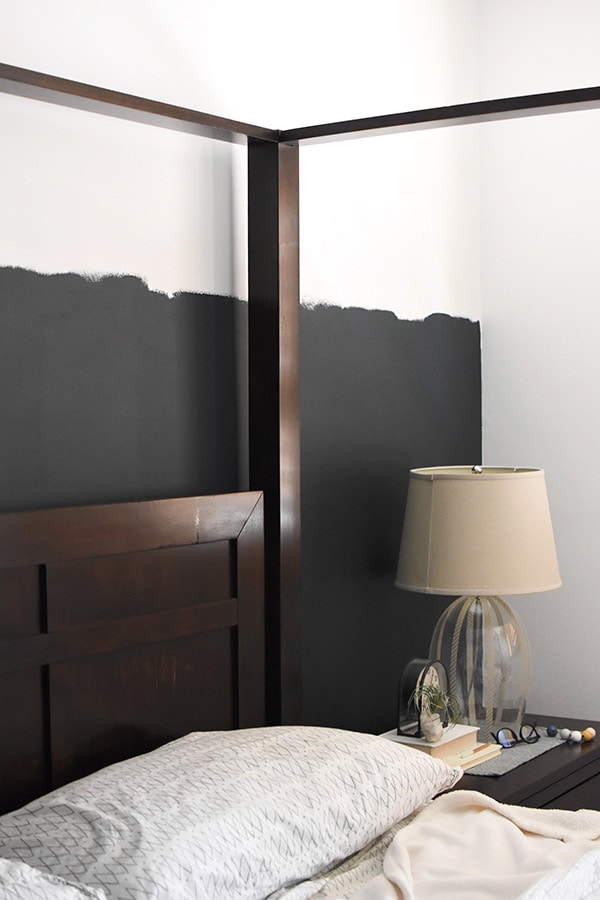 OTHER BRAND SPONSORED PRODUCTS that arrived this week :
I was so thrilled when my Spoonflower pillows arrived! The colors could not be more perfect and I just love the patterns in the room.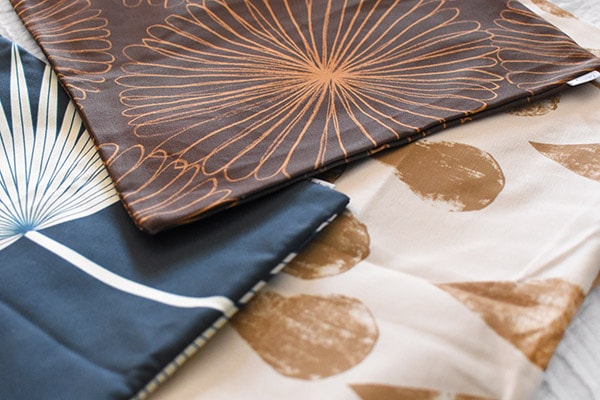 Also, my Mohawk rug is IN THE ROOM and I just die. The spotted pattern is so perfect and I can't even begin to express how soft and cushy this rug is under our feet!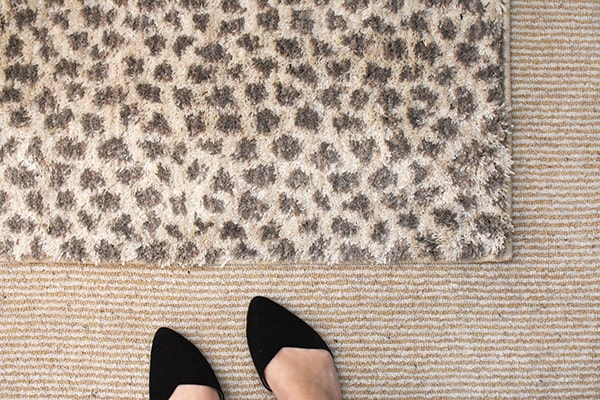 And lastly, these two stunning beaded tassels arrived from Smith Honig.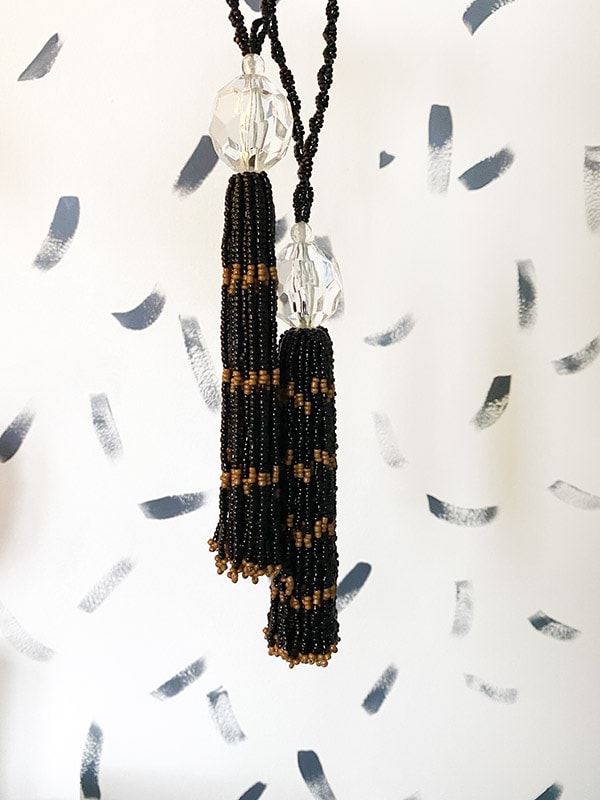 PLAN OF ACTION THIS UPCOMING WEEK:
-Start working on a fun little DIY project that will go on the wall, above our bed.
-Start assembling some of the new Home Depot furniture that will be arriving!
ROOM REFRESH TO-DO LIST:
-Remove the clutter + "catch-all vibe" of the room
-Paint the cream walls a fresh white
-Paint a dramatic accent wall
-Create a focal point on main bedroom wall
-Bring in a few new pieces of furniture/lighting to get away from the matchy/matchy feel
-Add texture, pattern and color to the room
-Create our personality in the space
Do you think I can get it all done in 3 weeks???? I'm sharing daily updates on Instagram Stories and I'd love to you to follow along.
Completed Room updates :
Week 1 Master Bedroom Refresh Plan
Week 2 Painting + Colors
Week 3 How to create an Organic Paint Accent Line
Week 4 Dried Pampas Grass Wreath DIY
Week 5 Master Bedroom Refresh Reveal
And be sure to check out the 16 other amazing Room Refresh plans from the other participating bloggers! I am loving seeing their weekly progress.
Casa Watkins Living // The Boho Abode // Delineate Your Dwelling // Haneen's Haven // The Happy Housie // Homemade by Carmona // House by Hoff // Jeweled Interiors // Kaleidoscope Living // Our Fifth House // PMQ for 2 // Rain on a Tin Roof // Southern State of Mind // Taryn Whiteaker // This is Our Bliss // Thou Swell // Up To Date Interiors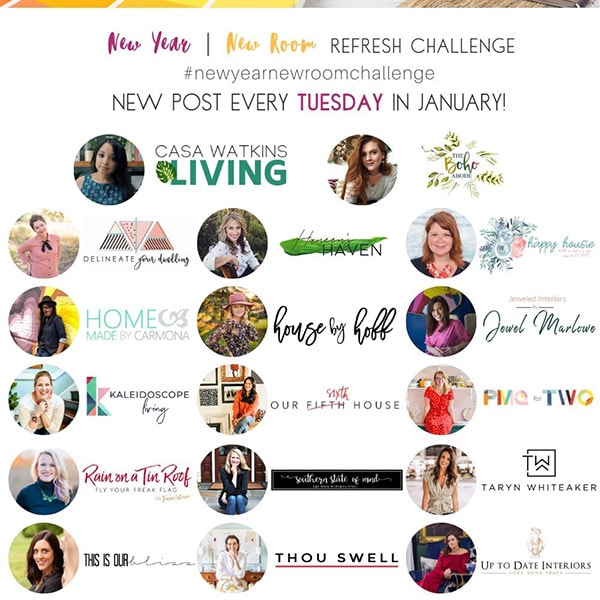 And I can't end this post without sharing our generous sponsors! In the coming weeks you will see me sharing more about many of them. I am specifically using : Home Depot, Spoonflower, Mohawk, Liberty Hardware and Smith Honig.