Modern Master Bedroom Reveal
INSIDE : Take a look into my white, gray and blue Modern master Bedroom Reveal. See how crisp white linens look against a soothing gray wall and stylish canopy bed.
This post may contain affiliate links. See my full disclosure.
Today is a big day for me! Today, I am finally sharing our Modern Master Bedroom Reveal. The challenge of this room was one I'm sure many of you deal with… it wasn't all that bad to start off with, I was just very tired of it.
I wanted to update the room and give it a whole new life without too much effort and with minimal funds. Those two items were key to having the husband on board with a room update. So, let me take you around the room and share how I was able to accomplish that!
One of my main goals I had during this room update was to lighten the overall feel. We previously had orange, brown and gray colors. Pair that with all the dark bedroom furniture and it often felt like a dark dungeon. I would have loved getting a new bedroom set but that wasn't really a necessary item, so I just worked with what we had.
Modern Bedroom Colors
My new color palette is shades of blue, metallics and lots of white. I kept the walls the same gray color and left all the furniture just as it previously was arranged. As it seems to be true for many of my DIY projects, spray paint quickly became my best friend for quick easy updates. The first item to get a new paint job was the huge white leaf on the wall.
I bought these hexagon soft gold and brass colored mirrors from Ikea. I thought they were the perfect geometric offset from the organic wire leaf hanging on the wall.
I have so much jewelry and used to keep it all hidden away in our bathroom. Now with the small purchase of a necklace tree stand, a few decorative dishes and this simple glass box, my necklaces, rings and bracelets are easy to get to and look so lovely at the same time.
I shopped my house and pulled all kinds items to make a new home in our bedroom. This small metal owl came from my late Grandma Marge and I love having it out on display.
I also framed the front sheet from my wedding invitation and have it sitting out on our dresser. "I have found the one whom my soul loves." Song of Solomon 3.4
I decided it was time to give simple white bedding a try and guess what, it's so wonderful! I've been able to pop it into the wash with no trouble and it comes out clean and bright white all over again. Adding a few pops of color with pillows was a great way to tie the room all together. The rectangular pillow was my inspiration for our entire room.
I added washi tape to our old lamps to add a little interest. I also made a beaded wall mirror and hung it on my side of the bedroom.
I love filling spaces with small DIYs that create add unique and special touch to a room. These copper pipe shelves and my gold Clay knobs are an example of that.
The metal tree over our bed also received a few coats of white spray paint for a new fresh look. I also added giant pom poms to a simple white throw blanket last summer and it goes perfectly in this room.


This is one of my favorite projects and it couldn't be more simple, mini copper pipe shelves.
My last area to update was atop this tall dresser. I was able to create a bold diamond pattern piece of art that added color and interest. As well as bring in my updated white and gold fan and a little personalization with these mini copper signs.
So all in all, I shopped my house for many of the decorative items, I shopped sales and did lots of low budget DIYs to create this Modern Master Bedroom. My total investment was under $250!
And because everyone loves a good side by side, before and after…
There were so many wonderful mini DIY projects that made up this room. Click the thumbnails below to see a few!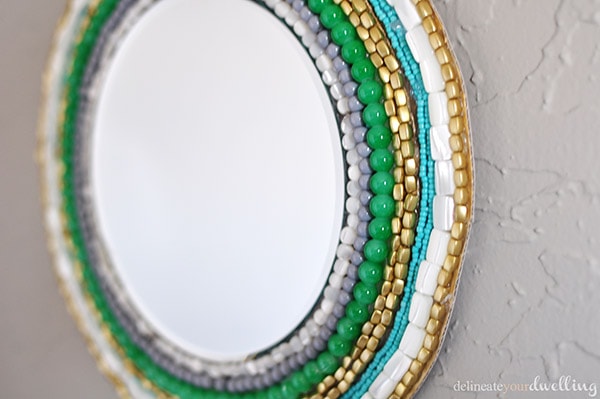 SaveSave