Most Comfortable Floor Pillows
INSIDE : Check out some of the Most Comfortable Floor Pillows out on the market right now. Being comfortable and lounging never looked this good!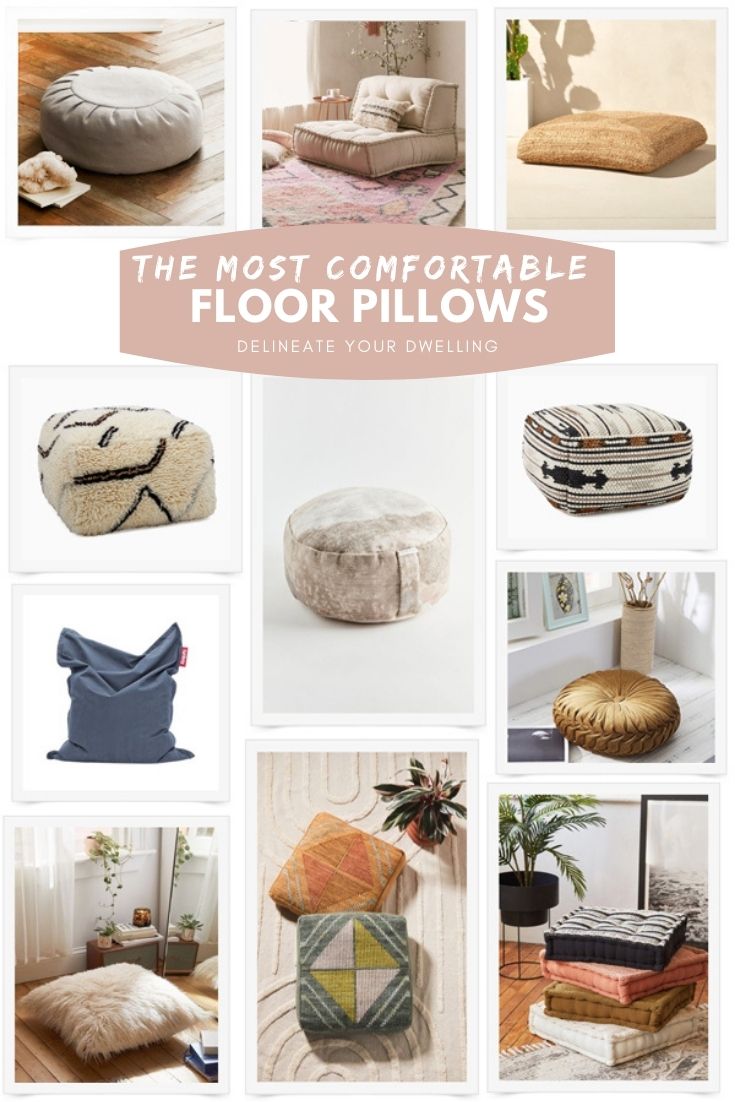 This post may contain affiliate links. See full disclosure here.
I recently shared all about the Best High End Bean Bags chairs. Yes friends, this is where I am at in the pandemic, I'm ready to bean bag everything. There is something about being with your family of four in your home for over a year that makes you crave all things lounge and cozy.
News flash, I bought a bean bag chair… AND a floor pillow for my office. I've been working on transforming my office to a more usable space for the entire family. Sometimes it functions as a guest room, however so I needed furniture that would be easy to move around.
I also rounded up the Best Pillows under $50 so be sure to check that out.
What is a floor pillow?
They are basically exactly what they sound like. They are typically a slightly larger pillow than those you would buy or find on your sofa. (Those are called throw pillows.)
Since floor pillows are on the ground, their material is often more sturdy than those you would cuddle up to on a bed or couch. Their fabric needs to be able to withstand being sat on, squished and even stepped on a bit.
What to do with floor pillows?
What you do with pillows is up to the user. I have found floor pillows to be perfect to having sitting around while lounging on the ground watching tv, the perfect thing to have in a child's bedroom while they read and some people even use more sturdy ones outdoors in screened in porches or patios.
I have one in my office that sits next to my bean bag chair. It's just a simple way to create a chill lounge type vibe in your space.

How to style floor pillows:
Floor pillows are so easy to style in your room. If they are firm and a nice shape, you can stack them in a corner of the room or near a fireplace. If they are a bit more loose and cushy, floor pillows might be better stored in a large basket.
How to clean floor cushions:
Floor pillows can get quite dirty since they are on the floor. However, there are numerous ways to keep them cleaner.
First if possible, you should try to purchase pillows with removable covers. This makes taking the covers off and putting them in the laundry so much easier!
If your cushion doesn't have a removable cover, you can try to spot clean with your favorite household cleaner. Be sure to test in a small hidden spot before spraying cleaner in an obvious location.
What are the best Floor Pillows?
Here are some of what I think are the best floor pillows! Enjoy.
Click on the images below to be taken directly to the products.