INSIDE: My very Favorite Macrame Finds from Etsy! Including wall hangings, plant hangers, wall weaving, yarn wall decor and so much more!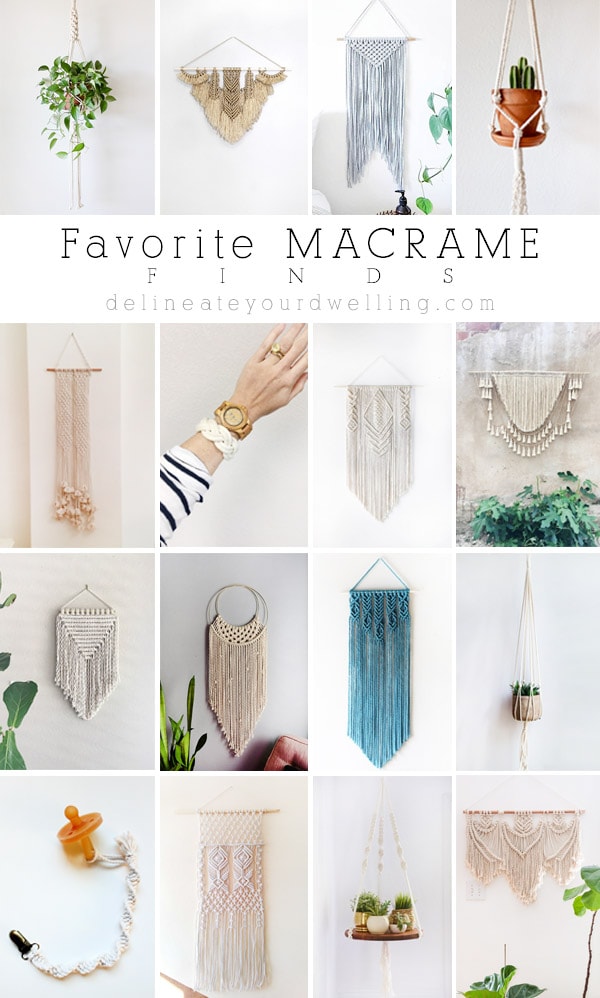 This post may contain affiliate links. See full disclosure here.
This post has been updated from it's original October 2017 publish date.
If you have been following me over on Instagram, you have seen my recent stories about all things weaving. I seriously can not stop myself.
Check out my first 2 creative wall weavings that I created after taking an online course from Hello Hydrangea and her Welcome to Weaving course.
What is Macrame?
Macrame is a crafting technique that uses often cotton ropes to make knots and loops to create various textiles. Since this art form has regained popularity in recent years, crafters and artists have come up with endless ways to take macrame to the next level.
This design skill has gone in and out of popularity for thousands of years. But, due to it's combined practical and aesthetic nature, macrame will always be around.
Common Macrame Supplies
Calm Macrame practice
I am finding weaving relaxing and the progress happens so quickly that it feels like you are really making huge strides. I always have loved a relaxing, but fast outcome kind of craft and wall weaving seems to perfectly fit that bill. Last night, I attended a Macrame Workshop – another skills I've been dying to learn. So today I am sharing my very Favorite Macrame Finds!
Some of these beautiful creations are made by friends of mine. Some of them I found online at places like Etsy. But all of them are equally amazing and gorgeous. And I am thrilled beyond words to have just taken an introduction workshop to this fun macrame skill set!
Favorite Macrame + Wall Weaving Finds:

Favorite Macrame makers
Looking for some inspiring DIY Wall Hangings? You should check these out!