INSIDE : Check out the best events and the MUST DO activities during the International Albuquerque Balloon Fiesta! The world's biggest Hot Air Balloon Event. It is so much fun for kids and adults alike!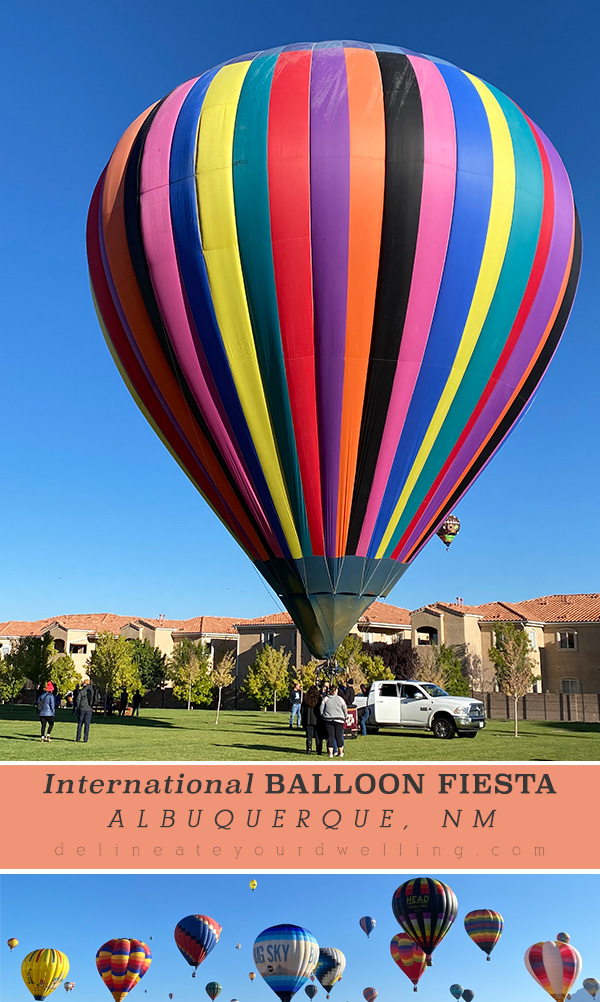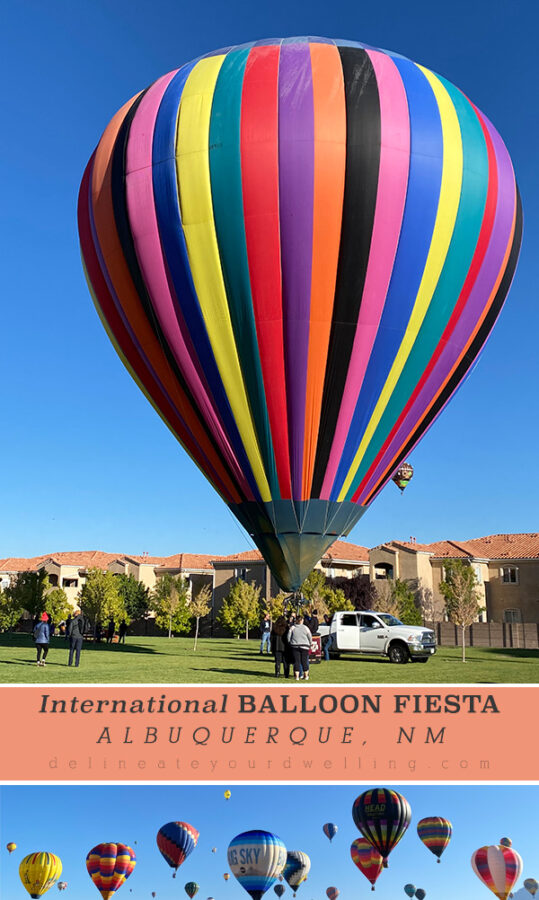 Every October, people from around the world flock to Albuquerque, New Mexico for the Albuquerque International Balloon Fiesta. It has grown to become the largest balloon event in the world. The Balloon Fiesta attracts hundreds of thousands of guests to enjoy a 9 day long celebration of color and hot air balloon excitement.
Having lived in Albuquerque for over twelve years now, this is an event that you never tire of!! Today I will be sharing What to do during Albuquerque's Balloon Fiesta because it's an event that visitors and locals love!
What is the Albuquerque Balloon Fiesta?
In 1972, there were said to be only 13 balloons that gathered in Albuquerque, however it has now grown to be the largest hot air balloon event in the world. And believe me when I say, it really is exceedingly impressive.
Every year when we are getting close to the balloon fiesta… I can not contain myself and am literally screaming right along with my kids in pure excitement. It is a sight to behold and like no other.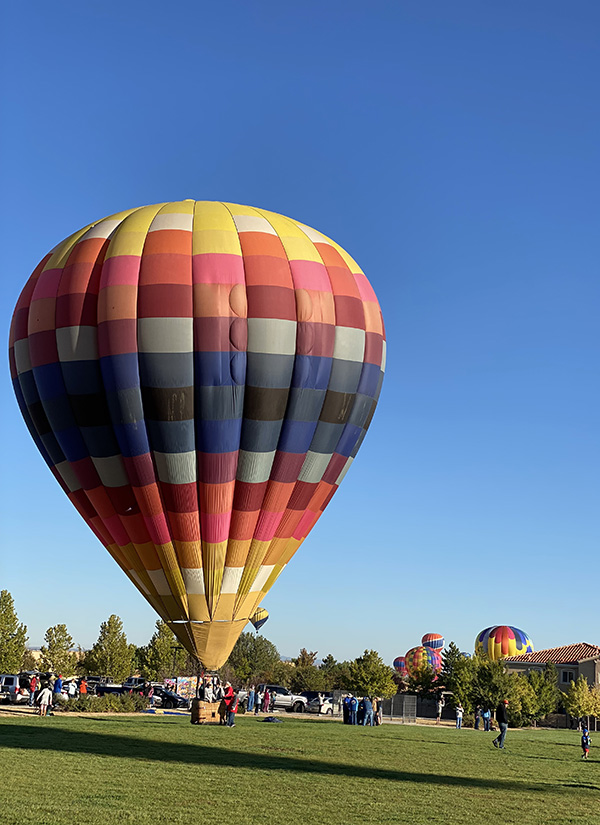 As one of the most photographed events on earth, starting the first weekend of October and the following week, people from around the globe come to enjoy 9 full days of hot air balloon activities. There are events from about 5am to well beyond sunset. It is an absolutely incredible experience.
Some of the main big events include the mass ascension (hundreds of balloons taking off during the same basic time period), a gas balloon race, balloon glows (these are my favorite), afternoon balloon competitions, and so much more!
How much does Balloon Fiesta cost?
Tickets are $15 per session and kids under 12 are free.
How do I get to Balloon Fiesta?
There are many ways to get to the balloons and this year they built an additional 500 parking spaces to accommodate even more people!
Car Parking – Parking can be quite an adventure! If you are planning to drive to Balloon Fiesta Park make sure to set out early. I have sat in traffic many years and missed most of the balloons. Parking is $20 per car.
Park & Ride – Park and Ride is my favorite way to get to Balloon Fiesta and bonus you avoid sitting in traffic. Find info on the numerous locations and purchase your tickets here. Once the bus picks you up, they take special allocated lanes and zip right past all the cars waiting to get in.
Ride Your Bike – If you live close to Balloon Fiesta Park, a fun way to get inside is riding your bicycle! There's a bike trail that runs right inside and they even provide Bike Vallet!
What are some Albuquerque Hot Air Balloon Fiesta Tips?
My tips to people from out of town are always the same. Go earlier than you think if you are heading to the Balloon Fiesta Park. If you think you are leaving early, get up earlier.
There are always reports of people sitting in traffic for two hours and missing the entire Mass Ascention because it gets so crowded on the streets trying to get into the park, too.
One year we left at 430am, arrived at the Rapid Ride bus location to get into the park. We stood in line for an hour and then they let us know the park was at capacity. This event has gotten so popular that gets to full capacity very quickly.
What if Balloon Fiesta Park is at capacity? Where do we go?
If it is not critical for you to be AT the Balloon Fiesta Park, I often take my kids to nearby parks to watch the balloons landing (See the below grassy image for an example of park viewing). You can beat the droves of traffic this way, still have 30 – 60 balloons overhead and landing all around you.
We even are able still to collect tons of the Balloon Trading cards while at local parks. This is the route we typically take for viewing the balloons in a less congested space. And it is still VERY exciting.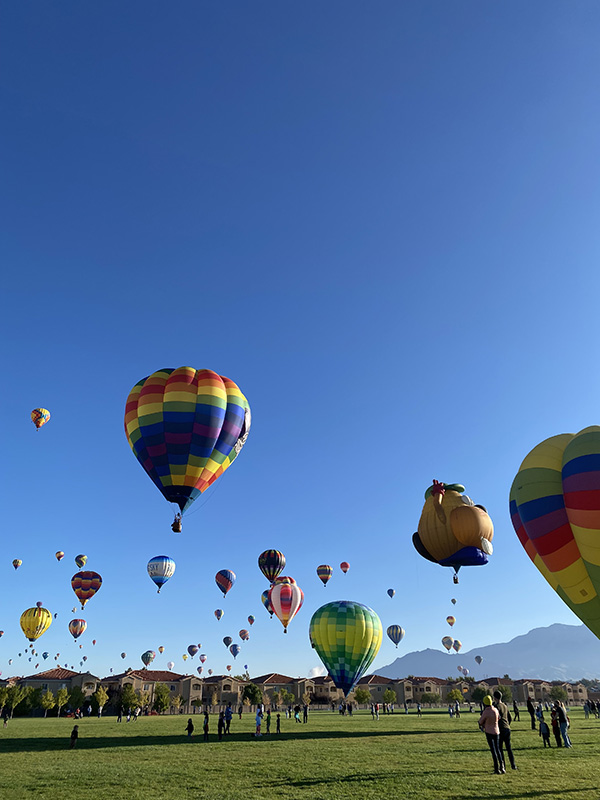 In my opinion the best park location to view the balloons land is Vista Del Norte park. It's getting to be VERY crowded because everyone is learning what a great spot it is. But, we headed there around 8am and parked at Desert Springs Church across the street and it was just fine.
What are a few of the Albuquerque Balloon Fiesta show stopping moments?
Honestly, ALL the moments at Balloon Fiesta are show stopping. I especially love when they all take off in the morning. The sky is pure blue and hundreds of colorful balloons are lifting off into the air – it's a beautiful sight to see.
What are the Main Albuquerque Hot Air Balloon Fiesta Events?
– Dawn Patrol Show
This is where at least one hot air balloon (often a handful) will take off before sunrise. They fly around to check on the weather conditions and visibility of landing conditions. It is both practical as well as a tradition and generally takes place around 6:00am.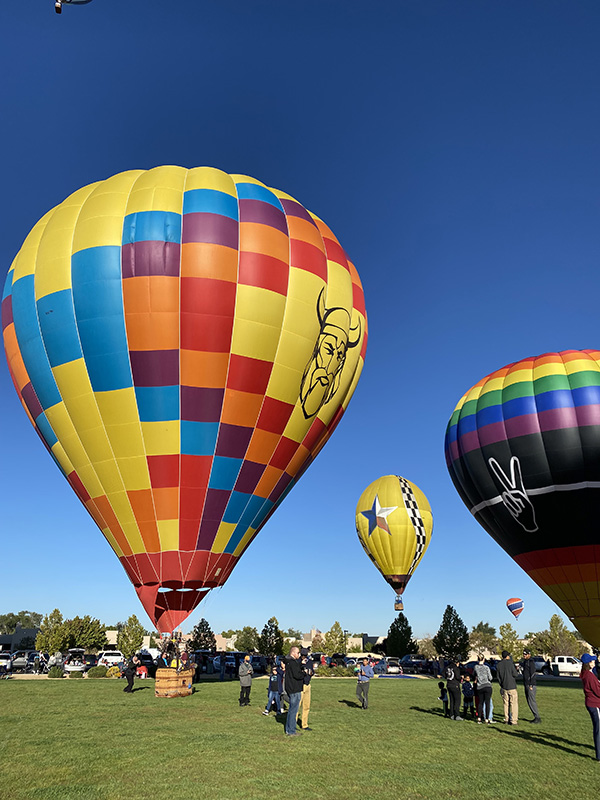 – Mass Ascension
This is where hundreds of balloons all launch in the same morning, during about a 1.5 to 2 hour period. They launch in two waves so that for almost 2 hours there will be balloons being set up, inflated, and launched from the field.
Visitors can walk around the launch field to see the balloons being setup and get different views as the balloons launch. This is by far the biggest wow moment of the Balloon Fiesta simply due to the huge mass of balloons all gathered and taking off! This typically starts around 7:00am.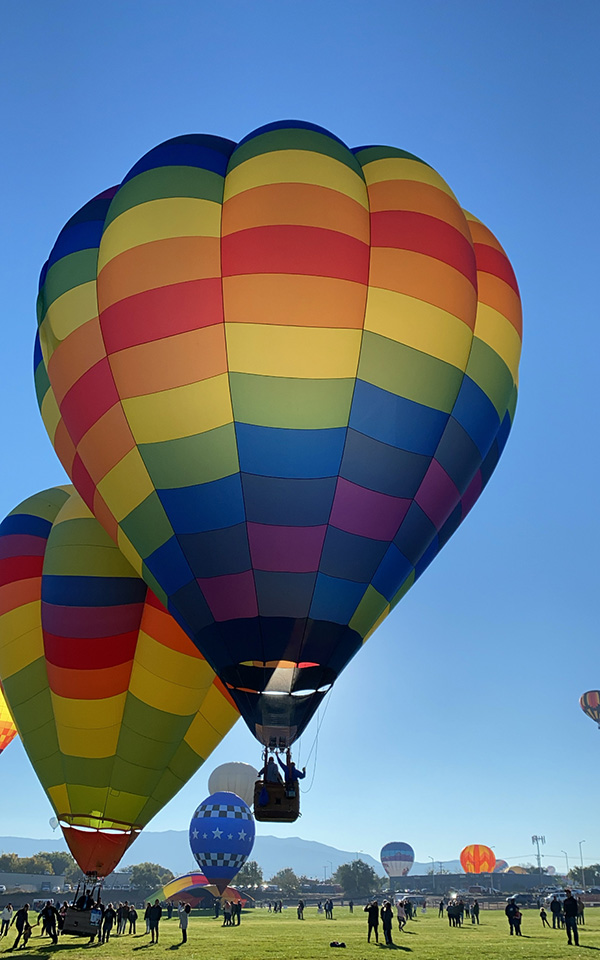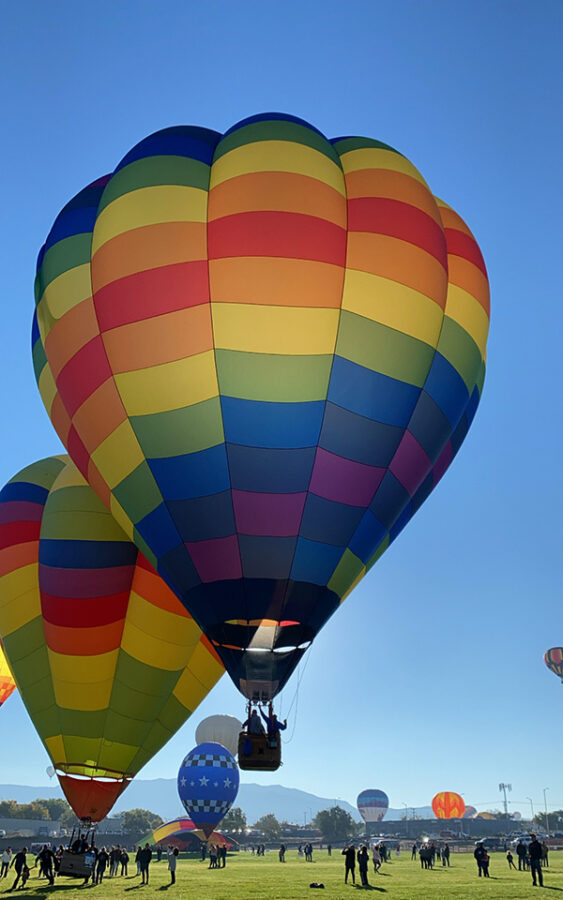 – Gas Balloon Race
This long-distance race starts from the Balloon Fiesta Park where pilots in special designed gas balloons compete to see who can go the furthest distance without coming down.
Pilots could spend up to four days in their balloons and can go as far as the East Coast or even Canada. We always love hearing days after this competition begins, where the balloons end up landing!
– Evening Balloon Glows
Although I love all aspects of the Balloon Fiesta, the evenings glows are probably my favorite because it looks absolutely magical to be dark outside and have all the balloons glowing. Pilots keep their balloons tied down to the ground and then inflate their hot air balloons.
Once dark, the pilots will periodically ignite their propane burners so that the balloons light up and glow. They do synchronized burns, where all the balloons will light up at once and even sometimes ignite their burners to music. It's just the most lovely thing you've ever seen!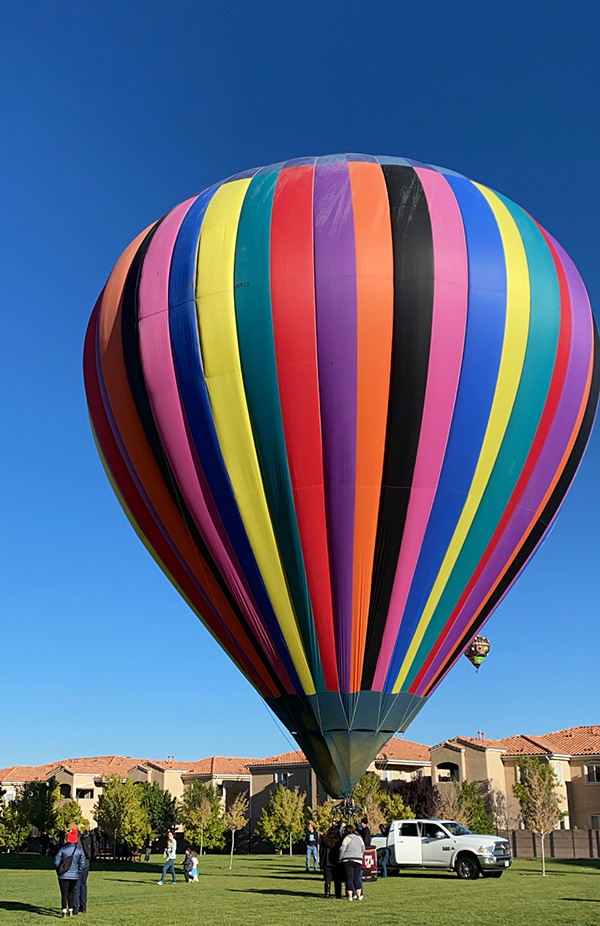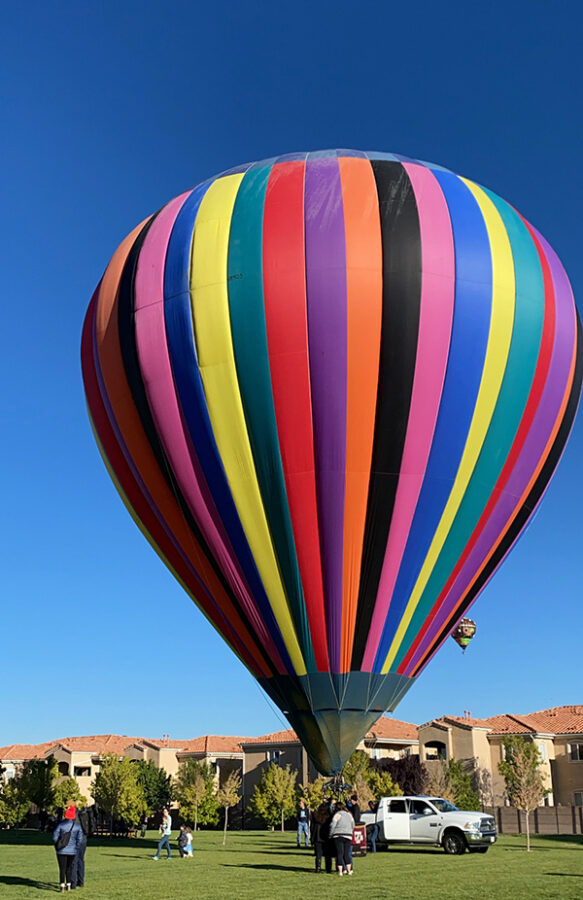 – Special Shape Balloon Events
In addition to the more traditional teardrop shaped balloons, there are tons of special shaped balloons – which are SUCH fun!! These balloons can be shaped as almost anything. You see everything from cartoon characters, Pepsi bottles, kissing Bees, Noah's Arc, Star Wars characters, animals, hearts, people, etc.
These are popular events for visitors and locals, as it is fun to see all your old favorites and check out the new ones. Every year, we are amazed at the new crazy shaped balloons that come to the park!
– Flying Competitions
After the main morning balloon events, there are hot air balloon flying competitions. Balloon pilots test their skills as they compete doing tasks against other balloonists. Events can sometimes include fly-in tasks where they must drop something on a specific target and events where they must toss or grab rings from various poles.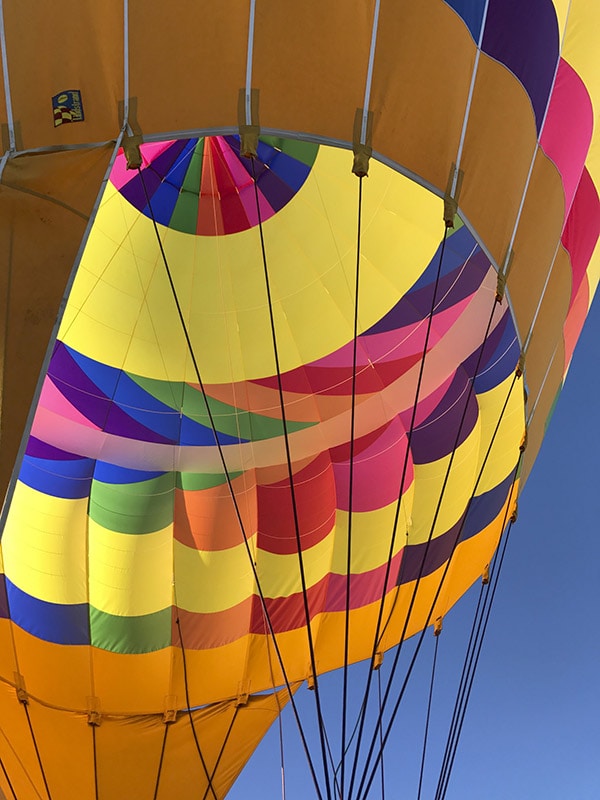 – Collectible Balloon Fiesta Cards
The collectible cards are every kid (and my)dream, honestly. Whether you attend the fiesta at the actual Balloon Fiesta Park, watch balloons land at nearby locations or chase them around the town… often times the pilots pass out cards after they land.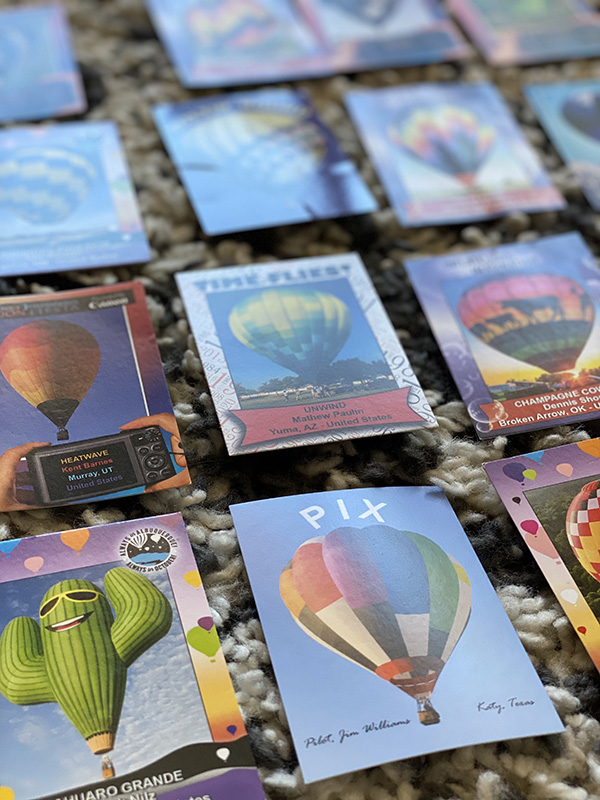 We save our cards each year and have such fun looking at them year after year. They typically have a picture of the balloon and it's name on the front. The back has information about the pilot, where they are from, maybe a story about the balloon's history, etc. They are such fun to collect for all ages!
– Hot Air Balloon Museum
Yes, Albuquerque has a Hot Air Balloon Museum… would you expect anything less?! It's fun to stop in and visit even during non-fiesta times. It's a very interactive museum which makes it fun for kids, too. There is tons of history about air flight, lots of science, hands on balloon building, etc. We always enjoy going.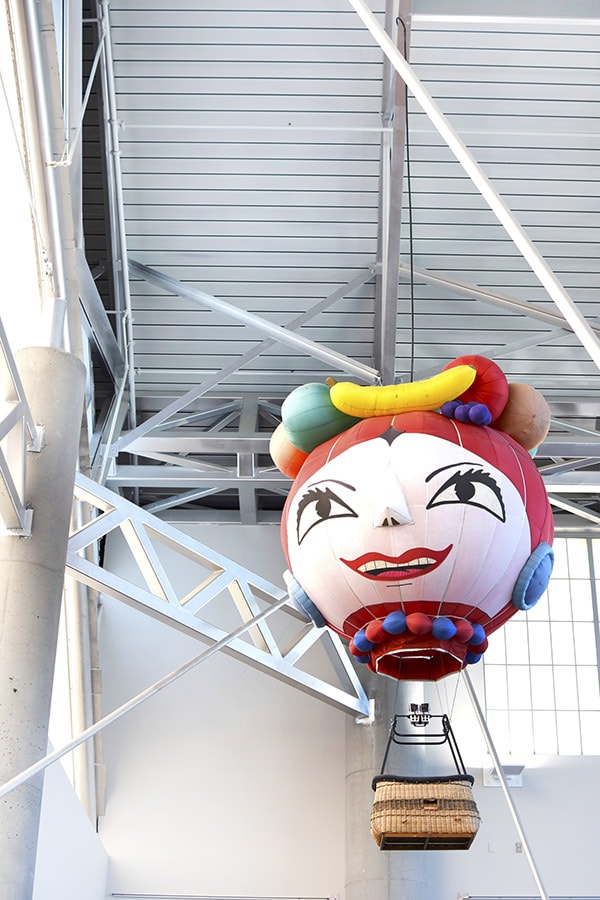 Hopefully by now, you have decided to drop everything and get yourself to the next Balloon Fiesta! And if you are looking for even more info and a detailed schedule of each days exact events, you can check the Albuquerque International Balloon Fiesta website.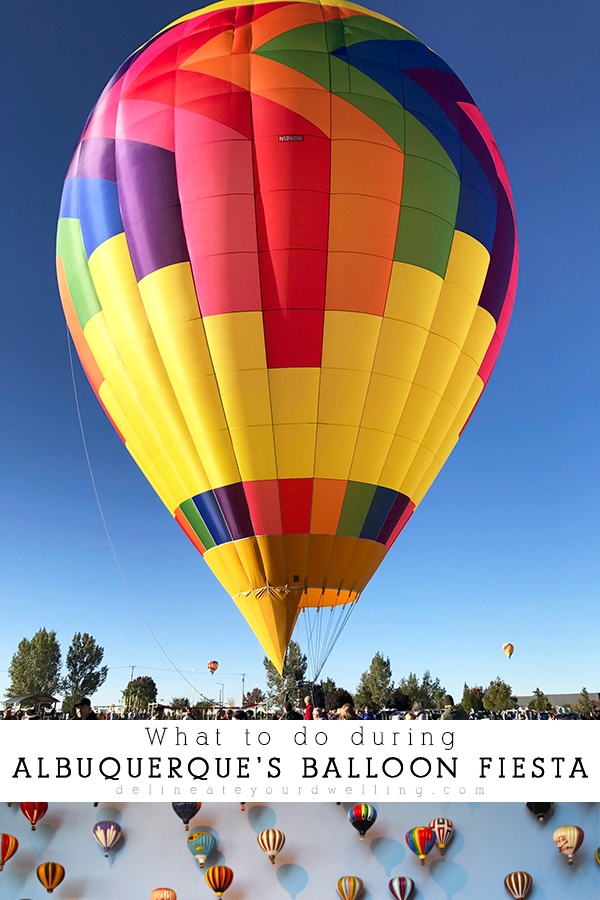 Want to check out more great things to do in New Mexico?
Best Restaurants in Santa Fe, NM
Best Day Adventures in Santa Fe, NM